DeAndrea Douglas
Hailing from the hometown of Beyoncé, DeAndrea Douglas is a hyper-chatty winged eyeliner enthusiast in love with all things feminine chic. Keep up with her on Instagram and Twitter.
Micellar water is quickly becoming an item to covet among its users' skincare staples.
Over the past year, it has been raved about in magazines, on blogs, and on YouTube as more and more beauty gurus find and fall in love with the product. Initially, I thought it was strictly a makeup remover, but when I saw a video of a beauty vlogger going camping and using the micellar water as a cleanser, I thought to myself, Hmmmm. I wanted to try the product out for myself and quench whatever curiosities I had.
I did so and I loved it and it really affirmed to me that it's one of the best cleansers out there.
Let me demystify why micellar water might need to be added to your skincare staples.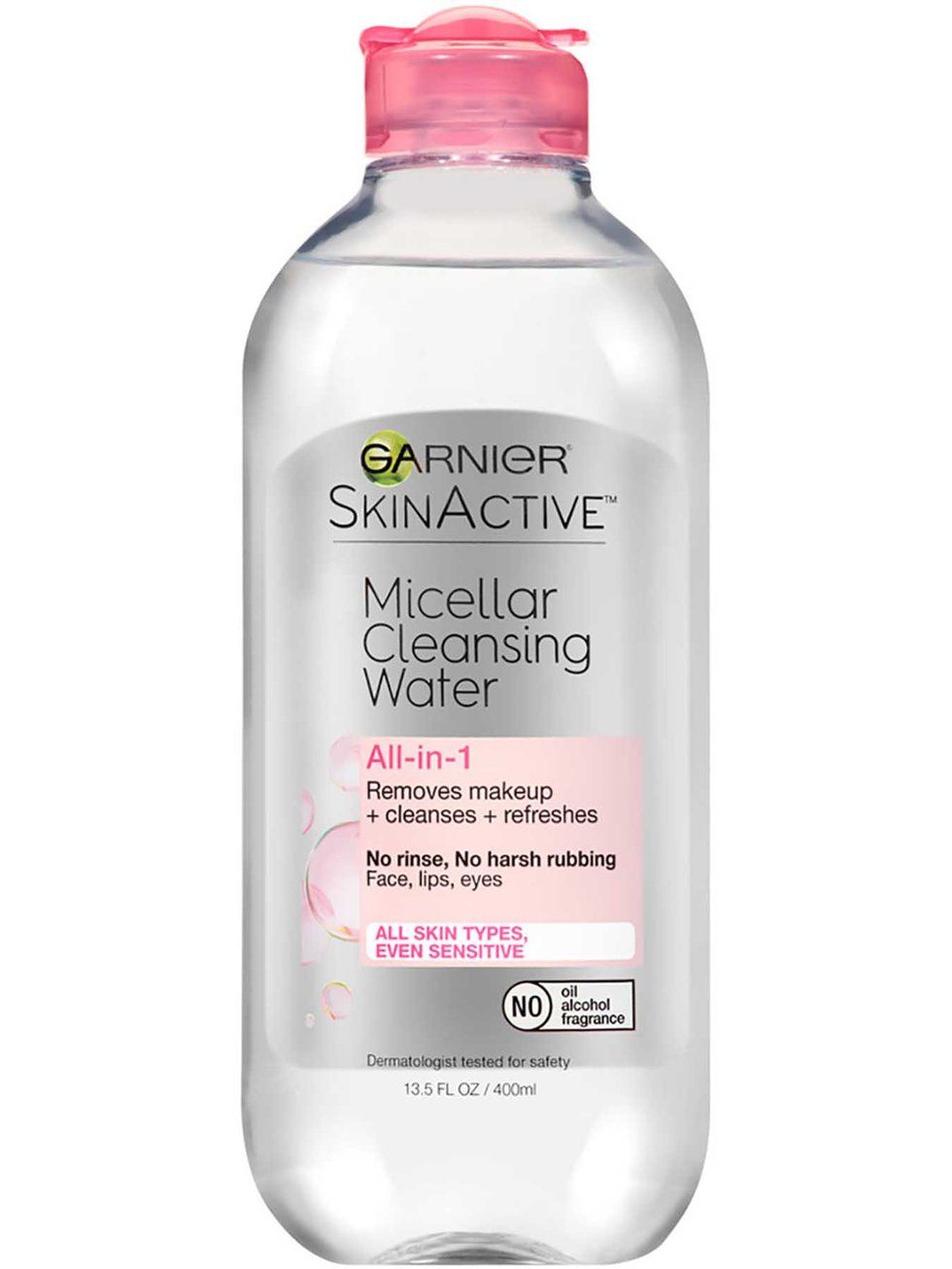 www.garnierusa.com
WHAT IS MICELLAR WATER?

Micellar water is made up of tiny balls of cleansing oil molecules (micelles) suspended in soft water. It looks and moves like water but has a slightly different texture. It's like if you could perfectly blend oil and water together, with no separation.
Micelles are attracted to dirt, oil, and grime so they draw out impurities, but won't dry your skin out. To put it in simpler terms, it removes the stuff you don't want on your skin and leaves the good stuff. Micelles stick to the dirt and makeup on your skin and pull them away, leaving your skin clean, radiant and hydrated. Therefore, it can be used for pretty much all of your basic skincare needs from makeup removal to moisturizer. Most other cleansers have a foaming solution that strips away everything and requires you to balance and rehydrate your skin. Micellar water allows you to skip the toning and moisturizing if you want.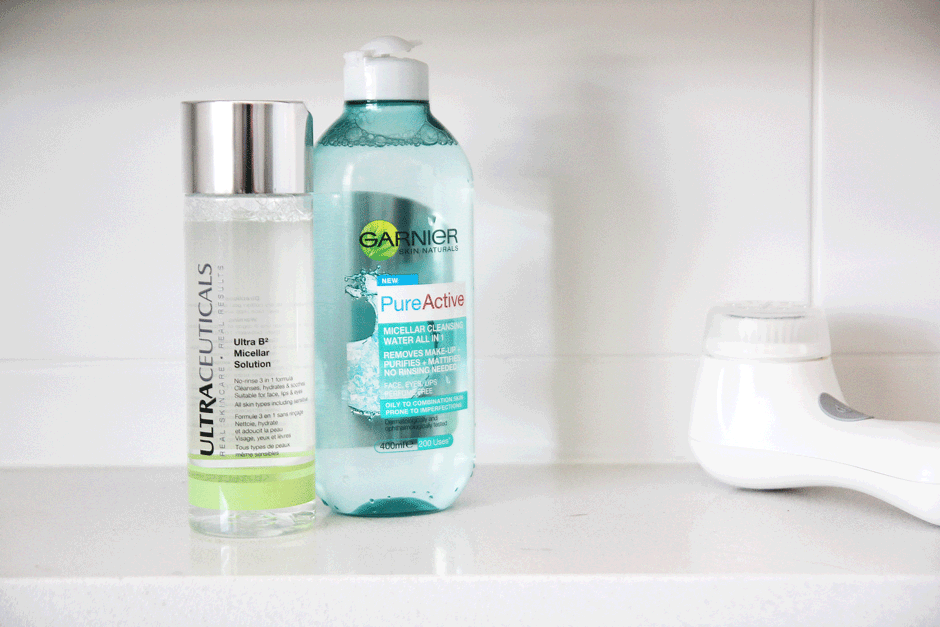 HOW DOES IT HELP MY SKIN?
The less you touch your skin, the better off it usually is. Micellar water allows you to cleanse, tone, and moisturize all in one step and could possibly do a better job at all three than the products you're using right now. If it does all three at once, then you don't have to rub your face two more times.
Micellar water is great for people with dry and sensitive skin. It's gentle and hydrating so it won't dry your skin out or irritate it. It could be your entire skin care routine! If you have oily or acne prone skin it might not clean super well on its own so you'll have to use a traditional cleanser as well, but way more impurities will be removed from your skin with the second cleanser. This probably explains why the wipes didn't work so well for me.
Bonus: If you hate packing up all of your skincare products to travel, micellar water is pretty much all you need.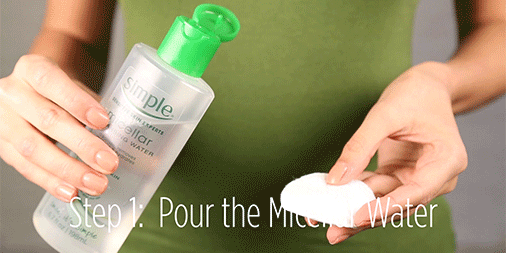 HOW DO I USE IT?
Whether you use it mostly as a makeup remover or as a cleanser you'll use it the same way. Soak a cotton pad or round with product and press it into your skin. Wipe all the makeup and dirt way. That easy! You don't even need to rinse!
SHOP:Garnier | Simple | LaRoche
Hailing from the hometown of Beyoncé, DeAndrea is a hyper-chatty winged eyeliner enthusiast in love with all things feminine chic. Keep up with her on Instagram and Twitter (@xodeandrea) and on her lifestyle blog: asisterscrown.com.

Featured image by Shutterstock
There was a time in my life when I was clueless about makeup.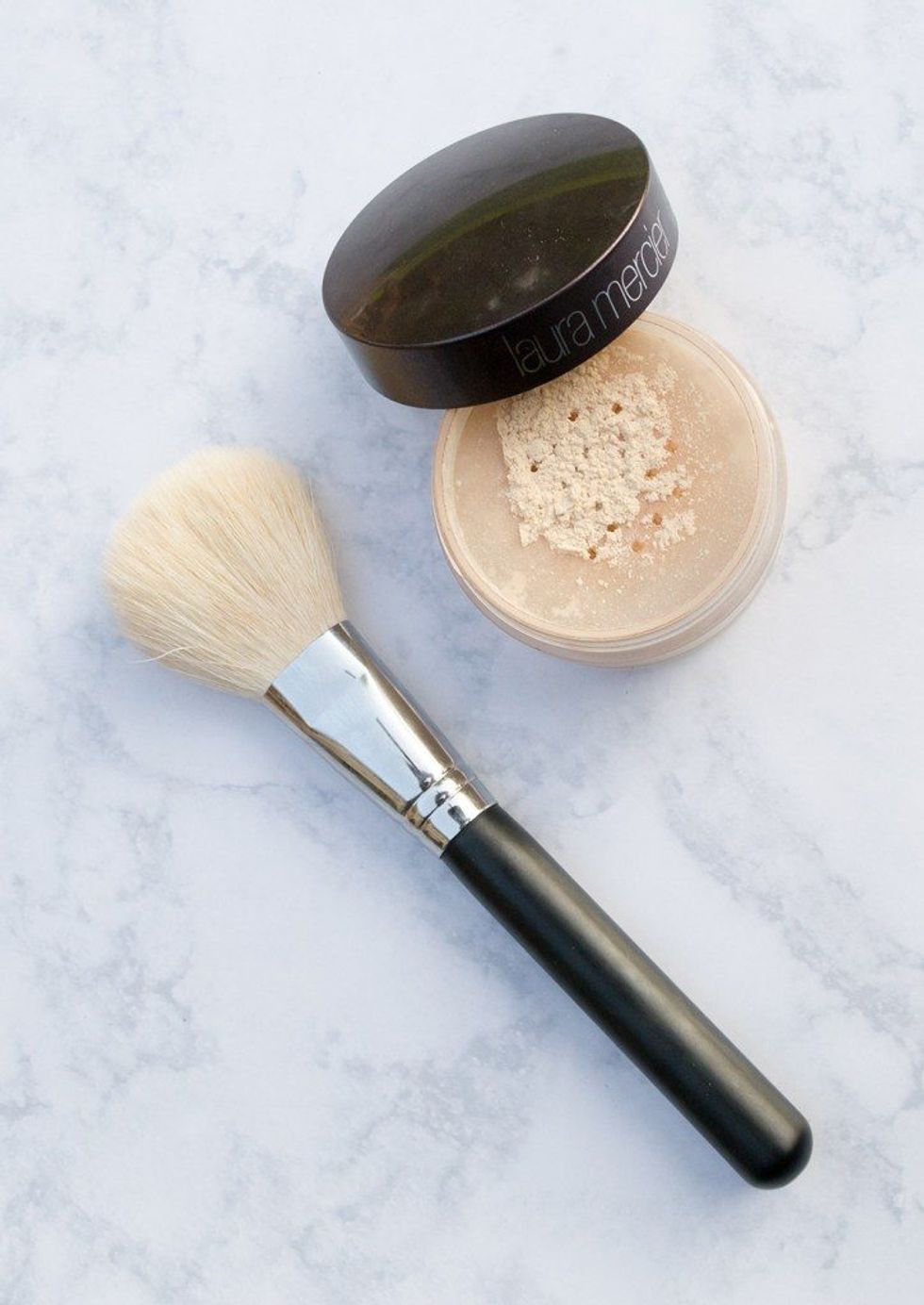 Makeup application is a learned skill. Before I found the makeup life-changer that was translucent powder, my foundation was shifting and sliding all over my face. I was shiny after an hour and my makeup wouldn't make it for three hours without needing a touchup and sometimes completely reapplied.
My makeup application became ten times better when I started using a setting spray, but translucent powder is THE reason I'm able to get my makeup to stay virtually flawless for hours and hours.
If my praise for this colorless miracle powder isn't enough for you to believe in as truth, here are 5 reasons you need a translucent powder:
1. There is nothing that will set your makeup like a translucent powder.
Why bother taking so much time to apply your makeup if it's only going to melt off or shift? Translucent powder holds your liquid and cream foundations right where you want them.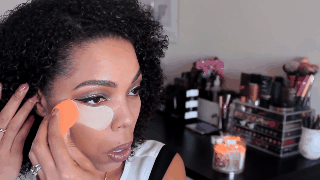 2. It bakes you to perfection!
If you you don't want o buy another product to bake with translucent power is the way to go. Just dust or pat on a little more product than you need under your eyes and in your t-zone, wait at least 5 minutes, then dust away the excess product. You will be matte and flawless. Lots of people bake with banana powder, myself included, but it isn't best for everyone. It can look too yellow. Because, translucent powder is colorless it works universally.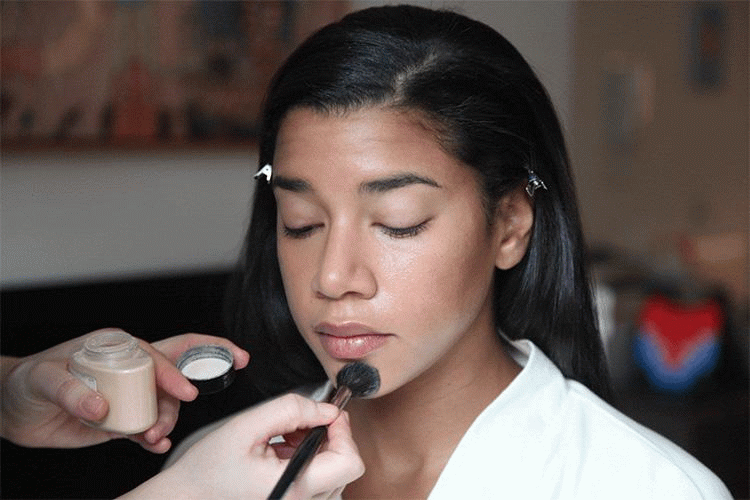 3. It keeps you from being too oily.
If oily skin is your struggle you need to get some of this not now, but RIGHT now. You can use translucent powder over your favorite primer and be matte all day. No foundation required.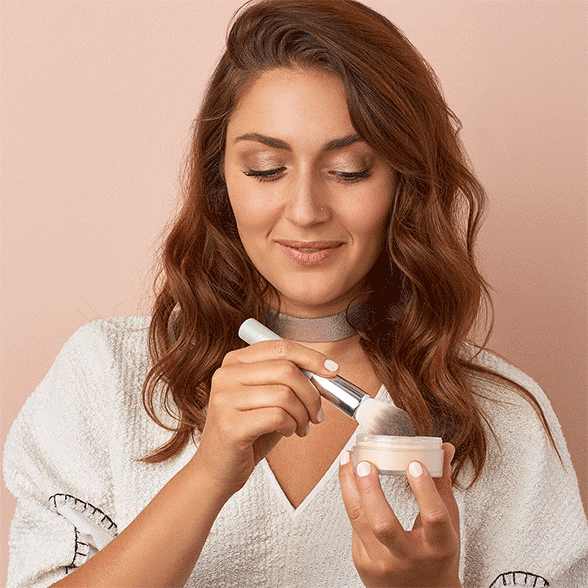 4. It gives you a smooth, airbrushed finish.
In a world where we must be selfie ready 95% of the time and not everyone has FaceTune, we need all the smoothing we can get pre-filter. Translucent powder smooths fine lines and creates a soft focused blur. Who doesn't want that?!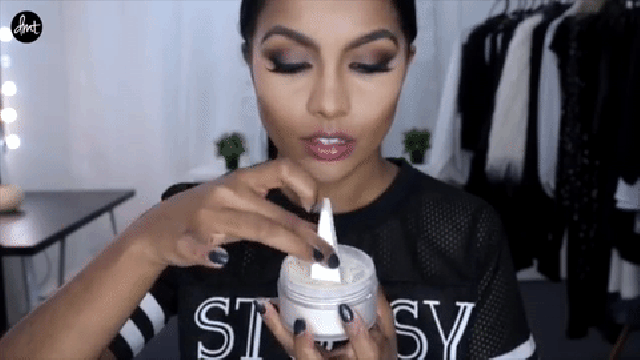 5. It can be used to make mascara work better.
Just dust a little on your lashes then apply mascara. Watch the magic happen. Your lashes will be longer and more voluminous than if you used just the mascara.
SHOP:Laura Mercier Powder | Covergirl Professional Loose Finishing Powder | Sasha Buttercup Setting Powder For Multicultural Women
Want more stories like this? Sign up for our newsletter here to receive our latest articles and news straight to your inbox.
The Beauty Closet - Home Page
Highlighter-obsessed ladies raise your hands! I have both of mine raised right now because my stash is ridiculous. Highlighter makes you look like you drink enough water and don't have any stress in your life, but let's be real, only using powder as highlighters can get a little boring. There are some things powder highlighters just can't do. With liquid highlighter, aka illuminating drops, you can get an awesome or subtle glow with very little effort. Plus, there's an added bonus for us oilier girls: you can get a radiant glow in your foundation without getting any oilier than usual.
I've got three ways to use liquid highlighter to take your complexion game to the next level. Thank me later.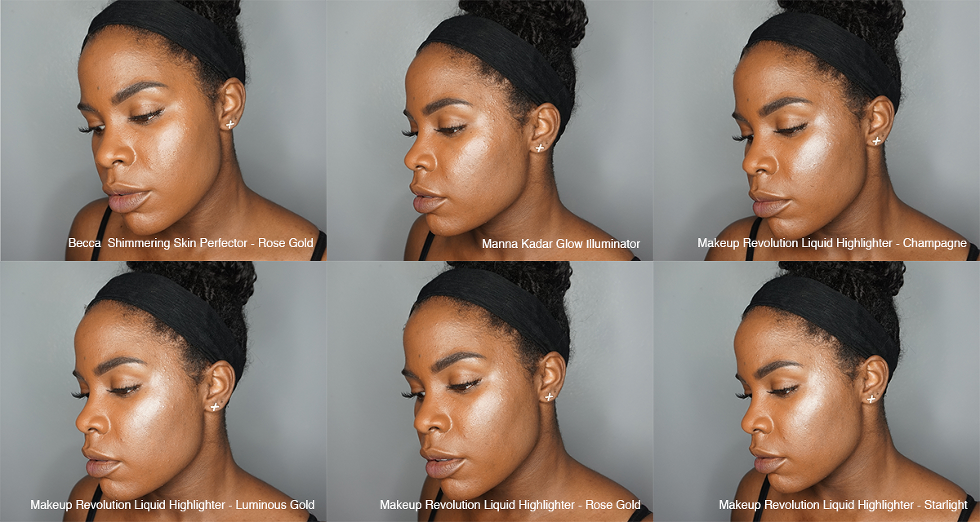 DeAndrea Douglas
Layered Under Foundation
This is where the fun starts. Because the highlighter is a liquid, it won't slide right off if you apply a liquid product on top of it like a powder would. This means you can cover your face in liquid highlighter before you put on your foundation and you'll look like you have a radiant glow coming from within.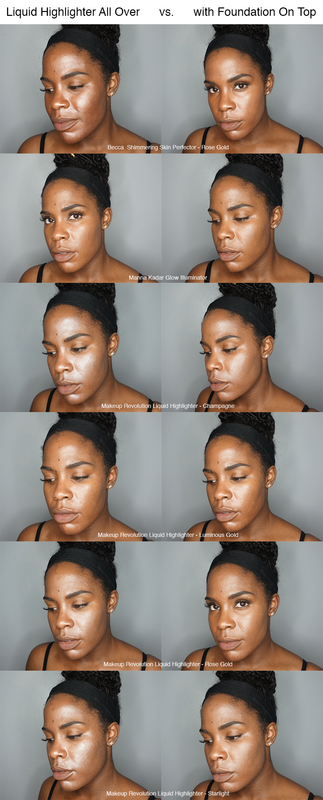 DeAndrea Douglas
To show you what I mean, I added a very thin layer of Milk Makeup Blur Liquid Foundation over the liquid highlighter swatches so you can really see the difference between the shades. Pro tip: You can always add more layers of foundation to tone it down if the radiance seems to be a bit much.
Products Used:
From top to bottom
Becca Shimmering Skin Perfector – Rose Gold
Makeup Revolution Liquid Highlighter – Champagne
Makeup Revolution Liquid Highlighter – Luminous Gold
Makeup Revolution Liquid Highlighter – Rose Gold
Mixed Into Foundation
This is probably my favorite way to use these drops. I have oily skin all year long so a foundation with a dewy, radiant finish is out of the question. I don't like for my foundation to look so matte that it's dull so a couple of drops of illuminator mixed into my usual foundation saves me! All I do is pump out my usual amount of foundation on to the back of my hand, add a few drops of illuminator and mix them together. I apply that mixture like I would my foundation and, bam! I have a radiant finish without any extra oiliness.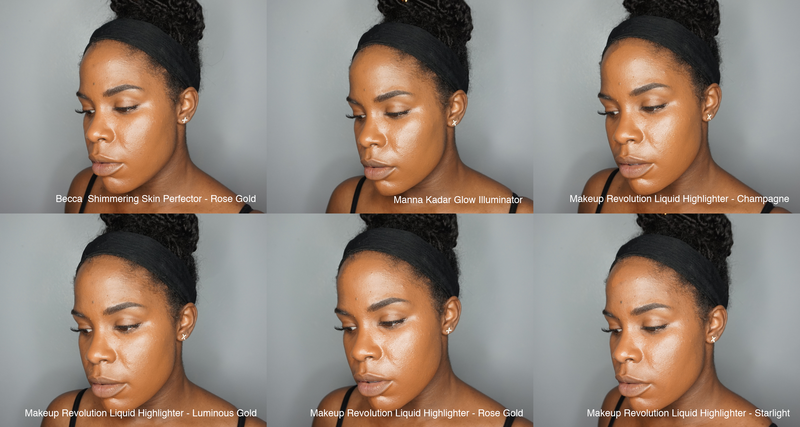 To show you what these look like mixed, I used equal parts foundation and illuminating drops. I would normally use more foundation than highlighter, but again, I wanted you to really be able to see what I'm talking about with the added radiance. I mixed each highlighter with Milk Makeup Blur Liquid Matte Foundation.
You can add as much or as little liquid highlighter to layer or mix as you'd like.
Products Used:
From top left to bottom right
Becca Shimmering Skin Perfector – Rose Gold
Makeup Revolution Liquid Highlighter – Champagne
Makeup Revolution Liquid Highlighter – Luminous Gold
Makeup Revolution Liquid Highlighter – Rose Gold
Now that you know the tricks of the megawatt highlight trade and the tools that will help you elevant your radiant look - test the waters. If you really want to have fun with it, you can mix different liquid illuminators together to make a custom shade! That's the fun part about make-up - you can really do whatever you want. You better glow girl!
Featured image by Shutterstock
The Beauty Closet - Home Page
Brows are still having their makeup moment. And if you haven't understood the hype of stunting a good brow yet, understand that brows can make or break your whole look. However, with all the brow products available on the market, it can feel a little daunting to decide which brow tool will give you the effect you desire. Still, you don't want to be out here with mediocre brows just because you don't know what product to use to get your perfect brow!
That's where we come in. These four brow products will give you all the versions of achieving the perfect brows, ranging from "I woke up like this" to "This took me two hours." Let's find the perfect product for your brows, shall we?
Which Product Should You Use To Achieve The Perfect Brow?
Featured image via Giphy