Sweet Life: Los Angeles on HBO Max is an honest and unique look into what it means to be young, Black, and constantly pursuing one's dreams in the heart of South Los Angeles. Exploring themes of loyalty, legacy and love, the coming-of-age series follows a group of longtime friends navigating the relatable, chaotic mid-20s. Since season one, there's been a breakout star who's not been afraid to keep it real, "the nucleus" of the core cast friend group, and all-around IT GIRL, Tylynn Burns.
As season two comes to a close, xoNecole caught up with Tylynn who's been gracing our screens with stylish looks while growing, learning — holding herself accountable — and chasing her dreams in front of a national audience. But sharing glimpses of her world via reality TV isn't always a walk in the park, and with season two, Tylynn is navigating the praise and scrutiny with grace.
Tylynn is aware of how she's portrayed on camera — "very serious, super tunnel vision with her business, always dipping her toes in her friends' lives" — but after Candiss, her IRL friend and fellow castmate, she swears she's the "most lit." An avid music listener and fan of trap and house music and reggaeton, she often spins some: Young Nudy, Steve Lacy, Bad Bunny, Blxst, Bino Rideaux, Megan Thee Stallion, and Beyoncé. Renaissance has been getting much of her attention lately, especially her favorite track, "Alien Superstar." Tylynn solidified that only this week, "I saw an astrology chart that says Pisces is an alien superstar. I feel like there's no one like me, and I'm a superstar, and I'm that girl. And it just speaks to me. It speaks to my soul for real."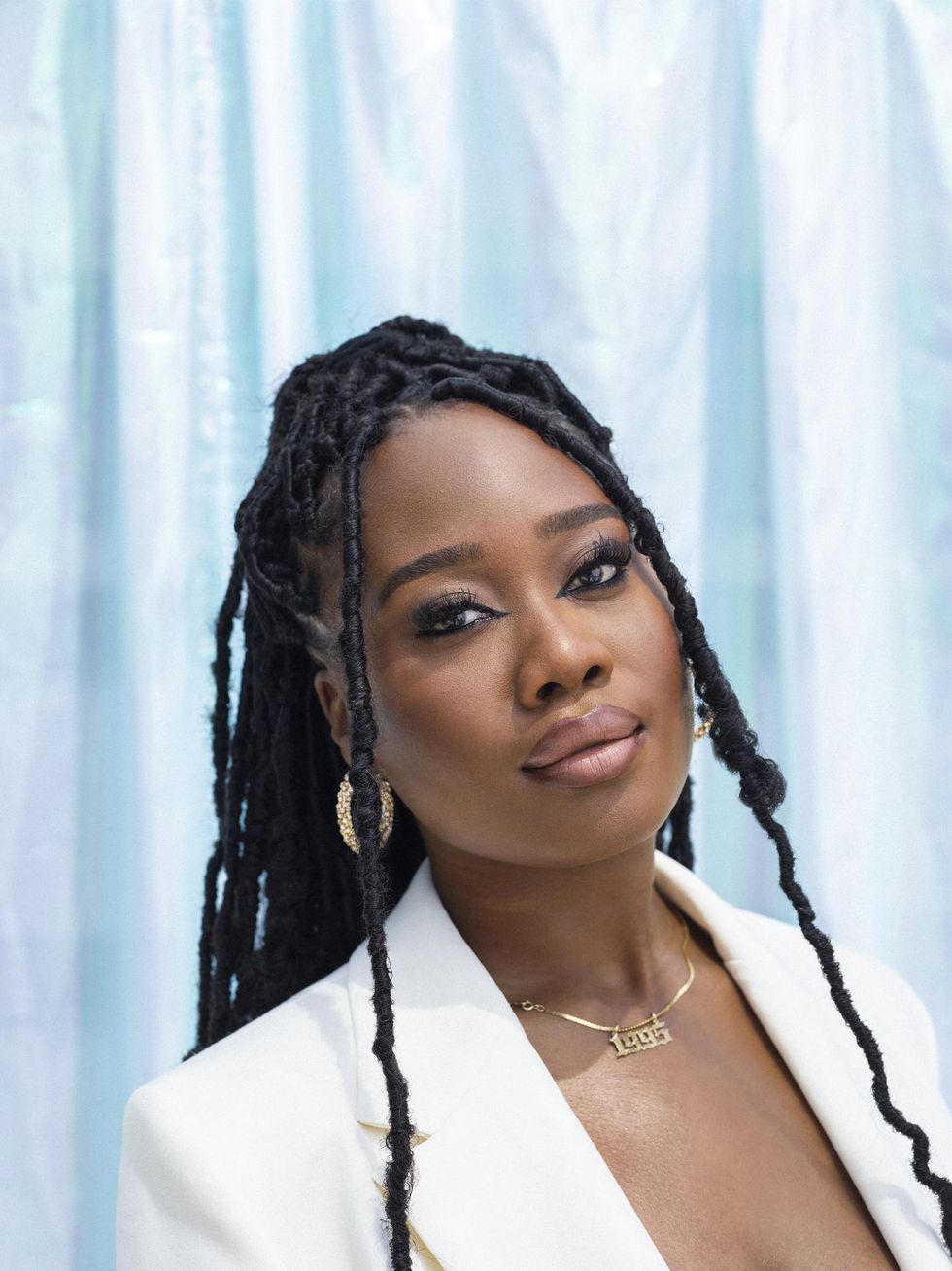 Alexis Hunley/HBO Max
She also can serve a look from head to toe. Whether a curly natural, a bright orange knit set, or lilac purple cowboy boots, Tylynn makes a statement every time she walks into a room. Pulling from Y2K trends and "just putting shit together," the 27-year-old defines her style as "street with a little class." Her Mexico trip look takes the top spot when asked what her favorite hairstyle was from season two — light brown, wavy locs. "I looked very beautiful in every scene I had that in, so that would be my favorite hairstyle. And then second would be Daphne (a red-orange, long, straight wig with a blunt bang) from [episode four, the New York episode], for sure," says Tylynn.
For Burns being that girl or an, it girl is more than superficial, "Being an it girl is realizing your power but allowing other people to have that power [too]. So a piece of your power. To me, that's an, it girl."
Tylynn keeps it real beyond the series, her genuine nature, warmth, fun, and inviting energy radiate during our conversation over Zoom. She's an open book, sitting in front of a Kobe Bryant portrait with fresh box braids, hoop earrings, hot pink nails, and her best accessory, a smile that's giving girl next door that's easy to talk to. Her portrayal in Sweet Life: Los Angeles also gets her business-minded side right. She's constantly on the go, in meetings, and getting endless Slack alerts — even during our interview (something we laughed about).
Burns is the founder of a boutique event-planning agency, House Party Creative, utilizing her degree in advertising and public relations from the University of Oregon to offer curated events to people that are typically reserved for influencers or celebrities. "I wanted to design moments that give people more," Tylynn tells xoNecole. She does that by integrating live performances and being intentional about working with local Black vendors.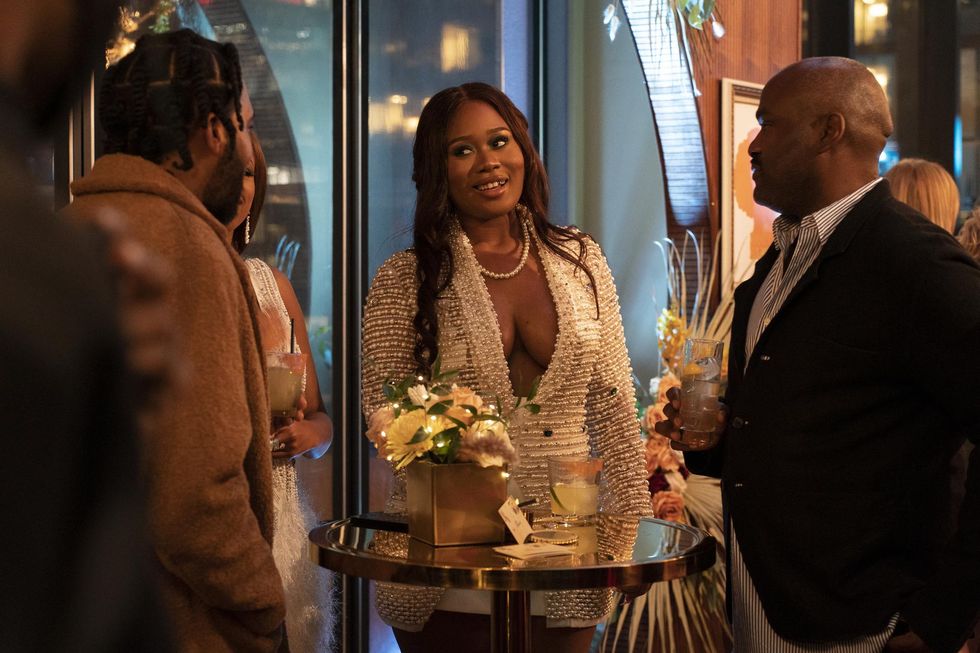 Tylynn Burns in 'Sweet Life: Los Angeles' Season 2 - Episode 5Courtesy of HBO Max
A staple event for House Party Creative is featured on both seasons of Sweet Life: Legacy Table. It's an event that brings various young movers and shakers together to network and have a good time amongst like-minded people. This season we saw Legacy Table go bi-coastal as Burns hosted her first New York installment. The event was a success that led to a lot of exposure for the agency and made a good impression on Biggie Smalls' son, CJ Wallace, in episode five.
"We broke barriers by being bicoastal. When I go on [IG] live, many people say, 'Come to DC, come to New York, come to Philly.' The Midwest and the East Coast are tapped in now. Having that visibility outside L.A. means so much for House Party's future," says Burns.
But Tylynn admits it's not easy being in the creative space and now on TV as a dark-skinned Black woman. She's aware of how covert colorism and misogynoir show up on screen and in her everyday life. "There's no room for error, especially for a dark-skinned Black woman. Compared to some of my other cast members, even when it comes to the men on the show, I am held to a very high expectation, which is a lot of pressure," she says.
Despite the world constantly trying to take agency and dehumanize Black women, Tylynn leads with humanity, sharing vulnerable, real moments with the audience. In episode six, she disclosed her abortion during a couple's therapy session with her boyfriend, Jaylenn. Although the season was filmed a while ago, abortion has been a huge and very polarizing topic since the Supreme Court recently overturnedRoe v. Wade. "It was easy for me to talk about," says Tylynn. "I wanted to show women that you're not alone. One in five women, I believe, have abortions. And once I shared mine, friends and family told me about theirs. I just wanted to open that dialogue in that safe space."
During that therapy session and throughout season two, the audience saw the not-so-Instagram-able moments of her relationship with Jaylenn. "I'm not the perfect girlfriend, and he's not the perfect boyfriend, but we're getting there. We have this mutual respect and love that was good for Instagram and TV, but obviously, we're missing it," Tylynn says of her relationship being in the public eye.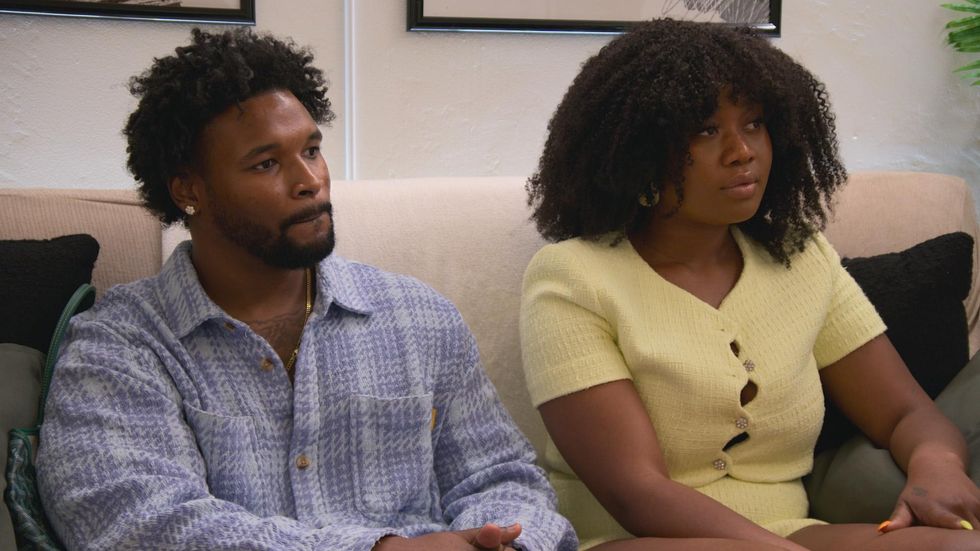 Jaylenn Hart and Tylynn Burns in 'Sweet Life: Los Angeles' Season 2 - Episode 7Courtesy of HBO Max
"I wanted to shed light that even though Jaylenn and I are like this, we're not perfect and have history," says Tylynn. Fully aware of what they signed up for by being on TV, she reassures us that the two are "solid." She hopes, beyond just watching and judging, that the audience can relate to these honest moments and reflect on times they went through similar experiences. "It's hard to be under pressure to say and do the right things with a partner because you have your views, and they have theirs. And so, I hope that people respect where we are right now and where we're going," she says.
This season, Tylynn went on an apology tour as she worked on herself through therapy and her platonic and romantic relationships. "I have learned that I'm not as self-aware as I thought. Therapy showed me that I have to know myself in relationships and friendships to be better or more self-aware," says Tylynn. Partly because of being a Pisces, Tylynn tends to read the room and decide what part of herself she is willing to share. "I realize by doing that, that when it's time to be fully me and stand in my emotions and thoughts, I don't know how to act. As you see [on the show], I either have blow-ups or try to get my point across, but it doesn't translate because I was trying too hard to fit other people's narratives without trusting my own," she tells xoNecole.
For Burns, the hardest thing to re-watch on the show this season was the disagreement with Rob because her best friend Amanda was put in the middle. She's aware of how that situation not only impacted her and Rob but those they care about. "Having to re-watch that and having the relationship I do with [Rob] and Amanda's parents, just in the back of my head being like, 'dang, I kind of failed so many people.' Based on an unhinged reaction to something that could've been talked through. I feel like that is just your worst moments being blown up on-screen for everyone to dive into without having the full context," she says.
Another long-awaited apology came at the tail end of the season as Tylynn made up with Jerrold during the Mexico trip. Both serve as the glue for the respective smaller friend groups that make up the core cast, and since their fall-out, in season one, it "fucked up the synergy with everyone." After filming the scene, Tylynn tells xoNecole that the two shared a hug and a sense of relief at being back on better terms. However, Tylynn isn't sure if they'll ever be the same as they once were.
"What I said on TV [about Jerrold being a 'sociopath'] and how I felt he handled the situation [leaving Jaylenn to fend for himself against castmate Jordan Bentley on Jerrold's podcast in season 1] will live forever, and it'll be a constant reminder even in our lowest points. But we have a ton of history and so much love and care for each other that should be the driving force with our friendship moving forward," Tylynn tells xoNecole.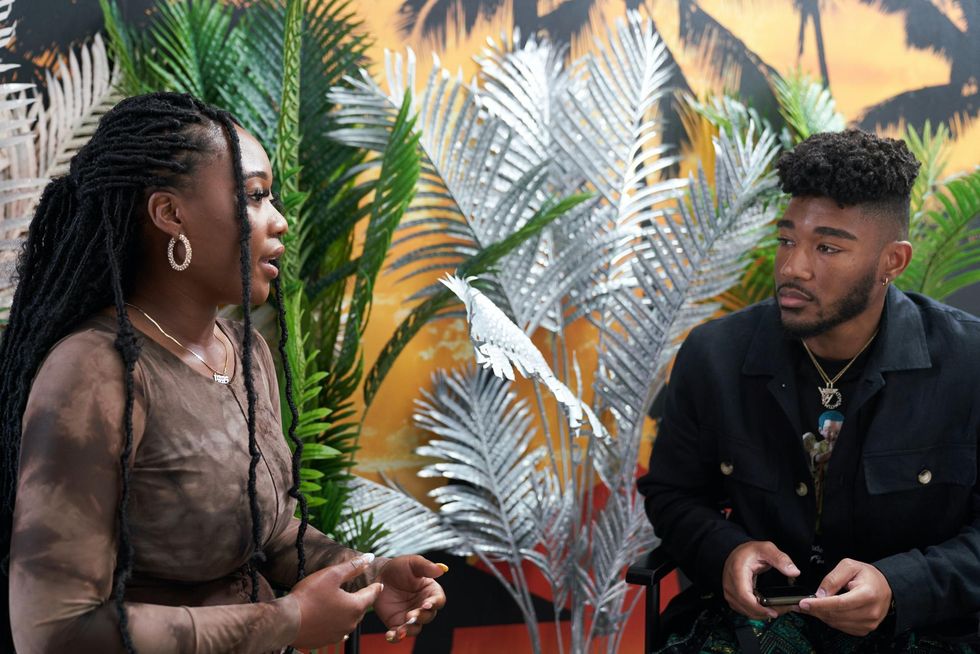 Tylynn Burns and Jerrold Smith II in 'Sweet Life: Los Angeles' Season 1 - Episode 9Courtesy of HBO Max
Though Jordan doesn't appear in season two, there's no hard feelings or drama around that decision. "He let all of us know [that he wasn't coming back for season two] and we were all incredibly supportive of that," Tylynn tells xoNecole. "Like, he has so much going on with [his business] Hypland and even his own personal endeavors and stuff. And so like sometimes the timetable for a show and that doesn't mix. And so we're super supportive of him choosing what he did." In his absence, supporting cast members Keilan (Jaylenn's cousin) and his long-term girlfriend Candiss got to step up with more screen time this season.
As for what's next for Tylynn, she is excited for House Party Creative's future and taking some of their events nationally. She and Jaylenn are starting a new chapter, too, "We're looking for a house," she says, excited about their upcoming home tour. "And we are starting a family with our bulldogs," she emphasizes, then adds, "kids in a few years. We're good." And for any fans she may have let down this season, Tylynn has a message to them:
"Trust the process, continue to put your faith in me and what's in store for me because I'm a work in progress. I still appreciate how loyal people are. That tells me that there's still a lot of me in these moments that I'm probably not capturing. And so I don't know—stay tuned for my process."
Let's make things inbox official! Sign up for the xoNecole newsletter for daily love, wellness, career, and exclusive content delivered straight to your inbox.
Bey is back with her highly anticipated seventh studio album, Renaissance. The 16-track record is her first solo album in six years since Lemonade. And like with everything she does, she's raised the bar.
The album is a sonic masterpiece as Bey delivers her style and interpretation of the house music she was exposed to growing up. Beyoncé credits that exposure to her Uncle Johnny, who died of complications from AIDS, and she dedicates Renaissance to him in the album's liner notes.
"He was my godmother and the first person to expose me to a lot of the music and culture that serve as inspiration for this album," she writes. Uncle Johnny was a pivotal figure in Beyoncé's life and career, designing costumes for Destiny's Child with her mother Tina before high-end labels would dress "four Black, curvy, country girls." As a Black queer southerner living with HIV, Beyoncé's decision to dedicate Renaissance to Uncle Johnny and to center Black LGBTQIA voices and Ballroom history and culture in the music is one of unconditional love and hope. Music journalist Gerrick Kennedy agrees.
"She's talked about her uncle over the years, but to really celebrate that [with Renaissance] ... If we hadn't had this moment [with COVID lockdown] where we have been sitting and reflecting, I don't know if we would've gotten a project like this," Kennedy tells xoNecole. "It also feels like [Beyoncé] allowed herself to grieve this family member, but also this part of her and her mother's life and how she was raised and the [queer] scenes that she was privy to as a kid [in the South] before we all really knew her," says Kennedy.
Fans got a taste of her intentions to honor the Black queer community with this album on June 21, when she dropped the lead single from Renaissance, "Break My Soul." The lead single features samples of Robin S.'s 1990 hit "Show Me Love" and the Queen of Bounce, Big Freedia's 2014 song "Explode."
"For [Beyoncé] to extend her hand to her queer fans, hold us up the way that she did and create a universe for us [with this album]. There's something really magical about it," Kennedy says.
"Cozy," the second song on the album, serves as a proudly queer-centric affirmation of being comfortable with who you are and features trans icons Honey Dijon and Ts Madison. In verse two, Beyoncé sings about colors that describe Daniel Quasar's 2018 Progress Pride flag design that brings marginalized LGBTQIA+ people of color, trans people, and those living with HIV/AIDS to the forefront. And in the post-chorus and bridge, there's a sample of Ts Madison's video "B**tch, I'm BLACK."
"There are no words to describe my feelings," Ts Madison tells xoNecole about the opportunity to feature on "Cozy." "Beyonce is a global phenomenon. For her to add my voice and statement piece on this project means a great deal to not only the Black community, but also the trans and queer community," she says.
My favorite track, "Church Girl," reminds me of Sunday sermons ending at 3 p.m., followed by a community fish fry and great music as the Louisiana heat beams down on my skin. Besides its reminder of my southern roots, "Church Girl" serves as a form of catharsis to let go of your burdens, whether at the altar or on the dance floor.
That form of release is the common theme throughout the album, emphasizing the importance of agency, self-love, and freedom to express yourself.
Renaissance also features contributions from The-Dream, Tems, NO I.D., NOVA WAV, Raphael Saadiq, and Mike Dean, to name a few. Songwriter Diane Warren might have tried to come for Beyoncé crediting 24 writers on one track of Renaissance, but it's Beyoncé's communal approach to her craft that makes Renaissance flow so beautifully; it's how she's able to merge regional sounds and flip them with some southern spice.
Music historian and author Craig Seymour says that with her collaborations on Renaissance – like featuring live trumpets played by Bastrop, Louisiana native Jamelle Adisa on "Cuff It," – Beyoncé reconnects house music that had been born in places like Chicago back to its southern roots, honoring the foundation of the genre itself.
"People always want to act like Black history is brand new, but the first thing is to understand the huge influence of the Great Migration," Seymour tells xoNecole. "All those people who created early house music were the grandchildren of Southerners. So those southern cultural traditions and things like that were a part of their lives even though they were in an urban environment," says Seymour. "The kind of yearning, the desire for acceptance that you get with a lot of early house, you can trace a lot of those elements even back to the urban blues, which essentially was the soundtrack to the Great Migration."
Seymour also tells us that the sub-genres of house Beyoncé chose to recreate on the album show her commitment to authentically representing the culture.
pic.twitter.com/wgYIRZg465
— BEYONCÉ (@Beyonce) July 29, 2022
"One of her most significant influences on the album is the sub-genre of house called 'bitch tracks,' which were often made by drag performers who were basically reading somebody on a record. Moi Renee's "'Miss Honey'" is one of the foundational ones, and she sampled Kevin Aviance's "'Cunty'" on [the track] "Pure/Honey," says Seymour.
It's that track, as well as "Alien Superstar" that season one winner of the HBOMax vogue competition show Legendary Calypso Jetè Balmain relates to the most. But Calypso, who's worked with Megan Thee Stallion and more, is no stranger to how thin the line between homage to the culture and commodification can be.
"Being a Black trans woman and knowing Ballroom, going back to the roots and everything, I don't want this to just be another way of getting people to tune into music," says Calypso. "I'm kind of sad that it took for Beyoncé to do things like this [for the community to get the attention it deserves]. I love it; I appreciate it. But I don't want this to be [seen as] a trend because Ballroom has been around for so long." She hopes that the visuals for Renaissance will showcase the culture authentically.
"It will open the eyes of many who are allies or not LBTQIA+. Because right now, people are just hearing it, and people are probably like, 'Oh, my God, this is a great time because Beyoncé made it,' says Calypso. "If you were to walk into a straight club and say, 'Oh, play Kevin Jz Prodigy.' They'll never play Kevin Jz Prodigy. They don't know who that is."
In recent years, Ballroom — traditionally an underground haven for Black and brown LGBTQIA+ folks — has become a part of the mainstream pop culture discussion thanks to TV series like Pose and Legendary, and a resurgence of house music. While the general public gawks at the beauty, glamour, and voguing, there's a deeper story of resilience, survival and strength in community. "Nobody wants to talk about AIDS because it created a substantial generational gap," Seymour says. "The government's inaction caused gay men to die disproportionately of AIDS, especially Black gay men."
And now, at the height of anti-LGBTQIA+ legislation and the short life expectancy of Black trans women, who are attacked daily, we must look beyond the surface. Renaissance is more than a musical masterpiece; it's inherently political and communal as she lends herself and platform to the memory of her Uncle Johnny and to generations of queer folks. Looking back to move forward through music is a form of resistance in her wheelhouse, using this album to bridge young queer folks to their elders, roots, and the ongoing fight for our rights. That's the true essence of Renaissance in every sense of the word.
Let's make things inbox official! Sign up for the xoNecole newsletter for daily love, wellness, career, and exclusive content delivered straight to your inbox.
Featured image by Carlijn Jacobs