Danielle Kimberly
Danielle Kimberly is a Jersey girl and a health & wholeness educator. Read her humorous & habit forming stories for women of faith on www.luxevoyage.org. Follow her on Instagram and Twitter @dannikimberly.
Mikki Taylor, ESSENCE Editor and author of the newly acclaimed Editor and Chic, changed my life with one quote, "Queens do not belong on well-being welfare."
I think I was on the third trip to my primary care doctor and had about four brush strokes filled with clumps of hair before I realized that paying attention to myself was no longer an option but a necessity.
Stress kept me rolling around in the bed for hours before the alarm clock, exhausted before I began the day, running for shots of espresso at 3 pm, and dragging myself to bed with aching muscles and punching bags under my eyes.
I wore the fact that I Paid Time Off that carried over because I refused to take a day off. It proved a lack of commitment and I found myself doing so in hopes that this entity would value my loyalty. The same entity that would steamroll over bodies and simply "replace" countless employees who left on a medical leave from nothing other than pure exhaustion.
World Health Organization (WHO) and National Institute of Mental Health quotes from a 2017 survey says anxiety disorders affect 18.1 percent of adults in the United States (approximately 40 million adults between the ages of 18 to 54). And a lot more go unreported every year.
In Black Girl Magic History of Push Through, we often ignore the very real and tangible signs that our body gives us to slow down:
Upset stomach,
Waking up fatigued,
Tension in the muscles,
Frequent headaches, and
Chest pain.
Nonetheless, it's unrealistic to say that our lives can be lived without stress but how we choose to cope with stress can ultimately either shorten or prolong our lives. It is that serious. We have been taught as black and brown people to trudge through enormous amounts of pain in order to reach a far reaching goal.
However, there are things you can do to make time for you and organize the chaos causing you stress:
Prepare the Day Before: Before leaving the office, I cue up any work I have to complete the next day and set reminders for the next morning.
Create a Daily Master Plan: Creating a time management schedule will allow you to schedule productivity in an effective and regimented way. Having a morning ritual that begins way before you enter the workplace including a relaxing shower, water with lemon, and a morning coffee is important. I also take a few moments to look at my calendar to mentally prepare for what is going to happen that day.
Utilize Your PTO: I have a 2-days a month rule or one week every season vacation rule.
After Work "Me" Time: I can't wait to clock out today because Travis - my massage therapist and I - have a date at 6 pm. On days where he is not working the stress out of my body, I take a warm bath or run on the treadmill. Whatever it takes for you to have a few minutes to yourself to process the day and unwind, do it!
Invest In You: So, I hated my job and complained about it every day but made absolutely no moves to change it. It wasn't until I took advantage of the tuition reimbursement benefit and the seminar/conference advance pay that I realized it is important to use your current circumstances to fund your aspirations. Also, take advantage of any pre-tax benefits your organization may afford including retirement, commuter benefits, health spending, or flexible spending accounts. Budget for the things that make you happy and not just the bills. I LOVE eating at a new restaurant at least once a week and travel. Knowing this, I plan to take one big trip a year and budget for the luxury of dining at somewhere posh once a month.
Stress will come but if we can identify what triggers it, we can proactively hinder it from inflicting permanent damage on us. Remember, you are the boss of your own life.
Want more stories like this? Check out these xoNecole related reads:
To Live A Purpose-Filled Life, You Have To Leave Your Comfort Zone
10 Ways To Develop An Entrepreneurial Mindset
Why I Started Rocking Box Braids In The Boardroom
6 Side Hustles You Can Employ While You're Unemployed
Featured image by Shutterstock
It was the Sunday before Thanksgiving and I was in the middle of one of the biggest fights of my life. Perhaps, the most hurtful part of the blind anger, and blood red rage was who I was in the fight with. My opponent during that fight wasn't supposed to be an opponent at all, he was my fiancé and almost a year ago, to that date, he had asked me to marry him. And now, we were fighting each other with words that could make anyone think that love had never grown, made, lived, or stayed there between us at all.
It was an hour before our food tasting at the wedding venue, but I could not feel anything. I was numb. I watched his back walk out of the door to leave.
Tears flowed down my face.
I accepted the sadness I felt in the time following our break up. Not for him. They were for me. I felt like the relationship failed despite all my effort. It was a realization that only solidified more as I thought of the save-the-dates that had gone out to family and friends, the venue that was halfway paid for, the wedding dress I no longer had a need for.
How could I stop now?
As I look back now, I realize that the feeling of failure was still easier to swallow than regret would ever be. And the relief I felt after sadness subsided forced me to realize that I was glad the train had stopped well before it pulled into the station. Deep down, I was grateful to him for walking away.
It meant I no longer had to say "yes" when every fiber of my being was screaming "no" all for the sake of a so-called happy ending with a man I no longer felt moved by or enamored with.
It's okay to be wrong in love.
Here are the 7 signs I wish I paid attention to long before that fight that told me the wedding was off: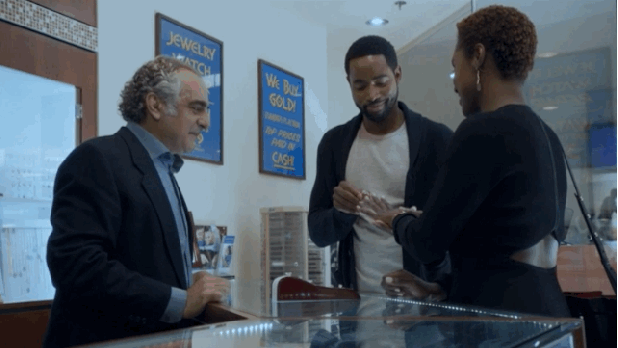 Nothing About Our Relationship Was Organic
I met my ex-fiance the day before my first solo trip out of the country. I re-read the article I wrote about it now laughing at my ignorance. I didn't listen to a friend that said, "Get to know a man through all four seasons before committing your life to him." I had it mapped out to a science. Controlling my destiny was so important, I even organized the date and time of his marriage proposal. It wasn't a surprise. Nothing about our relationship came naturally because I was constantly forcing him to show love he didn't rightfully feel.
Of course, a man can say he loves you, but if he wakes up in the morning, fixes a full breakfast for himself and never asks, "Are you hungry?", you can make a safe bet that his words are just words. Love motivates us to be selfless.
Love moves us to give and, when it's authentic, giving is as natural as breathing. I ignored all the signs while simultaneously depending on signs to hold us together. What do I mean? The distance between us and our inability to communicate was consistent. However, on days where he'd happen to finish my sentences I thought, Oh my God, that's the sign that he was made for me. I just got to stay committed and rock with him!
Trust what is consistent. Trust your heart. I learned to stop fishing for signs and see things as they are.
My Body Changed
I gained 15 pounds. It wasn't the cutesy "date night eating out" weight because date nights ceased with a wedding looming overhead. It was stress weight. After my annual biometric screening, I was told to take a stress test. My blood pressure was incredibly high. If that wasn't enough, the hair around my temples receded after I'd cut off all my hair. I felt horrible about myself. The progress I'd made just the year before in being the healthiest I'd ever been was completely wiped away.
I Made No Personal Advancements
While personal advancement is a self-motivated decision, sometimes I was so obsessed with the relationship that I stifled my own growth. It's important to hold some energy back for your own goals and ambition. It's also important to connect to a man or woman who is your ultimate cheerleader. On days you run out of energy, he/she makes you feel like you can leap over tall buildings. Most importantly, you cultivate that "I Can Do Anything" spirit from having a healthy balance between your personal goals and the "us" goals. I didn't have the balance. It was all about building the "us" life and my life lost its luster.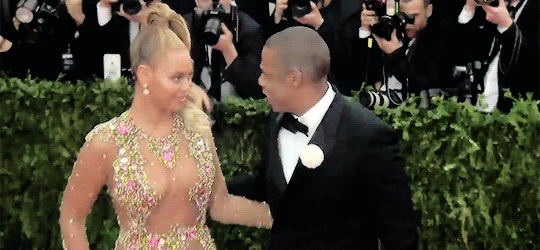 I Had To Fake That The Picture Was Perfect
I became wedding planning obsessed while the relationship was falling apart. The image of the "best day of our lives" was the only joy I had. We made the commitment so we had to make it work. If I focused on the wedding plans, then the relationship would work itself out. I just had to keep pushing forward. I began overcompensating by creating the "grand" wedding in effort to mask the fear that I was making a mistake.
I went to my second bridal shop and found THE dress. I'd watched hundreds of would-be brides stand on the podium when they finally said 'yes to the dress' and cry tears of pure joy. My mother was teary-eyed. Her firstborn was in a gorgeous gown with a chapel-length veil. It was real now. I was going to marry him and I felt sick. I stood there with a beautiful dress on and the owner of the boutique said, "I sense some hesitation." The hesitation she sensed was not about the dress…it was my heart.
I remember leaving the boutique. Still manufacturing excitement, I called him saying "I found the dress!" He said, "That's nice. I'll call you after I'm finished doing what I'm doing." I stared at the phone, beeping with the sound of an abruptly-ended call. The wedding dress that should have been freeing felt like a straightjacket.
I Was Not Keeping God At The Center
My relationship with God came to a standstill because building this other relationship became the singular focus. I'd sit in church and plan out table settings and centerpieces in my head. I'd fill the hole with keeping busy. A friend said something so powerful to me once: "Christ is so important in a relationship because every time I get into an argument with my wife, I am convicted. My relationship with God gives me that push to say, 'Hey, I'm sorry.' God values at the center of your relationship holds you to a higher standard of how you treat each other. She is my partner and not my enemy."
It should never get to a place where name-calling is the go-to defense or ending the relationship becomes a curse-filled mantra. God is the compass that causes you to honor each other even in heated disagreements.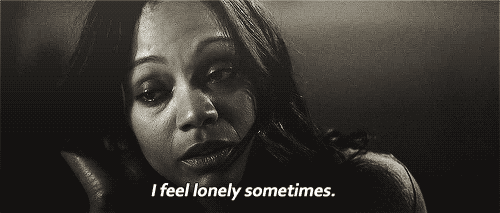 I Felt Really Alone In My Relationship
There I was, seven months away from the big day and I felt more alone than I'd ever felt in my life. I'd been stripped of my first love, which was travel, in order to prioritize the relationship first and not offend my soon-to-be-husband. He was on the couch playing video games or watching Netflix. I was in the bedroom buying home appliances or watching Four Weddings. This would go on for hours with barely two words spoken to each other until I fell asleep or he left the apartment to "do something." I became a clam, only imparting my feelings to my friends. He became resentful, using the silent treatment towards me whether we were together or apart.
Communication failed and therefore so did trust. My relationship with my friends ceased to exist. When I went to Barbados with my college friend for my birthday, a monkey ran across the main power line on the island and shut down the power in three parishes. The power outage also impacted the cell phone towers. To my fiancé, the story seemed as far fetched as it sounded. I spent most of the time there arguing about the veracity of the power outage on the island. Even in another country, I was unhappy. We were in a relationship in title but could not have been more apart in action.
We Were No Longer Compatible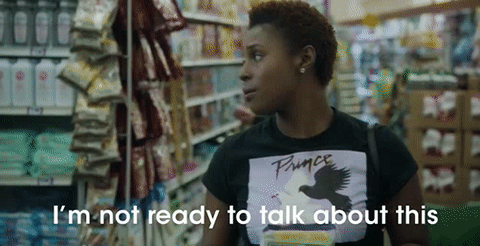 Seeing value in what makes you different and appreciating it is what makes relationships work. He and I had two very different backgrounds. I am very suburban and he is very urban. I am a newbie traveler and he is a chronic homebody. He is frugal. I am for fabulosity on a budget. Our differences became obstacles instead of assets. They were weapons that drove a wedge between us instead of drawing us closer together. What we failed to do was respect the incredible things that made us unique. No one will ever find a person who is compatible in every way. Compatibility is important when it comes to values but differences are important to building mature balanced relationships.
The apartment was empty. I stared at a brand new Spin & Scrub Hoover vacuum cleaner and my new touchless trash can. All of these high tech appliances surrounded me but a gilded cage is still a cage. Actress Meagan Good's husband, Devon Franklin once said, "For anybody that has ever been married getting the ring isn't the end of the story. Unless God cosigned that ring, you are in trouble. Don't compare your life to someone else's life because you could be coveting trouble."
Thanksgiving Day, I had a family auction. I gave away most of the things I'd purchased during the course of the relationship. It gave me the closure I needed, and the satisfaction of witnessing my family and friends receive the things they needed.

To my surprise the family embraced my change in relationship status with a "thank God".
They saw the sadness I thought I'd masterfully masked. The fear I had of failure dissipated with each Taboo card thrown on the dinner table and each piece of cinnamon glazed sweet potato pie passed around. Life goes on!
We are living, breathing beings that grow and change.
I am embracing the fact that every relationship isn't the right one. I've learned to make a U-turn when it's necessary. No amount of commitment in the world is worth sacrificing your happy. By all means, get your happy!
Do you have a personal story that has happened to you and left you feeling empowered? Share your story with the xoNecole readers by sending your submissions to editor@xonecole.com!
Featured image by Beatriz Pérez Moya on Unsplash
Most of us know someone in the family that is perpetually "robbing Peter to pay Paul" and are the CEO's of hustling somebody for a dollar.
Mary Jane, played by the amazing Gabrielle Union in the BET series Being Mary Jane, found herself in the sunken place of carrying her entire family both emotionally and financially. It seems being a "bawse" and taking care of your family financially is the price you pay for being successful.
While Mary Jane is a fictional character, how many examples do we have of celebrities going broke to pander to the poor spending habits of relatives and friends from 'round da way? This is even more of a relatable scenario if you are the successful exception in your family.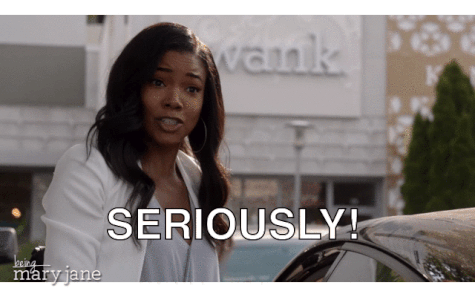 If one person in the family "makes it," the expectation is that they will support everyone. Establishing boundaries are even harder to do if just a few months ago you were living on your mom's couch eating a Cup of Noodles, now if she's asking you to return the favor, how can you say no? A favor can quickly become the go-to bail out plan. Suddenly, you have become your family's walking ATM.
The tough love required to dig yourself out of becoming their personal GoFundMe will require a backbone and these important steps.
You Are Not Their Savior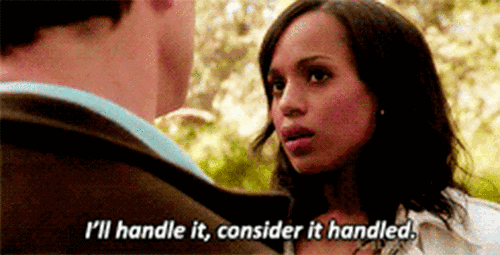 10 people should not be on your cell phone plan, using your Netflix account, and using your name to cosign a loan. It is not your responsibility to save your entire family from financial distress by becoming the enabler of their poor habits. Your financially stability is not only a necessity but a vitality.
There is an illustration that if a lifeguard is going to save someone they must put on their life vest FIRST before attempting to save the drowning man. This depiction also applies to being the "Great Hope of the Family Finances." You are not a savior, leave that to Jesus. A savior does not require accountability on the part of the person they are saving. They only seek to pull someone out of a poor situation without there being any requirements on the person being saved not to return to the poor situation.
While most of us would love a lump sum of money with no strings attached, our financial successes came with huge sacrifices. You are doing yourself and the sacrifices you've made along the way a disservice by reducing yourself to a check writer.
Bury the Guilt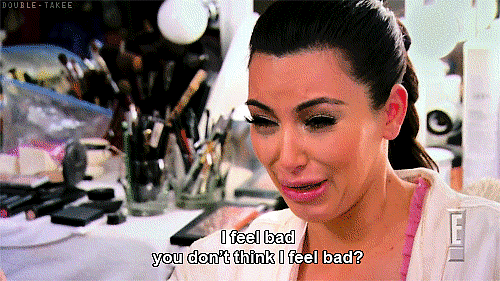 Repeat after me, "I will owe no one anything but love," (Romans 13:8).
When we talk about debt, we often talk about physical debt in the form of credit cards, loans, bad investments, etc. However, the most crippling debt is emotional. Often, the thing that keeps us from progressing financially is tied to memories that keep us captive. The shame of memories from when we were at our lowest can keep us indebted to our friends and family.
So, to combat the emotional tether, it will require physical action. Pull out pictures or a symbol that reminds you of that time, put them in a box, and bury them. We will not be tethered in our present actions by a past memory. Saying your goals out loud and releasing yourself from being indebted will send you on a path to pursue the financial freedom you are seeking.
Start a Family Fund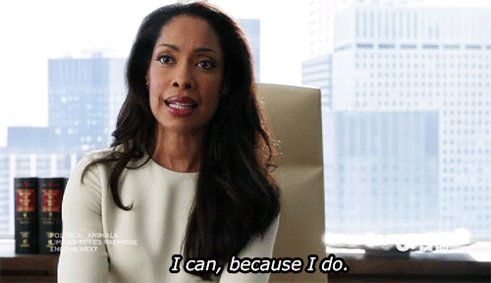 If you have a parent or grandparent who have found themselves in a financial hole, I would suggest that you budget an amount monthly that you will contribute to an account. Name the account the "Family Fund."
For example, if you contribute $100.00 a month, then that is the ONLY money that you contribute to that account. Make your designated family member a joint account holder to the account. Then they will receive a debit card that they can use to draw money from the account. Once the money in that account is gone, you are no longer obligated to give any more. The responsibility is then theirs to use it as sparingly or often as they like.
We do not have to sacrifice our own financial stability in order to improve our families. Building generational wealth means that someone has to be the pied piper of the movement and strong enough to break the financial cycles that have kept us crippled. So, the next time fam says, "'Cuz, I'm tryna be a bawse like you."
Smile. Pull out a chair and say, "Great, get your notebook."
Featured image via Being Mary Jane/BET
It feels like my life has been waiting on hold for over a decade.
While other people were celebrating career wins, I was living at home waiting for my "big break." I believed that if I just kept my head down and worked hard, eventually that would be rewarded with a promotion.
Instead, I found that the more efficiently I did the service work, the more service work was thrown in my direction. People were under the impression that I really "needed" the hours. I realized that my reflection spoke, "Need". My image said, "She's desperate for the money," and their treated behavior reflected pity instead of respect.
After weeks of back-to-back 16 hour days, I'd reached my breaking point. I was tired of being an hourly, graveyard shift employee who couldn't afford a day off without making life decisions about eating or having enough to afford public transportation to and from work. I constantly saw the executive, predominantly white, women around me discuss their lengthy vacations and spa treatments. Meanwhile, my coworkers were often sick, injured, tired, and stressed out.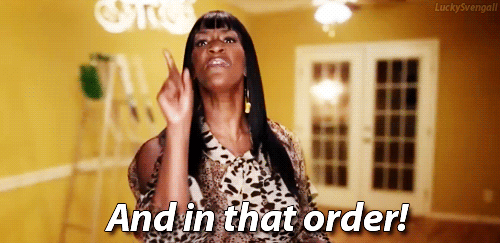 www.ustream.tv
The morale was crumbling around me and, I decided I wanted more. I was more.
I stopped making excuses for my condition and started observing the C-Suite and the women I secretly envied. I boldly asked them questions in dirty scrubs. I implemented five rules that not only catapulted me out of CNA scrubs and into a pencil skirt, but increased my salary by 35K in ONE year. I had discovered the habits and rules of conduct that changed not only my circumstances, but how I viewed myself.
1. Your Bedroom Is Your Boardroom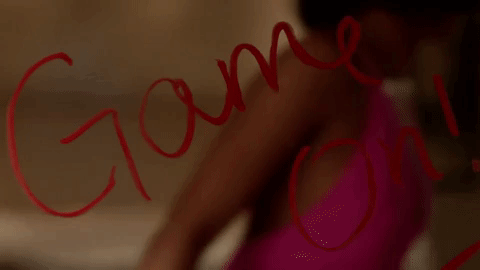 media3.giphy.com
I ran home, took out an old lipstick, and started writing my war plan on my bedroom mirror. The bedroom is the place where the wig comes off, the makeup comes off, and we are naked to the truth. It's where we write our hopes and dreams. It is our sanctuary. However, transforming it into the board room and the place where affirmations, concepts, and the vision for my life was created, allowed me to see the roadmap clearly.
Creating a business plan for your life is so important to have a clear view of what aligns and doesn't align with it. That one move to wake up to affirmations and end the evening with a review of whether I completed that day's goals, gave me direction. I no longer felt like my future was left to fate alone.
2. Busy Is Not Better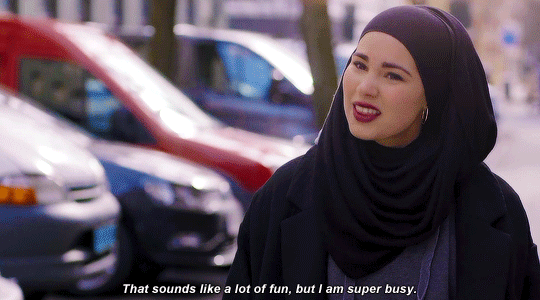 data.whicdn.com
Studying the executives that walked around me, I noticed they were strategic in the positions they took and the titles they fought for. They negotiated quality of life perks like working from home twice a week. Some even wrangled companies to pay for their living expenses. Be strategic about the commitments you make.
In the beginning, I threw all the balls in the air. The busier I was, the more productive I thought I'd look. The goal is not to "look" busy, but to be busy, checking off the goals that you created in step 1. The object is to manage your commitments to stay productive not necessarily busy.
3. Progress Is Better Than Perfection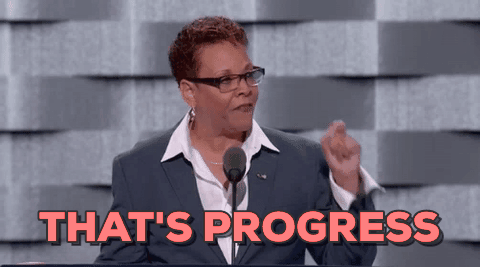 media2.giphy.com
I heard a podcast featuring Paul Brunson where he said, "Some people point, aim, and aim, and aim so long the gun gets jammed and they never fire." I was a chronic "waiter" I waited for the right time, the right money, the right temperature, the right flight price. In pulling the trigger, I realized that having a unique skill set outweighs multiple degrees and certifications. I have the power to make people believe that I can produce the impossible, and I have the fortitude to see it through. When I realized that, I was able to land a job within an industry that was "lily white."
Embrace the experiences that make you unique, and a position will create itself.
4. Fly Before You Walk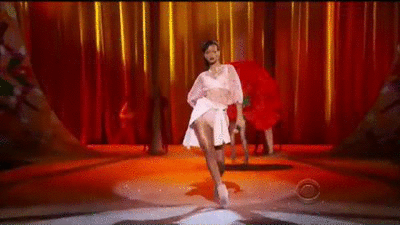 media.giphy.com
When I began to see myself as an Executive while collecting urine samples as a CNA, my actions started to emulate my thoughts. I began to walk like a suit in conversation and demeanor before ever leaving scrubs. In fact, people started to see what I felt and ask me things like, "Will you consider joining our committee? You should apply for..." A family member told me, "You learned to fly before you learned to walk."
In other words, see yourself in the positions and places you want to be and then create the action plan to get there. The same people who projected pity were now asking me to assist them on projects. Because I learned to display the value and unique perspective I brought to the table, they recognized that they could not ask for assistance without offering something return. They offered to pay me for my assistance. Now, a position that had once only provided one paycheck, provides multiple. #wingsandthings.
5. Name Yourself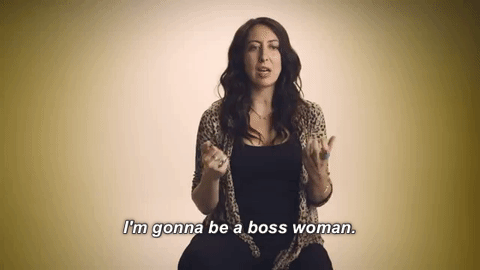 media0.giphy.com
My aunt used to say, "It's not what they call you, it's what you answer to." The more that I understood what I brought to the table, the more other people began to call for me to address the needs within the organization. However, where there are supporters, there are also people who question your ability. The retorts of, "She was just a CNA, she's not credentialed to speak on these things," sought to halt me from achieving purpose. However, part of step 1 was identifying my weak spots.
On the weekends, I sought online certifications in order to shut the haters' mouths and leverage myself into higher positions. I recognized that ascension does not come without controversy. Some of the executives of whom I sought guidance from now give me the cold shoulder. I could not understand why until I heard Tera Carissa Hodges say, "People are not very often envious of your things. They are envious of the time you have left."
Pursuing purpose requires a clear action plan that most do not find until the second half of their lives.
If you are fortunate enough to tap into it early, not everyone will be a fan. However, we do not have time to focus on who is not a member of our fan club because that is only a distraction.
So this is for the service workers, the women who ride the bus to work, the women who did not grow up with mentors or a clear path and feel like they are in dead end, thankless jobs. This is for us. There is a scripture that says, we "call forth those things that are not as if they already are" Romans 4:17.
What are you calling forth in 2018? Your journey to the boardroom begins now. Let's go.
Featured image by Getty Images