Corinna Young
My name is Corinna Young. I'm a native of Raleigh, NC and currently reside in Houston, TX. I am a fierce, faith-filled goal-getter and woman of God. I absolutely love writing. It was God's gift to me to save my life when depression and anxiety were consuming me. Writing from a place of experience is healing to me, and it allows me to inspire, empower, and encourage others. I also empower young minds each day through my career as a Professional School Counselor. I also have a faith-based brand on IG called "Christian Under Construction", where I inspire others to progress in Christ and not to be fixated on being perfect. I have published a devotional entitled "Christian Under Construction: A 30-Day Inspirational Manual on a Building A Progressive Relationship With Christ". In addition to all of these amazing projects, I am the co-host of a podcast called "She Did It God's Way", where my co-host Cortney and I we talk real life, real faith while keeping it real relatable. You can follow me at @christian.under.construction and @goldheartdiamondsoul.
Black love is such a beautiful thing. It's something that I aspire to have one of these days. When it comes to examples of black love, there are so many chocolate-dipped couples that give me hope; one in particular being Ciara and Russell Wilson. From afar, we all witnessed their love evolve, and all the girls wanted Ciara's prayer; word for word, verse for verse. Some people even equated their relationship as the modern-day "Ruth and Boaz".
The Ruth and Boaz Biblical narrative is #relationshipgoals in the faith community. A couple of years ago, I came across an interesting article entitled, "What If God Doesn't Send Your Boaz?" by Richelle Henry. Richelle provided insight regarding how your husband may not be a "Boaz-esque" man, but he may be like Jonah, Moses, or David, each of whom had flaws but were highly favored. So it got me thinking..."What if I am not a Ruth?" A woman who was hardworking, humble, submissive, and obedient. As I continued to chew on this thought, I did some Biblical research on some other women in the Bible who were perfectly flawed, but divinely directed.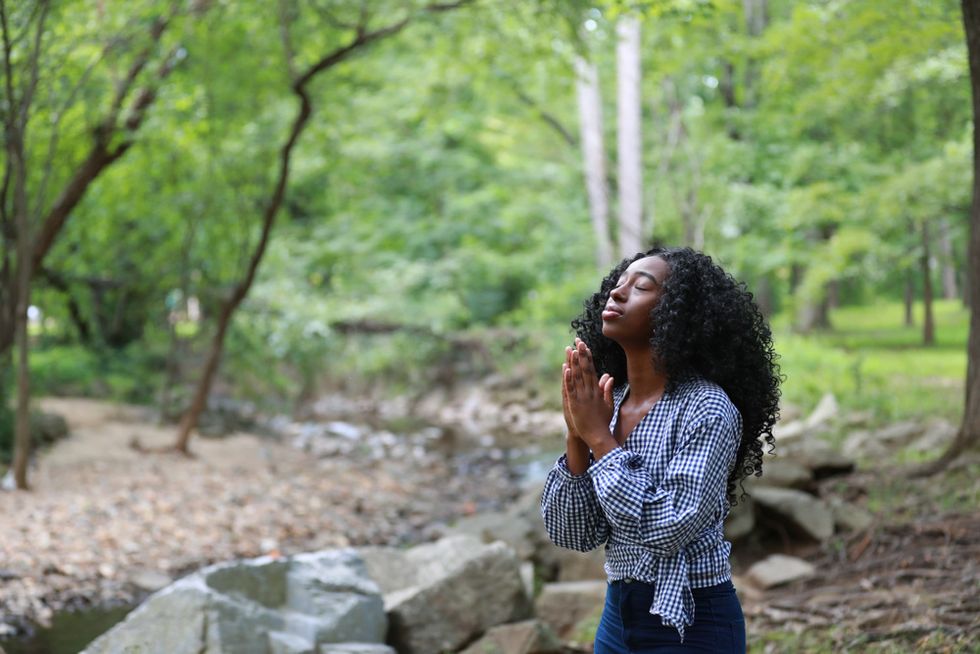 Shutterstock
What If You Are A Rahab?
Rahab was a woman with a promiscuous past. She was a well-known prostitute. Men only sought after her for pleasure but overlooked her cleverness. Rahab was presented with an opportunity to hide Israelite spies in her home. When the king came looking for them, she lied. Now not only was she a prostitute, but a liar, character flaws that would welcome judgment and scrutiny. However, her fearlessness and quick wit saved her family from being captured and killed when the Israelites conquered Jericho. She went from being an outcast harlot to an applauded heroine. She would later become the mother of Boaz.
Maybe you're like Rahab, and there is more than meets the eye, and your past does not predict your future.
What If You Are An Esther?
Esther was a woman of undeniable beauty. So much so that it garnered the attention of King Xerxes, who was so enamored that he made Esther his wife. Unbeknownst to him, she was hiding a secret. She was beautiful on the surface but conflicted because she was concealing who she really was: a Jew. She knew that exposure could mean execution. When an unforeseen event caused her husband to command all Jews to be killed, Ester had a choice to make. She used her position and power to take action to save her people, even if it meant putting her life on the line.
Maybe you are like Esther, experiencing Imposter Syndrome, but "perhaps you are in a royal position for such a time as this" (Esther 4:14), to take action as an advocate and activist. To be a woman who sheds secrecy to stand confidently in who you truly are.
What If You Are A Deborah?
Deborah was an unconventional leader. She was the "Olivia Pope" of her time. She was a fixer, consultant, and a warrior. Her profession of a judge was unheard of during that time. It was a man's world, and women were to be seen and not heard. She delivered messages of prophecy to men who trusted her guidance and direction from God. Deborah's tenacity and power cultivated confidence in others. Where she led, others followed. Where there was war, she spoke victory.
Maybe you have a Deborah spirit that is so infectious that it awakens strength, resilience, and boldness in men and women.
What If You Are A Miriam?
Miriam was the older sister of Moses. When Pharaoh called for all infant boys to be drowned in the Nile river, Miriam and her mother said, "Nah." They placed Moses in a basket to float upstream outside of Pharaoh's palace, where his daughter frequently visited. Miriam secretly watched and stood guard for her brother to ensure his safety. She watched as the princess scooped a hungry Moses out of the basket and into her arms. Miriam saw an opportunity to ask the princess if she could assist in finding someone to nurse the hungry baby. Clever, right! I'm sure the princess was thinking, "Where did this little girl come from?" Miriam was her brother's keeper.
Maybe you're like Miriam who will go out of your way to protect our Black brothers. You'll do whatever it takes to provide support and relief to the hungry outcries of our Black men.
What If You Are A "Woman With The Issue Of Blood?"
This nameless woman speaks to the issues we all have, whatever they might be. The woman with the issue of blood suffered from continuous bleeding for twelve long years. In her affliction, she was relentless to find relief. In her distress, she stopped at nothing to pursue wellness. In her sickness, she was desperate for deliverance. When she heard that Jesus was in town, she stopped at nothing to get to Him. She maneuvered through the crowd of people to touch the hem of His garment. She knew that with a little bit of faith, and a lot of Jesus that the hemorrhaging in her body would cease.
Maybe you are like this woman who was afflicted but anointed. Hurt, but on the hunt to be healed from the wounds of your past, heartbreak, and trauma.
While Ruth is a woman to be admired, so are you. Just because you don't reflect her attributes, does not mean that your love story won't be just as beautiful as hers. God will align you with a man who will help you to elevate in your faith, propel you in your purpose, protect your heart, and soothe your pain.
You won't need Ciara's prayer, nor Ruth's playbook.
All you need is faith, knowing that God is writing and casting a love story that is uniquely yours.
Join our xoTribe, an exclusive community dedicated to YOU and your stories and all things xoNecole. Be a part of a growing community of women from all over the world who come together to uplift, inspire, and inform each other on all things related to the glow up. We drop xoNecole events and special opportunities into our Tribe first.
Featured image by Shutterstock