Christina Jane
Christina Jane is a travel lifestyle blogger and writer living in Accra, Ghana, who encourages individuals of all walks of life to get out and see the world through transparency about her own life experiences on her blog, Being Christina Jane. Christina has been featured in Travel Noire, Bustle, HostelWorld, Free Spirit Media and has written for publications including Lonely Planet, Fodor's Travel, and Insider.
I traveled to Mexico for three days to explore a 5-star hotel in the heart of Cancun and ended up consumed in my thoughts pertaining to what luxury means to me as a Black woman.
What I thought would be a simple trip close to home to discover a new property turned into days of intense reflection on my end.
Stepping into an environment known for relaxation and refined experiences, I embarked on a journey that transcended lavish accommodations and exquisite amenities.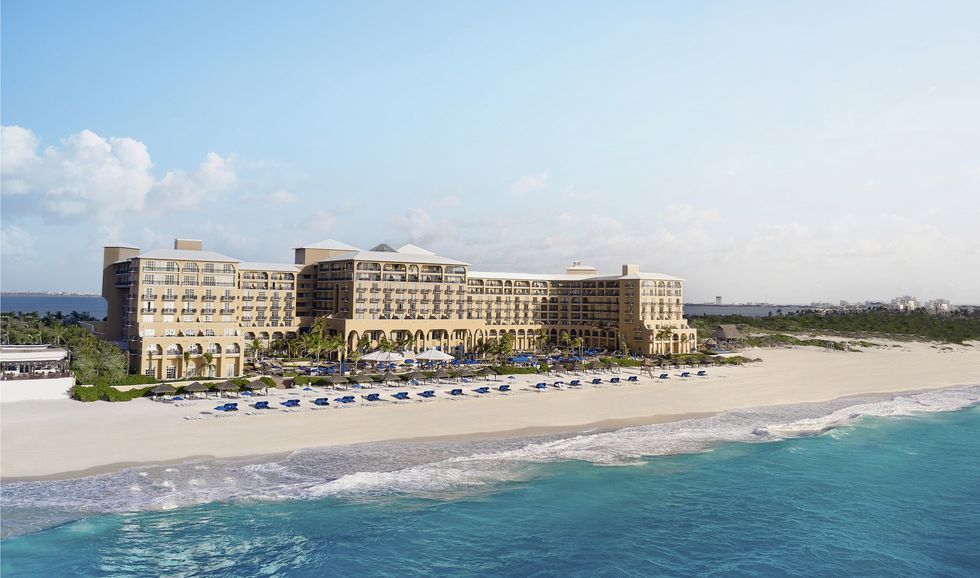 Photo by Kempinski Hotel Cancún
The Epitome of Elegance at Kempinski Cancun Hotel
Cancun, a vibrant city in Mexico known for its all-inclusive offerings at its many resorts and hotels, now has the Kempinski Cancun that is introducing a different model to the city.
A short flight from Florida, I found myself immersed in an embracive aura of opulence at the hotel.
Formerly known as the Ritz-Carlton Hotel, which operated for 30+ years, the property has been transformed under the Kempinski brand and has spent the last year intentionally incorporating European-centric features infused with a Mexican flair to display on the property.
Upon arrival, I was met with a convivial spirit from the staff that carried through my time. As I walked into the hotel's lobby, an undeniable work of royal elegance charm, it was clear that each piece of art held a story.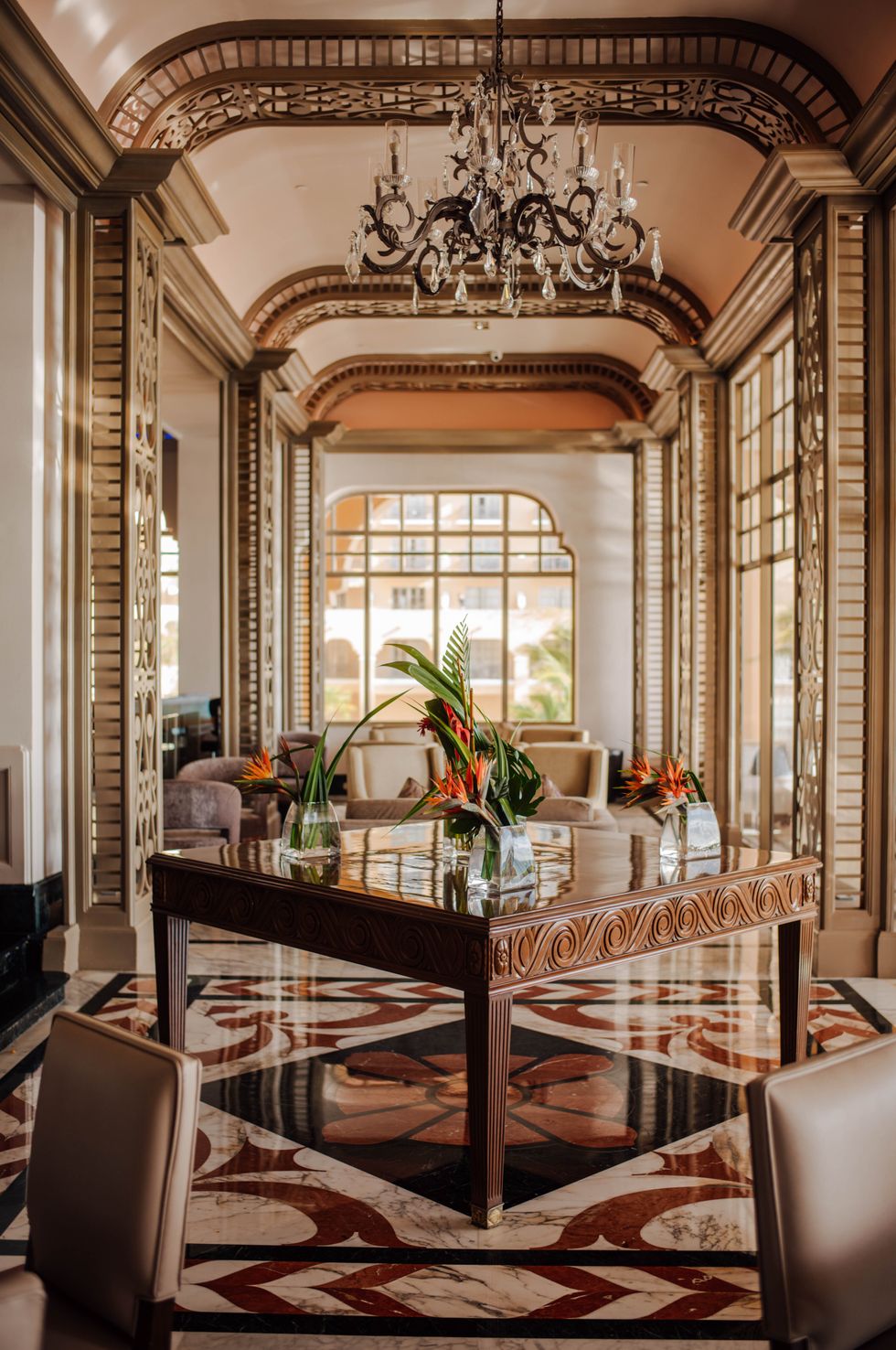 Photo by Kempinski Hotel Cancún
Intricate works of art were displayed throughout the hotel, like bureaus that were crafted by the historical artisans who did Maximilian I of Mexico and Charlotte of Belgium's master chamber's bedroom furniture at Chapultepec Palace and the carpet covering the lobby's staircase that was designed by Hermès in Paris 30 years ago.
My favorite area of the hotel lies in the center on the fourth level. Here, I found a garden-like sanctuary. Each railing bristled with sprawls of green vines hanging from the awnings of each floor, encompassed by green pillars providing stability for the masterpiece that lay in front of me.
In the middle laid a sculpture engraved with symbols representing the hotel owner's family trajectory. Overlooking the sculpture overhead, mosaic-tiled art pieces displayed through a stained glass ceiling allowed for casts of natural sunlight to the hotel, adding to the area's beauty.
Unparalleled Views from the Club Seafront King Room
I stayed in the Club Seafront King Room at the hotel, which granted me views of the turquoise expanse of the Caribbean Sea from my private balcony. Waking up to the sound of the rhythmic collision of waves against the shores, I felt like a queen awakening in paradise.
The interior exuded a blend of modern sophistication, with a plush king-sized bed dressed in fine linens as the centerpiece. Expansive windows allowed natural light to cast a warm and inviting glow into my room daily, positively impacting my mood.
With amenities like a marble bathroom with a rain shower, separate bathtub, minibar, coffee station, flatscreen TV, embroidered plush robe, desk, and more, being a guest in this room allowed me to indulge in a world of luxury that strayed from my conventional travel approach.
The Club Seatfront King Room granted me access to the hotel's Club Lounge, where personalized service and an array of amenities awaited me. From this private enclave that the hotel offers guests on the floors booked in the respective club rooms, guests can indulge in complimentary gourmet lunches, afternoon tea, desserts, evening cocktails, or just a time of relaxation from the comfort of the lounge.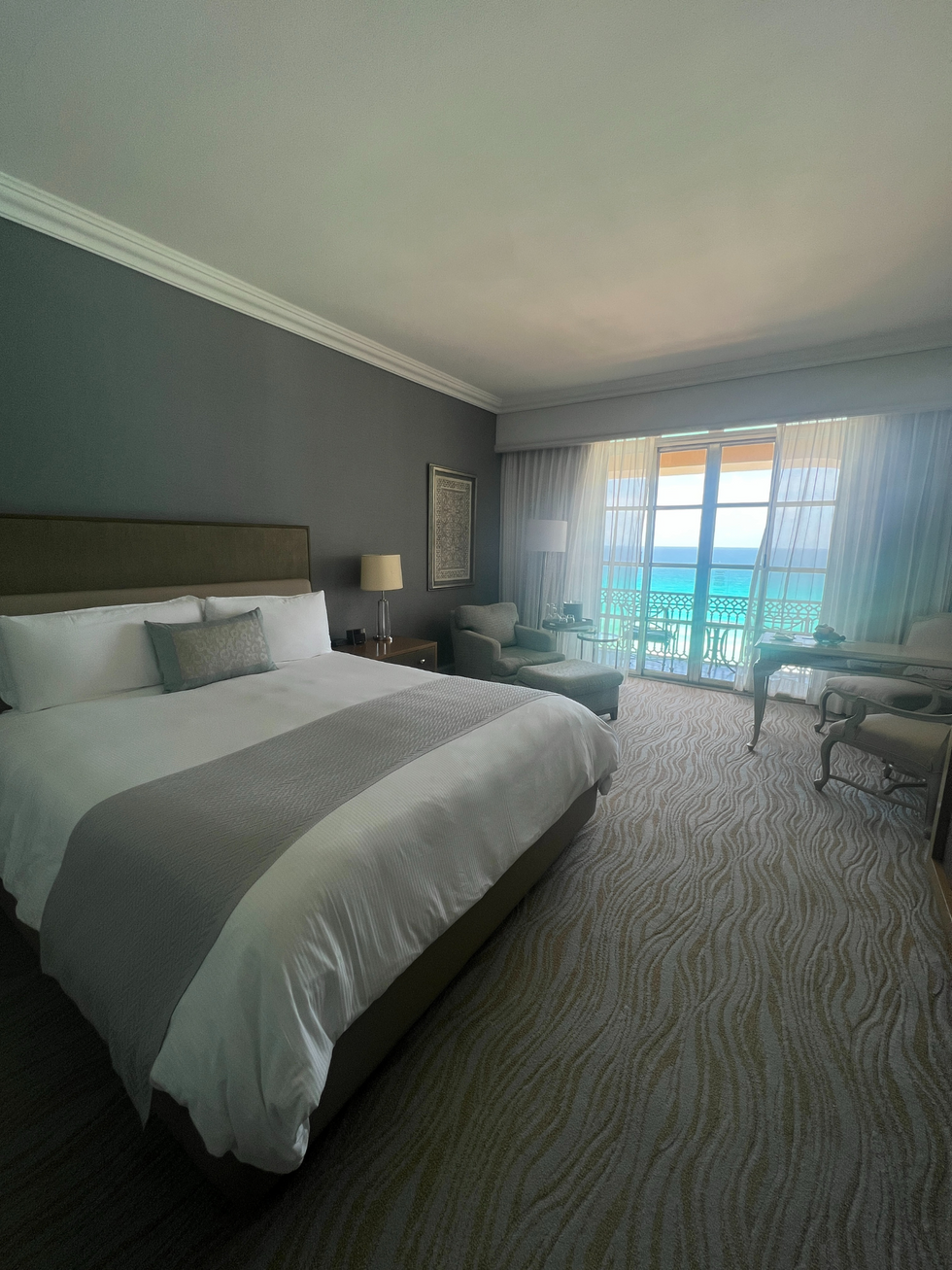 Photo by Christina Jane
Memorable Dining Experiences at Kempinski Hotel
Home to both of the only 5-Diamond restaurants in Cancun, dining at the Kempinski Hotel allowed me to delight in fine dining that presented an innovative expression of modern gastronomy.
5-diamond restaurants are prestigious ratings assigned by the American Automobile Association to hotels and restaurants around the world.
Fantino, an award-winning Mediterranean fine-dining restaurant holding one of the property's high ratings, allowed me to immerse myself into a two-hour dining experience with stellar customer service and soothing melodies of a live piano, adding another layer of elegance that enhanced every bite.
I still reminisce about the bites of filet mignon soused with Port wine sauce and my introduction to the taste of carajillo, a coffee cocktail popularly enjoyed after dinner.
When not fine dining, I had the option of opting into other dining experiences around the property, like savoring fresh seafood from the casitas placed in front of the ocean or locally-inspired dishes at the El Café Mexicano.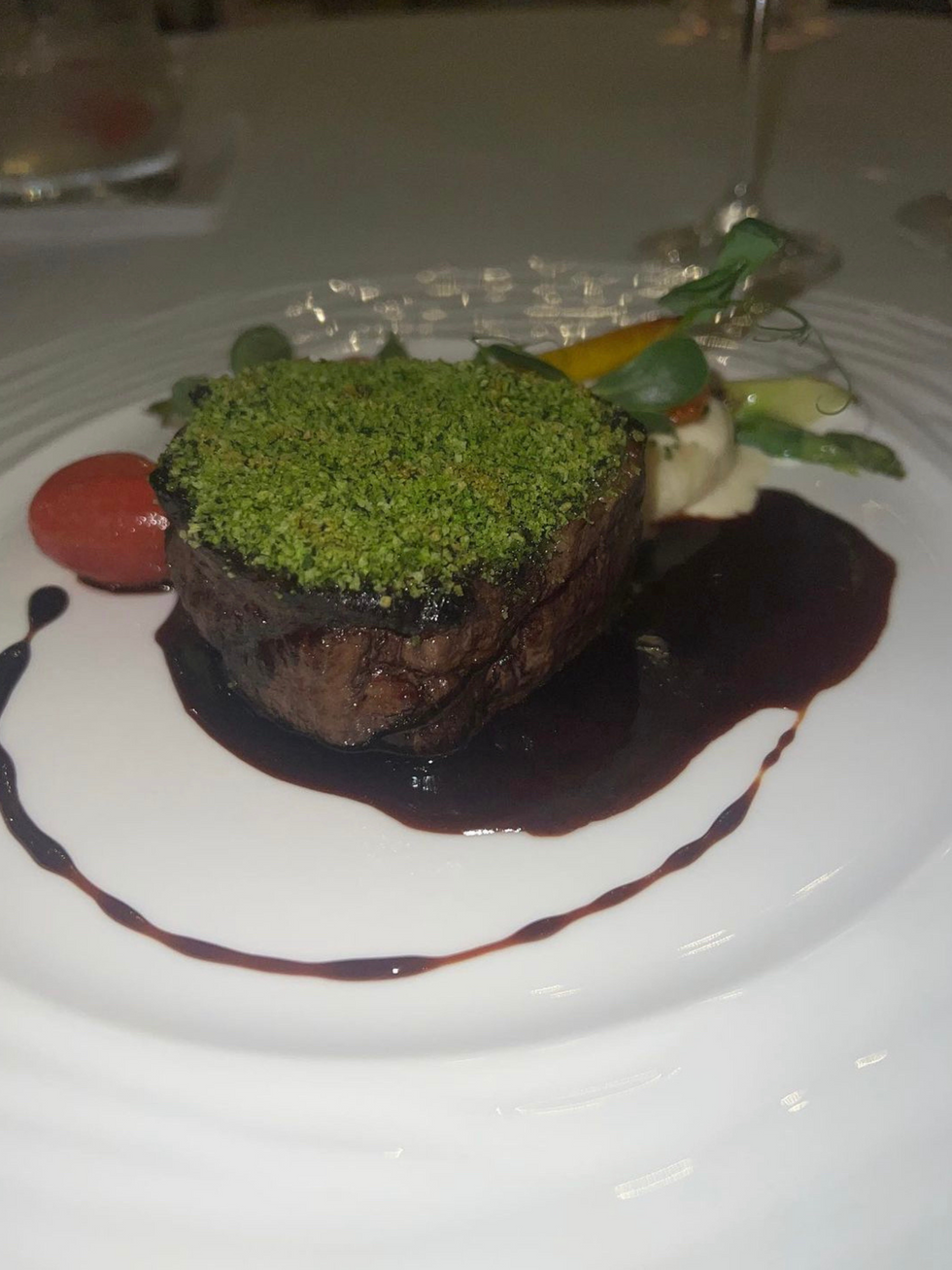 Photo by Christina Jane
Wellness and Leisure Activities That Enhance The Stay 
The Kempinski Hotel includes an array of world-class activities and experiences, from its rejuvenating spa and fitness center to its intentionally curated activities calendar with engaging ventures like tequila tasting, a turtle conservation program, and salsa classes that celebrate the rich culture of the region.
You can awaken your mind with a complimentary sunrise yoga class or cruise through the waters on a jet ski. The property alone is designed to provide an escape with two outdoor pools, a wellness spa, and a 1,299 ft white-sand beach.
If beach life isn't your thing, the hotel has two outdoor pools and a jacuzzi surrounded with blue chairs and umbrellas towering above that give a resort feel.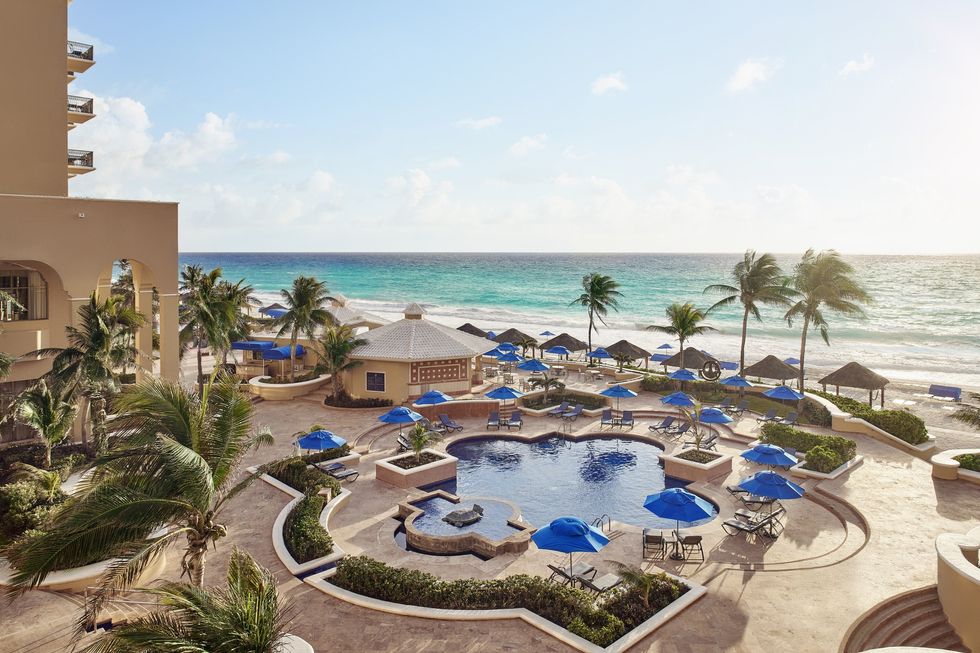 Photo by Kempinski Hotel Cancún
The on-site KAYANTÁ Spa encapsulates Mayan traditions and customs using indigenous ingredients from the Yucatán Peninsula. From the minute I entered the spa for a day of relaxation, the seamless blend of essential oils with the tranquil ambiance captured my attention.
I was given a heated blanket while I awaited my massage therapist in the lounge and prepared for a 60-minute massage that touched all the right places.
The outdoor component of the spa includes a jacuzzi, a cold plunge pool, and outdoor showers infused with a citrus mango scent that sealed the experience as I prepared for my departure.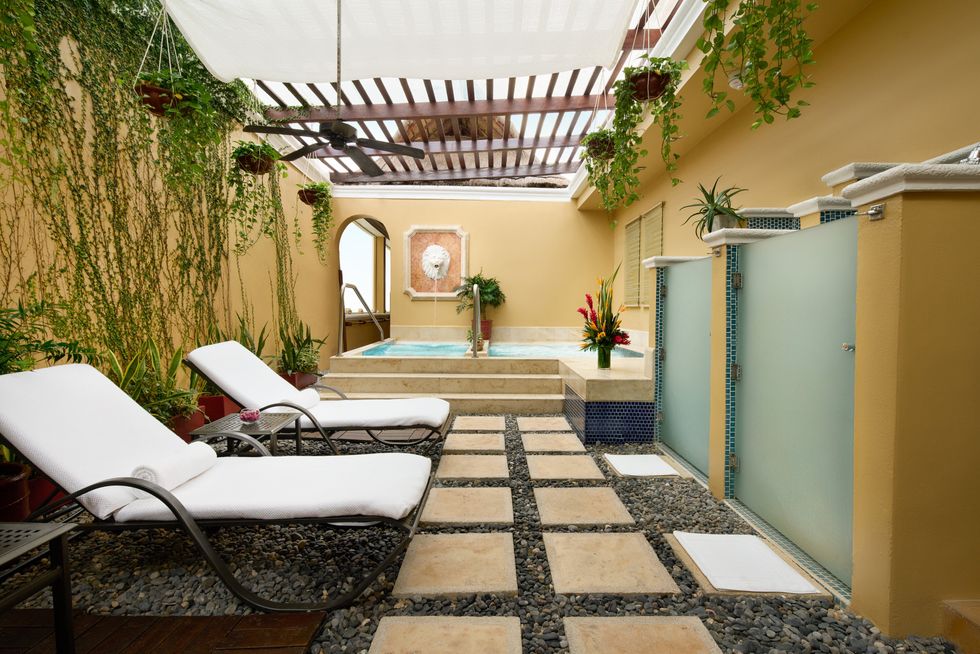 Photo by Kempinski Hotel Cancún
Dissecting Black Girl Luxury 
So, as I found myself indulging in what I call a surface-level version of luxury for a few days at this stunning hotel, I began to internally reflect on what luxury truly means to be as a young Black woman navigating a society that ultimately was not designed for me to thrive.
My personality and core values have never aligned with the common materialistic narrative of what luxury is thought to be, but I've always admired the way Black women have emulated the essence of lavish living.
It's a lifestyle that has been heavily critiqued, as it's clear that people don't always digest Black women living lavishly well. A classic example: Our good sis Jackie Aina.Black women are not a monolith and do not have to cater to the stereotypes we have been confined to over time. That is a message that has been communicated when discussing the topic and one that I can resonate with.
For me, it was clear that no amount of physical items, collections of high-end commodities, or stays in fancy hotels would represent the deeper meaning I associate with the luxury movement.With all of this in mind, I was faced with trying to pinpoint what exactly luxury meant to me as a Black woman.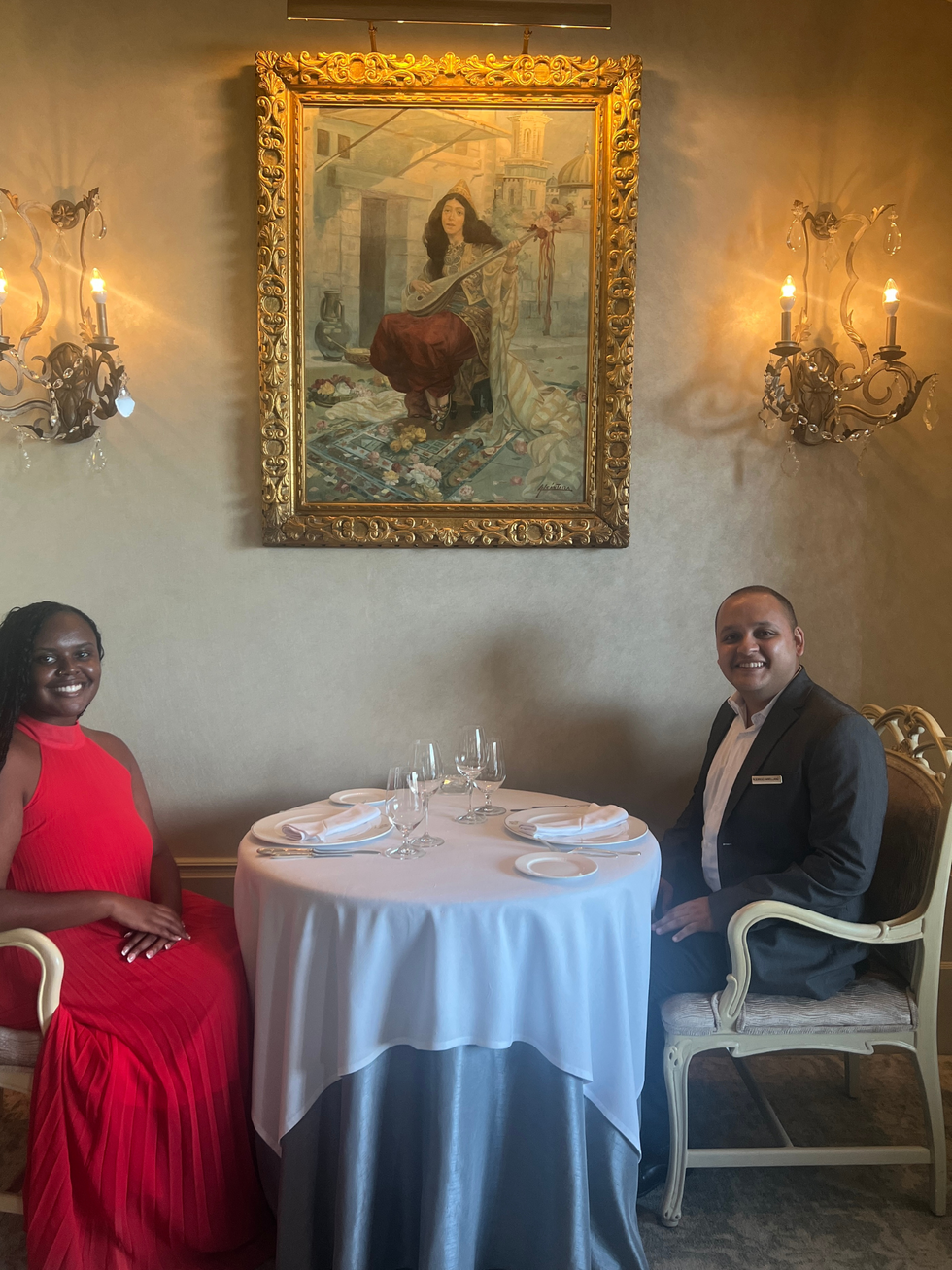 Photo by Christina Jane
So What is Luxury to Me As A Black Woman?
I associate the word luxury with freedom. The freedom to choose how I want to spend my days, but mostly the freedom to simply exist without the pressures of the external world caving in on my thoughts or influencing my actions.
As a Black woman who is often deemed "successful" in the eyes of others, I am in a place where I am truly okay with simply existing. The value of who I am as a person goes beyond my contributions to society, and I have been working on leaning into this affirmation.
I think it's easy to get wrapped up in the accolades, roles, titles, awards, etc., and it can begin to cloud our authentic reflection of self.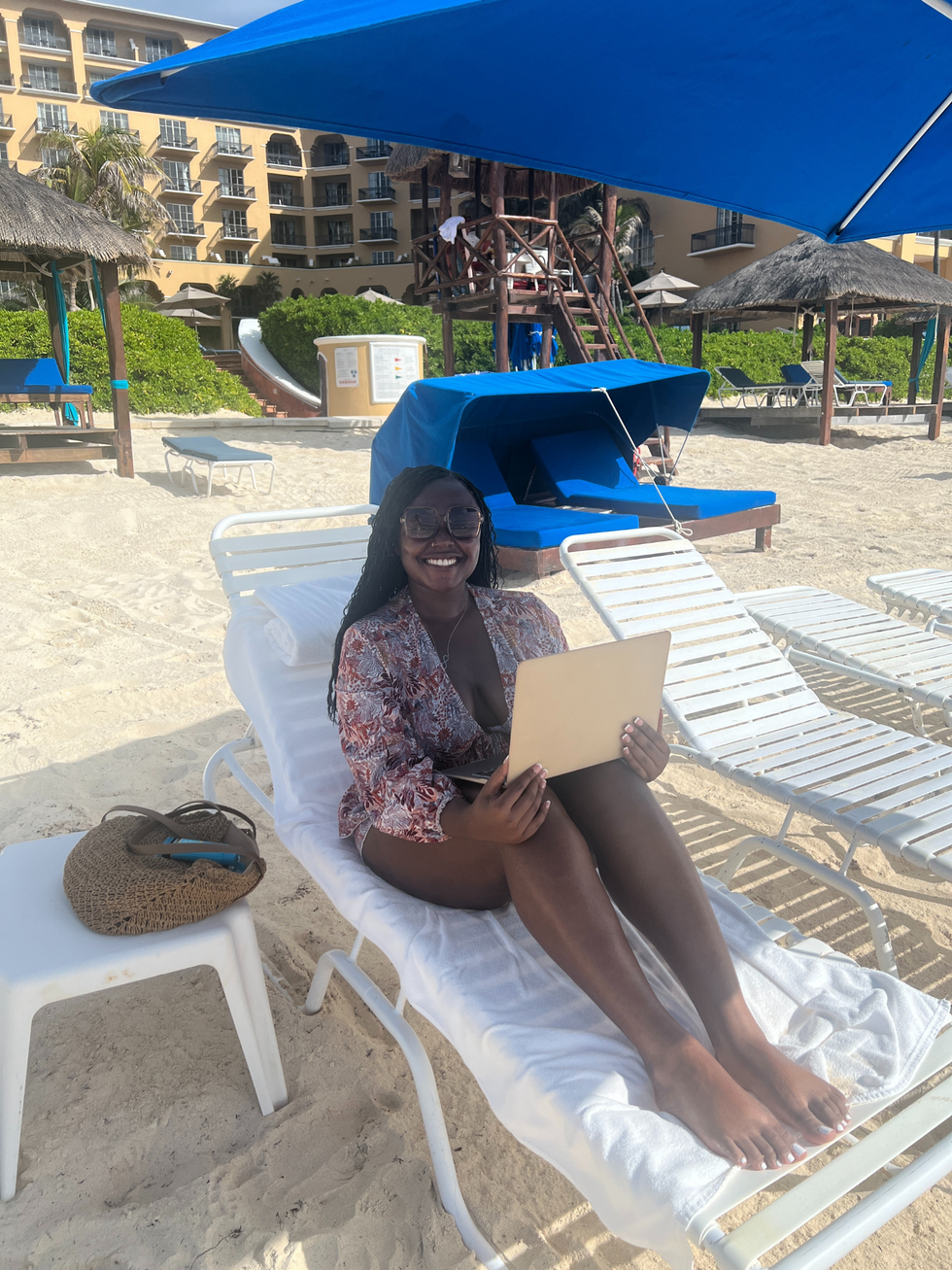 Photo by Christina Jane
Lessons from Sunrise Yoga 
As if I wasn't already in my head this entire trip, a sunset yoga class and insightful conversation with the yoga instructor at the hotel, Petra Ver Eecke, reaffirmed all of my thoughts and feelings.
The class focused on the constraints we often place on ourselves due to imitation. We have all of these imitations in life that we carry with us daily about how we believe things should be and look when we should just jump into things imperfect and as we are.
Your life doesn't have to look like the next person's life, and it won't. Sometimes it's essential to go through the process and create your own blueprint.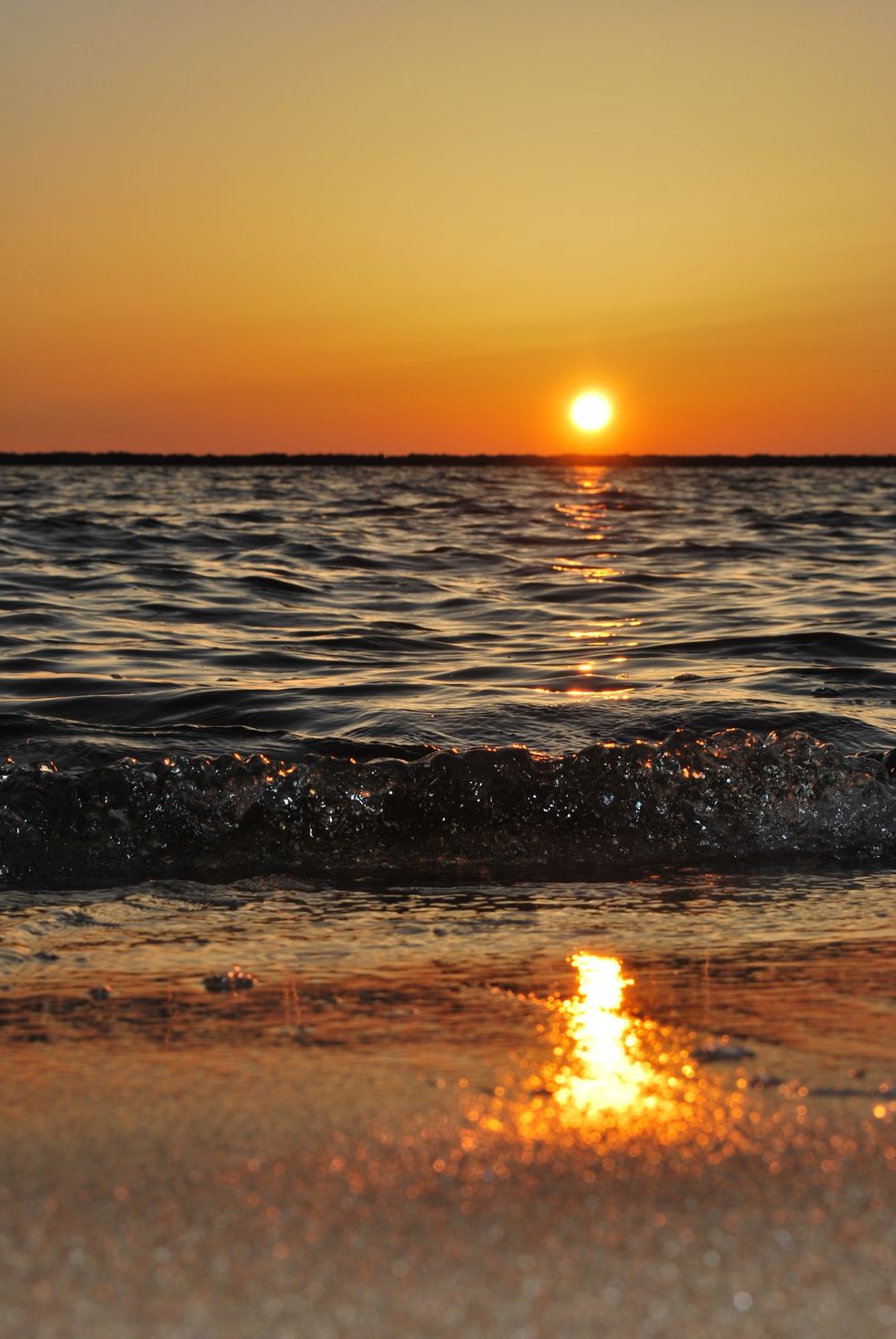 Photo by Rachel Cook on Unsplash
—--
I am incredibly grateful for my time of reflection at the Kempinski Hotel in Cancun—a time that provided me with an escape from the hustle of my average day-to-day life and allowed me to embrace my identity, aspirations, and the moments that truly resonate with my heart and soul.
I look forward to continuing to honor myself in my journey of healing, growth, and intentionality as a Black woman, exploring how to continue living a life of luxury both on the inside and out.
Let's make things inbox official! Sign up for the xoNecole newsletter for daily love, wellness, career, and exclusive content delivered straight to your inbox.
Featured image by Thomas Barwick/Getty Images