Chelsea Gray
Chelsea Gray is an Atlanta-native living in LA. She spends her days diving into spreadsheets as an analyst and uses writing, photography and pop-culture as creative outlets. See what she's up to on Instagram: @ChelGray.
Marian Wright Edelman hit the nail on the head when she said "you can't be what you can't see." I love this quote because it highlights the importance of representation across all career paths, industries, and spaces; it highlights the need for events like Blavity's AfroTech Executive conference. As the name suggests, AfroTech Executive brings together Black startup owners, venture capitalists, and tech moguls with the goal of expanding Black representation in tech leadership. Created from the larger AfroTech conference, AfroTech Executive tailors each session to leaders at tech companies, tech startups, and media moguls - we LOVE to see it!
Though the tech space is as snooze as it gets for some, AfroTech is anything but a stuffy tech conference. The vibe was set from the moment I entered the outdoor deck of The Line Hotel and was greeted by a tray of mimosas and friendly faces. There was a consistent excitement, camaraderie, and an overwhelming sense of pride throughout the day.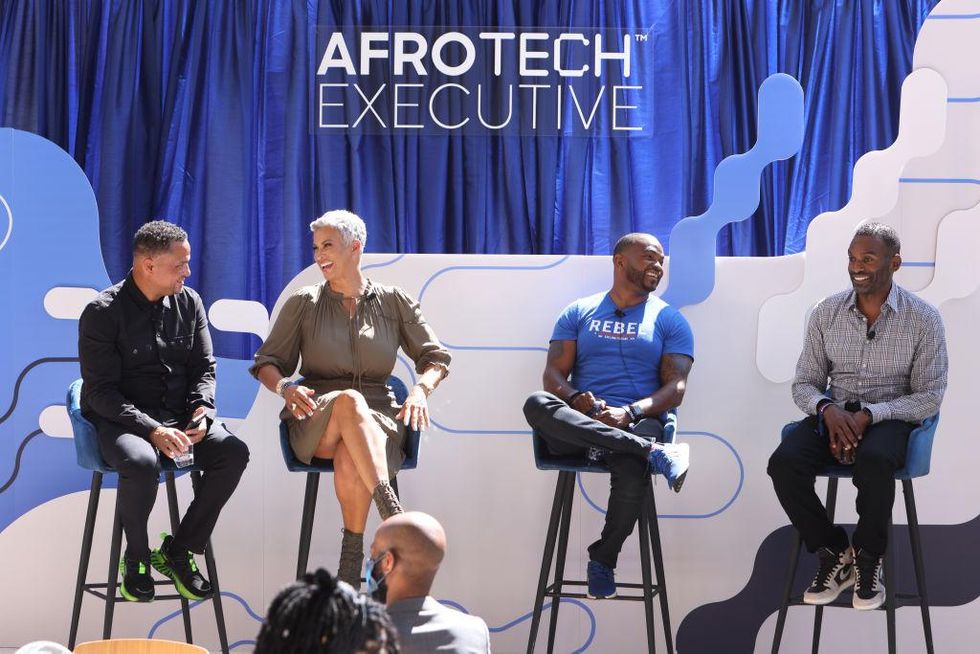 Randy Shropshire/Getty Images for Blavity Inc/AfroTech
Stay tuned if you're looking to be inspired by leading Black executives like Michele Ghee, the CEO of Ebony and Jet, and Detavio Samuels, the CEO of REVOLT Media.
"Partnership is great, but ownership is better." - Michele Ghee, CEO of 'Ebony' and 'Jet'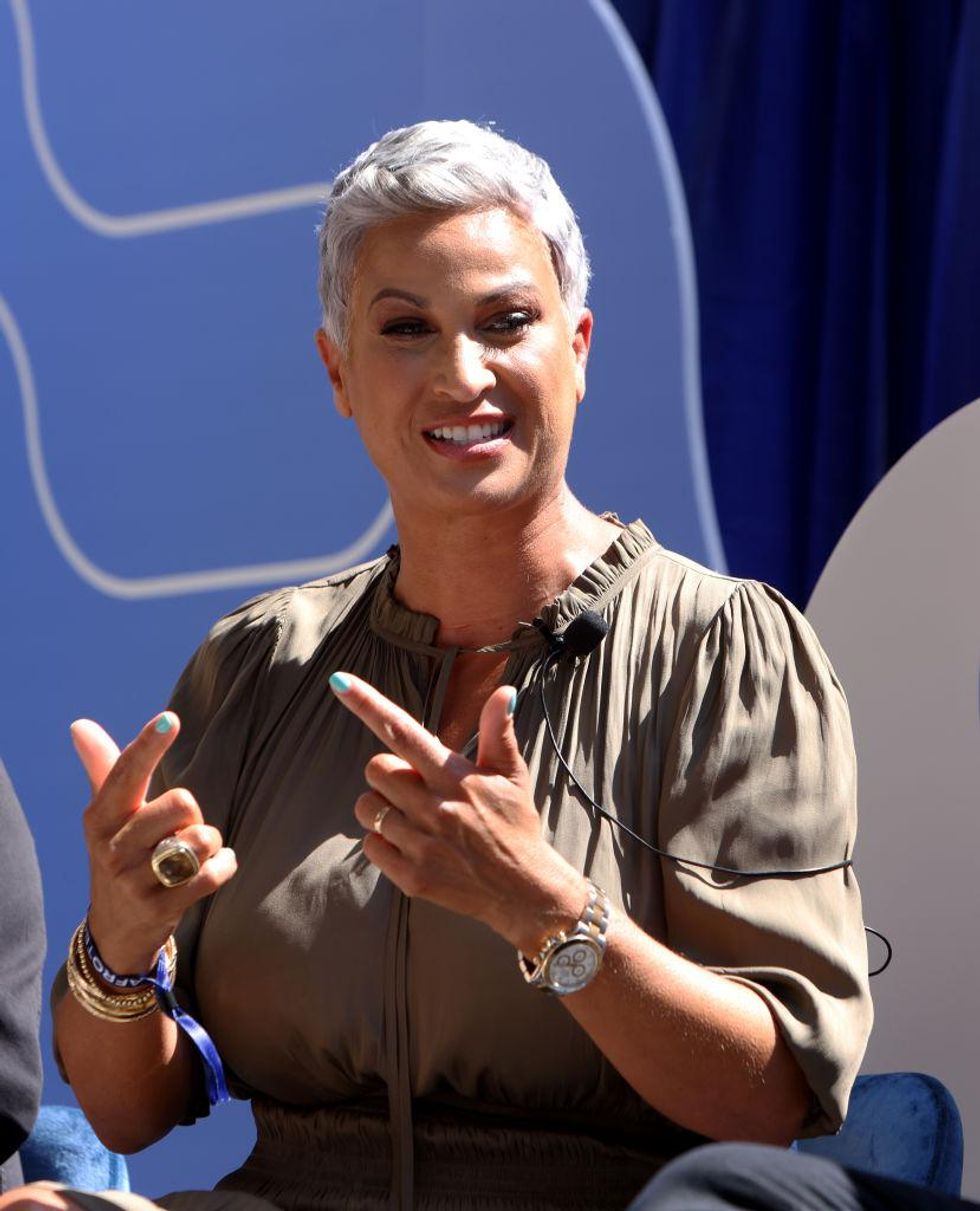 Randy Shropshire/Getty Images for Blavity Inc/AfroTech
Michele Ghee hopped on the stage last Saturday and decided to preach. It's been a minute since I've joined an in-person sermon and my soul welcomed every second of it. Throughout the panel, Michele emphasized the importance of ownership. Oftentimes, we find ourselves so excited to be in the room that the bar is on the floor (yep, I'm talking to myself too).
When asked what advice she would give to empower creators and entrepreneurs to request ownership in business deals, Michele noted:
"Knowledge is critical. We have to know our worth. We are worthy of investment. We have to first know who we are, what we believe in, and what we offer. That will allow us to attract others that can help us on our journey to true ownership. That allows us an opportunity to make critical decisions about growth. That allows us to have a greater stake in revenue growth and reinvestment in our companies. We can walk in fear or faith. I chose educated faith!"
Michele's words are a reminder to elevate the bar beyond the limits we set for ourselves. Pushing past partnership to ownership is attainable, but we won't know unless we strive for it.
"People don't believe us [Black women] the first time. Keep being right." - Sherrell Dorsey, Publisher, and CEO of The Plug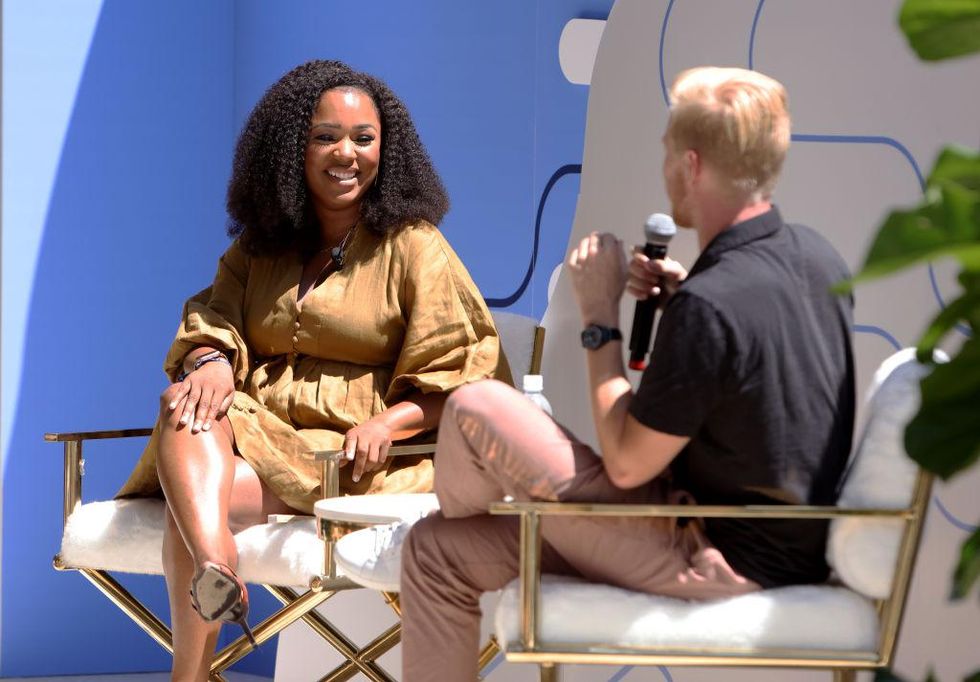 Randy Shropshire/Getty Images for Blavity Inc/AfroTech
One of my favorite conversations of the day was chatting with Sherrell Dorsey, the CEO of The Plug - a subscription-based digital news platform covering Black innovation. Have you ever met someone with a commanding presence that spoke genuinely, passionately, and with the utmost grace - that's Sherrell. When asked about hurdles she feels are unique to Black women in tech, Sherrell mentioned, "People don't believe us the first time."
Oftentimes, it takes validation or sponsorship from white counterparts for Black women to be heard. If you're wondering how to combat this, Sherrell's answer is simple: "Keep being right."
"The future of media is the influencer." - Detavio Samuels, CEO of REVOLT Media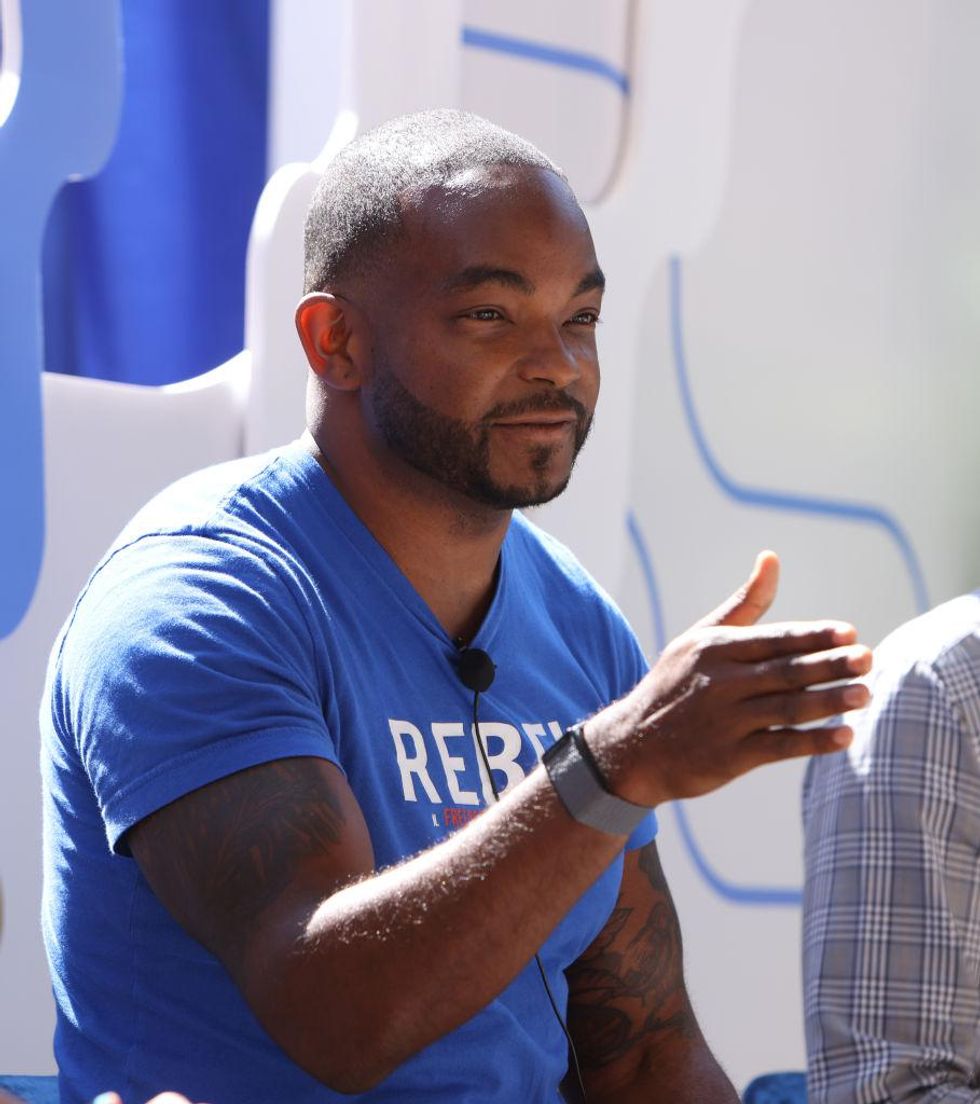 Randy Shropshire/Getty Images for Blavity Inc/AfroTech
Detavio Samuels joined REVOLT Media in March 2021 hoping to make REVOLT the world's largest Black-owned media empire - an incredible goal. During the panel about the evolving topics surrounding Black media advertising, Detavio leaned heavily into the need for Black people to tell Black stories. Since Detavio joined REVOLT Media, he's helped pivot their content development strategy guided by the belief that the future of media is held by influencers. He encouraged influencers to call on the panelists with ideas knowing that the top media platforms in the world right now all belong to celebs and influencers. When asked about the value influencers and creators can bring to a big brand like REVOLT, Detavio mentioned:
"At REVOLT, the value they bring is themselves. Their unique lens. Their unique perspective. Their unique story. We just want to enable them to do it at the highest level possible."
Yes, the speakers dropped gems but my conversations with the AfroTech attendees truly kept me intrigued. From chatting with Kameale Terry and Evette Ellis, the co-founders of ChargerHelp! who are helping eliminate faulty EV charging stations across the nation and creating jobs in the process, to my conversations with Eric Coly, the owner of Ayana Therapy, a service that takes gender, race, and intersectional identities into account to address establish compatible relationships between therapists and the clients they serve.
Hearing the passion, the creativity, and the guts to go after millions of dollars in funding without a roadmap to follow - inspiring just doesn't cover it.
Featured image by Randy Shropshire/Getty Images for Blavity Inc/AfroTech

Keep reading...
Show less
Have you ever wondered if a gem dropped in the woods makes a sound? Well, I can say from experience that a gem dropped in a room full of Smart, Funny & Black enthusiasts makes waves as it resonates, then is met with a series of claps, "mhmm's" and hysterical banter like, "OK master's degree!" or my fav– "oop! put that on a shirt!"
I had a chance to attend Amanda Seales' book tour for Small Doses: Potent Truths For Everyday Use and there's something so refreshing about the way she captures a room with vulnerability, authenticity, and of course, humor. The 30-minute session was hosted at Book Soup, an intimate local bookstore in Los Angeles, and moderated by her longtime friend Demetria Lucas. The proximity of this friendship set the tone for the refreshing honesty that followed.
The seats in the room were filled in advance which was shocking since tardiness is embedded in LA's DNA. My friends and I nestled in the standing-room-only section between bookshelves and got comfy as we collected gems until our cups runneth over. The conversation covered cultural appropriation, racism, sexism, relationships, and so much more.

We know Amanda is no stranger to a viral moment, so stay tuned for some of her advice that has yet to make the social media airwaves.
On important advice for artists...
"Surround yourself with people who believe in you more than you believe in you."
In a world chock-full of artificial intelligence and airbrushed bodies, it's becoming increasingly rare to engage someone in a heartfelt manner. My favorite part of this discussion was the level of genuity in every response.
When Amanda was asked how she keeps glowing despite adversity, she carefully admitted, "I'm in a dark time right now. I'm up here and I look fly, but that's just because I know how to look fly." We all have these moments but often shy away from the opportunity to speak on them in an open forum. Her courage to answer such a personal question amongst strangers was impactful and she was immediately thanked for sharing by the active audience.
This shocking realization was followed up with the importance of having a tribe who believes in you because, "if you're not careful, you will let people who don't know you convince you that you don't know you." Finding those people that "understand the molecular structure of your soul" to remind you of who you are and what you're capable of is fundamental.
On relationships/dating...
"We're caught in the middle of a transition, where women are existing in a way that we've never existed before."
For someone on a dating hiatus (*insert 'I'm MF tied' meme), I connected with Demetria on a spiritual level when she matrixed a question about dating that was posed to both her and Amanda.
Amanda tackled the question with personal anecdotes about her relationship, mentioning that men are having to relearn how to engage with and be great partners to women who are entering new territories and defying every status quo placed on their heads. She playfully imitated men who are often left pondering dichotomies like, "So you independent...but you still want me to open the door?" Shouldn't be a tough concept to grasp, amiright?
On intersectionality, diversity & feminism...
"If you don't acknowledge the intersectionality of feminism, I don't want any parts."
When asked to speak on intersectionality, Amanda prefaced her response with a reminder that as a black woman, she identifies as American but also Caribbean, having a mother from Grenada. She dug deeper into the intersectionality of feminism, the responsibility to acknowledge that feminism has many different faces and isolating or neglecting the multi-faceted nature of oppression doesn't help anybody.
"At some point, diversity turned into anybody that's not a white man and that is not diversity. When you look at the intersectionality involved you have to acknowledge, if these people are still accessing white privilege, it's not diversity." Amanda explained, "That's how I feel. If you are a white gay man, your voice should absolutely be included, but I don't think that's an example of ticking the diversity box."
On something she's working towards...
And at this moment, the inevitable happened. On the heels of Amanda's latest viral social moment, an audience member posed a question around how the author deals with a lack of acceptance from some members of the black community.
"It's very stressful for me, very sad and distressing…because I love my people."
Her method for tackling this lack of support involved building a home in love, making sure to know yourself as well as love yourself. She explained, "The way that I've come to manage it is to rest and build a home in love. And understand that not everyone understands my show of love, because that's the other part." Recent experiences have also challenged her to return the favor of "doing more calling in versus calling out", or replacing the urge to blast someone on social media with a thoughtful conversation, instead.
On the hardest section to write in her new book...
"The Side Effects of Insecurity...you gotta deal with your insecurity, so it was a bit cumbersome."
Amanda delved into how each section of her book brought unique challenges but the chapter on insecurity forced her to take a deeper look at herself. While the chapter about being a multi-hyphenate managed to flow, dealing with insecurities is a very different journey. She shared, "I'm a black woman and this book was written from my particular black woman experience, as well as considering other perspectives. I wanted to make sure that I considered that, thoughtfully."
On her tense conversation with Caitlyn Jenner...
Many of us have experienced the groundbreaking footage where Amanda schooled Caitlyn without taking a breath. If you haven't, make sure to check out Katy Perry's "A Dinner with Discourse" (name proposed by Amanda who veto-ed Katy's initial 'Dinner with Friends'). She gave us some insight on working with her therapist to "practice the pause" and listen to what someone is saying before responding in order to get the outcome you desire.
She mentioned that she had the time to effectively use the "economy of language" in a way that effectively got her point across, despite Caitlyn's scoffs during the conversation that almost took things to another level. (audience: uh uh, flip the table, sis).
Featured image by Instagram/@AmandaSeales.
Keep reading...
Show less
Last year, a Fast Company article addressed the lack of diversity in the millennial wave of networking conferences. Thankfully, many women are rising to meet this need in the community and churning out incredible events that leave attendees motivated to pursue their passions across fickle industries. We all know representation is nothing short of everything, so it's amazing to see these conferences grow and deliver impactful content.
I recently attended a panel discussion hosted by Every Stylish Girl, a space for stylish women of color to break barriers and empower future bosses. The networking Sip N' Slay brunch and panel event featured prominent women of color from music, fashion, public relations and even television. A vibrant energy filled the room and everyone whipped out their trendiest pieces for a celebratory day of workin' women of color. How could you NOT stan?! The spirit of embracing your success while also owning the trials along the way was the relatable representation I didn't know I needed.

Here's a recap of a few motivational gems from amazing women of color paving the way and driving impact in their respective fields.
Ashley Blaine Featherson is the actress behind a key character, Joelle, in the original Netflix comedy-drama series Dear White People. Ashley joined the discussion determined to relay the trials behind the great triumphs of her journey.
She affirmed to a crowd of 20-somethings that you WILL make it to the other side of your quarter-life crisis:
"I was feeling so down and out at 26, but when you wake up at 31, life is going to be so different and you are going to be so grateful for the trials and tribulations you are going through right now."
I admire her radical transparency and her desire for everyone to know the true journey of her career. She mentioned the success she's experiencing now came at a price: over a decade of hard work and dedication.
"I've been here for almost 10 years, so know that there have been more trials than triumphs in my life, particularly in my career. That's why I'm very transparent about my age because I don't want anyone to think that I just got here. No, I've been grinding for a decade."
Literally counting down until she releases her podcast titled "Trials & Tribulations". Stay tuned.
As I mentioned earlier, relatable representation is everything. Being a black woman in the corporate entertainment world at the beginning of her career and hearing an accomplished black woman affirm the underlying micro-aggressions behind comments about your "tone" is the reason why these events are so important.
Amongst the gems Sarissa Thrower happened to toss our way, my favorite were her thoughts on the importance of identifying the privilege you do have in the workplace and leveraging it to create opportunities for others who would not have had said opportunity. She mentioned in her current position, she is constantly mindful of her ability to provide a platform for other people and the ripple effects that opportunity could have in the community. Sis, you are appreciated!
Kamie Crawford is the connector you need in your circle. Not only did she help her friend land a role as Anna Wintour's assistant, but her determination to see all her friends win definitely gave her the good karma she deserved. Kamie spoke in great length about her career and how she consistently pushed herself to go after the things she knew she enjoyed and was passionate about. She continues to grind while landing big gigs, such as her recurring stint as co-host on MTV's Catfish.
When asked about getting a foot in the door in the LA broadcast industry, she mentioned the importance of stalking. Don't be afraid to track down a host/producer on the show you want and pitch segment ideas. Get creative!
I applaud Melissa Victor's gracious grit and her transparency about her path to becoming a Senior Vice President at Sony Music. Melissa's current role sounds like the career you achieve in your dreams where you're planning marketing campaigns for iconic artists like Janet Jackson and Lenny Kravitz. The steps she took to get there are where the true lessons lie.
Not only was Melissa on the path to law school, she was also working at a law firm after graduating. Once realizing her dream of pursuing a career in music, she dropped the legal job, moved back in with the parents and got an entertainment internship for a small weekly stipend. In hindsight, this career choice definitely paid off but it's such a lesson on the necessary sacrifices for pursuing a dream in a tough industry like entertainment. Who better to invest in than yourself?
Ade Samuel joined the panel and equipped us with everything we needed through her fun, relatable personality and strong work ethic. Ade has a celebrity roster that includes favorites like zaddy Big Sean and our favorite activist/actress Yara Shahidi.
What most resonated with me was her confidence in her seat at the table:
"For me what was most important was finding my seat at the table and making sure that I was seen. Even though I was one of four black people, I would always find myself going into those meetings and making sure my opinion was stated; regardless of how others may have felt about it."
This really hit home because after getting into a room, it's so easy for impostor syndrome to take over and feel like you do not belong. Ade affirmed you indeed belong at that table and the table actually benefits from what you contribute to it. Speak up, girl!
Samira Ibrahim contributed the entrepreneurial perspective of quitting a stable 9 to 5, and embarking on a journey full of great risk but also huge rewards. She admits the greatest risk she took was betting on herself. Samira was confident she could create the work and lifestyle she wanted without relying on a corporate gig to provide that. With that, she stepped beyond the bubble of security and established Base Communications. Hearing the journey of a young entrepreneur firsthand is something that everyone can relate to in their career journeys.
Want more stories like this? Sign up for our newsletter here to receive our latest articles and news straight to your inbox.
Featured image by Ade Samuel/Instagram
Keep reading...
Show less