Cassie Daves
Cassie Daves is a medical doctor turned content creator/strategist and storyteller living in Lagos, Nigeria. If it involves stylish people, creating content, sharing ideas, wielding a camera, and real honest conversations, you can always count me in. Keep up with her on Instagram @cassiedaves.
On a warm Friday evening, a few months before we found ourselves at the departure end of the Murtala Muhammad airport in Lagos, Nigeria, my husband and I finally sat down to figure out where to spend our Christmas holiday. We had put it off for a bit, procrastinating like we always do, but with only a few months left until the holiday season, it was now or never.
We wanted none of the fast-paced life that being in our city, Lagos presented. The year had been incredibly long, so we were choosing to ease into the new year in a slow, languorous way. Cappadocia in Turkey was high on our list, but eventually, we narrowed our options to the African continent. We are both Nigerians and fiercely proud of our African heritage, so we wanted to immerse ourselves in and enjoy more of what the continent had to offer.
Soon enough, we settled for Senegal for the diversity of its offerings: Senegal is home to 7 UNESCO world heritage sites, the tallest statue in Africa, has some of the most beautiful beaches, and is rich in culture and history. Many people visit Senegal solely for Dakar, its capital city. But if you search a little deeper and open your mind a little wider, you will discover that Senegal has more to offer than Dakar.
In our case, we explored two other cities in addition to Dakar, and looking back, I honestly can't imagine experiencing Senegal in any other way.
Saly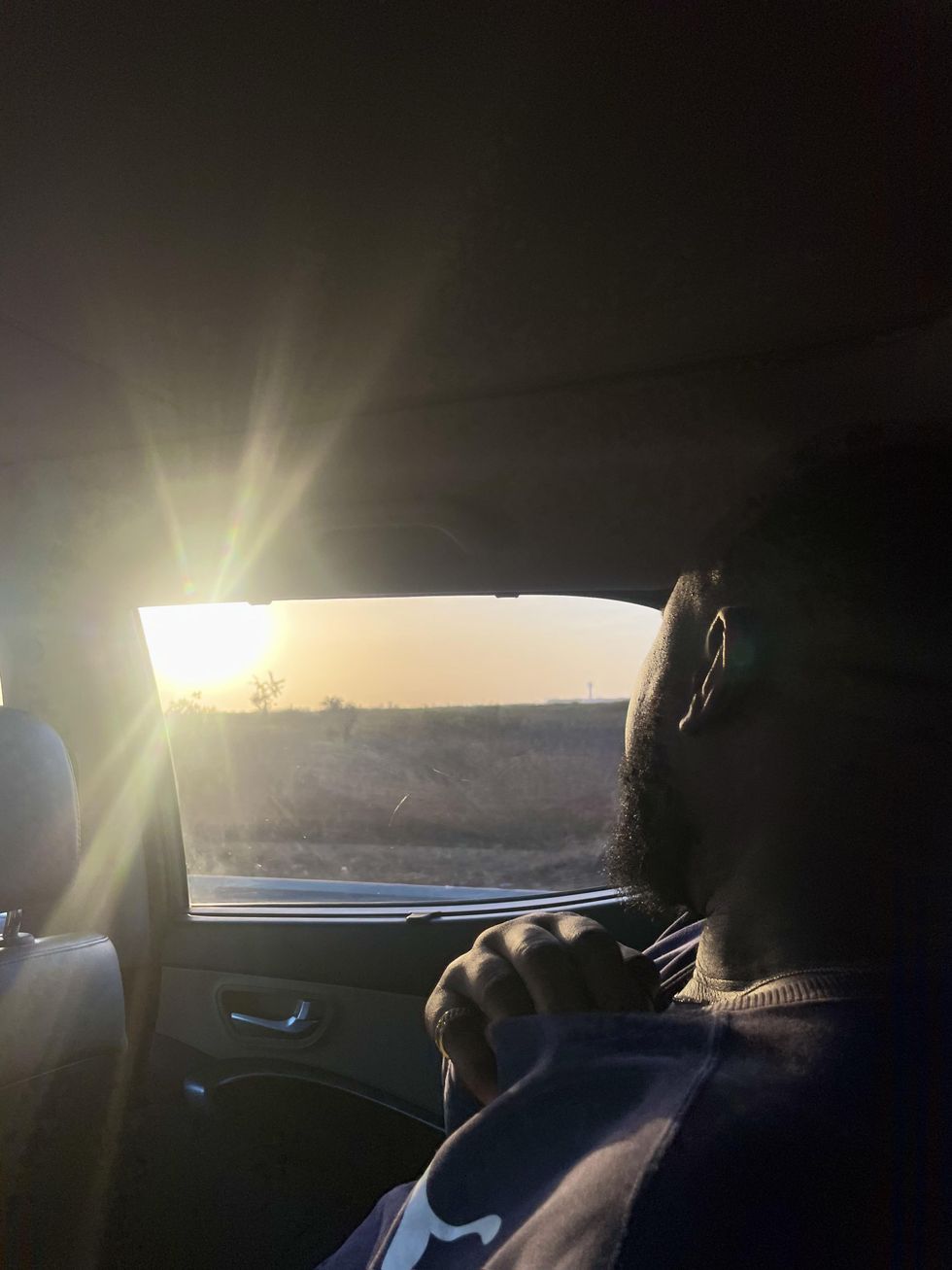 Cassie Daves and Mark Unuakhalu
Our first stop was the beautiful beachside resort area of Saly, located in the Thiès region of western Senegal. We were welcomed into Saly by the most gorgeous sunset I had ever seen. It seemed to stretch for miles, following us on our ride to the hotel, dipping in and out as the roads winded as if to let us know that there was even more beauty awaiting us. Saly is a top tourist area in Senegal, and it is immediately clear why when you visit. It has the most gorgeous sunset and beaches, all ingredients for the perfect vacation.
Quick history tidbit: Saly was originally a Portuguese trading post known as Porto de Ale, which became Portudal, and later Sali Portudal.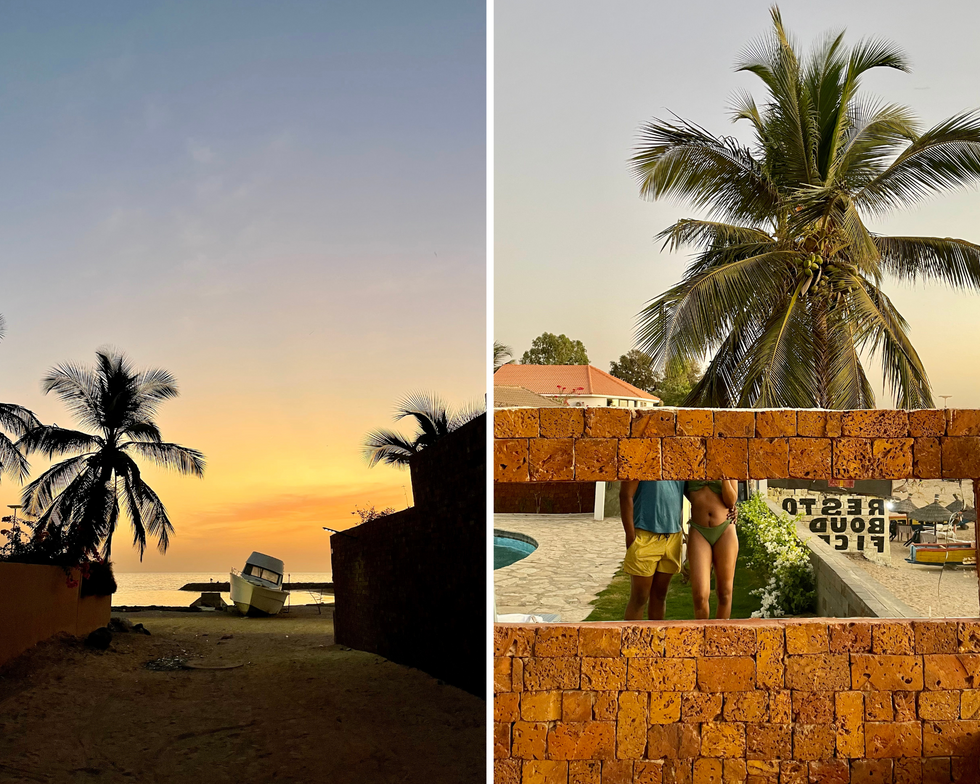 Cassie Daves and Mark Unuakhalu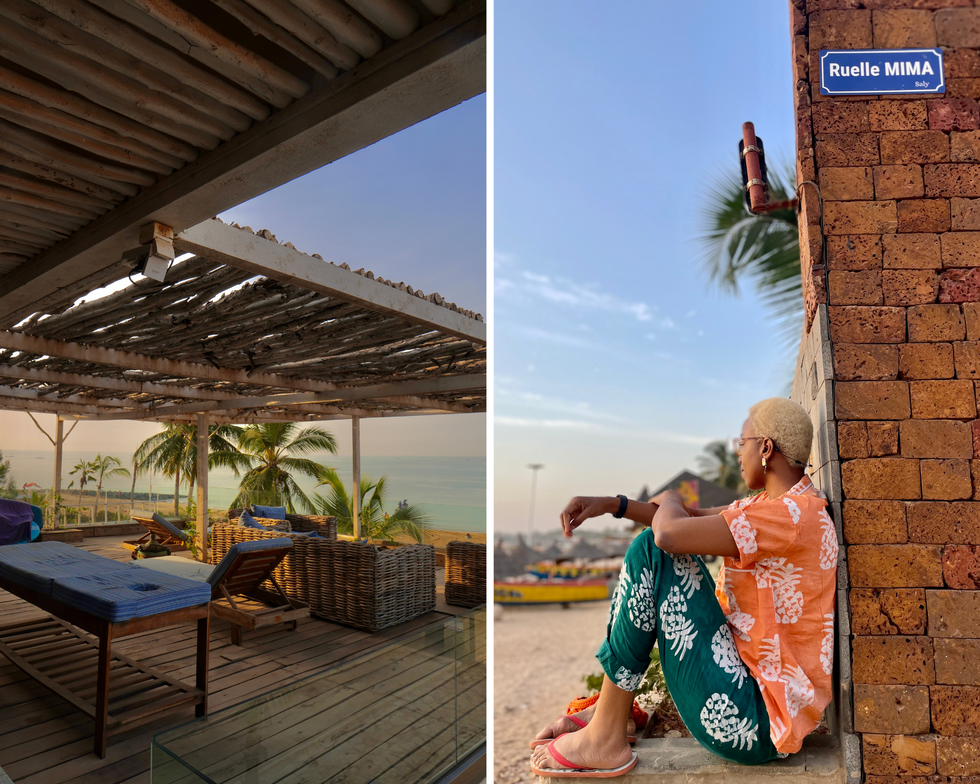 Cassie Daves and Mark Unuakhalu
As we pulled up to our hotel taking in the last sights of the glorious sunset, the waves in the far-off distance crashed against the beach, and we felt completely at home. Starting our Senegal city hopping with Saly couldn't have been a more perfect choice.
Although we spent a good chunk of our time in Saly indoors rejuvenating, we eventually ventured out to take a walk and feel the pulse of the city center. Neon lights and signs wishing people a happy holiday told us that this is a city that really values the people that it welcomes.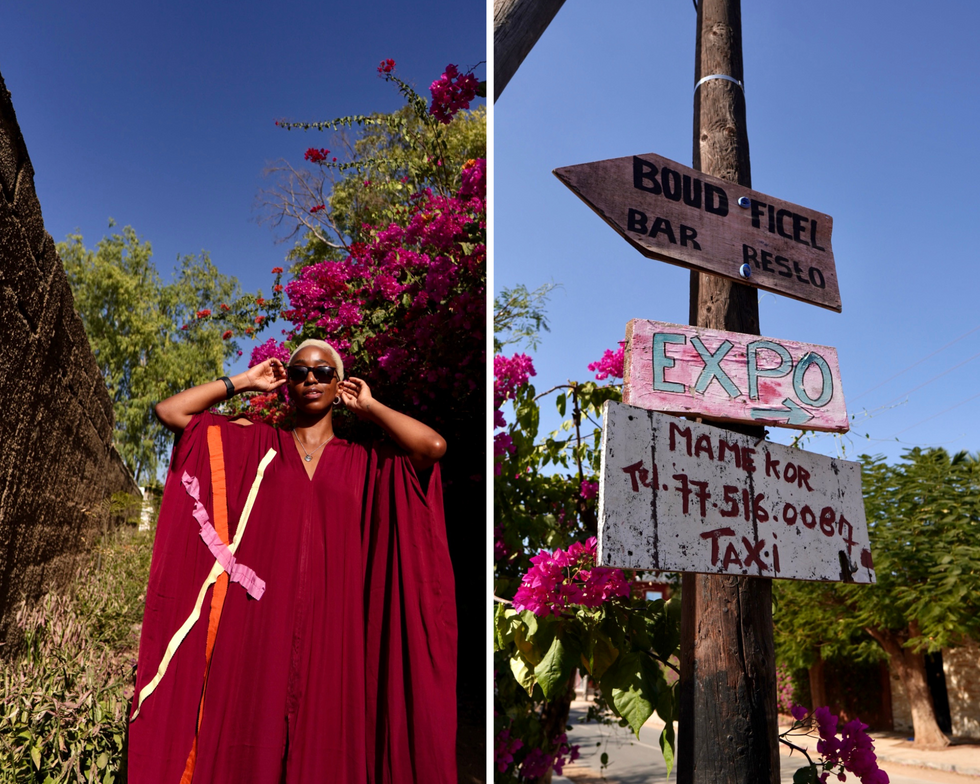 Cassie Daves and Mark Unuakhalu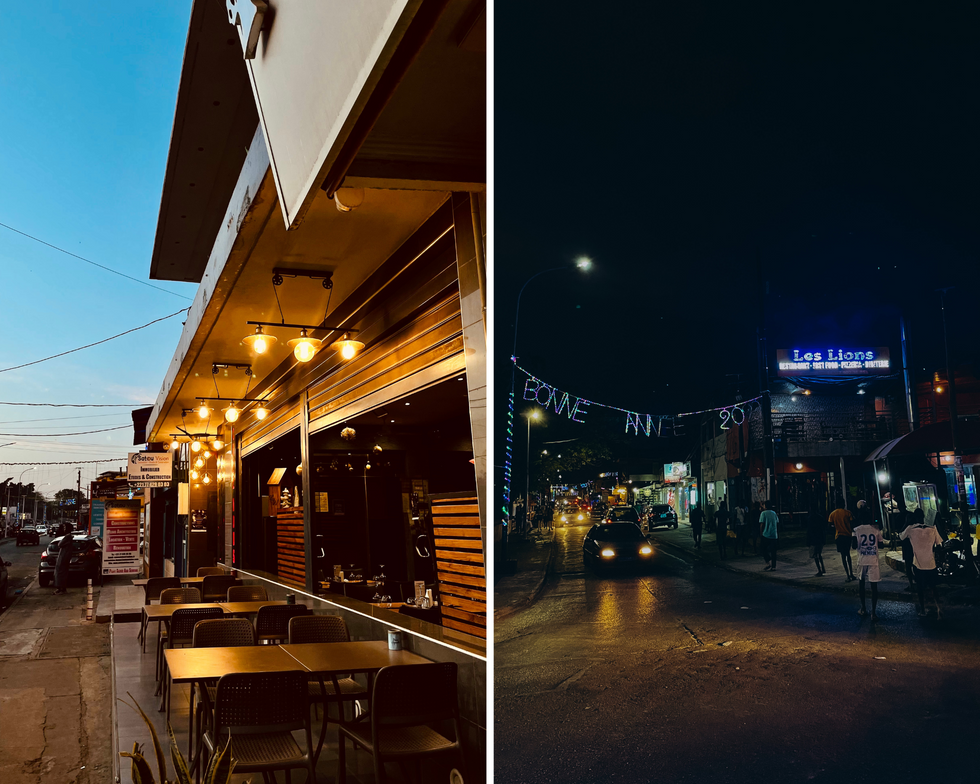 Cassie Daves and Mark Unuakhalu
We also visited the Reserve de Bandia nature reserve which is about 15 kilometers from Saly and houses a lot of wild animals and over 120 species of birds. We opted for a private park guide instead of the group tours, so we went through the place in good time. Right opposite the reserve is their lion ranch. We found out about this much later, so sadly we didn't get to see the lions.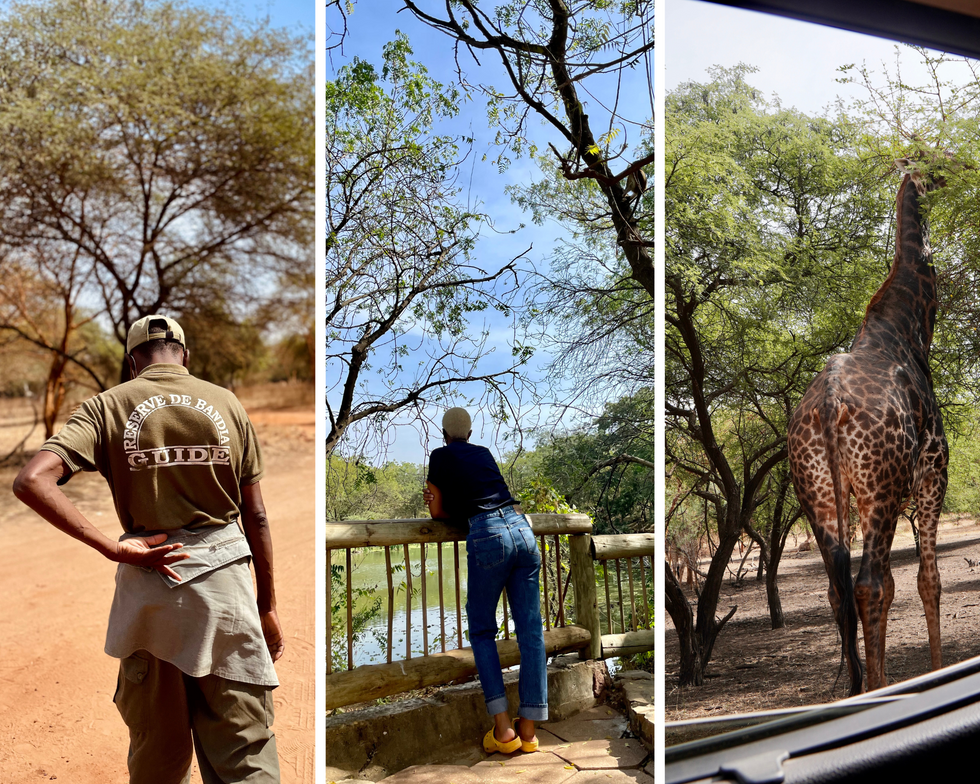 Cassie Daves and Mark Unuakhalu
Our stay in Saly was truly invigorating, albeit short, so we couldn't do a lot of things but we made sure to visit the arts and crafts market to find a bit of Saly to take home with us so that our trip here is forever memorialized.
​Saint-Louis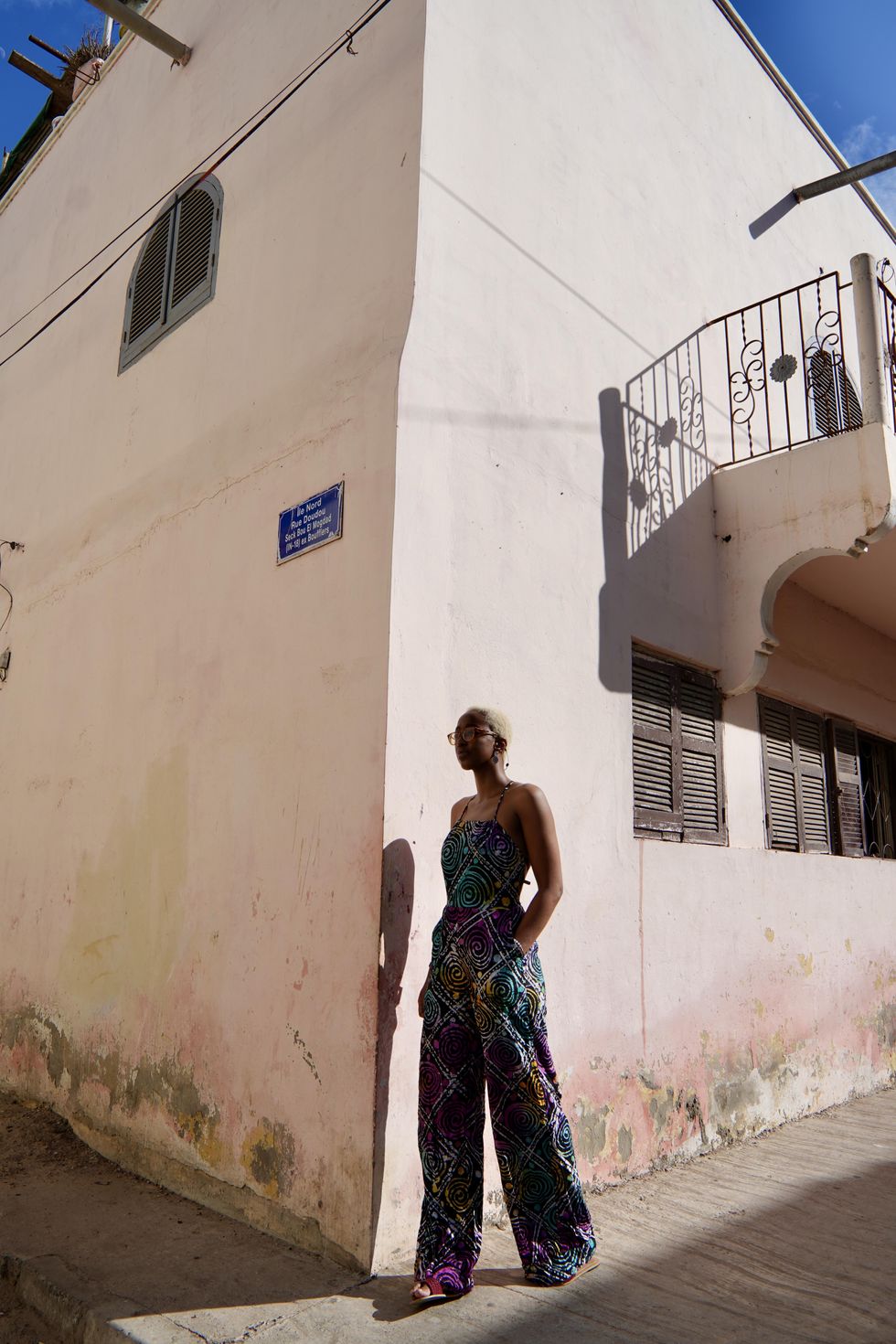 Cassie Daves and Mark Unuakhalu
Our next stop after saying goodbye to our beautiful beach house in Saly was the island of Saint-Louis (or Ndar as it is called in the Wolof language), a city of brightly colored buildings, horse-drawn carts, and a charming rustic vibe. Saint-Louis is a good four-hour drive from Saly; not exactly the most scenic drive, but not the worst road trip we have been on either (and we have been on many).
In Saint-Louis, the influence of the colonizers is still visible. Albeit on the cusps of debilitation, the buildings are mainly colonial-style architecture, and as we later learned, have been intentionally preserved that way. (It is against the city rules to alter the building's original external features.)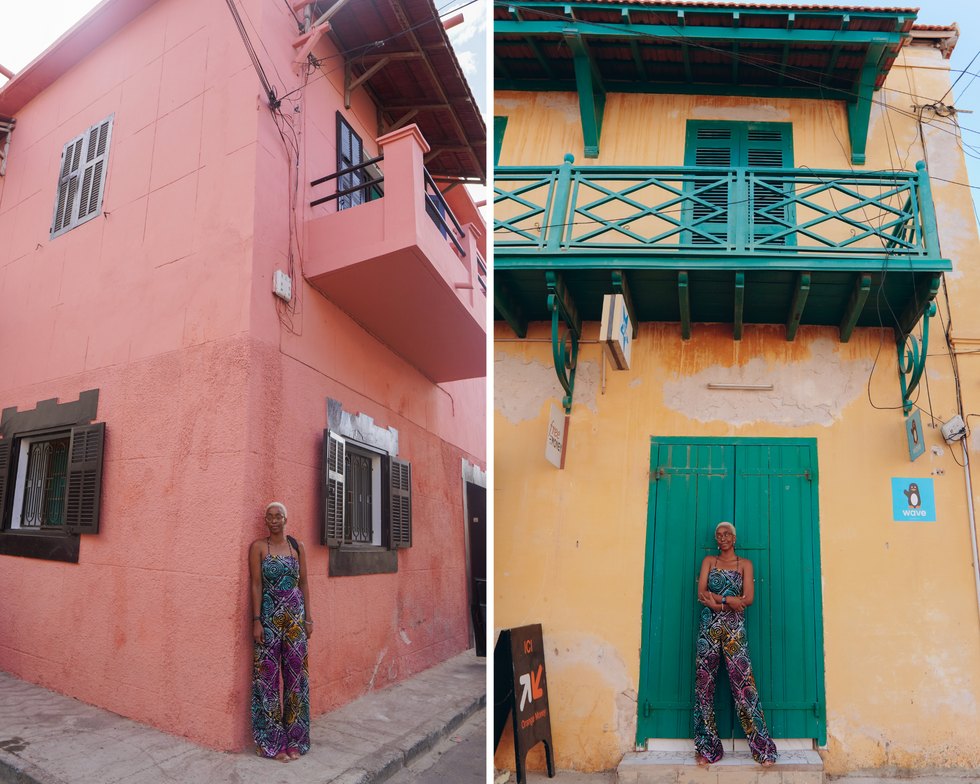 Cassie Daves and Mark Unuakhalu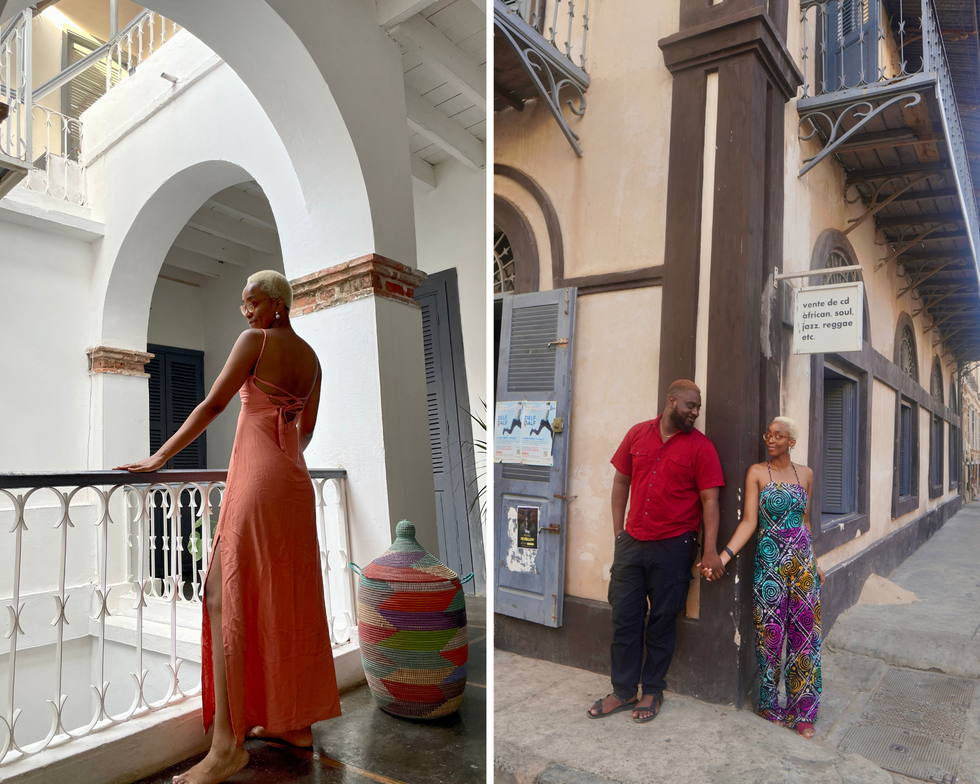 Cassie Daves and Mark Unuakhalu
Despite the long road trip to Saint-Louis, we were enamored by the city's narrow roads, distinctive architecture, and laid-back vibes. Life seemed to move slowly in Saint-Louis, but we had zero complaints about this. It was exactly what we needed.
Quick history tidbit: Saint-Louis was the capital of Senegal from 1673 until 1902 and French West Africa from 1895 until 1902, when the capital was moved to Dakar. From 1920 to 1957, it also served as the capital of the neighboring colony of Mauritania which shares a border. The island of Saint-Louis is also a UNESCO world heritage site.
One thing we immediately noticed in Saint-Louis is the sheer number of people milling around in the streets, ready to approach you to make a case for whatever service or products they offer. And so it happened that on our arrival to Saint-Louis, whilst still trying to move our luggage from the trunk to the foyer of our hotel, we managed to make acquaintance with a convenience store owner and secure a date with an English-speaking tour guide for the next day.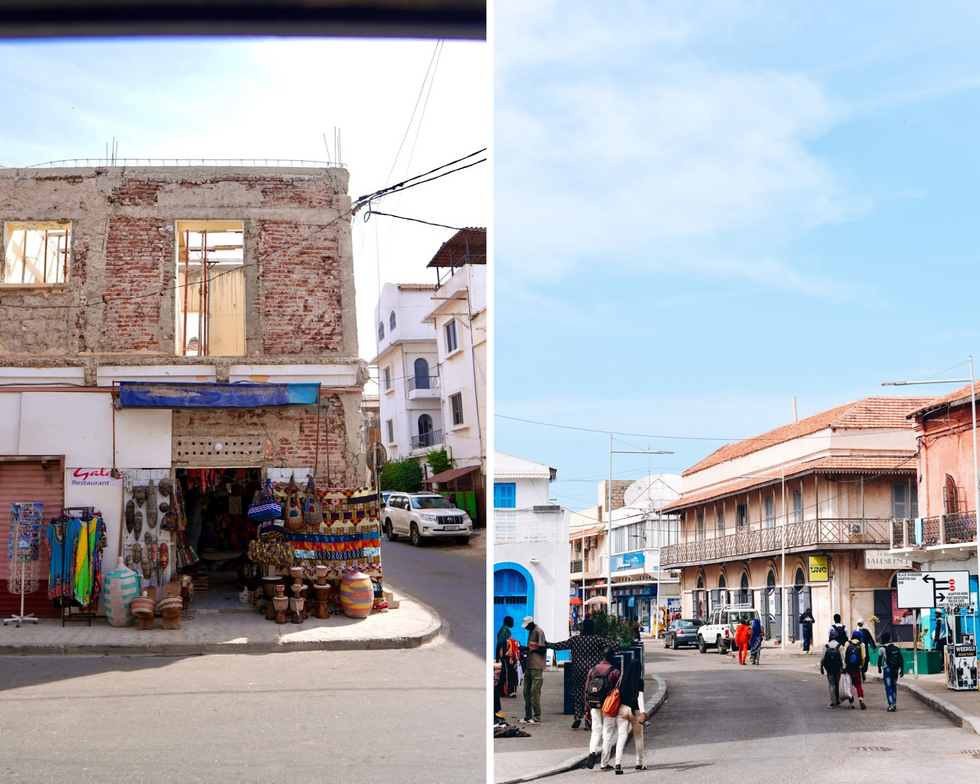 Cassie Daves and Mark Unuakhalu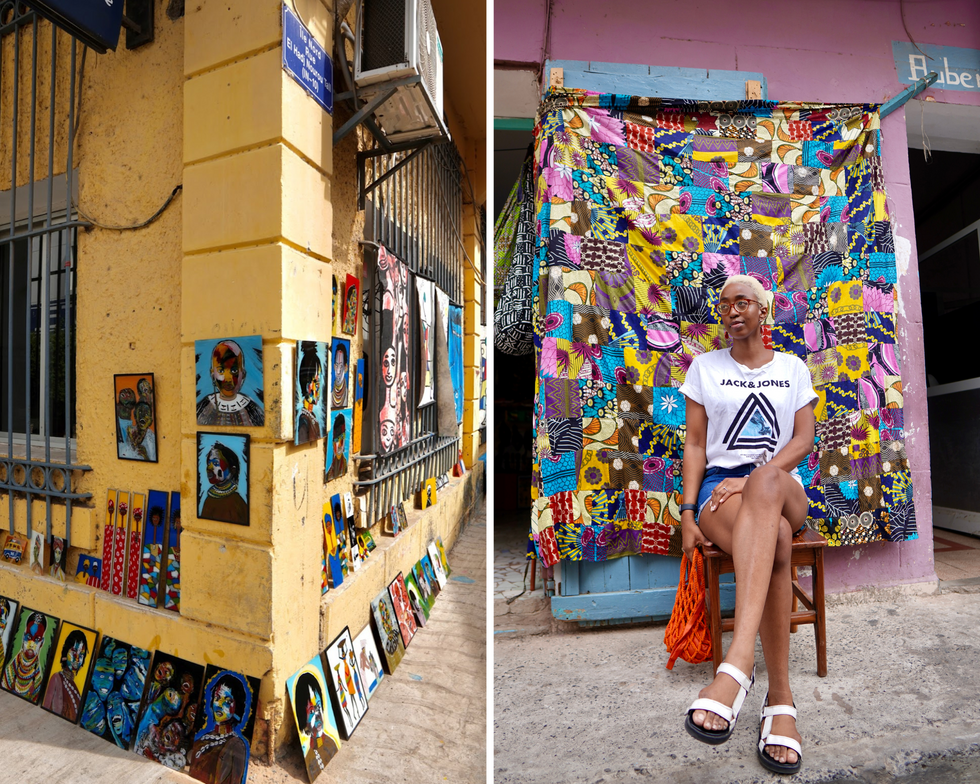 Cassie Daves and Mark Unuakhalu
On our first day, we did a short walking tour of the city to find somewhere to grab lunch, but ended up learning about a concept called "slow food." In Saint Louis, a good chunk of the restaurants there practice "slow food," a concept hinged on a quality over quantity disposition, where meals are prepared lovingly with fresh produce and with a slower approach to cooking. Consequently, these restaurants open much later in the day. It was interesting to see a shift from fast food consumerism, but my stomach didn't appreciate the late opening times.
Because Senegal borders the Atlantic Ocean, fish is a key part of their cuisine. Three beloved dishes in Senegal are Thiéboudienne (Senegalese jollof rice), Yassa, and Mafe. Whatever you do, make sure you don't leave Senegal without trying Thieboudienne, Bissap (Hibiscus juice), and Bouye juice (juice from the Baobab tree).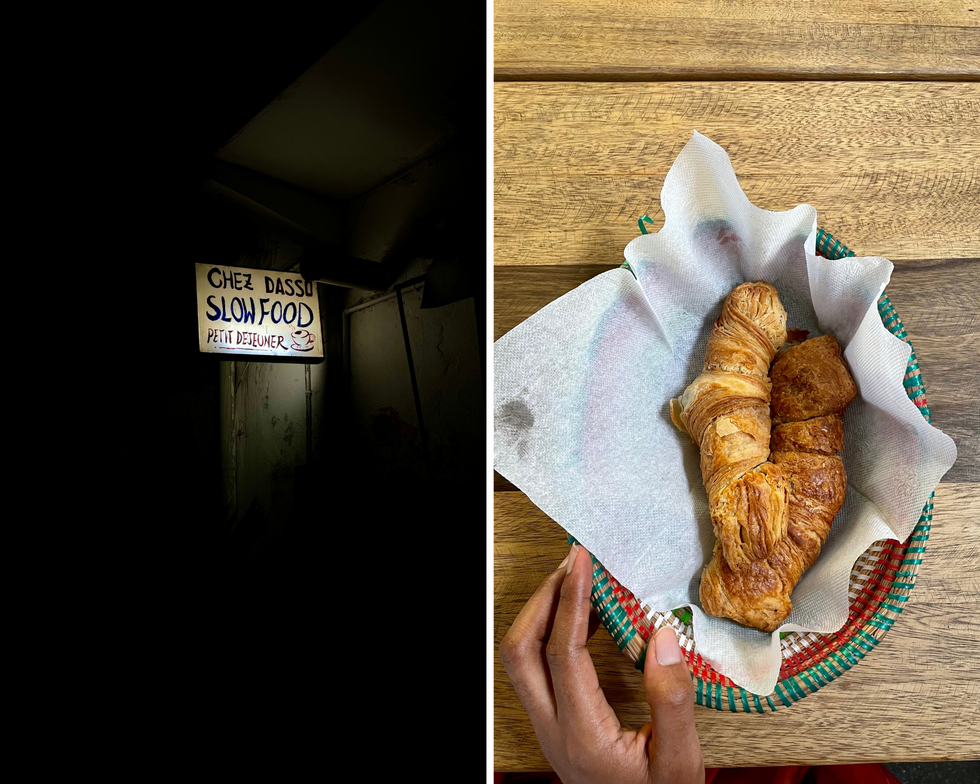 Cassie Daves and Mark Unuakhalu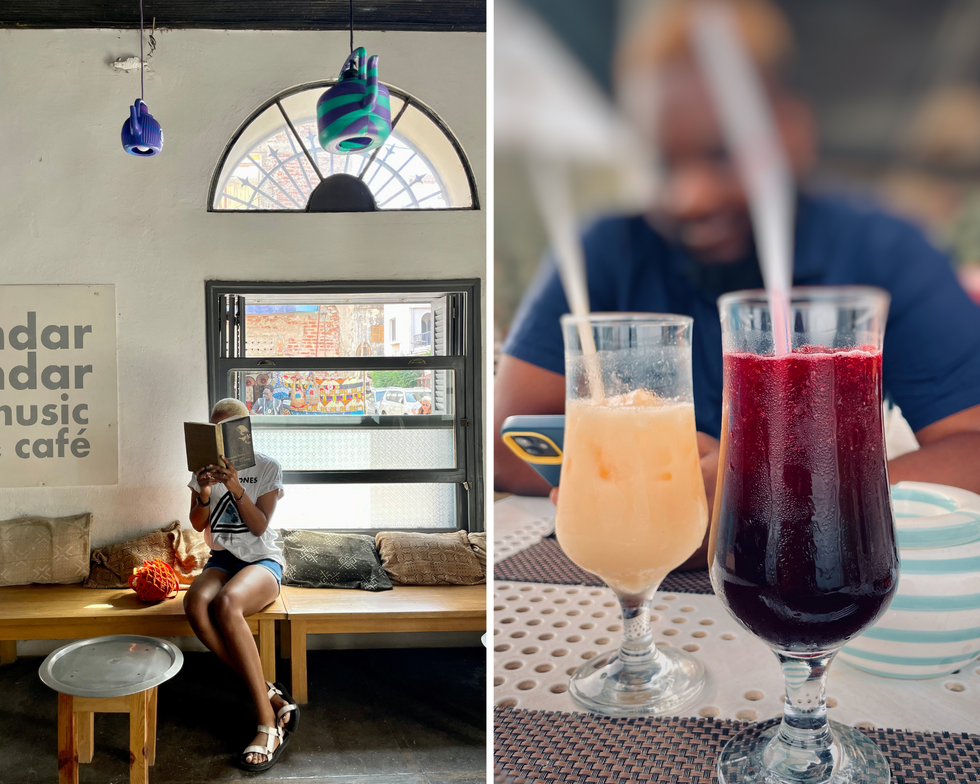 Cassie Daves and Mark Unuakhalu
The next day, we had a simple breakfast and headed out with the tour guide for a horse-driven half-day tour of the island. He took us through the city and showed us the different facets of the island, pointing out the landmarks and noteworthy sights such as the Governor's Palace, the cathedral and grand mosque, and the fishing village. It was particularly sad to see the effect of climate change and the subsequent decay in some parts of the city, especially in the fishing village.
We also visited the art studio of Meissa and Bassirou Fall. Our tour guide pointed it out during the tour as a must-see, so we visited the next day and it was truly magical. Meissa and Bassirou Fall are a father-son duo who make unique art sculptures from discarded bicycle and motorcycle parts.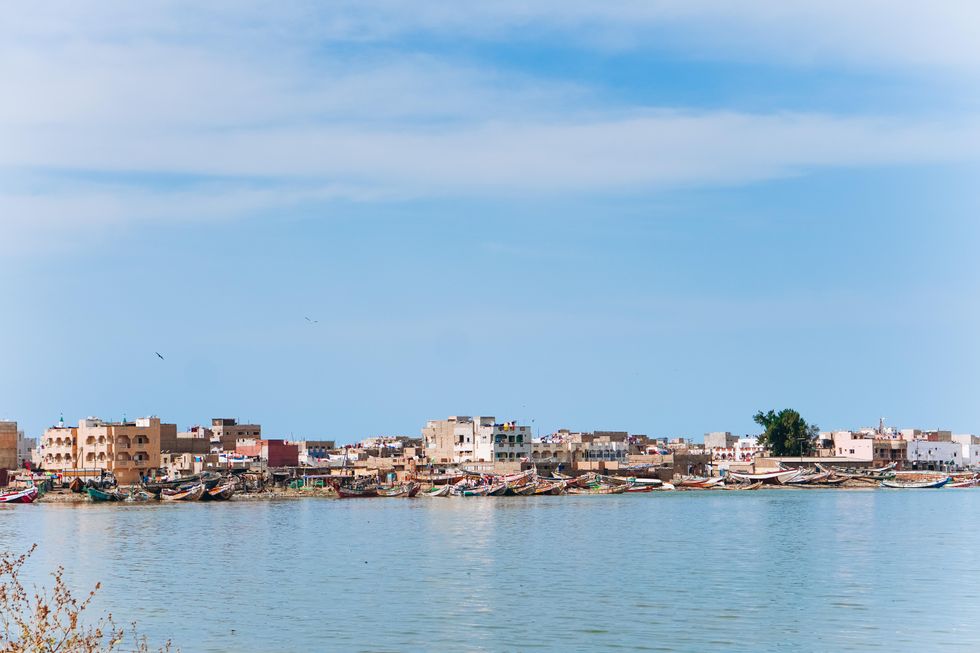 Cassie Daves and Mark Unuakhalu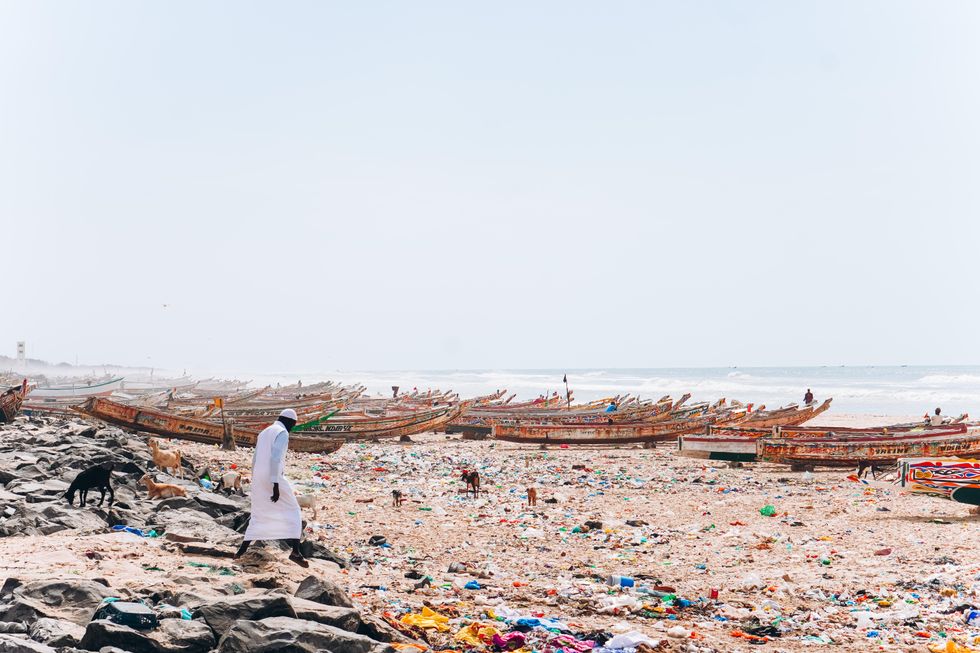 Cassie Daves and Mark Unuakhalu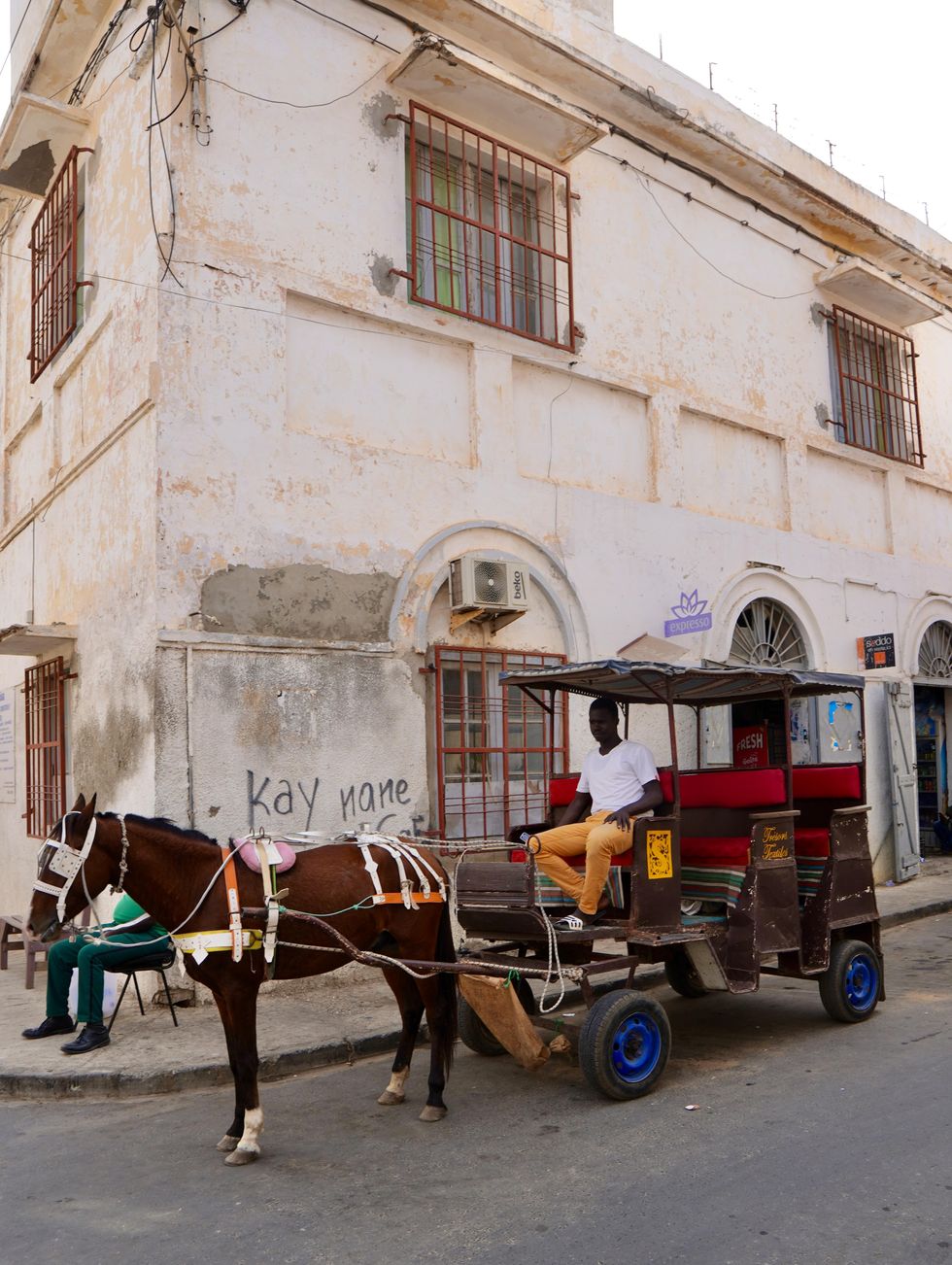 Cassie Daves and Mark Unuakhalu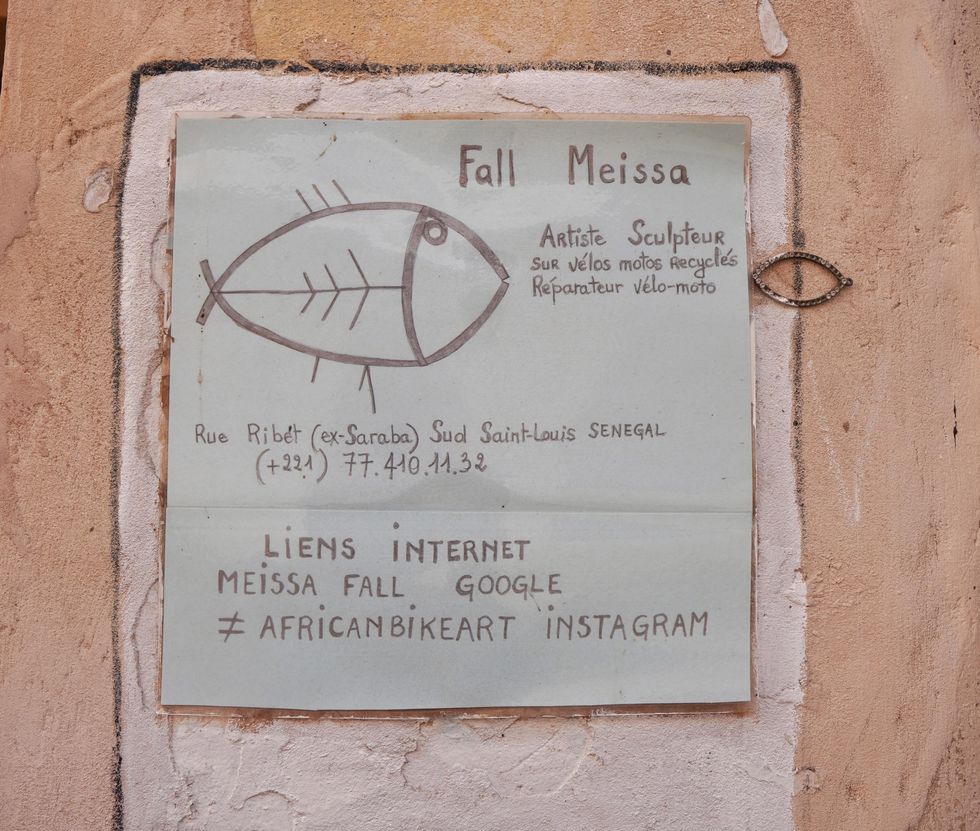 Cassie Daves and Mark Unuakhalu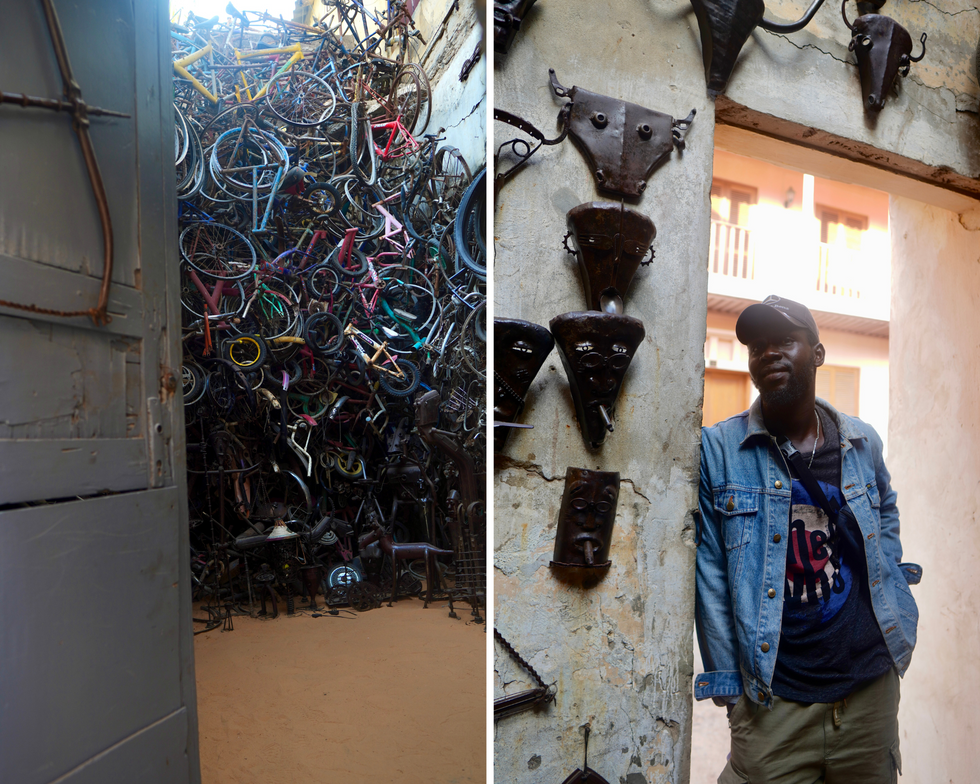 Cassie Daves and Mark Unuakhalu
Some say that a visit to Saint-Louis is not complete without visiting the Djoudj National Bird Sanctuary (a day trip) and the Langue de Barbarie (a half-day trip) but we opted out as we didn't want to pack too many activities into our vacation.
At night, we'd walk to the Faidherbe Bridge and marvel at how beautiful it looks when lit up. The Faidherbe Bridge is a road bridge over the Senegal River that links the island of the city of Saint-Louis in Senegal to the African mainland. You'll cross it when driving into Saint-Louis but it is definitely worth a visit at night when it gets lit up.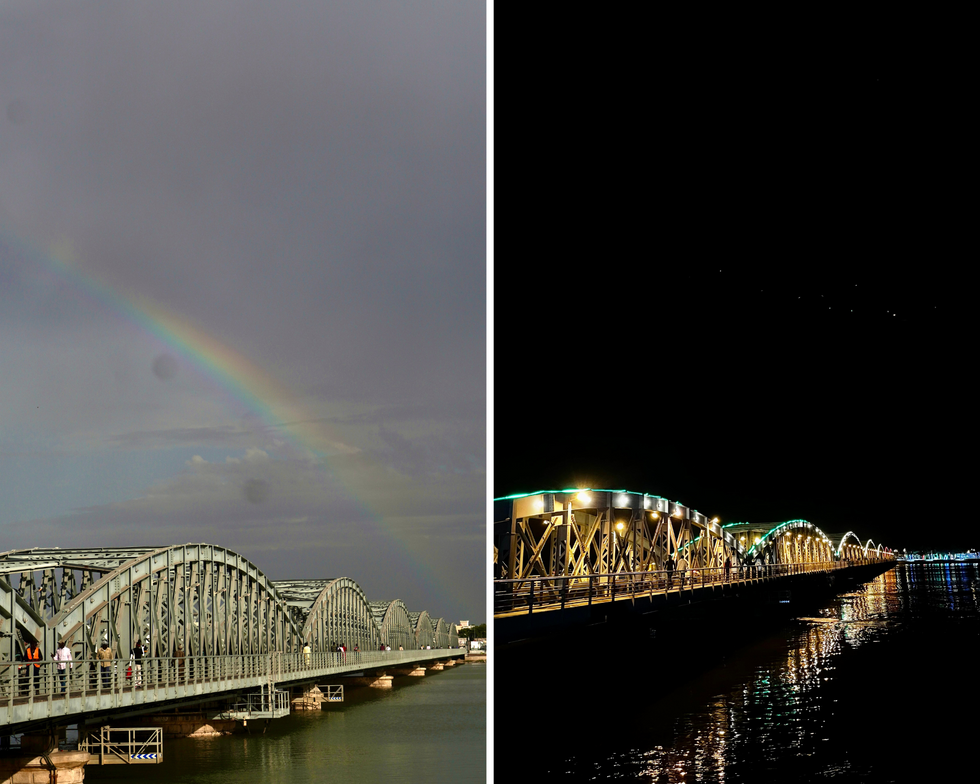 Cassie Daves and Mark Unuakhalu
Dakar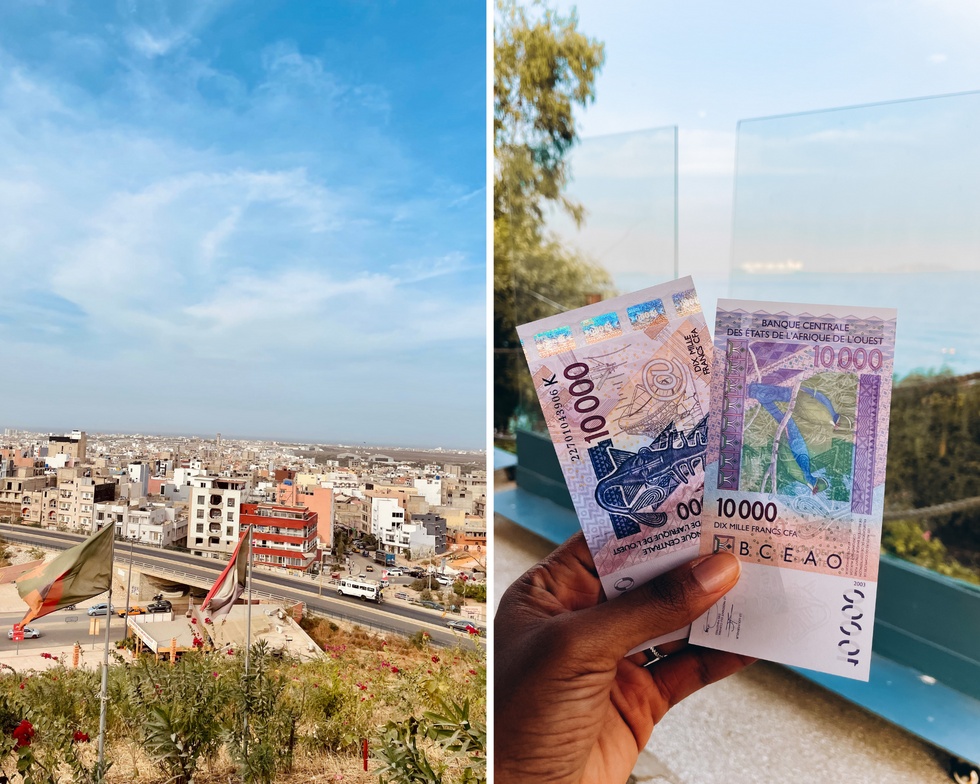 Cassie Daves and Mark Unuakhalu
​Ah, Dakar! Dakar was a love-hate experience for us. It reminded me a lot of my city in Nigeria: Lagos. They both have the same chaotic energy and buzz in the air, with little glimpses of magical moments that make you think it's really not so bad after all. Leaving Dakar for last was an intentional decision because it was going to be the place with the most activity for us. We had a list of places we wanted to see but eventually only managed to do two out of the four places. There are only so many activities you can fit into a trip when you have just three days to spend.
Quick history tidbit: In 1902, Dakar replaced Saint-Louis as the capital of French West Africa. From 1959 to 1960, Dakar was the capital of the short-lived Mali Federation. In 1960, it became the capital of the independent Republic of Senegal.
On the top of our list was the Monument de la Renaissance (The African Renaissance Monument), the tallest statue in Africa which was erected to mark Senegal's 50 years of independence. After surviving the many steps that led to the front door of the statue (think of it as a mini hike), we paid an entrance fee and were ushered in.
Inside told a story of Senegal, the African slave trade, and its journey to freedom/independence. We also got to see some unique artworks and crafts owned by the then-president of Senegal, Abdoulaye Wade. Afterward, we took an elevator to the top of the statue for a bird's-eye view of the city.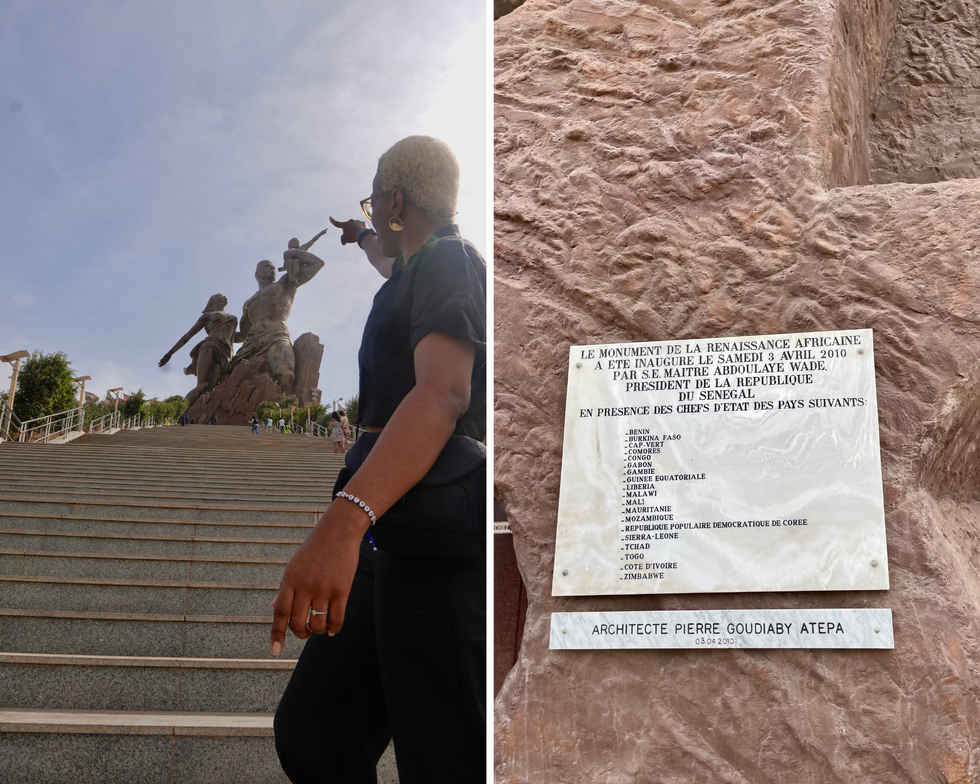 Cassie Daves and Mark Unuakhalu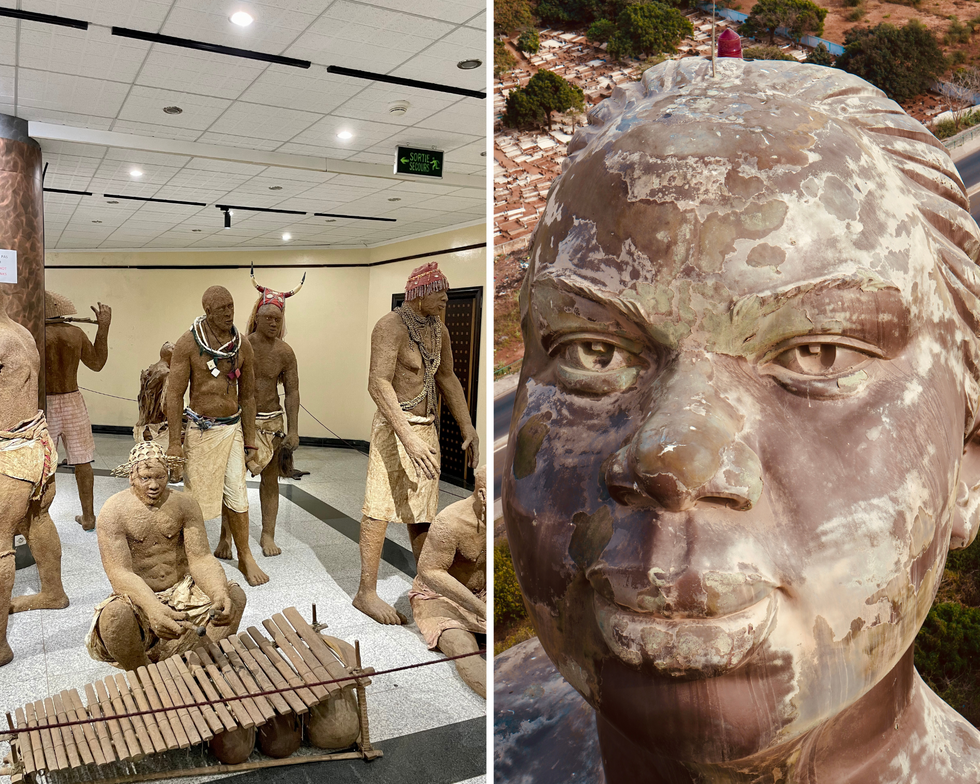 Cassie Daves and Mark Unuakhalu
The next day, we set off to visit the highly acclaimed Goree Island (Île de Gorée in French). Goree is a beautiful and picturesque island with a not-so-beautiful past. It was the site of one of the most important slave trade ports in West Africa where millions of enslaved Africans were taken through to never return again. Now, it is a UNESCO World Heritage site and houses a community of about 1800 permanent residents.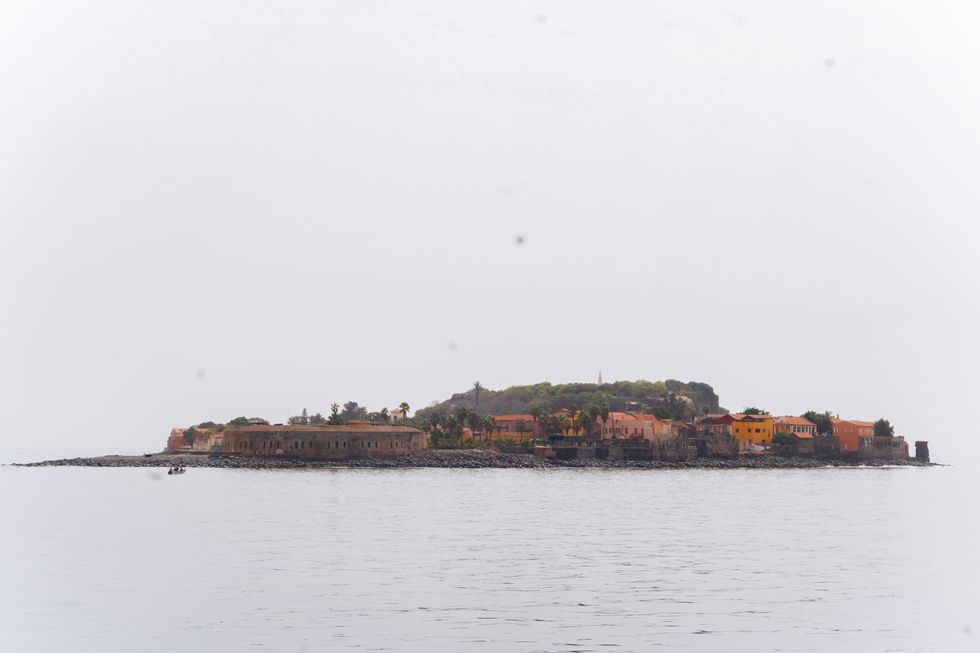 Cassie Daves and Mark Unuakhalu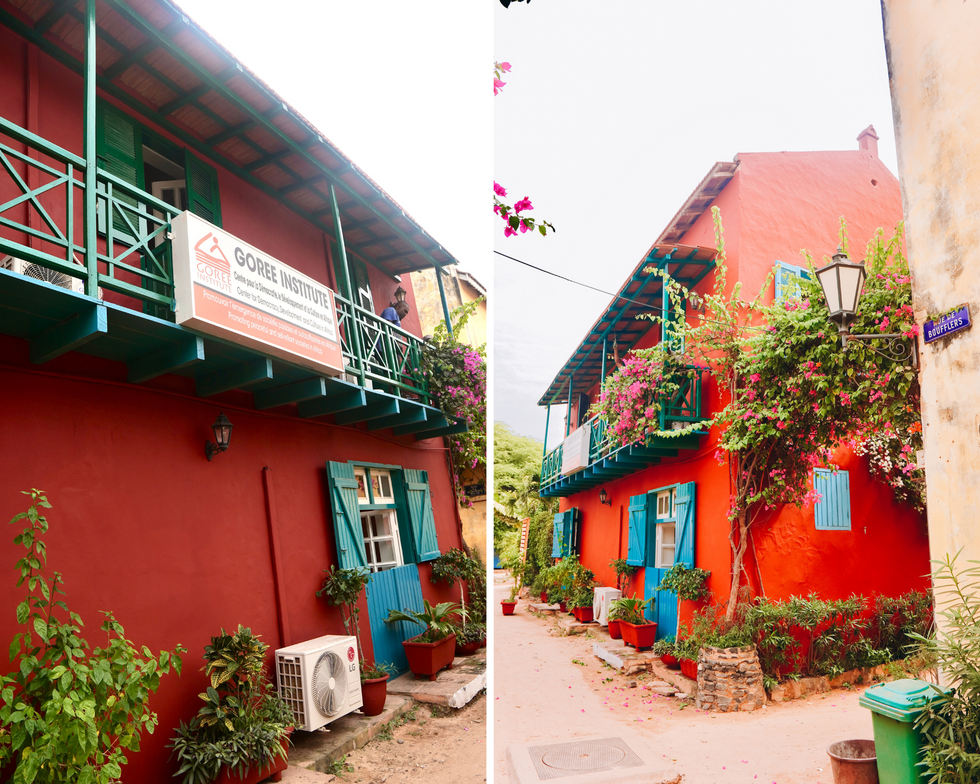 Cassie Daves and Mark Unuakhalu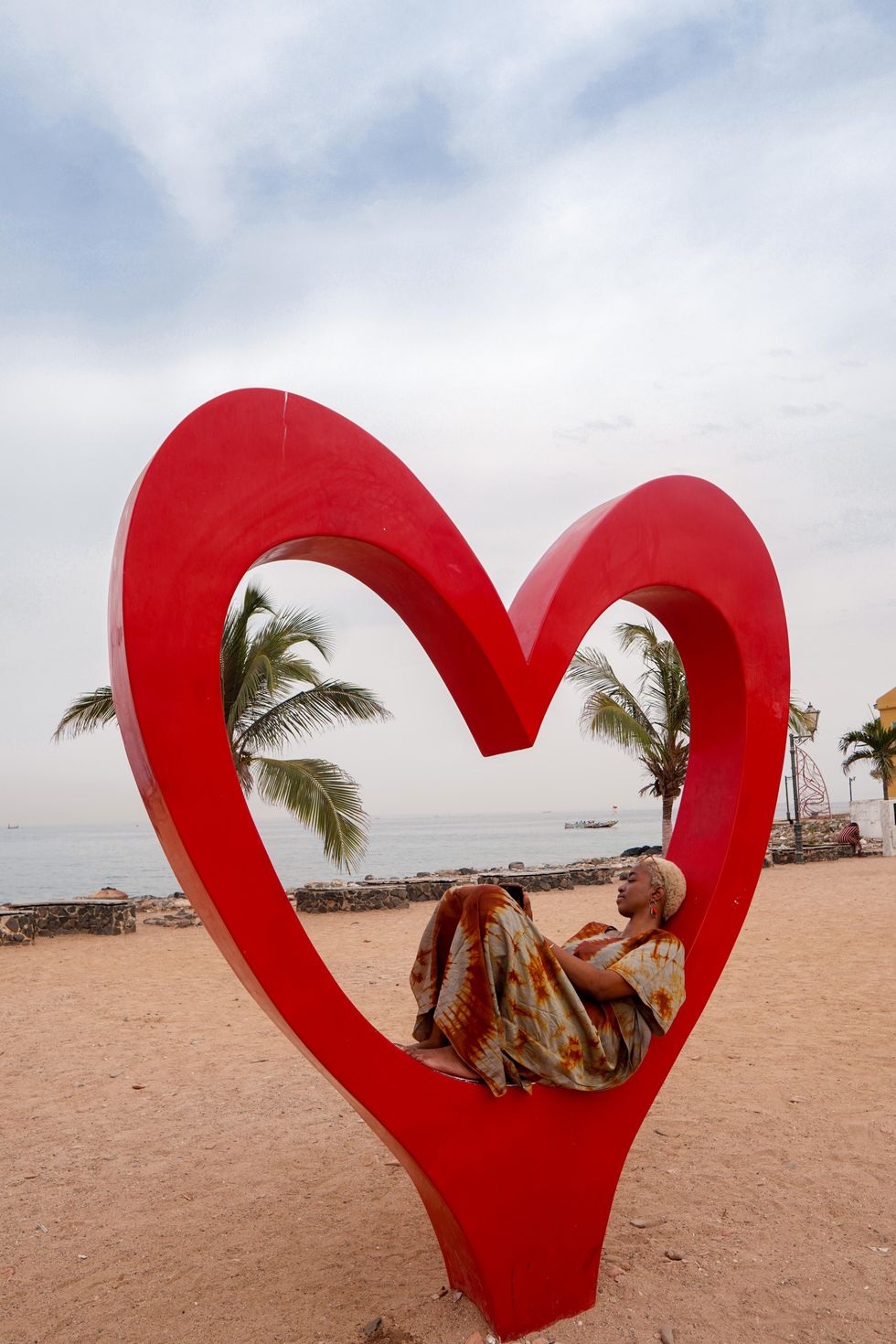 Cassie Daves and Mark Unuakhalu
Goree attracts over 500,000 tourists yearly who visit for its history or solely to enjoy its visual aesthetics. But one thing is for sure, Goree Island is definitely a key part of anyone's travels through Senegal so it felt fitting to end our time there with it. The next day, we packed our bags and said our goodbyes.
It was time to return back home.
Featured image by Cassie Daves and Mark Unuakhalu