Alisha Reed
Dr. Alisha Reed is a Mother, Pharmacist, Certified Life Coach and Creator of the lifestyle brand Fly with Alisha Reed. Since 2014, after starting her brand Nola Bougie, Alisha has inspired women to live their best lives by becoming the best version of themselves. But on December 23, 2019, Alisha's entire life changed, and she began to question her purpose and message when her husband passed away at the age of 43. Heartbroken and now a widow as well as a single mother, Alisha was met with the question "how do I go on from here?" In order to live your best life, honor those you've lost, and defeat self-doubt you need to First Love Yourself. Alisha is still self-proclaimed bougie, but Fly with Alisha Reed showcases and encourages women to see that there is so much more than that.
"The reality is that you will grieve forever. You will not 'get over' the loss of a loved one; you will learn to live with it. You will heal and you will rebuild yourself around the loss you have suffered. You will be whole again but you will never be the same. Nor should you be the same, nor would you want to." - Elizabeth Kubler Ross
No, I'm not strong. Please stop telling me that.
I'm surviving. I'm in survival mode every single day. I'll never get over the loss of my husband because this isn't a playoff game that we lost or a job that I didn't get.
I lost my husband. I lost my best friend. My son lost his dad.
In school, we are taught about the stages of grief––the textbook explanation. I'm also aware of the importance of grief counseling…I'm a mental health advocate. Yes, there are five stages––denial, anger, bargaining, depression, and acceptance––but there is no set timeline on how long these stages last or even if they are in that particular order. On any given day, I can go through these stages because I've learned that there is no right or wrong way to grieve.

This was my process.
Denial
My Thoughts:
This can't be happening to me. I'm only 40 and he was only 43, and now I am a widow. I am a single mom. Life with him was supposed to be like a fairy tale and he was my happy ending. We were supposed to travel the world together. We were supposed to build an empire. It's not supposed to end this way. Maybe when I go to bed and wake up, he will be here. Come on Moe, stop playing. This isn't funny. I know that I said some things, but I didn't mean it.
The Reality:
Until you lose your spouse, you will never know the pain. It's hard to accept that the "love of your life" is gone. With acceptance comes the acknowledgement of your feelings. You have to give yourself permission to feel every emotion possible. One day your heart will heal and your circumstances will change. Until then, it's OK to be angry...
Anger
My Thoughts:
OK, so it's just like that? He left me with all of this to take care of. He could've told me that he was going to leave us. How am I supposed to plan a funeral? I've never done that before. What am I supposed to tell our son? You ruined Christmas! How am I supposed to raise a Black boy on my own? What am I going to do with the house? What about your car? You just left me with your law practice? I'm so mad at you right now. You better not come back.
The Reality:
I read somewhere that "grief is the price that we pay for love." That's what we get for falling in love. I've experienced a lot of heartache my lifetime, but this hurt my soul.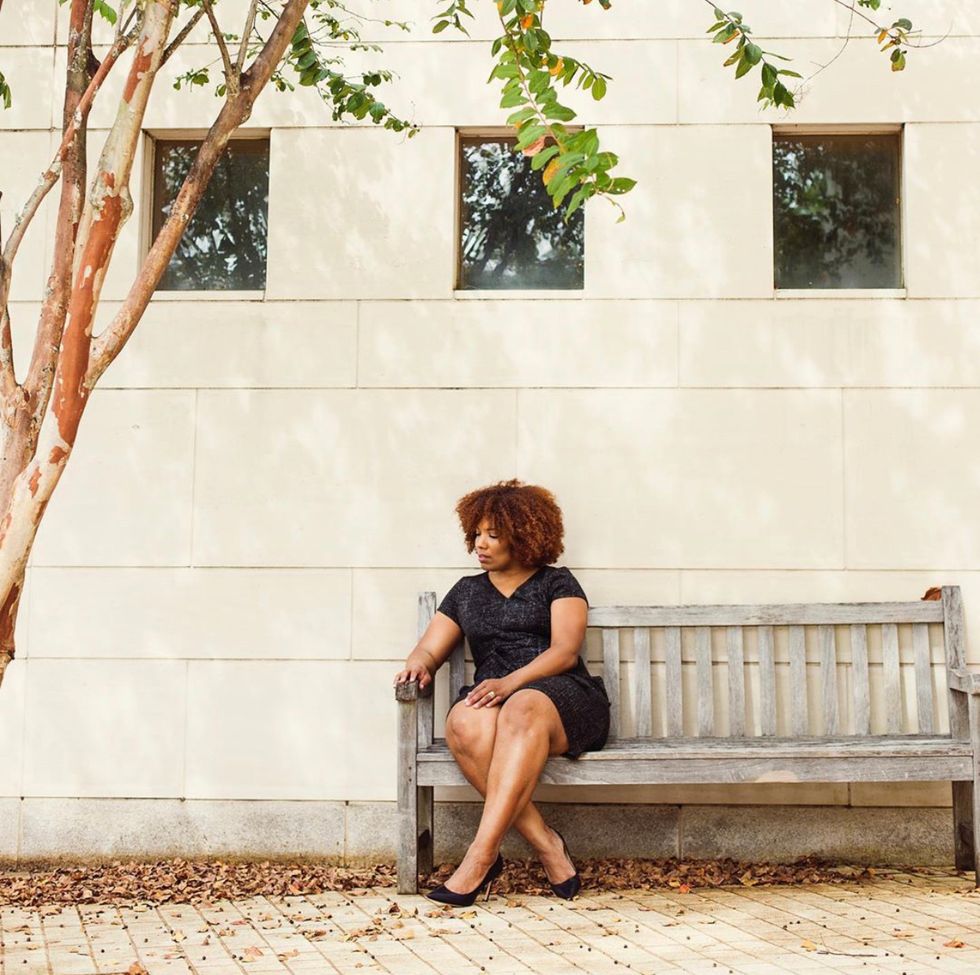 Courtesy of Alisha Reed
"Grief is the journey, not a destination. It's messy and you have no choice other than to just have to 'sit in it'."
Acceptance
My Thoughts:
"Miss me, but let me go."That's what you always told me. I really miss you, but I get it. It was time for you to go. Heaven needed you more. I know that you are still here though. Sometimes I look up and know that it was you. I understand it now and it's time for me to spread my wings. I feel your presence. You taught me how to live. You taught me how to always bet on myself. Thank you.
The Reality:
How I choose to grieve will not be how you choose to grieve. "Society" always wants to place an expectation or time limit on someone else's experiences. You can't. It's my journey and I'm grieving on my own terms. If I want to post a photo on social media, update my Facebook status, have a drink with friends, send your calls to voicemail or ignore your text…it's my right.
I'm grieving on my own terms. I've always been unapologetic, but now, I'm on another level.
The day that Moe died, a part of myself died. I will never be the same person I was.
I heard him say that it's time to FLY…First Love Yourself. The truth is, I don't know who I am anymore and it's time to find out.
*This article was originally posted on FlyWithLish.com.
Featured image courtesy of Alisha Reed.