Aliyah Moore
Aliyah Moore (she/her) is a certified sex therapist with a Ph.D. in Gender & Sexuality Studies. She aims to educate and empower minority voices to embrace their sexuality and identity. Her work & advice have also appeared on Bustle, Cosmopolitan, Popsugar, and MindBodyGreen, among others.
The word "pegging" makes a lot of people nervous, but it isn't nearly as scary as it sounds. We often see it in movies as a joke or a negative experience, but that couldn't be further from the truth. In fact, pegging is usually an intensely pleasurable and intimate sexual experience. More than that, it's a way to reverse traditional penetration roles, spice up your sex life, and, if you have a prostate, take your orgasms to the next level.
Featured image by kupicoo/Getty Images

There are plenty of places to have sex that can make things more exciting. The coffee table after a nightcap. The office desk after a long day of work. The couch on a lazy Sunday afternoon. But if you've ever smacked your head on the kitchen cabinet while getting frisky on the countertop (raises hand), then you know these locations leave something to be desired.
That's where dedicated sex furniture comes in. This is furniture designed to make sex the best it can be, and I am here for it.
Whether you're looking to spice up your cozy studio apartment or going all out and building yourself a sex room, there's a piece of sex furniture to suit pretty much anything you can think of. So, let's dive in!

Why Do You Need Sex Furniture?
There are so many reasons to invest in sex furniture. To spice things up, to achieve something that a bed just can't provide, or to help with mobility issues. Apart from bringing something new into your play sessions, the best sex furniture makes certain positions easier and more pleasurable. In fact, some positions are only possible with sex furniture, so get ready to expand your repertoire!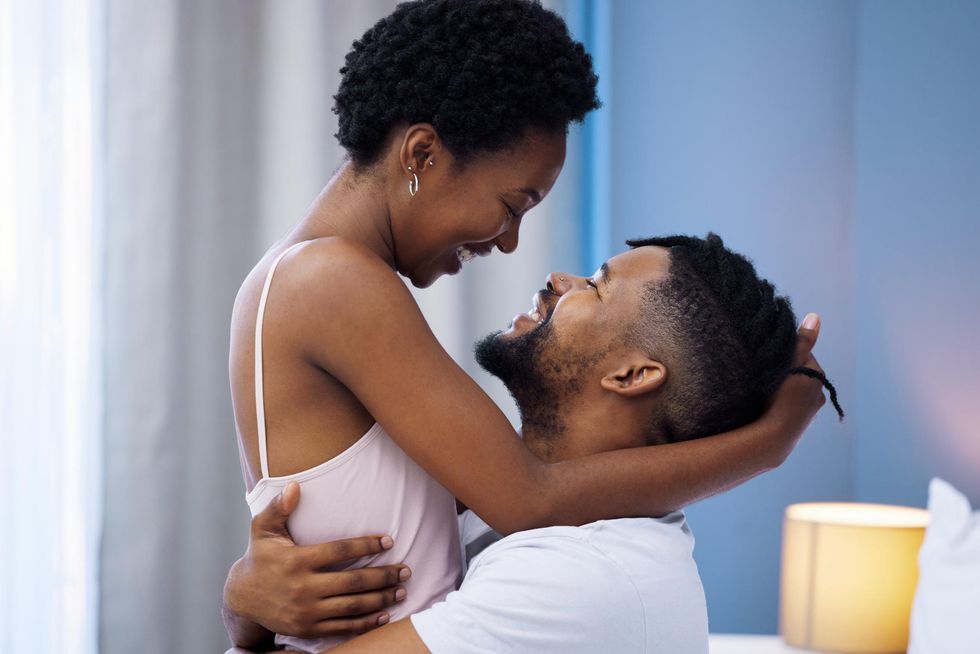 PeopleImages/Getty Images
6 Sex Furniture Types to Have Sex On
1. Sex Pillows
These simple and non-intimidating sex aids are great for finding just the right position without putting strain on your body.
They usually come in wedge shapes and are great for missionary positions (vaginal or anal), doggy-style, and even cunnilingus. You can position the pillow under the receiving partner for easier access and more relaxing and pleasurable sex for everyone involved!
2. Sex Chaises, Chairs, and Couches
If you're looking for a classy and discreet option, sex chaises and couches are the way to go. They're designed to make new, exciting positions achievable in a way that a bed never could. Plus, they just look like fancy furniture, so your in-laws will be none the wiser!
Sex chairs, on the other hand, come in a variety of shapes, sizes, and purposes but are most often used for receiver-on-top positions. Some, also called sex stools or sex thrones, are wonderful for giving oral pleasure, with the giver positioned under the chair.
3. Sex Swings
Sex swings are an amazing way to make gravity work for you rather than against you! Usually, the receiving partner will be suspended in the air while the giving partner swings them back and forth instead of thrusting, but you can have two people jump in too!
This is especially great for people with mobility issues since it puts far less strain on your muscles and joints. Plus, it's a fun way to explore your bodies in ways you never could on a bed!
Don't worry if you don't have the option of a permanent installation. There are door-mounted options, as well as free-standing frames that can be packed away when you've had your fun!
4. Sex Benches and Ramps
You can think of a sex ramp as a full-body version of a sex pillow. It's designed to support your whole upper body and take all the strain out of sex so you can get down to what's really important - enjoying yourselves!
A sex bench is pretty much what would happen if a massage table were designed by a kinkster. They're intended for BDSM play and are usually designed with bondage and spanking in mind, so strap in and enjoy the ride!
5. Sex Toy Mounts
Sex furniture isn't only for couples! If you've got yourself a dildo and want to make your solo play even better (or want to put on a show for your partner), a sex toy mount could be just the thing. They're designed to hold a dildo or vibrator in place while you climb on and ride to your heart's content.
6. Sex Machines
If a sex toy mount doesn't quite do the trick, a sex machine almost certainly will! These machines simulate the thrusting of penetrative sex. Just attach your favorite dildo and let the machine do the work!
You can adjust the speed and stroke length, and some models even have dual attachment points, so you and your partner can enjoy it together!
If you've ever been bored in the bedroom, wished you could try that one exciting position, or wanted sex just to be easier, sex furniture could very well be the answer.

There's so much to explore and so much to gain. And once you dive in, you'll never look at a chaise lounge the same way again!
Featured image by PeopleImages/Getty Images
Although having an orgasm is not the end all be all when it comes to great sex, it doesn't stop us from desiring to have them, whether alone or with a partner. One trip to the land of the Big O is awesome. Two.. three trips? That sounds too good to be true. But, orgasms of this kind are not just some mythical folklore. In fact, having multiple orgasms is very possible, and you can do it too.
Generally, multiple orgasms refer to a pleasure-seeker climaxing more than once in a single session. They are more common in vulva owners—15% of people with a vagina consistently experience multiple orgasms. Not everyone with a vulva experiences this, though, even though most have the capacity to do so. And how about penis-having folks? They could, but not so "ejaculatory." More like dry orgasms from prostate or nipple stimulation.
After all, there are different types of orgasms up for grabs. Studies show that women are quicker to climax and much prefer to do it alone. Fourteen out of 15 vulva owners orgasm from masturbation before sex, according to the same report above. Plus, 25.2% of female pleasure-seekers who masturbated solo took 2-3 minutes to climax. It's easy to see why. You know your body best. And without pressure to "perform" or "give" to a partner, you can focus on your pleasure and the sensations.
But that doesn't mean you can't orgasm during partnered play. Being with your partner could make things hotter, helping you orgasm more.
As a disclaimer, there is no step-by-step process as each body is different. Therefore, what feels good to one person might not feel good to you. So take these tips as a roadmap that you can adjust to your preferences.
5 Ways to Reach Multiple Orgasms Alone
1. Tone your pelvic floor muscle
Strong pelvic floor muscles = stronger orgasms.
You need to do a bit of groundwork for mind-blowing orgasms. It's not just all about sex. Like most things in life, you need to sow and do some work before you can harvest rewards. In this case, your seeds are Kegel exercises.
How to do Kegel exercises:
Find the most comfortable position for you. For example, you can sit comfortably or lie on your back.
Engage your pelvic muscles by squeezing them 10 to 15 times: clench, then release.
Hold the "clench" for 2 seconds before releasing it.
If you're unsure, the feeling is similar to holding your pee.
Slowly increase the intensity or repetitions over time. Walk before you run.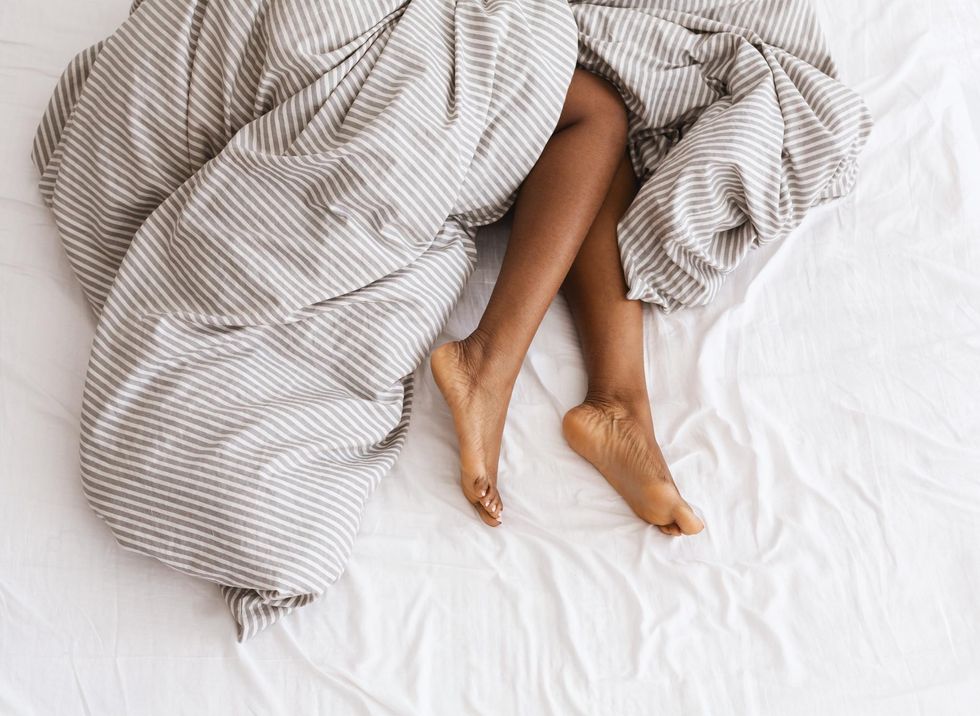 Prostock-Studio/Getty Images
2. Relax and take a break in between
A refractory period is a time your body recovers after an orgasm. So there is really a "break time" because, uh, biology. That said, some vulva owners can orgasm one after the other with no refractory period. But for most of us, a little breather is necessary. Literally.
Don't forget to breathe. Not breathing could impact the likelihood of climaxing for the second or third time. That little break should give your body enough time to reset while not stopping the arousal. You can stimulate other erogenous zones of your body, switch positions or maybe take a sip of a glass of water.
3. Try a different kind of stimulation
An orgasm could make your clitoris extra sensitive. During these times, some can't bear their pleasure button to be touched. This is the perfect opportunity to experiment and switch stimulation. Play with your breasts, nipples, inner thighs, perineum, etc.—the sky's the limit, and it's totally up to you.
Sensation play might also be something you'd want to explore to add spice to the session. Trying something new always makes solo sessions more fun. If your clitoris is not too sensitive and clitoral stimulation is what gets you off, you can apply different techniques as well.
Some examples are:
Rubbing - Slide your fingers up and down or back and forth across the clit or clitoral hood.
Tapping - Tap the clit and hood as fast (or slow) as you like.
Circling - Draw circles around the clit and hood, including the labia along the way.
Pinching - Pinch your clitoral hood in between your first two fingers and gently tug it up and down.
Grinding - Grind your pelvis on something—your pillow, the sheets… and so on.
4. Concentrate on your breathing
Breathwork is key to multiple orgasms (and orgasms in general). It clears your mind so that you can stay in the moment. Your body is super connected to your mind. When you're stressed, it could impact your ability to orgasm. So breathe slowly and deeply as you orgasm.
As your body nears climax and your arousal levels peak, your body will naturally incline to switch to short, huffy breaths. Fight that urge. Continue breathing slowly. Inhale through your nose and exhale through your mouth (like when meditating). This breathing technique is a great way to enhance the sensation.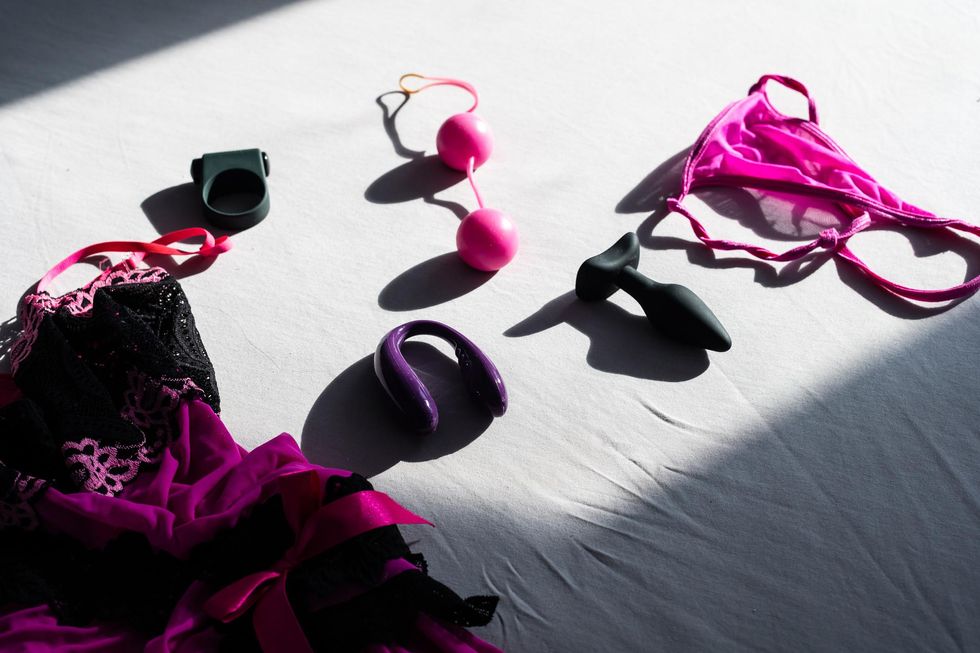 Sinenkiy/Getty Images
5. Bring out the toys
Adding a sex toy or two elevates the sexploration, making the entire experience more pleasurable for you during solo play (plus with your partner during sex). Almost half of the female participants from a study were revealed to be multi-orgasmic when they use sex toys to aid their sexual activities. So, why not?
These sex toys could help vulva owners achieve multiple orgasms:
Doxy Die Cast - A wand massager that packs a lot of power and sends deep, rumbly vibrations to your clit and various erogenous zones.
Lelo Soraya Wave - A top-shelf rabbit vibrator that provides both clitoral and internal stimulation. The insertable arm is powered by their patented WaveMotion tech that feels like you're being expertly fingered… by a vibrator.
Lovense Lush 3- A wearable egg vibrator perfect for public and long-distance partnered play. Of course, you can also enjoy it solo by connecting it to your smartphone to enjoy customizing vibration patterns, music syncing, and sound-activation functions.
We-Vibe Tango X- One of the most powerful bullet vibrators with 7 rumbly vibration patterns and 8 adjustable speeds to give you a variety of sensations. Plus, it's super portable and easy to hide.
Satisfyer Pro 2- A budget-friendly clitoral stimulator that creates changes in air pressure to deliver pleasure. You get 11 levels of intensity, so you can find a configuration that gives you multiple orgasms without putting anything inside yourself. Plus, it works underwater.
Practice makes perfect
Rome wasn't built in a day. So if you didn't orgasm multiple times after your first few tries, don't lose hope. It takes practice to be better at something—including multiple orgasms.
The more you train, the easier it will be for you to achieve your second, third, fourth (and so on) orgasm.
Orgasmed or did not, multiple or just one—NO PRESSURE. It's not a requirement or an end goal.
If you enjoyed the journey, then it was a success. The best part? You can always keep trying.
Featured image by andresr/Getty Images
Minds. Letters. Your favorite restaurants. These are only some of the things that are best when open. Apparently, relationships now belong to that list. While Millennials and Gen Zs are engaging more in this type of relationship, it is not just a trend today. Open relationships date back since time immemorial and have been a part of different cultures around the globe. But what, exactly, are open relationships? And most importantly, is it for you (and your partner/s)?
"Open relationship" is an umbrella term encapsulating other forms of nonmonogamous relationships like:
Polyamory - A practice and philosophy of loving multiple people simultaneously—intimately and romantically.
Monogamish - Two people in a primary relationship but open to others strictly sexually.
Swinging - A social practice of swapping sexual partners or joining group sexual activities as a shared bonding experience of a coupled relationship.
Relationship Anarchy - A relationship approach that rejects rules and expectations. Instead, the people involved will follow their core values (not social norms) to navigate the relationship.
If you're one of the 26% of Americans interested in having an open relationship, there are general guidelines, boundaries, and agreements to consider before you swing (heh) your shot.
There's no non-negotiable, all-encompassing "rule" to follow as each individual and relationship differs. Still, establish ways to ensure you practice ethical nonmonogamy and provide emotional safety for all parties involved.
Featured image by Delmaine Donson/Getty Images