I have a love/hate relationship with clothes.
---
When I hit that age where I could upgrade my training bras to lacy brassieres and my hips started to "spread," as my grandmother liked to say, my mother's demands of covering up grew stronger. Tight jeans that would accentuate those hips, forget about it. V-neck shirts that would lead teenage boys and men alike to fix their eyes on my clevage instead of their surroundings, not permitted. It birthed insecurities about my body, leading me to develop an unhealthy relationship with the skin I was in, entrenched in undesirable thoughts about Black women and our bodies. I was aware of how those same bodies are policed from a young age, but to have my own under a watchful eye, scrutinized for anything that would have "hoe" and "slut" tossed my way, played a part leading up to my twenties.
I got pregnant at 21 and like most mommies, my wardrobe consisted of sweatpants and oversized tees. Leggings–something I couldn't even think of wearing at 16, 17–became a staple item and my boyfriend's clothes would gradually become my own. I wore headscarves to run errands. I opted for kicks instead of heels when going out. Pretty much, I chose comfort over cuteness. No one dared say anything to me, but after the birth of baby boy #1, I'll never forget a conversation I had with my partner who wondered if I didn't feel good about myself because of how I chose to dress. He didn't understand swollen feet, back pains, and rapid weight gains, but he looked at other women and didn't see why I couldn't dress the same. I would later try to fulfill his wishes with baby #2, but I would feel self-conscious going out, wondering if people were concentrated on my breasts that grew from a C cup, to a D, and finally a double D. I would wonder if they were thinking about how my shirt would rise just a little to expose some belly and every time I would hear my mother's words. I reverted back to what I knew–what felt safe for me.
And after the kids came and the snapback wasn't as strong as Teyana Taylor's or Draya's, I just wanted to feel comfortable in something other than clothes. I wanted to be okay with the flesh I was wrapped in. I walked around my house bra-less. I allowed my partner to touch me more–a rather difficult feat considering I was now 40 pounds over my starting point. I had sex more and started to become more intimate with myself. It sounds like a walk in the park, but the journey to self-acceptance when you genuinely feel like crap begins at a long, never ending road. I eventually reached the point where I could wear shorts without reservations or allowed myself to wear a v-neck because the "girls" needed to breathe. But all it took for my efforts to come crashing was a comment made by another woman that challenged my parenting skills. This was someone trying it on another level, y'all.
Related: Confessions of Hollywood Moms: 'There's A Lot Of Pressure To SnapBack'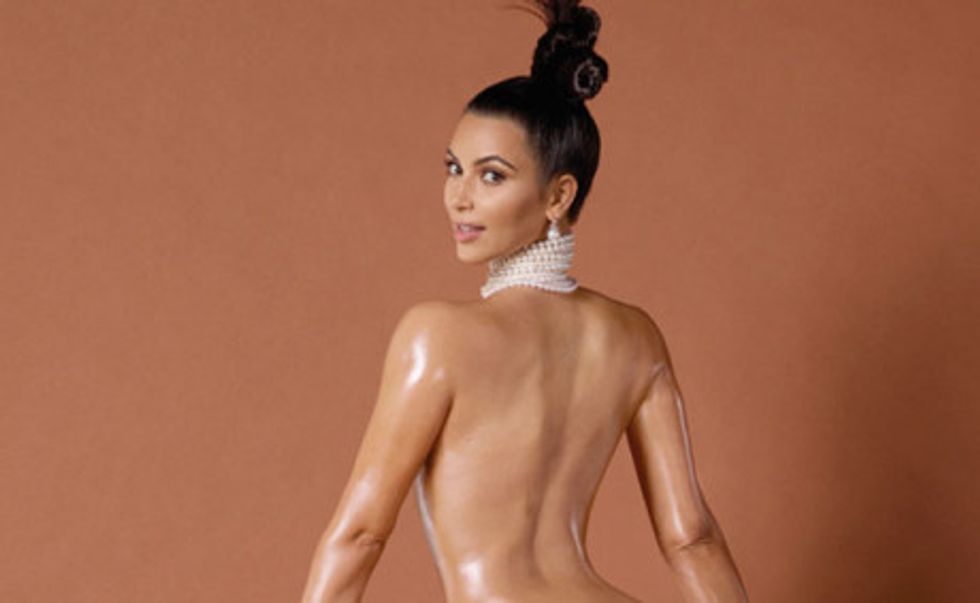 I wondered what my attire had to do with what I did as a parent. No one knew how I struggled to get to this place and I was reduced and questioned on what I was introducing to my sons about the opposite sex. But this was a pattern I've grown familiar with seeing amongst people, but more so between women. Remember Naya Rivera's viral reaction to Kim Kardashian's 2014 Paper magazine cover, where she felt obligated to remind Kim on her recent role?
"I normally don't. But… you're someone's mother…"
Well those similar comments came up again recently after Kim posted the image below to her Instagram. While it's not the first nude selfie we've seen from the mother of two (and let's be honest, it probably won't be the last), however there was a lot of chatter on social media surrounding the image and the example Kim is setting for her daughter North. While flourishing in my nudity isn't part of my M.O. towards feeling better about myself, I won't shame Kim–the same woman who often expressed her discomfort while carrying North–for doing whatever she felt was necessary to regain her confidence.
I penned a piece titled Just For The Record: Mothers Can Be Sexy, Too in hopes of directing attention to something more important, like the well-being of a child, while also reminding readers that aren't familiar with the ebbs and flows of motherhood, that pregnancy isn't always the beautiful experience many women paint it to be. Different strokes for different folks. Oh, and Naya subsequently went nude when she carried her child, so sip tea on that.
Related: Being Sexy While Pregnant: Are There Limits?
Of course I could state the obvious that "sexiness," whatever that looks like, is how most of our children here. It's what keeps us feeling good about ourselves on the days our children over poop their diapers, color on walls, and decorate our homes with toys everywhere. That need to feel beautiful after you've had a Cesarean section, gained more than 25 pounds, lost your "glow," and/or your hair is necessary for any woman who's experienced pregnancy.
Remember the backlash towards Coco Austin, who wore a shredded black dress for her 15th anniversary dinner with husband, Ice-T? It got so bad that she responded to the negative comments that questioned her parenting on Instagram:
"I keep reading these stupid articles & ppl commenting that when u become a mother u have to stop dressing sexy.. oh please! Me dressing the way I want to will not interfere with me raising my child. Be more concerned about the war or something more important."
Listen, Coco's attire has never changed and probably never will. Why must she start keeping it PG because she has a child, and where did we get the notion that dressing a certain way equates to bad parenting? Someone help me find the correlation. While I personally believe certain things should be reserved for your man's eyes only, I will never call a woman's role as a mother into question. That's not my place as I'm not her husband or her child, nor does it even make sense. The bigger issue here is there are far too many internet judges.
[Tweet "I will never call a woman's role as a mother into question."]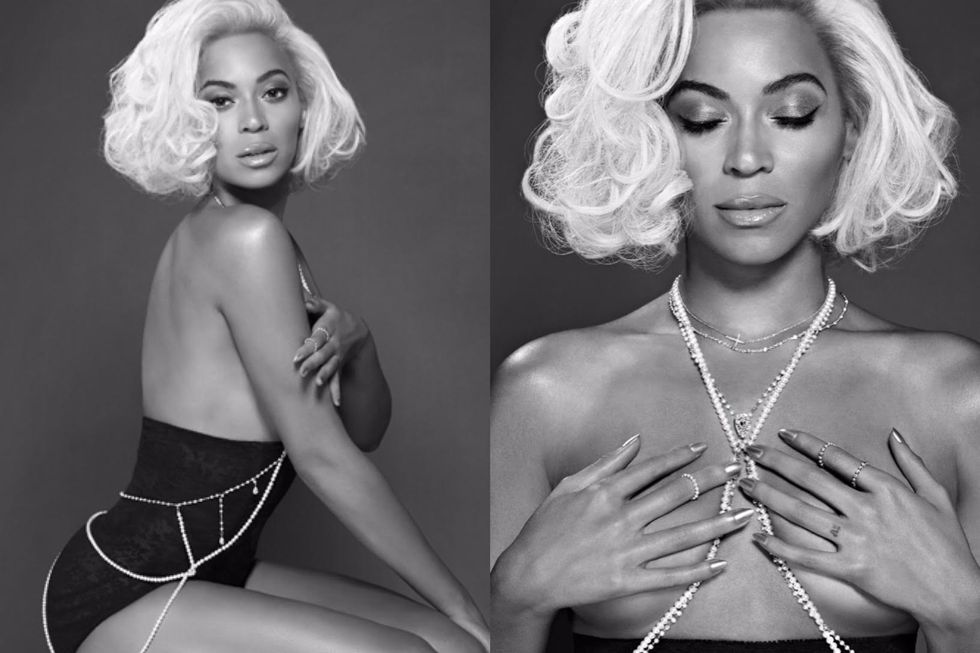 When Beyoncé released her self-titled album and dropped the video for "Partition," people were shocked that the singer shifted her image to fit where she was in life as a 32-year-old. She spoke to Out magazine for a piece titled "Beyoncé Liberated" to respond to critics that felt she was now "too sexy."
There is unbelievable power in ownership, and women should own their sexuality. There is a double standard when it comes to sexuality that still persists. Men are free and women are not. That is crazy. The old lessons of submissiveness and fragility made us victims. Women are so much more than that. You can be a businesswoman, a mother, an artist, and a feminist—whatever you want to be—and still be a sexual being. It's not mutually exclusive.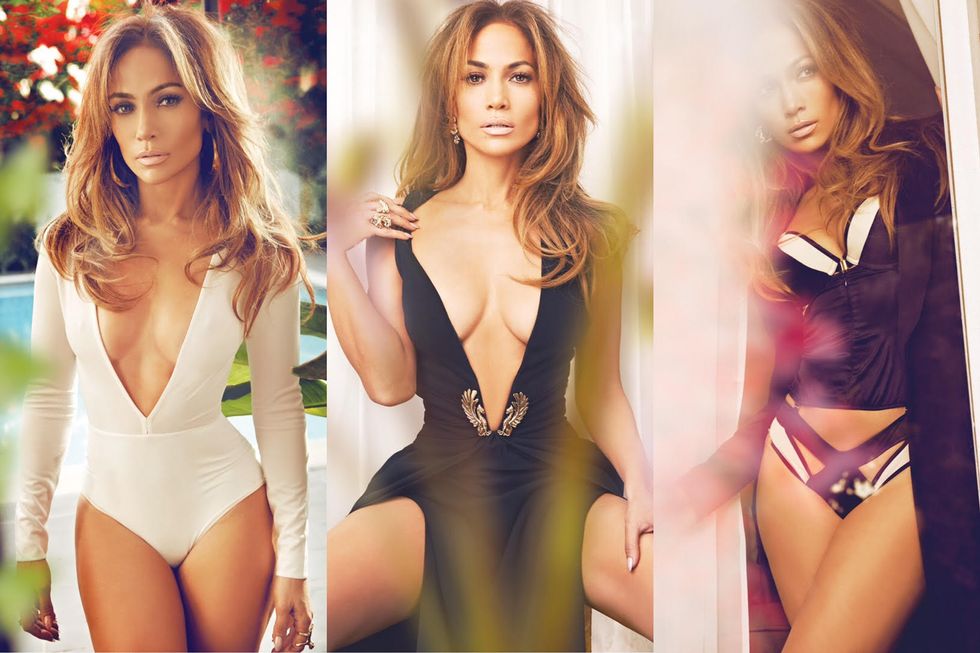 Photo Credit: Complex Magazine
Jennifer Lopez also tackled the question of her attire and her children's reaction for her February/March cover story for Complex:
I'm not allowed to be sexy because I'm a mom? It's like, How do you think I got my children? [

Laughs

.] The truth is I don't want to do anything that they would be embarrassed of in the long run. But at the end of the day, they care more about me being there, taking care of them, than if I'm sexy in a video. And I'm not saying that one day they may not be like, "Mom! Why did you do that?!" [

Laughs

.] But I don't think that in 10 years I'm going to be doing that either. Again, it's about what feels good to me in this moment. It felt right. It's a good message for women. I'm standing next to this girl who is 24-years-old and I'm in my 40s and there's no difference. Women need to see that and feel that. You can't let the fear of what people might say or think stop you from doing what you want to do or else we would never do anything.

I hope to show her from example that you have to love yourself for who you are. And that doesn't mean that you can't do things to enhance yourself, like work out, or if somebody wants to get a nose job. I don't know. You can take a hard stance on things and then eat your words later. All I'm saying is, at the end of the day, you got to feel happy about who you are inside, and then you can make good choices for yourself.
Amber Rose has always been vocal about expressing her sexuality and motherhood. On top of sharing her own assets unabashedly on social media, she came to Blac Chyna's defense last spring when the media thought that the exotic dancer's attire as a mother was too much.
We are moms 24/7/365 even if we're at the club having a good time or when we wanna dress sexy ( She's not even topless) Lol and Guess what we are still moms for the rest of our lives and we love our children more than anything in this world but moms are also sexual beings too duh how do u think u got here? I'll wait.
People get highly uncomfortable when a woman, but more so a married woman with child(ren), starts to break outside of the limitations imposed on them. What's more disappointing, however, are the women that find fault in what another woman is doing. In my opinion, dare I say it, the finger-wagging that women do towards one another sheds more of a light on the insecurities that one has about her own life and looks. Even if you disagree with the style choices of Coco, Beyoncé, Jennifer Lopez, and a plethora of other celebrity mommies or mothers around your way, it's damaging to question her role as a mother and ultimately, should have zero effect on how you live your life.
[Tweet "People get highly uncomfortable when a woman starts to break outside of the limitations imposed on them."]
If you don't like it, don't look. After childhood experiences and 40 weeks of pregnancy, what matters most is how we feel when we look at ourselves. Happy moms make happy homes, right?