Welp ladies and gentlemen, we may have found the Bill Cosby of the porn industry. 
---
In case you've been living under a non-safe-for-viewing-at-work rock, James Deen is a porn star known for his "boy next door," image.  What made James stand out was the fact that he looks like the cute white dude in a suit who would catch your eye at the bar, but he's far from it. He frequently stars in BDSM porn. You know?
Whips.
Chains.
Tie me to the hood of the car while you do me in the tooter. Jumper cables clamped on your titties. That kind of stuff.
Think Christian Grey -- 50 Shades Of Grey, but rated X.
That's not the only kind of porn that he's done. I've watched some of his titles (don't judge me), and he's everything you'd imagine white guy sex to be - a lot of face riding, and "mic ripping." This is why I was just a little bit surprised to learn that six porn actresses were accusing him of rape, assault, and mistreatment.
James wasn't just any BDSM porn actor either. He's appeared in more than 4,000 films since he first started in the biz at age 18 (he's 29 now). Actually, he plays in roughly one bondage and S&M scene for three straight scenes, according to the New York Observer. That's a lot of ass whipping and butt naked sex! It's also easy to see how he could blur the lines between acting and real life (not that it makes it right, just saying).
I know some people are wondering whether a BDSM porn actress, or any porn actress for that matter, can be raped to begin with. After all, they do cross a whole lot of lines. Plus, James was the porn actor with the nice boy image. With his good boy persona, and several women desiring to be beaten and screwed on camera, surely there couldn't be any validity to those accusations. Right?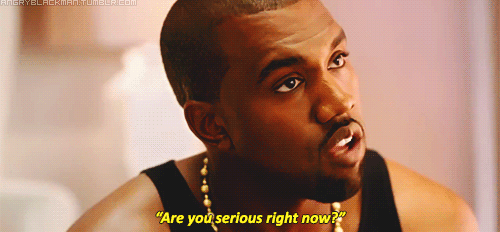 WRONG! Porn actresses, even the ones who do BDSM, can get raped, too, and no they don't deserve it because of the nature of their jobs.
What's making James seem more like the 'Bill Cosby of Porn' is the other types of porn that he engaged in besides BDSM (because hey, a check is a check).  James was often applauded for staring in "novelty porn" titles, where he would do XXX parodies of 30 Rock, Seinfeld, and Scrubs. This enhanced his "good boy/bad boy" image, and as a result he's been described as the "porn star that was the only option for women interested in watching a young, heterosexual, non-repulsive man engage in sex." by GOOD Magazine.
Yes, a BDSM porn actor was labeled the only option for women interested in watching porn. So basically they called him a "feminist"? 
If you were thinking, "That sounds kind of dumb," then your train of thought was in line with the six women who have outed him within the last week. His ex-girlfriend, adult film star and writer Stoya, blew the lid on his "pretty boy operation" a few days after Thanksgiving.
Shortly after Stoya said something, James' ex-girlfriend and porn star, Joanna Angel, described her years of mistreatment at James' hands while she was a guest on the Jason Ellis Sirius XM Satellite radio show. BuzzFeed recounted the heartbreaking story (read it here).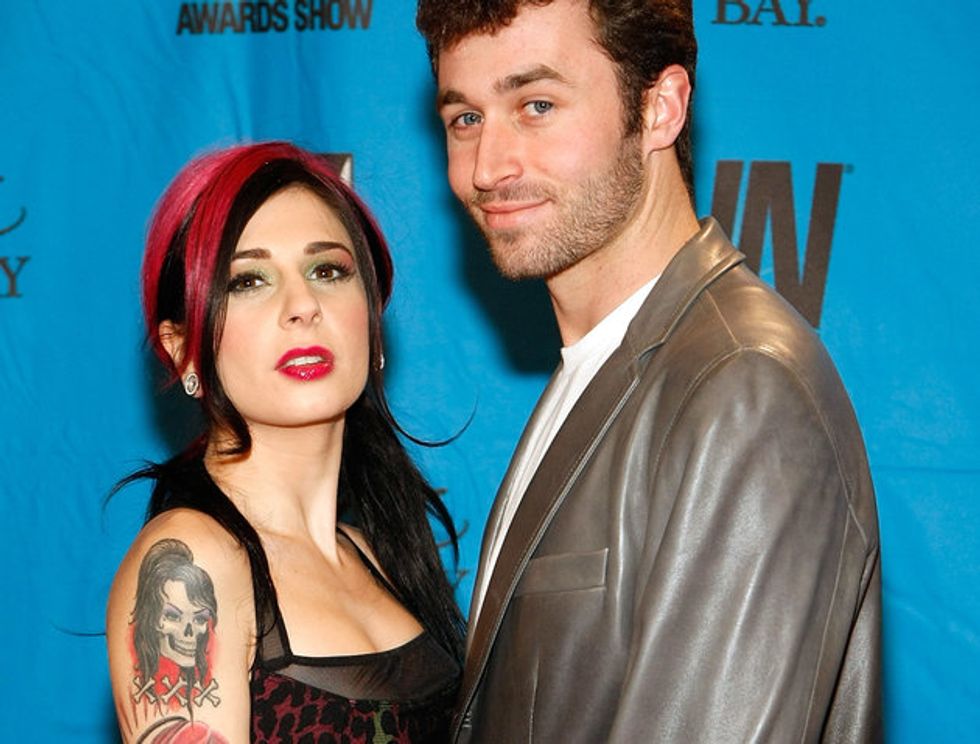 Joanna Angel with James Deen.
Soon, even within the first year of their relationship, their sex life changed for the worse. It became, she said, "more painful, and less pleasurable." She described one particularly harrowing instance when he dragged her by her hair into the bathroom. He filled the sink with water, and, she said, "He started dunking my head in the water while he was f*cking me." She was OK with it at first. But then he allegedly held her underwater and wouldn't let her up even though she was tapping him. "It started to feel like forever," she said. "I thought, I'm going to die here."

When he let her up, Angel said she was "crying — I was a mess." She continued: "He threw me on the floor. He said, 'You're a horrible submissive. I'm bored. I'm going to go fuck someone else.'"
Joanna said he would also sleep with multiple women, but would consider anything she did outside of having sex with him cheating. Even masturbation.
Yes, a BDSM porn actor considered masturbation cheating.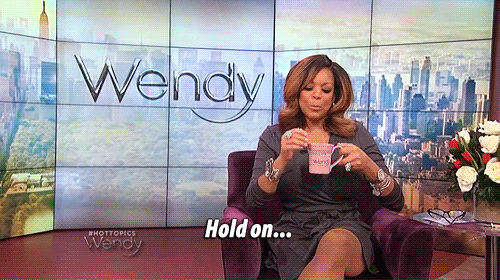 Okay.
That's not the only surprise to come out of the James Deen can of nuts. Joanna has recalled him waking up multiple times during the night with him on top of her choking her in his sleep. She said that he wouldn't wake up, and she dealt with this abuse for six years.
Since then, porn star Tori Lux wrote a column for The Daily Beast accusing the "pretty boy toy" of assaulting her after a shoot. Apparently, it was important to him that she sniffed his nuts after shooting a porn. This involved him slapping her several times.
More women have come forward to out him within the last several days. The Tweets below are probably the least harshest thing that's been said about James' brand of crazy.
But the sad part is why the women wouldn't come forward to begin with. Tori Lux said exactly what someone who is reading this was probably thinking: fetish porn stars put themselves in harms way because the nature of their work.
Tori had this to say about why she didn't come forward sooner in her Daily Beast article,
A few people with whom I've shared this story over the years have asked me why I didn't call the police as soon as it happened, or publicly speak up about it shortly thereafter. The reason for that is because people—including the police—tend to believe that sex workers have placed themselves in harm's way, and therefore can't be assaulted. Of course, this claim couldn't be further from the truth, as being involved in sex work does not equate to being harmed. Despite porn being a legal form of sex work, and it occurring in a controlled environment such as a porn set, this blame-the-victim mentality is still inherent in much of society. In turn, sex workers are silenced and our negative experiences are swept under the rug as we try to protect ourselves from the judgment of others—or worse, a variety of problems ranging from further physical attacks to professional issues such as slander and/or blacklisting.
With all this said, let me be clear if you didn't quite catch it in the title:
[Tweet "Rape is rape, abuse is abuse, and six women aren't going to tell the same damn lie."]
We're still going through this with the Bill Cosby incidents, and the conversation about sexual boundaries has not changed. I'm well aware that BDSM actors cross a lot of lines with their work, but damn! If six people say that one person beat the crap out of them off set, and in an uncontrolled environment, you're no longer a BDSM actor, you're a criminal.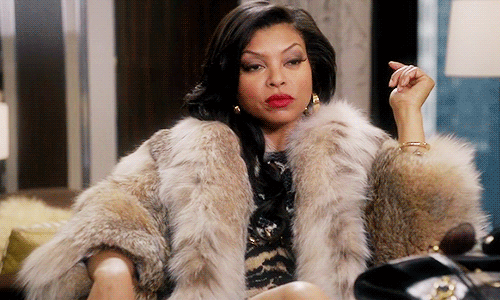 No man or woman should be put into a situation where they feel unsafe. It burns my biscuits that this topic is discussed like an option instead of a right.
I want to assure my friends, fans and colleagues that these allegations are both false and defamatory

— James Deen (@James Deen)1448845292.0
His backlash has been swift, although it's nothing like Bill Cosby's (and that's a whole other article about white privilege that I'm not going to go into right now), but it's there. Unfortunately, it's not changing the conversation on the safety of women, especially women in the porn industry. They don't sign up to get beat down. They're performing a service for pay, and anything outside of that is outside of their job description.
The women who James assaulted have rights like everyone else, and no one deserves to let a mother sucker pound on them.
But I'm sleep though.