In a city where Black men are often defined by the streets instead of their character, Fabian Elliott seems like an anomaly.
The 26-year-old millennial is at the forefront of Chi-Town's tech movement and is ensuring that blacks have a voice in an industry where we often lack presence.
---
By day, he is an Advertising Technology Solutions Consultant at Google, in which his innate ability for problem solving enabled him to turn an internship into a full time job. Despite that African Americans only account for 2% of employees at Google, Fabian has never been one to shy away from a seemingly challenging situation. The Fayetteville, North Carolina native came from humble beginnings having previously shared that the roads in his rural part of town weren't paved until he was 16.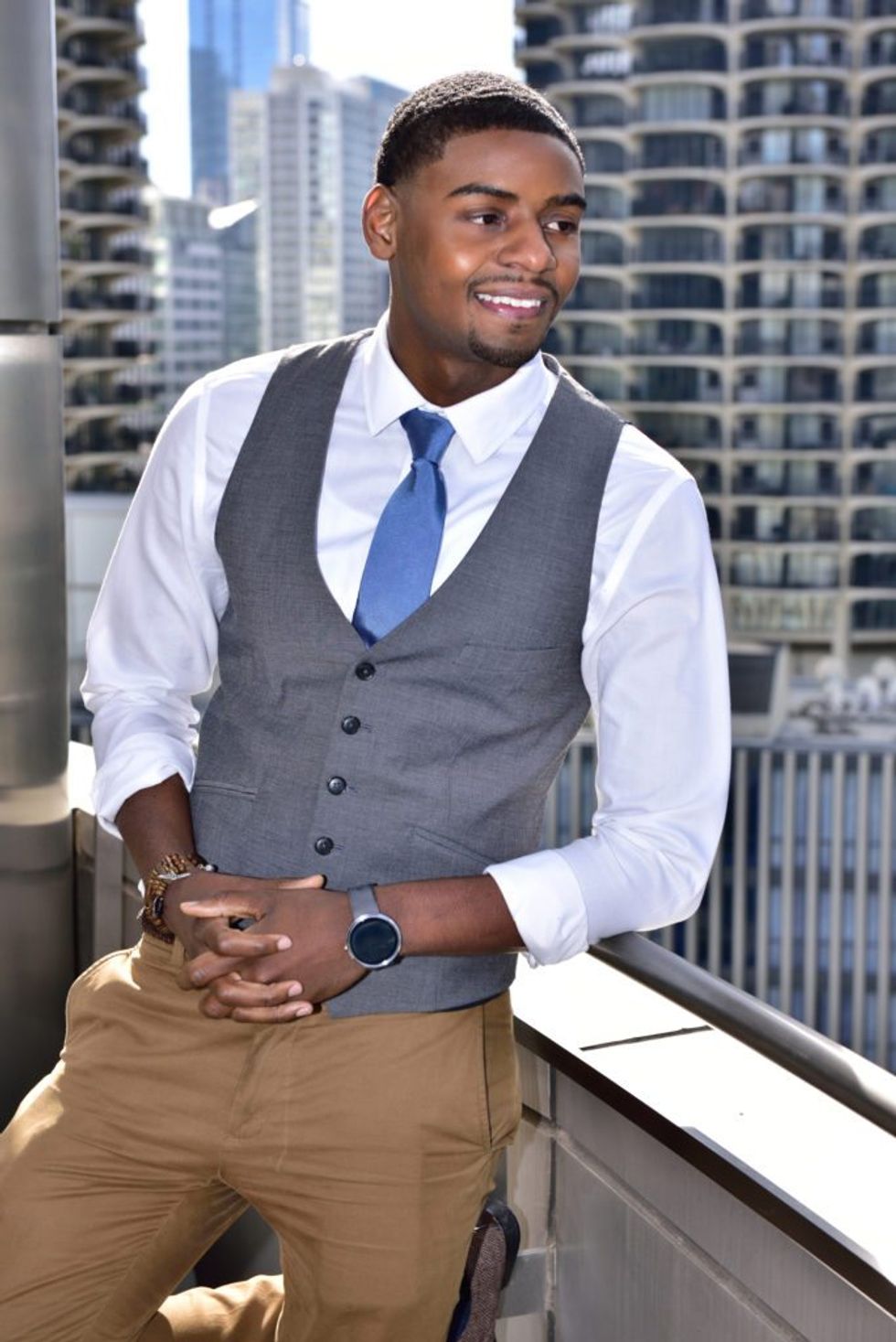 Photo Credit: LeVern A. Danley III
As a marketing major at the University of North Carolina at Charlotte, Fabian created The United Black Professionals organization to help students stay focused and navigate their way through college. Similarly, with his company Black Tech Mecca he's helping creative's in Chicago to have a collaborative space that strengthens their connections and relationships with the ultimate goal of building a thriving black tech ecosystem in Chicago.
In the midst of his busy work schedule, he returns home several times a year to speak to students at E.E. Smith High School where his mom is coincidentally a business and technology teacher. Growing up, there weren't many Fayetteville natives for Fabian to look up to so he "cherishes the opportunity" to share his story with the hopes of empowering and encouraging others to follow their dreams.
It would be understandable if Fabian said he didn't have time for relationships; however, the budding boss managed to find love in the tech space with fiancee and Brand Director for Black Tech Mecca, Dineo. He shared that initially his relationship caught him off guard, but finding someone who helped him to become better was worth the investment. Smart move! Oh, and he let us in on a secret, when men say they aren't "ready for a relationship" it's because they've created a timeline with a specific age and point in their life that they'll be ready for love.
The southern gentleman is definitely wise beyond his years, and in an exclusive interview with xoNecole, gives insight on whether or not women should date men that have "potential," attracting the right kind of attention, and how to stay ahead of the game in technology.
Why He Didn't Sacrifice Love for His Career
Like most guys, coming out of college, I had a plan that I didn't want to be in a relationship until a designated window of time then at another window, I'd be ready to get married and that's how I planned it out. As I was trying to follow that path, and when I wasn't trying to be in a relationship, my fiancee came into the picture. I think when the right person comes along, you just know. For someone that's so ambitious, with so many things to accomplish, I know that I have to be at my very best so when you meet someone that brings out the very best in you it makes you start to re-evaluate things.
With my significant other, even when I thought being in a relationship wasn't happening at the ideal time for me, I realized that she was able to bring out the best of me and any person that's able to do that, you should invest in that relationship.
[Tweet "When you meet someone that brings out the very best in you it makes you start to re-evaluate things."]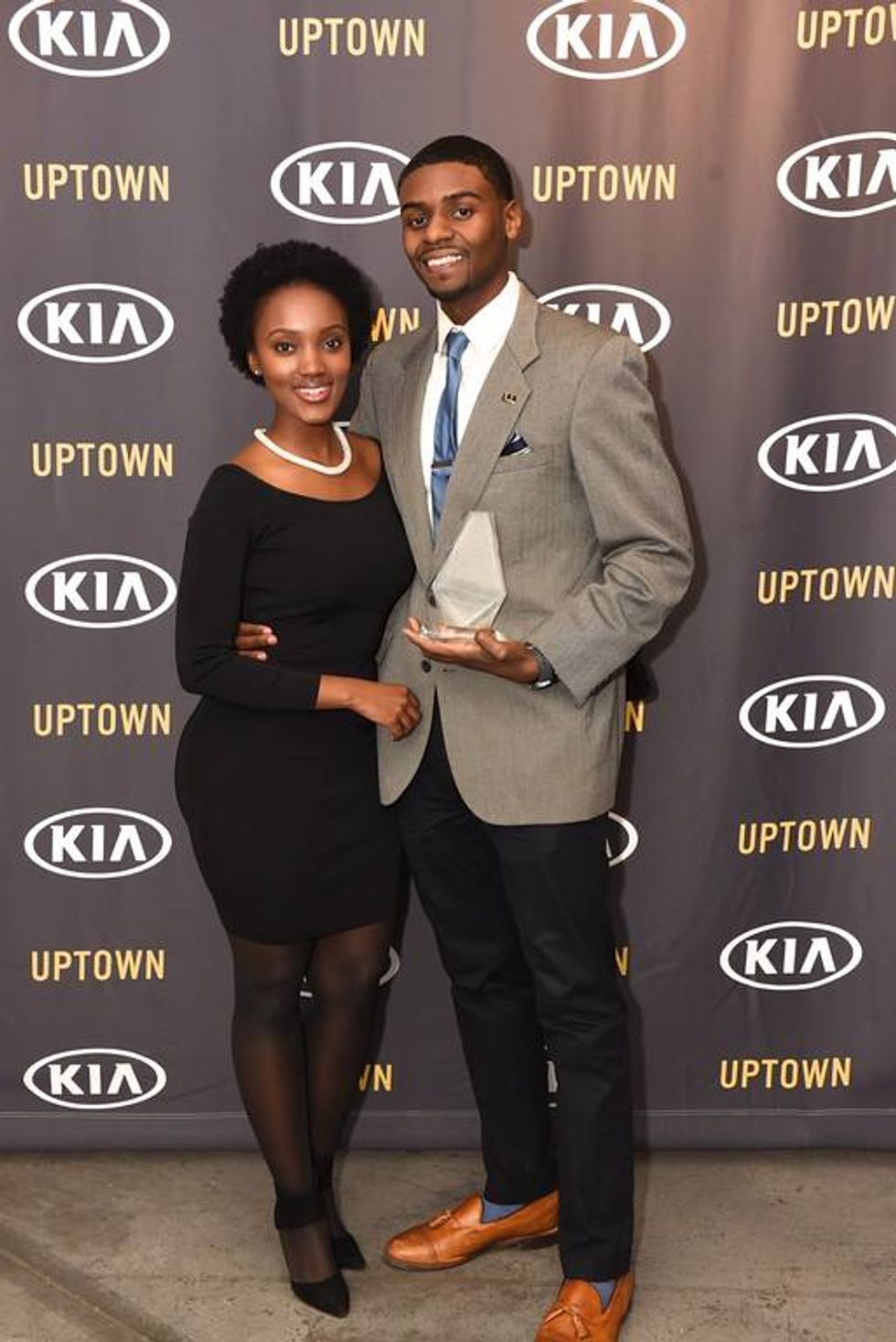 Fabian and his fiancee Dineo at the Kia Uptown Magazine Game Changers awards ceremony
On if a woman should wait for a man to get his life together
I think when it comes to dating, oftentimes we're too externally focused instead of being more internally focused. What I noticed from my experience I was more intrinsically focused like, 'this person brings out the best in me and that's what I need to move forward in life.' I believe if women did the same thing and found the guy that brought out the best in them, it's okay to be selfish about that. They can, of course, still mature in other areas, but I think that one particular quality is a good indicator that you're on the right path.
A Woman With A Positive Self-Image Doesn't Need to Overcompensate
It definitely boils down to how a woman perceives herself. If she doesn't think highly of herself she'll unconsciously try to overcompensate and it doesn't come off as being genuine and authentic. That overcompensation can come off as arrogance and it just won't attract people. When a woman has a positive self image, that manifests itself in her actions and other people see that same image. It's attractive when women are comfortable with themselves, which is a result of how they view themselves.
[Tweet "When a woman has a positive self image, that manifests itself in her actions."]
He's Helping to Bring people of color Into the Tech Space In Chicago
My main efforts are funneled through Black Tech Mecca, our initiative to build a black tech ecosystem in Chicago by strengthening connections, quantifying impact and directing growth. My initial community involvement started when I was in college. I created an organization called The United Black Professionals. It was designed to fit a need that I saw a lot of us would come to school excited but we would get off track and get lost in the sauce of why we came to school and what our goals were. The organization was designed to help people prepare for their career and their future endeavors. That was my first experience in working to solve issues that I noticed within the black community. When I moved to Chicago, the lack of diversity in the tech industry was just starting to make national headlines.
Outside of work, I was heavily involved in organizations such as Chicago Urban League, 100 Black Men of Chicago and various community service projects. The worlds began to merge when I got heavily involved with Google's Black Employee Group. I became the Global Co-Chair and I helped to set up chapters outside of the U.S. in Brazil, Dublin and London. After seeing the work I was doing outside of Chicago in the tech community, I wanted to blend the two and make Chicago the Global Black Tech Company.
His Environment Growing Up Prepared Him For Leadership
A career in technology could not have been further from my mind growing up in rural North Carolina. You simply don't know what you don't know. However, my environment was conducive to taking an interest in marketing and entrepreneurship. These interests and experiences laid the groundwork for me to pivot to technology while in college. My Inroads career coach, Amber Murdock, deserves 100% of the credit for my final preparations to apply to Google. There was an essay requirement to the application and I remember her completely ripping my first draft to shreds and helping me to better articulate who I was and my philosophy on leadership.
He's Helping Build the Black Tech Mecca In Chicago
With Black Tech Mecca our main goals are research and product development and killer content. On the research side, right now in Chicago and in other markets people aren't really well informed about where to find the black tech community. We're working with the city of Chicago and other research partners to develop a framework where we can keep a pulse on the state of black tech in Chicago. We should be releasing our findings in the next quarter on the development side. We're establishing a platform to help the black tech community connect with each other and connect with resources. We're looking to go into beta testing in March and launch in June.
For Google, I want to continue to grow my digital advertising know-how and figure out how to add as much value to my clients as possible.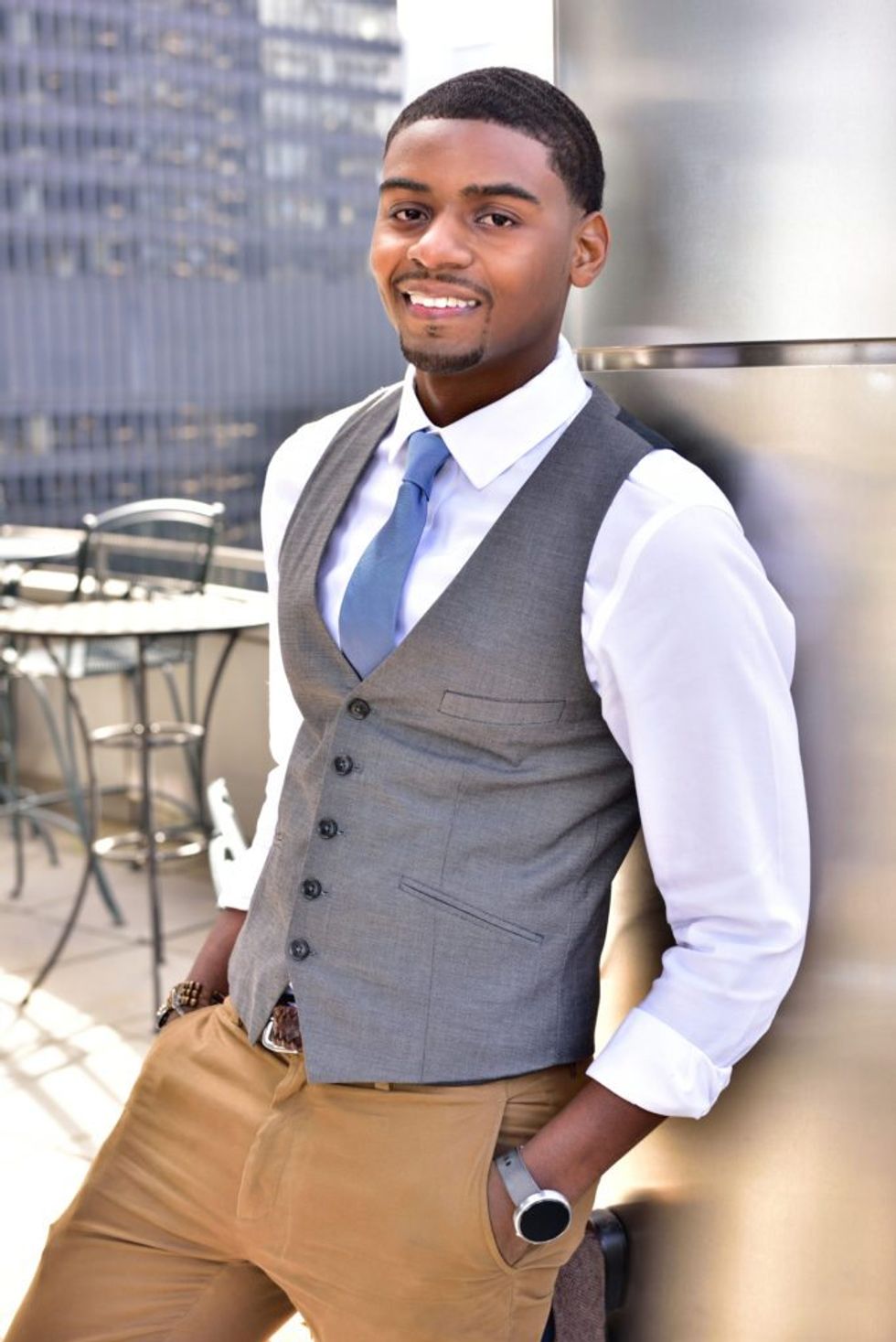 Photo Credit: LeVern A. Danley III
How He Turned An Internship With Google Into A Job
My basic formula for continuing to progress and unleash my full potential really revolves around three main areas: I continued to focus on building the right skills, having the right experiences and building my network all at the same time. Something that helped to create the platform for me to intern and work at Google was my experience with creating a new organization (The United Black Professionals) as well as being able to be impactful in existing initiatives. Ironically, I wasn't really conscious of how important those skills are because it was something that I naturally tended to do when I saw a problem or a challenge that people were facing; I'd always try to figure out how we could start something or create something to solve those issues.
His Advice for People Looking to Become Technically Savvy
First, know that this isn't a wave or a fade. Technology is here to stay and it's going to continue to advance at an accelerated rate. This is something I had to think about a lot. I have no aspirations in being a developer or spending most of my days looking at a computer screen typing an developing code; however, it was beneficial for me to have basic knowledge about coding so I could talk with developers. Web development; knowing HTML5, CSS, JavaScript are always good places to start.
If you're trying to skate ahead of the pack, I'd recommend you start to look into API (application program interface) and how to develop for API; it lets you plug into multiple platforms. Few people are building a whole lot from scratch anymore they're just tying together platforms and making them do what they want do. So if you're looking to get ahead, study up on API.
His Success Comes From Being Passionate and Focused, Not Excuses
You're never too old or too young to recreate yourself and start a new life. Some of our most renown leaders, like Martin Luther King Jr. were successful in their 20s then there's other stories of people like Mark Cuban (Owner, Dallas Mavericks; Judge, Shark Tank) he was a waiter in his 20s and now he's a billionaire entrepreneur.
[Tweet "You're never too old or too young to recreate yourself and start a new life."]
Some people have an early start, others become successful later in life. I actually forget about my age a lot; I don't think about it much, I just try to figure out what I'm passionate about and what it is that I'm trying to accomplish? And then I approach those things with a sense of urgency. If you have an idea, you have everything that you need to get started. A lot of times we like to add unnecessary steps when you can start first then figure out the details. Tomorrow isn't promised so if there's something you want to do, just get started.
To learn more about Fabian you can follow him on Twitter. To get involved in the Black Tech Mecca visit their website and their Facebook page.