Partna let me upgrade you...
---
Would you date a dude who only had a dollar and a dream- literally?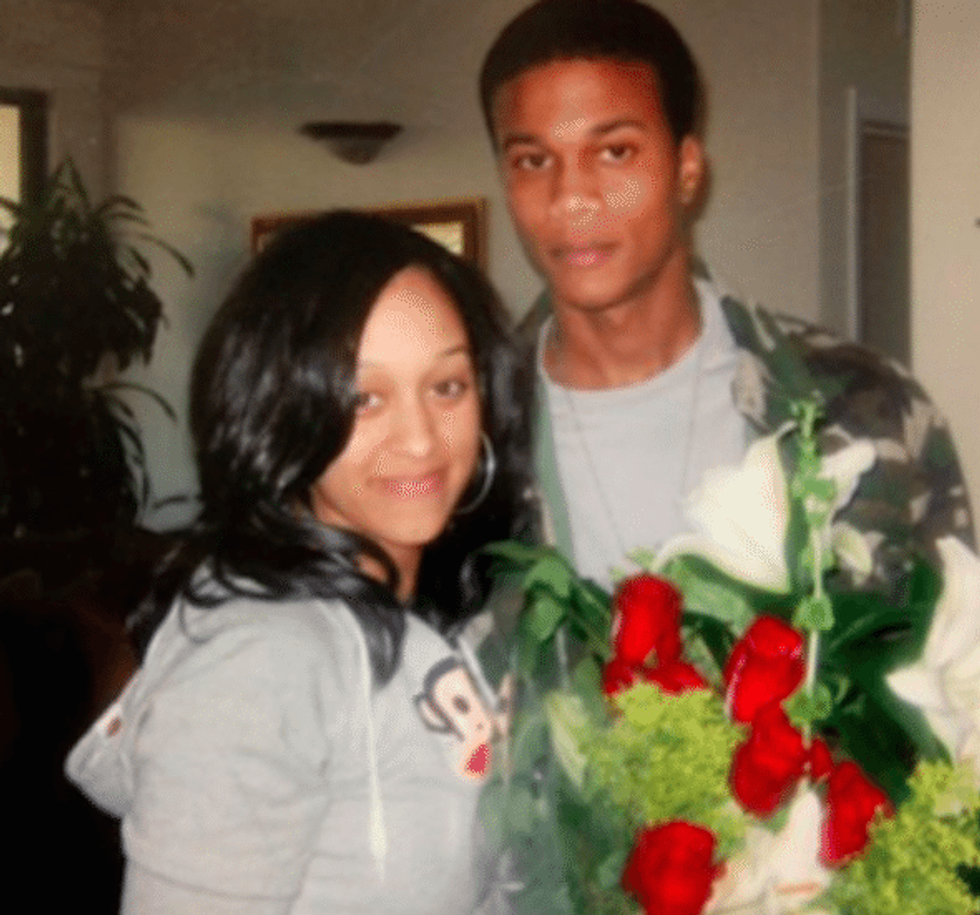 In today's society there's nothing wrong with the woman being the leader of the house. For example, by now we all know the story of how actress Tia Mowry-Hardrict started dating her husband Cory shortly after giving him a ride home from the bus stop. At the time, Tia was a thriving actress while Cory, whom she crossed paths with once before while working on set, was a struggling actor and security guard with an unfurnished studio apartment. He shared in an interview with Blogxilla at Global Grind:
I had odd jobs, worked at K-Mart, graveyard shift, security. And that's when I was just grinding man. I met

my

wife

during them days and she was with me when she was coming out of Sister-Sister but they had everything man, and I didn't have anything. I had a studio apartment sleeping in the corner, no furniture. And that was almost two years.

I think it was what my wife saw in me. She saw an honest man who had a dream and I just had a vision man. I didn't come and sell her no games like cats gotta front and be somebody they not.  I was waiting at a bus stop, her sister and her drove by, they saw me waiting and they asked to give me a ride. I was embarrassed. I was downtown. They gave me a ride and we were friends ever since. They took me to Inglewood.

So that's how that relationship started. We were friends and we just started dating and it just went from there.
Tia believed in her man and his vision and 16 years later, the couple are both successful in career and love. Winning!
Actor and author Hill Harper also brought up a similar point during a 2010 relationship panel led by talk show host Steve Harvey. After The View co-host Sherri Shepherd made it clear that she required a man "equal" in status to her, Harper told the story of first lady Michelle Obama and POTUS Barack Obama.
"There's a fourth year attorney at a very prominent Chicago law firm who's doing extremely well, she's on her way to becoming partner. A guy wants to date her, who had just gotten out of school, didn't have a job, had a car with a hole in it. Had no money but she's a very successful lawyer and she's actually practicing in her hometown where she has incredible relationships. He's not even from the town, he doesn't know anybody.

She saw potential in him. In fact, she saw it so much that when they were married, she was the primary breadwinner in the family for the first 10 maybe more years in the family.

Now he's president of the united states and she's the first lady.

That is dating potential!"
When we asked ladies their thoughts on dating a man who only had ambition (and love) to offer, the responses seemed positive for the most part, with many of you sharing your own personal experiences in similar situations. Of course there were also some "heck nos!" too. While most of you believed in nurturing your boo's dreams, the majority also felt that such a concept was a luxury reserved for only folks in their 20s. Even correspondent Jacque Reid made a point after Harper's example by pointing out that his example might be a little dated.
"[The Obamas] were in their 20's! They were in their early 20's! The men you date then when you are in your 20's are not the same men you're going to date in your 30's or 40's!"
What are your thoughts on the matter? Does age play a role in just how long you are willing for your man's dream to prosper?