Last night singer Ciara took to the field to perform the national anthem at the Alabama vs. Clemson 2016 National College Football Championship. Unfortunately, although the stunning singer was a clear "10" dressed to the nines in her sparkling dress and cape combo, Cici received some flack from more than few people who felt the mommy was a little less than modest.
---
Just so we're clear, this dress here:
Had more than a few people rattled. It all started when sports journalist Bonnie Bernstein took to her Twitter to offer up what many felt was both a backhanded compliment topped with a prompt command to "cover up."
"Dear Ciara. You're Stunning. But this is a national championship game. Kids are watching. Cover up."
A few folks then proceed to point out to Bonnie that there were cheerleaders with a fraction of the fabric Ciara had on. One even sarcastically made a point that the aggressive behavior portrayed by the players courtesy of a high contact sport such as football, was less than kid-friendly too: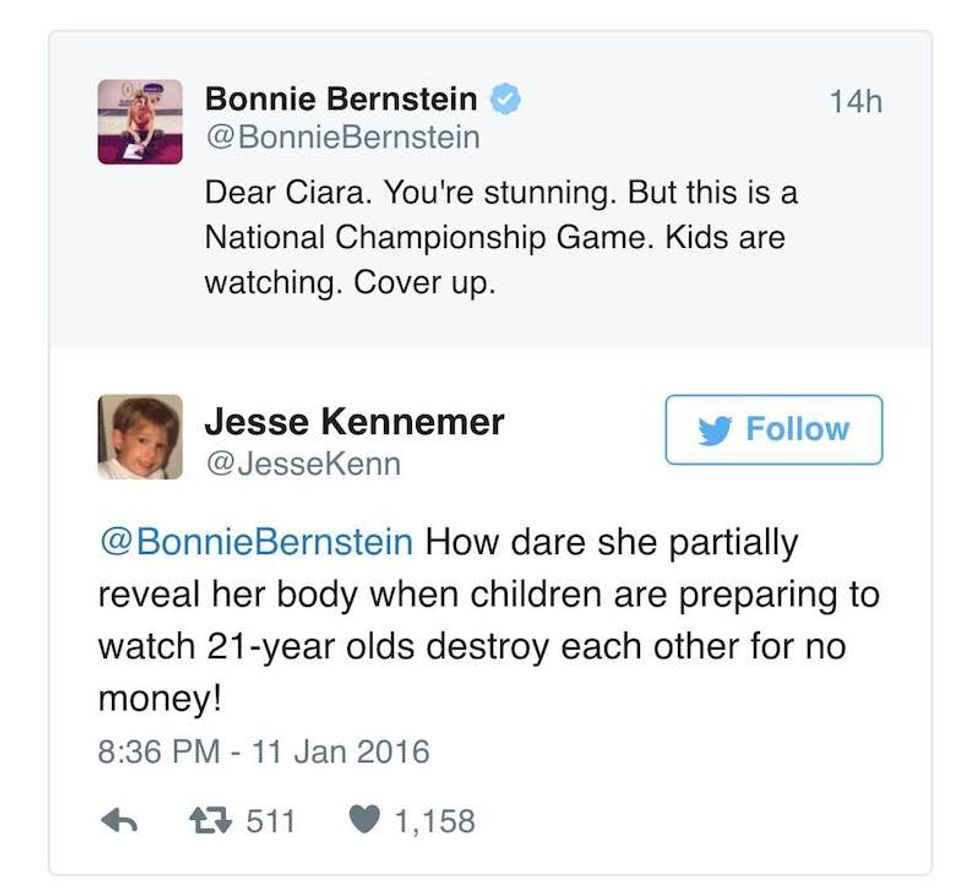 Things took quite the turn when blogger and sports columnist, Jason Whitlock, went on a tweeting spree not only defending Bonnie, but really going in Ciara's dress; he even went as far as to liken her to a Jodeci "Freek'n You" video: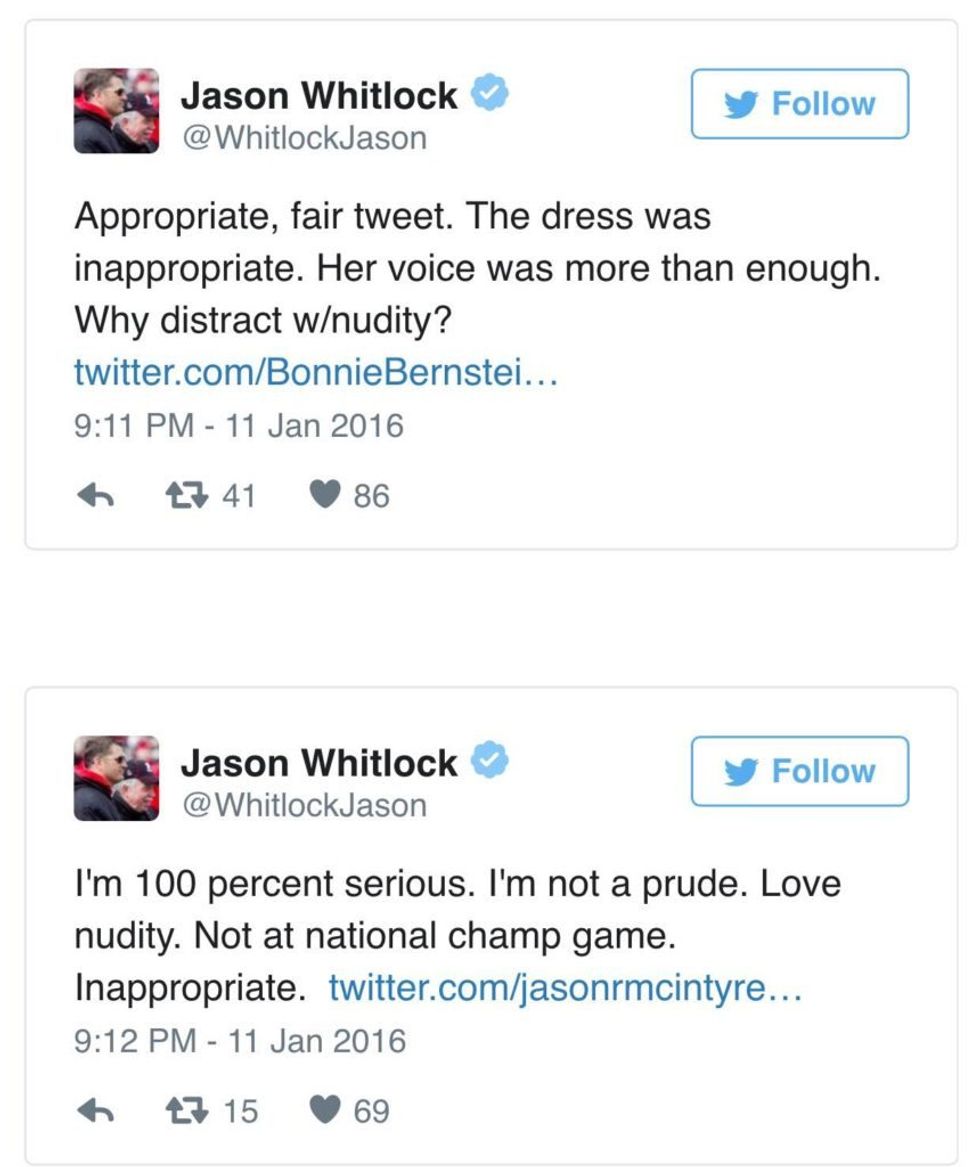 Public-titty? Really? Well +1 for the pun but -10 for trying it, sir.
This was enough to set the Twittersphere into a debate as to whether Ciara had cross the line with her choice of clothing:

When I first heard that Ciara's dress went viral, my first presumption was because she had gotten overdressed in the sense that she'd gotten too glam for a game. I consider myself to be on the modest dress code tip and I promise, I'm still failing to see what was wrong with her outfit.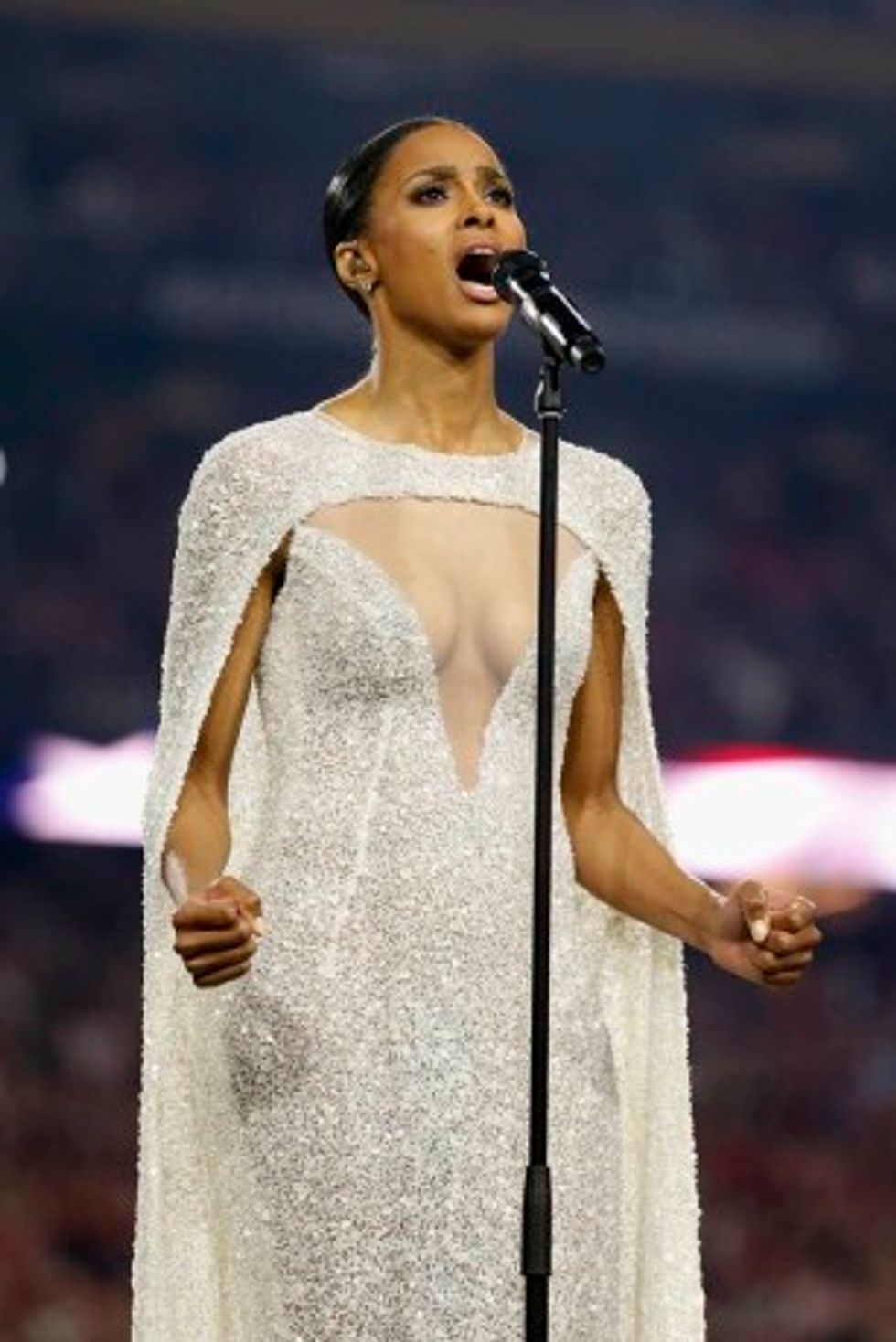 Although blogger Jason Whitlock attempted to defend his logic by saying "dress for the occasion," the fact of the matter is that Ciara dressed up to hit the stage. The singer did not simply walk across the field and towards a mic, she walked to a stage that was built solely for her to stand and sing on for a mere 30 seconds, and honored the efforts by dressing the part of a professional singer. Personally, I saw no difference in Ciara's outfit than that of a Miss America contestant getting dressed for the "Evening Gown Competition", portion of the pageant.
Ciara's flack was almost as comparable to Janet Jackson's wardrobe malfunction 12 years ago when a whole breast came out on accident; and the Super Bowl is actually the most viewed televised program in the nation.
I'm unsure what exactly caused people to go in on the singer for her outfit. It may have something to do with her being a mother now, and the stigma that can come from the idea of dressing appropriate for your "role" as a mom.
A slew of sexy and successful mamas from J.Lo, Beyonce and Amber Rose opened up about the double standards with moms internalizing their sexuality, with singer J.Lo saying:
"I'm not allowed to be sexy because I'm a mom? It's like, How do you think I got my children? [Laughs.] The truth is I don't want to do anything that they would be embarrassed of in the long run. But at the end of the day, they care more about me being there, taking care of them, than if I'm sexy in a video."
Or perhaps the issue here is that Ciara and her boyfriend, Russell Wilson, are the faces of chaste Hollywood celebrities, and practice abstinence while also speaking freely on their devotion to honor their Christian faith and beliefs. Sometimes people pigeonhole Christians into boxes, which can lead to tweets like these:

Either way, Russell seemed to support his boo. And w'ere sure 1,000 non-supporters can't compare to one good man supporting you every step of the way!
"@dangerusswilson I see you baby!! Sounded amazing & looked flawless in every way! @Ciara

#NationalChampionship"
Boom! What were your thoughts on Ciara's dress last night?