"Being a part of this reemergence of a movement both pro-diversity and pro-woman is the best part of being a Black girl." 
---
Actress Yara Shahidi is right! The magic of Black girls is everywhere, alive and thriving. 2015 was the year we dominated everything, from television to toy shelves, and the momentum isn't slowing down anytime soon. With Forbes' annual 30 Under 30 list, which included 18 Black women rocking their respective fields and EBONY's celebration of beautiful and black curvy women, the start of the year only proves there are more power moments to happen in 2016. Essence amplified the hype we're feeling for our sisters with their Black History Month issue cover, and Black women everywhere rejoiced.
Dennis Leupold for Essence
Donning the #BlackGirlMagic Class of 2016 issue are activist Johnetta "Netta" Elzie, Black-ish rising star, Yara Shahidi, and Chi-Raq scene-stealing actress, Teyonah Parris. Per Essence, these three talents are "not only embracing their unique gifts, but also redefining their world–and ours."
Twenty years ago, covers seem to be reserved for entertainers–Black women that sang unrelatable songs of heartbreak or married couples celebrating milestones, so to see millennials like me and young women that reminded me of my sister was a big deal. The hashtag made for us, by us (#BlackGirlMagic), solidified the feeling that this issue would be something special. And it would be because of the woman behind the words.
Bené Viera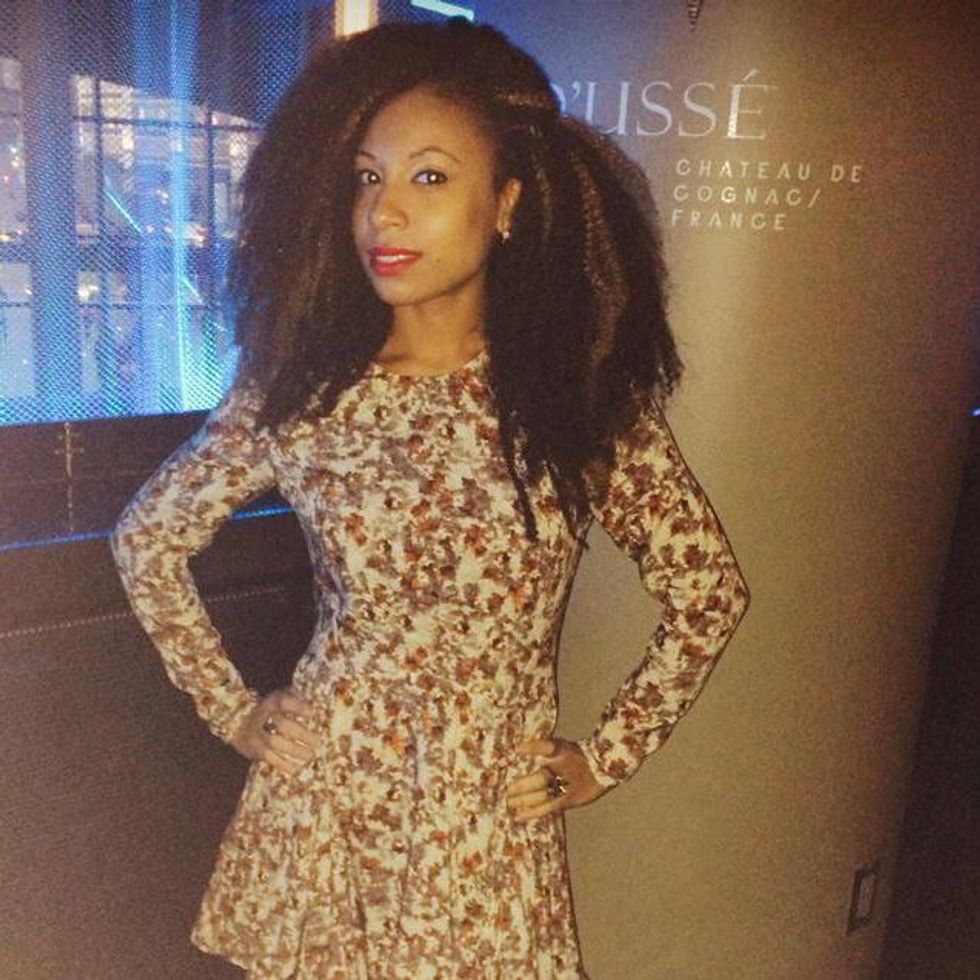 Writer Bené Viera
When I found out that Bené Viera penned all three cover stories for the publication, I felt almost every emotion imaginable. I yaaas'd out loud. I wanted to cry. I felt hope. I became overwhelmed with pride. Bené's story as a journalist is one that is wrapped in a universal message of endurance and perseverance, and smothered in much needed encouragement to journey through 2016.
One of my favorite pieces from Bené is a blog titled "What I Know About Writing (For Anyone Who Has Ever Asked Me For Advice)" from her personal blog. I must have read it about fifty-eleven times as she tells a story of being the underdog, a full-time freelance hustler trying to find a home for her words. She leaves sound advice I still follow almost two years later:
[Tweet ""You're not an aspiring anything. Either you is or you ain't""]
And "You are not Lola Ogunnaike or Ta-Nehisi Coates, you're you." B.V. lays out some of her receipts, but no one really ever knows what it takes to get to point A to F, and in life, it's not about what you're capable of, it's about what you're able to endure in the long run.
Last Summer, after enduring layoffs and almost throwing in the towel on the industry, Bené received a call that would change her life.
Three days after being laid off from yet another job, Cori Murray called to see if I could attend a two day photo shoot for a "massive Shondaland piece" ESSENCE was doing. Newly unemployed, I said sure. What else did I have to do? When she asked I had no idea the shoot would end up being the unprecedented Shondaland shoot where all three casts of Grey's, Scandal and How to Get Away with Murder would be in one room together. And I still didn't know I'd be writing the story.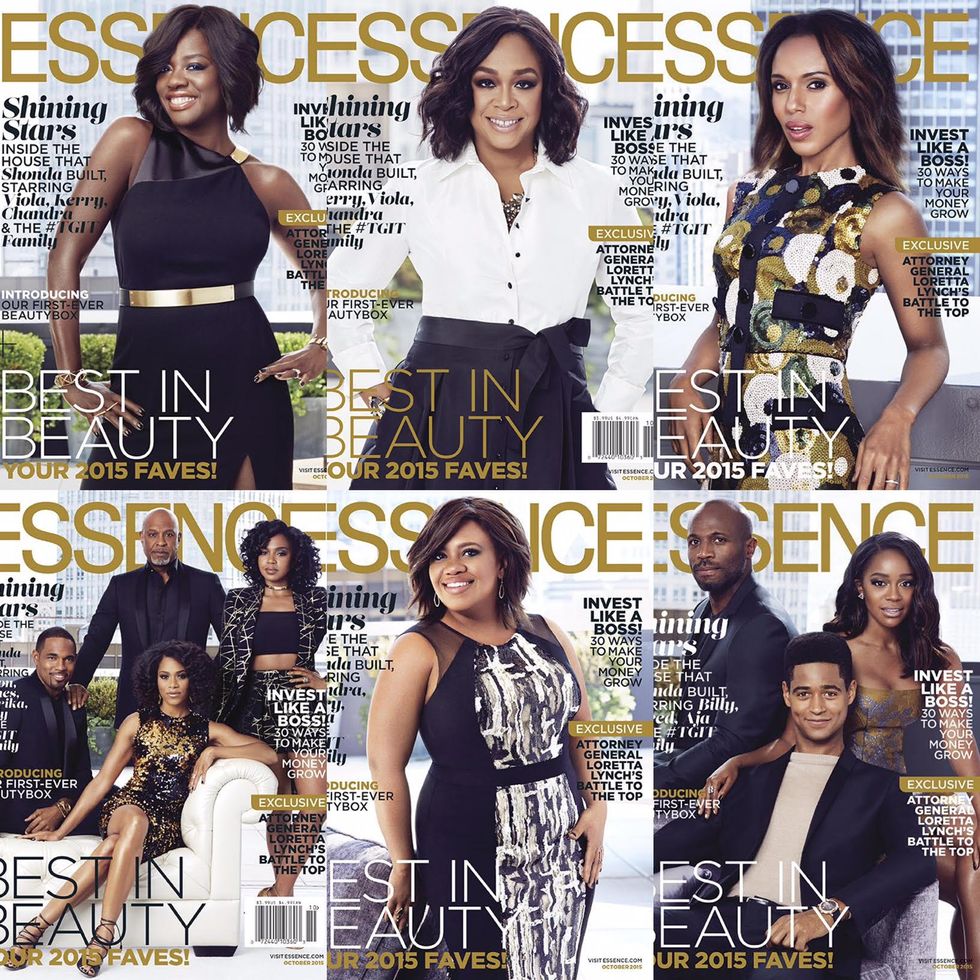 Essence, October 2015 issues
In a recent Facebook post, she recounted what ultimately led to her penning all six cover stories for the October 2015 Issue:
Over the course of two days I observed the individual and group shoots. Interviewed 11 actors. Wrote down details. It's all about the details. During Shonda's shoot (she is still very much shy in front of the camera) she saw me taking notes on the sidelines. She titled her head and mouthed to me, "What you doing?" We laughed. It was the acknowledgement of one writer to another amongst all the glam in the room. During our interview she was incredibly warm and honest and brilliant. Everyone I interviewed genuinely admired her for still being "good people" and so human despite all of her success.

A couple months after the shoot I began to write. I wrote and rewrote and rewrote again to finally turn in "The House that Shonda Built." I prayed Cori loved it because I did not want to disappoint her.
After going through unemployment, frustration, abandoned hopes and maybe unanswered prayers, Bené got her big break. Her story is that of many starving artists and struggling Black boys and girls who wanted to be someone, someday, and just needed that one opportunity to open the doors to their dreams.
When I was assigned this story I was done with this industry. Done. Looking for jobs in non-profit and looking for jobs in L.A. I was tired of the layoffs. Tired of covering salacious gossip. Tired of the uncertainty. Tired of the funny way in which people move. Tired of writers who think they're pseudo celebrities. But something told me I could not pass up this opportunity. Including this story, I've only written three things this summer. I tell people I'm on Sabbatical. But when the Universe has other plans, the Universe has other plans. ESSENCE was always the dream job. Writing cover stories was always the ultimate goal. Although the "job" part didn't manifest in the way I envisioned, it did come to fruition...

I say all that to say, keep dream chasing. I mentor a few young writers and I wonder, "Girl, why are you into me? I barely have it figured out." So I write this for them. They need to know it's not all glitz and glam. They need to know you will want to quit. They need to know we all experience self-doubt. They need to know there will be some dark days. But they must keep doing the work. People can say whatever the hell they want to say about me, but nobody, not a single soul can say I don't do the work. No one can say I'm not committed to my craft. I moved to NYC in 2010 without a plan. I lived with my ex in his father's home. I had no money. No job. Just some degrees and the crazy idea that I wanted to be a writer. Well, mama, I'm a writer. I hope I made you proud..."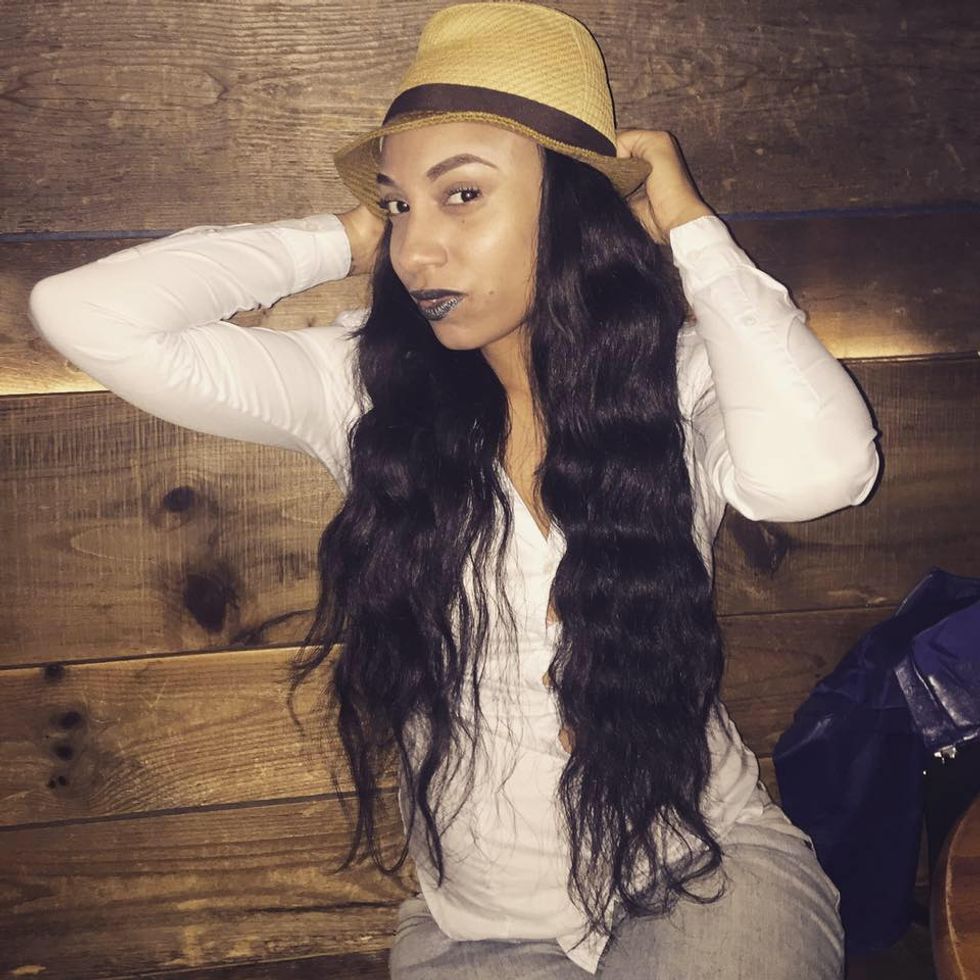 Writer Bené Viera
The first time I met Bené, I was reminded of the significance in our stories and how Black women have no choice but to find the courage to share those words for the sole reason that we've been silenced for far too long. When it hurts, keep working. When you're tired, keep going. When they don't want to hear you, keep writing and shouting and fighting to be heard; to find your space in the world. Her words have changed and saved me and a host of other Black writers around the web.
I have struggled with titles and my identity for years, especially in writing, and to have another Black woman reassure me that we can be an unapologetic agglomeration of these women and more is an act of inspiration like none other. Following Bené's pen from her blog to the pages of Essence has filled me in more ways than one as her story–her magic–has proven the results that come from resilience. Viera may not be next month's cover girl, but for the everyday Black girl? She is the manifestation of what happens when life knocks you down, but you still control the pen to your own story.
Pick up Essence's #BlackGirlMagic Class of 2016 special issue today!