I am not sure if it's a recent trend or if I just happened to stumble on the posts altogether, but I'm noticing a lot of "pray for your husband" and "why you should pray for your family" type of thinkpieces and listicles. I am all for it…ish. I'm all for anything aimed at bringing a marriage together and making it stronger versus making you feel better about letting it go astray.
---
Praying for your husband and family's health and well-being, a more peaceful household, or a more productive, understanding, affectionate, driven, loving household is great! (Praying for your husband or child to change his evil ways…not so much.)
Now, I don't follow any organized religion but I do "pray". Prayer to me is not about getting on your knees with clasped hands, bowing your head and asking some deity up above to help you out with something.
In my opinion prayer is any mental or emotional attempt to shift energy.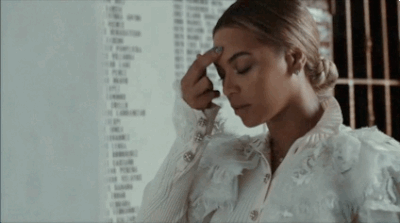 So when that creepy guy at Costco is staring at you and you're avoiding eye contact, saying "go away" repeatedly in your head and hoping he doesn't come up to you and start a conversation…that's prayer. When you're hoping, wishing, lamenting, cursing someone out, belittling yourself in your head -- any and all of that is prayer to me because all of that is energy in motion. I'm a firm believer that thoughts are things, and any thought, especially when imbued with emotion, are powerful and equates to "prayer".
In terms of praying for your husband or family, I saw a few pieces on it and really liked the sentiment but was left with an "OK, but then what?" feeling after reading it. Prayer is great. It's useful and empowering and starts to get energy in motion. But let me tell you what's even more powerful: action.
There's a big difference in praying for something and waiting versus praying for something and then doing.
You can pray every night for two months for "a hot sexy body that I love" and wait for something to happen, or… you can eat clean and work out every day for two months. Prayer may help. You may have an emotional and mental shift in how you view your body and begin to see yourself as beautiful the way you are (because you so are), or maybe you'll randomly win a "mommy makeover" package from a local plastic surgeon. Either of those things are totally possible. But you know what's probable? Getting closer to "a hot sexy body you love" after two months of steady exercise and healthy eating. Feel me?
Prayer, intention, meditation, thoughts, hopes wishes… it's not enough. It's an excellent start, though.
So, however prayer looks like to you: a bowed head, zen meditation, or a bonfire on the full moon with amulets and crystals in a star formation and an animal sacrifice -- here are a few ways to add energy through action to the "prayer" you're doing for your husband and/or family.
Want more stories like this? Sign up for our newsletter here to receive our latest articles and news straight to your inbox.