Every woman knows when she is ready to be a mother.
---
Living in the deep south, I've seen girls as young as 15 who knew they were ready to be moms (I'm not saying that it's right, but it does happen). I've also lived on the West Coast, and met women well into their 50s who were ready to start a family after they were established in their careers. For me, the motherhood bug hit when I was 27-years-old and laying on the operating room table during my C-Section.
It's hard to ignore your feelings when you want to have a baby, no matter what age you are.
But for those women who may not be able to have children and/or choose to adopt, the motherhood bug hits them differently. They usually know that motherhood will be their reality the first time they lay eyes on their beautiful baby in foster care. It looks something like fireworks bursting in their eyes.
My friend's mother was a foster parent for years, and she's seen that look of excitement about a hundred times. When I saw women look into the eyes of their child-to-be, their faces would light up as if they felt God blessing them with a second chance at life.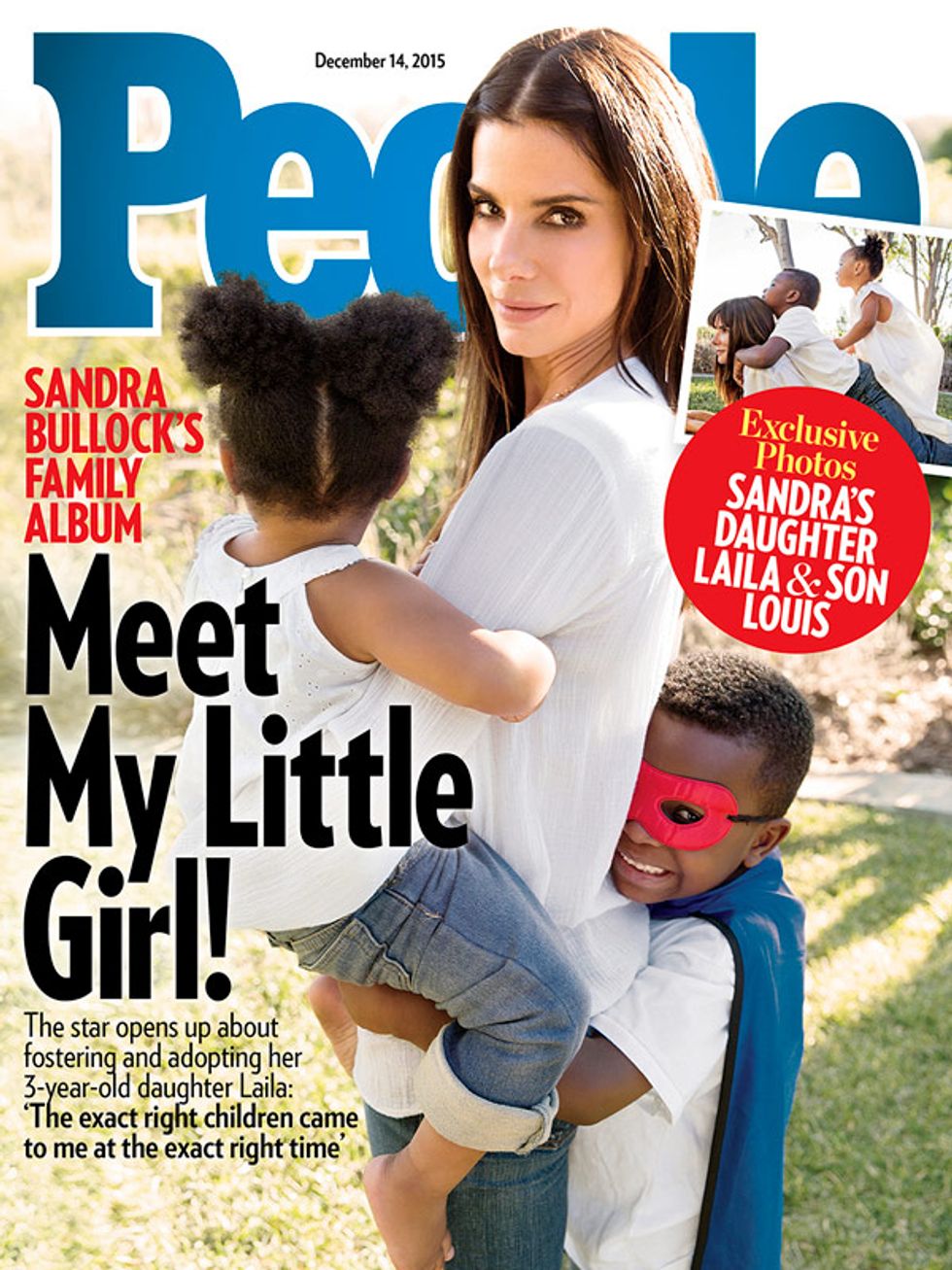 This is how I imagined actress Sandra Bullock felt when she laid eyes on her 3-year-old daughter, Laila (pronounced Lila), the first time she saw her in a Louisiana foster home. This week, the Academy Award-winner was over the moon as she revealed that she has a new addition to her growing tribe. Sandra, who had already experienced motherhood before her new daughter when she adopted Louis (5) in 2010, had this to say about what it felt like to raise children:
"I had no idea what love was...I had no idea what lack of sleep was. I had no idea what milestones felt like."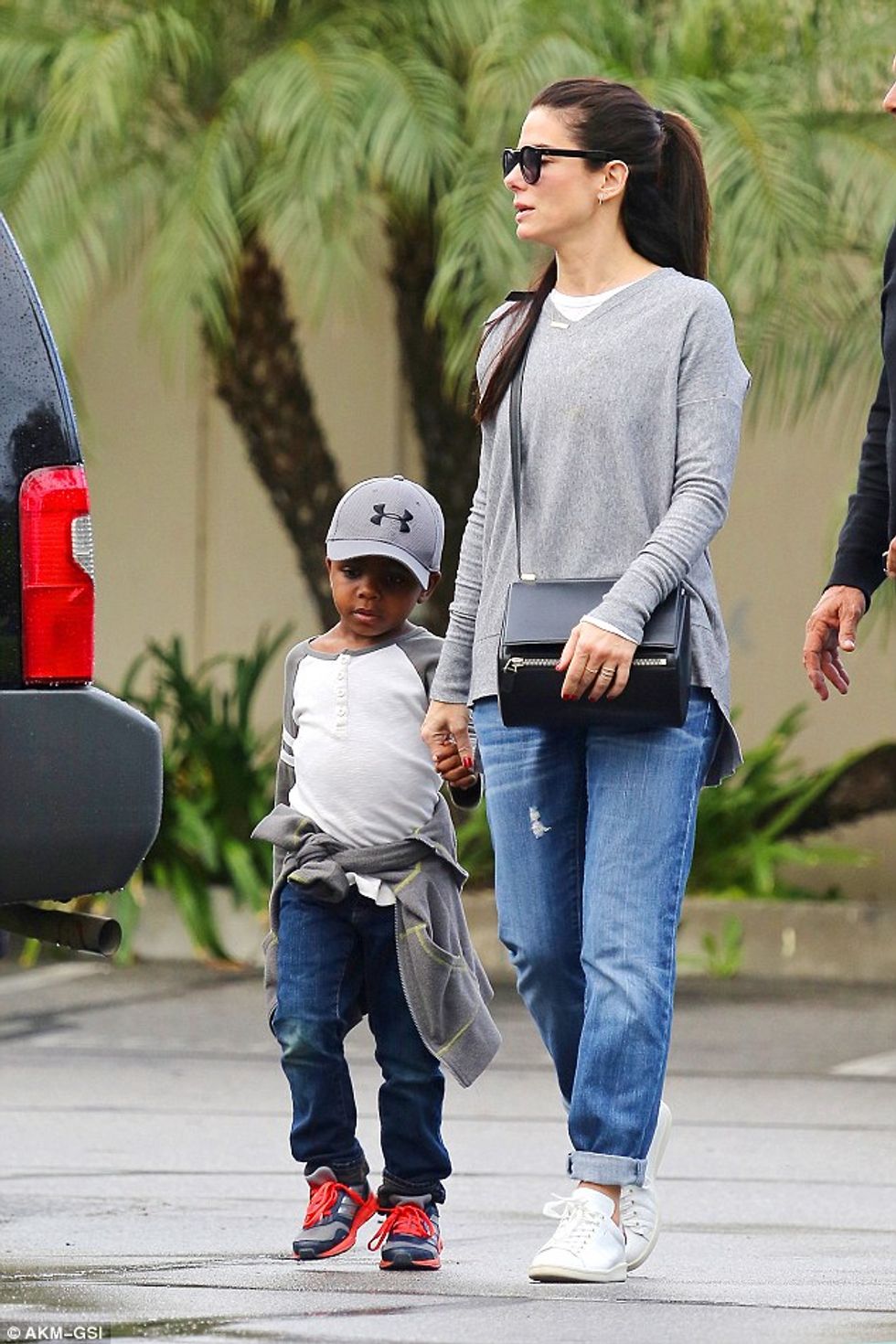 Sandra Bullock and her son Louis.
The 51-year-old actress chose the adoption route when she was well into her 40s. According to FitPregnancy.com, women in their 40s can have safe and healthy pregnancies, but pregnancy at an older age has its risks. Women who get pregnant after 40 are 20% more likely to have C-Sections than women in their 20s. They are also at risk for having babies with low birth weight or birth defects.
On top of chancing her health for a pregnancy, she would be putting her acting and producing careers on the back burner. That means she would need to take time off postpartum to snap back into shape before heading to work again--and as a single mother. Maybe that's a risk she wasn't willing to take?
What I know is that I'm excited for her and the new addition to her family. Unfortunately, not everyone is happy for her like I am.
What some people see is Sandra "parading" her multiracial, progressive family for the cameras, like her black kids are an accessory. What I see is a mother who took family photos and shared them with the world, because she's proud of her growing tribe. Who couldn't appreciate that?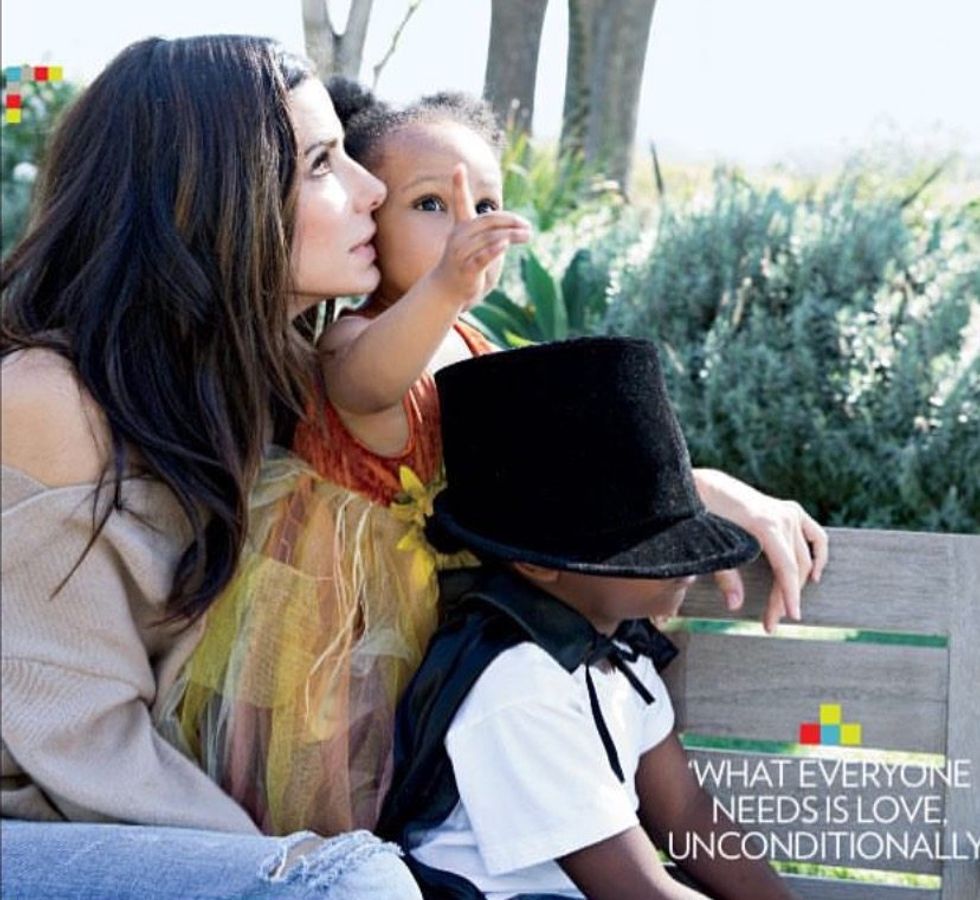 The unfortunate answer is "a lot of people."
Perhaps the naysayers are bigots. Or maybe they are people who can't afford to have their own children. Whatever the case, there are people who can't stand seeing black children get adopted by a white family.
I guess we can partly blame the culture of people doing "the most" for social media likes, and celebrities "stunting" for the paparazzi. It doesn't seem like Sandra is the type of gal to tell the paps about her every move. In fact, when she adopted Louis, she kept his adoption hushed for more than four months while she was divorcing her ex-husband, Jesse James. So when she kept her second adoption hushed, it made me appreciate her adoption story even more . She told People,
"Most foster children are in foster care because they were taken from their birth homes under tragic circumstances — and the last thing I wanted was to bring more harm to her because of the nature of my job." 
There are also critics who feel that Sandra's children are not really hers because they don't share the same blood. Sandra addressed this in a Facebook post shortly after adopting Louis.
"I hold my son in my arms and thank God for bringing him to me. If the standard route for creating a family had worked for me, I wouldn't have met this child. I needed to know him. I needed to be his mother. I know now why all those events happened. Or didn't happen. So I could meet this little boy. He is, in every way, my son.

I enjoy Motherhood now. If all of a sudden someone said, 'You have five more kids,' I'd be totally OK with it.

So guys Share this if you love your Children who are very lucky to have you and to have a beautiful home. Lets hope that Everybody reads this, especially those who consider adoption as a taboo and are against it. It's perfectly fine to adopt. It is a gift of Life. The desire of your heart can give a child a home."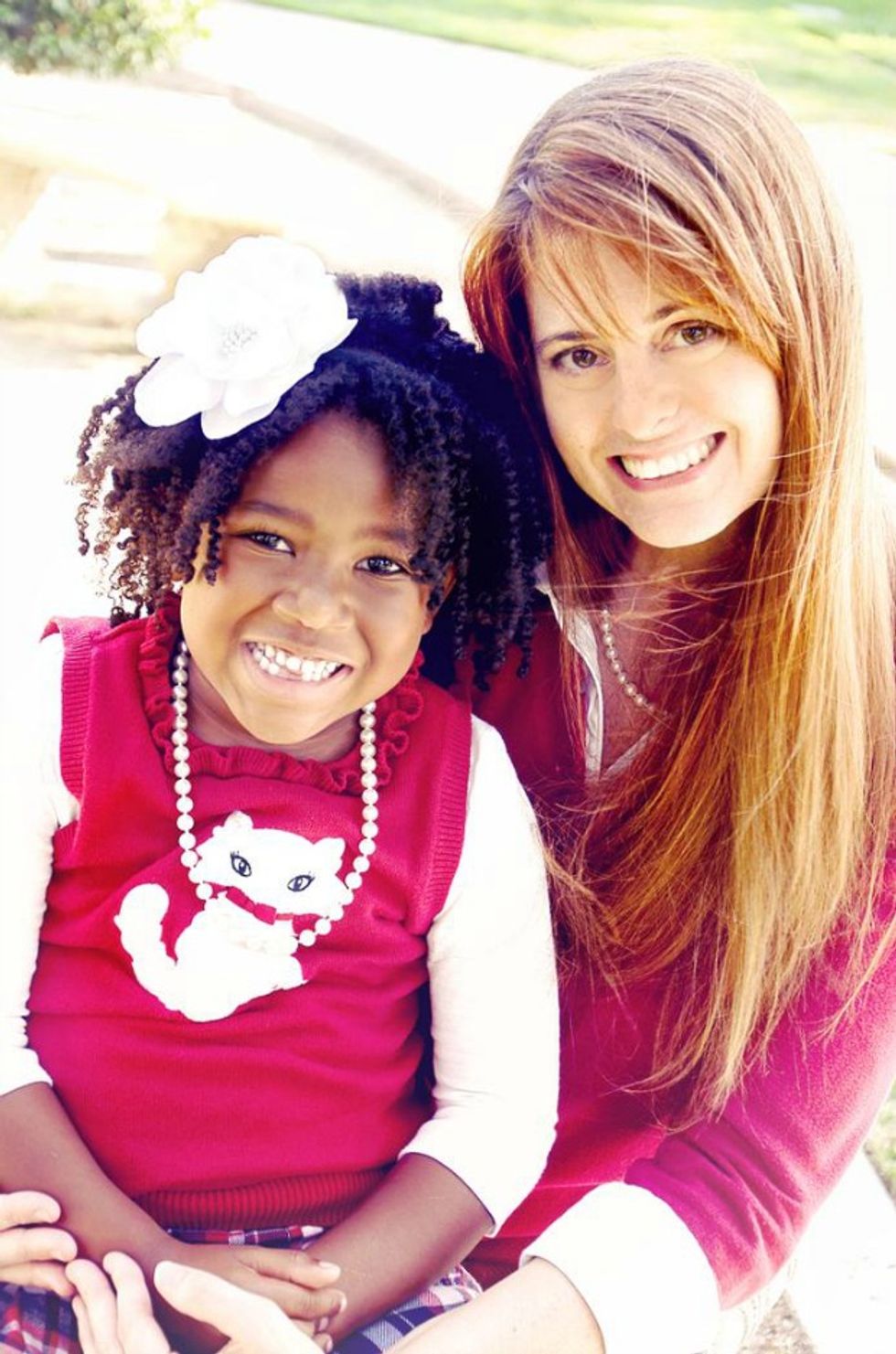 Natural hair blogger Rory Mullen and her daughter "Boo" of ChocolateHairVanillaCare.com.
Speaking as someone who has seen several adoption stories, I know that Sandra is telling the truth, and it applies to both of the babies she has today. Children can't choose their parents, even if they are adopted. For black kids in foster care, that often translates to them getting love from any person who is the most qualified and willing to provide for them, because the statistics are what they are. According to the National Black Caucus of State Legislators,
Studies show that African-American children who come into contact with the child welfare system are disproportionately represented in foster care, and are less likely than children of other racial and ethnic groups to move to permanent placement. Furthermore African-American children account for 15% of the U.S. child population but, as of September 2011, were 27% of the 400,540 children in foster care and have lower rates of adoption than those of other races and ethnicities.
On top of having a disadvantage for being born with the "wrong skin color," black kids also have to deal with ridiculous myths from prospective parents. Child experts claim that some adoptive parents see this when they look at black kids in foster care:
Black children are more difficult to raise;

Black children in the foster care system come from "drugged up" mothers;

Black families are not adopting children, contributing to a perception of the "undesirability" of Black children...
As much as I hate reading these myths, I've heard my friend's mother talk with prospective parents about these untruths. Looking back it hurts knowing that my friend's mother, who is a black woman, had to basically beg parents to look past the myths in order to help her innocent foster children find "forever homes." The end result was that I did not see that many black families beating down my friend's mother's door to adopt a black child.
The worst side of this argument is the hell that some of these children face before they get to a foster home. We all shook our heads when we saw news reports of mothers locking their kids in cages, throwing them out of windows, or microwaving newborns - and that's just the cases that we know about.
At my previous job, I was tasked with listening to a police scanner, and I've heard several police officers rescuing kids from filth and feces for the second and third time because their parents were too "preoccupied" to give a damn.
It goes without saying that love is not enough when you're raising children in a multiracial household, and that's exactly what Sandra seems to be providing for her kids. This is why it matters that Sandra listened to her son when he said that he wanted a sister with the same brown skin he had. She revealed in a new interview:
"[Louis] is a wise old soul and often knows more than I give him credit for," she says. "I think he was ready for her before she even arrived."

During early talks with him, Bullock explained that he might end up with either a brother or a sister, and "he did specify that he wanted a sibling that has some brown skin," she notes.
So if Sandra is giving her kids love, and more, why is who she mothers a huge concern? Sandra doesn't get up in the morning and say, "I'm going to go feed and bathe my black kids for the cameras." She says the same thing every other mother says to her children.
"Laila, what did mommy tell you about taking Barbie for a swim in the toilet bowl? Again?"

"Louis, I swear to God I'm going to throw all of these Legos away if I step on them one more time!"

"Laila, you say 'potty' before you have to go, not after."

"Louis, stop feeding your sister Vaseline!" 

"Yes Laila, it's okay for you to pray for Nicki Minaj." 
That's the sound of motherhood, and it's a language of love. When it comes to being a mommy, that's the language that will make way for how Sandra chooses to lead her children down the path of self identity.