**post has been updated to reflect recent news**
---
For starters- I want to make it clear that I am not co-signing or going against any one particular religious or moral belief when it comes to having children out of wedlock. As a young woman who comes from a very conservative, faith-based home built off the love of two (now divorced) parents , I am simply acknowledging the times we live in, and as a result, commenting on people's reactions to those couples that decide to establish a family before marriage. This only applies to those couples who are in seemingly healthy and committed relationships, who have chosen to start a family before walking down the aisle.
So with that said...
The internet went wild when Rob Kardashian and new girlfriend Blac Chyna announced that they were expecting. There was a mixture of backlash, some of which was about them not being married. However Rob did pop the question just last month, so a wedding might be in their future.
Singer Omarion and his longtime girlfriend, Apryl Jones, are another couple who play by their own rules. They just had baby number two last year and while they haven't tied the knot yet either, the two have managed to have a pretty good run these past couple of years. Together they have avoided the gossip and drama that most high-profile relationships come with.
When the news dropped that the couple was adding a new addition last year, it was met with backlash. Although their was some positive reception from longtime followers of the two, there was some redundant criticism too. Naysayers took to Twitter to express their distaste in the couple's decision to welcome yet another child out of wedlock:
Reading some of these responses was far from new to me, but it did make me think:
[easy-tweet tweet="Why are people still judging families built out of wedlock?"]
I'm not trying to say that people shouldn't be desensitized to something that they feel strongly or passionate about. Again, as we all know the saying-- just because everyone is doing something, doesn't make it right. However, since when was it a trend to be so brutally judgmental?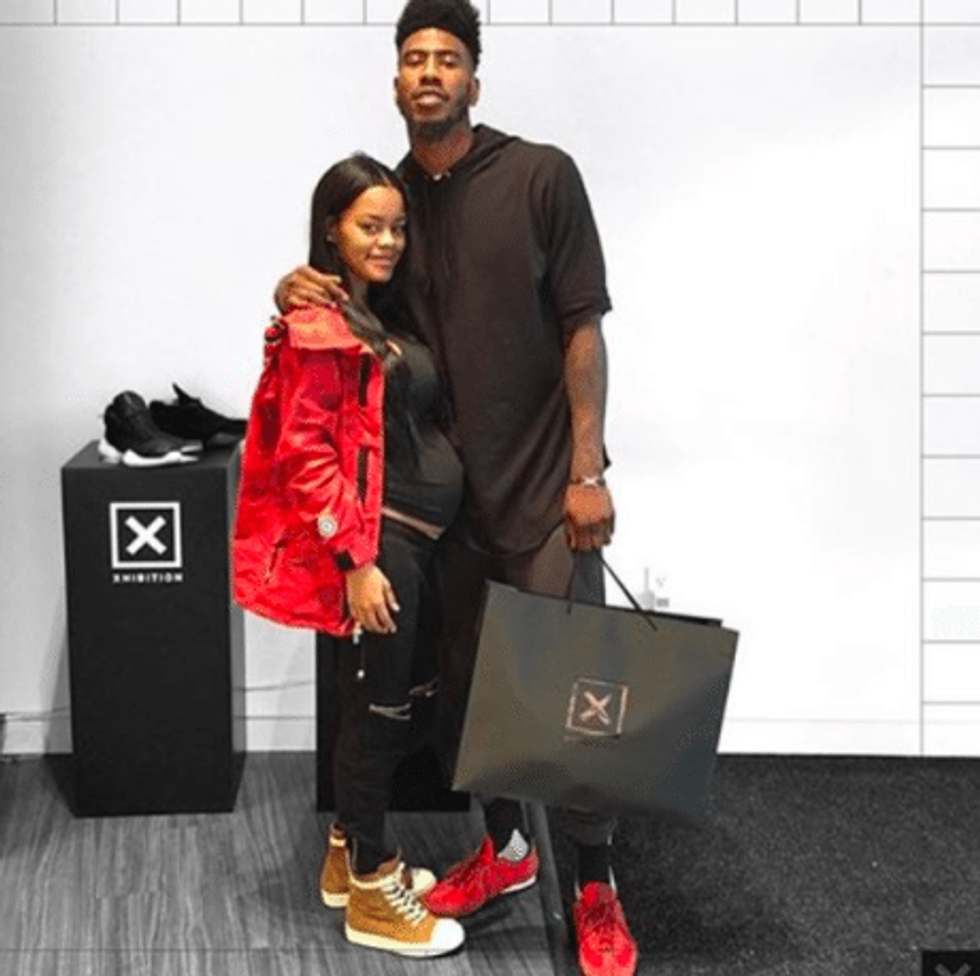 I witnessed similar backlash for singer Teyana Taylor when she announced her pregnancy last year. At the time she and boyfriend/basketball player, Iman Shumpart had been together for a little less than two years. However, they are young, have their flourishing careers ahead of them and their relationship seemed to have been going in the right direction; but instead of being happy for them people honed in solely on the fact that they were having a child without first walking down the aisle.
Since then Iman got down on one knee and proposed to Teyana in the most adorable way. And it seems as like they are settling into parenthood pretty okay. They also just celebrated their 2 year anniversary together while Teyana was on tour, so it's safe to say that they are still going strong and happy. Not to mention, Baby Junie is the cutest baby with  the most adorable cheeks!
I think these days, it's important for people to realize that most couples in seemingly healthy relationships without a ring, were raised in single parent homes or are the off-springs of divorcees, yet their parents were able to create happy and successful lives for them regardless. If you have never lived through a divorce, you most likely have at least been witness to one and as a result, you may be more open minded to the concept of the "modern" family. And if not, perhaps you should be (again, don't confuse what you excuse with others for what you accept for yourself. Still live and love by your own means- just don't judge people in the process!)
A prime example of the pressures to put a ring on it when pregnant, was when singer Brandy opened up about lying about her marriage to her child's father in order to save her brand. Back in 2002, the then 23 year old singer went public about being married to Robert Smith, only for the truth to come out later that she wasn't. She told Oprah:
"At that time, being pregnant out of wedlock was not a trend. It was not something that people praised. It was a sin. And I felt like I couldn't be honest about that. I felt the pressure of having to be perfect. And I was scared. I thought that everything that I have worked hard for and everything that I worked to build -- the image that I worked so hard to build -- was threatened. And I felt like having a child out of wedlock would ruin my career."
She later went on to also tell Vh1 say that her pregnancy was "Not OK with the 'Brandy brand,'" according to her publicists, and that she regrets not being more honest with herself and fans:
"Everybody around me is trying to force me to get married and so I said, 'Why don't I just say I'm married? 'Cause I don't wanna get married, so why don't I just say it?' It was the biggest mistake I have ever made. The lie about being married was the fall of my career. Everything changed."

"When [news of my fake marriage] hit the fan, it was like, 'Oh, my God, what am I gonna do? How am I gonna recover from this?' But if I was woman enough to lay down and get pregnant by someone, then I should have been woman enough to admit that that's what took place.
Related Post: Brandy Swears Off Marriage: "I'm So Satisfied Being By Myself"
So in conclusion, if the concept of marriage before kids is something people feel strongly about, by all means, you have the right to speak up. But don't show out. Always make sure what you're saying is worth listening to and learning from, and that when people read your comments, they will leave enlightened. Just because their is a mic in the room, not everyone is meant to sing or speak into it.
[easy-tweet tweet="If you're going to preach-teach. Don't just debate to show hate."]
Personally, I choose not to judge those in either situations. Religiously, it's not my place, nor as a person with respect for the next, I'm just not into the criticism.
What are your thoughts on the backlash celebs and people receive for starting a family outside of wedlock?