Sometimes the words "dress for success" or "dress for the job that you want" can be easier said than done when it involves a necktie. In fact, there are so many ways to tie a necktie that actually doing it is a little bit of a lost art.
---
At least that was the case for a young man who found himself struggling to tie his necktie at a train station in Atlanta. In a heartwarming photo that has been shared on Facebook more than 220,000 times, an elderly man gave the young man a quick neck tying tutorial.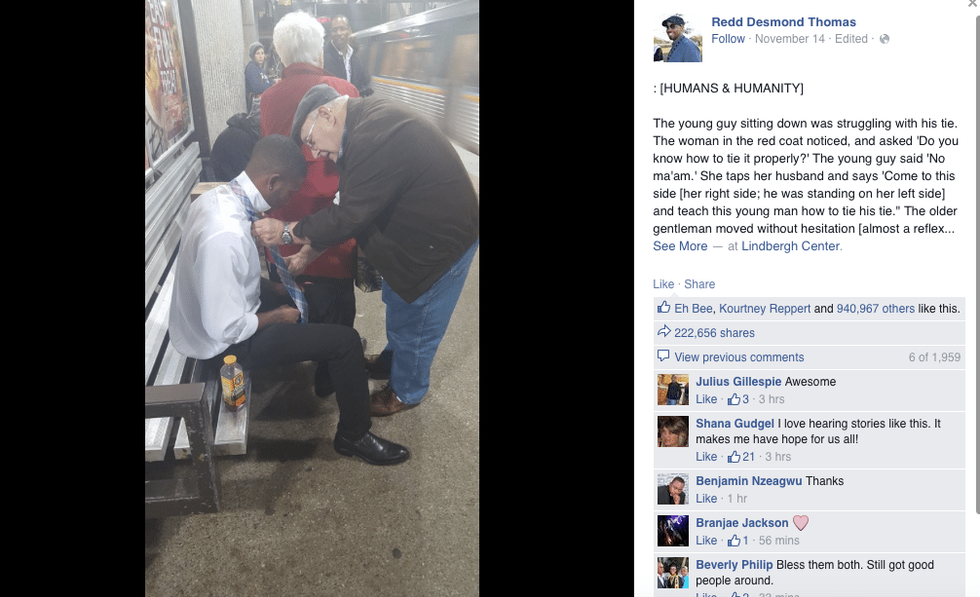 Facebook user Redd Desmond Thompson, who uploaded the photo, had this to say about the random act of kindness.
The young guy sitting down was struggling with his tie. The woman in the red coat noticed, and asked 'Do you know how to tie it properly?' The young guy said 'No ma'am.' She taps her husband and says 'Come to this side [her right side; he was standing on her left side] and teach this young man how to tie his tie." The older gentleman moved without hesitation [almost a reflex

response] and gave him a step-by-step tutorial; then - afterward - the elder gentleman watched the young gentleman repeat the steps and show him that he had it. I was some distance away (but close enough to hear the exchange), and got even closer to snap this candid photo of the tutorial in progress before hopping on the train. I LOVE THIS!
The viral photo came months after a Target employee made headlines for helping a young man tie his tie before a job interview.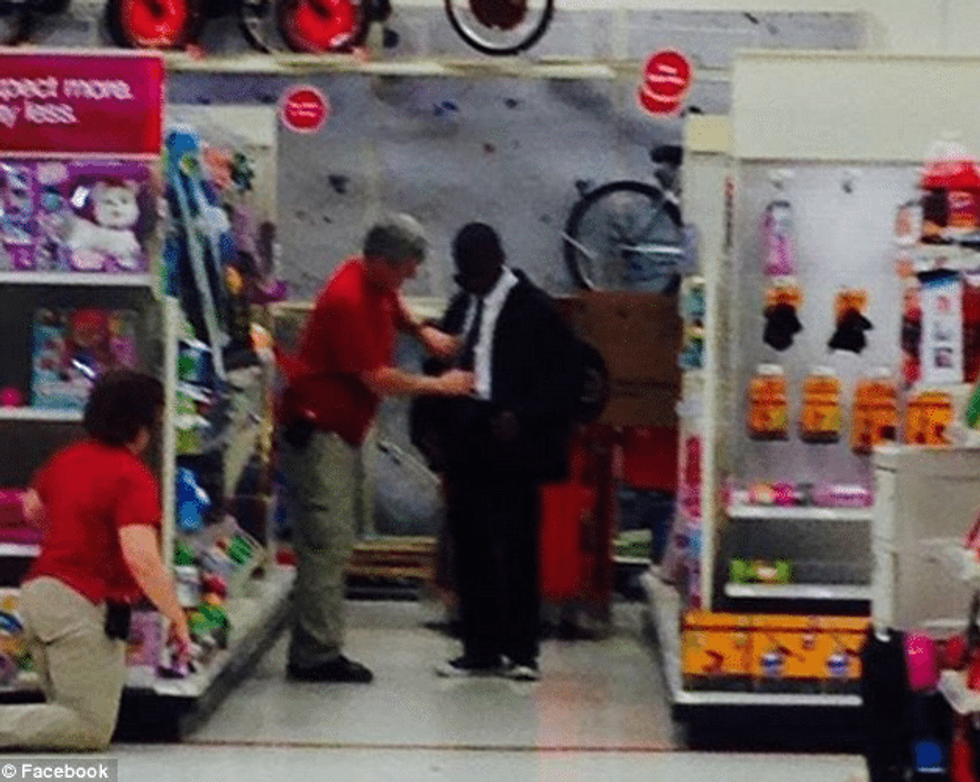 According to a post on Target's Facebook page, the young man came into the store looking for a clip-on tie, and since there weren't any available, the store employee assisted him with tying a necktie while giving him advice on how to ace the interview.  Needless to say, the teen snagged the job and returned to the store later that week to thank the employees.
Learning how to tie your necktie may not sound like a big deal, but for some, it's one of the highlights of entering manhood. Mom blogger Sybrina says that teaching your son how to tie a necktie can go a long way when prepping him for the future.
If you want your child to have high self-esteem of course, teaching him how to tie his own necktie isn't the only thing you have to do as a parent, but it's a great start. He will know that if he dresses for success in his best suit and tie, then he is more apt to achieve success, realize his dreams, and go farther than he would if he went for a job interview in jeans and a tee-shirt.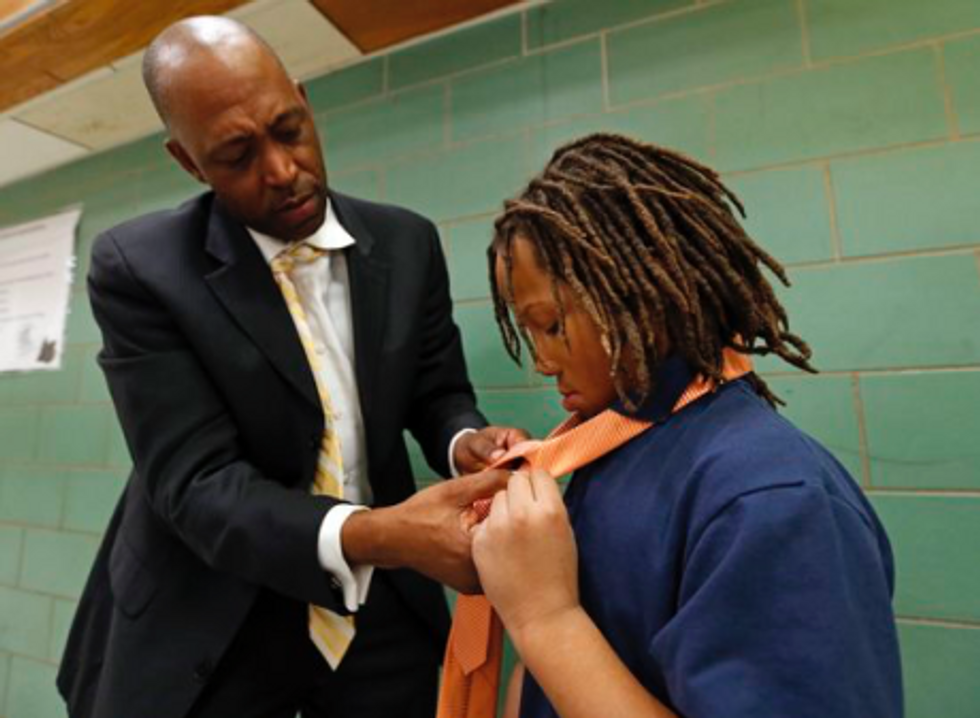 Oklahoma City police Lt. Wayland Cubit helps third-grader Jaylen Rivers Photo: Steve Sisney, The Oklahoman
This is part of the reason why men are teaching young boys in Oklahoma City about the art of neck tying in their local school district. Mentors from across the city, including the local police chief, came together to show little boys how to dress for success, starting with learning how to tie a necktie, and the little boys were so into it. NewsOK reports,
Third-grader Izaih Atchison grinned from ear to ear after Oklahoma City police Capt. Nate Tarver showed him how to tie a double Windsor knot.

"It feels great to wear a tie," Izaih, 9, said.

"It feels like I'm working for the government."
STEVE SISNEY - THE OKLAHOMAN
And little boys are aware of the importance of tying a necktie. When a reporter asked nine-year-old Trey Rickett why he wanted to wear a tie, he said, "So people can represent me right."
That's right!
While we certainly applaud the community (and even strangers) for teaching our young men how to be the new stereotype of men who not just act, but look the part, there are still many who were never taught the proper way to wear a necktie. So who's really responsible for teaching them? Is it the schools where they go to grow and learn how to integrate into the professional world? Should the communities really embrace the "it takes a village to raise a child" mantra? Or, like many necessary life lessons, does it start at home with the parents who want the best for their children? Maybe it's all three!
In the meantime, if you're one of those people who has never learned how to tie a necktie, Ben Sherman of Howcast has a quick tutorial on how to tie a Windsor Knot. Check it out.
Do you have any special memories of teaching a young man how to tie a necktie or being taught to tie a tie properly? Share your story in the comments below.