Zendaya Coleman is #Lifegoals! 
After having an incredible year which included slaying every red carpet imaginable, multiple magazine covers, The MET Gala, and graduating high school -- the 19-year-old is officially a Barbie girl!
---
The young actress and singer continues to inspire little brown girls everywhere with the release of the new one-of-a-kind Zendaya Barbie! The announcement was made during the Mattel Rock n' Royals Concert Experience that she hosted in L.A this past Saturday, and Barbie proudly welcomed the outspoken artist with open arms.
Barbie honors @Zendaya with this one-of-a-kind doll as she encourages girls to Raise Their Voices! #BeSuper http://t.co/Q2XtvyHOWJ

— Barbie (@Barbie)1443303935.0
According to Mattel, the doll commemorates Zendaya's iconic Vivienne Westwood look from the 2015 Oscars Red Carpet where she inspired people of all ages to stand up for themselves and raise their voices.
"I'm excited to be a part of the new direction the Barbie brand is headed, specifically how they are celebrating diversity in the line and encouraging kids to raise their voices," said Zendaya. "It's a positive message to send to my fans, including my nieces who are coming with me to the concert."
If you remember back in February during the Oscar's, E! News correspondent Giuliana Rancic went on the Fashion Police and made some pretty harsh comments in regards to  Zendaya's faux-locs:
"I feel like she smells like patchouli oil and weed," said Rancic.
An 18-year-old Zendaya (23 years Rancic's junior) took to Instagram to respectfully shut down the negativity with a response of her own:
"There is a fine line between what is funny and disrespectful," she wrote. "Someone said something about my hair at the Oscars that left me in awe. Not because I was relishing in rave outfit reviews, but because I was hit with ignorant slurs and pure disrespect. To say that an 18-year-old young woman with locs must smell of patchouli oil or 'weed' is not only a large stereotype but outrageously offensive."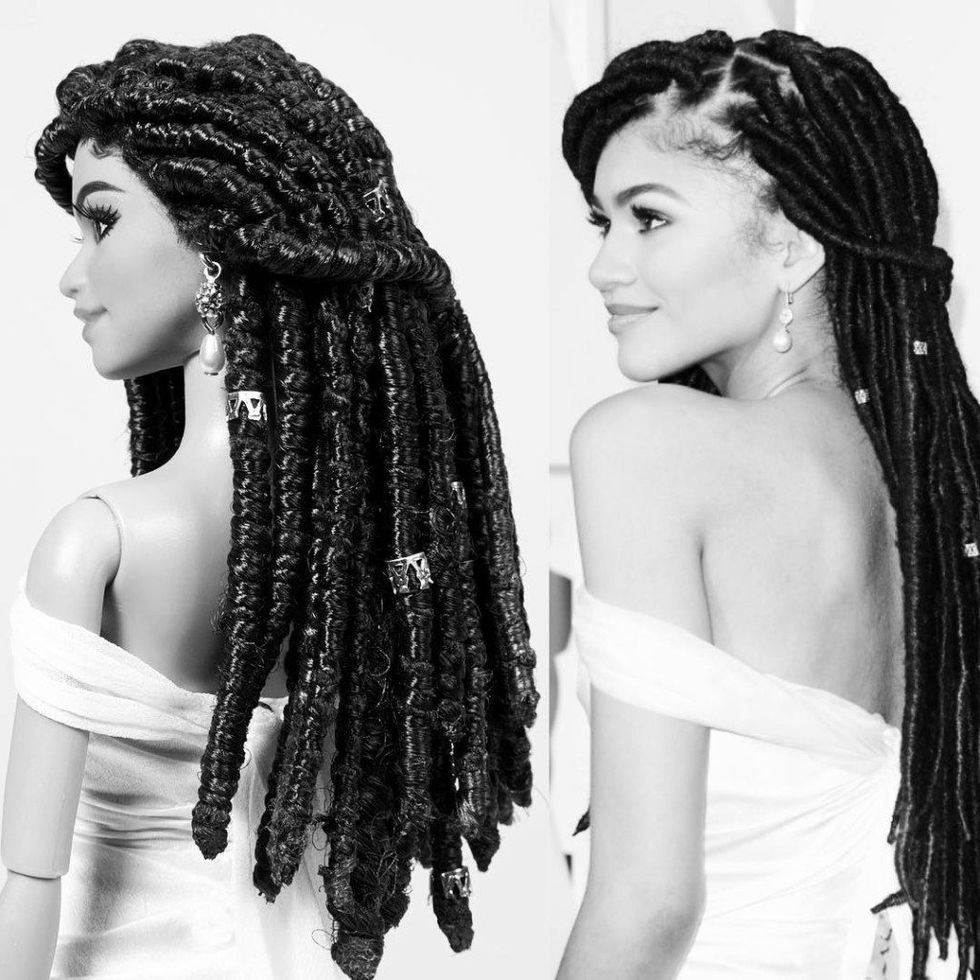 For her to have a Barbie made in her image with the faux locs is a perfect way to shut the haters up! And although the Barbie will not be available to the public, it still sends a message on the importance of diversity and redefining the idea of beauty for our little ones.
This weekend, while revealing the new doll on Instagram, Zendaya wrote:
When I was little I couldn't find a Barbie that looked like me, my...how times have changed. Thank you @barbie for this honor and for allowing me to be apart of your diversification and expansion of the definition of beauty. Can't wait to keep doing amazing things with you
Nicki Minaj, who also had a barbie made in her honor a few years ago, chimed in and sent her congrats while expressing how much she adored the dolls' hair:
I love your doll's hair! I love what it means for other little girls who will identify with it & be empowered. Continue to be proud of yourself girls!!!!! 😘#Barbie
Growing up my mother and grandmother always made a point to gift me with Barbie's that looked (more or less) like me. Although I didn't have silky tresses or barely believable proportions, seeing the brown skin beauties was enough to reinforce the idea that my Black was indeed beautiful. This was in the 90s, and although there were more Barbie's with brown complexions, they were still often carved with features of their white counterparts--slim noses, thin lips, and tiny waists, and butt-length hair. Yes, even back then Black Barbie rocked a 26" weave.
Fast forward decades later and it's not uncommon to see brown Barbie's of various complexions, hairstyles, and features. The fight for more diversity in toys has been long and hard, and though progress has been made there are still ongoing battles such as pricing discrepancies with Black Barbies being priced higher than Barbies of other ethnicities at some of the top retailers.
However, we are certainly glad to see that Mattel is continuing to make strides to bring more diversity into their product line. This year, in an effort to create Barbies that looked more like the little girls who play with them, Mattel rolled out their new Fashionista line which included 23 different dolls that represented eight skin tones, 14 facial structures, 22 hairstyles, 23 hair colors and 18 eye colors.
Now that's diversity!
Hopefully, the new Zendaya Barbie featuring a natural hairstyle is only just one of many more to come.
Way to go, Zendaya, for using your voice to spread some much needed #BlackGirlMagic!
What do you think of the new Zendaya Barbie doll?