Sometimes a deferred dream can unveil new dreams and realities for our life and careers.
---
Meet Lily Doxy, a Business Marketing Manager at Verizon. After graduating from Howard University, the New Jersey native decided to take a short break from her post-college law school dreams. Difficulties finding a job during the recession led to Lily taking what she thought would be a temporary position at her local Verizon store as a store greeter. To her surprise, she never left.
Now, eleven years later, Lily's day-to-day work is focused on helping small businesses, startups, and entrepreneurs succeed. In 2017, she started "From the Ground Up" – a series to meet small business owners and give them a platform to share their stories.
I chatted with Lily about her ascension through various roles and ranks at Verizon and how she's been able to be a boss in and out of corporate settings. Having a strategy and understanding how to navigate what can be a competitive playing field is key. Lily shares the key things we goal-getters can do to make sure we get the shine we deserve at work.
1. Take Advantage of New Opportunities.
Though Lily originally had her heart set on law school after college, she was open to exploring new possibilities as they opened up. She remembers, "I took the opportunity [at Verizon] because I figured law school isn't going anywhere. If I wanted to go back, I could always do that."
Little did she know that her decision to temporarily work at a Verizon store would be the catalyst moment in her career. Because of her standout work ethic, a manager noticed her work and encouraged her to apply to corporate where she was eventually hired. This meant Lily now had access to perks of working at a Fortune 500 company, such as great medical benefits and tuition reimbursement (if she ever wanted to return to school).
2. Be Strategic.
Make sure you keep your connections and don't burn any bridges if you want to stay in the same company. Lily notes that many of her positions were "acting roles", where after the acting length had expired, she could be demoted or out of work. Because she was determined to deliver her best work wherever she was placed and had built a strong network of internal advocates, she was always able to secure the next position and survive company-wide reorganizations.
Using this strategy, she was able to move from position to position within Verizon. "All the jobs I got were from people who [had] known me before [and said] I know her and I'll take the risk. She might not have done this before, but I know she can do it because she's smart."
3. Build Your Transferable Skills & Make that Leap.
Sometimes the key to promotion will be making horizontal leaps. Though Lily started out in operations, she decided to apply for a marketing manager position during another one of her "in-between" periods at the company. Though she had never worked in marketing before, the hiring manager worked with her and trusted that she could get the job done.
Mastering the basic skills of any job will help as you try to make cross-company moves. "The transferrable skills I have of being organized and being able to pick up things quickly is a big asset...I've been in operations. I know how to do processes."
Take advantage of company-led trainings to help grow your skill repertoire. Though Lily was innately creative and had acquired a process-oriented strategic-driven mindset during her experience in operations, she hadn't mastered everything. "At Verizon, there's a lot of internal teaching and training that we have that will teach us different soft skills in marketing."
There were no excuses on why she wouldn't be able to succeed in the role when she had access to tools to help her learn. "I always have the mindset of I don't know everything and I'm going to continue to learn. If you keep your mind open, you're able to learn from other people to enhance what you can do."
Her favorite business refreshers include Instagram explore, Hubspot and Google Primer.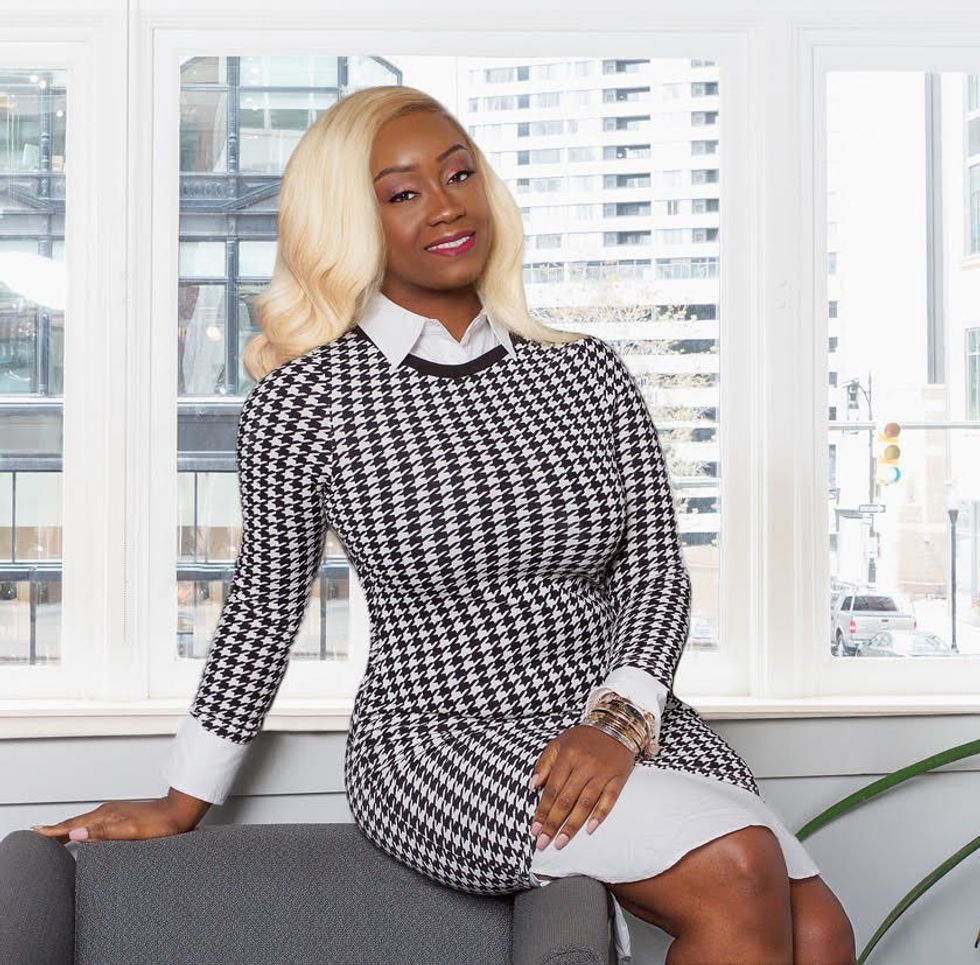 Photo Credit: Woodline Dorcin
"I always have the mindset of I don't know everything and I'm going to continue to learn. If you keep your mind open, you're able to learn from other people to enhance what you can do."
4. Know Your Company.
"What Verizon does well is change..and adapting to what is going on now..."
Lily credits Verizon as being a great company to grow one's career. Making sure the company you're at is the right fit for your career goal and has the opportunities for you to grow is crucial. Not every company will be able to provide resources and support for your desired professional career moves. With Lily being a woman who supports change and prides herself on being abreast of what's next – there was a great employee-company personality and vision match.
5. Stop Following the Rules and Make Your Own.
When Lily first entered Marketing at Verizon, she worked in SMB (small/medium business) and was tasked with finding a new way to make SMB matter at a larger scale. However, her initial events weren't getting any traction. "We sent out a ton of invites and only six people showed up."
So, she decided to shake things up. "I stopped following the Verizon way of doing things and went rogue and did it on my own terms."
She created an event that she called "From The Ground Up" and contacted Tawanna Morris – owner of House of Chic LA to be its inaugural speaker. By way of their networks, within 72 hours, 300 people signed up to hear Tawanna share her business story. Due to the event's success, she was able to get buy-in from Verizon to continue and expand the series.
6. Treat Your Job as Your Own Business.
Having an entrepreneurial mindset on the job can help you score career wins. Lily's ability to self-motivate, and be goal-focused especially, helped her build clout and drive results for her team. "When you are in a corporate setting, you are often called to work independently. When you work independently, you want to treat your projects or job as your own business...you have to take responsibility for yourself. You have to fight for some of the stuff you want. You have to take some of the things personal – so [you] know that it's on [you]."
Because she decided to take full responsibility and treat From The Ground Up as a special project she "owned", she was committed to making it successful. "When I choose the panels or events, I have to make sure that we are picking people that will do [themselves] and me some justice... I want to make sure my brand within the company stays the same."
Your work is a reflection of you. Doing excellent work can lead to unexpected blessings.
Lily now serves on the national events team – which is a goal she didn't have when she originally joined Verizon 11 years ago. Using the knowledge learned, coupled with her professional success at Verizon, Lily recently launched The Eve Brand - a consultancy that specializes in assisting businesses learn how to secure sponsorship and funding.
If your goal is to grow within your company – you most certainly can. No matter where you're starting from, set your goals high – and your ambition higher. No one can stop a woman with drive determined to leave her mark.
To listen to Lily's full story, listen to episode 183 of Dreams In Drive below or by clicking here.
Featured image by Woodline Dorcin.