Usher's latest music video for his track Chains just took music and technology to a whole new level. No seriously, you can't look away.
---
On Friday, The Grammy award-winning artist has released the visuals to his new track "Chains," featuring Nas and Bibi Bourelli, exclusively on Tidal. The song, which tackles the subject of racial injustice, starts with an eerie bed of music, with the words "while racial injustice keeps killing, society keeps looking away" displayed on the screen.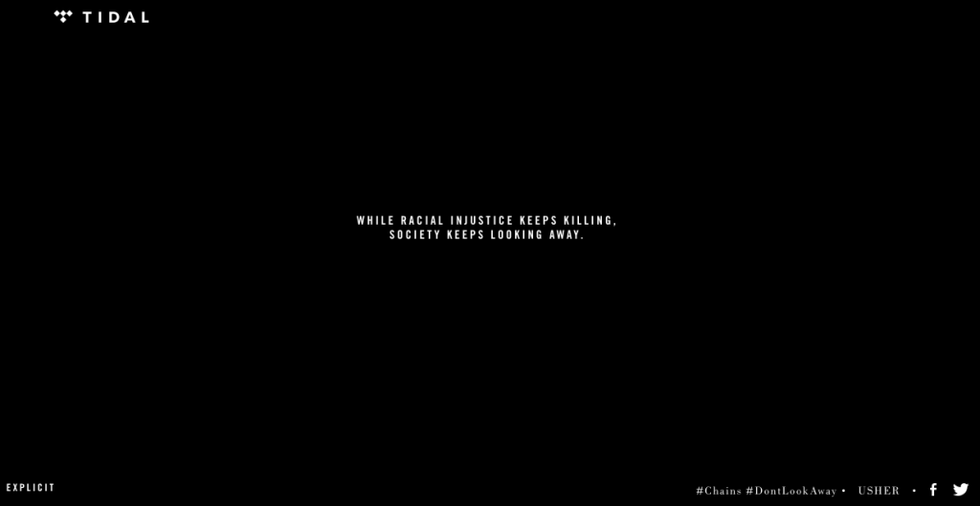 As you listen to the track, the faces of those killed by circumstances surrounding racial tension and/or police brutality are presented on the screen in black and white.  As you see the faces of Trayvon Martin, Rekia Boyd, Caesar Cruz, Ramarley Graham, Kendrick Johnson, Marlon Brown, Andrew Joseph, and Sean Bell, you will also read the events that lead to their deaths.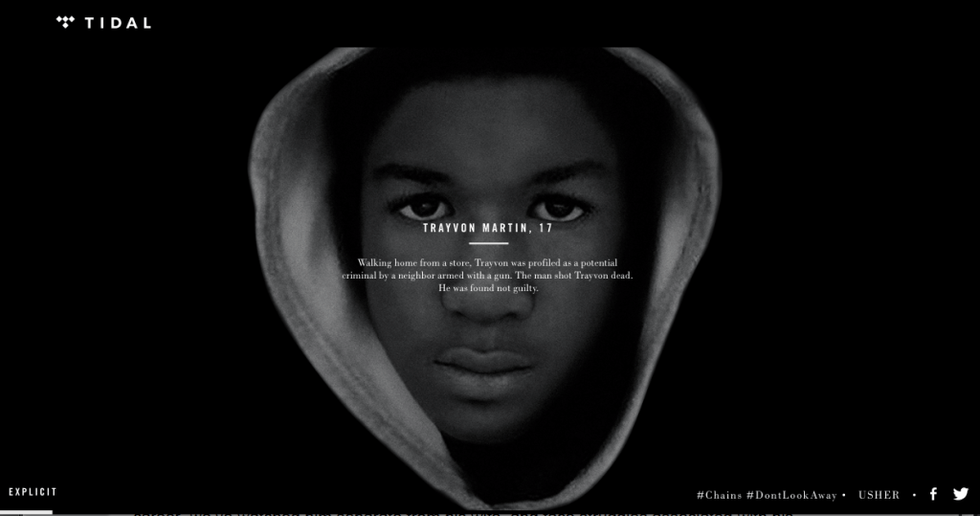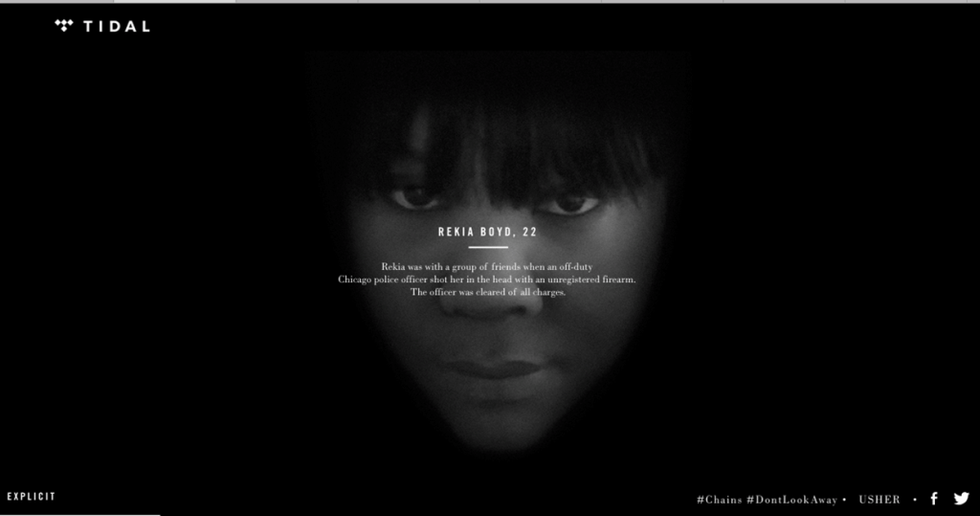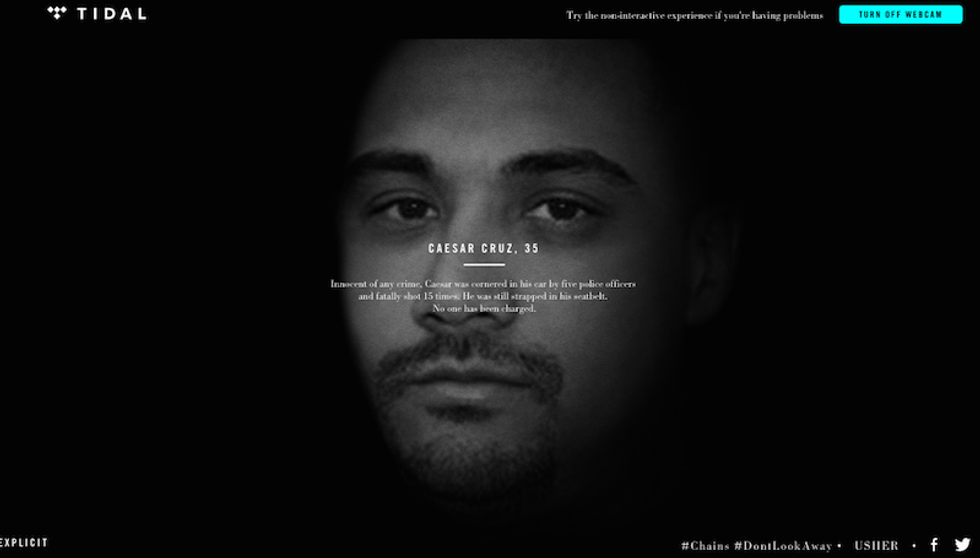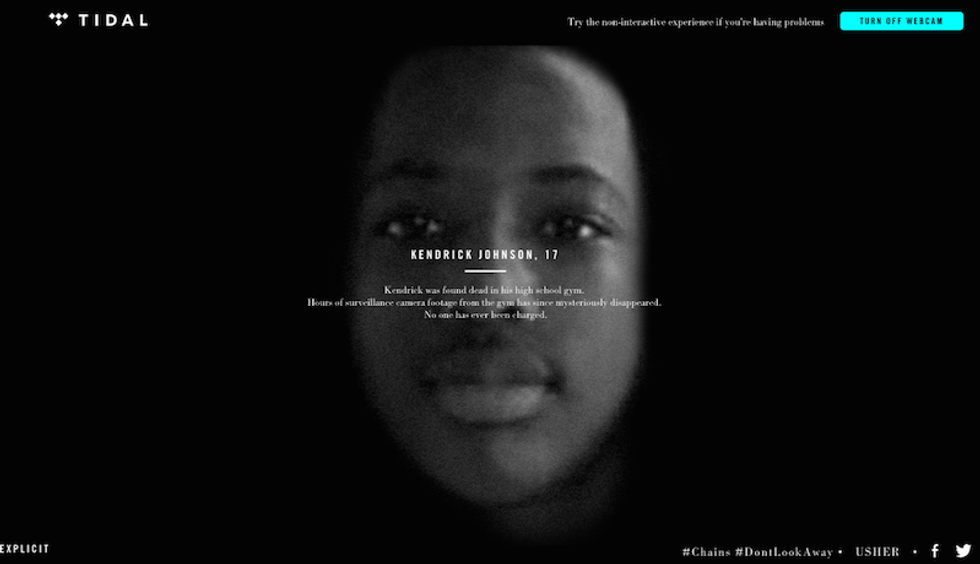 If at this point you start to feel uncomfortable, then you're not alone. I got chills looking into the eyes of the deceased whose families are still trying to get justice for their untimely deaths. As you read the text, it brings Usher's point home even further, which makes his merging of technology even more eerie, yet hard hitting.
Coincidentally, you will also see the hashtags #Chains and #DontLookAway written at the bottom of the screen. By now, you've probably noticed that you can't click on another Internet browser without the song shutting off. That's where the technology aspect comes in. The track merges facial recognition technology with music, TIDAL said in a Facebook post. The company claims that it's the first of it's kind, and trust me when I say that it's one Hell of an introduction to this kind of music listening experience.
If by now you're not at the least chilled by the video, then the lyrics will get you. Usher sings,
You act like the change
Tryna throw me in chains
Don't act like you saving us
It's still the same
Man don't act like I made it up
You blaming us
Let's keep it one hundred
You gave the name to us
N*gga
We still in chains
We still in chains
We still in chains
We still in chains
We still in chains

Turns out, this experience was Usher's plan all along to get listeners and Internet perusers alike to face racism head on using the sensational headlines. The genius said in a statement published by Spin Magazine:
"I chose to introduce the song through the 'Don't Look Away' experience because it is important not only to feel the issue but to face it," Usher said in a statement. "The pain and suffering that these victims and their families have endured is something we must never forget. When we look away from this problem it gets worse. To fix it, we have to face it."
What's interesting about the promotion surrounding the song is that Usher is scheduled to perform the song live for the first time at the TIDAL X: 1020 concert in Brooklyn this month. The families of the victims featured in the video will be at the concert, and proceeds of the song will go toward groups that promote social impact and change.
Talk about putting your money where your mouth is!
I am thrilled that Usher has joined a group of artists who have spoken on issues that impacts their core audiences. A few years ago, artists were being criticized about being silent on social issues, but it feels good to know that over the past few months, several artists have stepped up and addressed social injustice in their music including; Tink (Tell The Children), Melanie Fiona (I Tried), Common featuring John Legend (Glory), Charles Hamilton featuring Rita Ora (New York Raining), T.I. feat. David Banner and Kap G (La Policia), and Janelle Monae (Hell You Talmbout).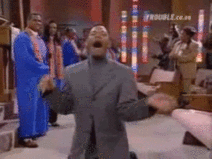 Now what kind of magic would happen if all of the above artists made a song together in a Hip Hop & R&B "We Are The World" kind of track? I faint at the thought.
Take a look at Usher's new video here.