"By the time I stepped onto the stage it was as if I was 6 years old again..."
Diana Ross and Tracee Ellis Ross sharing a stage together are mommy-daughter goals!
---
Remember back in the day when your mother used to call you into the living room in the middle of family functions to show your relatives your "new dance?" Well, that happened to Tracee on a bigger scale in Vegas when her mom unexpectedly called her on to the stage halfway through her show at the Venetians to sing Lady Sings The Blues with her.
(Fun Fact: Tracee was born in 1972, the same year the record came out!)
What ensued next was pure adorableness!
(The look you give when you can't tell your mama "No.")
Almost instantly, the "TV mom" of three on ABC Network's Black-Ish morphed right back into timid daughter mode when her fierce and iconic mama handed her the mic.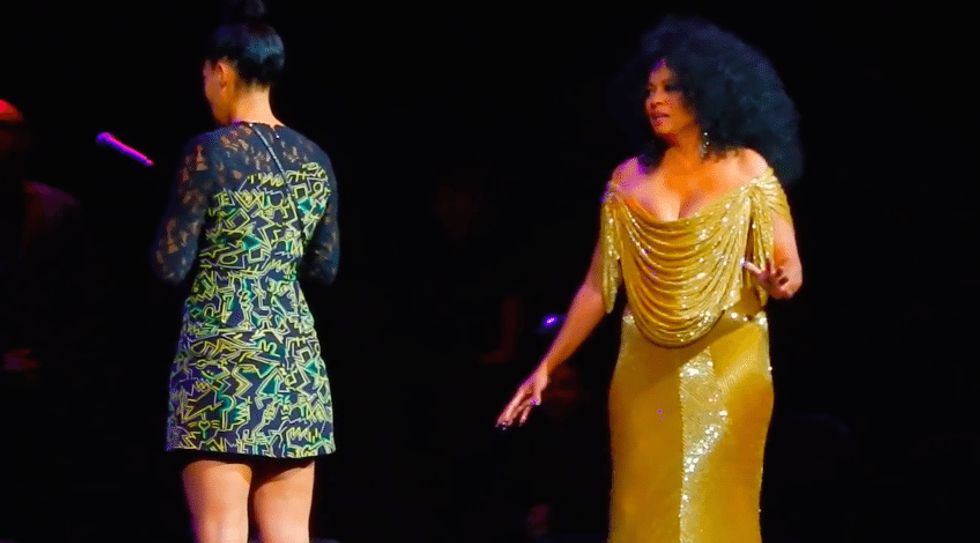 "Omg mom, what are you doing? I'm so nervous. Can they turn the houselights off so I won't be as nervous?"
Of course being the supreme queen, her daughter's wish was her command as Diana requested the stage crew to dim the lights, per Tracee's request.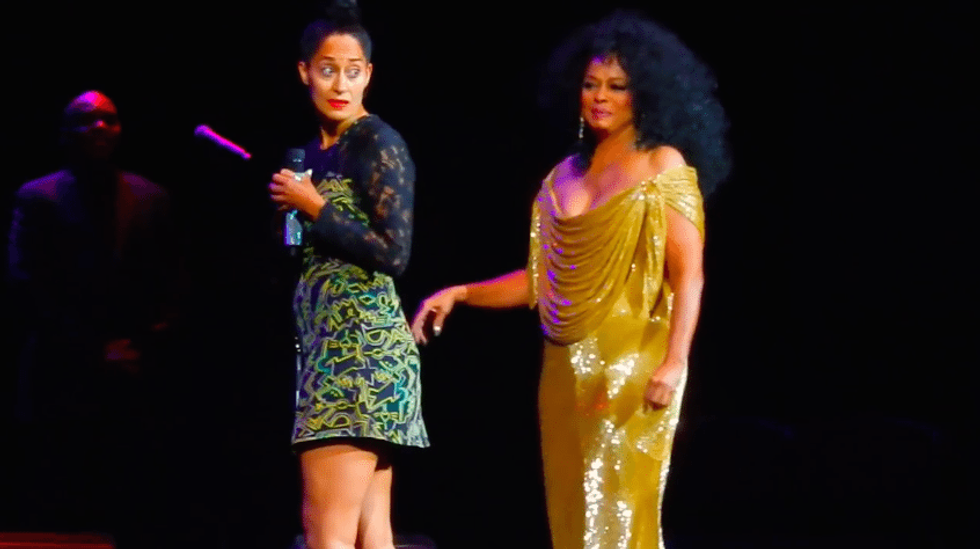 Turning her back to the audience to gain just a little more confidence, the 43-year-old went on to sing a few lines, while mommy Diana looked on proudly and said:
"When she was really little, you guys really want to hear this story? When she was really little her and her sister Rhonda would come on stage and... [Tracee] would [shut down]. But she could sing, but she won't sing!"
Aww! Could there possibly be a singing alter-ego to T-Murda's gangsta raps?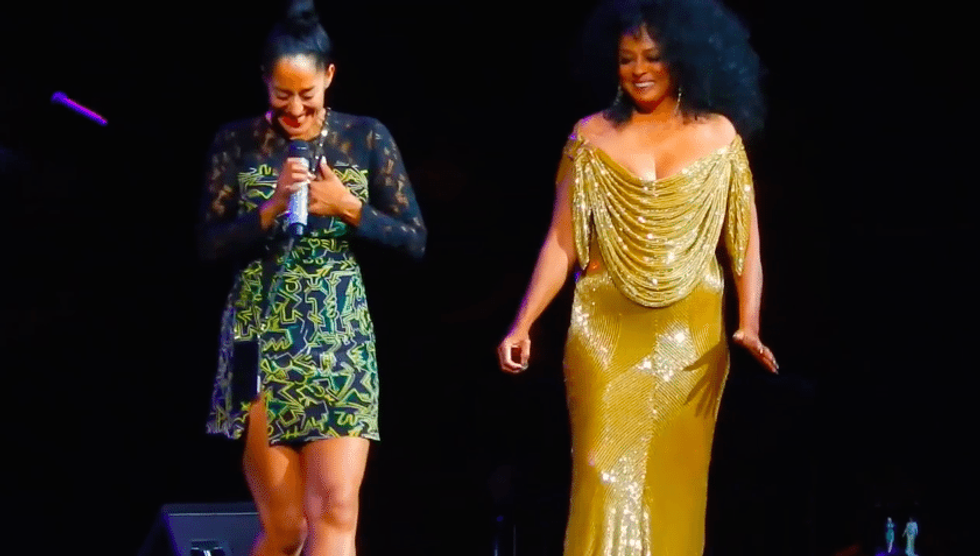 This weekend, Tracee took to her personal blog to write about sharing the stage with her mother, and the benefits of conquering what has been a longtime fear of hers, both as a naturally timid woman, and the pressures that come with being the child of an icon:
Last week, in Vegas, my mom, out of nowhere, stopped her show and asked me to come onstage and sing. I think the last time my mom asked me to sing I was 5 or 6 years old...

Now, I'm not afraid of much. I used to be afraid of everything. I was shy as a child. Probably tough to believe but it's true. I still get nervous all the time but I never let it stop me and I'm certainly not afraid of performing. But, somehow, by the time I stepped onto the stage it was as if I was 6 years old again! There's something about singing….. It's no joke trying to do that as the child of DIANA ROSS, let alone while standing by her side on stage. Plus, when you're nervous, it's hard to hear, it's hard to breathe, and it's hard to be present. These are all important things when you are singing!

Anyway, here it is, me stepping on stage with my mom, fighting through so many childhood fears and fantasies. There is no way to describe the pressure, the fear of what it feels like to allow my voice to be heard as Diana Ross' child.
She added:
All my life I have witnessed her as Diana Ross the icon and Diana Ross the mother, and I have experienced her seamlessly bridge this incredible dichotomy with grace and ease. She is a nurturing and fierce mom, intimate and ancient, in a setting that isn't meant to support mothering: on stage with the whole world watching. There is a way in which she creates privacy and makes space for the sacred in the most public of settings. It is profound, and defines an infinite depth and wisdom that my mom holds. She has always carved out space for her children. I have always known I was the priority.

Well here I am, a grown woman with so many thoughts and feelings colluding and colliding. Here is my voice, as much as I could let out.

My favorite part was me burying my head into her shoulder. It has been ages since I've hidden so deeply in my mother's embrace and it was awesome.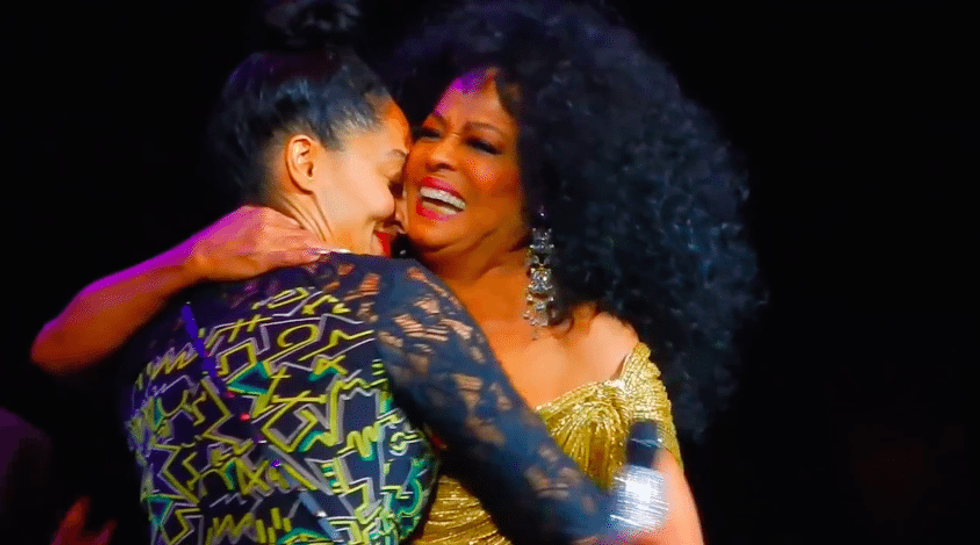 How sweet!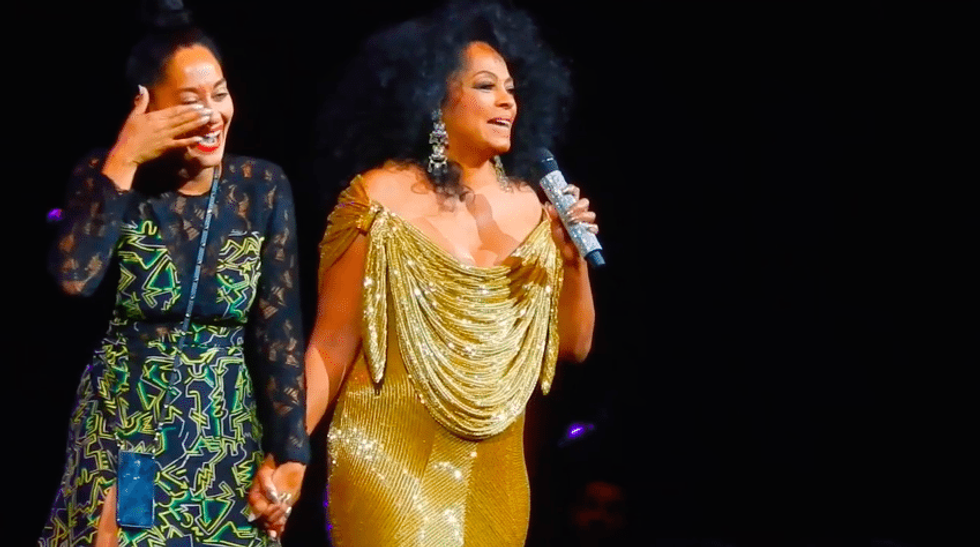 Watch the video below!
Just this past August, Tracee recreated Diana's "Work that Body" Video, and broke down how doing so made her feel empowered. Maybe this was mama extending a "thank you" to her daughter for the honor right back, by helping Tracee conquer yet another fear!