If your skin is darker than a brown paper bag, you can't get in.
---
Well at least those were the rules implemented at the "Paper Bag Parties" back in the day. These wildly exclusive and discriminative multi-racial events were only open to Black individuals with complexions lighter than--or matching the color of--a brown paper bag, and took place during the years of 1900-1950s (many have said these were used for fraternities, sororities and other members-only clubs). But who knew that over 60 years later, we'd still be facing such blatant rules of discrimination amongst our race?
Over the past few days, rage has sparked online and over in London regarding the club scene as women are beginning to share their stories of door discrimination by way of the #DoILookDSTRKT movement. Last night, women stood in protest at "DSTRKT" nightclub in lieu of the discrimination they are subjected to based on appearance (mainly complexion and body type).
In case you missed it, on Monday, four beautiful women were attempting to party over in the West End of London at popular night club "DSTRKT."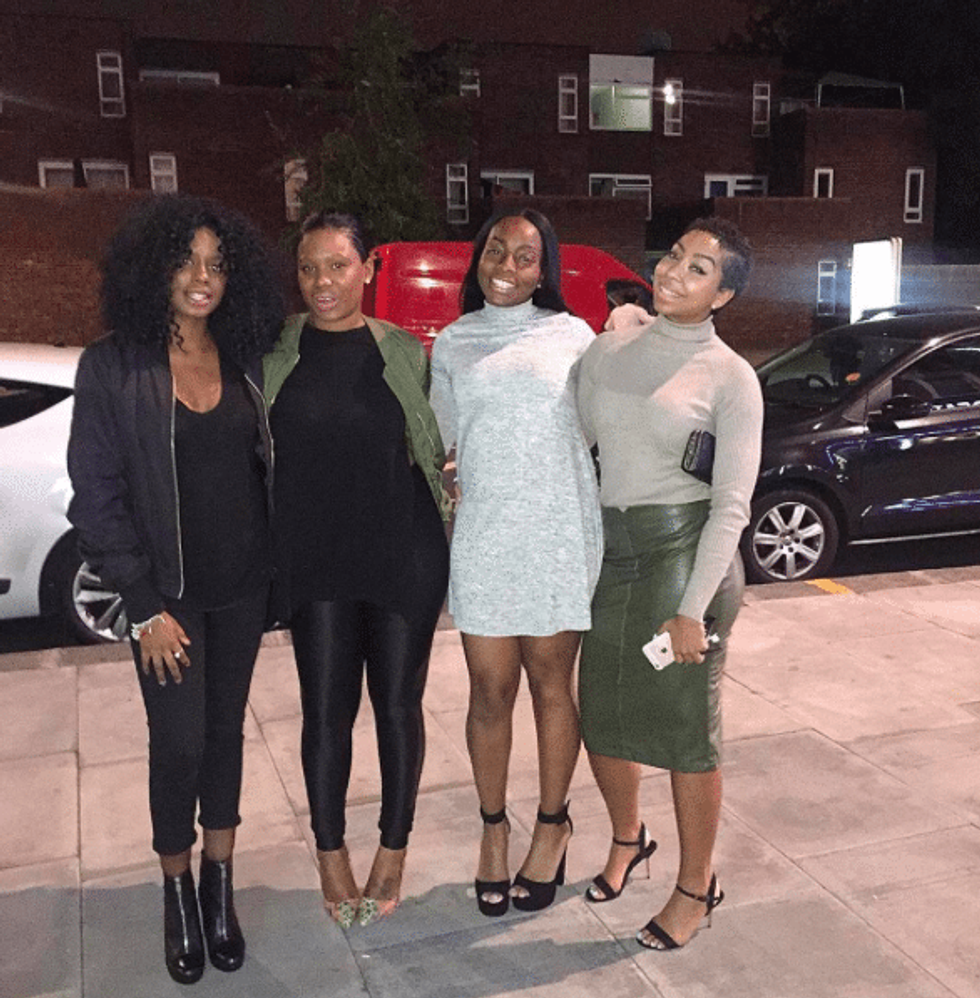 (L to R) Zalika, Friend, Tasha and Lin Mei
Attended in the past by the likes of Jay-Z, Drake, Rihanna, and as of recently, by last night's host Karrueche (who was urged by fans not to attend in light of the recent circumstances) DSTRKT (pronounced "District,") is undeniably one of London's go-to nightclubs by celebs and party-goers.
However, for the four women, what should have been a girl's night on the town turned more into a nightmare when they arrived to the club, only to be subjected to a series of humiliating "tests," and later rejected at the door. According to one of the ladies named Zalika, not only did they have to pass the promoter, Daniel's, picture test the day before (her friend "Lin Mei" sent a photo of herself, Zalika, and two other friends to Daniel via text message), but upon arrival, the ladies also had to line up against a wall outside of the club, where a camera is conveniently located and connected to the manager's office inside. Zalika said:
"Prior to us actually getting to the club, the [promoter] wanted pictures of the girls that my friend was going to bring. He basically said, if she was going to bring black girls then they've got to be of 'a certain calibre'. She sent him pictures of me and another girl that was coming and I guess he gave his approval."
Zalika then went on to say that upon arriving the club, they had issues at the door with the hostess. After the "wall test," they were not allowed admission and were told by the doorwoman that the club was "full," however, watched in horror as a few white women were let in. When Daniel finally came out to address the issue, Zalika said:
"The promoter [Daniel] went to the door girl and asked why she wasn't letting us in and she just said, 'I don't think they're good looking enough'."
And by "good enough" the ladies claim they were referring to complexion and weight. The girls said that "Daniel the Promoter" went on to explain to the ladies later via text that their access was denied because one of their friends were too dark and the other, "overweight":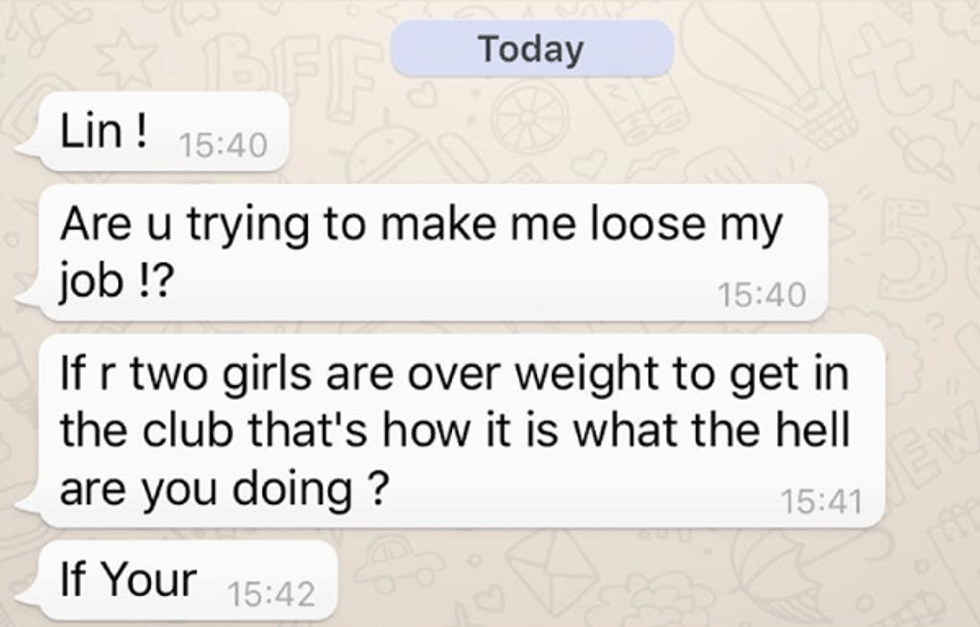 Lin Me  is the one who was in contact with promoter the entire evening, and said Daniel had been very explicit in his likeness for Lin to bring friends who are mixed or "look like her." However, Lin assumed all was well upon the approval of her group photo in the messages prior.
Since then, Daniel has attempted to brush off the comments as simply being jokes (and a DSTRKT rep has come forward to say that Daniel does not work for the club-- despite his business cards as Marketing Executive for DSTRKT saying else wise); however, Lin has gone forward in releasing via her Instagram a series of texts exchanged between her and Daniel and needless to say, we're not laughing.
After news of the story went viral of the girl's experience at the club, other women came forward to share similar stories as well. One woman, a white woman by the name of Brooke, who works for DSTRKT, said that as recently as last week, she received backlash from her bosses for bringing "Black" friends to her private table. Brooke uploaded a video to say:
"I work for DSTRKT, I promote in DSTRKT, on Friday when I was working at DSTRKT I actually took my personal friends and put them on my table. There [were] two white girls in the queue in front of us and they got in for free but they made my black friends pay to get in.

When I finished work on Friday at DSTRKT, I was told not to bring so many black girls on my table next time and I should only really have light skin girls, Indian girls or white girls. That to me is f***ing discrimination."

"I won't be promoting there [any] more that's for sure, they took money out of my pay for that night cause they didn't count one of my black friend as a guest. So, so bad."
So in light of all of this, all four of the girls decided to host a "peaceful protest" against DSTRKT's "wall of shame." Urging women to wear their best outfits in an attempt to redefine the "DSTRKT" aesthetic, the ladies staged a #DoILookDistrict protest outside of the club. An overwhelming amount of female supporters, Black and White (including now former-employee of DTSRKT and new friend 'Brooke,) elegantly took a fierce and classy stand against the club!
And although Karrueche did end up hosting the evening as planned, she did release a statement in support of the recent allegations towards DSTRKT. The 27-yea- old model said:
"It's unfortunate to hear about something like that especially something that I'm part of. I'm half African-American, too. I have godsisters and family who have darker skin as well. I don't support any sort of discrimination. I love people for who they are."
Karrueche enters #DSTRKT through the back door in order to avoid the protesters she said she'd speak to. #RacistClub pic.twitter.com/eW3FyDbwYn

— Someone actually (@imanilindsay) September 30, 2015
In all fairness, Karrueche, who had an arrangement to host DSTRKT in advance, may have been contractually obligated to host for the evening. Clubs do not play when it comes to backing out of hosting obligations and appearances. Even singer Ciara was once served papers while on stage in concert for failing to appear at a nightclub weeks prior.
This story was very personal for me because discrimination at the door has happened to myself and friends before. I attended college in Miami and lived in the area and I can so blatantly recall the "South Beach," club door policies. I won't call out the clubs that let me in underage (I was 18 in 21+ clubs), but I never had any issues getting in as a baby with no-ID so long as I knew promoters.
However, on two occasions, when I was still only 20 and some new friends I'd met at my job were 21+, I remember them having issues getting in. The first time, I was told it was because they arrived late and that the "guest list had close." I bought into it because I never experienced anything of the sort before. The second time, I was already inside and they had arrived on time and when I went to go retrieve them, the door man said "No." My promoter friend told me "Sorry," And to make it worse, I couldn't leave this time because I was actually there for another friend's birthday as their guest. I was told by one of the girls that she "was tired of being humiliated by me and my borgouise South Beach friends," and insinuated that I knew what I was doing by wasting their time and having them be embarrassed (I was mortified to think that anyone could believe I was inside laughing at them over drinks on some Mean Girls, prank type -ish).
When I spoke to my promoter guy, he explained to me, "Soraya, I have no control over the door. I really don't. I'm so sorry. Trust me, I don't like it anymore than you do but it's my job. You've seen me try before."
I remember trying to work with another promoter after him and I lost touch, and they straight up asked me, "Do your friends look like you? Lol.." and I was told to send over the Facebook links for each girl so he could scroll through pictures. I refused and instead shared my disgust with someone who I was having lunch with who told me: "I think it's so cute how you act so unaware." When I asked them to explain, that's when I got a lesson on modern day colorism amongst Black people and the certain privileges that vary between women not just based on race, but based on appearance and aesthetic. It was good to be made aware of this for the sake of no longer being shocked, but it still bothered me to think that people have allowed themselves to believe in "different kinds of Blackness." Attending middle school in predominately white demographic, I was reminded everyday that I was very Black (not that I thought any different) and different from most, but I digress. I think this type of mentality of "shadism/colorism" only holds us further back as a race, but it is the world we live in until we change it.
Have you ever experienced similar discrimination or been witness to it? Please let us know!