---
TV's favorite 90's to 2000's girlfriend, mom and wife, Tisha Campbell, has some powerful advice:
Be victorious, not a victim.
After giving the music industry a go in the 90's when she released her self-titled debut album Tisha, followed four years later by her single "Don't Ask my Neighbor" (from the 1997 soundtrack for the movie Sprung,) actress Tisha Campbell-Martin (Martin, School Daze, My Wife & Kids, etc.) has dusted off her mic to deliver a powerful message in the form of a video for her summer single, 'Steel Here.' The lyrics and visuals for the video are actually inspired by Tisha's own life!
Recently, the 46-year-old mother of two and wife to actor Duane Martin, revealed that she received an apology letter from the man who raped her when she was just three-years-old, something that would effect her into her 40's and in her life as both a mom and wife. Tisha sings on the track:
I'm still resilient. I'm always gonna be here
Because I'm supposed to be here.
I'm only my existence-
It's a system of survival. Because I'm my only revival.
Yes I'm on a misson (put your seat belt on)
I know I'm on assignment, the stars are in alignment. I'm ready for this!
Black butterfly,
Got my paintbrush, got my canvas and I'll paint the sky!
I'm-I'm-I'm- still/steel here!
 Although the incident happened over four decades ago, the burden of the abuse still weighs heavily on Tisha's heart and mind. The Real Husbands of Hollywood actress admits that the letter has helped her to completely break away from being chained to the pain of her troubled past.  In the visual, Tisha wears a portion of the letter written across her chest which says:
"Dear Beloved Tisha, this apology has been in my heart and on my mind for decades. For decades there has been a grieving pain within me coupled with an unending shame for my past behavior..."
Tisha also took to Twitter to break down the symbolic video, which features everything from a white-outfit clad Tisha surrounded by butterflies, to the singer dressed in a black dress:
"The color of the dress reps beauty and strength each dancer attached 2 me reps purging of anger, grudge, pain, low self esteem, self-deprecation or any negative emotion) being released and the freedom from it. The writing on my body and the man writing the letter reps the actual words of an apology letter I recently received from the person who violated me when I was 3 yrs old. By blessing me with the apology letter he allotted me the ability to be free and to forgive #blessed #thankful"
For about a year now, Tisha has been no stranger to opening up about her sexual abuse in an effort to help others see themselves less as a victim and more as victorious, even admitting recently to Madame Noire that when she first became a mother, she had troubles breastfeeding her son in fear that she'd "hurt him." Although she reveals she was later able to get over this in time to share the bond with her second child, at one point, the events of Tisha's rape temporarily made her overthink her motives as a mother, struggling to not confuse her innocent "mom"ents with perhaps being too intimate. Could you imagine?
She even opened up last year on "The Daily Helpline Talk Show" to help a young caller who'd been dealing with bulimia ever since her assault. Tisha offered the 20-year-old some powerful advice for her life:
"You can no longer be a victim, you have to be victorious at this point. You can't play the victim cause at this point, I'm not saying this to put you down or anything. What I'm saying is he's winning, and you are allowing him to win. You are making a conscious decision to harm yourself, to hurt yourself and allow this person to still have dominion over your life. You can't do that anymore."

"The reason why I can absolutely say this to you without judgment or anything else, and this is the first time I ever said this on camera in front of millions, national, people, is that I too have been a victim of the same thing. When I was three, I was raped by an older person. Now I knew as a child that I did nothing wrong and that this wasn't my fault, but I found forgiveness in the guilt that I might've had."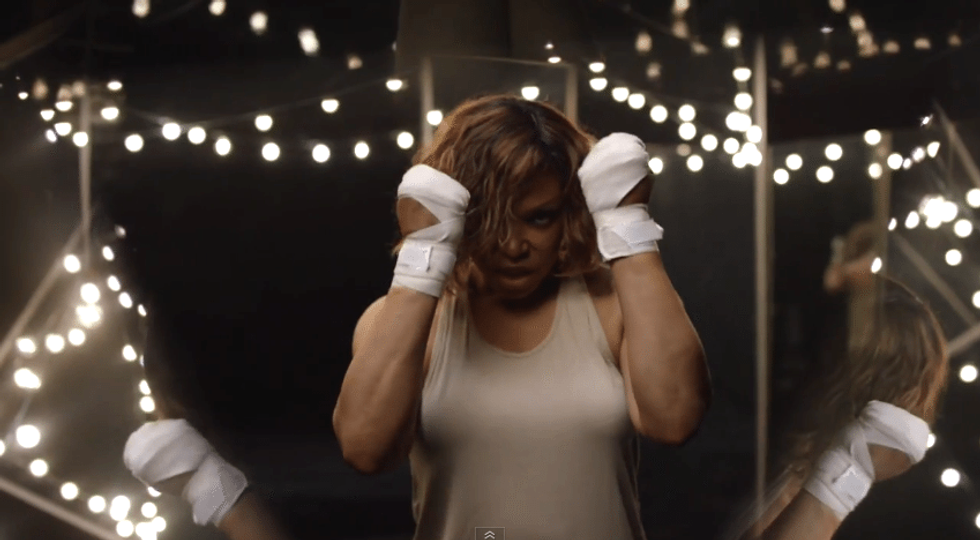 What I can appreciate most about Tisha and this video is the message that it sends to victims that the power of forgiveness is not intended to "empower" your abuser, but rather you! At the end of the day, we give power to the things and people we allow to let hurt us, shame us, and burden us with guilt. By forgiving the accused, we are not excusing their actions, but rather, we are acknowledging that we will no longer let their actions impact or effect us. A message I received this weekend was:
If you are not dead, you are not done!
And if you are not done, you are #SteelHere! Thank you for the reminder Tisha. On behalf of all the victims victorious!
Watch the video on page 2!