Each season, loyal MAC Cosmetics customers sit on on the edges of their seats waiting to see who the company will pick for their next uber glam collaboration.
---

Past MAC muses included Ariana Grande's matte plum Lipstick and shimmering pink lipgloss; Dita Von Teese's erotic red lipstick; Nicki Minaj's high coveted pink lip glass; and Rihanna's "RiRi Woo" red lip color.  And those were just a few of the popular collabs with the makeup brand.
But their latest spring collaborations include four women forging new paths in the music industry, and it may just have MAC junkies dropping everything to run to the makeup counter during their lunch hour.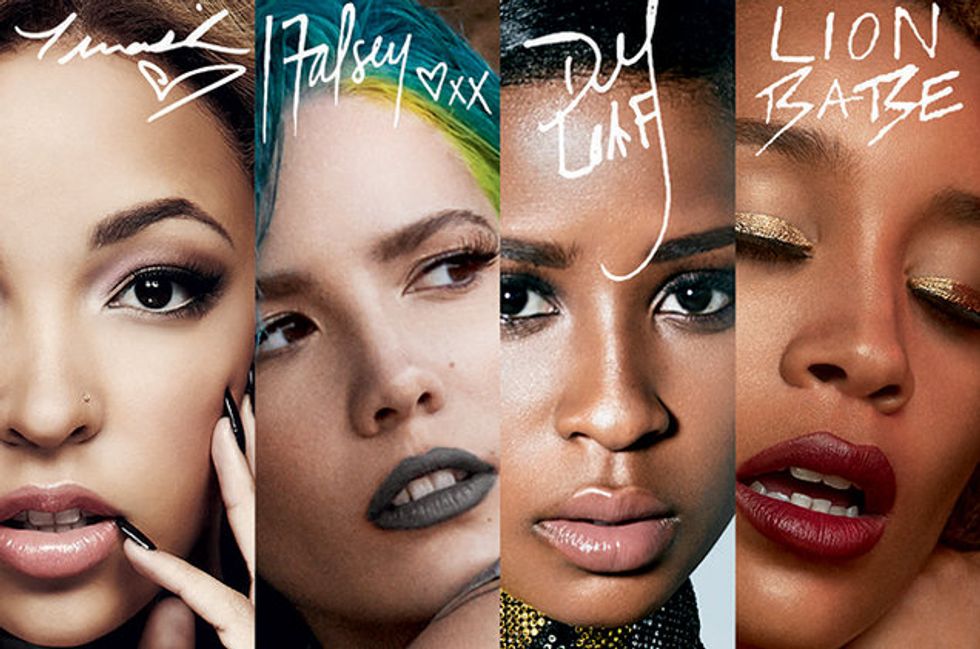 Singers Tinashe, Halsey, Jillian Hervey of Lion Babe, and rapper Dej Loaf are now the new muses for the makeup brand.
Bet you didn't see those collabs coming! But the was by design, as MAC will be featuring the four beauties as part of their Future Forward campaign, which includes an "ongoing series of collaborations and campaigns that spotlight newer talent." According to Billboard, MAC Senior VP and Group Creative Director James Gager had this to say about the four ladies being the new faces of the brand,
We like people who have something unique about their style. We feel that each one of these young ladies has a unique music sensibility, but also that they are representing their look with a distinct point of view. When each of them came in, we didn't say 'Oh, you're going to do a lipstick, you're going to do an eyeshadow.' We asked them what they felt connected to product-wise. Each person was very involved, right down to naming the product shades and thinking about packaging. We also worked on videos for each of them that will offer a more in-depth understanding of them as an artist.  
You're going to adore these new products that are set to launch on various dates this spring. Take a sneak peak of what each artist will be bringing to the MAC Cosmetics brand below, and what they had to say about their new ventures.
JILLIAN HERVEY'S GOLD LIQUIDLAST LINER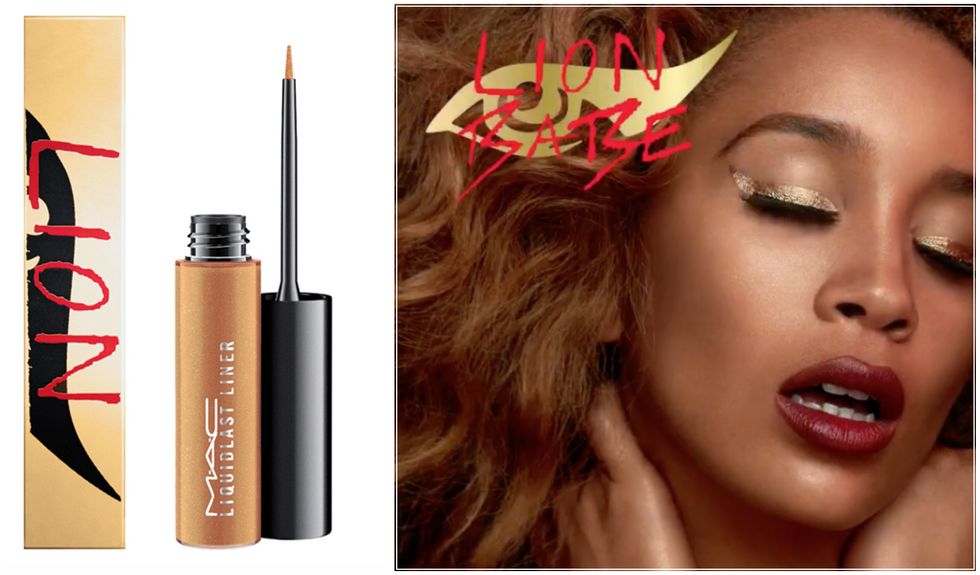 If you're looking for some liner to stand out, you should definitely take a look at this one. Jillian said that one of the reasons why she wanted to do a gold liner was because the world has enough black liners. This is what she had to say about why you are going to fall in love with her unconventional color too:
Obviously there are a ton of black liners in the world so I thought it would be really interesting to go with a different color base and I've always felt very strongly about the color gold. I love what the color represents and it's definitely similar to my skin tone. I also loved that you can make a very clean line with this product, but that you can also use it as a body bronzer if you wanted to. For me, I feel like it's pretty key to have a product—whether it's a lip stain you can use on your cheeks—to have something that you can use in more than one way. 
The Lion Babe Liquidlast Liner becomes available for purchase on April 28 for $21 at maccosmetics.com.
DEJ LOAF'S NUDE LIP GLOSS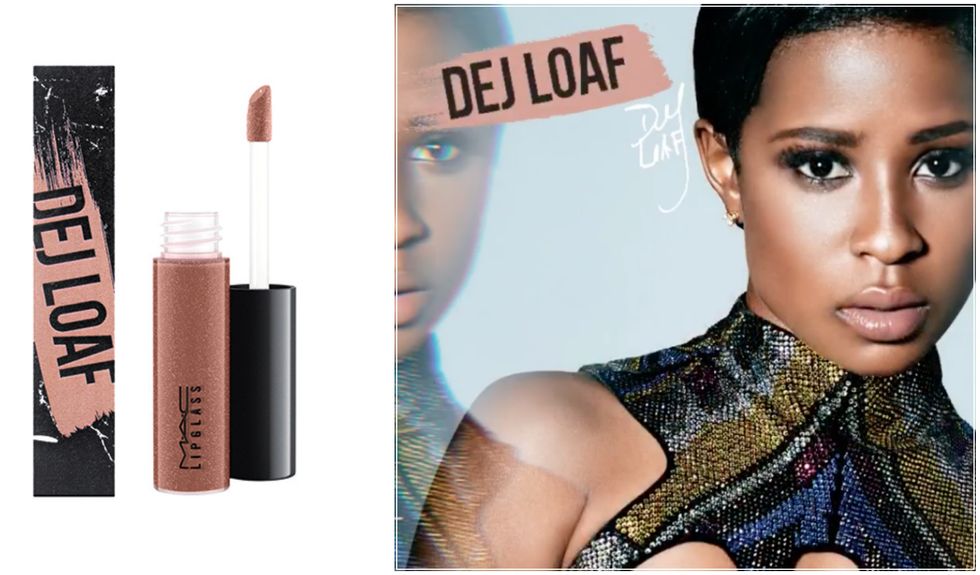 For me, seeing Dej Loaf on the list of new MAC collaborators was surprising because I'm so used to seeing her chilling in her tomboy stance. But makeup is powerful and can transform even the most on the fence users into full fledged makeup junkies. Dej Loaf admitted that this is what happened after she became addicted to the "beat face." She told Billboard,
Onstage for me is dramatic, [makeup] you know, got the glitter. It's crazy because I used to...I was anti-makeup just recently fell in love with it. I don't want to perform without it anymore now I'm like, "Yo, let's get some makeup on." I like to travel with a makeup artist now.
She also clarified that she was only "anti" makeup because she didn't understand why girls wore it all the time. But after a few foundation baptisms, Dej Loaf is now a changed woman, and in love with the cocoa (colored foundation). Hallelujah!
Dej Loaf's nude Lipglass becomes available for purchase on April 14 for $15 at maccosmetics.com.
TINASHE'S TIMES NINE PALETTE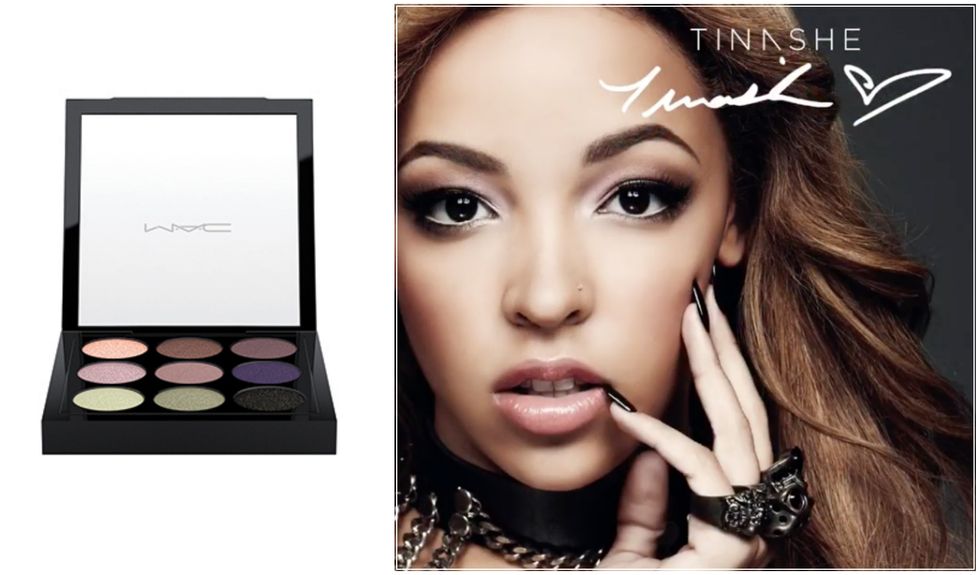 Tinashe's biggest appeal comes from her doing her own thing, which is why it wasn't hard to picture her as a muse for MAC.  She told Billboard that what peaked her interest in the collab was being able to do her own thing creatively with a powerhouse brand.
I have but I've never been able to take a real creative kind of position and that was really what drew me to this. I mean, obviously I love makeup too, and I use it all the time for shows -- but  I was really intrigued by the chance to bring my creative vision to this. I got to design the packaging, pick out the colors, and create something that I felt like I would use. It's shades that range between dark black to an army green, and then some burgundies. I'm definitely more of an eye girl than like a lip girl.
Tinashe's Times Nine Palette becomes available for purchase March 17 for $32 at maccosmetics.com.
HALSEY'S SIGNATURE BLUE LIPSTICK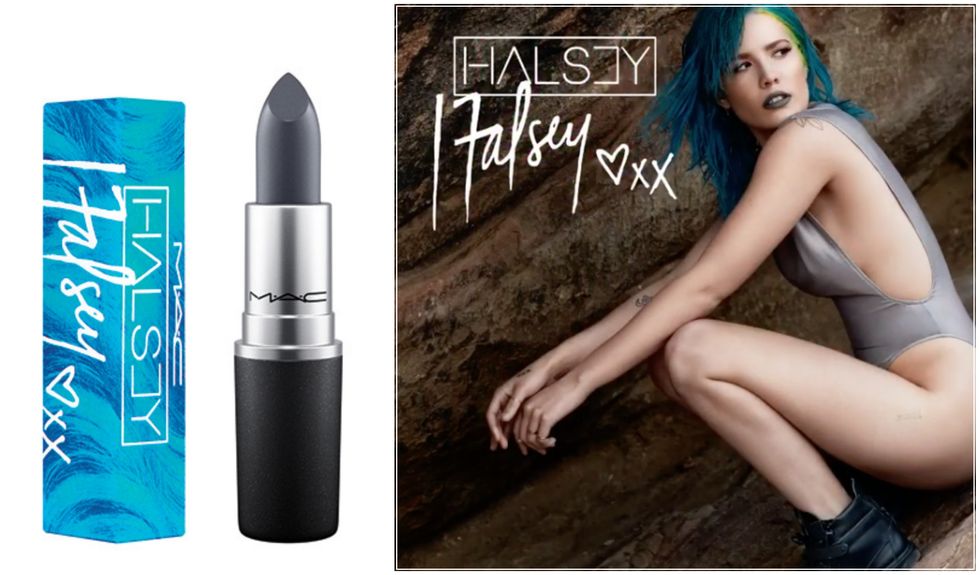 Halsey's MAC lip color will definitely have you doing a double take. Is it blue, or is it gray?
Whatever the case, it is a must have for women who love unconventional lippie hues, and it's a great pick for divas who like their makeup to be as bold as their personalities (sort of like Halsey). This is the reason why she chose the daring hue. She told Billboard,
It's really cool to me because it's a cooler blue tone, which is my creative color. I use blue lights onstage and had blue hair for a long time. Blue stimulates me. I wanted to do something different that I hadn't seen before and I realized I was wearing a lot of cooler toned colors and a lot of pinks and browns. I thought how great would it be to do something that was a bit more dramatic and more risky.

One thing I try to do with my look is not have the look wear me. I try to carry myself like there's nothing too crazy for me to wear as long as I carry myself with the confidence to wear it. I hope people can feel the same way about the lipstick.
Halsey's Lipstick becomes available for purchase on March 31 for $17 at maccosmetics.com.
Makeup junkies, what do you think about the new products, and which ones will you be purchasing?