As you probably know, as of late, Hollywood has been under some serious heat when it comes to sexual assault.
---
The accusations and scandals, starting with the Harvey Weinstein scandal and quickly making its way through the entertainment industry, seem to be growing exponentially every day. While the voices and stories being told are invaluable to the fight for change, many questioned their place in the #MeToo movement, claiming these allegations and accusations have only been taken seriously because of the victims who are telling their stories.
In response, a large list of badass Hollywood women took matters into their own hands, just like they did in reclaiming the narrative. These women seek to acknowledge the issues at hand and give a voice to those who feel voiceless in this fight. Cue #TIMESUP, the most powerful anti-harassment initiative any industry has ever seen.
"TIME'S UP is a unified call for change from women in entertainment for women everywhere. From movie sets to farm fields to boardrooms alike, we envision nationwide leadership that reflects the world in which we live."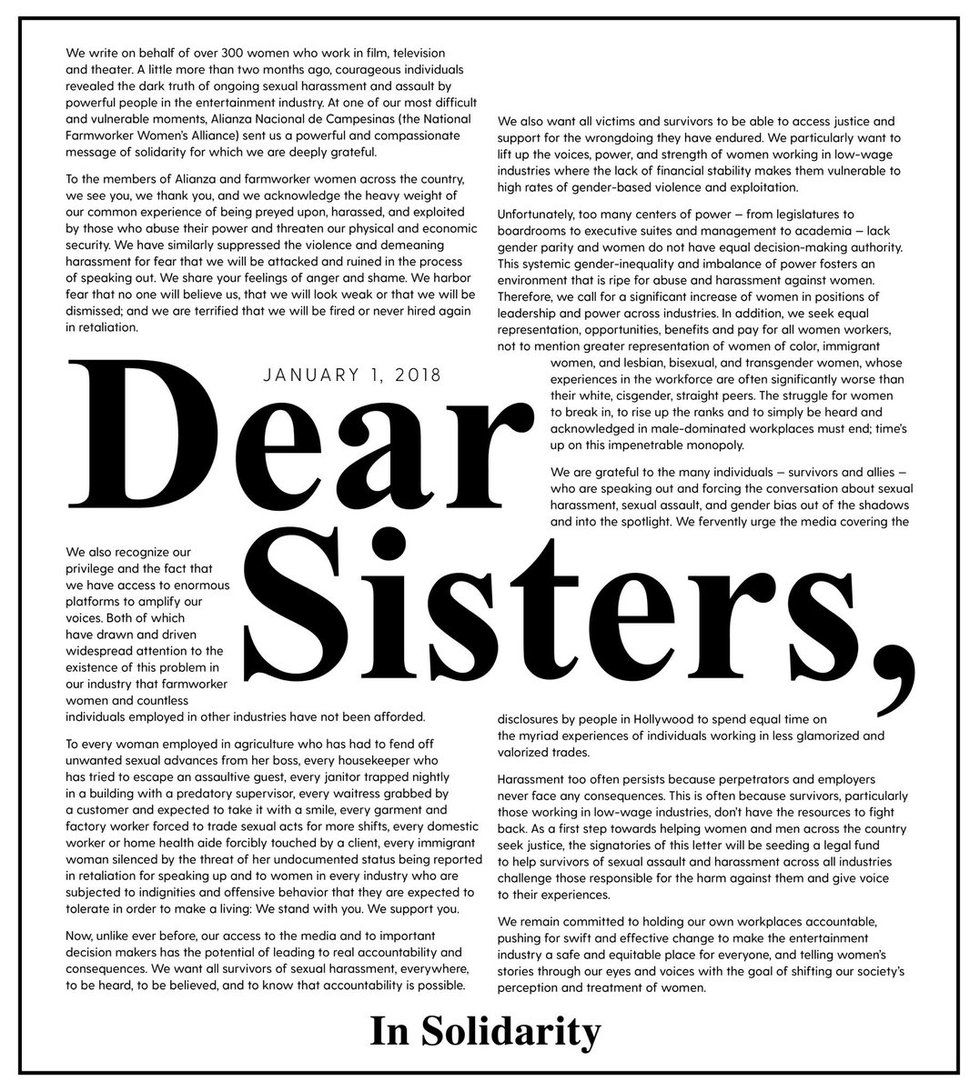 pbs.twimg.com
Powered by women, TIME'S UP addresses the systemic inequality and injustice in the workplace that have kept underrepresented groups from reaching their full potential. TIME'S UP plans to partner with leading advocates for equality and safety to improve laws, employment agreements, and corporate policies; help change the face of corporate boardrooms and the C-suite; and enable more women and men to access our legal system to hold assailants and abusers accountable.
The special thing about TIME'S UP is their commitment to inclusivity and representing all voices instead of just a few powerful ones. Regardless of ethnicity, race, class, or sexual orientation, TIME'S UP promises to not only advocate for victims, but to fight for change within preexisting systems.
TIME'S UP will make a ripple in every industry with something to hide, and will be looked back on as one of the few groups to speak to the realities of minority victims. With powerful celebrities signing on as founders, partners, and advocates such as Shonda Rhimes, Ava DuVernay, and Lena Waithe, TIME'S UP looks to be promising step in the right direction.
I stand with women across every industry to say #TIMESUP on abuse, harassment, marginalization and underrepresentat… https://t.co/HlwgxiEfmr

— Lena Waithe (@Lena Waithe)1514831513.0
Time's up on silence. Time's up on waiting. Time's up on tolerating discrimination, harassment and abuse. #TimesUp… https://t.co/oSlBqPUImv

— shonda rhimes (@shonda rhimes)1514819374.0
We stand in solidarity with Alianza Nacional de Campesinas and women across every industry to combat abuse, harassm… https://t.co/4CbnslDXOZ

— Ava DuVernay (@Ava DuVernay)1514826972.0
The support of these women is invaluable. Inevitably, their voices will allow lesser known, yet equally important, voices to be heard. Showing her commitment to the cause and the initiative's true understanding of how to use their power for good, Rhimes posed the question, "If this group of women can't fight for a model for other women who don't have as much power and privilege, then who can?"
For those of us who are wondering how we can properly join the fight against sexual harrassment and stand in solidarity with the voices of TIME'S UP, the initiative has created a list of things of eight things you can do:
Don't be part of the problem. For starters, don't harass anyone.
If a person who has been harassed tells you about it, believe them. Don't underestimate how hard it is to talk about these things.
If you know someone who has been harassed, connect them to resources who can help, such as the ones found here.
If you are a witness or bystander and see a harassing situation, you can help the person being harassed. You could actually intervene. You could confront the harasser. You could also help the person get out of the harassing situation. If you cannot do any of these things, you can still support the harassed person by corroborating and confirming the account of what happened.
You can support those affected by sexual harassment by donating to the TIME'S UP Legal Defense Fund.
If you are part of an organization, look at the workforce and the leadership (management, officers, board of directors). Does it reflect the market where you operate and the world we live in? If not, ask why not and do something to move it closer to that goal.
Acknowledge that talent is equally distributed, but work and career opportunities are not. Mentor someone from an under-represented group in your industry. If you are in a position to do so, hire someone who can diversify the perspectives included in your organization; your team will be better and stronger for it.
You can vote with your wallet: in your purchasing, in your investing and in your charitable giving. Spend or give to companies and organizations who have more equitable leadership and opportunities for all.
In the realm of sexual assault, TIME'S UP is one small step for woman and giant leap for woman kind.
Read more about TIME'S UP and how you can donate to their legal defense fund here.

Featured image by Getty Images