If you're having a "meh" Thursday, well get ready to get your life!
---
Marco Marco is a colorful, bold, and sassy high end underwear label that's known for their wild and sexy runway shows. In the past, the label has featured contestants from RuPaul's Drag Race, porn stars, and generally everyone's gay BFF in our heads, in their runway shows.
In walks Dexter Mayfield in all of his fabulousness.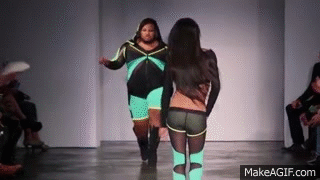 The actor/dancer recently walked the 2015 Marco Marco runway show in Los Angeles, and to say he shut it down, locked the doors, and threw away the keys is an understatement.
#LAFW #MarcoMarcoShow #MarcoMarco #PlusSizeModel #DexterMayfield #Nerves @ryanskyy #Runway #Catwalk @WorldOfWonder pic.twitter.com/xzkXMSty9V

— Dexter Mayfield (@DexStar84) October 21, 2015
Dexter, who walked the show with RuPaul's Drag Race she-roes, said that at first, he definitely felt intimidated by the experience. He told Buzzfeed:
"Being a professional dancer, I already know the pressure of not fitting into the typical look of what a dancer should be," he said. "So stepping into modeling and walking the runway, that pressure is compounded even more."
But it's clear that Dexter isn't one to let something like a little intimidation hold him back, because he let his "fierce flag" fly, and served us some slayage.
"That was so intimidating, but once I spoke to Marco [the designer] right before I went on the runway I just said F-CK IT, and I just went for it! It was unlike any other feeling I've had before!"
Werk it!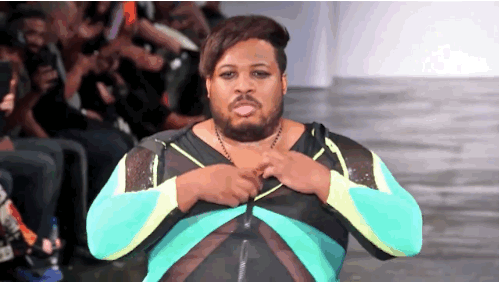 Gif via Buzzfeed
Look at him destroy that "I'm about to get off of work" dance!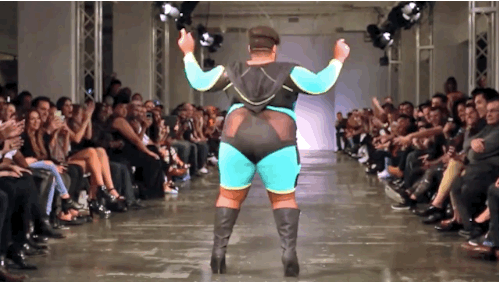 Gif via Buzzfeed
Oh, but that wasn't all. Watch that exit though!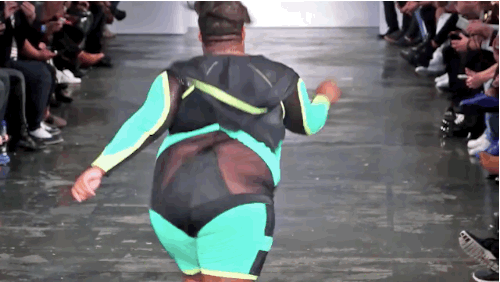 Gif via Buzzfeed
Dexter finished up his Buzzed interview with a hammer of a quote:
...At the end of the day, I simply just want to do what I love, and I feel talent should speak for itself no matter your shape or size. So, if anyone can be inspired by it, that just makes the reward of what I do even greater. And from the show up to today, the messages of love and encouragement have been overflowing and I am so grateful for it all."
Dexter was just the icing on the cake, but please believe that the whole show was amazing, and featured RuPaul's Drag Race familiars like Detox, Sharon Needles, Raja, Rhea Litré, Shangela, Alyssa Edwards, social media star Brendan Jordan, and trans Men's Health model Aydian Dowling. It's a little NSFW, so watch the whole show below, if you dare.