Plus-sized model Ashley Graham is already making waves on one of three covers of the new 2016 Sports Illustrated swimsuit issue, but turn a few pages and you're bound to see a Lane Bryant ad featuring a curvy, beautifully brown Precious Lee stunting in sexy white lingerie.
---
The message for the retailer's #ThisBody campaign is straightforward: "This body is made to be uncovered."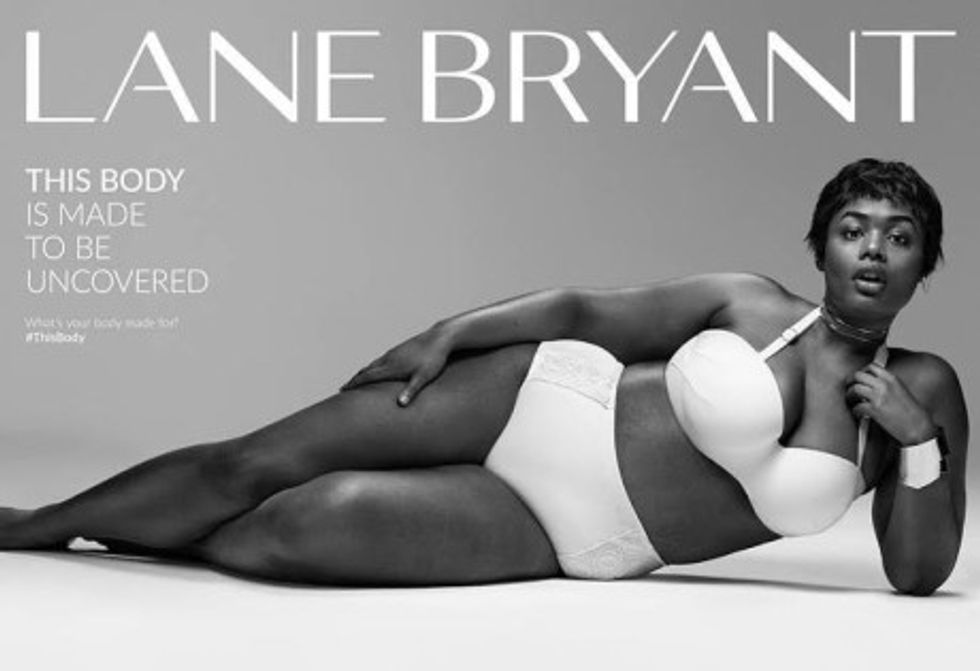 Yasss!
I'm here for it because fuller-figured models are almost always sporting complete, sometimes frumpy, ensembles that hide every bit of visible skin – except for the face – as if a curvier body is shameful. It's a subtle hint that not-so-thin is unacceptable and unattractive, but really there's nothing distasteful about not being able to see rib cages, pelvic bones, and spines.
As a naturally thin woman who's desperately tried to gain weight amongst a family of full-figured women, I can admit my view is biased. I've made comments like, "These women [in magazines] have angles instead of curves!" I've even found myself scrutinizing the bodies of a few reality TV actresses who appeared to be much slimmer between their debut season and their return.
And I've side-eyed pictures where editors obviously airbrushed midsections and limbs to fit the average model's mold of a size 0 or 00. They're sizes that aren't realistically attainable for most women – not even me – and they surely aren't representative of the average clothing size, which is nearly equivalent to a typical model's age: 12 or 14.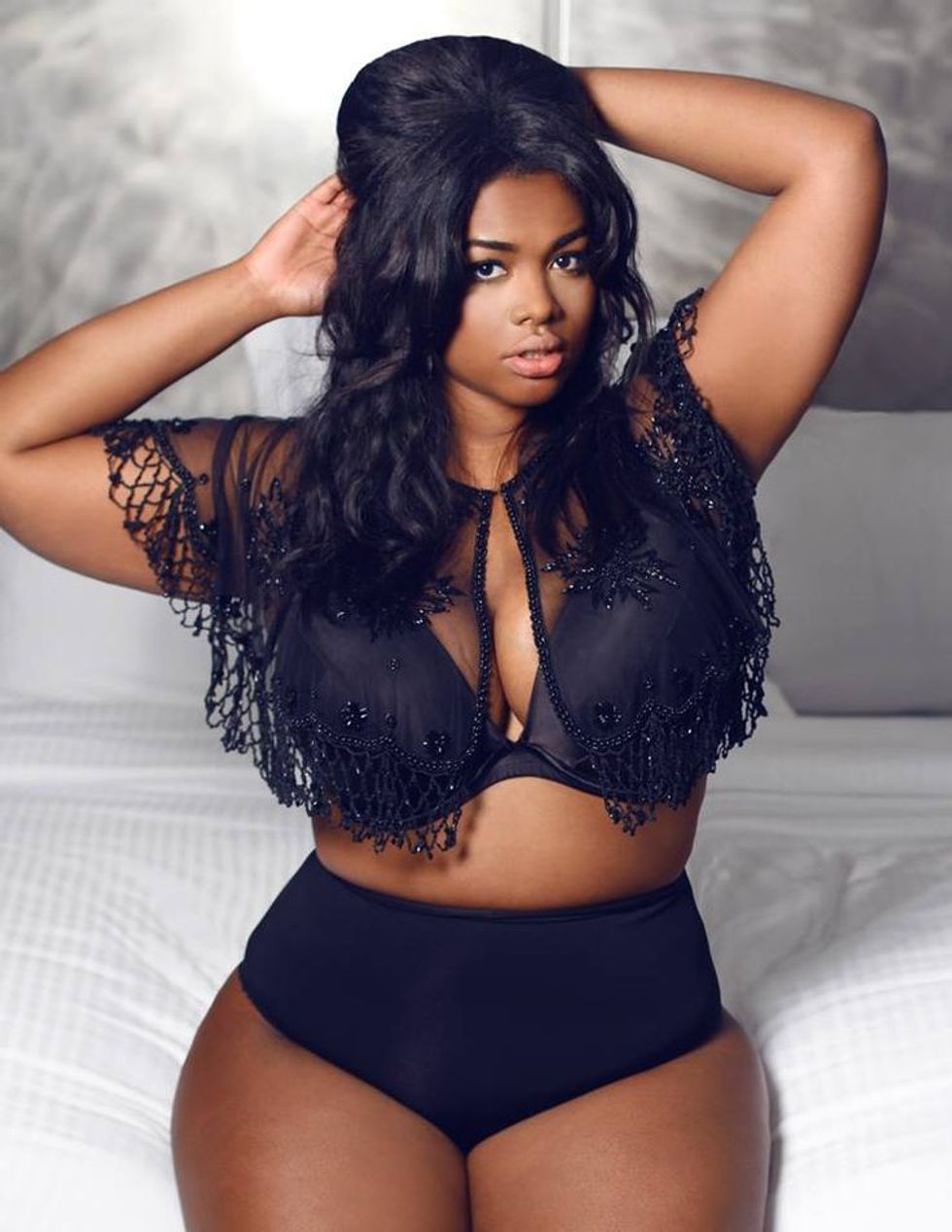 Model Precious Lee spoke with People magazine about the #ThisBody ad and how many retailers are simply missing out on underserved "billion dollar industry."
"I don't understand why designers wouldn't be capitalizing on such a huge part of the market," she says. "People don't know they actually make clothes in larger sizes, but you don't see them in campaigns."
But plus-sized clothing isn't always fashionable; sometimes it's just shapeless material constructed for necessity and not necessarily for style. And again, it points to a particular aesthetic that a designer envisions during his creation process, and it's that of a slender woman. Even most sample sizes are made in a size 2, which can be stitched and pinned down to a 0 for editorials and fashion shows, but rarely can they be extended and draped to fit a fuller woman. It wasn't until recently that curvier women were invited to rip runways in Fashion Week.
But this SI issue with a Lane Bryant ad is not only major because it targets a practically untapped $17.5B consumer market, but also because the shapely model is a Black woman, making her the first Black plus-size model to grace the swim issue! Granted, our faces sporadically grace conventional magazine covers and runways, but for mainstream media to consciously include a voluptuousness of brown? That's a fairly new concept. Even Lee didn't initially catch the significance of the moment.
"I didn't know exactly what I was shooting for until I was out on set. So I was truly surprised and I wanted to cry but I had to literally walk on set."
Lee, who also became the first Black plus-sized model to appear in Vogue magazine last September,  had this to say to Elle magazine about the intersection of body diversity and race:
"Well, I feel like there are diversity issues in media and fashion in general. There are so many different obstacles we have to get past. We have to get past not only size but also past the race issue. Being black and being plus is something that is a rare combo within this industry at this level, and I feel like it's important to continue to excel and progress so there can continue to be more and more and more. I don't think we necessarily have to stay away from talking about only size or race; they're important. It's a conversation that needs to happen. And people need to know. I wish that people focused more on diverse opinions and being able to change people's perspectives. That's going to be able to change other generations. That's what's most important to me. Us doing this, this happening right now, is going to allow girls that are teenagers now, for it to be normal for them. That is what a real revolution is."
Lee makes a valid point that being Black and plus needs to be an ongoing conversation if we want to change the perspective on what constitutes a "normal" body type or beauty period. But it seems that a huge segment that has a distorted viewpoint isn't just our impressionable youth but the media's readership and viewership, as evidenced by some of the derogatory comments I've read not just on this campaign but also on a recent Instagram post of a major cosmetics company where many Black women drop more than a few coins, including myself.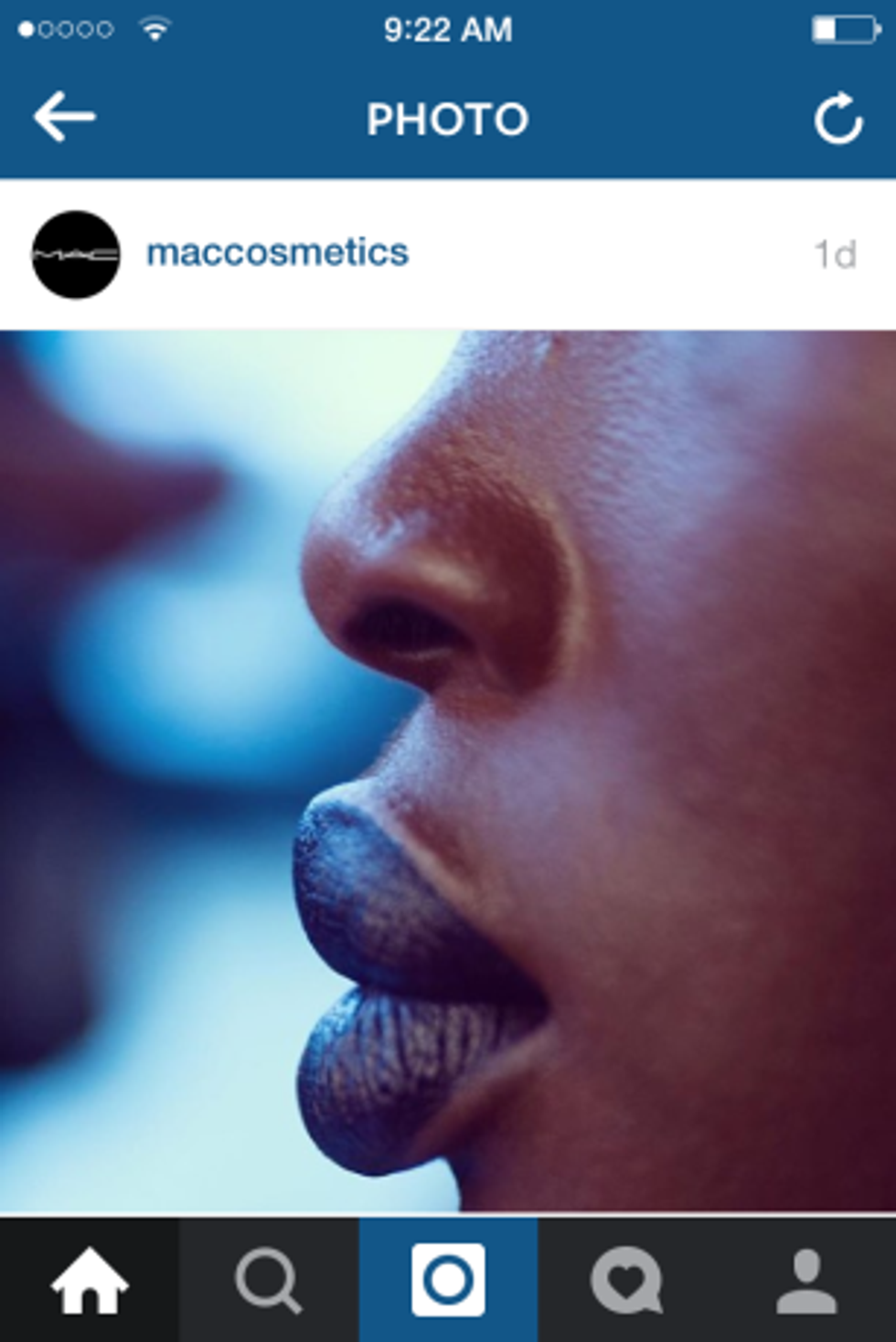 During NY Fashion Week, MAC Cosmetics posted a stunning close-up of Ugandan model Aamito Lagum's lips accentuated in a gorgeous, deep purple shade. Sadly, the photo summoned racist trolls, and MAC's comments were littered with offensive remarks from the hue of her skin to the fullness of her lips by haters who simply refuse to think forward. But Lagum flawlessly handled the hate:
"My lips giving you sleepless nights," she wrote on her own IG page. "Thank you @maccosmetics for this killer color and to that makeup artist. Get me 3 of these."
Drops mic.
Her response eventually inspired the #PrettyLipsPeriod movement on both Twitter and IG.
I'm still waiting on a response from MAC, who didn't address the blatant racism, though.
But that further underlines Lee's observation that plus-sized women are overlooked in the cosmetics industry, too, where size shouldn't even be a factor, and she hopes to eventually land a beauty contract.
"I don't really understand why you don't see plus models doing beauty. [In fashion], designers say it's a sample size, that's why you don't see plus models the runway, but beauty? Why aren't people using plus girls for beauty, for hair, for cosmetics, for skin care? I would love to do that. I would also love, love, love to do a really full-blown high fashion campaign where it's not completely focused on my size. I would love to do something really over the top, shot by Steven Klein, just completely glammed out and have it not be like, 'Oh, we have a plus-size model,' you know what I mean? Throw in a straight-size girl. I want to do a campaign where it's not so focused on size, where that's not even a conversation."
Both the SI cover and the Lane Bryant ad are revolutionary moments for a magazine that generally flaunts thinness as the standard. But we need more than just a random guest spot on one page so that our beautiful, brown, and curvy women aren't continuously seen as a rare phenomenon or attacked as a racial target.
In the meantime while the commenters continue to perpetuate ignorance, I'm going to continue to applaud mainstream media for openly promoting authentic body types and attempting to rewrite a message to reflect that beauty comes in all shapes, sizes, and color. But I still hope media and retailers clap back at the hateration next time instead of sitting on their hands in silence.