Growing up can already prove to be challenging for young Black girls. Our skin is darker, our features our broader and our hair is coarser. However, in a novelty box of Crayola Crayons, you're at least sure to find a near-perfect shade to color in your skin during Arts & Crafts.
---
But growing up Black with vitiligo-- where's the crayon for that?
This week, model Winnie Harlow stopped by daytime talk show The Real to surprise her biggest fan-- aspiring mini-model, April Star and it was easily one of the most heart-warming moments I've seen on TV this year.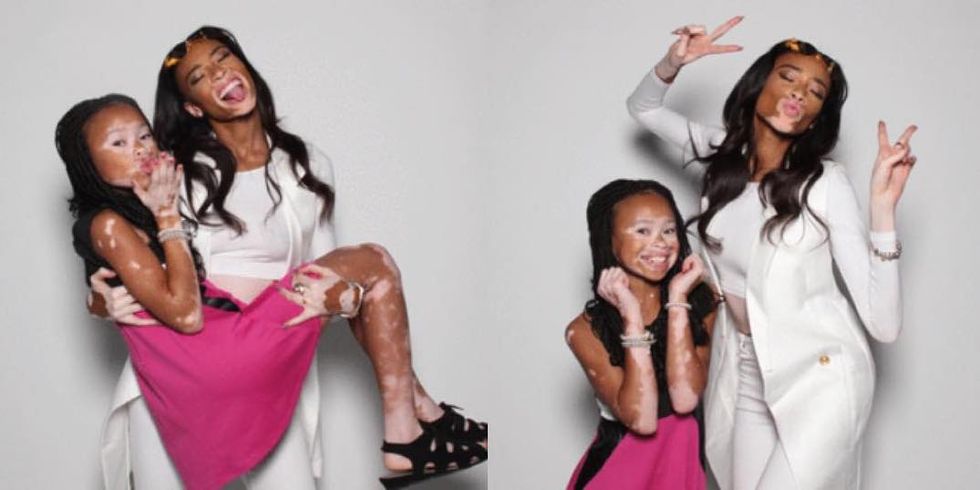 If you didn't already know, both Winnie and April both have Vitiligo-- an autoimmune condition that effects the even distribution of melanin across one's skin, resulting in "white spots" all over the body. According to April, Winnie's success in the industry has inspired her to not only want to model, but to also be an inspiration to young girls her age too! While on the show, the 10-year-old said:
[Tweet "Just because you are different, doesn't mean you can't make a difference."]
April, who was diagnosed with Vitiligo at the age of five when her parents took her to the doctor for a routine visit, admits it hasn't always been easy being the confident little diva she is today, although she wouldn't have it any other way. Having had the discoloration spread from just a few patches in 2012 to the majority of her skin by 2014, April got into modeling with the help of her big sister and manager, actress Yindra Zayas, who's goal was to help April build confidence in her condition. Once asked by a fans on a Youtube channel as to how she deals with her "haters," April smartly replied:
"Sometimes I would want a a cure for my condition. Because sometimes I do feel that way and sometimes I don't. But I'm very proud of myself now and I don't care what people say. When people stare, I ask them if they want a picture or I tell them they are 'staring at all my beauty!'"

April's School Pictures. On the Right, her in 2014. On the Left, Her in 2012.
April, who thought she was invited to The Real to solely discuss her rising career and her skin condition, did not expect Winnie's arrival, especially since it was in the middle of the busiest time in a model's career- fashion week! As a matter of f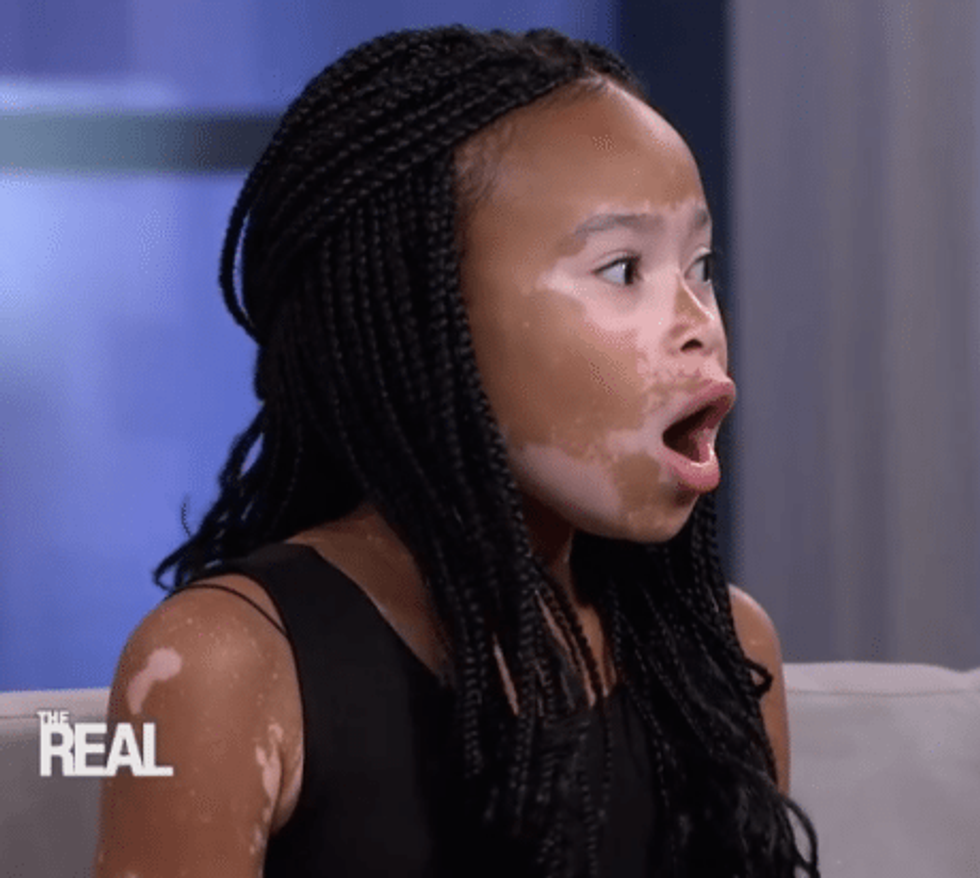 act, the 21-year-old Harlow was phoned on-air  by way of host Jeannie Mai-- but in the middle of apologizing to April for her absence, (while wishing
she could "give her a hug"), Winnie walked out and nearly brought the petite "Star" to tears.
Within minutes the entire audience was in tears after Winnie took her seat next to April and was overwhelmed with emotion after her 'mini-me' told her, "You are probably the most confident person that I know." Winnie burst into tears and confessed to her that, unlike April, her confidence is actually very brand new, further adding that she only wishes she had had April's courage at her age. Winnie said:
Every time I see April all over the Internet, I see the little girl I could have been at her age. The confidence I have now I had none when I was her age. So when I see her all over the internet and social media, I wish I had all that confidence. She's really the embody of me right now [at my age of 21].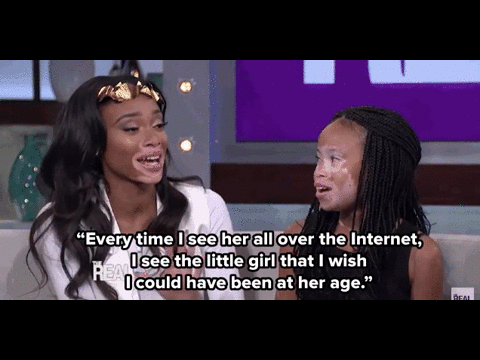 Winnie even admitted that she dropped out of high school because she could no longer take the bullying:
"Most of my bullying happened in Middle School. Elementary school, I had a lot of friends and they were coming from being little kids. But as kids get older and a little emote knowledge to certain things, they tend to get meaner. So a lot of the bullying started there. It carried on to high school, I ended up dropping out of high school because I couldn't take the bullying anymore. But I didn't like that I allowed bullies to make the impact on my life and I made sure that, that didn't happen ever again."
When host Tamar admitted to struggling with Vitiligo as a child (the chances of acquiring the autoimmune disease is 1 out of 100, but the odds increase to 1 out of 20 if a parent has it), the cast asked Winnie what advice she'd give April, to which Winnie replied:
I don't think she needs any advice. She is perfect. She is headed in the perfect track. She is a step ahead of where I was at her age.
Beautifully said. And what a powerful example of how inspiration can be passed down and come back around. To see Winnie be tearfully moved by a girl half her age, only proves there are no limits to who inspires us. However, it is also the cover girl's success that initially helped April feel she could win in the skin she's in. That is why it's so crucial that while we're in a moment of celebrating diversity amongst all women (cc: the Black Girl Magic at this week's Emmy's), that we not exclude the diversity amongst ourselves (Vitiligo, albinism, etc.)
In a society that can be very linear when it comes to defining one's beauty, it's safe to say that Winnie and April are helping to redefine beauty and diversity each day.
Spot on!
Catch the amazing moment below: