If you like it, you should wife it.. and throw a ring on it!
...And of course a dazzling red ruby for your number one "ladybug" is always idea!
---
It was just a couple months ago we were in complete awe of Teyana Taylor's pregnancy news and her success with giving love another shot and today, we celebrate Teyana the fiancée!
Over the weekend, singer Teyana Taylor and Cleveland Cavalier's own Iman Shumpert celebrated their baby shower turned low-key engagement party. Hosted by media-maven Karen Civil, the theme was "The Royal Shower," with Teyana and her man dressed to the nines in matching black and gold and matador-inspired blazers. Tey was spotted rocking her #ShumpBump in a form fitting black gown from designer Duckie Confetti.
Overall, the couple, who have affectionately nicknamed their daughter "Junie" for the time being, looked absolutely adorable.
And then, something pretty amazing happened.
In the midst of the celebration, Iman took hold of the mic, got on one knee and proceeded to propose to his boo. Addressing her as 'Teyana J. Taylor," Iman could barely get the words out before guests were screaming and Teyana broke out hysterically crying, being so overwhelmed with love, that she actually mouthed the words "Oh my gosh, stop!"
Aww!! The look on Iman's face when he was trying to silence everyone so he could gather his thoughts though: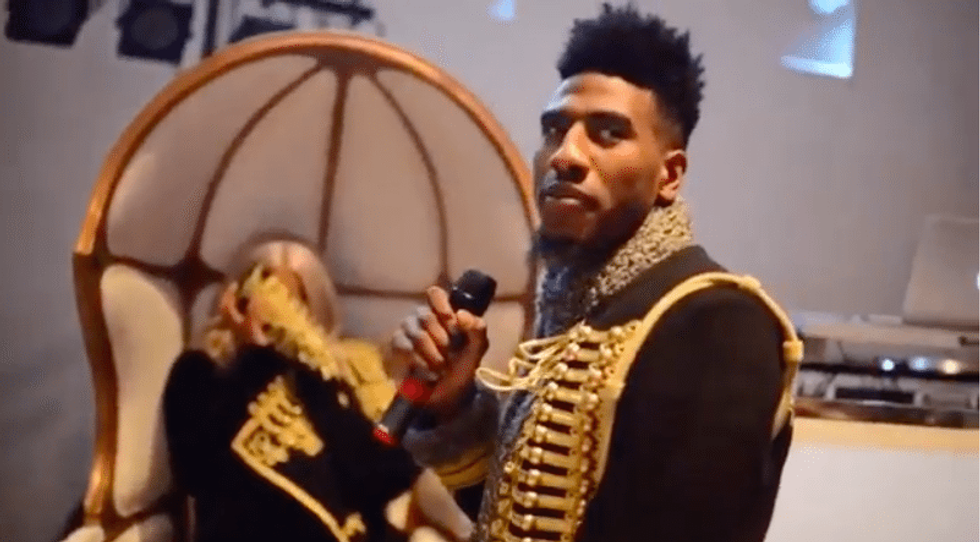 You can tell Iman practiced this speech a few times, and all that screaming was not letting him be great. Ha!
Teyana's mom, Nikki Taylor, revealed on Instagram moments ago that Iman had been planning this for well over a month, wishing her daughter and future son-in-law her best wishes:
"This was the hardest secret to keep, in all the history of secrets!! @imanshumpert I felt like I was going to burst!! Even though I knew what was coming for over a month, judging by my explosion of tears, you'd think I was as surprised as everyone else! Lol. Congratulations again to you both, @teyanataylor love you to life!"
Just last year, Teyana opened up about how she met Iman and found love when she least expected to. Teyana reveals that their first "date," was not a date at all but rather, a friendly drop-in to say hi to her new, New York City neighbor.
"I went over [to where he was staying] and this dude was walking around limping, everything bandaged up. Come to find out, he had surgery on his knee. So I walk in and I'm like, 'Who is taking care of you? Who is here?' He was literally limping around, nobody helping him, nothing. So that whole week, I was coming over everyday. Making sure that he was good. It's just so amazing because at the time, I had gone through a really bad break up, and he had gone through a break up. And we were just really there supporting one another.

That's the funny part, two people that weren't looking for that. We were on some 'I need time to [heal],' you know what I'm saying? And two people that weren't looking for [love] and that winds up happening."
Iman is no stranger to bringing tears of joy to the eyes of his future-bride. Just last year, during her first concert ever at SOB's in New York City, Teyana broke down as she emotionally revealed:
"[Iman] wakes me up everyday morning breath and all and tells me how lucky he is…and he don't know how lucky I am. He's so amazing (starts to cry) I'm crying because I can exhale. Finally... my heart is so good right now!"
Beautiful! Check out the gallery for all the wonderful pics from the couple's Royal Baby Shower: