"Just in case you haven't noticed, I am black."
---
We all may have some variation of opinion when it comes to reality TV and how its not as "real" as it claims to be, but for Love and Hip Hop: Miami, this season seems to have a glimmer of hope. And it's in full-figured shape and unapologetically Black as hell. Luscious afro included.
Afro-Latinx artist Amara La Negra made her debut on LHHMIA this season and on Twitter feeds everywhere in the past 24 hours. A video went viral of Amara engaging with a producer named "Young Hollywood" in the studio, where his head-ass remarks took up all the extra space. In the clip YH told Amara that she needed to be less aggressive in her appearance, because afros aren't elegant. He then proceeded to call her a "nutella queen" and state that she was acting psychotic.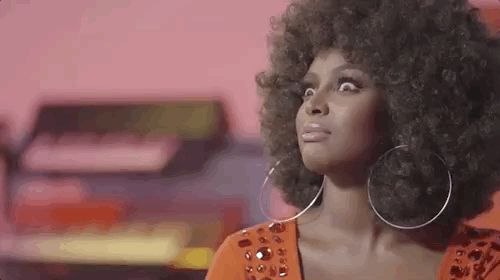 The video clip, where we can witness Amara gracefully holding her own against the gaslighting remarks of Young Hollywood is just an introduction to the Afro-Latinx artist asserting the beauty of her skin in a place where it is clearly not welcomed. Though the video is sure to evoke the boiling of blood, it was also a moment of complete uproar in support of Amara. It's a sad reality that Young Hollywood is a personification of many of the problematic limitations that exists in industries of entertainment, music, and fashion.
Attitudes and behaviors rooted in colorism, eurocentrism, racism, and misogyny are present and create a resistance for Black women to thrive as themselves; however, Amara is a great representation of the lack of tolerance that is ready to fight back.
This conversation made me so mad. It's sad that people actually think like this. https://t.co/bWofupXgdc

— I Luh God ✨ (@I Luh God ✨)1514925829.0
Amara wants us to know that not all Latinxs look like Jennifer Lopez or Shakira, and in her difference, she is even more proud of the way her hair curls and the color of her skin.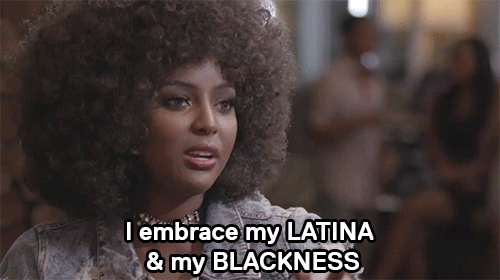 Coming from a country where former beauty queens use blackface to mock you and ridicule the very things that render you proud, Amara's mere presence as a proud Afro-Latina who considers herself Black is a rebuttal in the face of a systemic problem. That systemic problem dresses up in designer, roots for Beyonce, tells you they voted for Obama, but calls you crazy when you assert your pride in who you are, when you get down to the roots.
This problem tells you that there is no space as an Afro-Latinx in the music industry. This problem exists as anti-Blackness and it seems to be confused that Afro-Latinx is a real identity.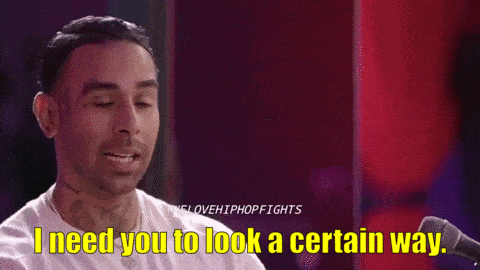 In the spirit of 2018, we're tired, and we're not having it. We're riding for Amara the way she is riding for the rest of us. With the rise of Cardi B, we saw the magic in being unapologetically yourself and not backing down from your authentic self when the world tries to peer pressure you into being someone you don't recognize. Amara is a great example of fully embracing your roots and who you are and using it to not only differentiate yourself from a saturated industry but to instill an emotion of pride in those around you.
For many of us, watching the video clip that went on Twitter would be enough to claim we are not watching the show, but Amara had other words for us.
Please don't say you wont watch the show because of what happened to me... because of what Hollywood said. Thats th… https://t.co/2Py992gE7r

— A M A R A (@A M A R A)1514932403.0
To grow from it, you have to go through it.
It's important to see Amara La Negra embracing her background and where she comes from. I can only hope the best for Amara and her journey as a musical artist and an entertainer on LHHMIA that it remains grounded in her roots and that no one tries to dilute her truth. It is becoming more and more evident that the future is female and that authenticity is becoming a way of guidance and true inspiration. In the fight against many oppressions, being your whole self is the only way to defeat the haters. Amara just scored a multi-album record deal to twirl on her haters with her elegant afro and I couldn't be more excited.
In a fight against anti-Blackness, we want Amara to win, because it's a win for all of us.
Black Twitter assembling to ride for Amara La Negra when someone says some ignorant mess, whether we're Latino or n… https://t.co/eRDv7uTHCO

— Isha Thorpe (@Isha Thorpe)1514859918.0
*Editor's Note: "Latinx" is the gender-neutral term for Latin, Latinos, and Latinas people.