Holidays in Hollywood!
Celebs were in full-blown Christmas spirit this year, and of course they made sure to capture the moments with more than a few festive family flicks. Check out some of our most honorable and (hilarious) Christmas photos, from the first family of the united states to the first family of hip hop (Oh hey Combs' crew), peep our favorite holiday pics below!
---
Check out some of our favorite celebrity Christmas cards and photo shoots below!
North Pole at the White House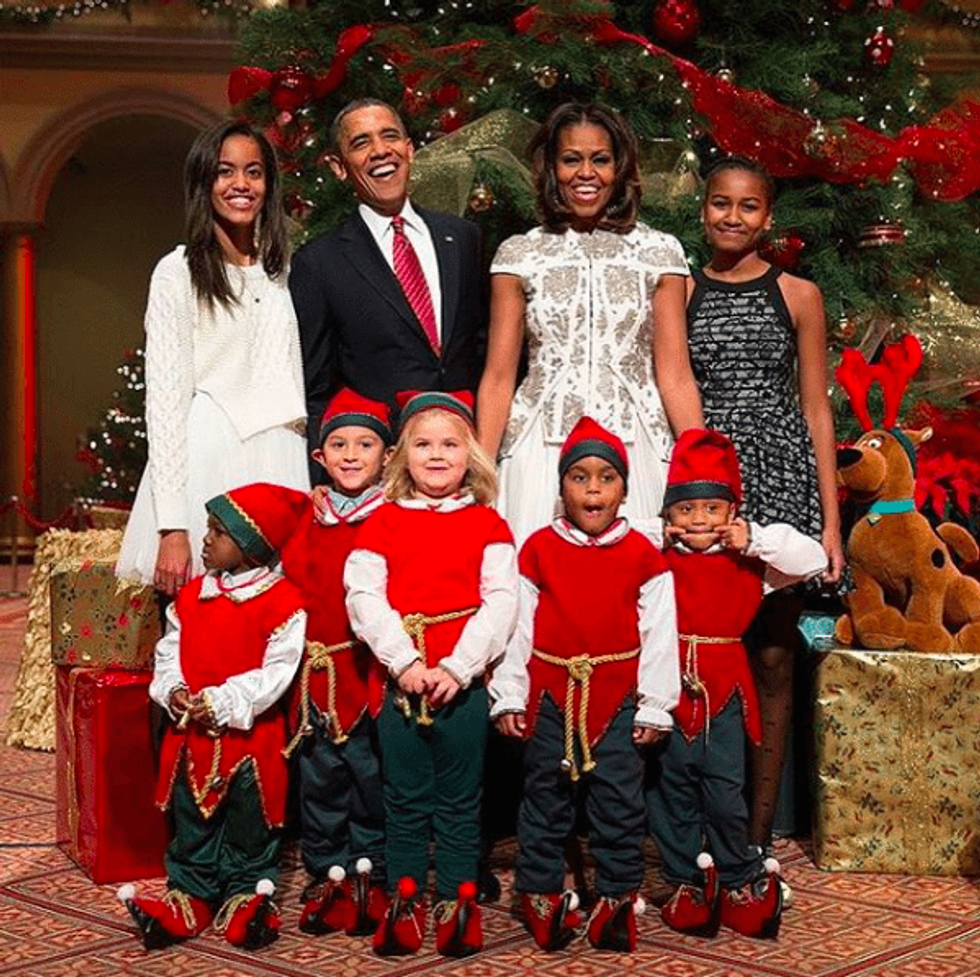 It felt 100% like Christmas over at the First Family's home, if you couldn't already tell by the elves! President Barack and First Lady Michelle Obama, along with daughters Sasha and Malia, were in the Christmas zone yesterday, thanks to a few of Santa's helpers. How cute!
A very, Curry Christmas!
Speaking of first families-, NBA's First Family of 2015, Ayesha and Stephen Curry, had plenty to celebrate this year! Aside from an infinitely successful year in sports, it was the couple's five-month old daughter, Ryan's, first Christmas! How sweet!
The couple was also sure to dress up in matching red onesies later to join the rest of the Curry Crew for an evening of holiday cheer, including dad and mom, Dell and Sonya Curry, sister Sydel and her boyfriend, brother and fellow NBA Sacramento Kings' player, Seth Curry and more. Good times!
Queen Bee and Her Mini Me Underneath the Christmas Tree!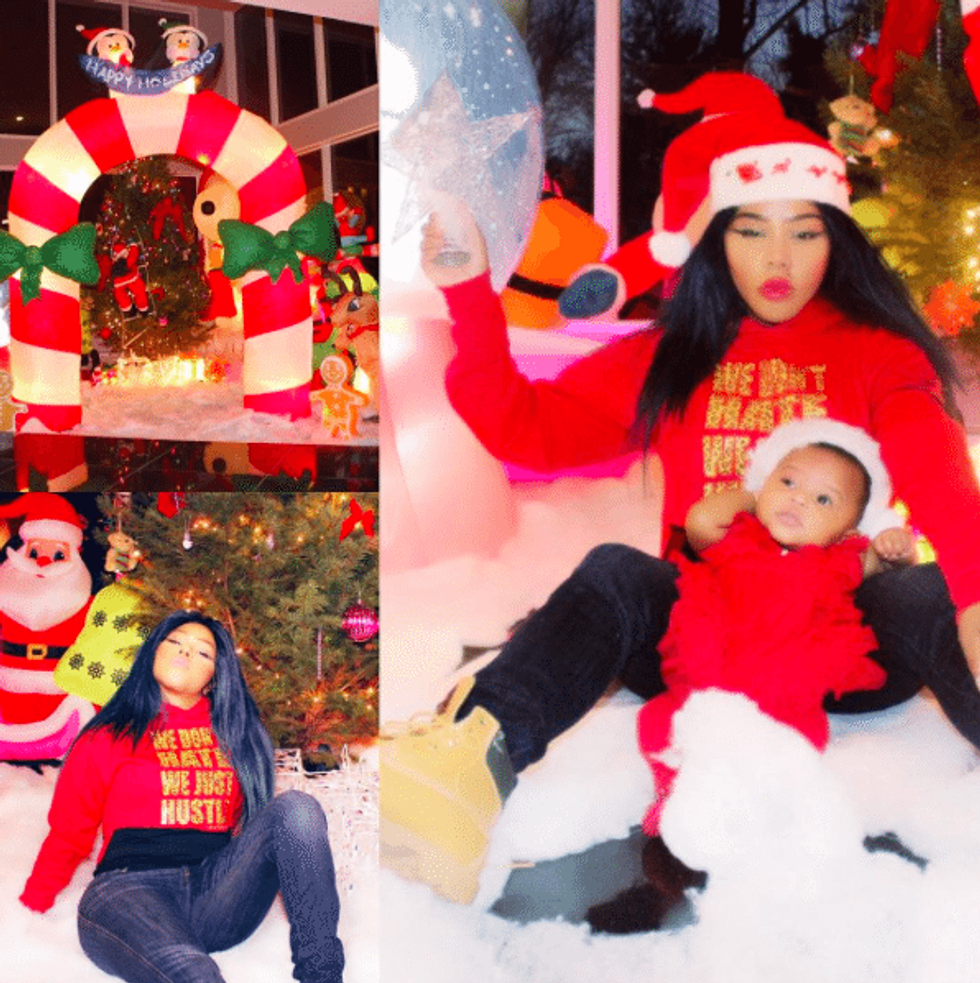 Mommy daughter Christmas on Fleek! Rapper Lil' Kim was both Mrs. Clause and the boss in her hoodie and Timbs for Christmas. Posted up under the tree with her mini me, the 41 year-old rapper and mommy was all smiles and smooches with her greatest blessing- her daughter Royal Reign.
A Royalty "Chris"-mas for Little Miss Brown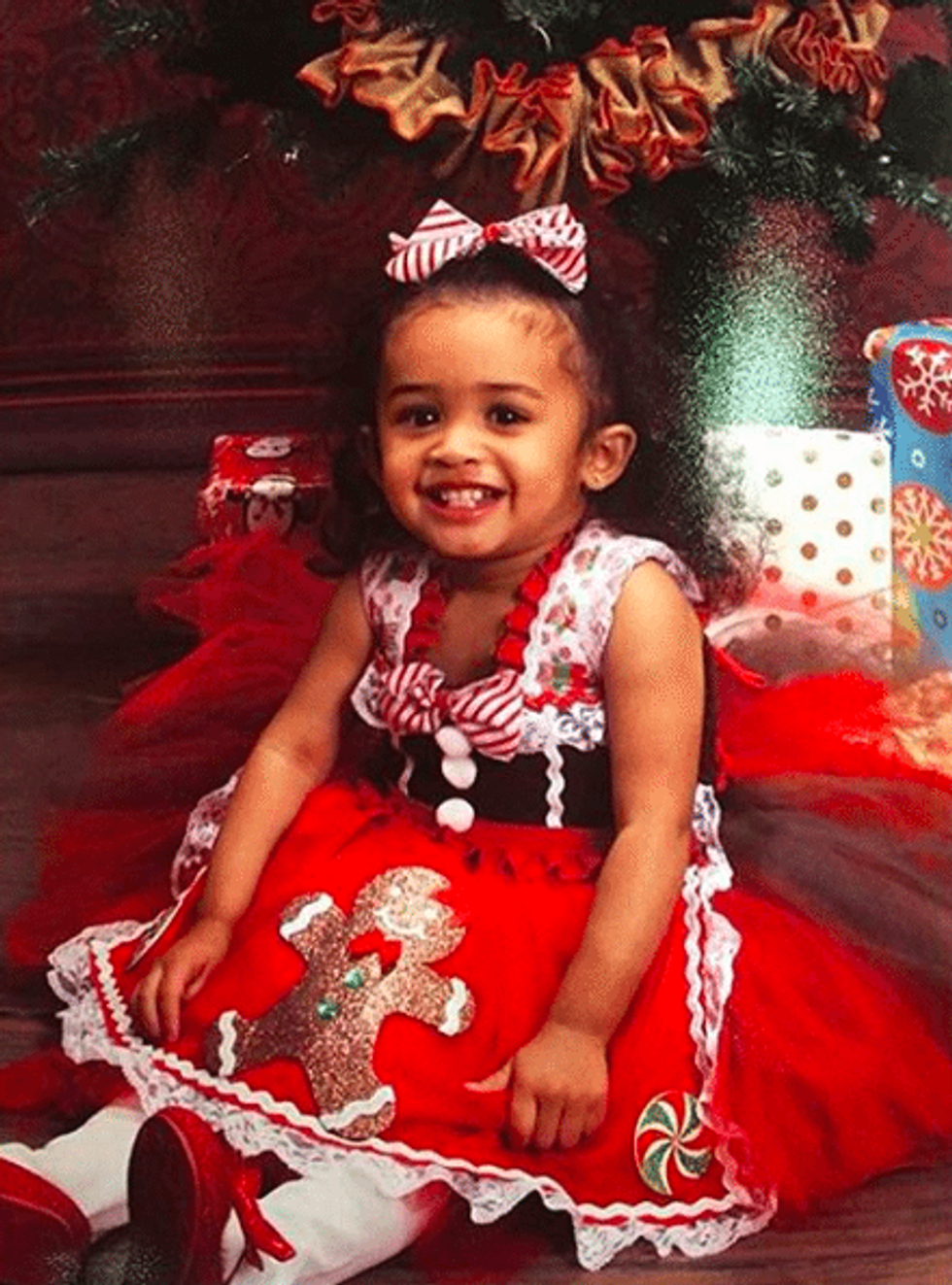 How cute are we?! Chris Brown's daughter celebrated a Christmas true to her name- full of royalty, gifts and plenty of spoiling fit for an R&B princess. Chris Brown also named his newest album Royalty in honor of his daughter and his greatest gift in life to date!
Diddy's Little Helpers
We all know hip hop mogul, Sean Diddy Combs', greatest joy is his girls and boys! The Combs' clan got together for the holidays and got silly with the bows for a few fun flicks. Daughters Chance, Jesse and D'Lila (twins), son Quincy and son Christian all enjoyed their holiday together as a big family.
A Wiz Christmas!
We them boyz! Wiz Khalifa spent Christmas with his love- two year old Sebastian Taylor Thomaz! The dynamic duo were also with mom Amber Rose. According to Amber, Sebastian asked Santa for a "Skeleton" for Christmas since he is obsessed with bones, anatomy and the functions of the body (and anyone who follows Sir Bash, knows he is a child genius who learns one new word and definition a day, thanks to mom!) Since getting the skeleton, Sebastion has spent the majority of his past 24 hours feeding it and treating it (he says it was sick). How cute!
Swizz the Season!
Swizz Beats and wife Alicia Keys had a full house with the kids this Christmas! Aside from son Egypt putting the star on top of their big tree, plenty of presents and lots of joyous laughter, Swizz also whipped up a big stack of pancakes for his favorite girl in the world, his daughter Nicole Dean. And seeing as to how she is the only girl- you know she is spoiled! Can we say twins?
Oh Come All 'Lee Faithful!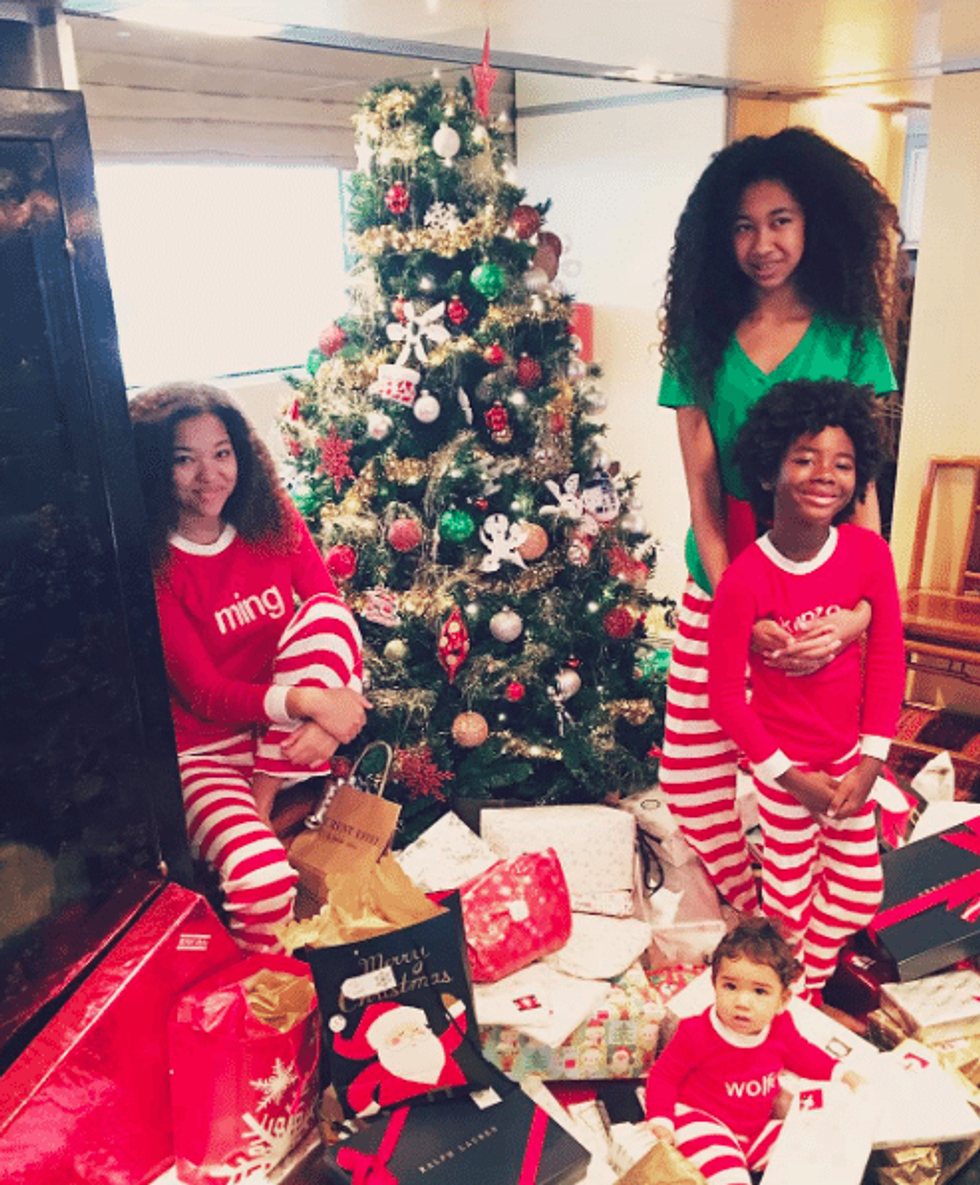 And then there were 4! Kimora Lee Simmons was all in the Christmas spirit with her 4 bundles of joy. The mommy snapped a pic of all four of her kids by the Christmas tree- including daughter Ming Lee (15), Aoki (13), Kenzo (6) and Wolfe Lee (8 months)!
Santa Bey-Bey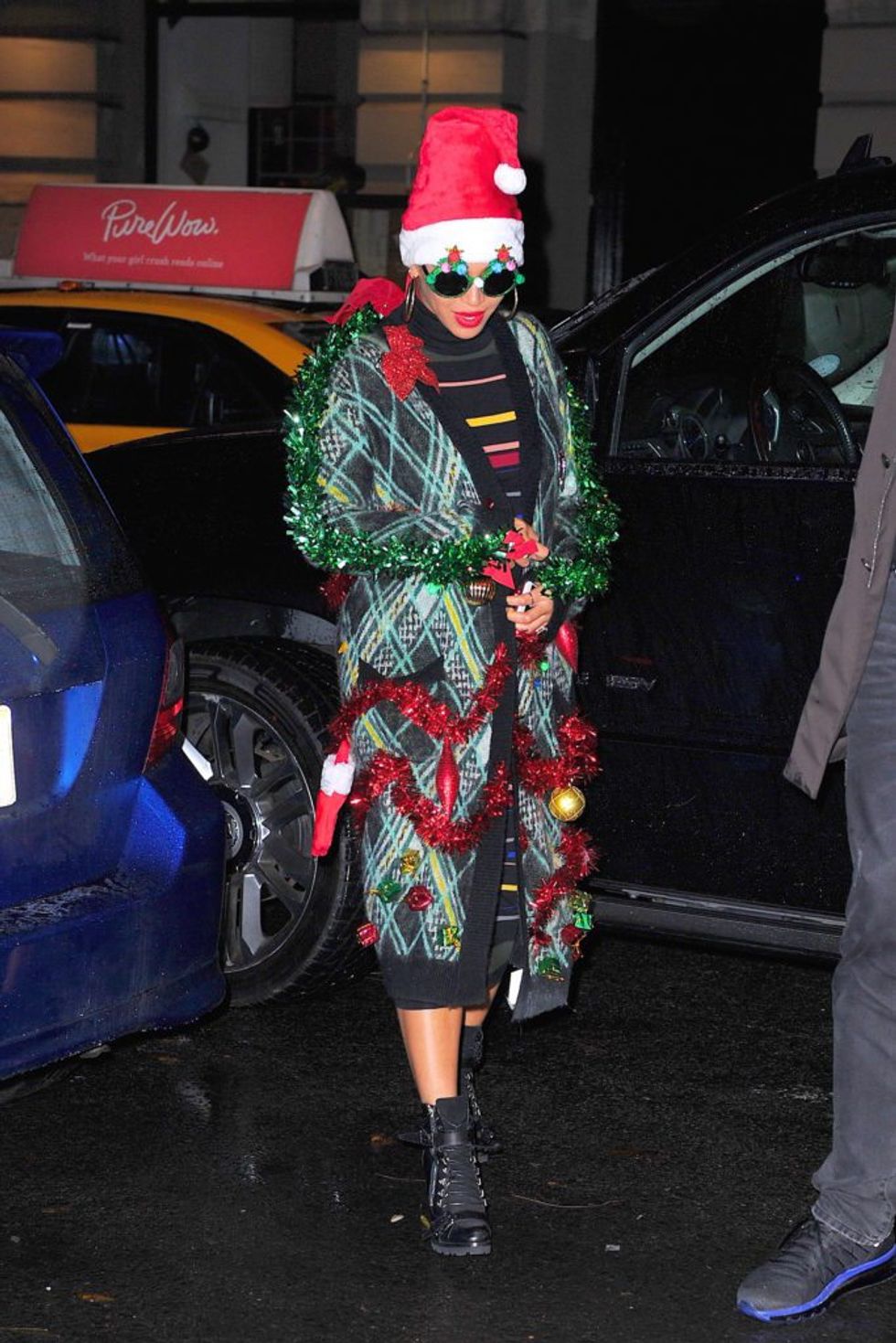 Meanwhile, while most folks got into the Christmas spirit about a week ago, Beyonce was ready for Christmas like nobody's business from the jump. A few weeks ago, Bey was spotted leaving her office in New York and possibly heading to an 'Ugly Christmas Sweater' party (either that, or she hosted one for her staff). Either way, if crazy Christmas sweater was what she was going for, she sleighed.
Toys 'R Us King.. or Kid?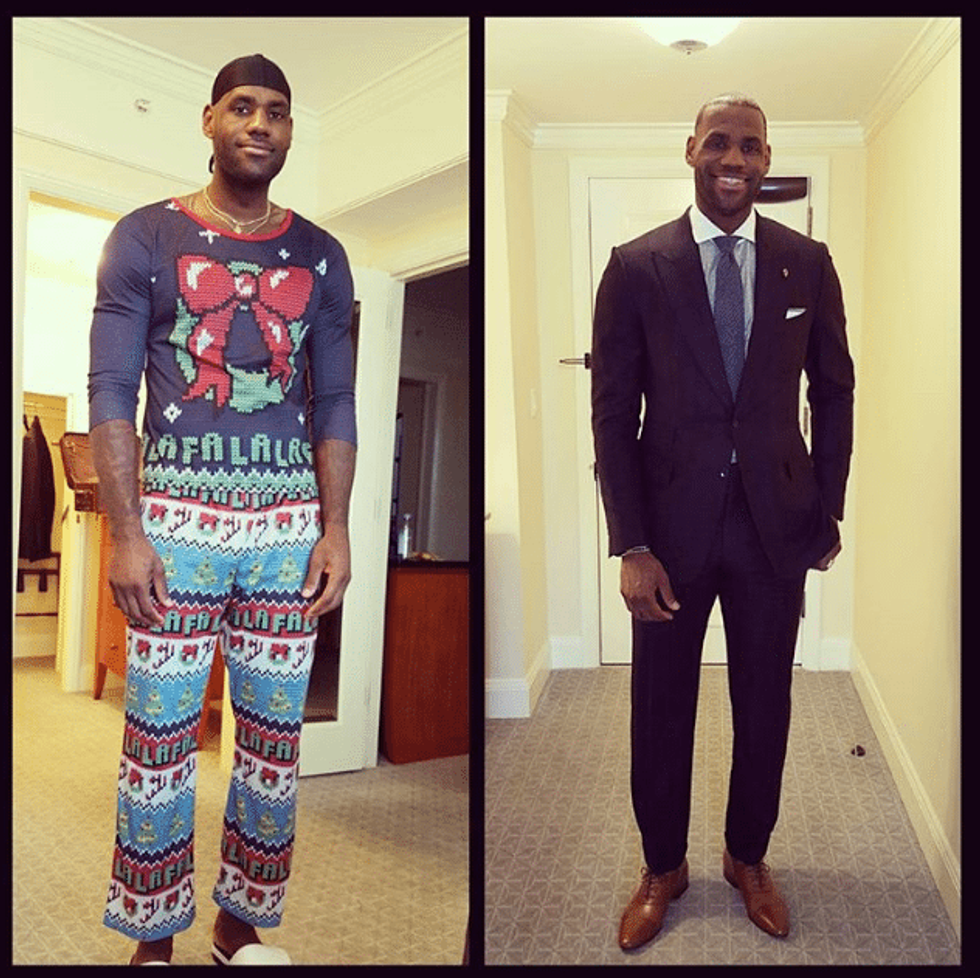 A pajama set fit for a king? Not quite! Lebron James was a big kid this Christmas in his "too-small" onesie. We guess one size doesn't fit all when you're that tall. Ha! In other news, he was too sharp in his suit earlier in the evening. 
Wade-Deer Games!
The Wade family were a blast from the past for their 2015 Christmas Card theme. Gabrielle and Dwayne Wade were joined by Wades two sons, Zaire and Zion and nephew Dahveon for a 1970's theme Christmas card photo shoot. It was a vintage family affair as Gab and the her guys rocked out in bellbottoms, platform shoes, throwback blouses and faux-fro's. Even the dogs got in on the games! Ain't no funs if the dogs can't get none!
The Posh-Bosh!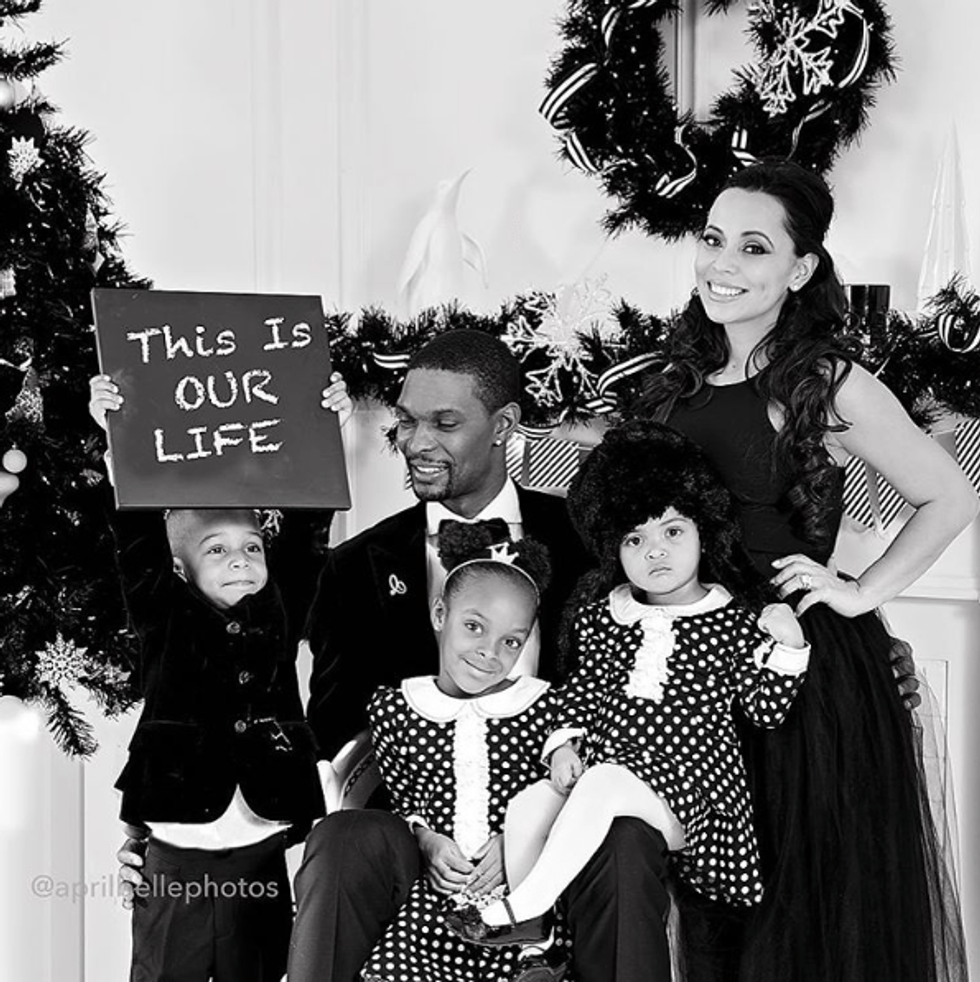 Leave it to another Miami Heat player to keep the holiday flicks lit! Although opposite in theme of team player Wade's retro Christmas pics, Mr. and Mrs. Bosh looked Posh for their holiday cards. The husband and wife, who are currently expecting twins (two boys!) were joined by children Trinity, Dylan and Jackson. Classy!
Welcome to the Housley Party!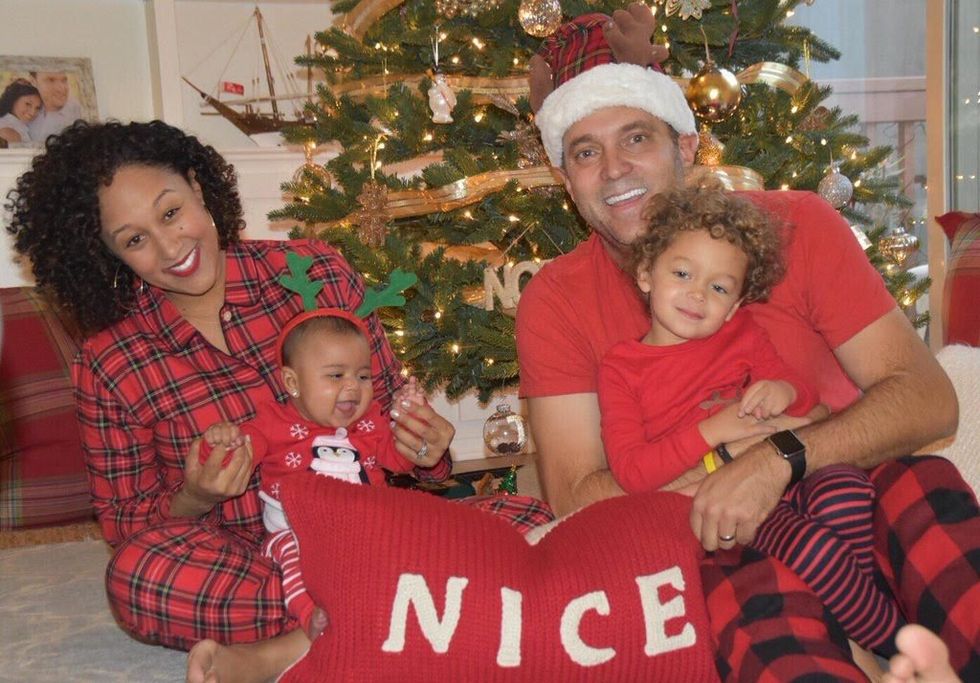 Tamera Mowry-Housley and husband Adam Housley kept it simple and chic for a quick Christmas pic. Joined by their cute kiddos, two-year-old Aden and six-month-old Ariah, the actress and The Real cohost was all smiles with her news anchor hubs as the party of four coordinated in all red by their Christmas tree.
Jhene-ngle Bells!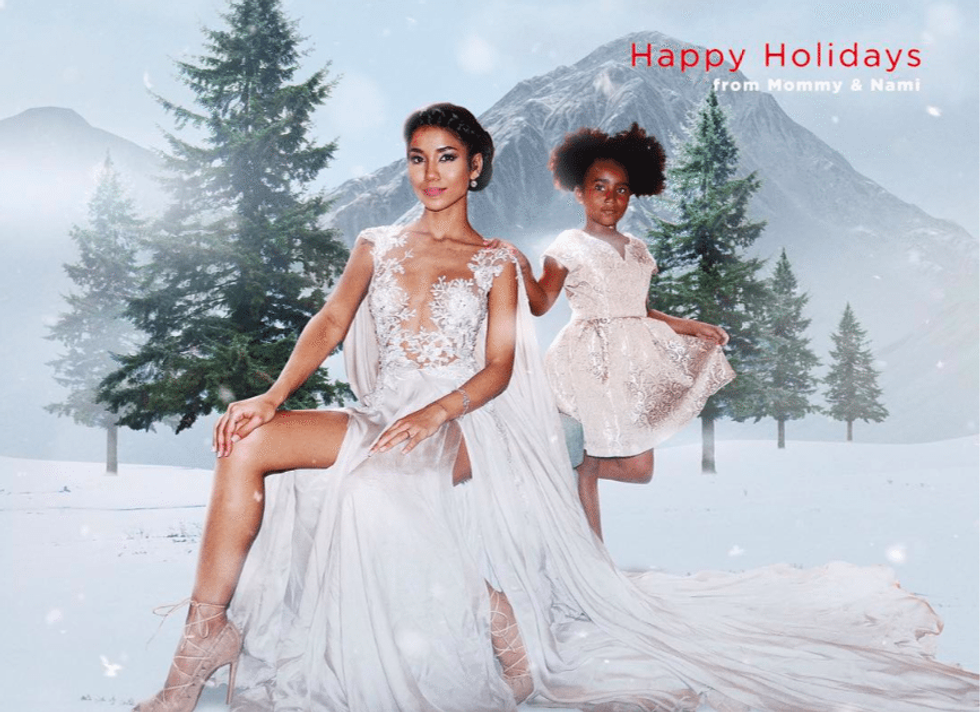 Jhene Aiko and daughter Namiko Love were the perfect pair for their 'Mommy and Me' Christmas card theme! The singer and her seven-year-old daughter kept it classic with an all-white snowy flick as Jhene rocked a beautiful frost colored gown and Nami was flawless in there champagne colored frock fit for snow princess. Cheers!
Keepin' Up with "Kristmas" -- Kids Edition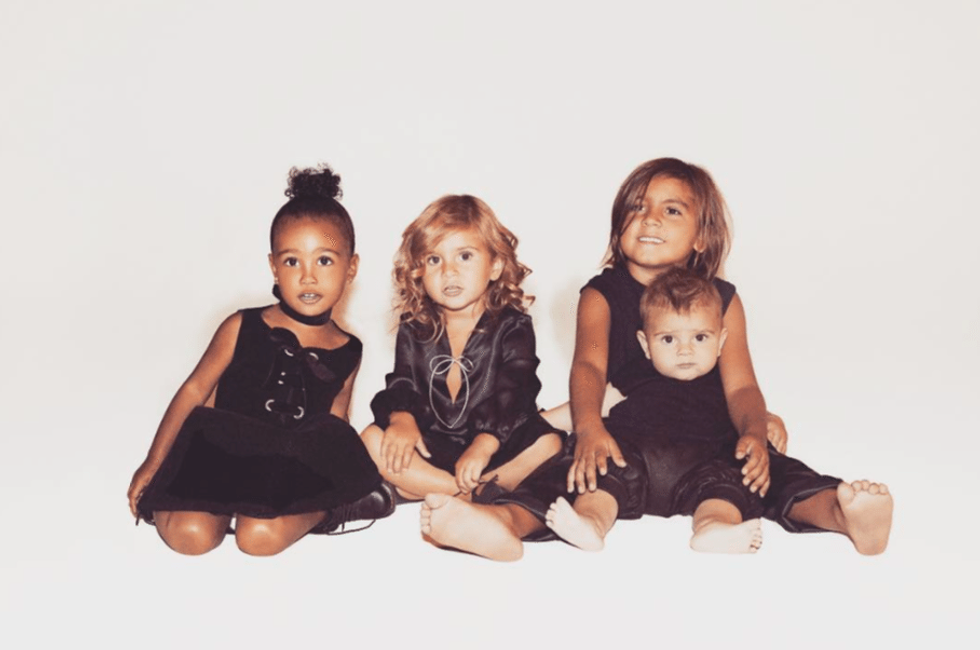 OG Kardashian girls Kim and Kourtney got their kiddos together (minus one 'Saint West') for a kids-themed Christmas card shoot. Kim and Kanye's daughter, North West (2), posed alongside cousins, bestie Penelope Disick (3), Mason Disick (6) and Reign DIsick (1). Too cute!
Bryant Night, Holy Night!
The Byrant Family kept it royal in all purple for their holiday pics! Lakers' legend and NBA icon, Kobe Bryant (who recently announced that he'll be retiring after this season), looked dapper with wife Vanessa Byrant as the couple and their daughters were sure to crush it in all velvet. Gorgeous family!
A Star is Born!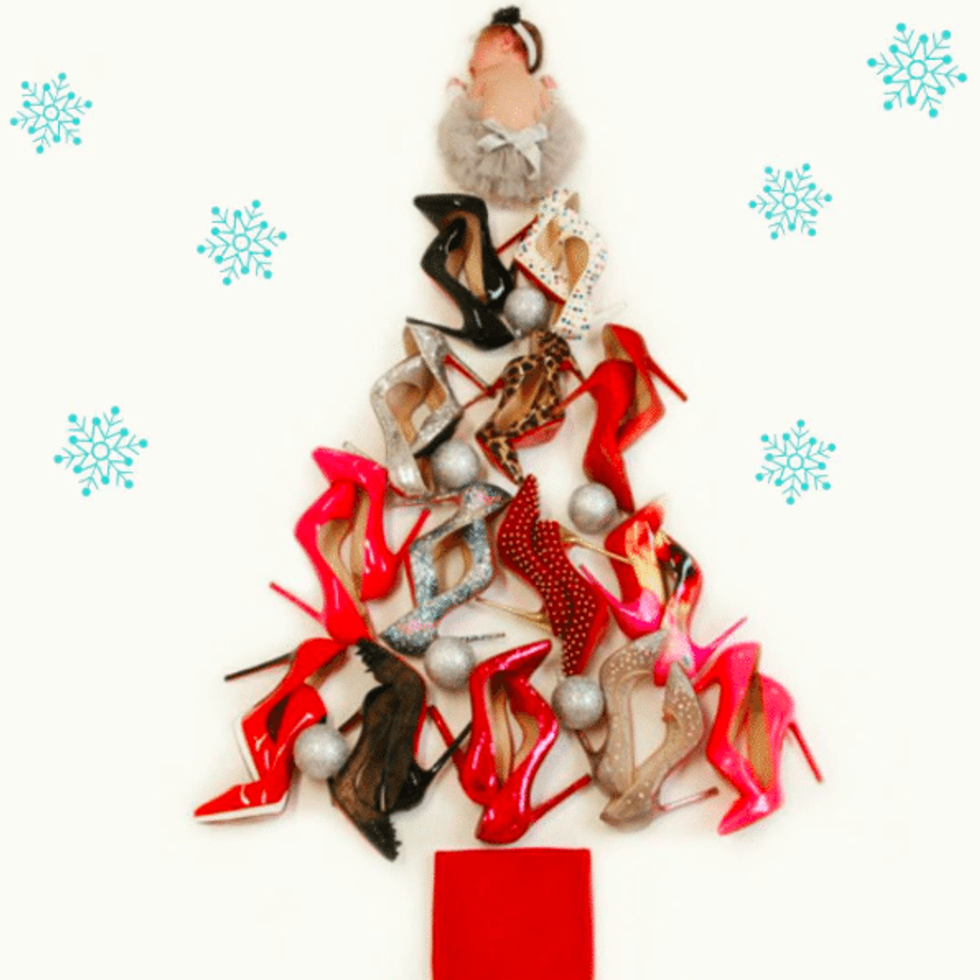 Guess the baby! Better yet-- find her first!
Oh yes, there she is! Rapper and actor Ice-T and wife Coco welcomed their first daughter, Chanel Nicole last month, and already she is quite the star-- literally! Perched on top of a "shoe-tree" for a special Christmas photo shoot, the newborn's holiday flick was the center of family attention for the couple's Christmas card this year. At only one-month old, Chanel is a diva!Santas 
Check out way more celebs and their families spending Christmas together, including Christina Milian, Ciara and Russell, Monica Brown's beautiful kiddos, Omarion and Apryl and many more!