Soul Music showed up and showed out last night at the Soul Train Music Awards on Centric TV. It was truly one of the best awards show of the year, with plenty of laughs, swoon-worthy moments, and definitely some times where we were all singing along with the artists.
---
For real, it was lit.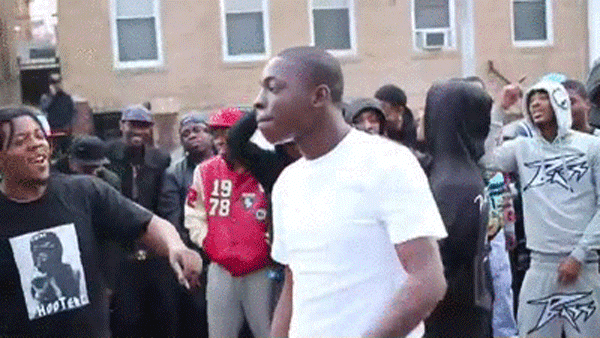 So if you find that your Monday is kind of "blah" after a long holiday weekend, these five moments from last night's awards will be all the motivation you need to get through the day, and back to your DVRs to relive those moments.
1. Tyrone Flips The Script.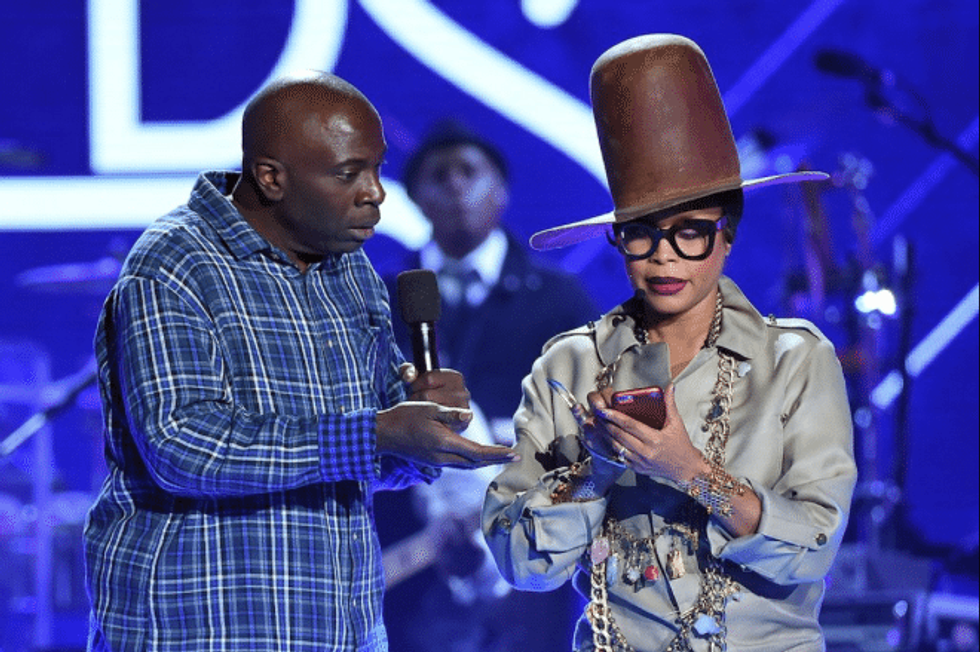 I must say that the beginning of the show was great, even with Erykah's blatant Iggy Azalea diss. But the real party started when Tyrone came on stage to tell Erykah that he was sick of his name in her mouth.
Yesssssss!!!!! You better call Tyrone! #SoulTrainAwards https://t.co/ntaQw7Y8xH

— BET (@BET)1448847616.0
The performance started when Erykah called out Tyrese for using his phone during the show. Then she went into the audience, and politely took Tyrese, and several other folks' phones while singing her latest release, "I Can Make You Put Your Phone Down." That segued into her singing "Tyrone," which drove the crowd crazy.
all black women when Erykah breaks into call tyrone... #SoulTrainAwards https://t.co/Aqtp4ldH25

— Deja M. Burt (@Deja M. Burt)1448847970.0
But Tyrone was sick of Erykah's mess, so he came on stage to confront her. He said,
"Hey everybody, I'm Tyrone. I ain't got time for this. I ain't Got Time.  Miss Badu, no disrespect, but you need to keep my name out your mouth. No, I'm serious! I've been driving to folks house, picking them up, and taking them to their momma's house for the last 18 years. Please!
He then gave Miss Badu friendly suggestion,
Won't you just do a song called "Don't Call Tyrone," okay?
Who would have thought that Tyrone turned the song into a moving business?
2. The Soul Cypher.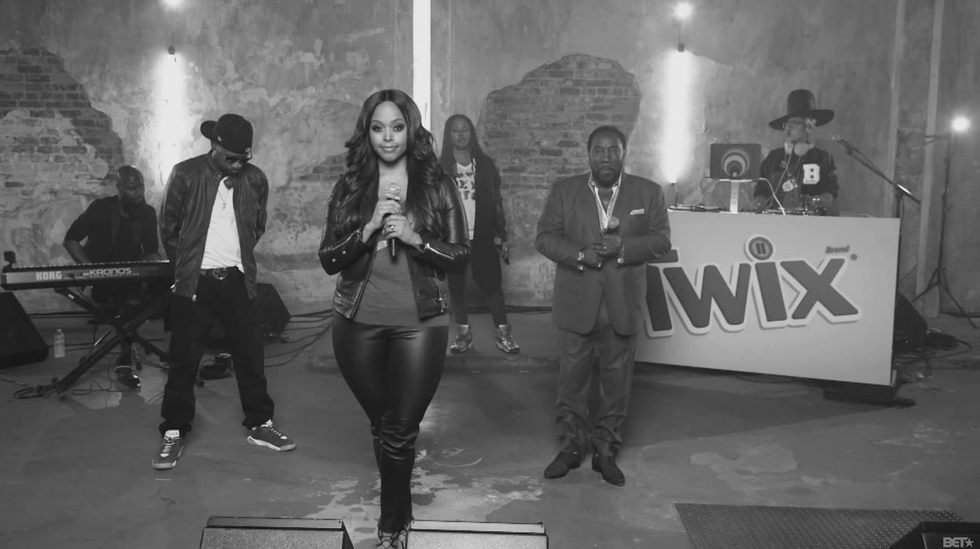 Now this performance was one of the highlights of the night. The Soul Cypher, which was a take from the BET Hip Hop Awards Cypher, resulted in an "eargasmic" soulful harmony that had everyone standing in their seats.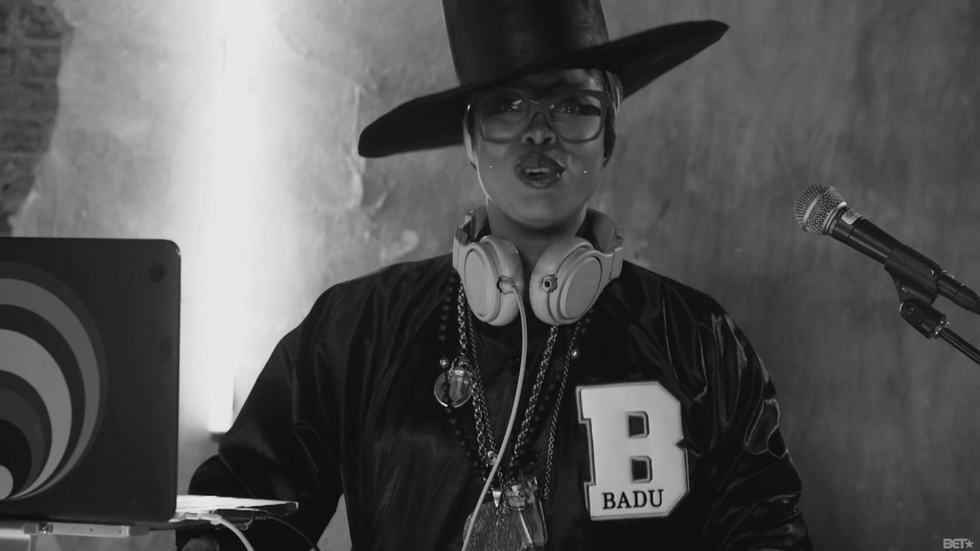 In the show, Erykah flipped on her DJ Low Down Loretta Brown swag, and hopped on the turntables to drop a beat for the first ever Soul Cypher. Backed by the Mobb Deep instrumental "Shook Ones," Chrisette Michelle, Lalah Hathaway, Eddie Levert, and K-Ci Hailey, took to the mic and belted out some soul that had the approval of basically everyone on Twitter.
Lalah is followed by Eddie Levert who finished the cypher with that backwoods, church tenor that blew everyone away.
3. Praise Team.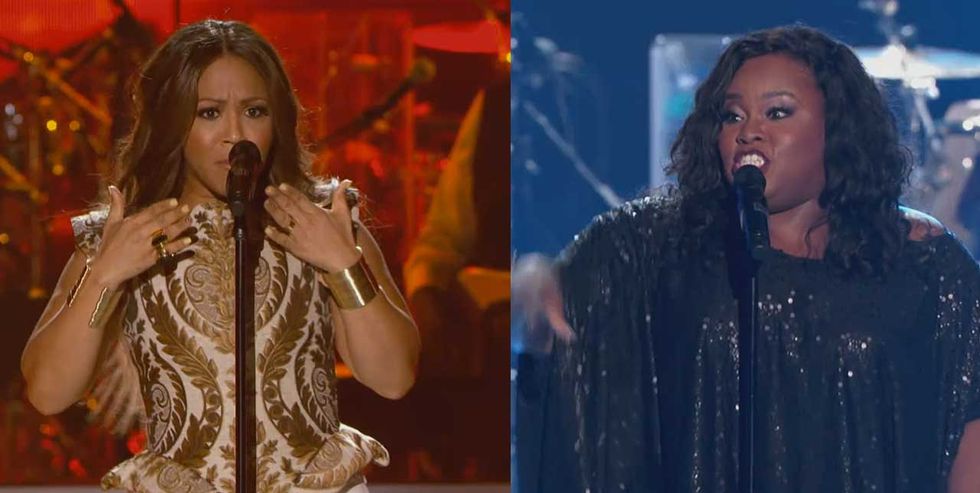 It wouldn't be the Soul Train awards if there wasn't a gospel performance, and Erica Campbell took folks out of their seats and into the church house with a show stopping performance of  "Little More Jesus." Her performance was followed by Tasha Cobb's "Put A Praise On It," which brought the house down. All of it.
4. Jill Scott.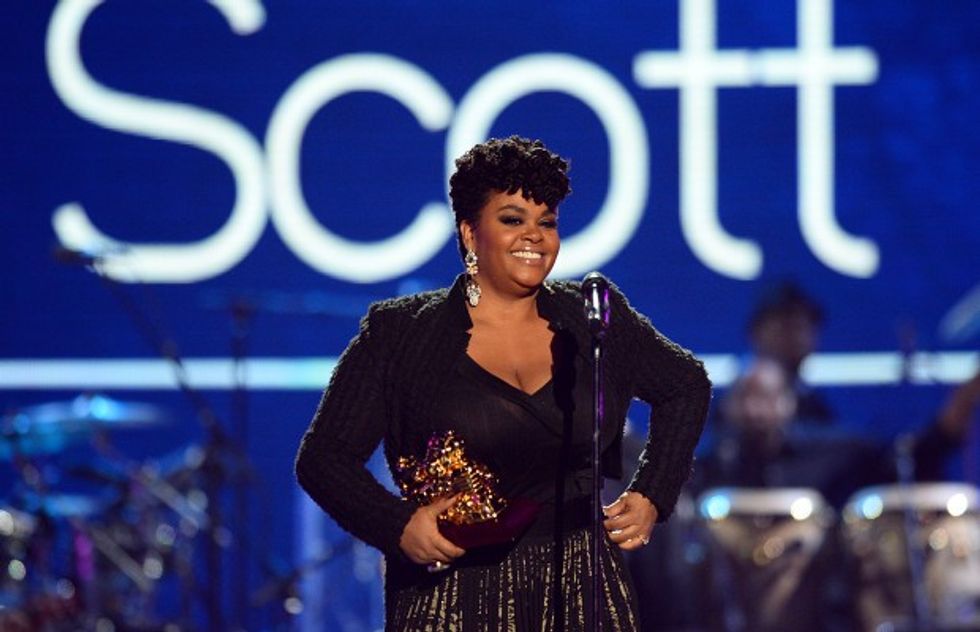 Regina Hall got on stage and gave a very moving introduction for Jill Scott, who took home the Lady of Soul Award. She was so genuinely elated by the honor. She accepted the award saying,
"It feels good to be recognized to be honored, to have Soul Train because it brought Soul into everyone's house and great performances...To have them honor me and say, 'Hey, you're still here, you're still doing good, we still enjoy you, you made an impact on this industry, and on people's lives.' It feels nice. I'll take it."
She then went into a stirring performance of "Back Together," "A Long Walk," "Whatever," and "Cross My Mind" that had everyone on ice. It was so chilling.
YESSS @missjillscott!! A phenomenal woman with a voice unmatched!! 🙏🏾😩 #SoulTrainAwards

— Fantasia (@Fantasia)1448848512.0
Our Lady of Soul. We ❤️ you @missjillscott. Thank you for sharing your gift. #SoulTrainAwards @CENTRICTV @BET

— Anthony Hamilton (@Anthony Hamilton)1448848596.0
And after she took home her second award for best R&B soul/female artist, guess who (on the low) is planning something with Jazmine Sullivan? That's right, Jill Scott!
@missjillscott Oooohh Yaaaay!!!!!

— Jazmine Sullivan (@Jazmine Sullivan)1448857747.0
5. Childhood relived.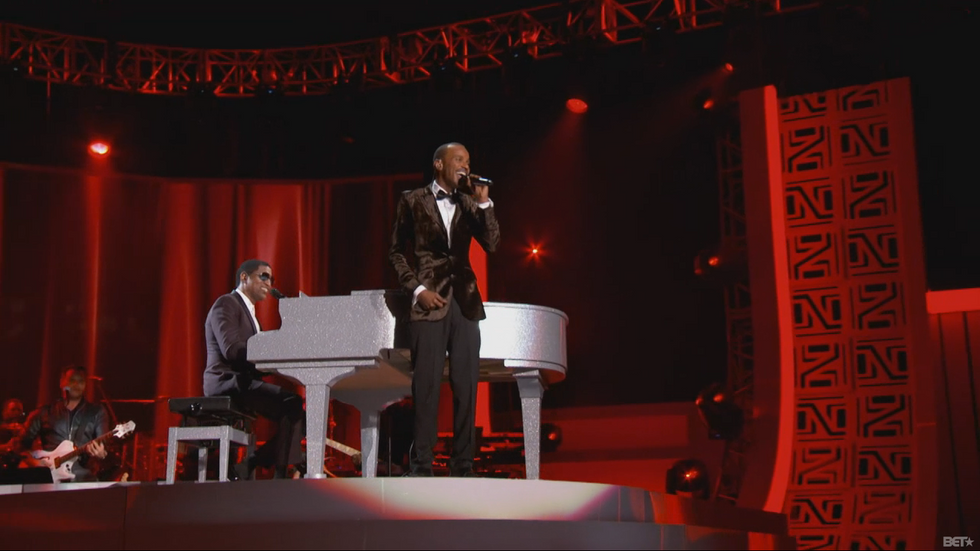 The soundtrack to our teen years were relived when R&B icons Boyz II Men, Tevin Campbell, Fantasia (standing in for the late great Whitney Houston), and Brandy came on stage to sing some of the most dynamic 90s songs written by Kenny "Babyface" Edmonds.
First up was Tevin Campbell with "Can We Talk."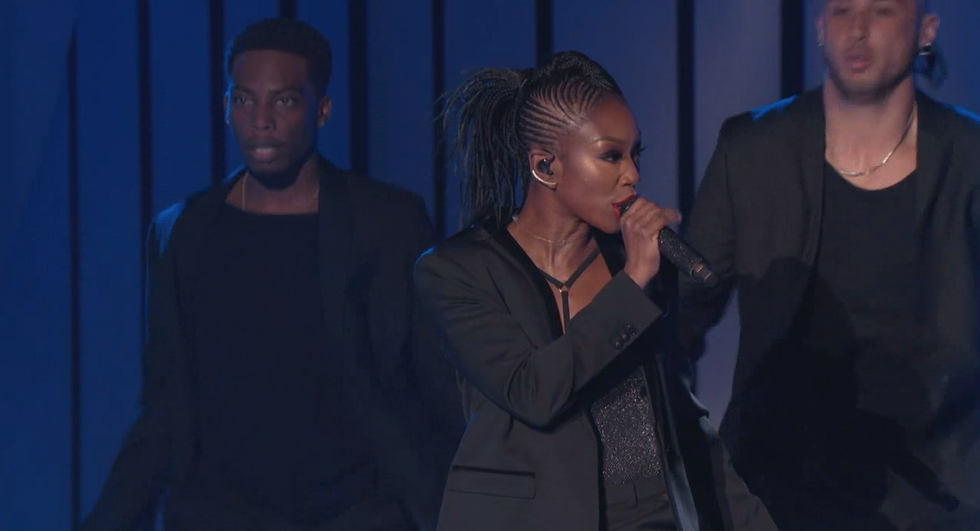 Followed by Brandy singing "Sitting Up In My Room." (On a side note, those edges were super snatched, honey!)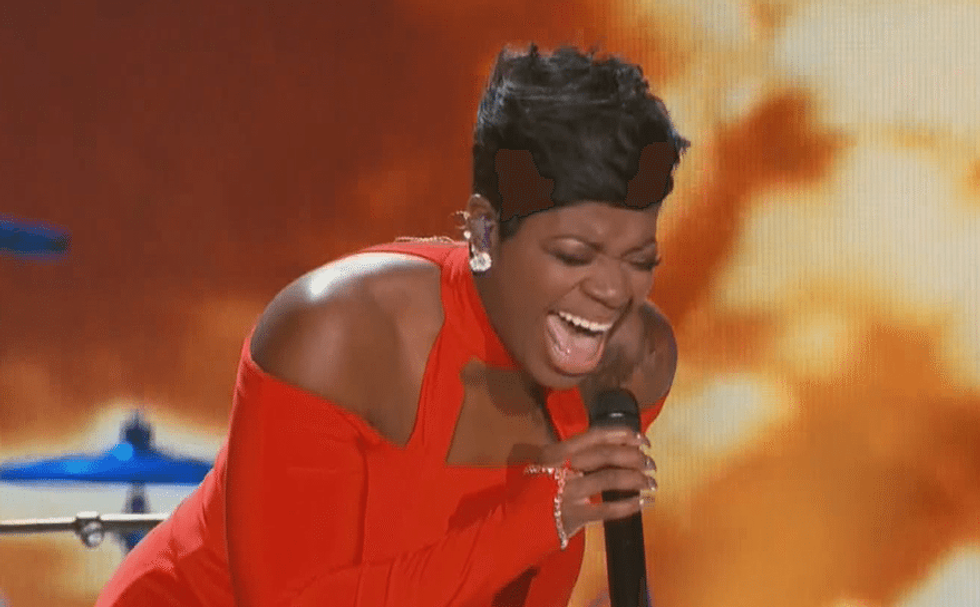 Then Fantasia came on stage and blew the roof off the sucker singing the late, great Whitney Houston's song "Exhale (Shoop)", followed by the Karyn White 80s hit "Superwoman."  She had Twitter going nuts, ya'll.
iSweaterGAWD, Fantasia be singing the rafters down. Every time she gets on a stage. #SoulTrainAwards

— Awesomely Luvvie (@Awesomely Luvvie)1448851716.0
Go awfffffff Fantasia!!!!!

— Reagan Gomez (@Reagan Gomez)1448851705.0
Commmmme onnnn FANTASIA #SoulTrainAwards https://t.co/BNfwdr04qh

— Johnny Boy ☮ (@Johnny Boy ☮)1448851565.0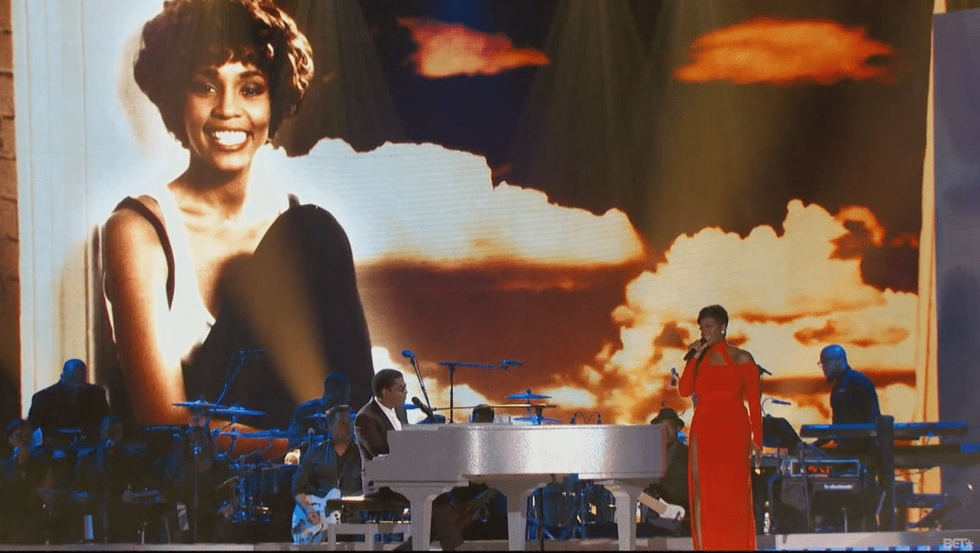 By the time Bobby Brown came on stage to sing his amazing 90s hit "Roni," our whole household was out of their seats, and slow dancing with each other. He took us all the way back with that one!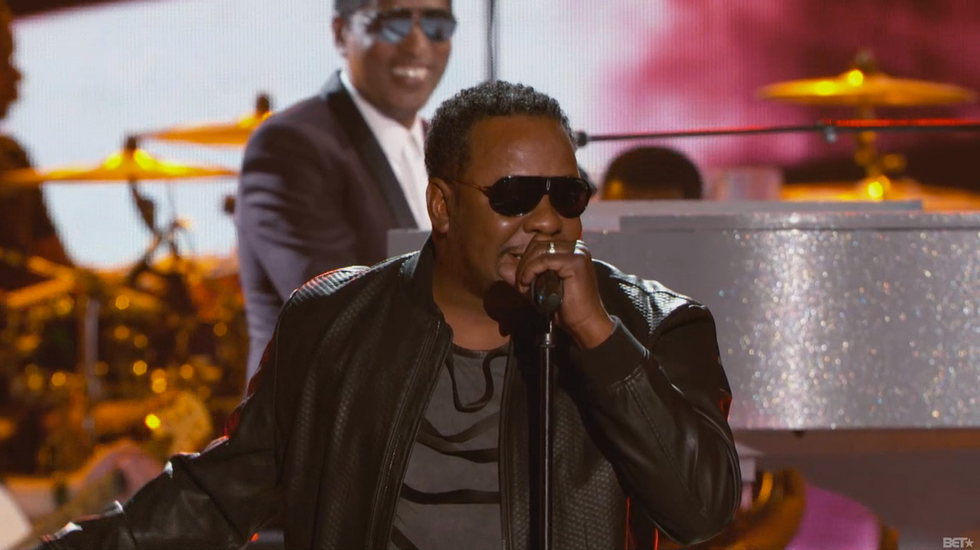 Then Boyz II Men came on stage to sing "I'll Make Love To You" and "End of the Road," and we were all laid out!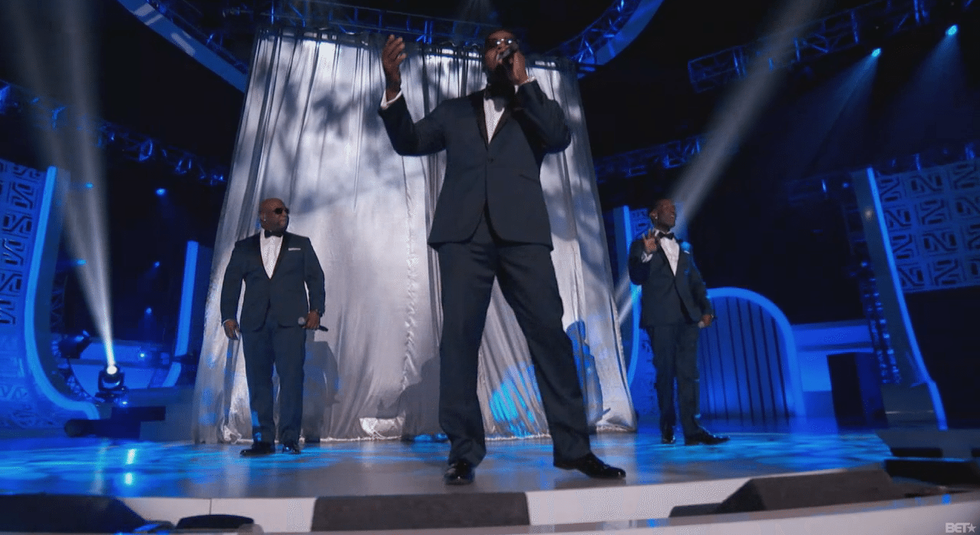 Finally Babyface came out to sing "Whip Appeal" which continued the slayage of nostalgia across households in the U.S. All we needed to solidify our funerals was a performance by Toni Braxton and TLC.  Lawd!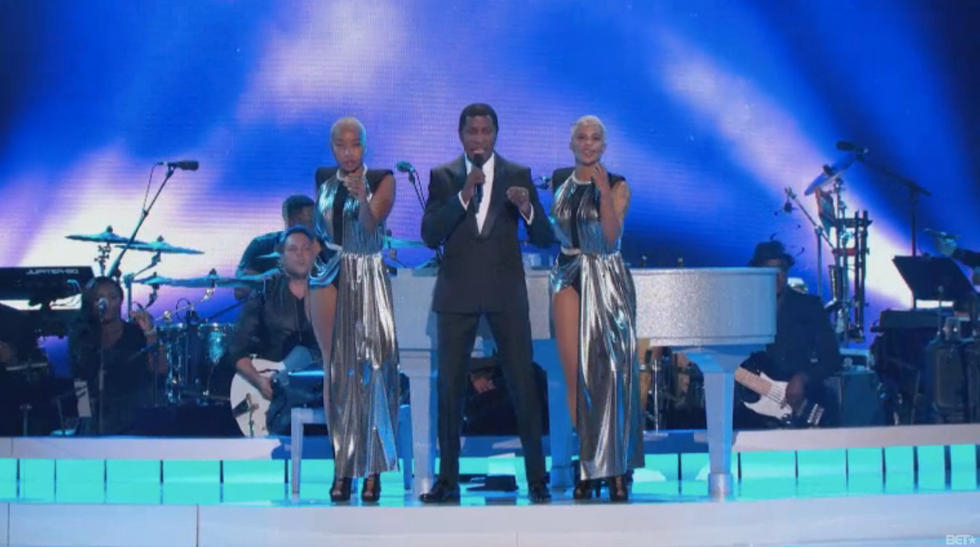 Babyface has to be a great husband writing all these damn songs!

— Angela Yee (@Angela Yee)1448852204.0
babyface is legit responsible for a lot of yalls lives.

— king crissle (@king crissle)1448850874.0
GO ON BABYFACE! #SoulTrainAwards

— Hello Beautiful (@Hello Beautiful)1448852261.0
What's so deep is that we only got into five of those moments, and didn't even touch Tyrese's soulful performance of "Shame," Jazmine Sullivan's performance of "Let It Burn" with After 7's "Ready or Not," or R. Kelly's real life BBQ. (Although R.'s appearance caused a debate on whether we should still be supporting him or not.)
Despite the controversy, it was probably the best awards show of the year, and Twitter definitely agrees.
.@BET great show this year. @fatbellybella you were awesome as a host. Soul is forever! #SoulTrainAwards

— Anthony Hamilton (@Anthony Hamilton)1448854290.0
Congratulations to @fatbellybella on hosting The #SoulTrainAwards tonight! She's killing it. True talent. https://t.co/W3TIcXy5DL

— Sway Calloway (@Sway Calloway)1448856942.0
Which moments are you itching to watch again on your DVR when you get home?