Rihanna doesn't whisper her thoughts, she makes bold declarations.
---
Statements.
Like the one she made last night in a crowded room full of Rihanna stans media at an art gallery tonight in Los Angeles. They were there for the cover art release of the anticipated eighth studio album, "R8." But when has Rihanna ever done anything the conventional, expected way?
This is the same Rihanna that metaphorically chopped her accountant up and lazily basked in a trunk covered in blood, Quentin Tarantino style, in "Bitch Better Have My Money." The same Rihanna that wouldn't bat an eye at nip slips or cheek peaks when adorned in daring attire with fiery hairstyles to match. Did we really expect her to drop a basic a** album cover on Instagram with the "perceived" album title?
Nah, that's boring.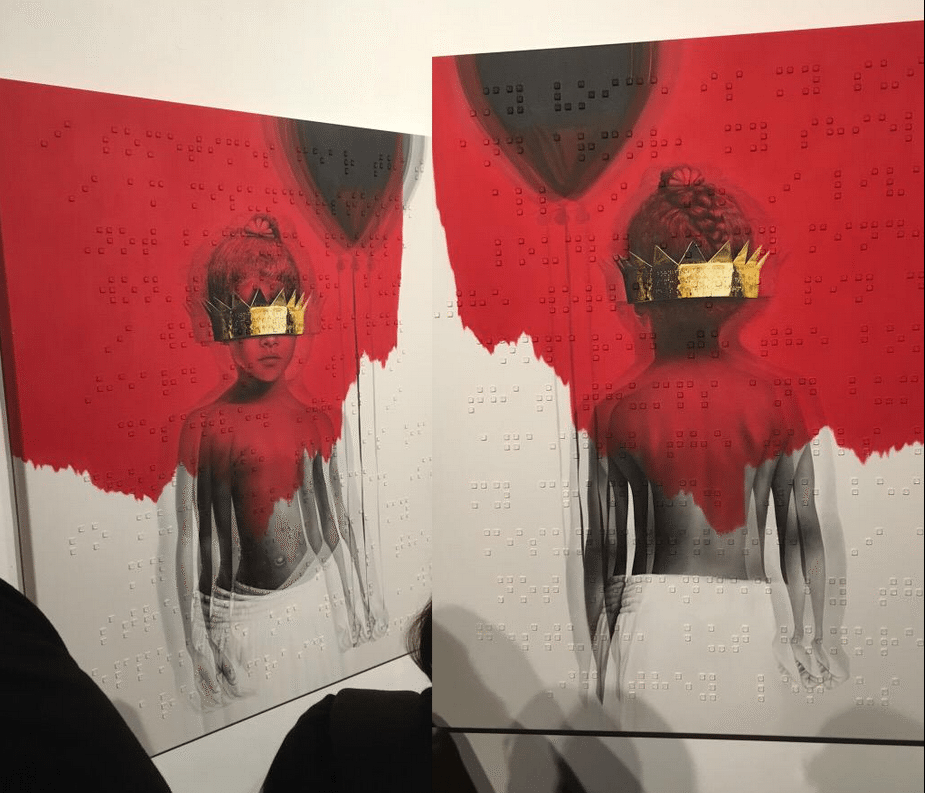 So she unveiled the artwork for If They Let Us (excuse me, come again?) Anti in collaboration with Israelian artist Roy Nachum, whose claim to fame is painting subjects whose "vision is obscured." Often the subject is a child (hints the image of little Robyn Rihanna Fenty on her first day of daycare with a crown covering her eyes.)  According to Nacum's site it's a metaphor of a [wo]man blinded by her displaced values and desires. "Sometimes the ones who have sight are the blindest," says Rih Rih.
Roy Nachum, the original "blind" child.
[Tweet "Sometimes the ones who have sight are the blindest."]
Since the blind fail to see the vision, don't worry, Nachum and poet Chloe Mitchell explain it to you in the Braille poem "If They Let Us," which is said to be featured in the studio album packaging: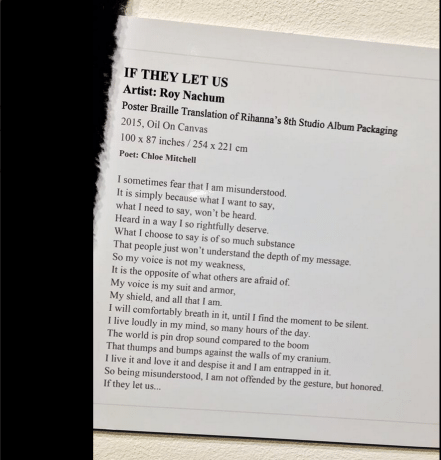 I sometimes fear that I am misunderstood.
It is simply because what I want to say, what I need to stay, won't be heard.
Heard in a way I so rightfully deserve.
What I choose to say is of so much substance
That people just won't understand the depth of my message.
So my voice is not my weakness, it is the opposite of what others are afraid of.
My voice is my suit and armor, my shield, and all that I am.
I will comfortably breath in it, until I find the moment to be silent.
I live loudly in my mind, so many hours of the day.
The world is pin drop sound compared to the boom that thumps and bumps against the walls of my cranium.
I live it and love it and despise it and I am entrapped in it.
So being misunderstood, I am not offended by the gesture, but honored.
If they let us...
It's a little ironic given that she recently did an interview with Vanity Fair:
I honestly think how much fun it would be to live my reputation. People have this image of how wild and crazy I am, and I'm not everything they think of me. The reality is that the fame, the rumors—this picture means this, another picture means that—it really freaks me out. It made me back away from even wanting to attempt to date. It's become second nature for me to just close that door and just be O.K. with that. I'm always concerned about whether people have good or bad intentions. —Rihanna
Misunderstood indeed.
And did we mention the dope visuals and just overall marketing genius that is Rihanna? Braille album inserts? Art Gallery? Blood red balloons dangling over chessboard flooring?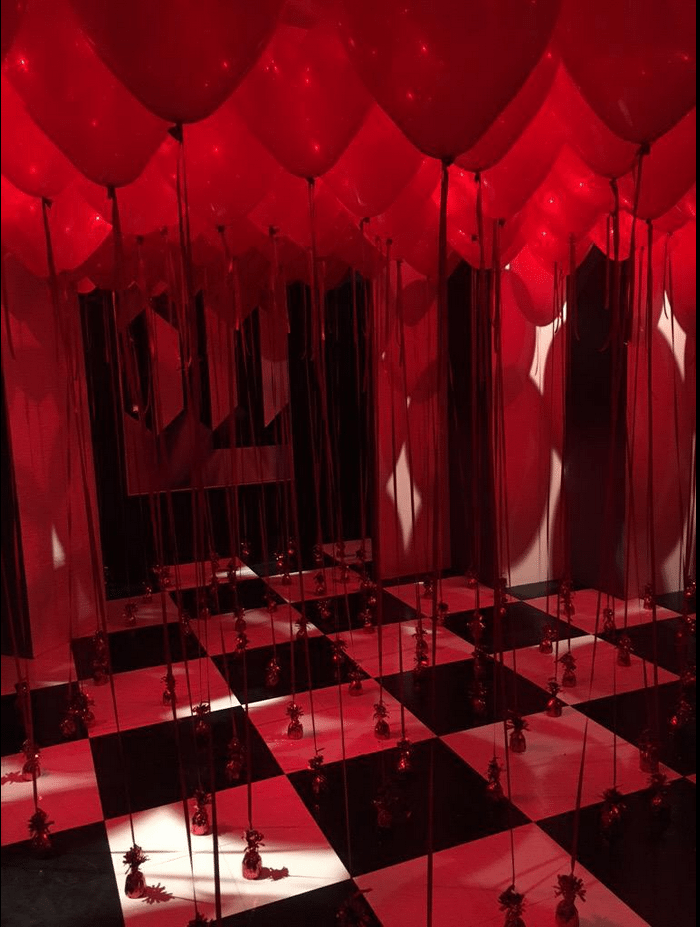 Check, and mate.
She tells the press, "This is my favorite album cover I've ever done." And we can see why.
Are you ready for Rihanna's new album?
Sadly no release date was announced (she always keeps us guessing).
In the meantime, check out more visuals from the unveiling below.