The day I find a husband and announce to the world that I am pregnant will undoubtedly be a day full of a joy.
I've had the honor of watching my sister, sister-in-law, and close friends as their bodies transformed to successfully carry the bustling nieces and nephews that I have today.
---
Every day I told them that they were, and always are, beautiful. As the bumps grew, the kicks erupted, as well as the heartburn, hair loss, and hair and nail growth that occurred over the nine-month span. My sister never looked so radiant to me with her pregnant woman glow--weight gain and all.
Even with compliments flying from all directions, my sister, who was pregnant with my now two-year-old niece Madison, felt as though her daughter was literally sucking the beauty out of her. She put on the least amount of weight possible and still felt fat. Her nose couldn't be bigger. Her hair couldn't be uglier. Her outfits couldn't reach the style peak she concocted in her head.
Pregnancy took a toll on my sister, but luckily she didn't have to succumb to ignorant comments from outsiders or be likened to a meme of some gross creature. Unfortunately, celebrities like Blac Chyna and Kim Kardashian West--no strangers to the social media chopping block--are victims of body shaming.
After announcing that they were expecting a few weeks ago, Blac Chyna and Rob Kardashian have been spotted out about with the baby bump in tow. But of course, people went to social media throwing insults at the future Mrs. Kardashian about her weight.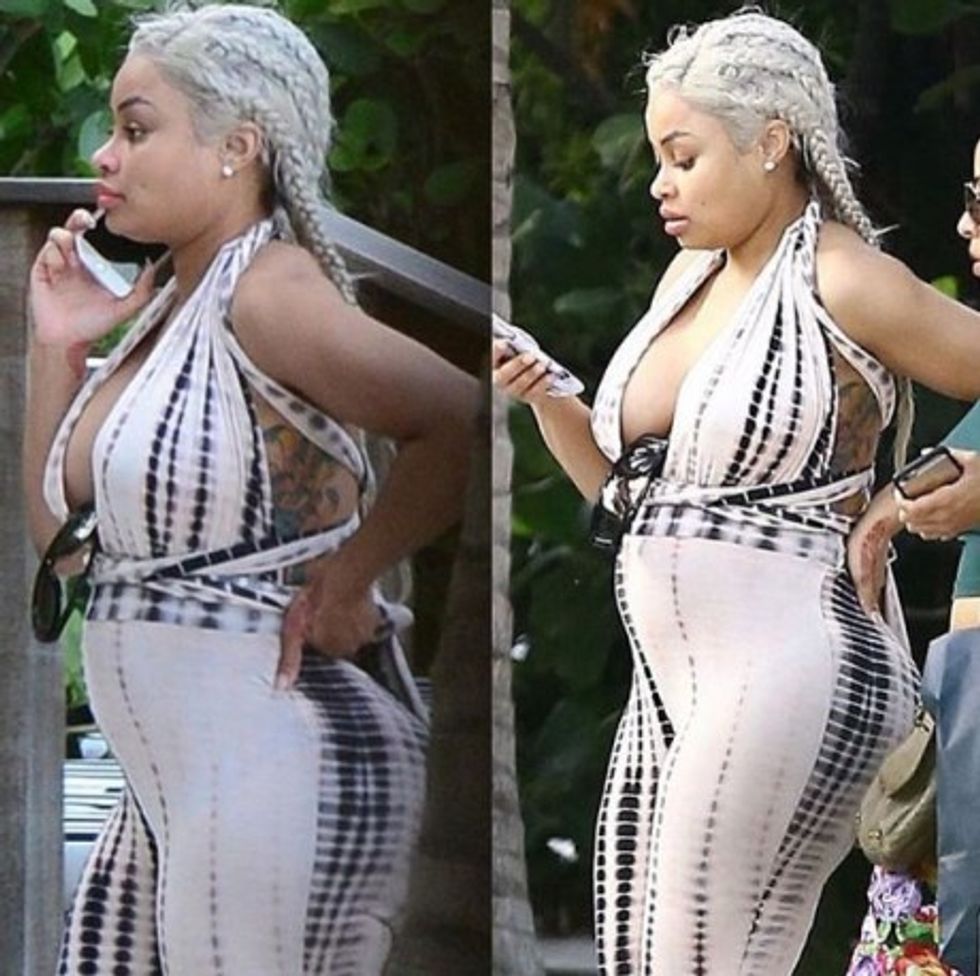 Although she shouldn't have had to take it there, she shut the body shamers down.
"To all you people out here with negative comments and insecure words (obviously because you have nothing else to do but criticize the next) I AM HAVING A BABY! Exactly what do you expect to see?! If I walked out in makeup and heels everyday to be beautiful to your means I WOULD BE MISERABLE & UNHAPPY which are two vibes I refuse to transfer to my little one…"
While everyone is laughing, the changes a woman's body undergoes is not laughable, nor are the complications endured. Pregnancy comes with its own list of physical, emotional and mental effects. It's more than just morning sickness and weight gain, some women, like Kim K, Emily B, Melanie Fiona, Tamera Mowry-Housley battle with preeclampsia (which causes high blood pressure and body swelling), having c-sections and post-baby issues.
[Tweet "Pregnancy comes with its own list of physical, emotional and mental effects."]
Related Post: Melanie Fiona Shares Her Emotional Birthing Experience In "It's Time To Tell The Truth"
Kim K  too found herself under the watchful eye of social media. The same fans who fawn over her hourglass figure are quick to vilify her at her most normal and relatable state--while she is pregnant. In an interview with C Magazine, she revealed that her pregnancy wasn't easy:
"It was the worst! I couldn't help it, and everyone would say, 'She can't stop eating.' I delivered at 180, and they were like, 'She's 210 pounds. She's getting dumped because she's too fat' and all these ridiculous stories. It really took a toll after the fact, when I was losing weigh."
Two years ago, social media trolls dragged Kim for weight gain she had no control over.
"It changed the way I viewed wanting my picture taken. Before I was always smiling, and so into being out and about. After I had the baby, I was like, these are the same people that made fun of me, and posted the stories that were so awful, calling me fat for something I couldn't control. I don't want to smile for them. I don't want to be out. Even if I was more confident, I just didn't feel like being that girl who was going to be smiling for every photo. It changed my mood; it changed who I was; it changed my personality a lot."
During the 2015 MTV Video Music Awards, Mrs. West sat proudly with her husband in another skin-tight number. Making the usual wave on the red carpet, Kim quickly became a topic in the various VMA conversations. Unfortunately, the conversation boasted more cruelty and more ignorance.
I knew @KimKardashian's outfit last night at the #MTVVMAs looked familiar,,, http://t.co/rnjm5Rwi0X

— Jagger 🗽 (@Jagger 🗽)1441019776.0
Lordy. Is Kim Kardashian's baby bump growing out in the opposite direction? http://t.co/dnqCtiND9b

— Finn Dinneen (@Finn Dinneen)1440998457.0
You do not have to be a stan of these celebs to realize that body shaming a pregnant woman is wrong. Any woman involved in the banter should be ashamed and any man--who will never know what it is like to carry a life--should, in short, have several seats. Women's bodies should never be a topic of discussion.
Related Post: Confessions of Hollywood Moms: "There's A Lot Of Pressure To SnapBack"
Like complexion, we come in a variety of shapes and sizes worthy of love and acceptance. Pregnancy is one of the most amazing things a woman's body can do.
What do you think about body shaming?  Sound off in the comments below.