It seems like everyone is upset about the Flint, Mich. water crisis, from President Obama to celebrities. But no one is nearly as angry about it as the city's residents.
---
Flint residents have been going through a lot of changes since April 2014. During that time, Flint was under the control of a state-appointed emergency manager, Darnell Early, whose job was to oversee the city's financial woes.
As a cost cutting measure, the city switched from their old source of water, Detroit Water and Sewerage Department, to the Flint River while treating the water at a city water treatment plant. The plan was only supposed to be temporary, as the city was waiting for the three year completion of a new water pipeline from Lake Huron. The state agreed to the switch, which was projected to save Flint $19 million over eight years.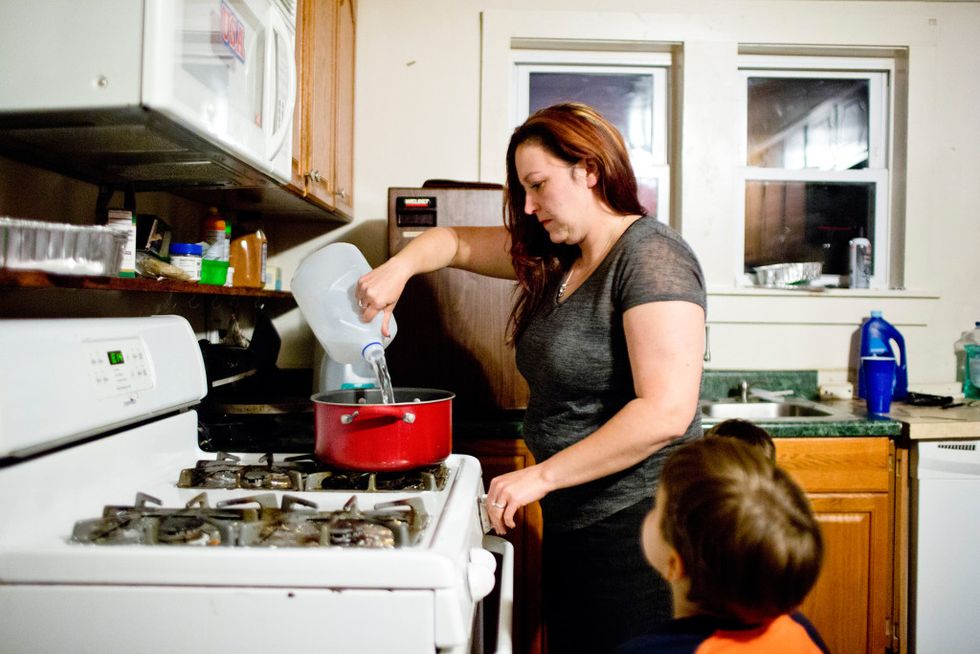 The problem? Soon after the switch, residents started buying bottled water after complaining of poor water quality. While the switch to another power plant was a cost cutting measure for the city, it dug into the pockets of the city's poorest residents.
Ariana Hawk, a 25-year-old college student and a pregnant single mother, told the Detroit Free Press that she's been bathing her son's body with wet wipes since last summer, because his doctor doesn't want him using Flint's tap water. She said,
"I can't afford to go buy 20 gallons of water just to bathe him one time..."
Unfortunately, Flint's city officials didn't see it that way. Flint's mayor, Dayne Walling, and Early kept reassuring residents that they had nothing to worry about, and that the water was safe.
Only it wasn't.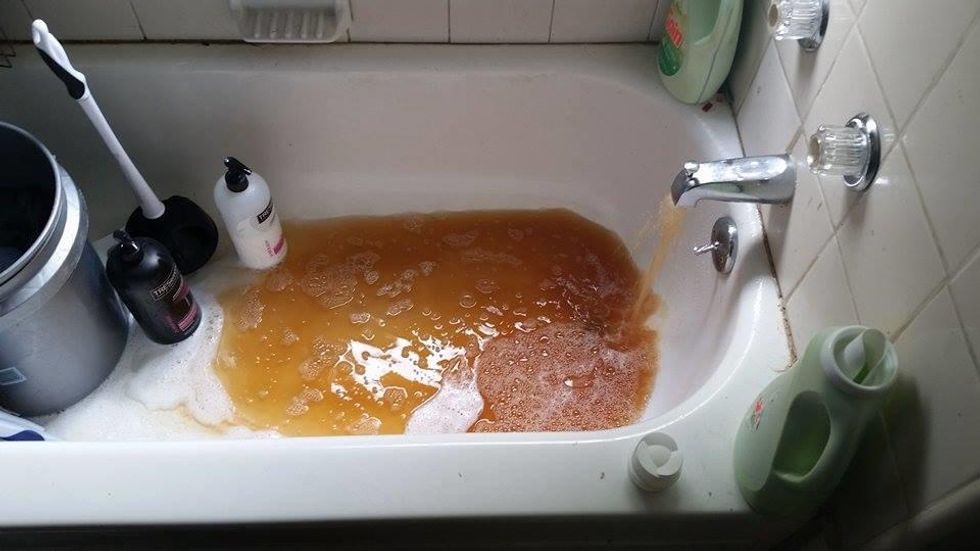 Contaminated water coming from a resident's bathtub.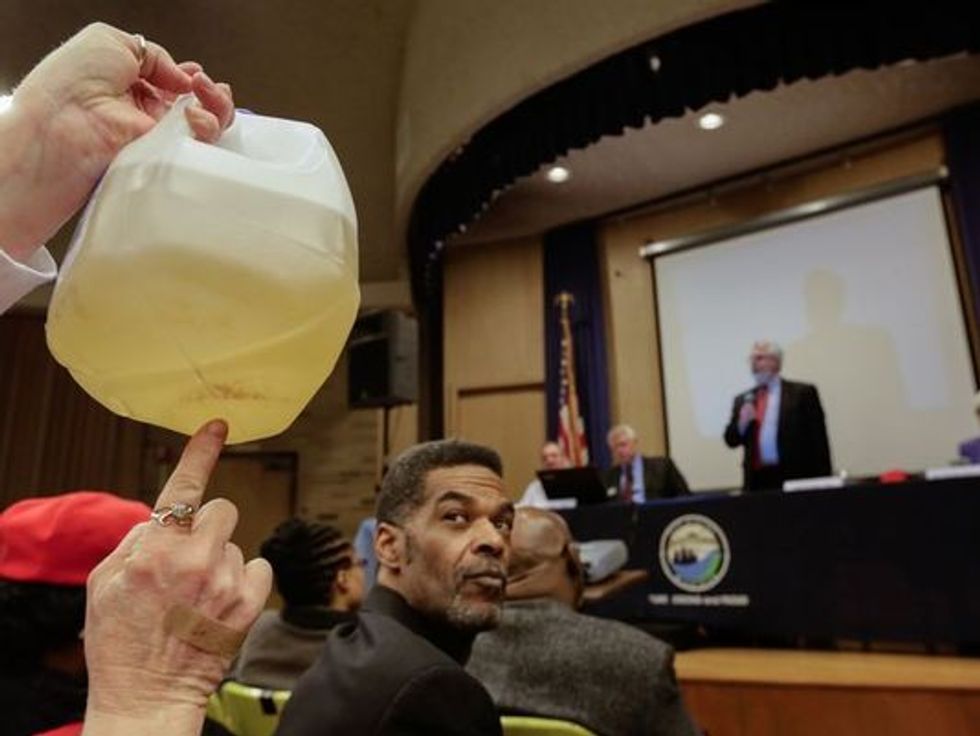 Flint resident holds up a contaminated water jug during a meeting.
The reason why the water was brown was because of the high corrosivity of the Flint River waste to iron pipes. Flintwaterstudy.org said,
 At the time, we also mentioned that the Flint River water is much more corrosive to lead plumbing. Scientifically, this is because Flint River has much higher chloride content, which leaches lead from plumbing materials into drinking water.
Even after complaints from residents, state and local officials kept sweeping their concerns under the rug. They even went as far as posting the image below on social media, reassuring residents that the water was safe to drink.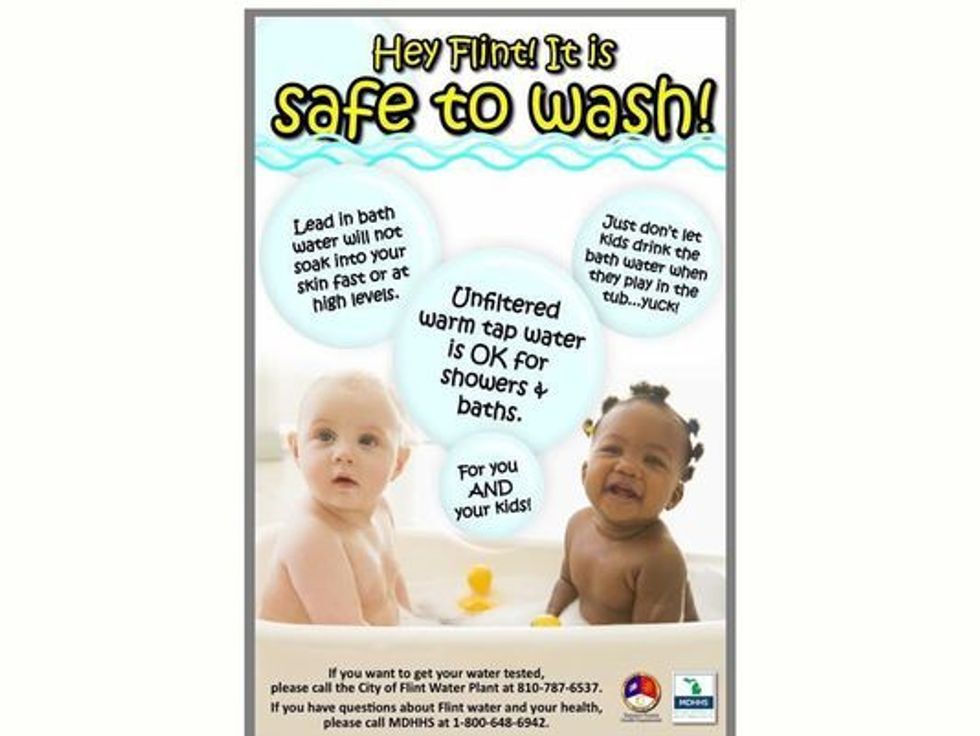 Flint resident Melissa Mays described to CNN the extent to which residents tried to get their concerns heard, and still no one listened. She said,
We've proven over and over that the water is poisoned, yet we're still getting served up contaminated water through destroyed pipes, and we are still being billed the highest rates for the lowest quality water, and people are still getting sick. It's unbelievable that this happens in 2016 Great Lakes state.  
After resident complaints, a group of Virginia Tech researchers sampled the water in 271 homes in 2015, and according to The Washington Post, "found some contained lead levels high enough to meet the EPA's definition of 'toxic waste.'"
WHO WAS IMPACTED
A whole city was poisoned with elevated levels of lead from April 2014 to January 2015.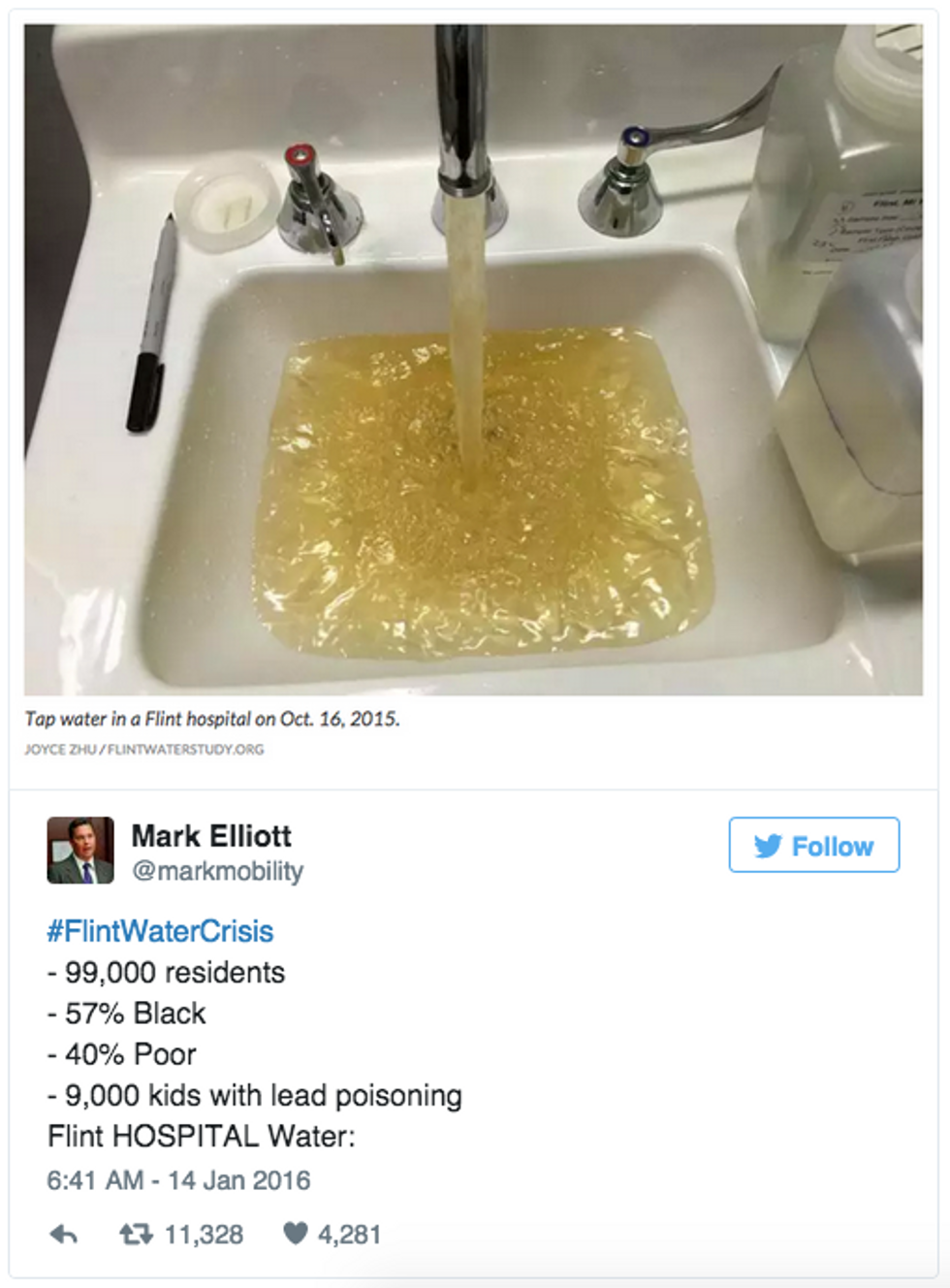 Anyone who drank the water, including children and pregnant women, were impacted by the 'toxic waste'. Based on Census data, Eden Wells, Michigan's chief medical executive, said that 8,657 under 6-years-old children were exposed, and even that's a low estimate. This number doesn't include unborn children whose mother's drank the water while pregnant, or mothers who did not reside in Flint, but were exposed to contaminated water while visiting friends or relatives.
USA Today reported that between October and December 2015, 43 people had elevated blood lead levels.
That's because these tests measure only the amount of lead in a person's blood, which decreases after about 30 days, according to the U.S. Centers for Disease Control and Prevention.

That means testing done today does not represent past exposure. Once lead is present in the bloodstream, it is distributed throughout the body, primarily to bones, teeth and soft tissue. Lead accumulates in the body over time. Blood-lead tests used to identify recent or ongoing exposure to lead, do not measure the overall lead burden in the body.
The long term effects of lead poisoning in children are of particular concern. According to CBS News, children exposed to lead are at risk for a number of problems, including low IQ scores, behavioral issues, developmental delays, and Attention Deficit Hyperactivity Disorder. The effects can last for years, or be permanent, even after exposure stops. Mic.com also reports that low-level chronic lead exposure in children can also tweak the secretion of human growth hormone, "stunting growth and promoting obesity." Very high levels of lead in children's blood can even cause death from brain damage.
Dr. Philip Landrigan, Dean of Global Health at Mount Sinai School of Medicine, told CBS News,
"These children are going to be injured for life. They're going to need remedial education, they're going to need educational enrichment programs," Landrigan says. "They're kids who are going to be prevented from functioning at their full level."
But that's not the only problem that resident's face. From June 2014 to November 2015, there were 87 reported cases of Legionnaires' Disease, resulting in 10 deaths. The Detroit Free Press reports,
While state officials said they couldn't make a connection between the water and the spike in disease, a drinking water expert who studied Flint said the rise in cases was "dramatic," and added there's a "very strong likelihood" the river's water played a role.
On Oct. 8, the city declared a public health emergency, while urging residents not to use the water until it was at safe lead levels, or they have installed improved water filters. On Oct. 16, Flint started channeling water from Detroit.
But the damage was done. People complained that their overpriced water caused them to break out in skin rashes, and caused hair loss in both humans and pet animals.
Go behind TIME's Flint water crisis cover https://t.co/BbDKTnR1fz https://t.co/8RycWVqvJJ

— TIME (@TIME)1453412407.0
It wasn't until Jan. 5 where Gov. Snyder declared a state of emergency, and on Jan. 16 when he mobilized the National Guard to distribute bottled water and filters. By Jan. 20, presidential candidates, celebrities, and residents alike found themselves shaking their fingers at how the state of Michigan handled resident's concerns on the quality of Flint's water. In his first remarks on the situation, President Obama said during a visit to Detroit,
"I am very proud of what I've done as president, but the only job that's more important to me is the job of father...And I know if I was a parent up there, I would be beside myself if my kids' health could be at risk."
Since his remarks, $5 million in federal aid has been made available to assist with Flint resident's immediate needs amid the water crisis. Federal aid for an emergency is capped at $5 million, but President Obama can commit more money if Congress approves. The money is available to Flint will cover 75% of the costs for water, filters, filter cartridges, and other items for residents.
Although the president denied Gov. Snyder's request for a disaster declaration, the state of Michigan seems to have stepped in to help with costs to help clean up the mess.  After Gov. Snyder apologized to Flint's city resident's during his State of the State address, he called for $28 million in additional state funds to help respond to the crisis, which the state House of Representatives approved Wednesday, according to The Washington Post. 
WHAT NOW?
According to Newsweek, Gov. Snyder is expected to testify before The House Oversight Committee on Feb. 3.  At press time, Gov. Snyder's office said that they have not yet received information from the committee regarding a possible hearing.
Meanwhile, some Flint residents feel stuck. Mays told CNN that some residents want to leave the city, but many can't sell property whose pipes are contaminated with lead. Mays said that some residents were willing to abandon their homes and go into bankruptcy, just so they can have clean, safe water.
Meek Mill officially donates to Flint Water Crisis, also plans to send 60K bottles of water: https://t.co/0qYxIkhb4m https://t.co/MdFvMCaFuZ

— The Source Magazine (@The Source Magazine)1453321535.0
Celebrities have also been lending a helping hand to Flint's residents. Cher donated 181,000 bottles of water, Meek Mill donated 60,000 bottles, and Detroit native Big Sean launched a CrowdRise campaign to donate more than $10,000 via his Sean Anderson Foundation.
How You Can Help
Fortunately, anyone can help with the Flint water crisis. Here's how you can donate: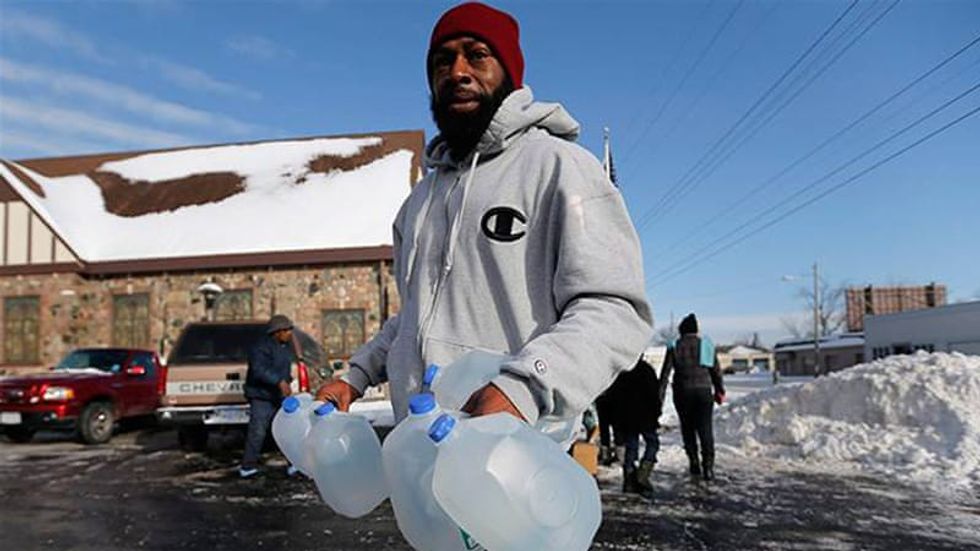 The United Way has set up a fund to help residents purchase filters, bottled water, and emergency support services and prevention. 100% of the money us used for the above listed projects, and no administrative fee will be assessed if you make a payment online.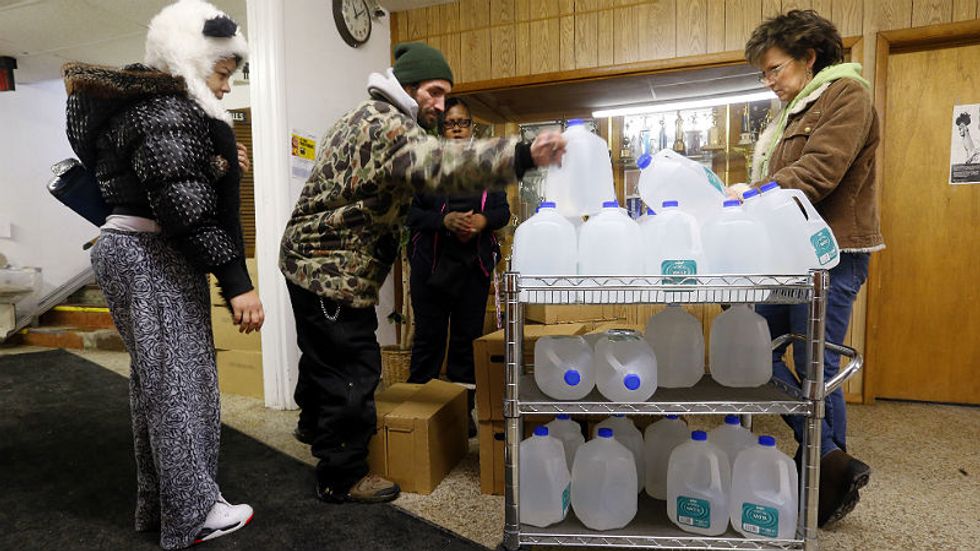 According to their website, The Community Foundation will be helping with the long term needs of the city's residents. They said on their website,
We and our partners set up the Flint Child Health & Development Fund because we recognize that significant change, namely ensuring the health of our Flint families, requires foresight and long-term planning.

 

We know the needs of Flint children exposed to lead, particularly those most vulnerable – children ages 0-6 – are ongoing and long-term.  When you make a donation to the Flint Child Health & Development Fund, you can be assured that your gift will be used for critical interventions today and well into the future.
You can still help if you don't want to donate money. Even though Flint residents had toxic waste coming through their faucets, the city still expected them to pay their water bills, while sending them shut off notices and high bills amid the crisis. According to a Change.org petition that's calling on Gov. Snyder to stop making residents pay for toxic water,
When Flint residents turn on their taps, only lead-contaminated water comes through. Water, that according to EPA criteria, can be classified as toxic waste. This has been the case for over a year.  Yet, Flint residents are charged as if the water is drinkable. Outrageously, Flint residents - living in one of the most economically depressed areas of the state - often receive $200+ water bills per month.  And if they don't pay?  Shut-off notices.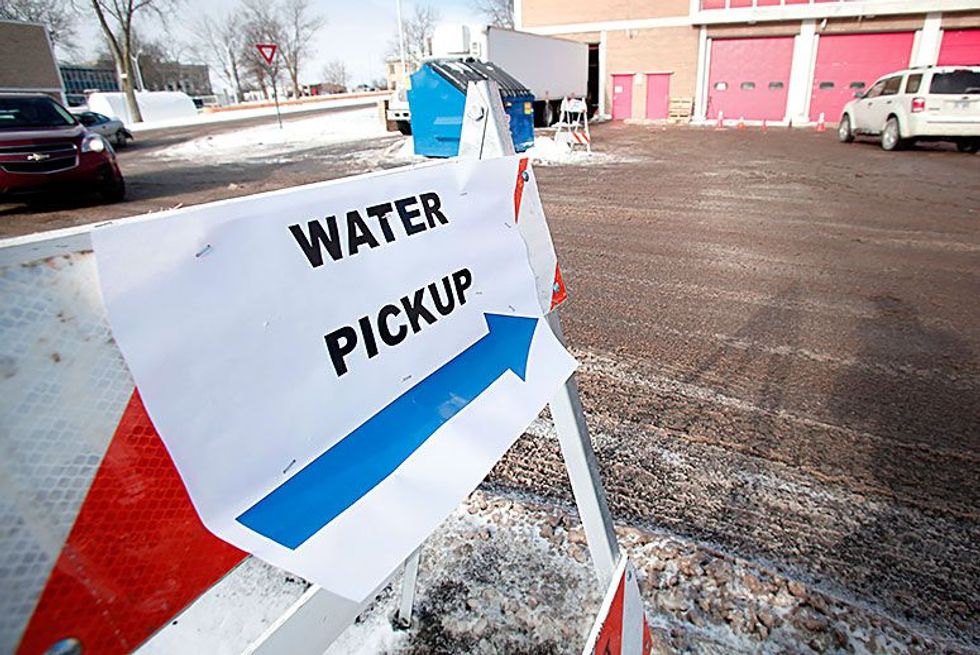 The Flint Water Response Team has set up a website that lists other places where you can volunteer or donate money.