The Beauty Closet - Home Page
Red nails have always intrigued me—namely because the red nails were always on the fingers of a well-put-together woman with perfectly laid hair, a perfume that lingered, and an heir of confidence orbiting them. Oh, and they usually drove a luxury car. I assume this is why we're all discussing the "red nail theory," a hot topic on TikTok thanks to GirlBossTown discovering that wearing red nail polish was responsible for an uptick in male attention. The #redtheory hashtag has 100 million views and counting. So, let's take a further look into this anecdotal theory.
What Is the Red Nail Theory?
For starters, the color red is a primary color. And it's associated with passion, warmth, and sexuality, as well as danger, violence, and aggression. However, in pop culture and beauty, the color red is typically about owning your sexuality, confidence, and boldness. We think this could explain why women tend to receive more romantic attention when adorning their lips and hands with the fiery hue.
In addition to more romantic attention, there is chatter about how wearing red nails means more money in the bank. For example, a TikTok user noted that Rihanna has always worn red nails and is now a billionaire. Ok, so there is no clear-cut evidence that red nails can give you billionaire status. However, there is some color psychology about wearing red in the workplace and beyond.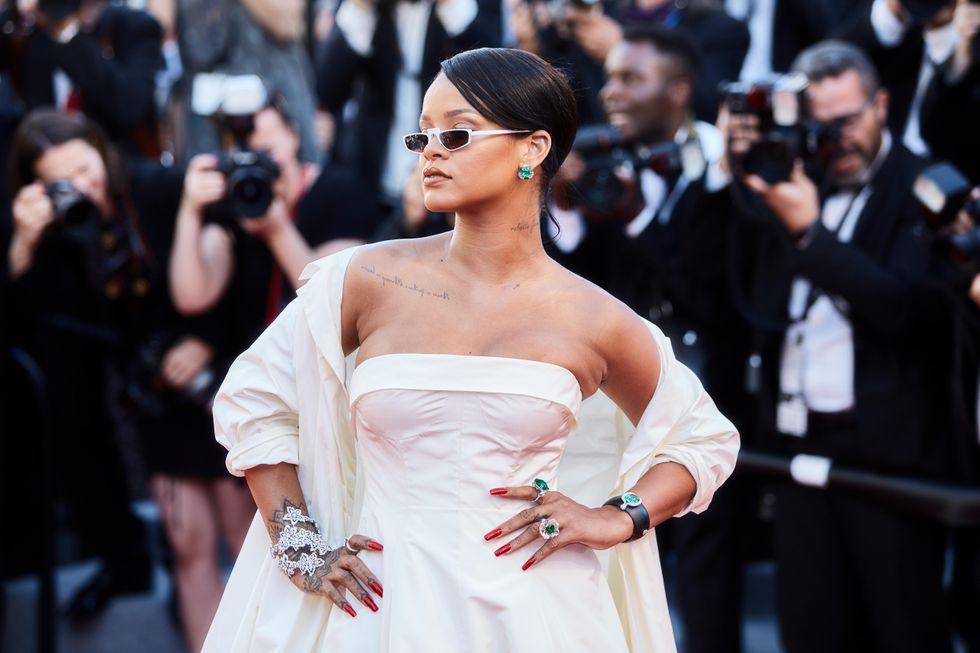 Kristina Nikishina/Epsilon/Getty Images
You will often see women in politics and high-powered positions opt for red suits, dresses, and separates, as red can convey confidence without saying a word. So, with this mini-deep dive into the red nail theory, we definitely think there's something there. From red lips to nails, exuding confidence seems to be the throughline, and we love to see it.
If you're ready to wear your confidence on your sleeves (or nails, in this case), below are a few of our favorite nail colors.
The Best Red Nail Polishes To Tap Into the Red Nail Theory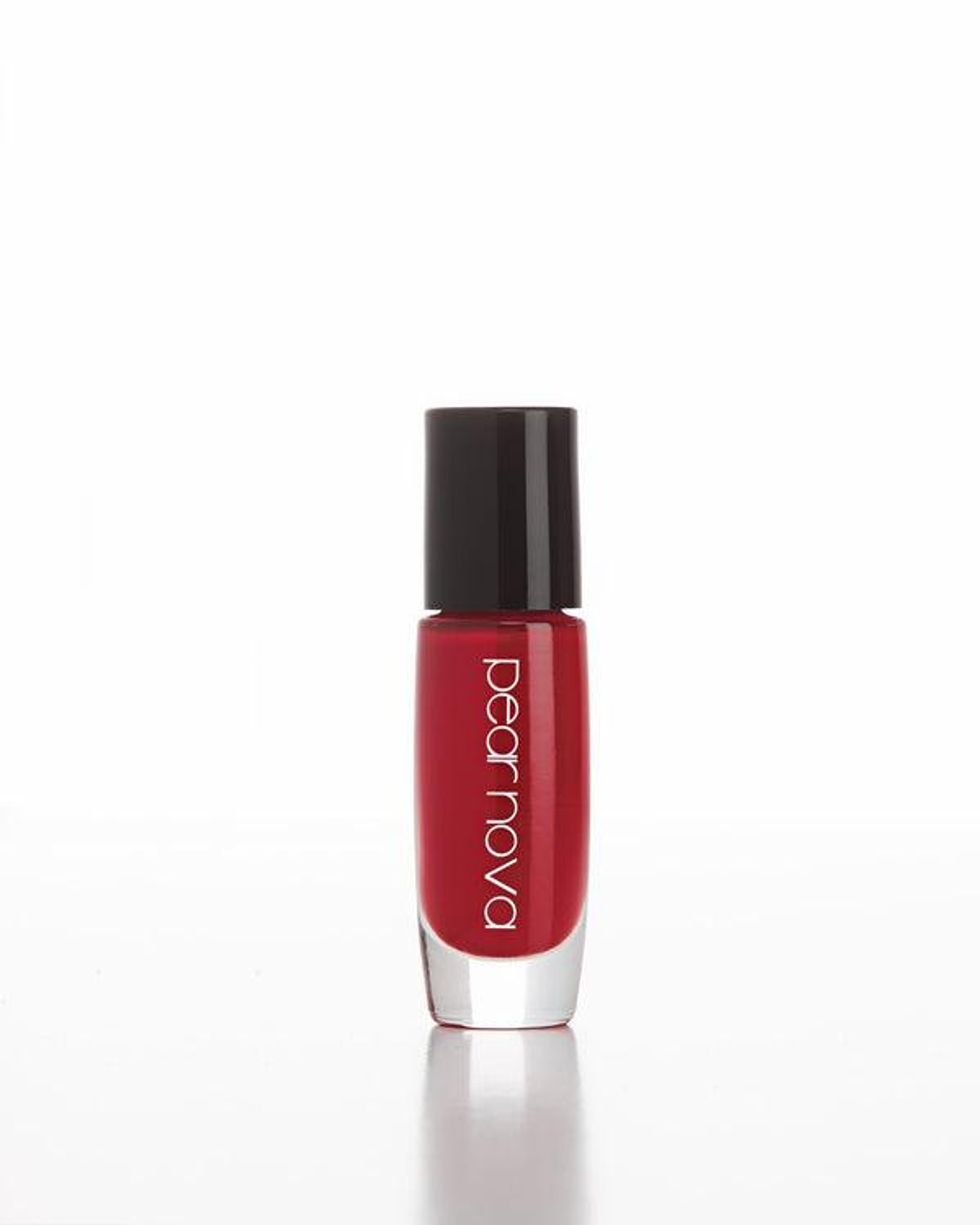 Pear Nova
Berry Jane red nail color
Pear Nova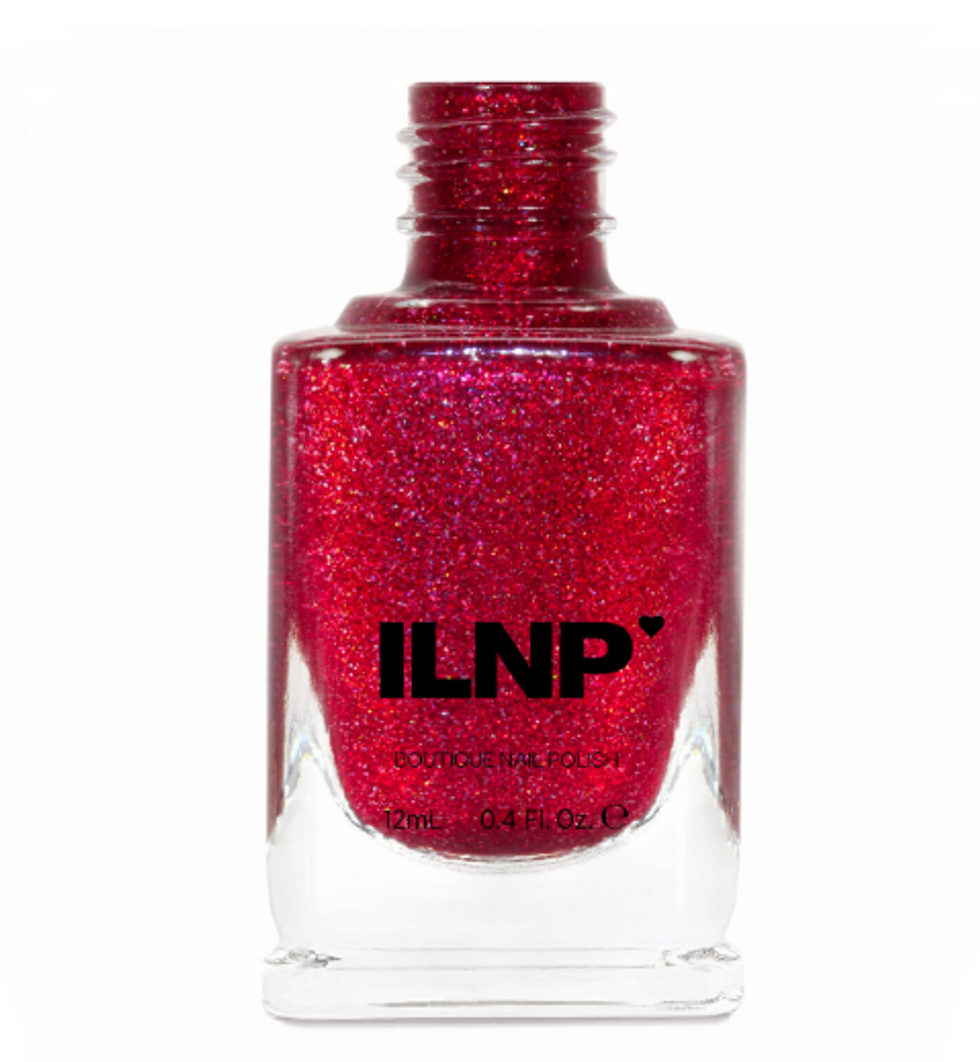 ILNP
ILNP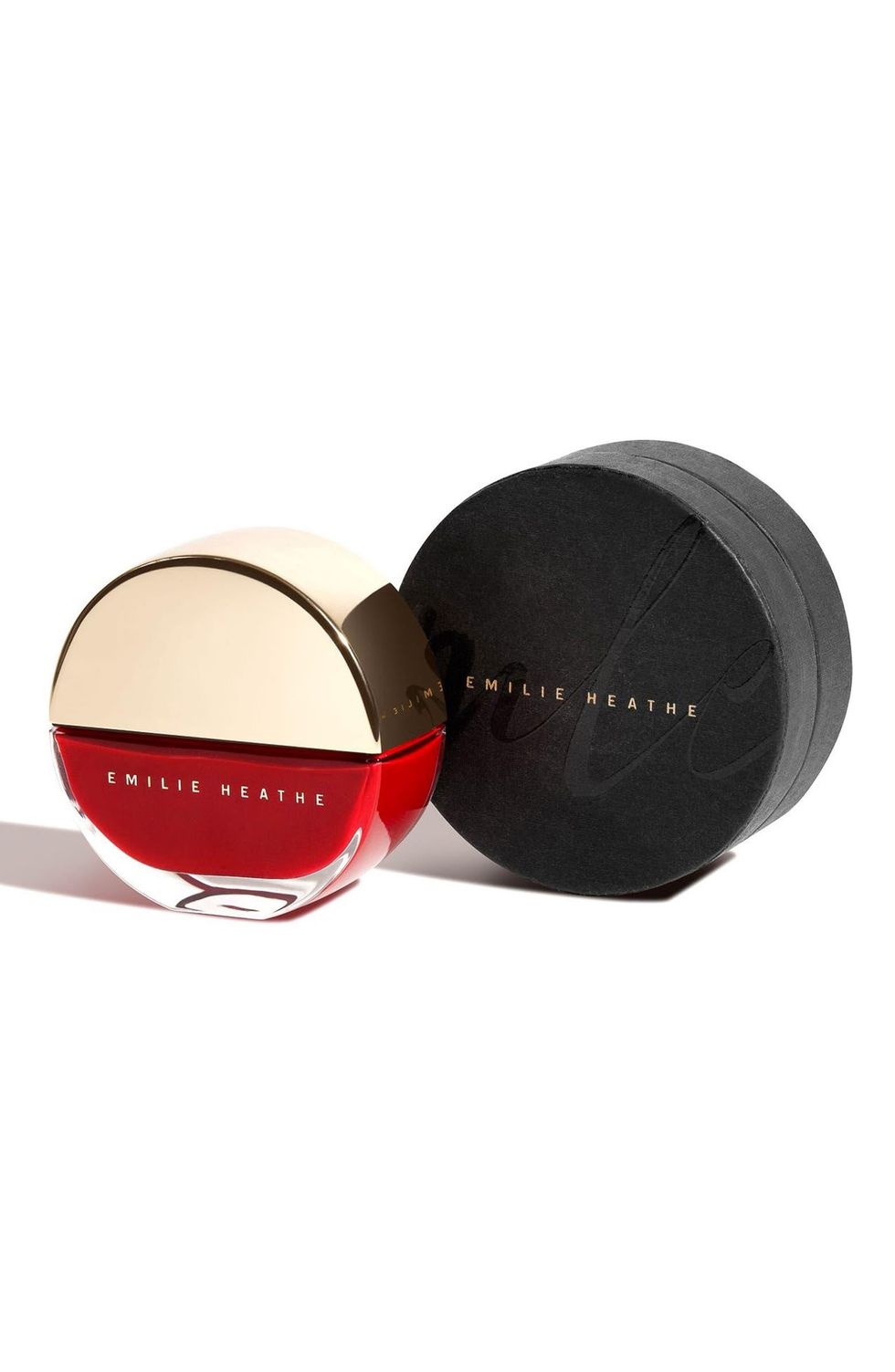 Nordstrom
Emilie Heathe
Featured image by Epsilon/Getty Images
Over the last couple of years, social media and the internet has uncovered the various ways people decide to wash their bodies (some surprising, I must admit, and some not.) There have been numerous debates on whether we should use washcloths, suds up our legs, or even shower on a daily basis. Side note: Did you know that bathing with hot water can be detrimental? (I mean, is it really a shower if the water isn't scorching? Just me? K.)
Additionally, with hygiene routine videos (think sparkly body washes and exfoliators galore) dominating the YouTube and TikTok airwaves, finding the best way to wash your body seems to be all the rage right now. And while most of us have been bathing ourselves since we can remember, there's nothing wrong with updating your GRWM (get ready with me) routine.
In the name of #selfcare, medical and cosmetic dermatologist, DiAnne Davis, MD, FAAD, has provided tips and pertinent info that will help combat bacteria, battle B.O. and give our skin a healthy glow. Can I get an amen?
Between washcloths, loofahs, or using your hands, what's the best way to wash your body?
"I usually recommend a soft cloth or washcloth for showers, especially those areas that harbor, a lot of bacteria, which include the armpits, groin area, and feet," Dr. Davis explains to xoNecole. "Washcloths can always be laundered and reused versus loofahs that tend to retain a lot of bacteria and are not washable or able to be used after so many uses in the shower. Washcloths should be dry before each use. Reusing a damp washcloth is a no-no because it may accumulate bacteria which can be transferred to your body the next time you use it."
How often should people shower? Is it bad to shower every day?
"I usually recommend that people take showers at least once daily," says Dr. Davis. "While some dermatologists may recommend that you can shower less frequently, even three times per week, I will say that I do not recommend that you shower multiple times throughout the day because that can be extremely drying for the skin. It's also important to remember that showers should be less than 10 minutes and with lukewarm water because extremely hot water can also dry out the skin."
Is it important to use a separate washcloth for your face?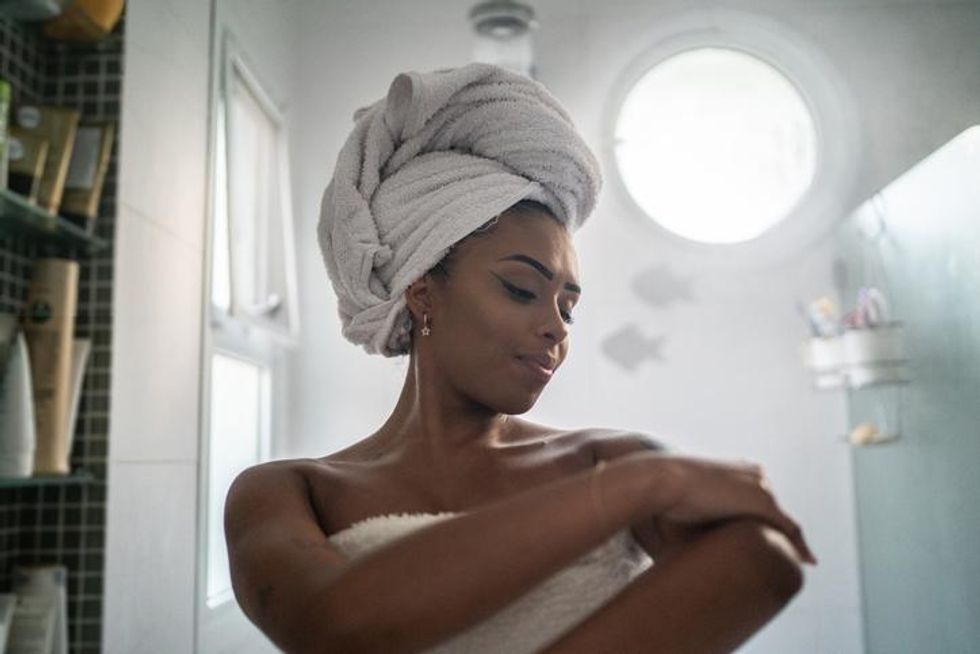 FG Trade/ Getty Images
"I think this is definitely a personal preference. What I explain to patients is that it is okay to use a washcloth for their body however, I always recommend that whenever washing your face [to] use your hands," says Dr. Davis.
What should we look for in a good body cleanser? 
"There are so many great cleansers on the market," notes Dr. Davis. "It may come down to if there is a specific concern that the patient has, which can help determine what may be the best cleanser for their body. For example, if someone has oily or acne-prone skin, they might want to look at a cleanser that contains salicylic acid to help exfoliate the pores and treat blackheads. However, if a patient has sensitive or dry skin, they may want to look for a cleanser with ceramides and/or colloidal oatmeal."
In terms of skincare, could you talk about the importance of moisturizing and how often we should moisturize? 
"Moisturizing your skin is just as important as washing it on a daily basis," elaborates Dr. Davis. "Moisturizers should be applied within the first two to three minutes after showering to not only moisturize the skin but also create a barrier to prevent transepidermal water loss and keep the skin hydrated and plump in appearance. It is wise to moisturize twice daily, especially if you have dry skin and/or during the winter season."
Let's make things inbox official! Sign up for the xoNecole newsletter for daily love, wellness, career, and exclusive content delivered straight to your inbox.
Featured image by LumiNola/ Getty Images
'Tis the season for fashion-forward basics and I can't get enough. Closet staples are one of the biggest trends of 2022 and I'm challenging myself to turn a simple wardrobe into a fall uniform made up of everyday essentials that combine comfort, warmth, and style. When it comes to your wardrobe this season, it's what you buy and how you wear it that makes these timeless pieces effortlessly chicer than the rest.
Lately, I've been into a much more minimal aesthetic, however, I love incorporating cool designer items that add even more character to my look. With just a handful of foundational items that are extremely versatile, I believe investing in quality, comfort, and fit can easily elevate simple wardrobe staples for years to come.
Keep scrolling to see how I wear my everyday items that are far from "basic" and key to looking and feeling stylish this fall.
Look 1: White Tee + Wide Leg Trouser + Trench Coat + Chunky Boot + Mini Shopper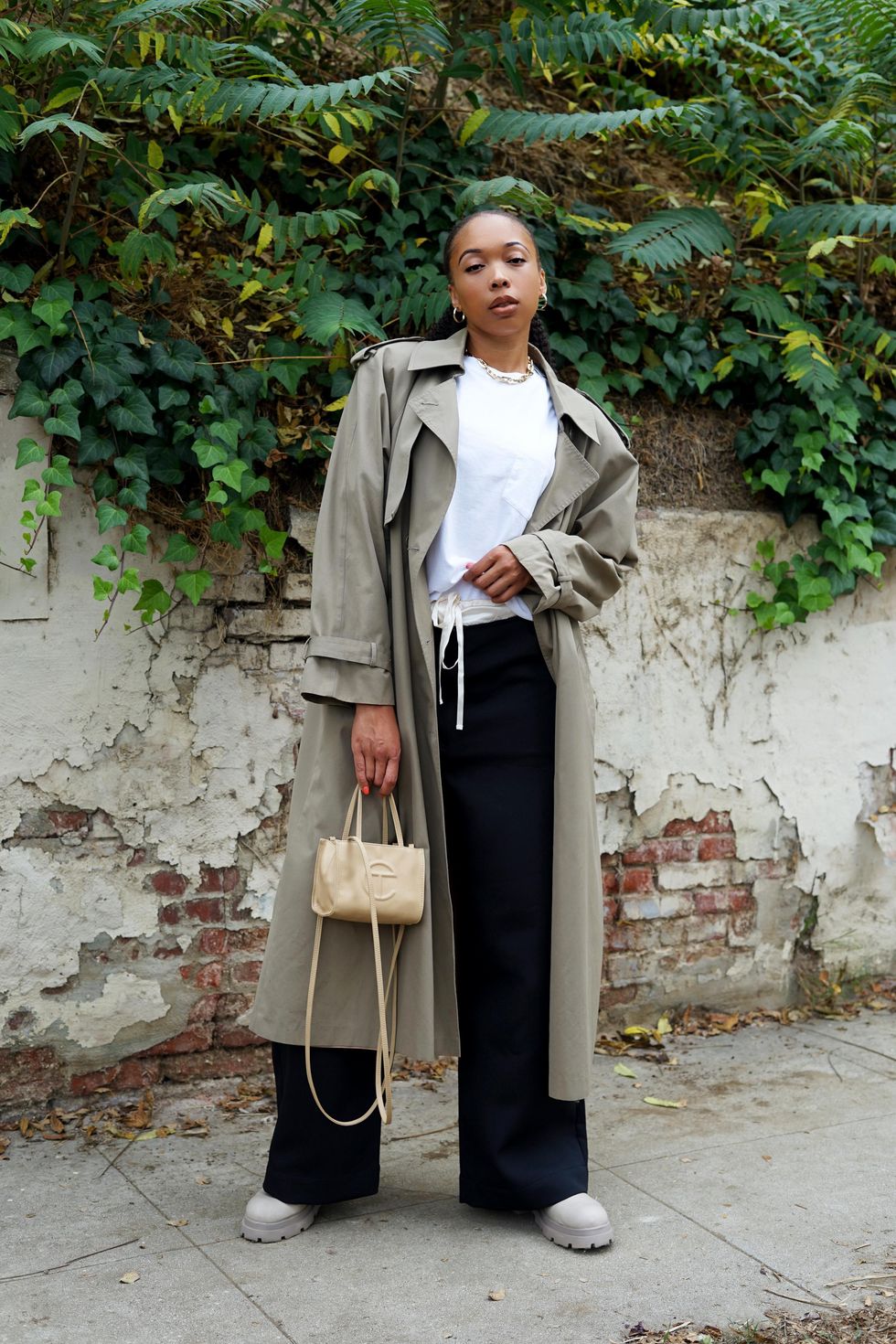 Shahirah Ahmed/xoNecole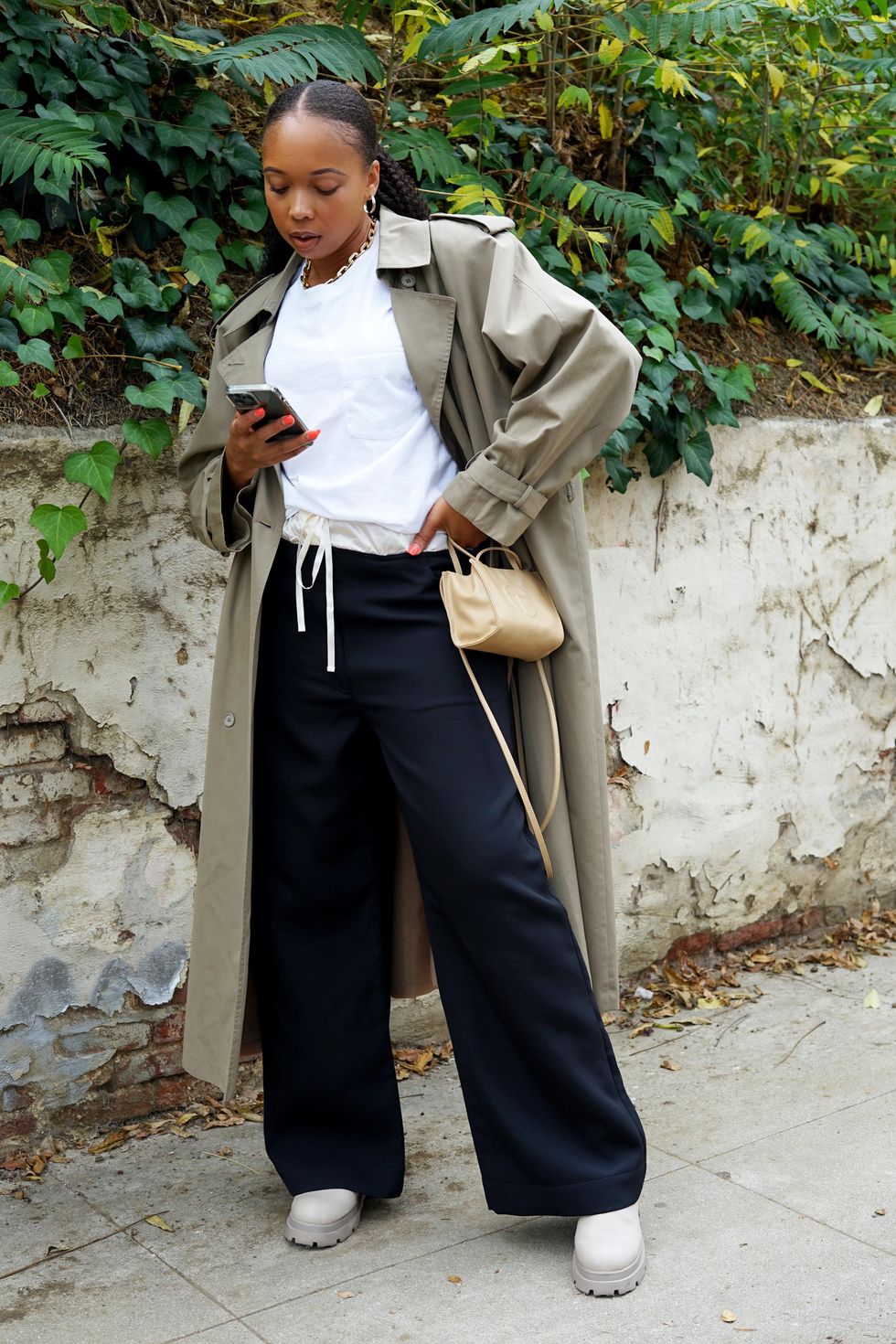 Shahirah Ahmed/xoNecole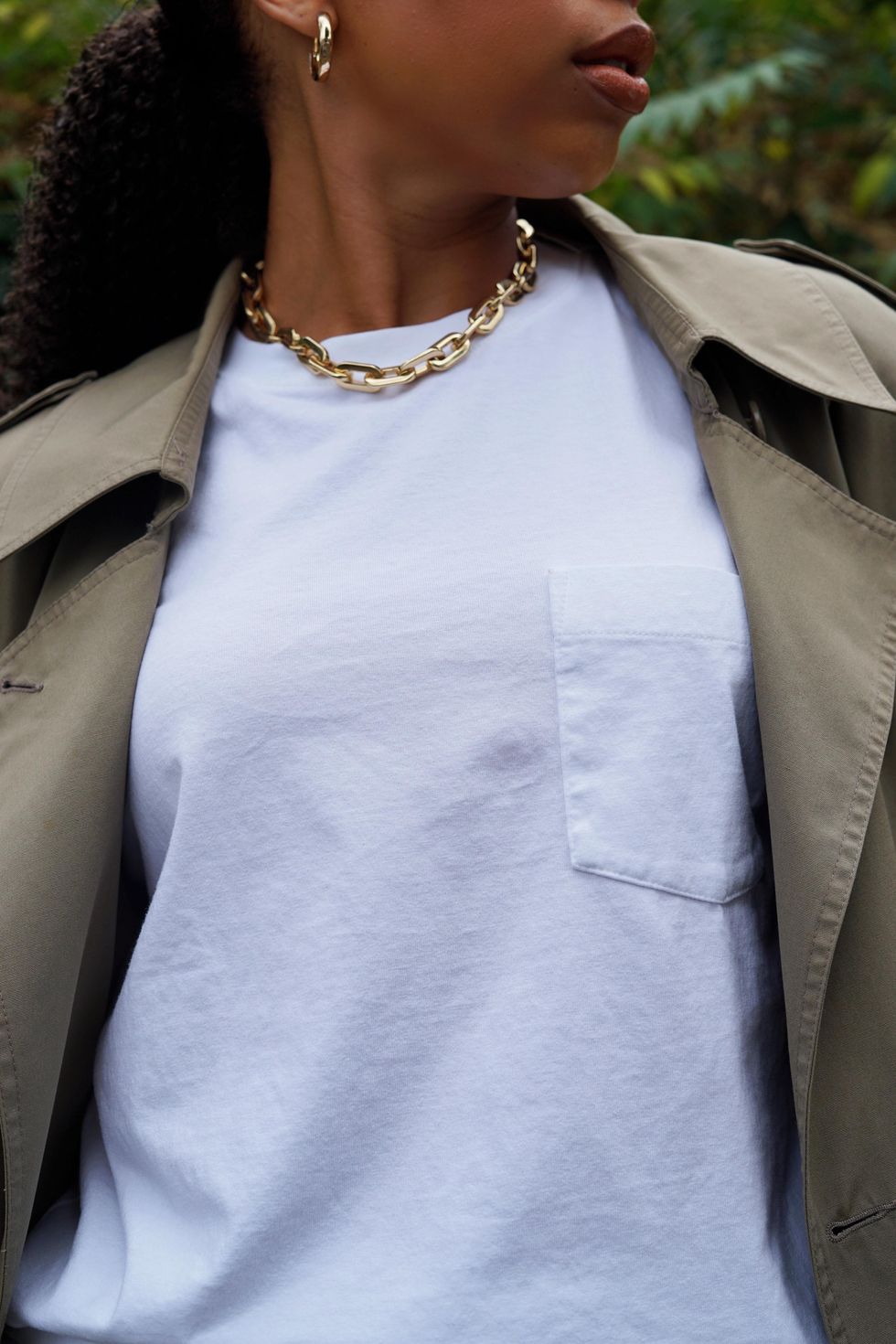 Shahirah Ahmed/xoNecole
Oversized t-shirts have had me in a chokehold as of late, completely taking over as the main staple of my fall uniform. This season, I've been inclined to show less skin and achieve more comfort, challenging myself to create functional and stylish looks to go about my busy day. In addition to oversized tees, I love wide-leg trousers for just about any occasion.
For this look, I paired a men's white t-shirt with these black satin-trimmed wide-leg Acne pants to add a cool approach to this relaxed look. Mixing high-priced items with high-quality basics can elevate a casual outfit instantly. For a wide range of options including this boxy fit, Uniqlo has a fantastic selection of affordable essentials.
Topping off this neutral look with a beige trench coat, chunky boots, and a mini Telfar shopper, I felt like the epitome of comfy chic.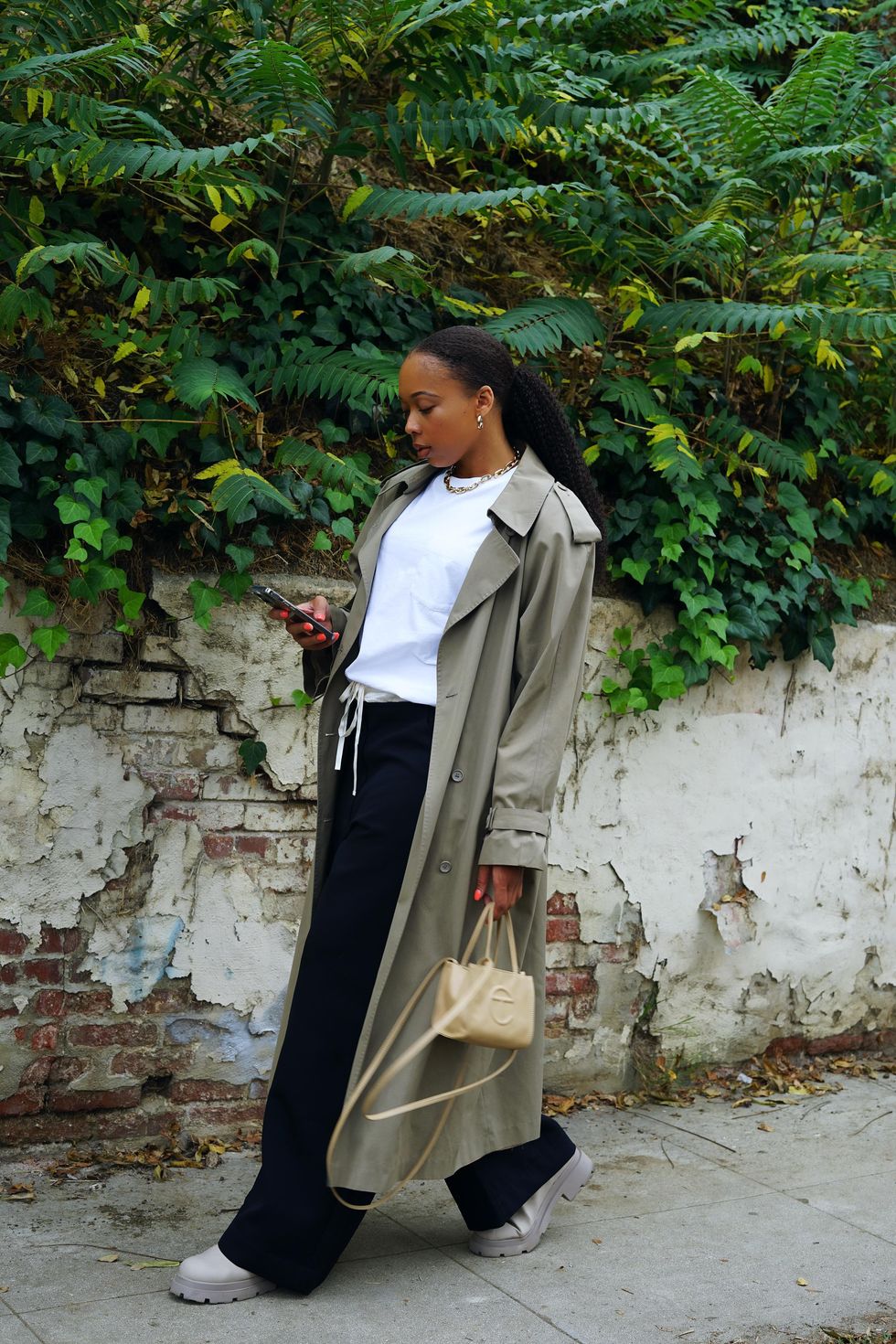 Shahirah Ahmed/xoNecole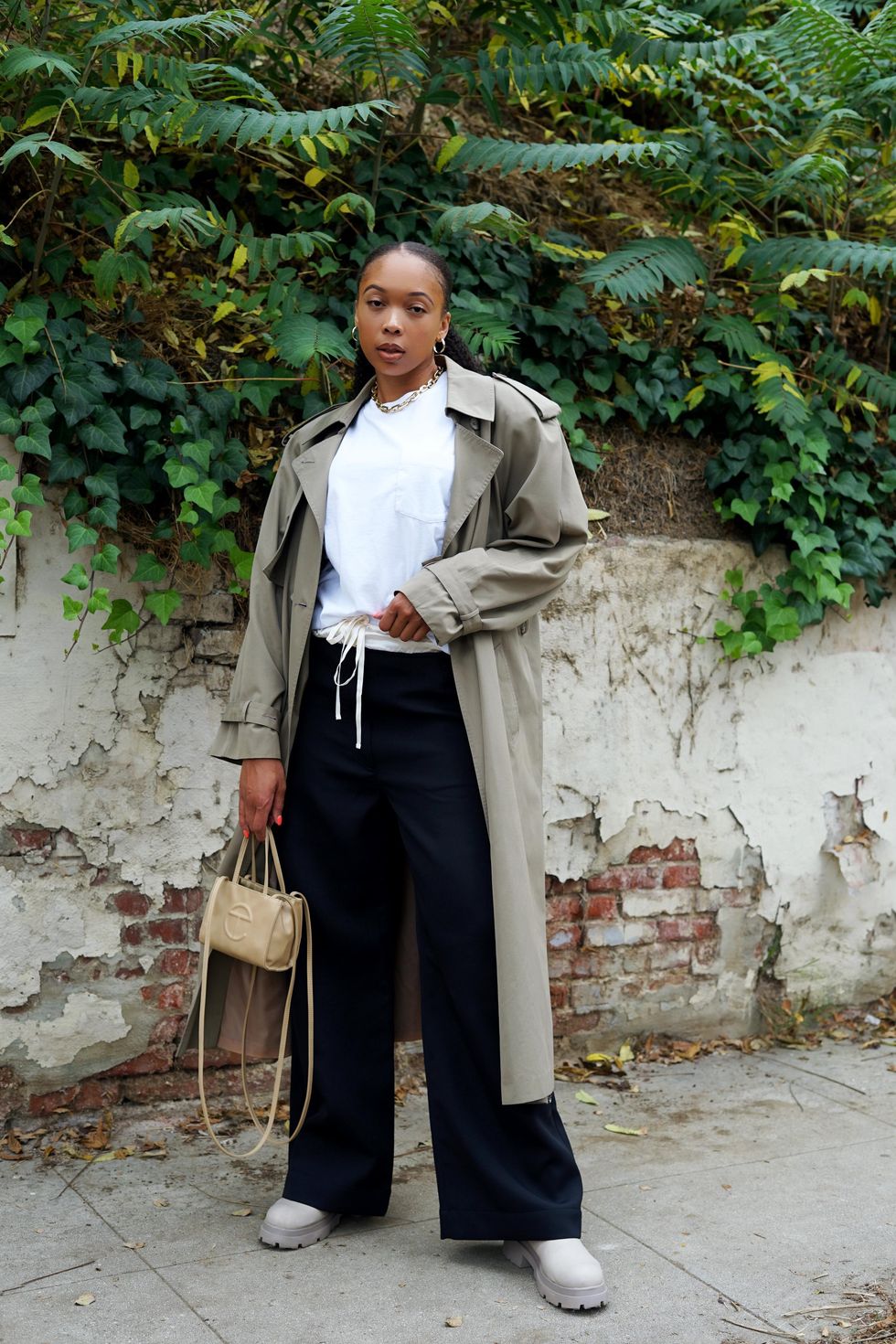 Shahirah Ahmed/xoNecole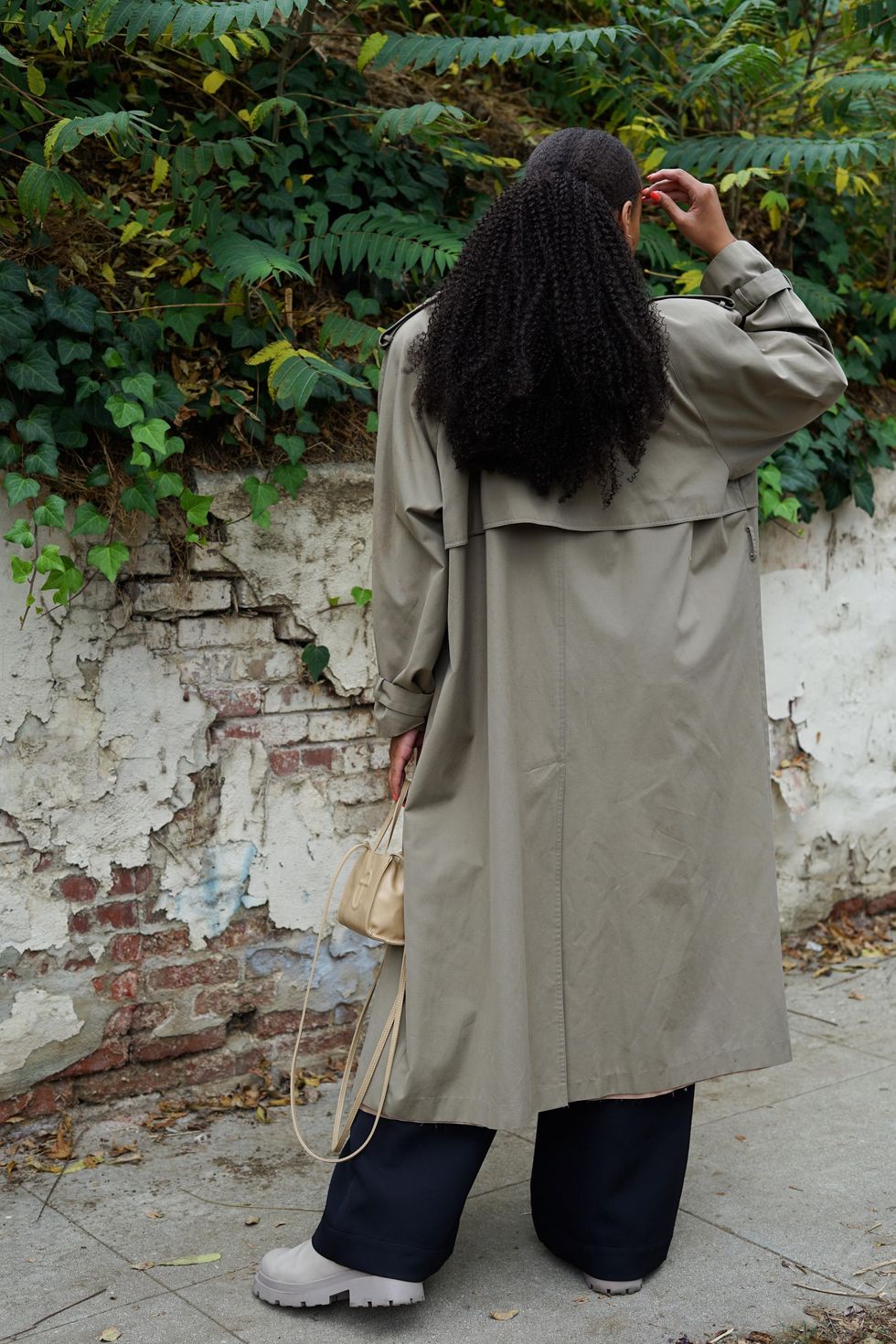 Shahirah Ahmed/xoNecole
Look 2: Ribbed Tank + Denim Jacket + Tennis Skirt + Ankle Boots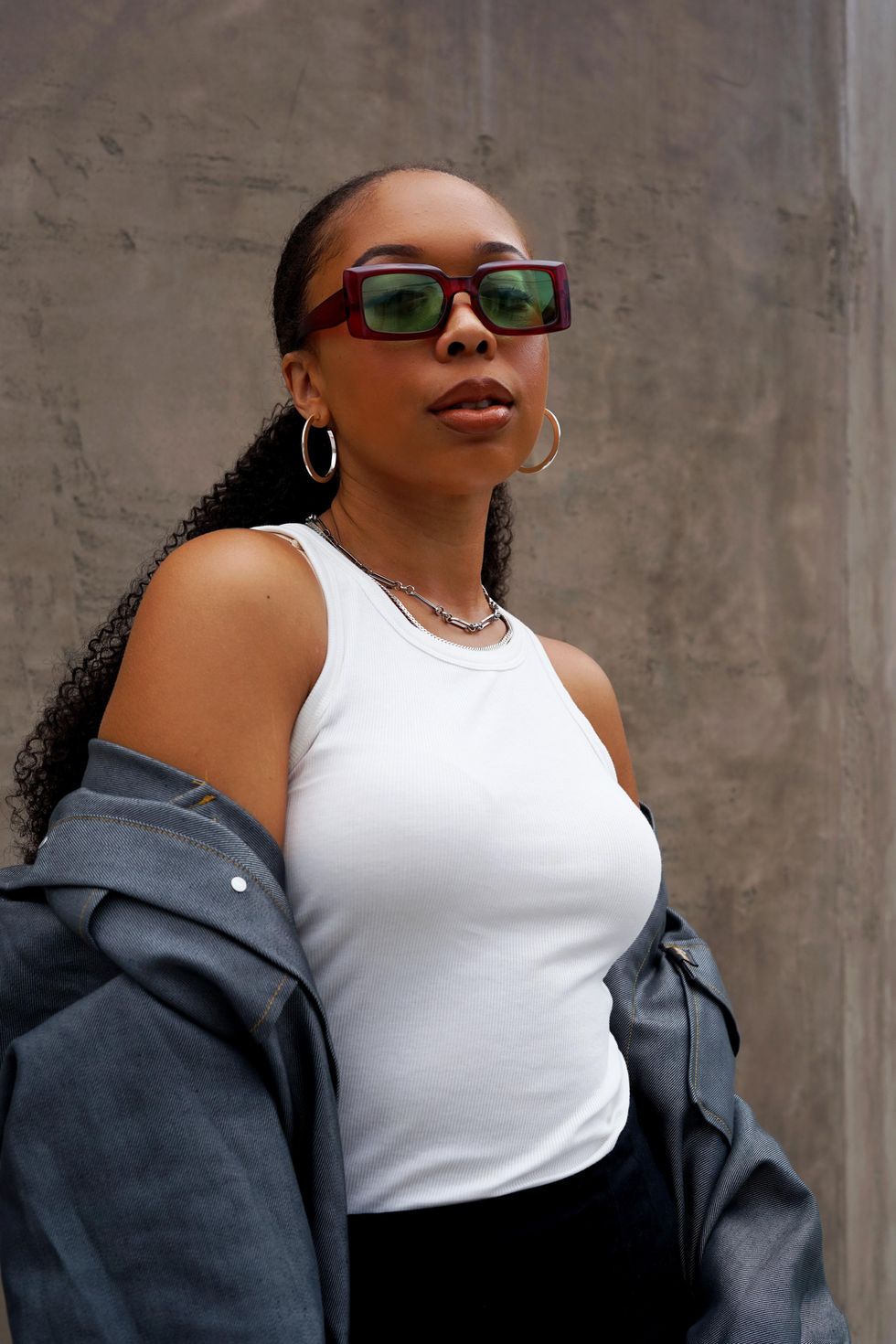 Shahirah Ahmed/xoNecole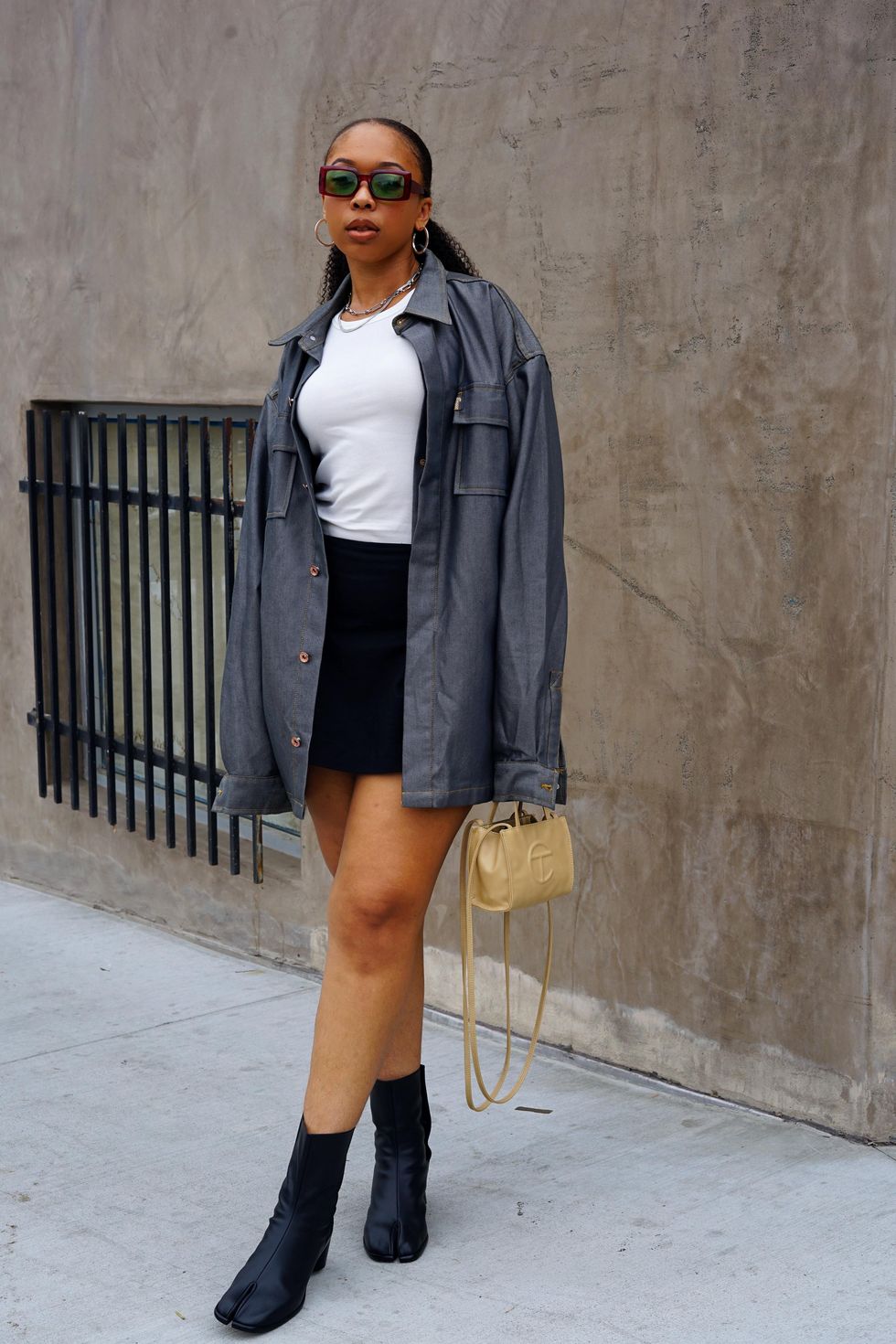 Shahirah Ahmed/xoNecole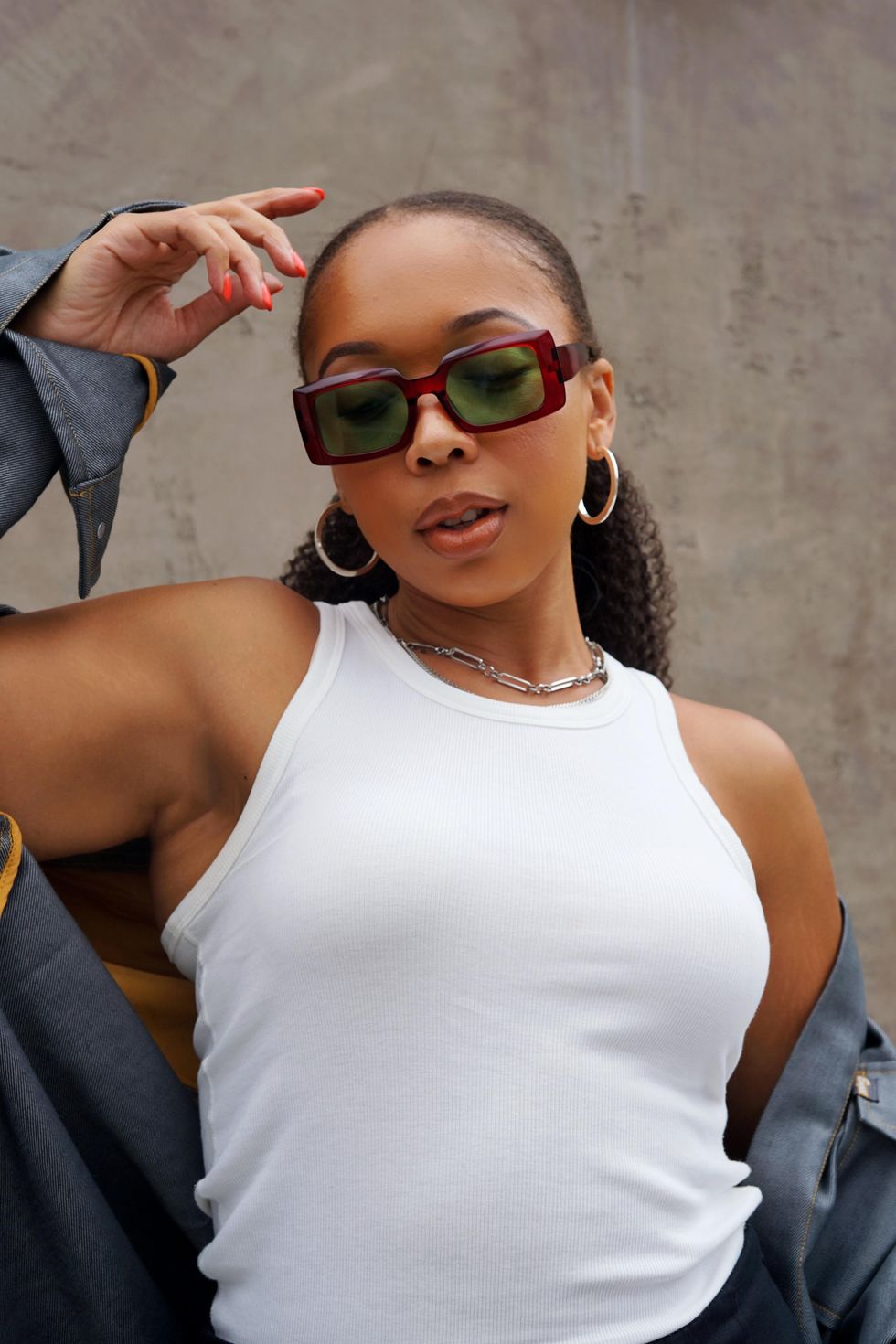 Shahirah Ahmed/xoNecole
A ribbed tank top is another great foundational item to include in your capsule rotation. Perfect to pair underneath lightweight jackets and knits, you can layer with just about anything this fall. I love this tank from COS as it's the perfect fit and length, providing the perfect quality, comfort, and silhouette.
For this weekend look, I paired a black pleated mini skirt along with an oversized unwashed denim jacket to incorporate a couple of the season's trends. Completing this look are the infamous ankle boots by Maison Margiela that are the perfect fashion-forward designer staple.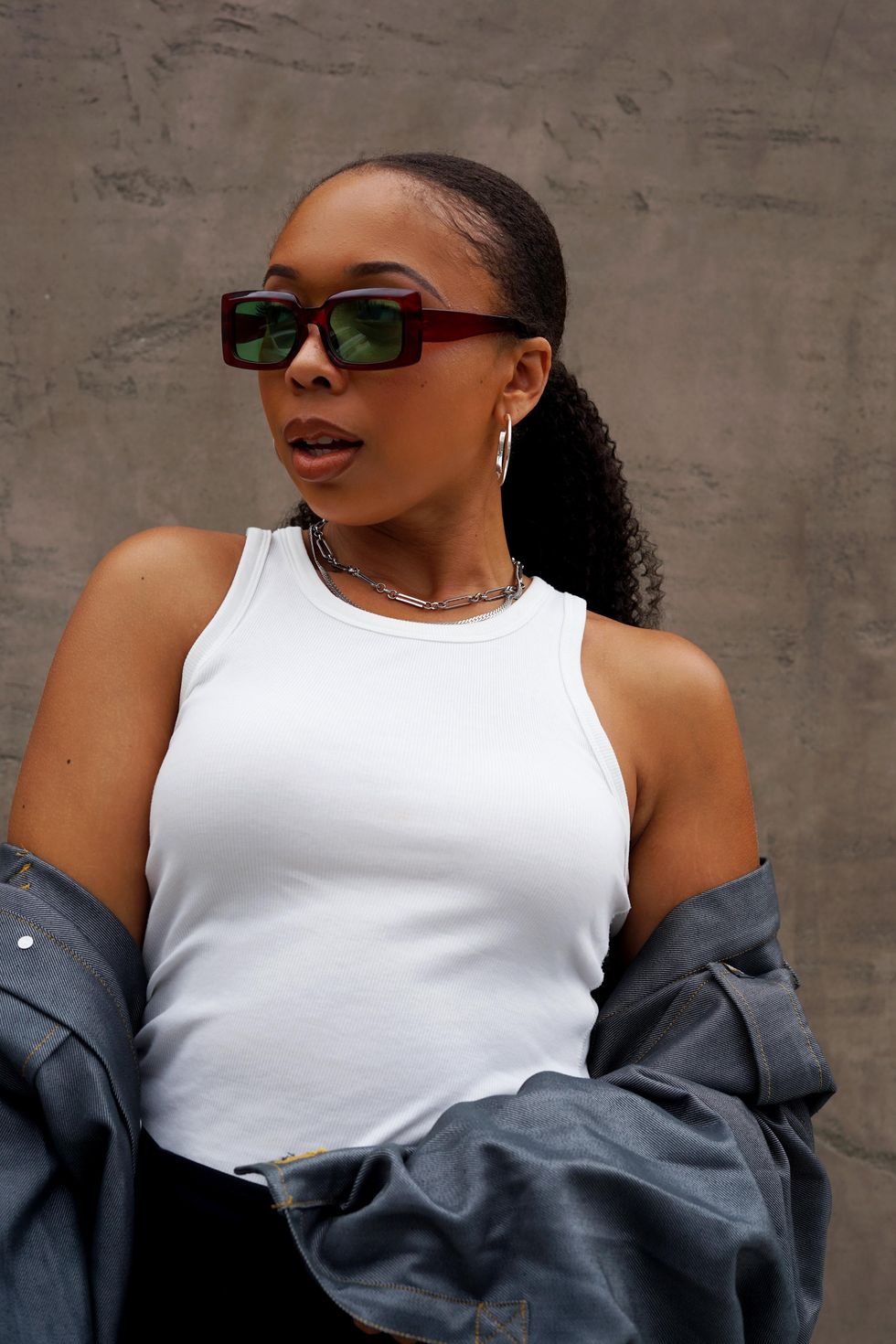 Shahirah Ahmed/xoNecole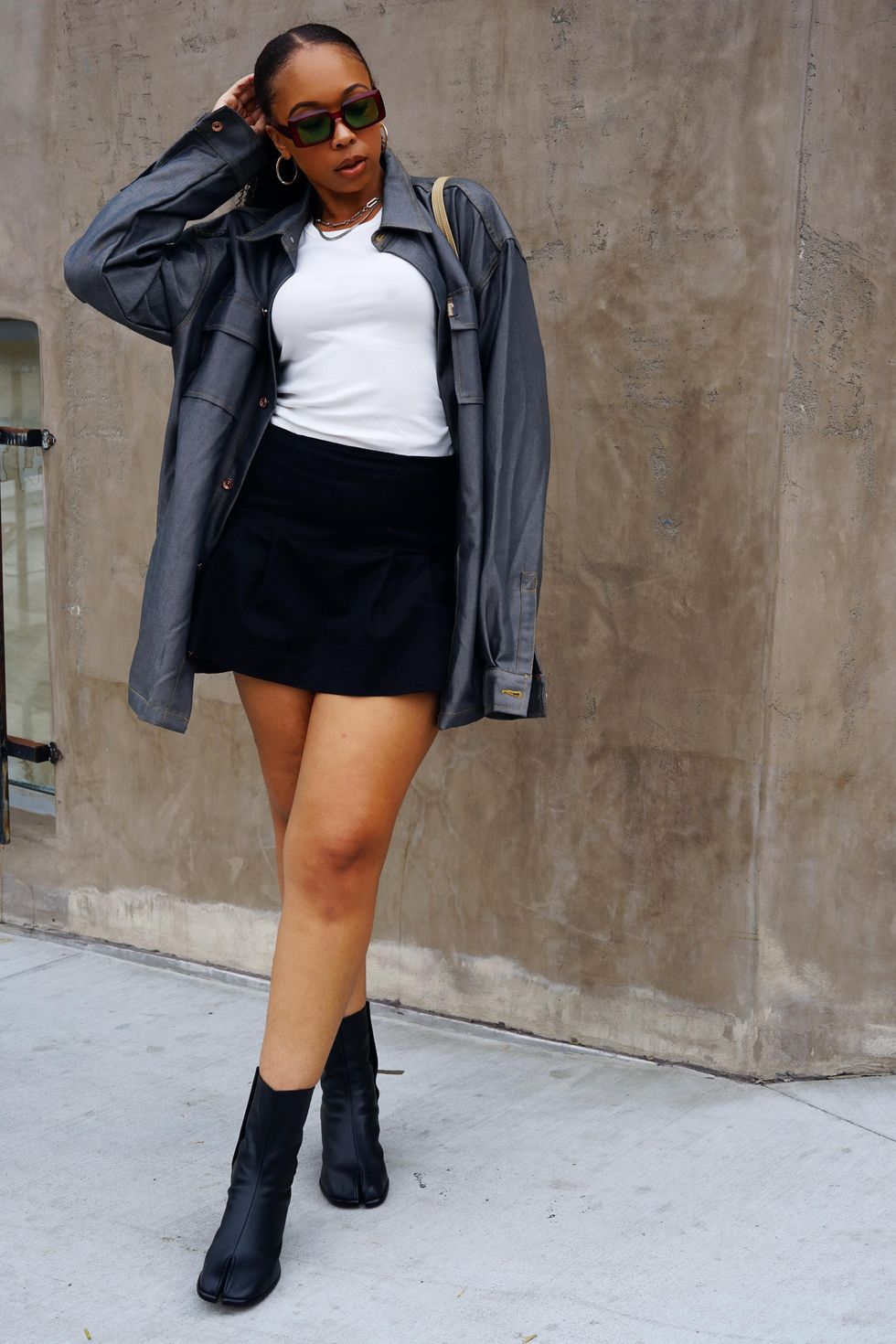 Shahirah Ahmed/xoNecole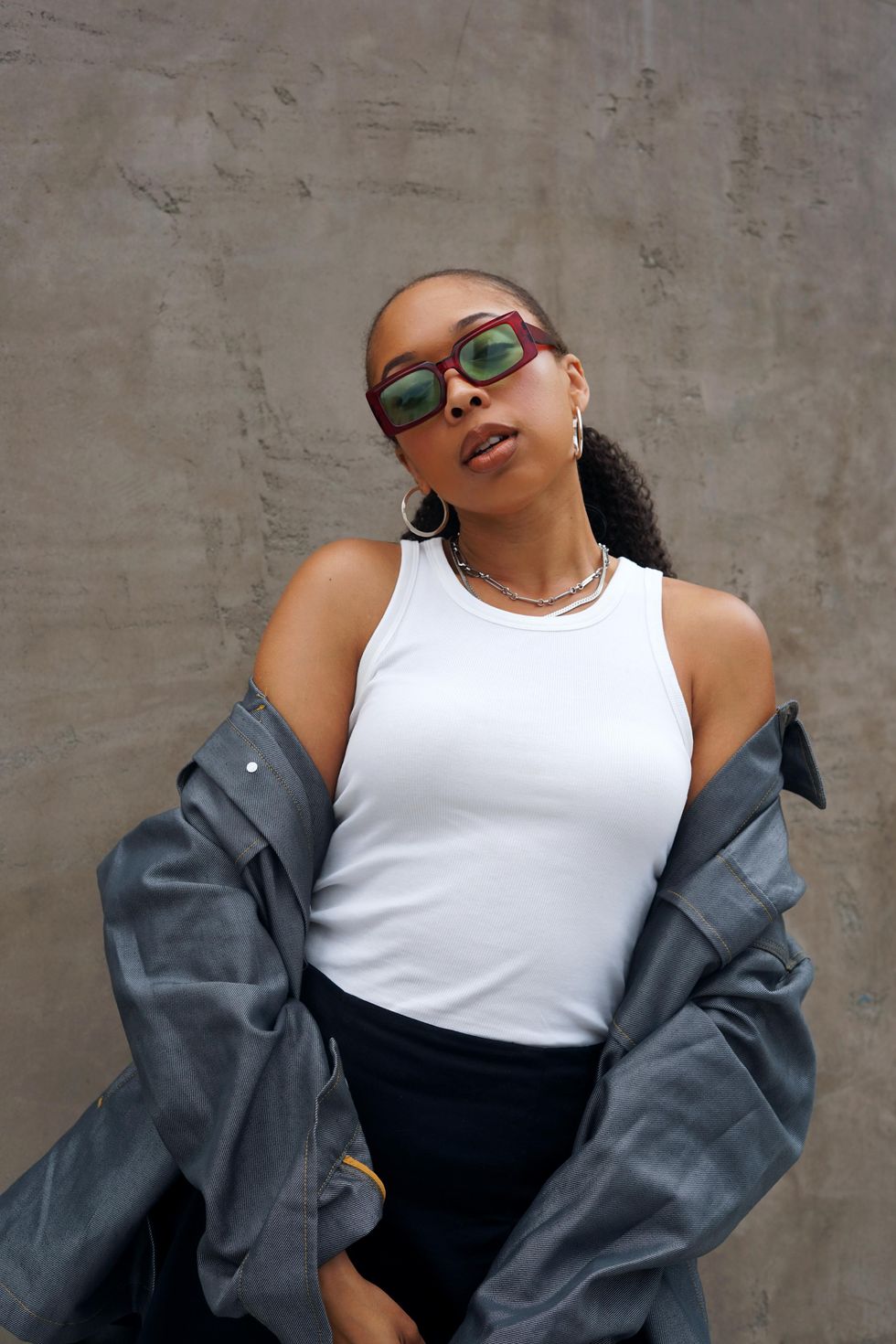 Shahirah Ahmed/xoNecole
Look 3: Cropped Button Down + Fitted Top + Leather Jacket + Pleated Midi Skirt + Knee High Boots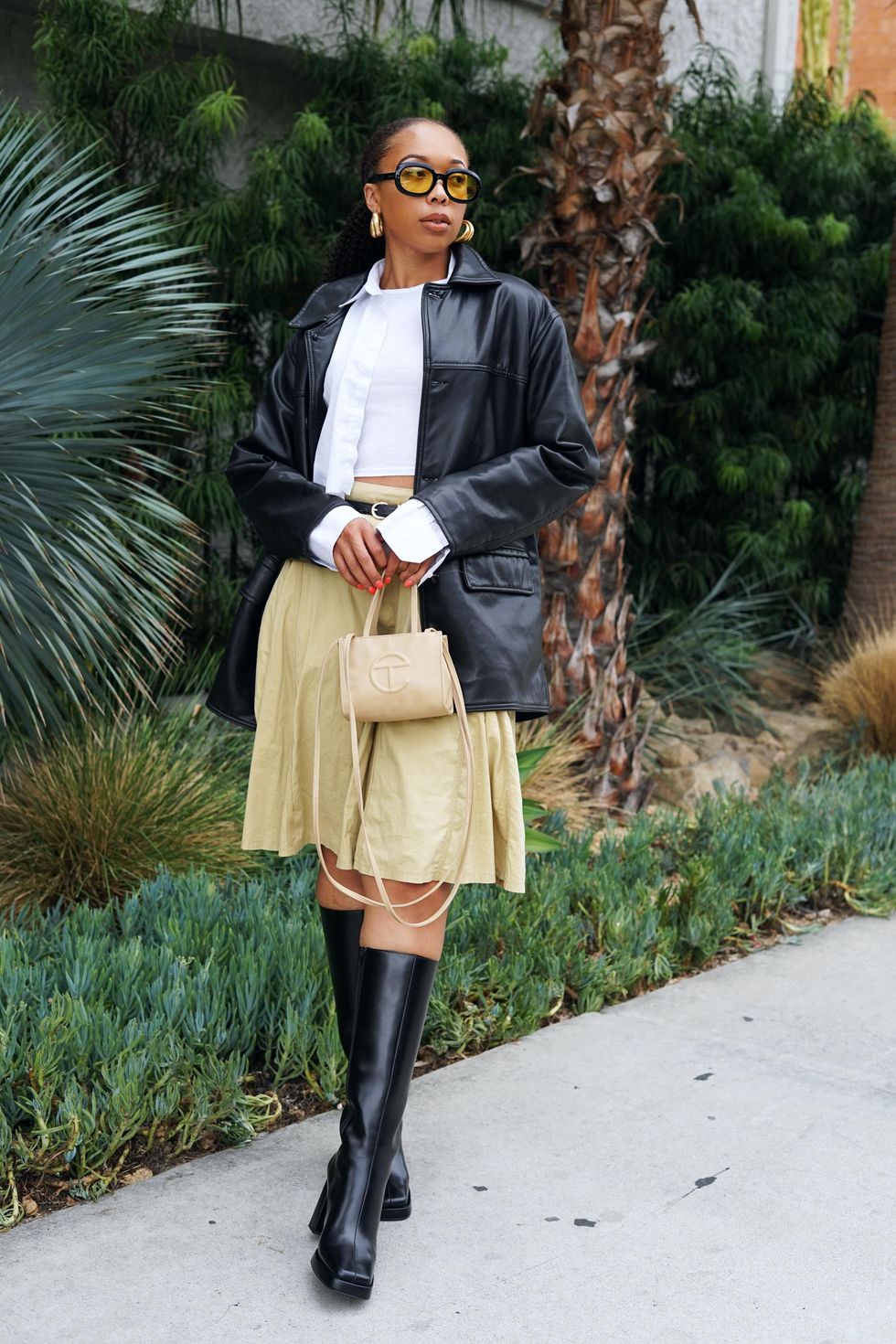 Shahirah Ahmed/xoNecole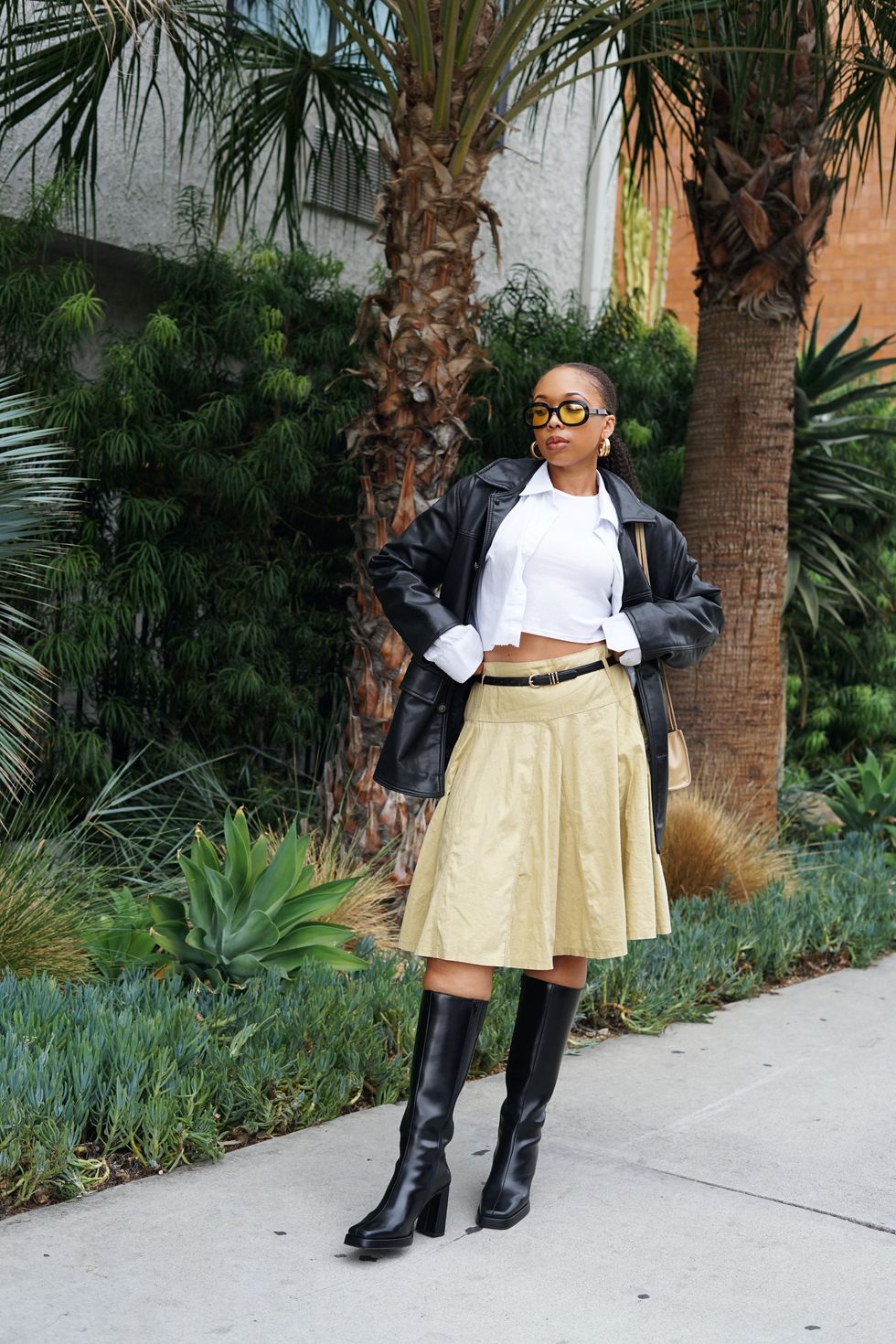 Shahirah Ahmed/xoNecole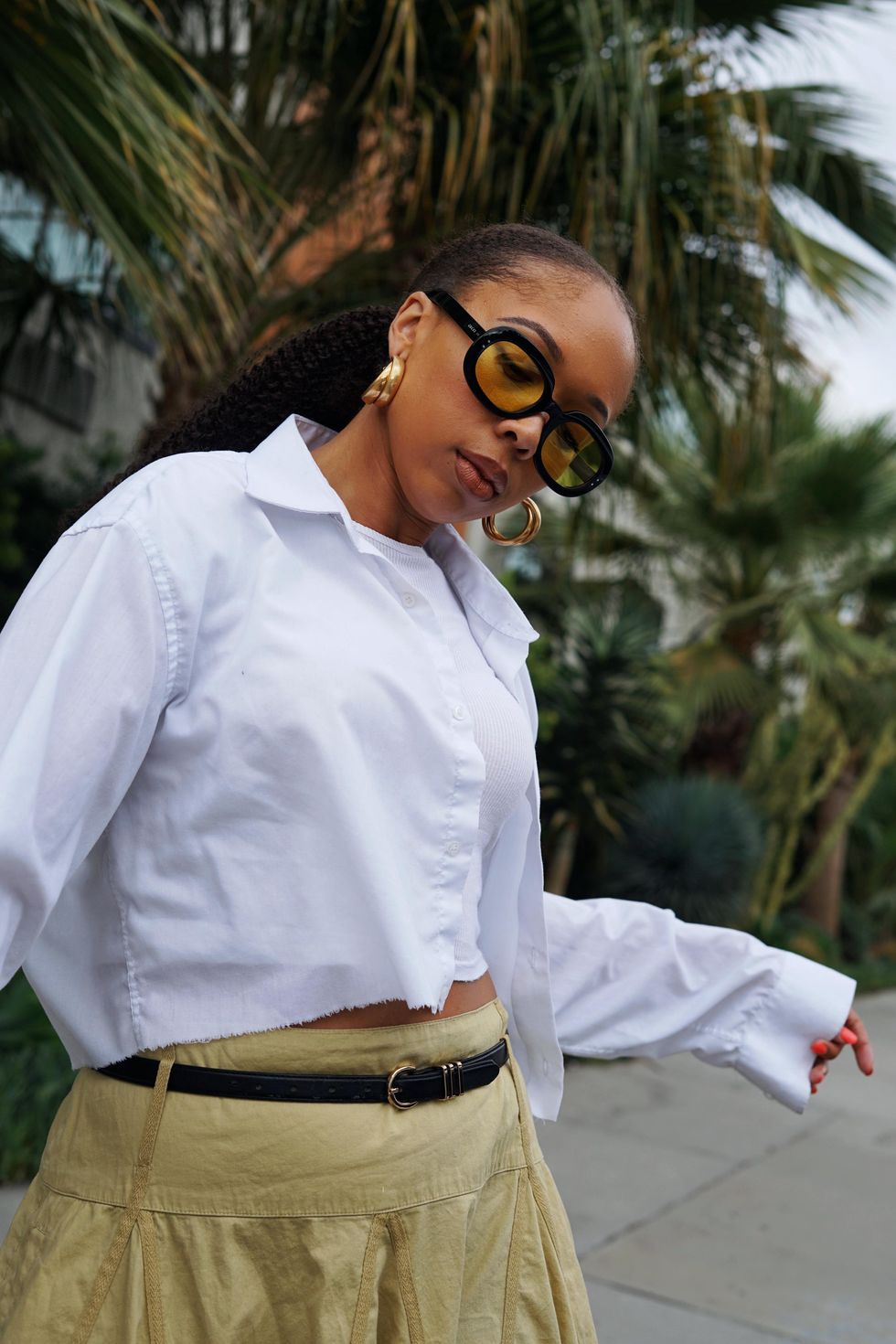 Shahirah Ahmed/xoNecole
Another one of my favorite staples to keep on steady rotation for fall is an oversized cropped button-down. Perfect for those of us that like to mix current trends with classic styles, layering this basic is a great way to effortlessly elevate a cute and casual look. I'm currently obsessed with the late 90s/early 2000s pleated midi skirt era, so I couldn't wait to style with a few of my favorite basics.
For an overall minimal approach, I went with neutral tones along with a black leather jacket, Agolde fitted top, square-toe knee-high boots, and black Gucci frames to complete this daytime look.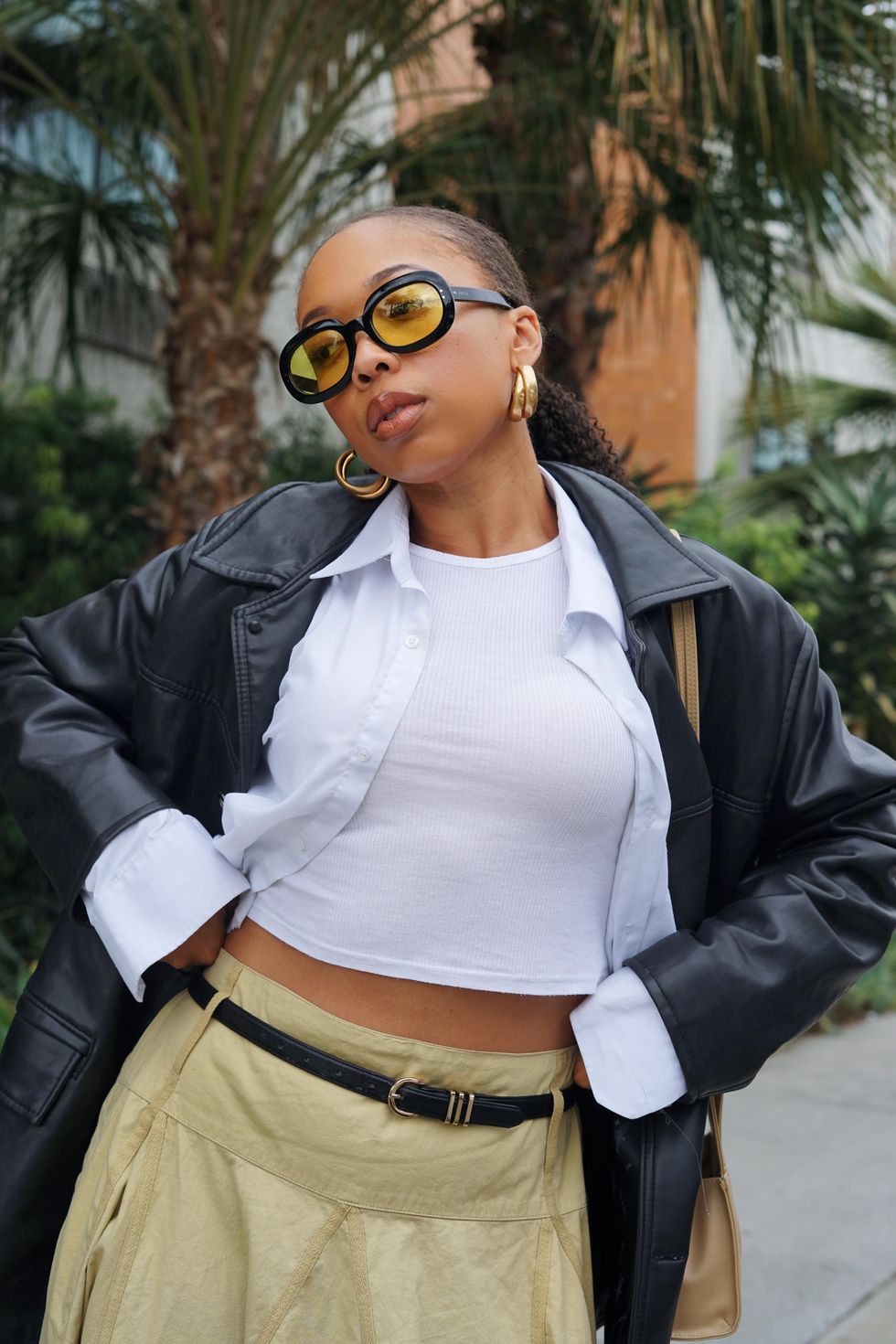 Shahirah Ahmed/xoNecole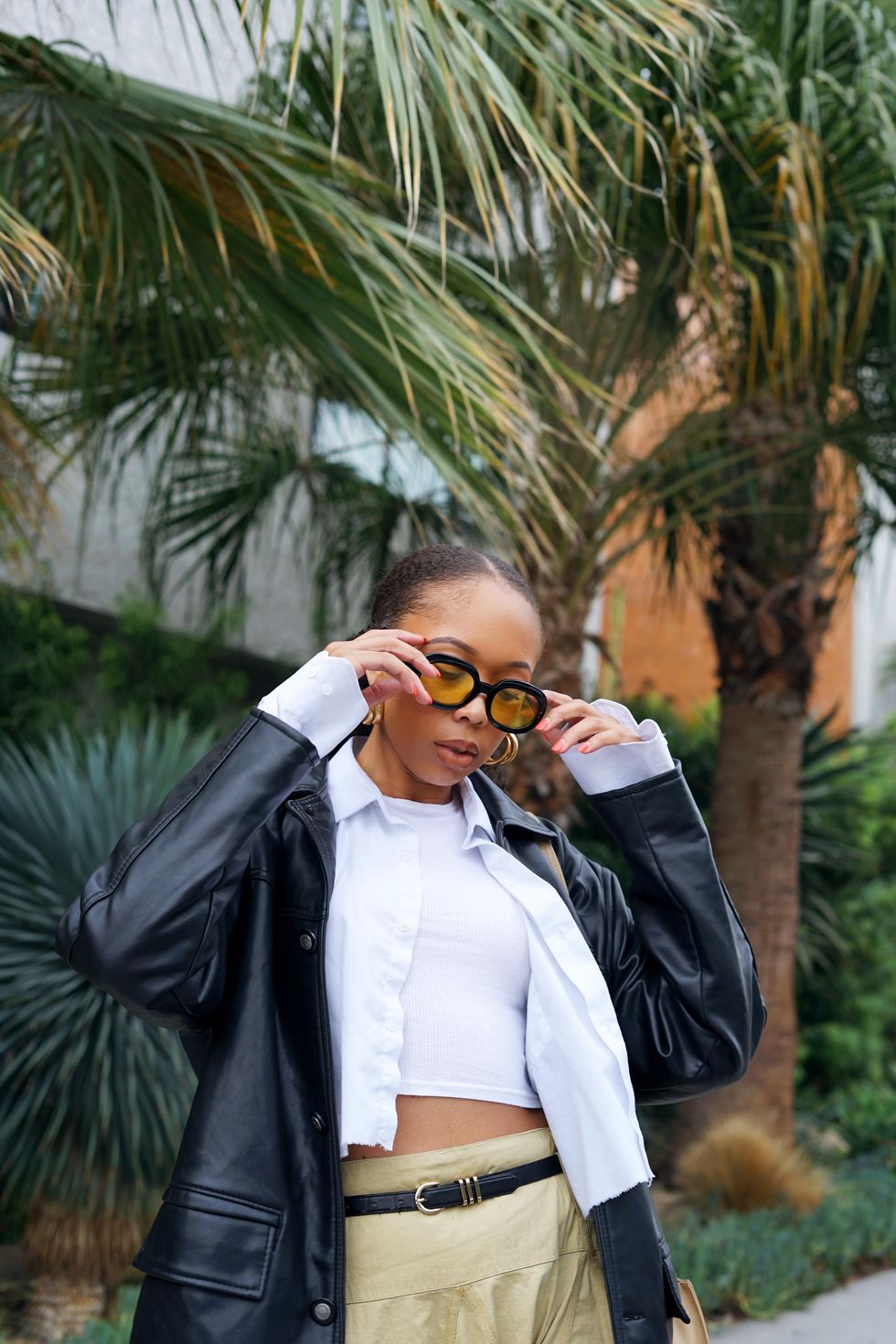 Shahirah Ahmed/xoNecole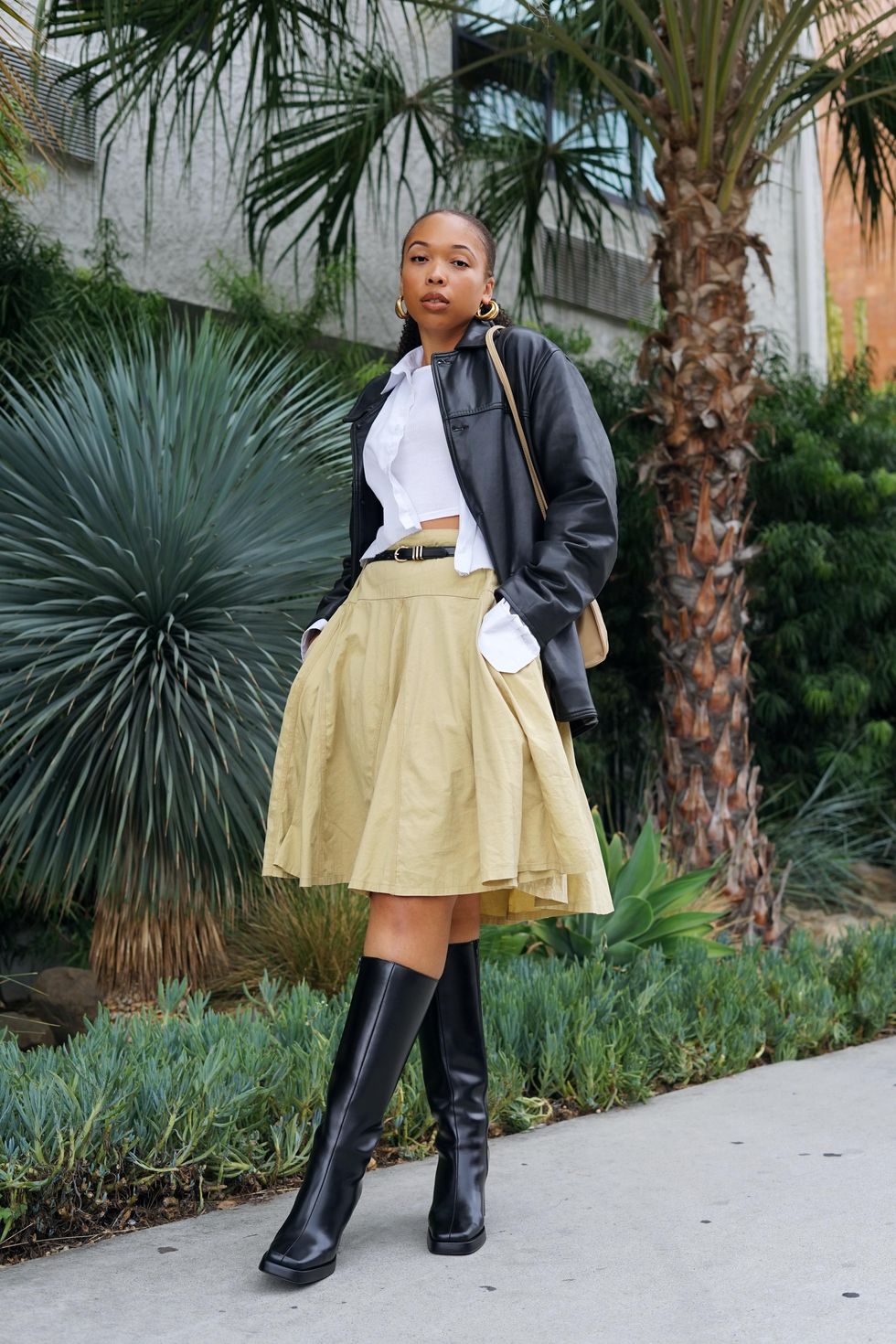 Shahirah Ahmed/xoNecole
Featured image by Shahirah Ahmed/xoNecole
Having ashy lips may be worse than having ashy knees. It's true. And now that it's getting colder, it's getting harder to keep our skin moisturized, and the skin on our lips is no different. Dry lips can be painful and uncomfortable. In extreme cases, they can even lead to bleeding and infections. So how can you keep your lips moisturized during the fall and winter months?
Here are a few tips to keep your lips soft, supple, and healthy!
Featured image by skyNext/Getty Images
Creative Producer and Spelmanite Maura Chanz has amazing, flawless skin, so we had to know, what's her skincare routine?
Maura tells xoNecole her secret is the Black woman-owned and created Amina Adem all-natural skincare products. The founder of her eponymous skincare line, Amina Adem, is an internationally renowned beauty therapist and certified aromatherapist who's used her skills to create products with therapeutic-grade essential oils that smell great and keep your skin soft and clear.
Maura tried Amina Adem and hasn't looked back. She walks xoNecole through her simple skincare routine.
Featured image courtesy of Maura Chanz
Call it a cliché but when you look good you feel good which is why I take pleasure in getting dressed for work even on the days I dread going into the office. Although I have a bit more flexibility working in fashion, expressing oneself through outfits even with a corporate dress code can significantly increase mood and creativity.
For most of us, it's been two years of Zoom meetings in our favorite t-shirt and sweatpants so I'm excited to get back to chic yet comfortable trend-forward looks that mean business. No matter your industry, a minimal take on casual workwear is my favorite go-to inspiration because of its effortlessly sleek take on comfort combined with affordability regardless of budget.
Whether you prefer wide-leg trousers paired with an oversized button-down or a blazer and denim combination worn with your favorite statement boots, I've enlisted two of my favorite minimalists to share their go-to workwear items they'll be rotating this fall.
Less is more when it comes to sophisticated elegance, so take notes of these key items to refresh your workwear wardrobe that'll surely get you noticed for all the right reasons.
Featured image courtesy of Aissata/Instagram