The Beauty Closet - Home Page
In About Face, xoNecole gets the 411 on IGers who give us #skincaregoals on a daily. Here they break down their beauty routines on the inside and out, as well as the highly coveted products that grace their shelves and their skin.
Achieng Agutu has made a name for herself as a "Certified Confidence Queen," and when you look at the material, there's no wonder why. Through her encouraging words, energy, and bad bish mantras shared on social media underneath the name @noordinarynoire, Achieng has amassed a following of over 450K followers who gravitate toward the content creator for keys to the confidence kingdom. The 25-year-old revealed to xoNecole that the true key to confidence lies in authenticity. "Be yourself, live your life for you and no one else," she says. "It is important to accept yourself for your unique qualities and find the power in it."
Without a doubt, Achieng has tapped into the fullness of that power as unapologetic self-love and confidence radiate from her entire being. She is confident in the skin she is in and has defined beauty for herself. She remembers finding beauty in things rather than people and that perspective lent itself to her most significant beauty lesson which is that beauty is in the eye of the beholder. "What's beautiful to you might not be beautiful to me or my standards of beauty may not match yours," she explains. "Beauty is subjective."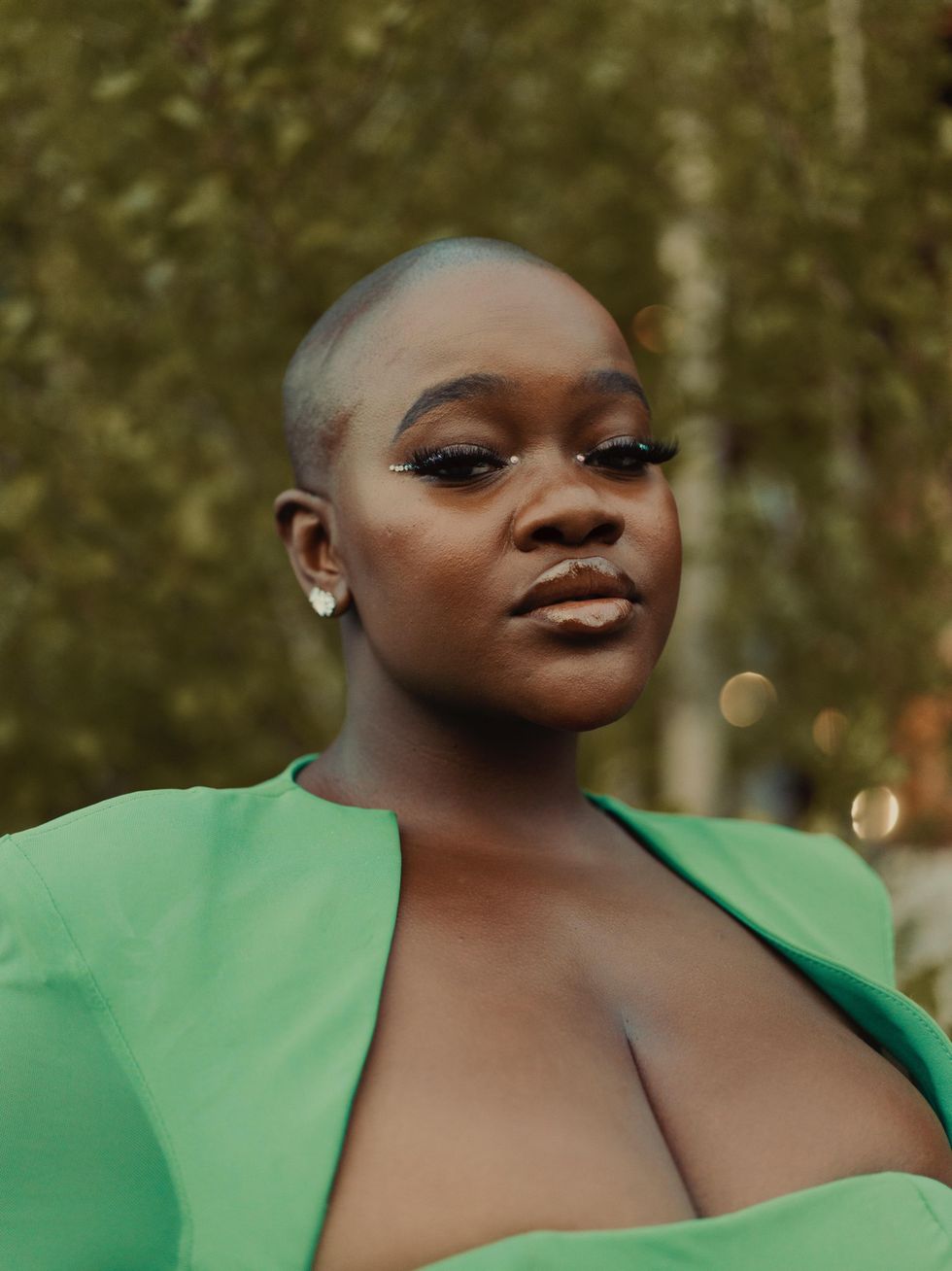 Photo Credit: Braylen Dion
Growing up in Kenya is something else that impacted the way Achieng saw beauty, especially in how she approached her skin care. Whereas she noted skin care routines in the United States seemed to revolve around products, her upbringing in Kenya taught her that skin care and beauty were just as much internal as it is external. "To me, taking care of your health is also taking care of your skin. This is still how I view skin care," she shares. "In a similar way, this also reflects my view of beauty. Western media sold us the idea that external factors – white, skinny, tall, and blonde – were the standard of beauty. I have since learned that beauty is internal. The way a person carries themselves with confidence and kindness is what makes them beautiful."
To take care of herself internally, Achieng actively journals and enjoys drinking water as means of self-care and self-pleasure. The latter of which she also likes to maximize the benefits of through water affirmations. "It's such a powerful thing for me. Something I like to do when I drink any liquid, but mainly water, is speak manifestations and desires into it. Speak into it who you are or who you want to be, drink it with zeal, and watch everything come to fruition. I call it 'water affirmations' and they work for me."
Keep scrolling for more insight into Achieng Agutu's morning and night skin care routines.
Achieng Agutu's Morning Skin Care Routine
Step One: Cleanse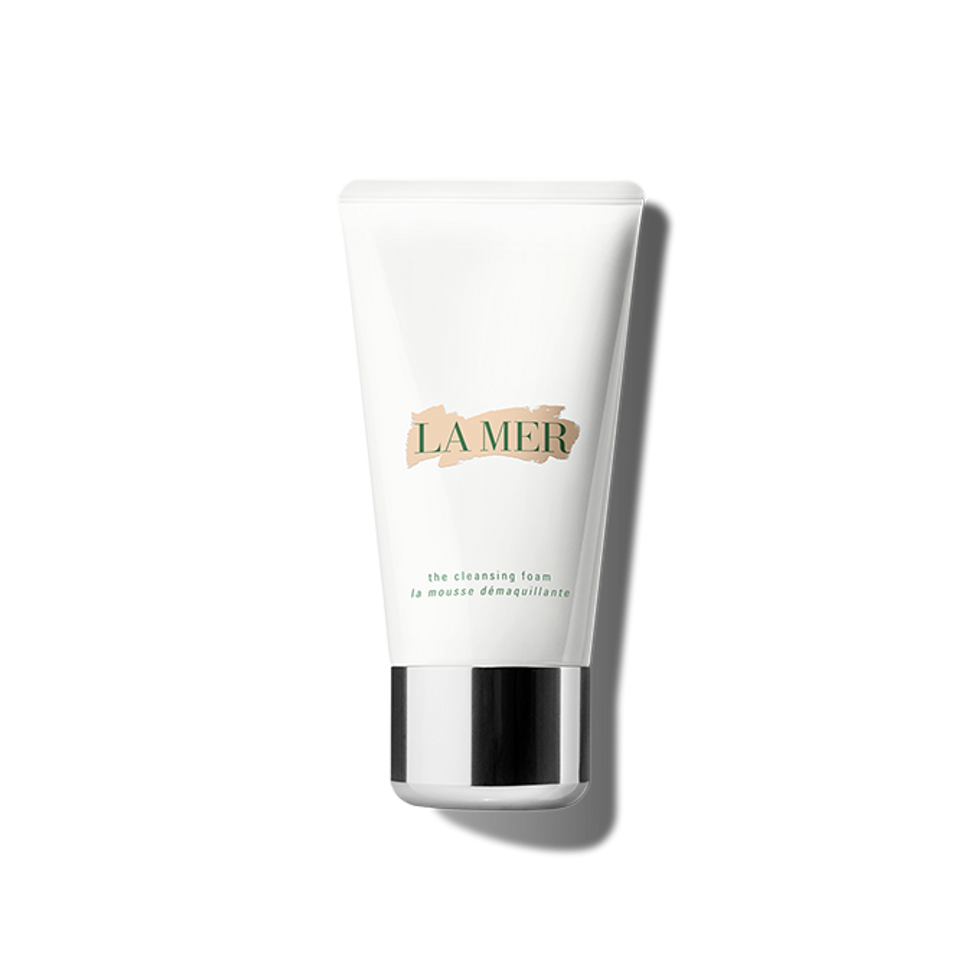 La Mer
"I cleanse my face using the La Mer Cleansing Foam. I love this cleanser because it is effective, yet gentle for my sensitive skin. This one, in particular, is also fragrance-free."
Step Two: Mask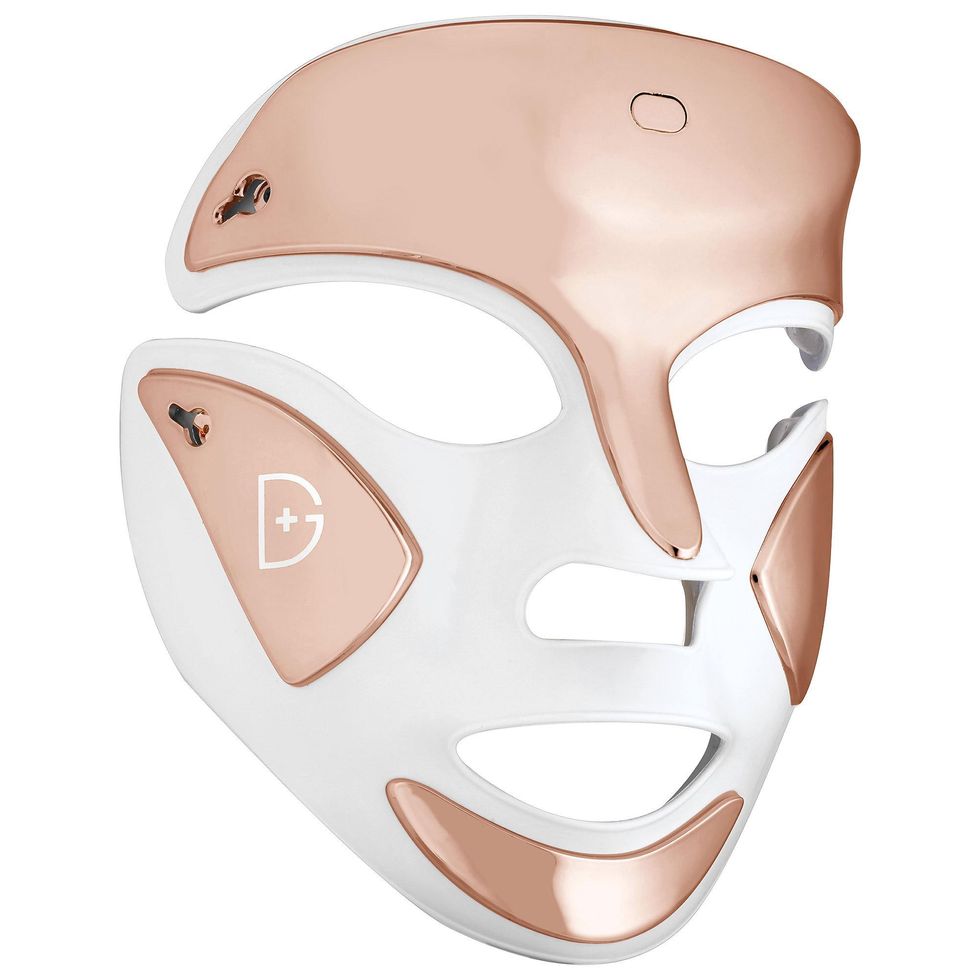 Dr. Dennis Gross
"I use the Dr. Dennis Gross LED mask. It is an anti-acne, anti-aging treatment I use every other day."
Step Three: Face Toning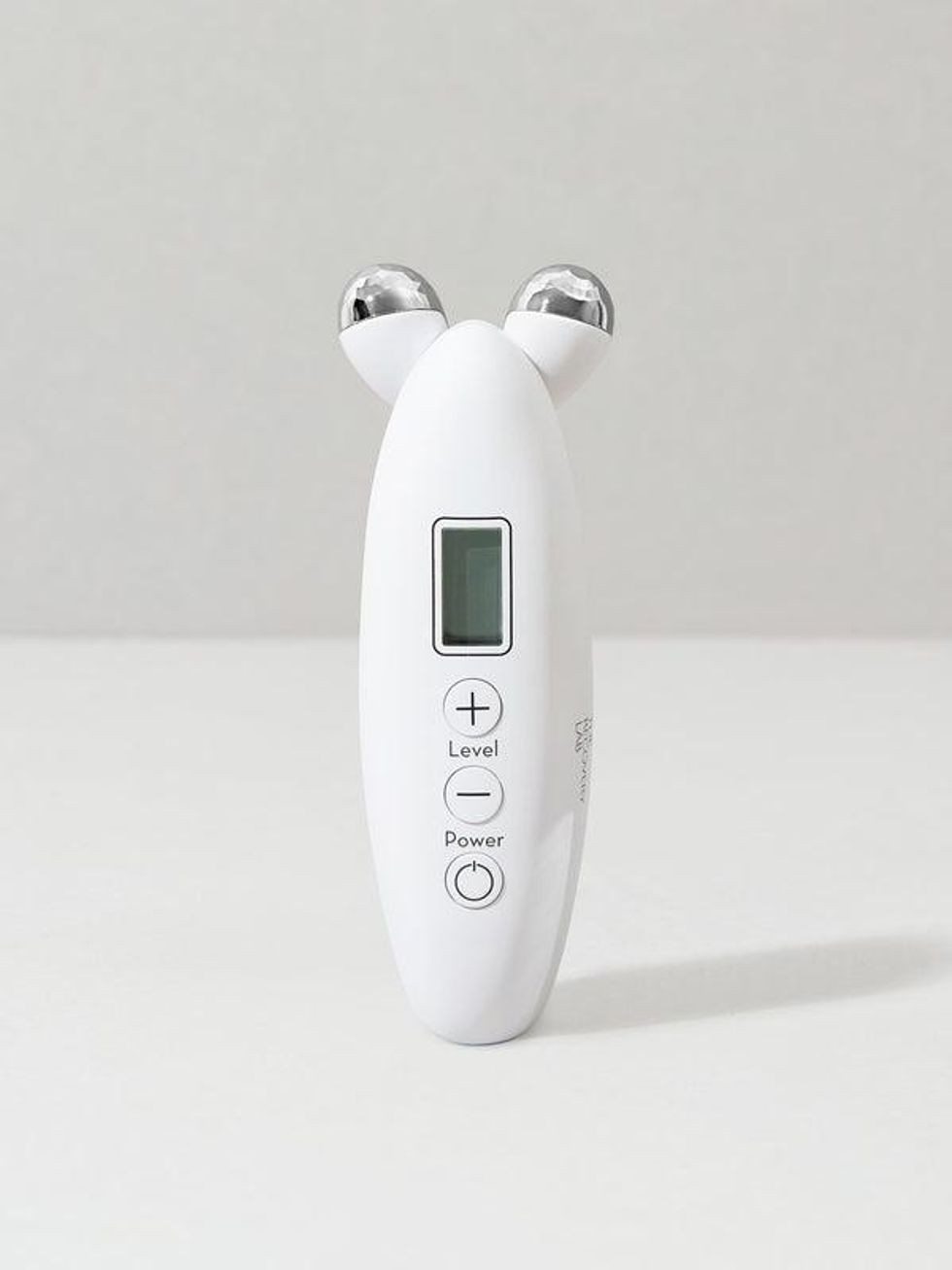 Face Gym
"I use the Face Gym Pure Lift Face [tool] to depuff and contour my face! It's like Gua Sha 2.0!"
Step Four: Exfoliate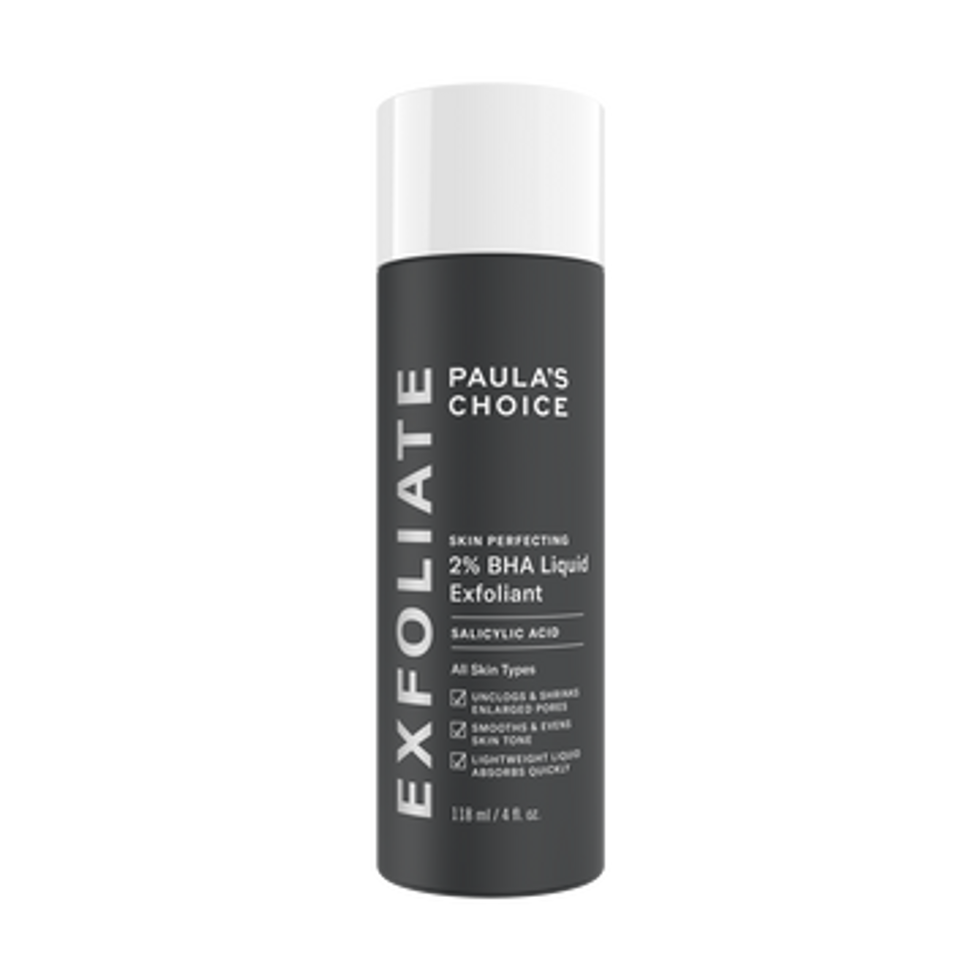 Paula's Choice
"I exfoliate Paula's Choice 2% BHA Liquid Exfoliant. It is gentle enough to use every day."
Step Five: Eye Cream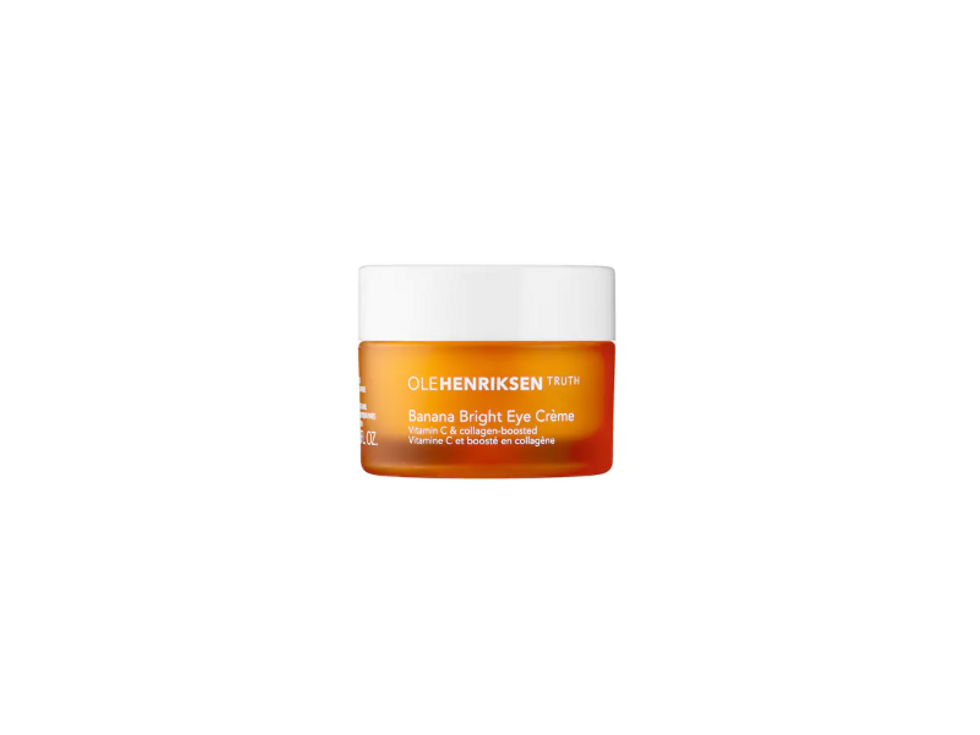 Ole Henriksen
"I take time to put on my eye treatment: Ole Henriksen Banana Bright Eye Cream. It smells so good and it gives me instant brightness under the eye."
Step Seven: Serum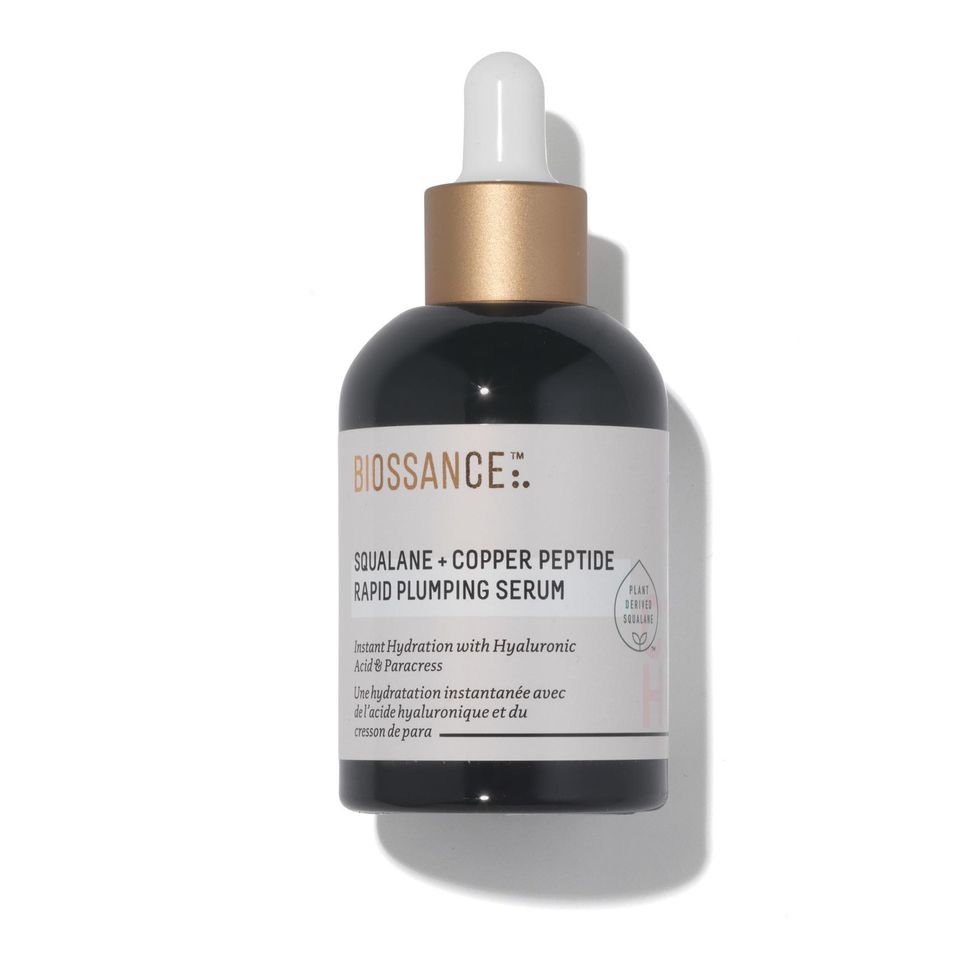 Biossance
"Depending on my skin needs, I will use the Biossance Squalane + Copper Peptide Serum for its super-moisturizing qualities. It makes the skin look nice and bouncy. Or I'll go in with a Vitamin C Serum from Ole Henriksen for more brightness. I usually alternate between these two serums."
Step Eight: Moisturize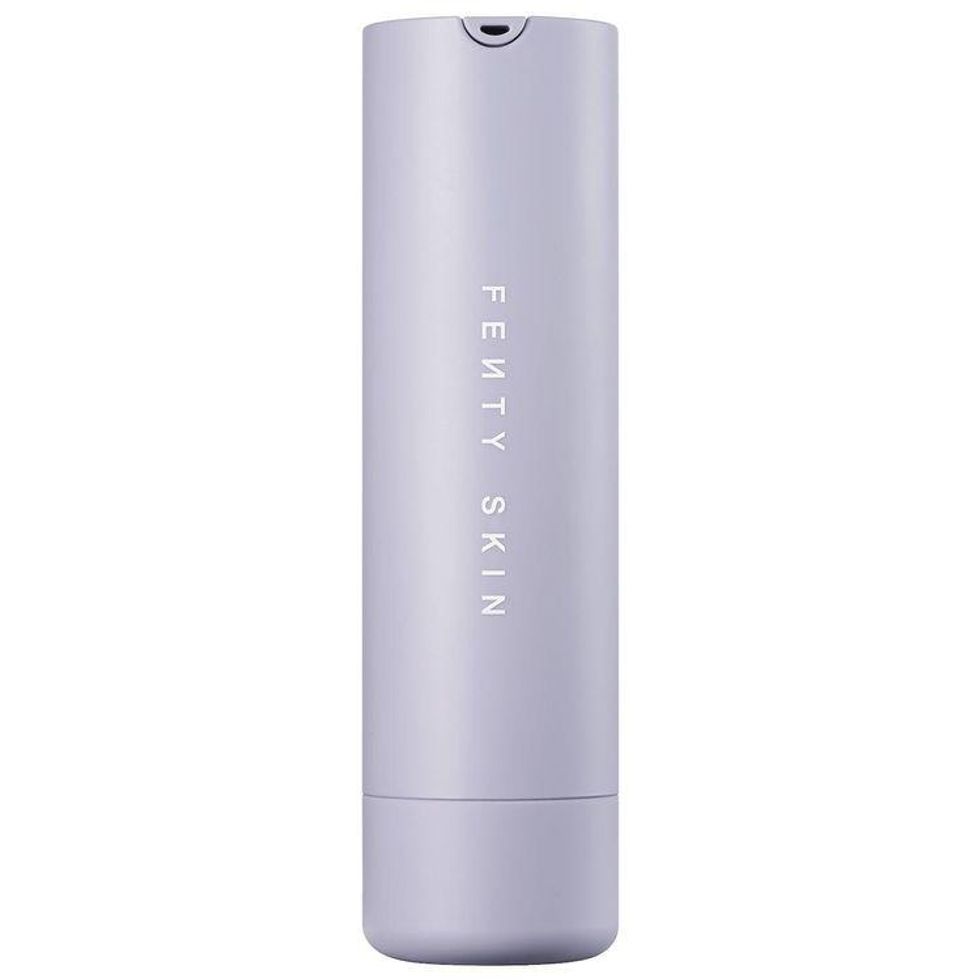 Fenty Skin
"I finish up my routine with my favorite moisturizer from Fenty Skin, the Hydra Vizor which already has SPF in it! I love it because it smells good, Rihanna made it, and the Kalahari melon helps with keeping my skin moisturized."
"At the very end, I take a step back to admire the glow in the skin and the depuffed face ready for the day. Honestly, this is my favorite part of my routine!"
Achieng Agutu's Evening Skin Care Routine
Step One: Cleanse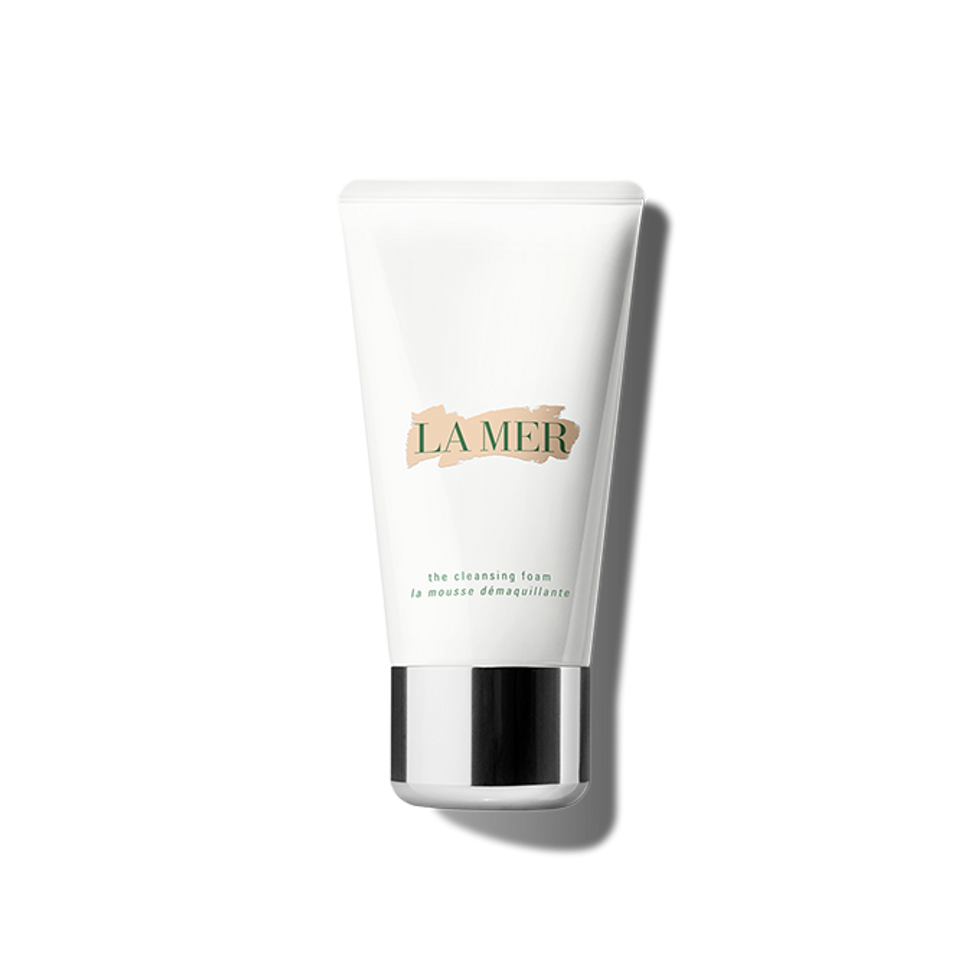 La Mer
"Before I start my nightly skin care routine, I pick out my music to set the vibes. I cleanse the day away using the cleansing foam by La Mer again."
Step Two: Eye Cream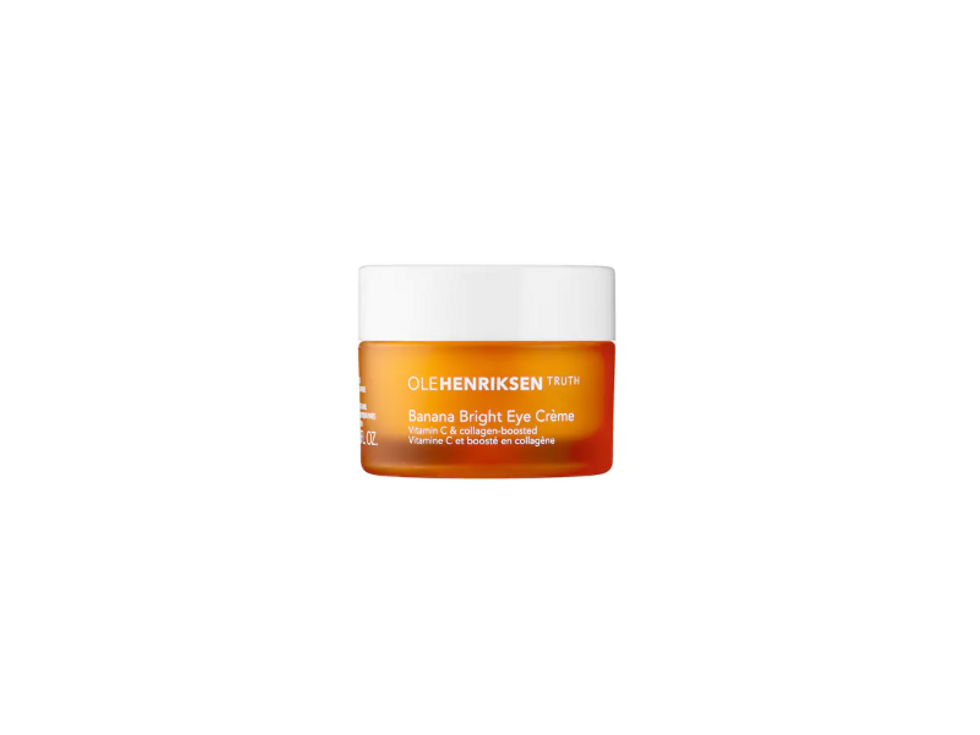 Ole Henriksen
"I go in again with my Ole Henriksen Banana Bright Eye Cream."
Step Three: Facial Oil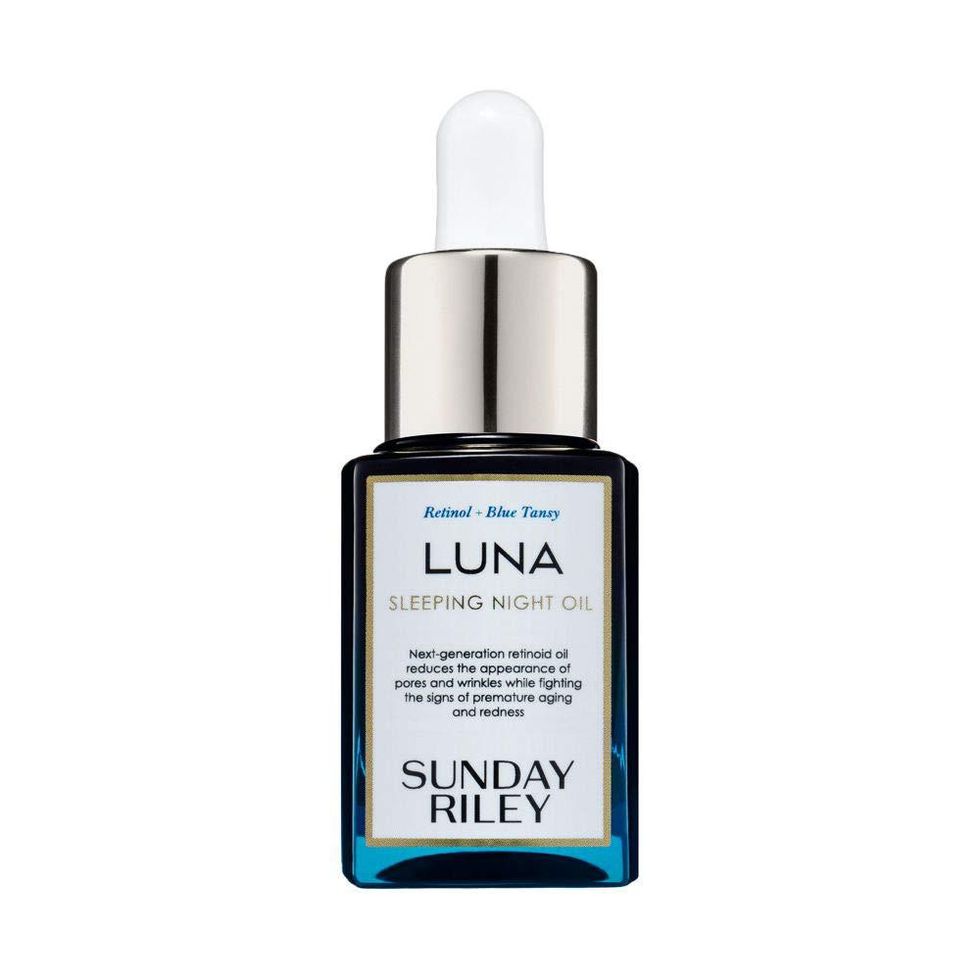 Sunday Riley
"For the evening time, I apply the Sunday Riley Luna Sleeping Night Oil."
Step Four: Moisturize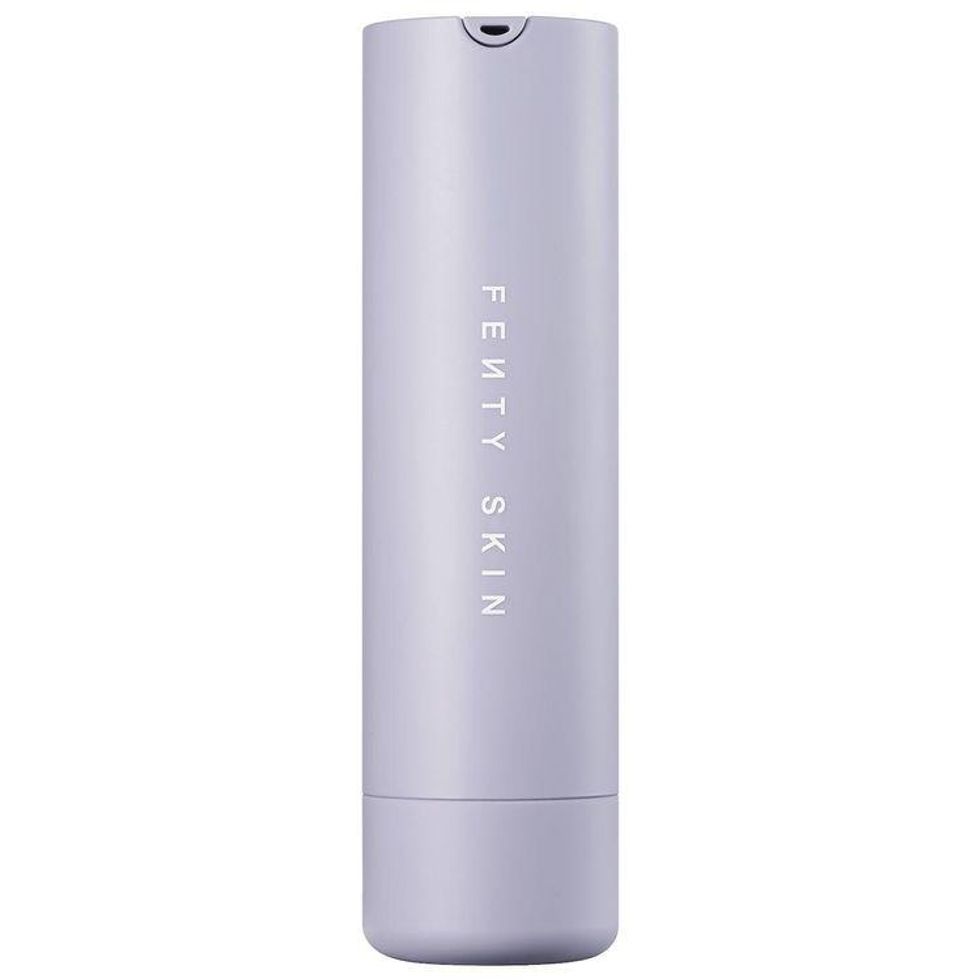 Fenty Skin
"Once again, I finish up my routine with my Fenty Skin Hydra Vizor moisturizer."
Featured image by Braylen Dion
Model Imaan Hammam's career requires her to be full-on glam all day by wearing beautiful clothes and a full face of makeup. While exciting, she still enjoys her downtime and in Harper's Bazaar's Go to Bed with Me video series, Iman shows us how she likes to wind down.
Before she starts her bedtime routine, the Moroccan and Egyptian beauty likes to light a candle by Diptyque. For the video, she used Diptyque's Mimosa scented candle and followed that with incense to "bring positive energy."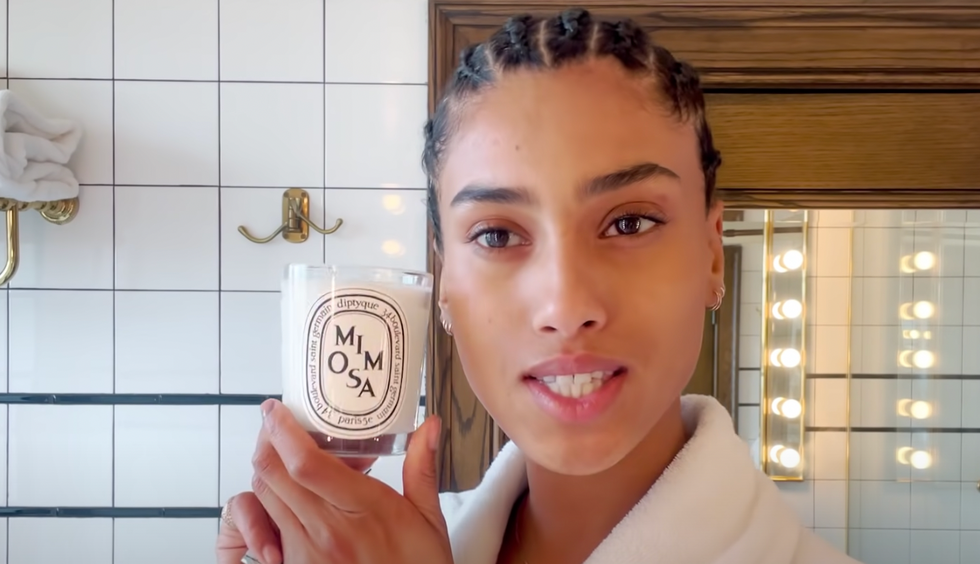 Harper's Bazaar/YouTube
To cleanse her face, she likes to use Epicuren Silk Radiance 3-in-1 Cleansing Oil. ​"What I love about it is it's super silky and as you can see the texture of it is a little oily so I'm gonna rub it into my hands and gently massage it into the skin," she said. She uses the cleanser as a way to take off her makeup.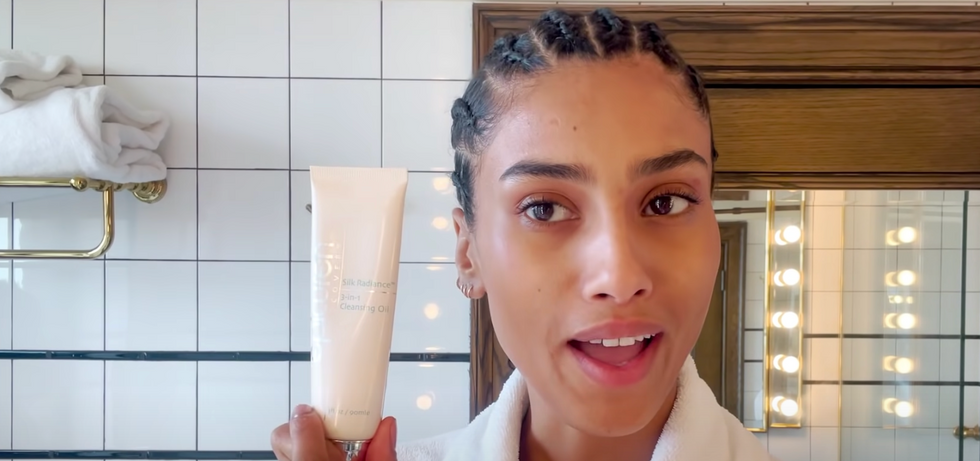 Harper's Bazaar/YouTube
"I never sleep in makeup. I try to. I mean it depends. When I'm having a real crazy day at work and I'm tired sometimes it happens but normally I don't because I think it's not good for your skin so even when you're tired, make sure to wash your skin."
But that's just one part of her cleansing routine. The 25-year-old likes to double cleanse. Next, she uses Osmosis + Beauty Deep Clean Detox Cleanser. She cites her mom as the person she learned skincare from and refers to her as the "herb doctor." "I grew up using oils and cleansing the skin with natural products which really helped me and also because I didn't have any clue," she said.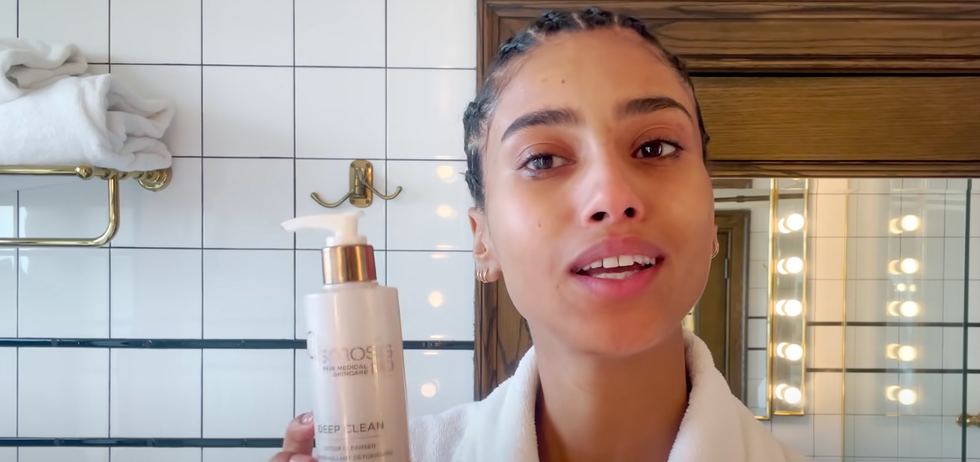 Harper's Bazaar/YouTube
"But when I got a little older and when I moved to New York, I really started looking at skin care differently because you get to shoot, you have a lot of makeup on and your skin gets to break out so I was like okay I need to get my sh-t together. So I had to learn about products. Now, I have a skin care routine that I have been using for over five years."
For step three, she uses Epicuren Colostrum Hydrating Mist. As a model, Imaan travels a lot which dries her skin out and so she relies on the hydrating mist to keep her skin hydrated. She also likes to spray her hair with it. She follows that up with Epicuren Bulgarian Rose Otto Oil.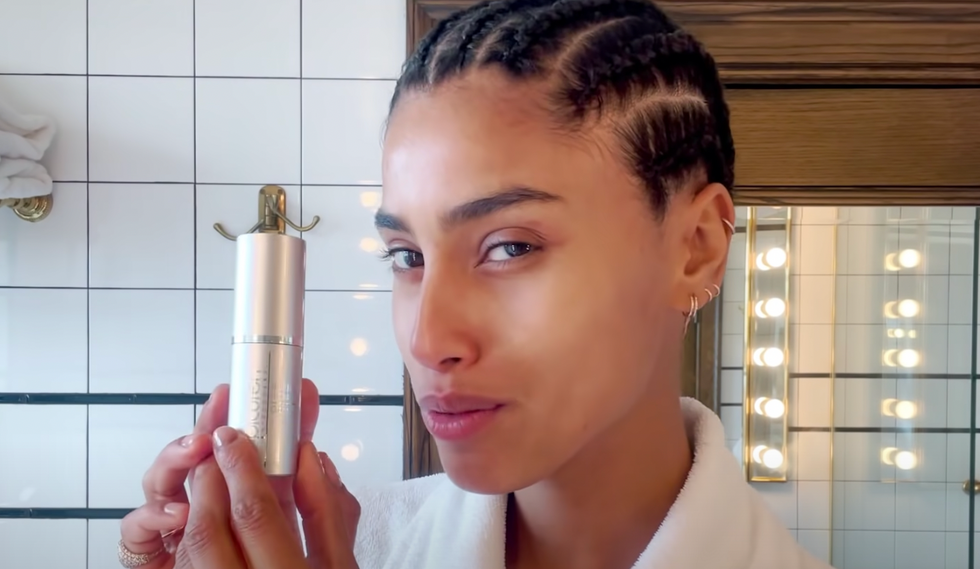 Harper's Bazaar/YouTube
To make sure that the products she uses so far seep into the skin, she uses the Osmosis + Beauty Epic Skin Tool. "What it does is it helps promoting the skin product and it helps with a deep penetration so it makes sure the product really goes in the skin," she said.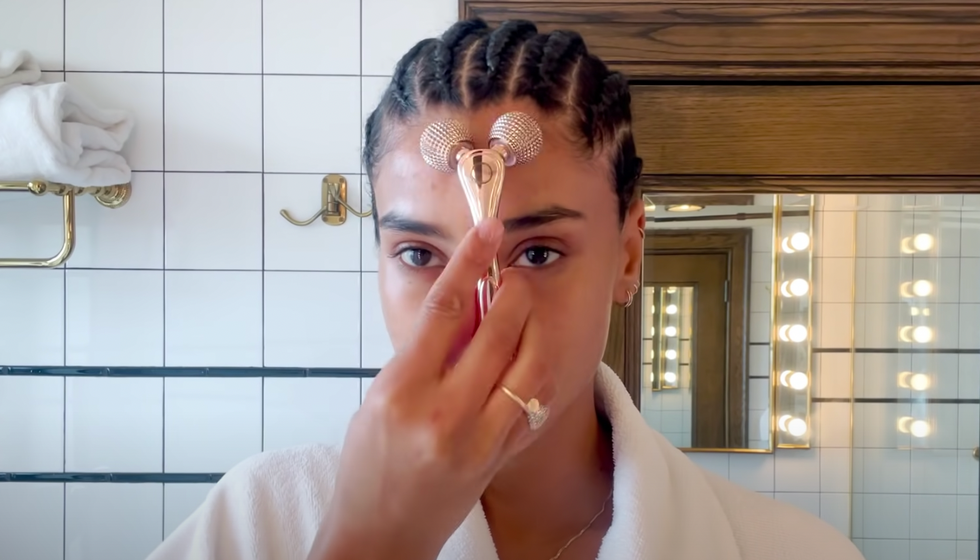 Harper's Bazaar/YouTube
For creams, she likes to use Epicuren Moisture Surge Hyaluronic Acid Gel, Ole Henriksen Banana Bright Eye Crème, and Epicuren Colostrum Luminous Glow Cream.
Moving on to her lips, she likes to use Fresh Sugar Lip Polish Exfoliator. She scrubs her lips and then rinses them off and follows it up with Rosebud Perfume Co. Strawberry Lip Balm.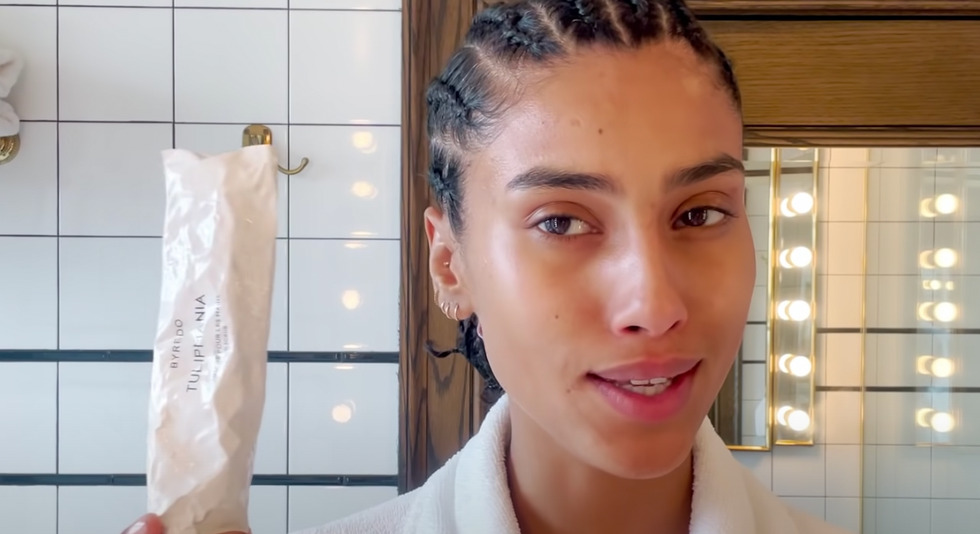 Harper's Bazaar/YouTube
She likes to apply Briogeo Strengthening Treatment Oil on her hair and scalp. "It really helps the hair grow and everyone knows me for my hair. It's big and you don't know how much work I have to do for all of that hair every morning," she said.
Imaan ends her nighttime routine with Byredo Tulipmania Hand Scrub, Epicuren Peptide Rich Hand Cream, and last but not least Costa Brazil Kaya Jungle Firming Body Oil.
Model Imaan Hammam's Special Tool For Deep Product Penetration | Go To Bed With Me | Harper's BAZAAR
Let's make things inbox official! Sign up for the xoNecole newsletter for daily love, wellness, career, and exclusive content delivered straight to your inbox.
Featured image via Harper's Bazaar/YouTube
Chilling Adventures of Sabrina and You actress Tati Gabrielle is giving fans a glimpse into her beauty routine. While she is known for her bold makeup looks on the red carpets and in the Netflix series, she reminded fans that she is just a simple girl who believes that "less is more."
Skin Care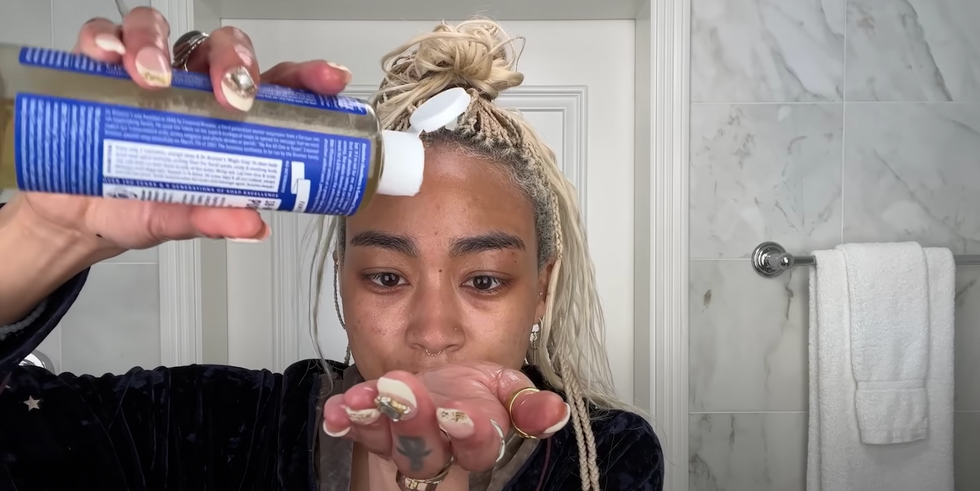 Vogue/YouTube
In the Vogue Beauty Secrets video, the 26-year-old started off cleaning her face with Dr. Bronner's Pure Castille Soap in Peppermint. She then used Dr. Dennis Gross Pewter DRx SpectraLite FaceWare Pro, which comes in three settings. When she moved on to Dr. Dennis Gross Alpha Beta Extra Strength Daily Peel she began opening up about her skin journey. The Korean and Black actress revealed that her skin started to change in her 20s.
"When my skin changed, it became a big shock to me and I didn't know what to do," she said. "I started trying all these products that I think at first made things worse." So, she decided to scale back the products she was using and also stop touching her face.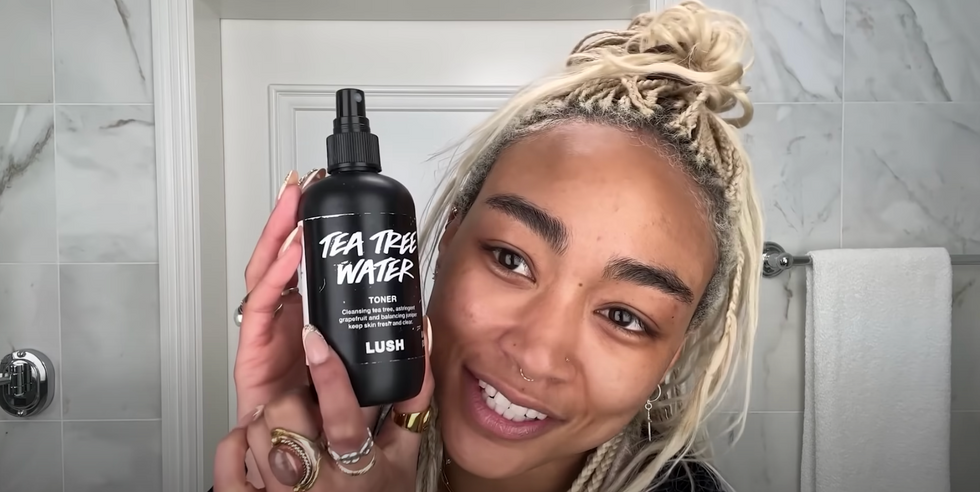 Vogue/YouTube
She loves using Lush's Tea Tree Water toner and following it up with Cosrx Two in One Poreless Power Liquid. "My mom is Korean and my dad's Black," she said. "I have all these weird combinations of my skin, hair, everything. My mom was kinda learning with me as I was growing up."
She ended up learning a lot about skin care and makeup while on set. "When I'm on set filming, I find that I have to be very diligent about my skincare routine because– a lot of makeup every day. Sometimes you're sitting in your makeup for up to 12 hours a day," she said. "With me doing Sabrina, that was of course a lot of makeup 'cause it was stylized. I just had to be very disciplined."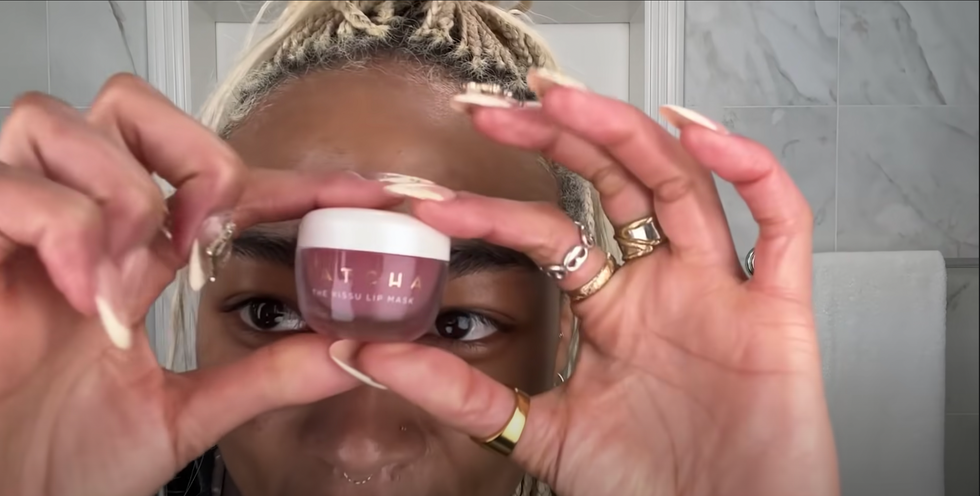 Vogue/YouTube
She used Cosrx Advanced Snail Peptide Eye Cream and revealed that she had eczema around her eyes and eyelids. And then she ends her skin care routine with Tula Protect + Glow Daily Sunscreen Gel Broad Spectrum SPF 30 and Tatcha The Kissu Lip Mask. "I definitely think skin care is a part of self-care. It's loving on yourself to give your skin what it needs to have your spa day every day," she said.
She loves to be by the water and so beach days are a must for her. "I didn't use sunscreen before and I'm realizing within the last year how important it is especially because I have a quite bit of scarring."
Makeup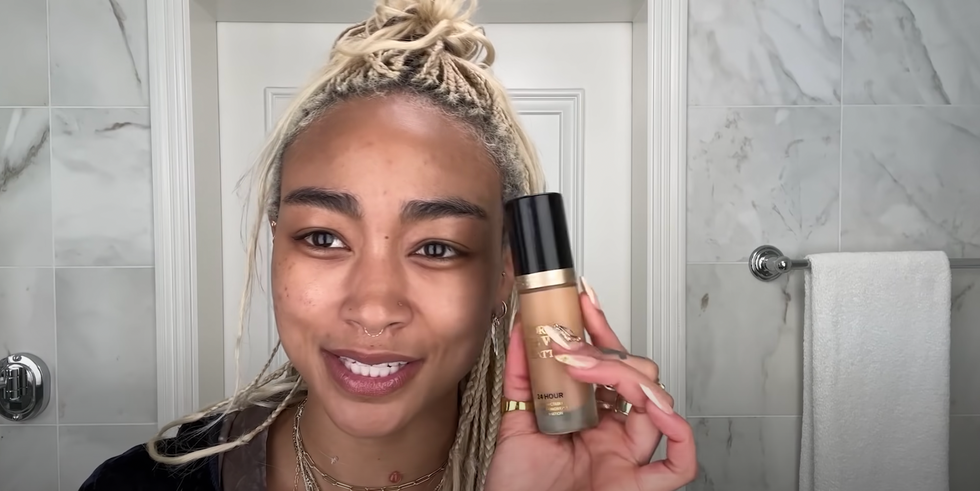 Vogue/YouTube
"What I start with always is the Tatcha Liquid Silk Canvas [foundation]. I started using it when I did Sabrina," she said. But for the video, she decided to go with the Too Faced Born This Way Matte Foundation. "I usually do a soft layer first. Then, if I want to cover my spots a little bit more and sometimes I don't cover my spots because; free the imperfections. Sometimes we don't need to cover up everything because that is a part of us as well."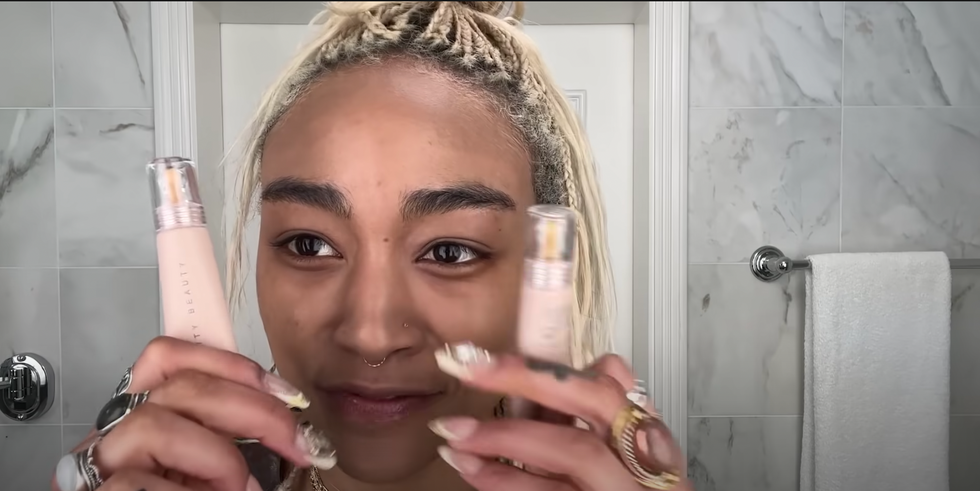 Vogue/YouTube
After applying foundation, she used Fenty Beauty Bright Fix Eye Brightener and Lush Charisma Skin Tint for contouring. She then applied Glossier Cloud Paint on her cheeks to "accentuate my apples."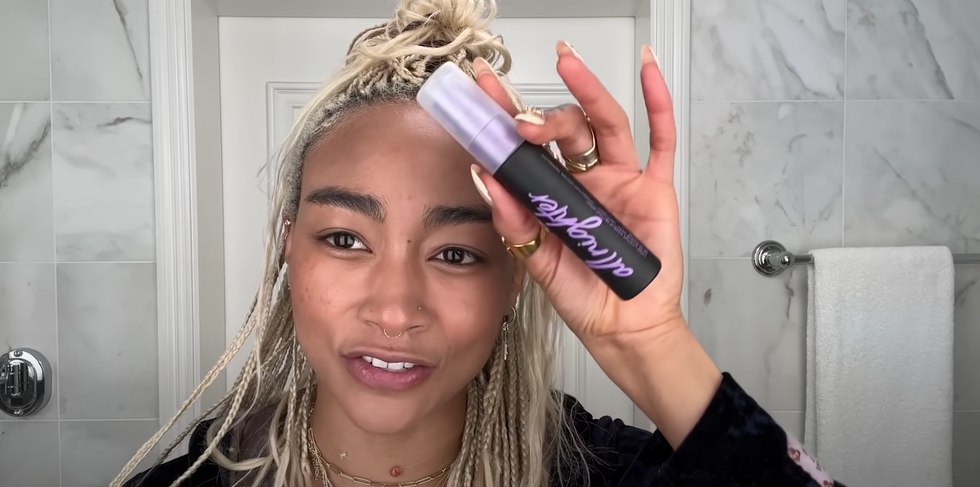 Vogue/YouTube
After using One/Size Ultimate Blurring Setting Powder to reduce shine, she topped it off with Urban Decay All Nighter Long-Lasting Makeup Setting Spray. "When I was filming season three of You and we had to wear masks on set constantly, I found that this (setting spray) helped a bunch with keeping things in place so we didn't have to do as much touch-ups."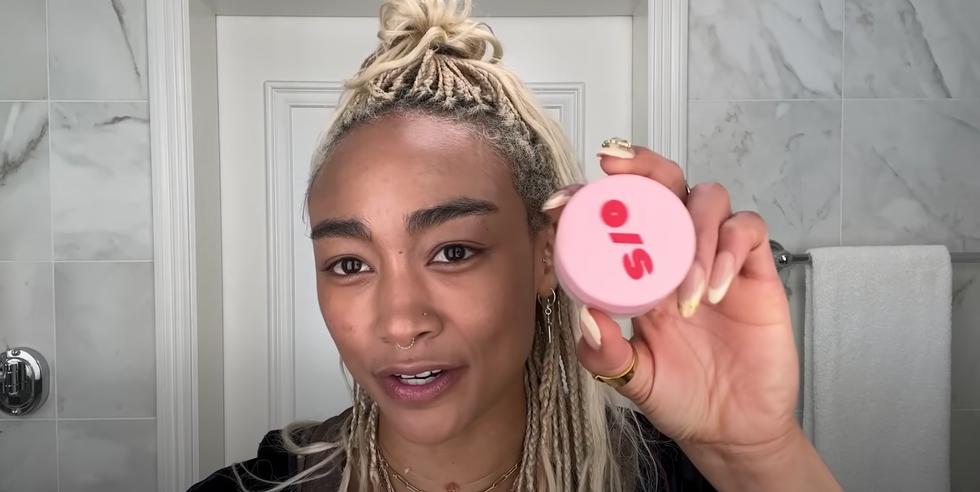 Vogue/YouTube
While the characters she plays on television often require her to wear a lot of makeup, her everyday look isn't as bold. "Less is more," she said. "Especially when I first started getting into makeup and my skin started sort of messing up a bit. Of course, I got self-conscious for a while, but by having that piece of advice, it never let me fall into trying to cover, cover, cover, cover, cover even with acne and scars and everything still allowed me to find love for myself and be able to look in the mirror and still be like I am pretty."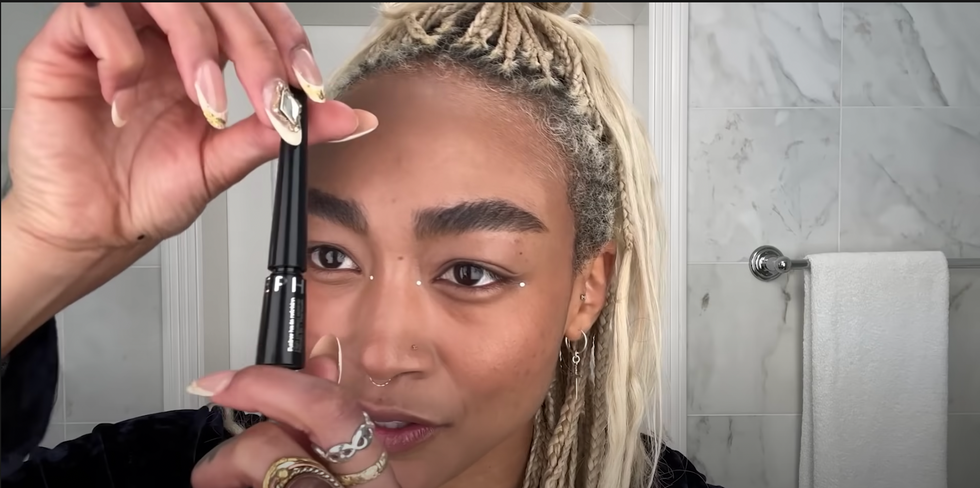 Vogue/YouTube
One of the beauty trends that she likes to partake in is applying dots around her eyes. "I started doing dots four or five years ago. I just found it as a way to shape my eyes out without using eyeshadow and things," she said. When it comes to her looks, Tati likes to make a statement from head to toe.
She ended her routine by adding baby hairs using Texture ID Edge Taming Gel because she loves the way it frames her face.
Tati Gabrielle's Guide to Statement-Making Makeup | Beauty Secrets | Vogue
Let's make things inbox official! Sign up for the xoNecole newsletter for daily love, wellness, career, and exclusive content delivered straight to your inbox.
Featured image still via Vogue Beauty Secrets/YouTube
At only 25, Normani has already faced many hardships in the music industry. As the only Black member in Fifth Harmony, she previously opened up about not having the same opportunities as her group members and facing online racism from their fans. And since going solo, Normani keeps getting compared to her former group member Camilla Cabello, who faced backlash in 2019 for resurfaced racist posts from her Tumblr page.
In a 2020 Women's Health issue, the "Wild Side" singer admitted that the racist comments she received in the group "altered the perception" she had about herself, but she has since learned from those experiences and has found the confidence that has been there all along.
"I constantly remind myself to be kind to myself," she shared in an interview with Yahoo Life! "Even though you can't expect the rest of the world to do that, it's like at the end of the day, somebody has to, so why not show up for yourself? Why not lift yourself up?"
There were many people in Normani's life that helped her to see her worth and appreciate her beauty as well as entertainers that influenced her to love herself.
"A lot of that has to do with being raised in a household with women that I really, really looked up to," she said. "That being my grandmother, that being my mom. And then my dad being the first man in my life that I love and him always encouraging that I was beautiful."
Beyoncé and Janet Jackson also served as her role models in music, which isn't surprising. Normani's performance style is often compared to the two megastars and her 2019 music video "Motivation" paid homage to Beyoncé's iconic "Crazy in Love" video.
"I feel the pressures too. Being a Black woman, just to be seen or noticed, we have to do a lot more and work 10 times as hard," she said. "It was so important for me to have a Janet [Jackson] and have a [Beyoncé] with curves to find my place and to also know that, 'Okay she looks like me. And she's successful. She's beautiful and I can do the same thing.' Little Black me needed to see that."
But they weren't the "Fair" singer's only influence. In 2021, Normani praised Kelly Rowland for helping chocolate women like herself feel seen. "Kelly Rowland is someone I've always looked up to and never felt like I couldn't go to for advice," she revealed. She also said the "Kisses Down Low" singer "was a great person all around."
Normani is working on her solo debut album and her latest single "Fair," has been receiving rave reviews.
Featured image by Jerritt Clark/Getty Images
I'm learning the importance of trusting my instinct, especially when it comes to aspects of life I take pride in maintaining. In 2018, I committed to achieving healthy hair which began with freeing myself of unwanted and excessive damage caused by years of straightening. I remember the day of my big chop—a weight lifted from my shoulders. I felt a mix of both excitement and relief as my dead ends fell to the floor. As part of my promise to take care of and nourish my hair, I vowed to never make the same mistake twice, refraining from heat entirely.
While faithfully dedicated to my kinky texture, I became curiously anxious to do a length check four years later. I'd be lucky to enjoy straight hair for 3 to 4 days. What could go wrong? I knew I would either hate my straight hair or love it, but never did I think it would be the last time seeing my curls fully intact. As predicted, after less than a week of straight hair my curls began to revert, slowly returning to their natural state—or what was left of it. My once carefully defined curls were no longer existent. Devastated, I took to social media to express my shock and frustration for going against my "no heat" rule. Immediately after posting a clip of my damaged hair, I received messages suggesting I use the Olaplex hair repair treatment to improve the look of my hair.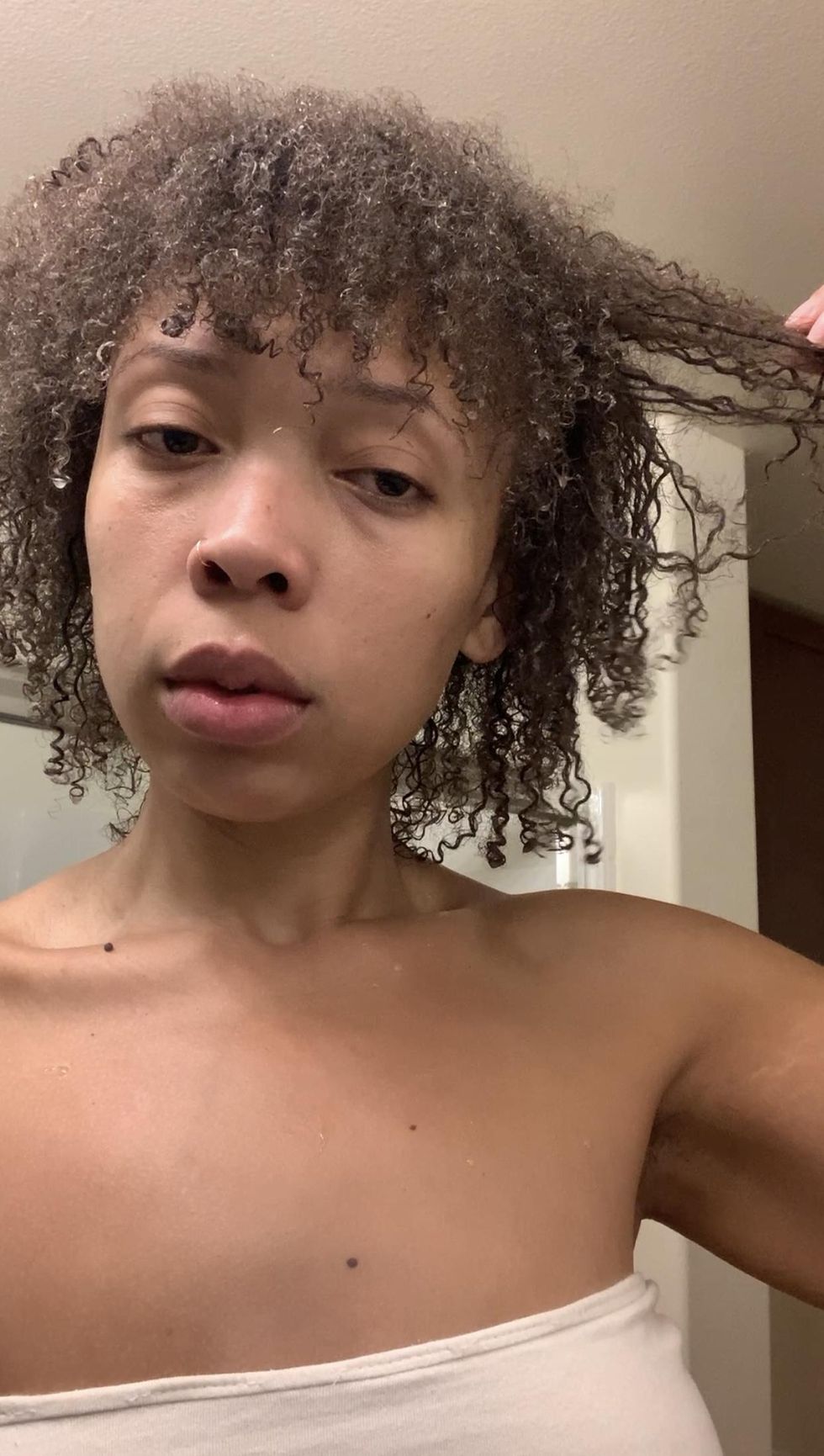 Courtesy of Shahirah Ahmed
Devastated, I took to social media to express my shock and frustration for going against my "no heat" rule. Immediately after posting a clip of my damaged hair, I received messages suggesting to use the brand Olaplex's hair repair treatment to improve the look of my hair.
Within those 24 hours, I received several messages from women with a range of textures claiming this brand is an absolute game-changer when repairing hair to its proper state. Surprised by the number of recommendations raving about the positive results of the products, I was desperate to try anything with reviews from people I know in real life.
Does Olaplex Help Repair Damaged Hair?
My curls before using Olaplex.
Courtesy of Shahirah Ahmed
Olaplex is a patented system to treat extreme damage using technology that restores compromised hair by repairing it from the inside out. Within our hair, bonds provide structure, strength, and stability. When broken, these bonds become weak and the result can be flat, dull, and unflattering.
There are several causes of damage, including destructive hair habits, hot tools, chemicals, dye, and styling. Olaplex uses a patented single ingredient, bis-aminopropyl diglycol dimaleate, which helps build bonds, and in alignment, you have healthy and beautiful hair. From curly hair to stick straight, the brand states it's suitable and beneficial for all hair types, so I decided to try it for myself.
Olaplex First Impressions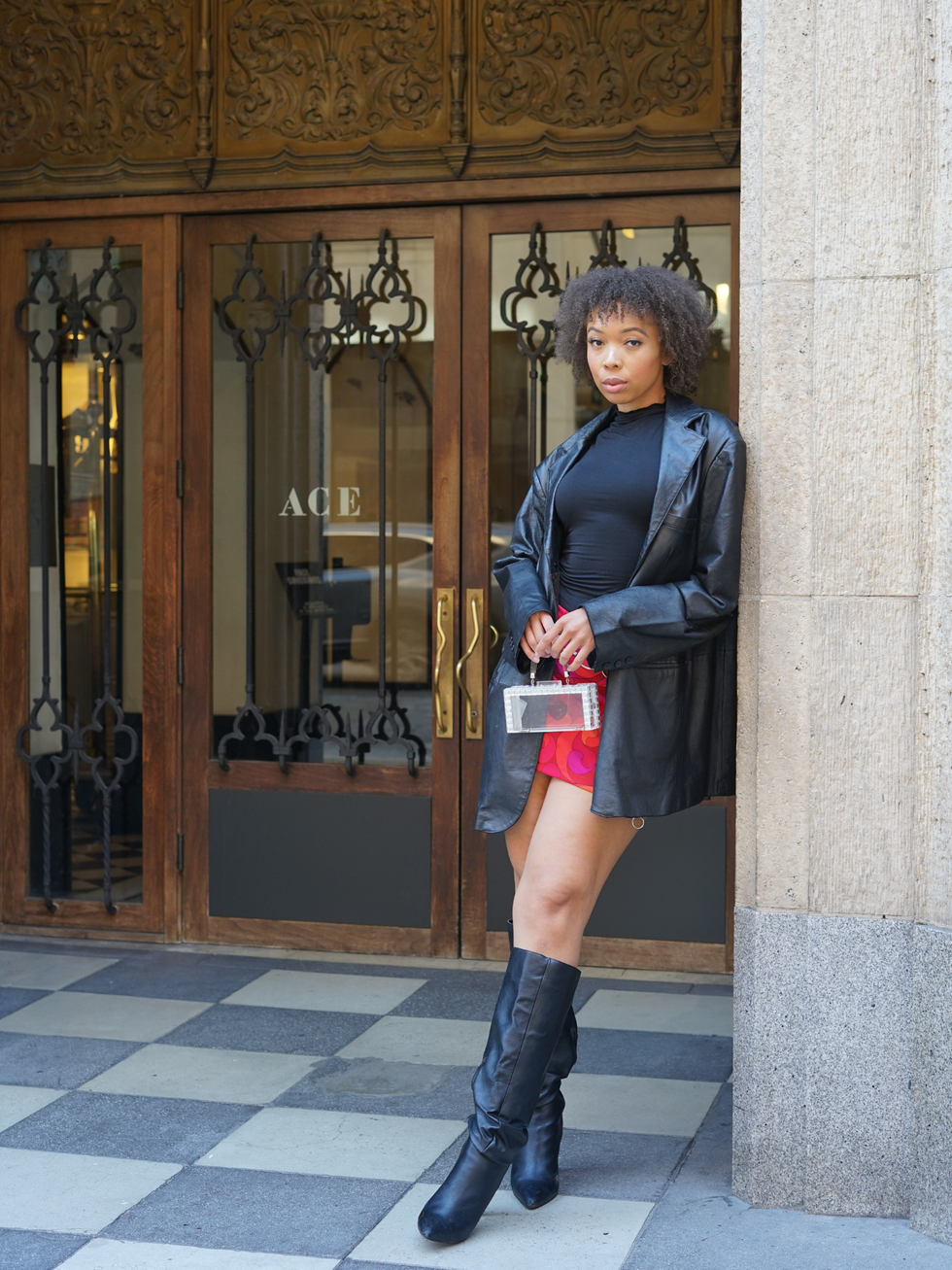 My curls after one week of using Olaplex.
Courtesy of Shahirah Ahmed
In all honesty, I was a bit skeptical of the blanket claim to help all hair types (even kinky curls like mine). Not all hair care is created equal. Starting off, I purchased the No. 0 Intensive Bond Building Treatment ($28/5.2 fl oz) and No.3 Hair Perfector ($28/3.3 fl oz). Because they were a pricey investment, I was hopeful each bottle was worth every penny.
The No. 0 Intensive Bond Building Treatment is a two-part at-home treatment for damaged hair created to absorb nourishment when used along with No. 3 Hair Perfector, 1 to 3 times per week. Considering the size of both bottles and the amount of repair I was in need of, I decided to apply the products twice per week.
Is Olaplex Worth It?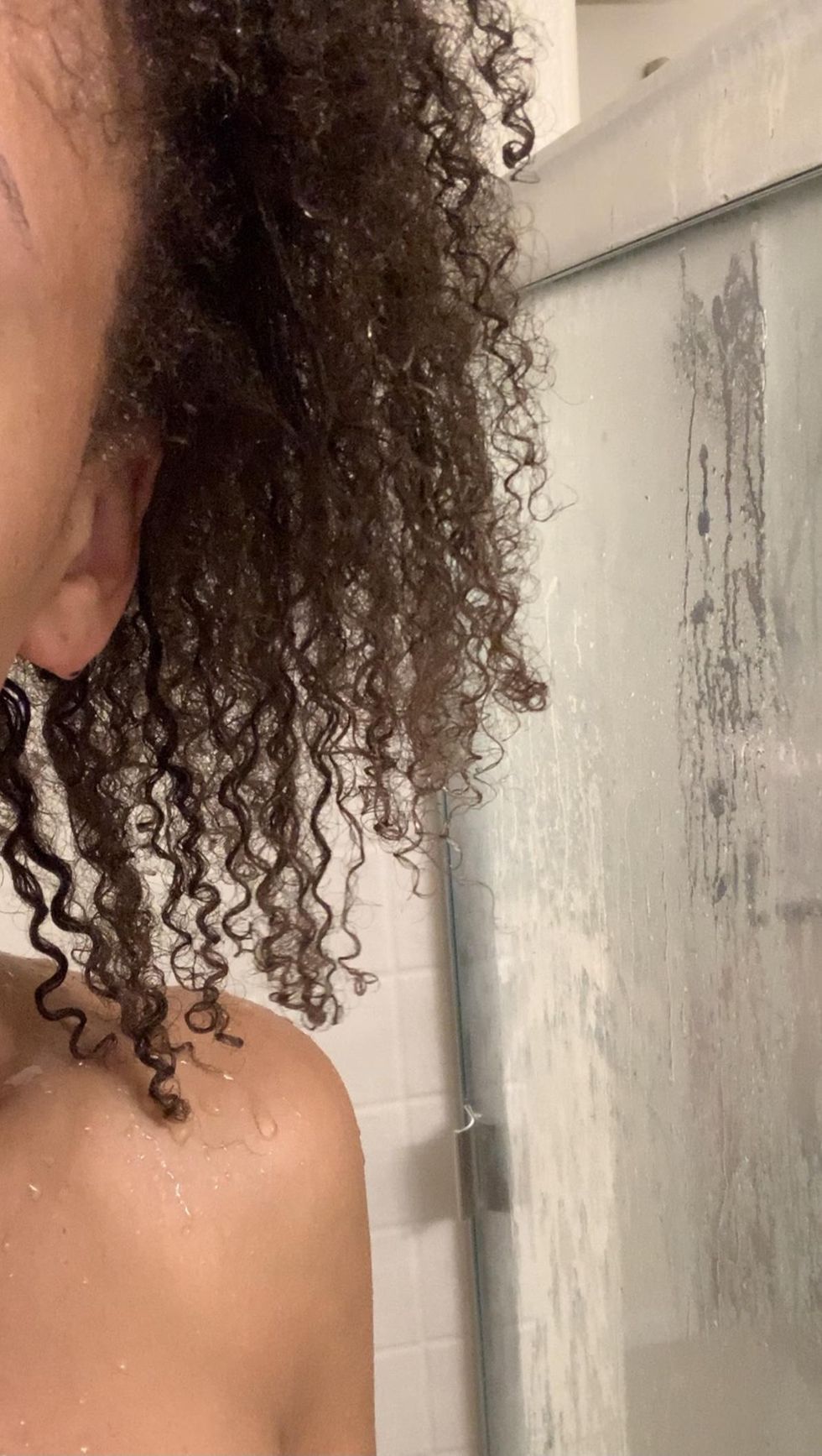 My curls after week four of using Olaplex.
Courtesy of Shahirah Ahmed
I didn't see much progress after the first week, but nothing great happens overnight. Not to be discouraged, I continued with the duo seeing a slight yet recognizable return of my natural curl pattern appearing in week two after the fourth application. By week three, I began to see texture reappear where curly strands had previously been completely lifeless and flat.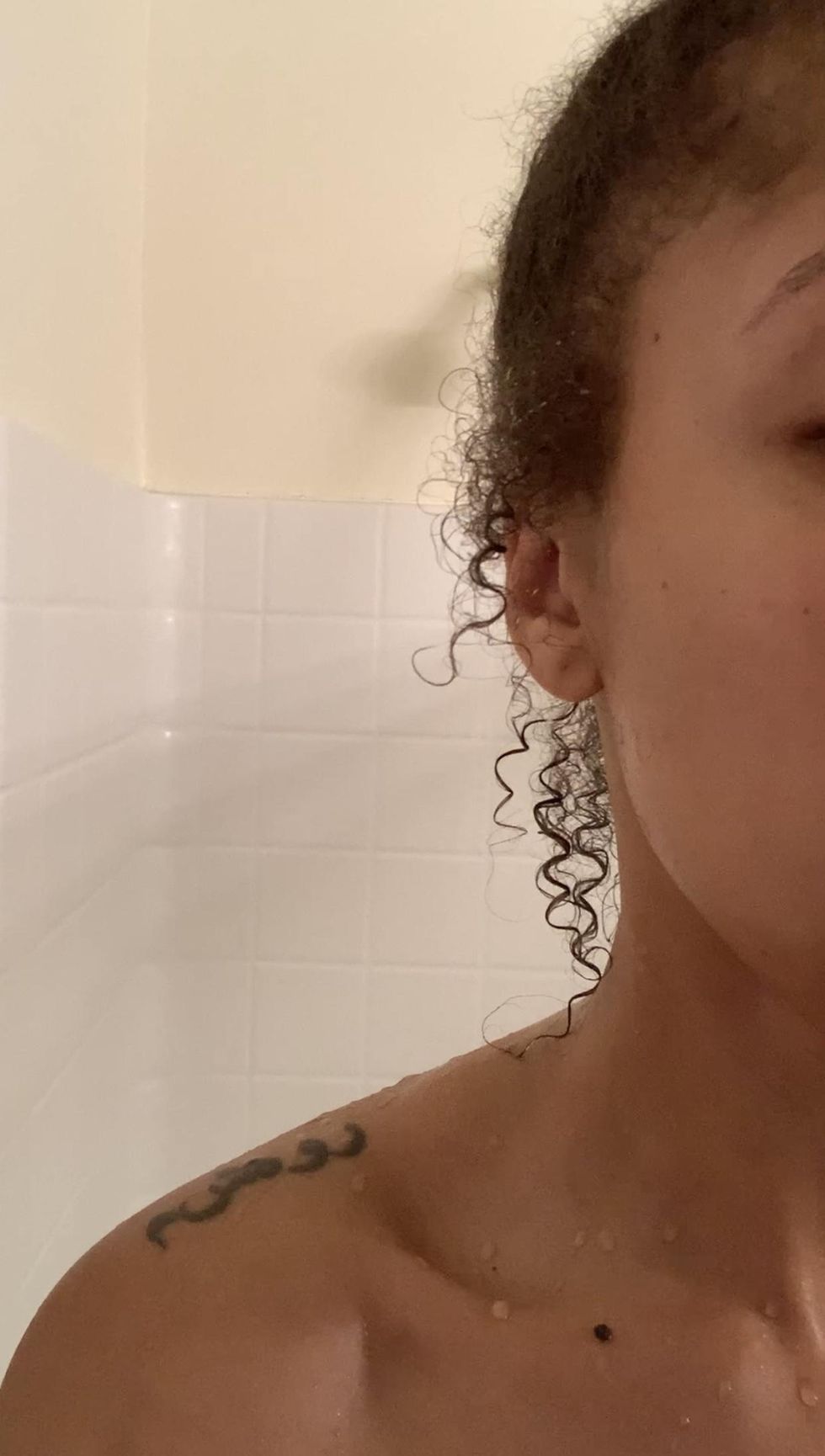 My curls after four weeks of using Olaplex.
Courtesy of Shahirah Ahmed
After week four, I noticed not only had most of my curls come back to life, but my hair also appeared more hydrated, more full. My curls were more defined than ever before. While there are still damaged areas in need of improvement, I'm convinced that continued and consistent use of Olaplex products will allow my curls to be at their peak.
A game-changer revolutionizing the hair industry, these are products that should remain in our hair-care collections at all times.
Featured image courtesy of Shahirah Ahmed
In About Face, xoNecole gets the 411 on IGers who give us #skincaregoals on a daily. Here they break down their beauty routines on the inside and out, as well as the highly coveted products that grace their shelves and their skin.
For historian and influencer Blair Imani, beauty is in the details. Because she never really had acne outside of the occasional zit, she never really saw the importance of creating a skin care routine. However, 2020 marked a change for her and the way she approached taking care of her skin. "I had to make peace with the fact that I was getting acne in my adulthood," she recalls. "It made me step back and realize that I was not taking care of myself, and I was putting a lot of value in whether or not I had acne. Choosing to confront that insecurity and focus on recognizing my beauty despite what I'd been taught has made all the difference."
In addition to a newly implemented skin care regimen, the Los Angeles-based creator takes care of herself through her anxiety and ADHD medications, prayer, stretching, reciting mirror affirmations, and intentional forms of self-care. She tells xoNecole, "Self-care for me has been shifting to adding more plant-based proteins to my diet and pausing before I react to things. I've been learning the importance of amplifying the good instead of shouting at the bad and trying to apply that in my work."
As an author, self-expression is something Imani knows a thing or two about. In our conversation, the 28-year-old recalls leaning into makeup at the age of five. Whereas her peers had parents who stigmatized makeup, her parents fostered her freedom of creativity and self-expression through makeup. It would eventually lead to one of her most significant beauty lessons: "You can just wear lipstick. You don't need to wear a full face of foundation and concealer to justify it." For Imani's biggest beauty lesson to be centered on lipstick is quite the alignment as the woman behind the best-selling book, Read This to Get Smarter, has also created a beauty line where lipstick is the star of the show.
The Blair Imani x Fempower Beauty Smarter Lip Sets launched early last month and is a collection of matte/dewy lip color duos that include bold shades, nude shades, as well as shades paired with affirmations of mirror decals. Her favorites from the collection? "For a basic [shade], it's 'Self,' and for a statement, it's 'Ubuntu.' But my must-have is 'Ujamaa' which is our bold scarlet red with a message about resource sharing and cooperative economics."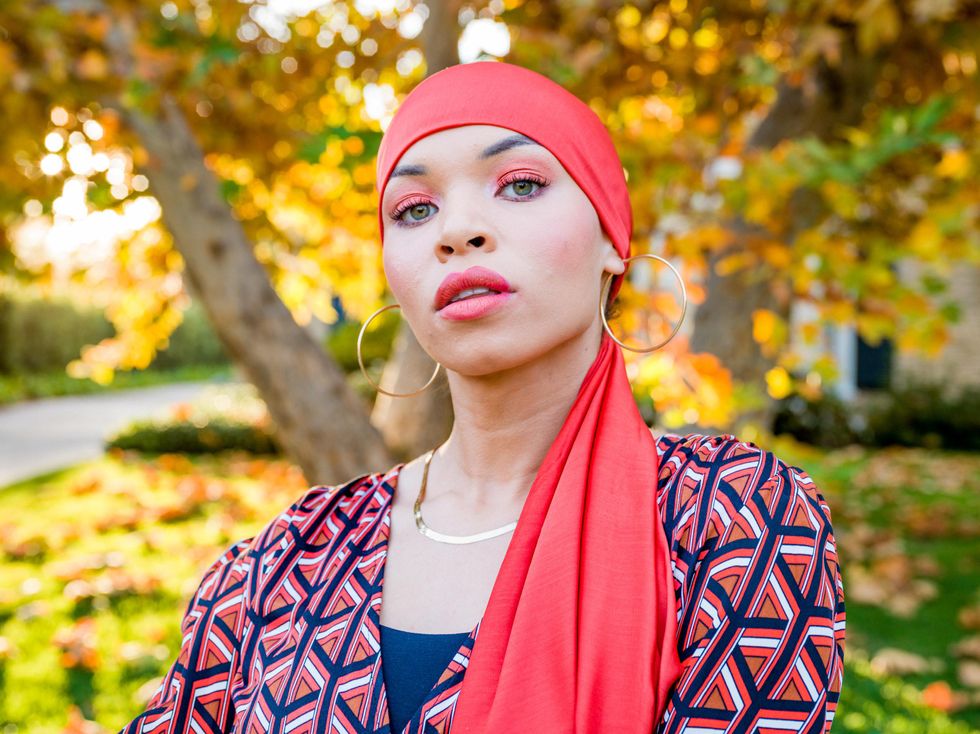 Kaelan Barowsky
Courtesy of Blair Imani
Imani shares about entering the beauty space with her own collection, "It was so aligned. It didn't feel like a departure, it felt like a continuation of my work in a new arena." She continued, "Turning it into a business partnership that was mutually beneficial and was helping folks to get smarter through the medium of lipstick was an obvious path forward."
Keep scrolling for more insight into Blair Imani's morning and night skin care routines.
Blair Imani's A.M. Skin Care Routine Looks Like…
Step One: Double Cleanse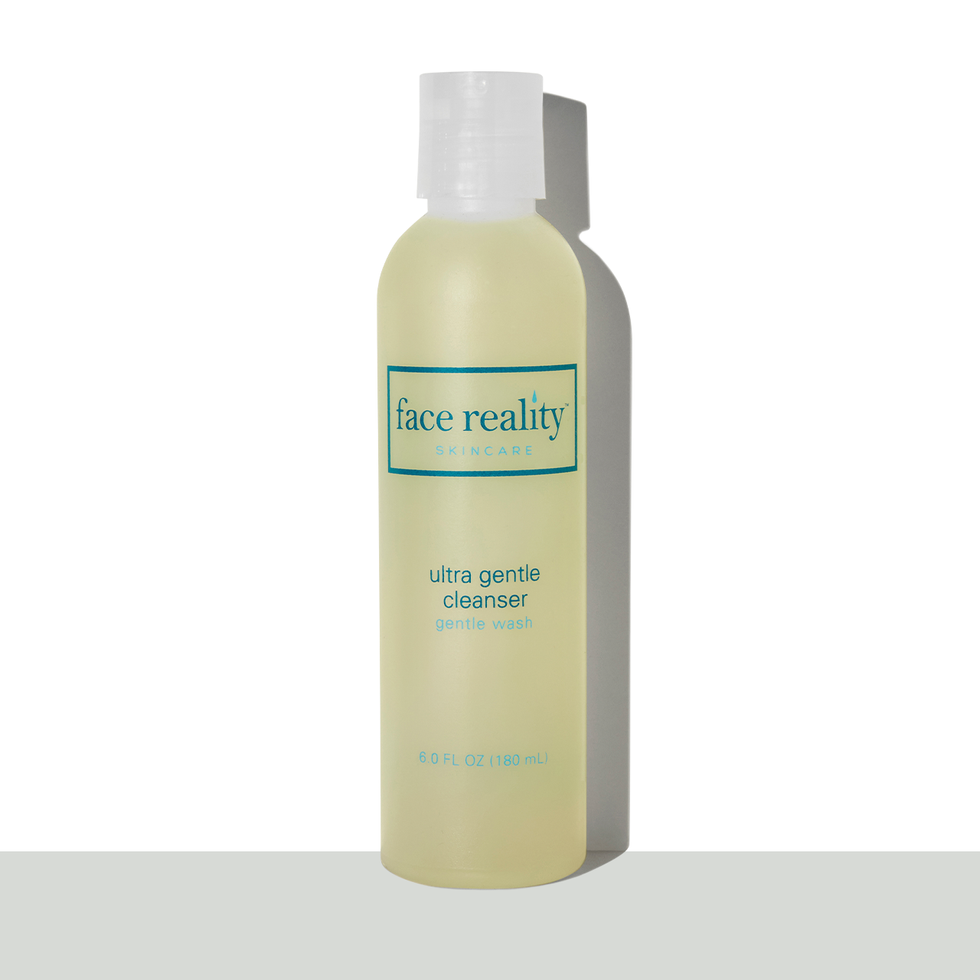 Face Reality Skincare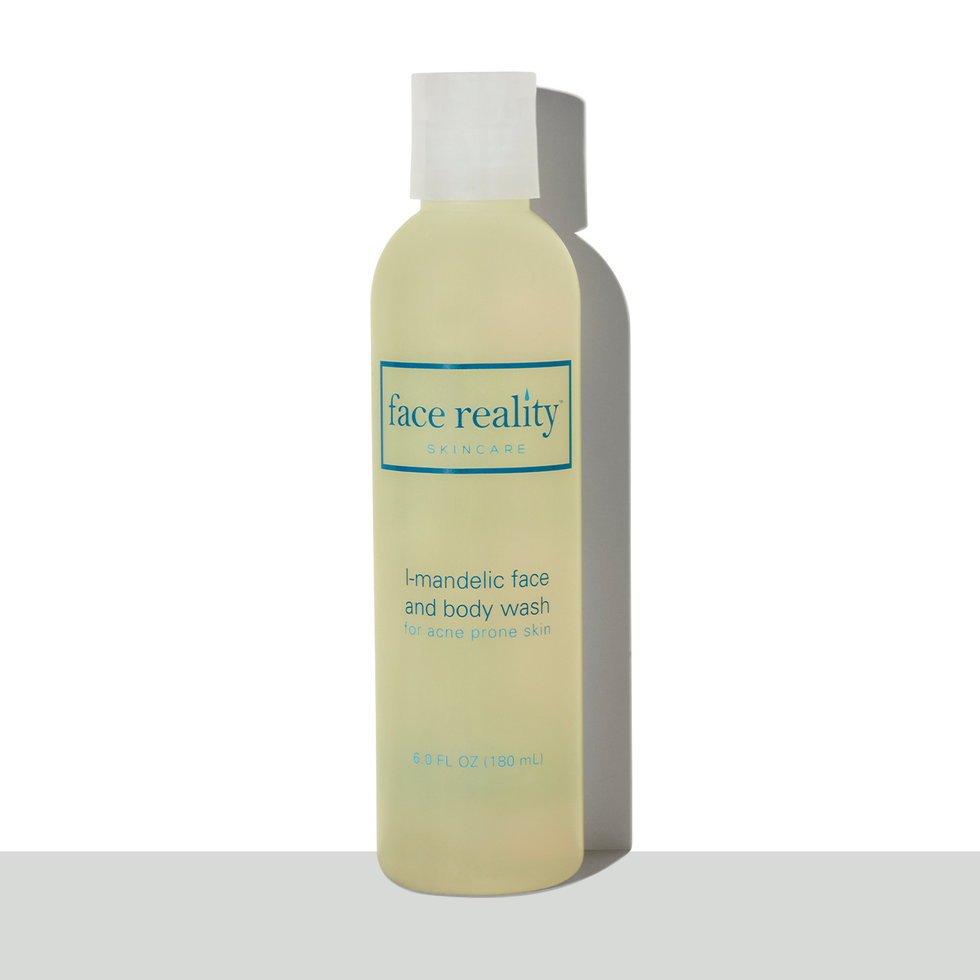 Face Reality Skincare
"In the morning, I start with a double cleanse. I use Face Reality's Ultra Gentle Cleanser first and follow that with the Face Reality L-Mandelic Face and Body Wash. I love that these are a gentle way to remove excess oil. At first, I was on the fence about washing my face twice, but it actually helps because I need different kinds of oil removal."
Step Two: Tone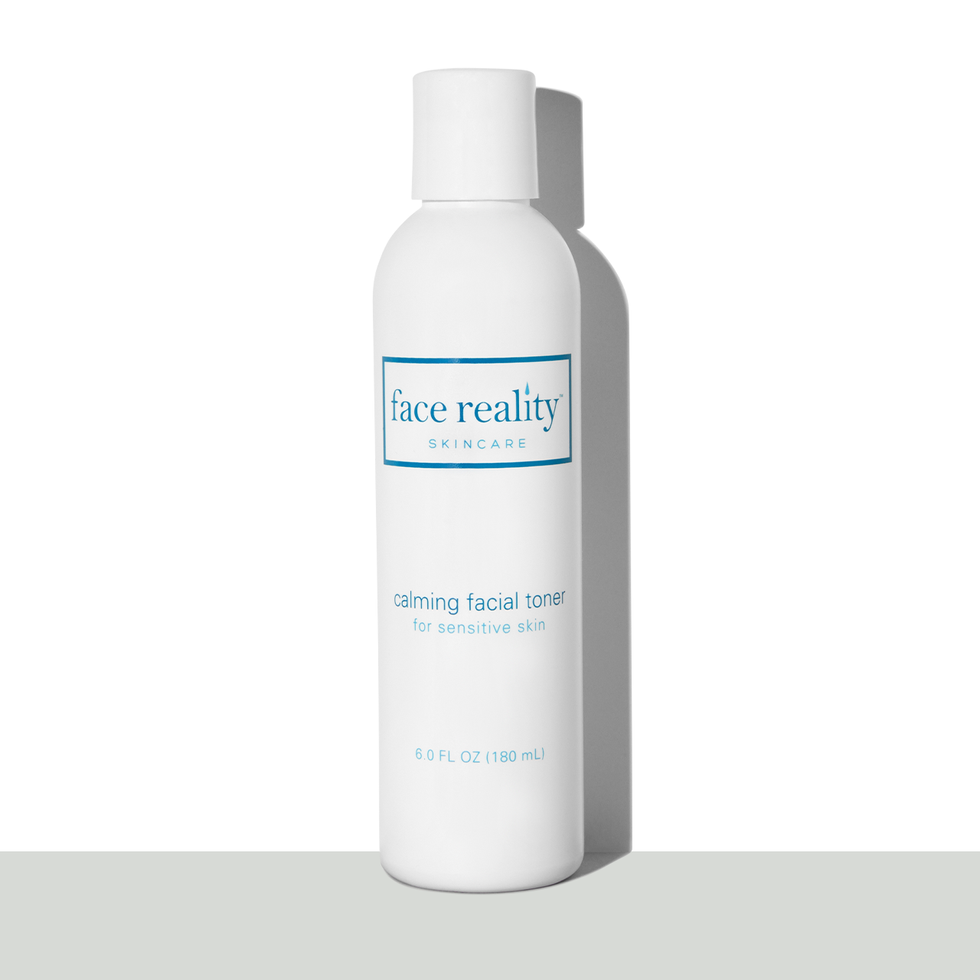 Face Reality Skincare
"I follow that with my Face Reality Calming Facial Toner, which I have in a spray bottle and spritz on my face. Sometimes I mix it with the Thayers Cucumber Facial Toner. I love how they make my skin feel refreshed and hydrated."
Step Three: Moisturize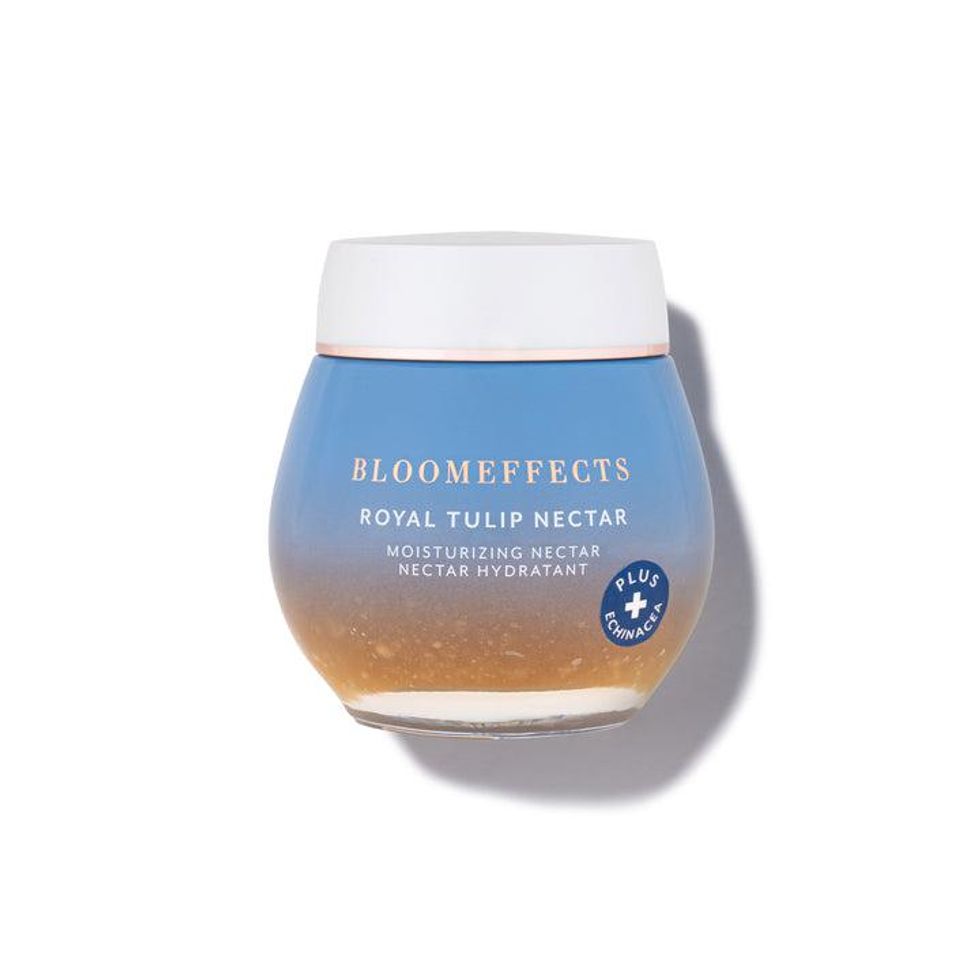 Bloom Effects
"I also add the Royal Tulip Moisturizing Nectar from Bloom Effects for moisture. It's really gentle and I love how my skin feels after I've let it soak in."
Step Four: Lip Care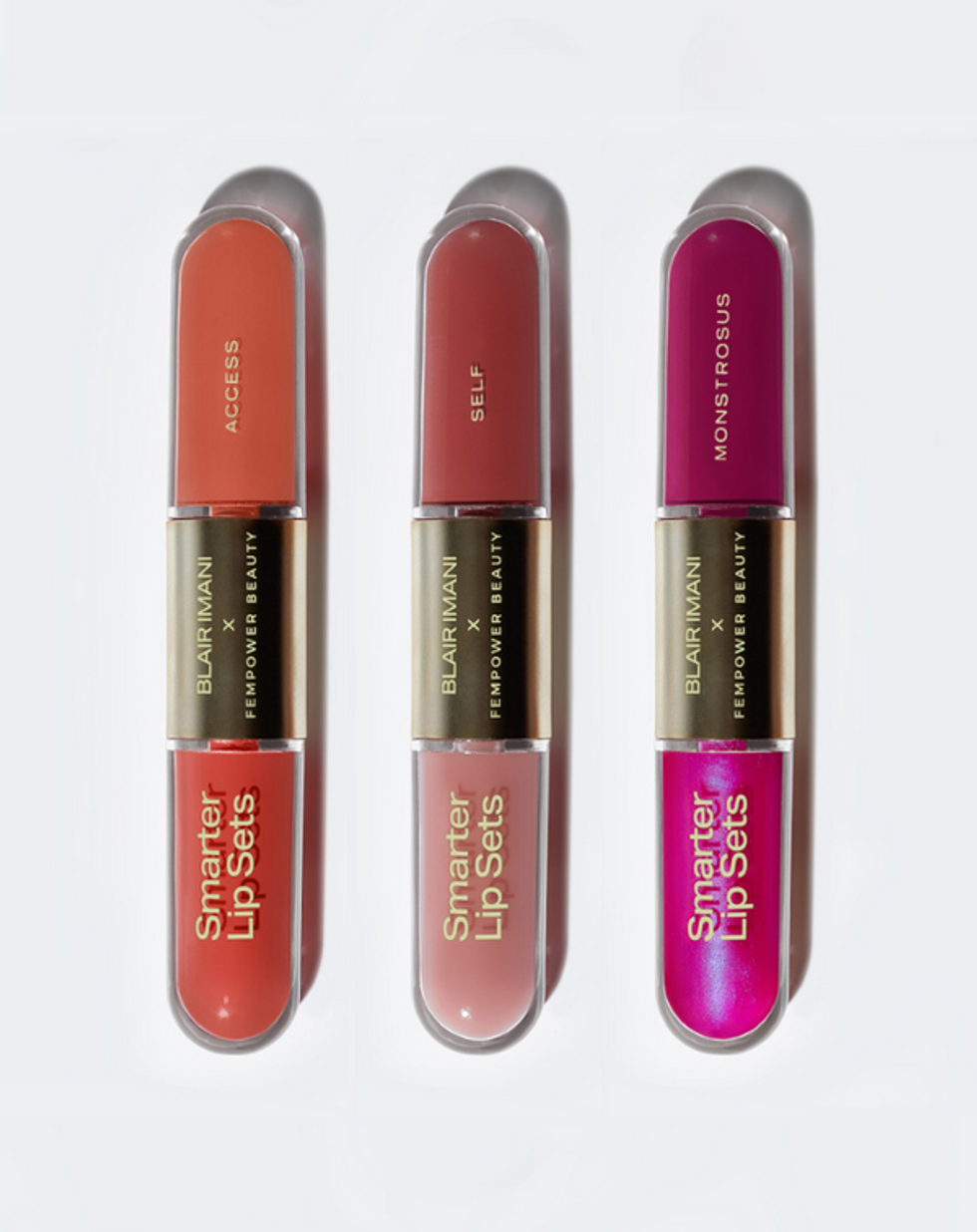 Fempower Beauty
"I make sure to put on a Smarter Lip Set even if it's one of the sheer glosses because of the hydrating hyaluronic acid that Fempower infused into the formula. Don't forget that lip care is part of skin care too!"
Blair Imani's P.M. Skin Care Routine
Step Five: Acne & Spot Treatment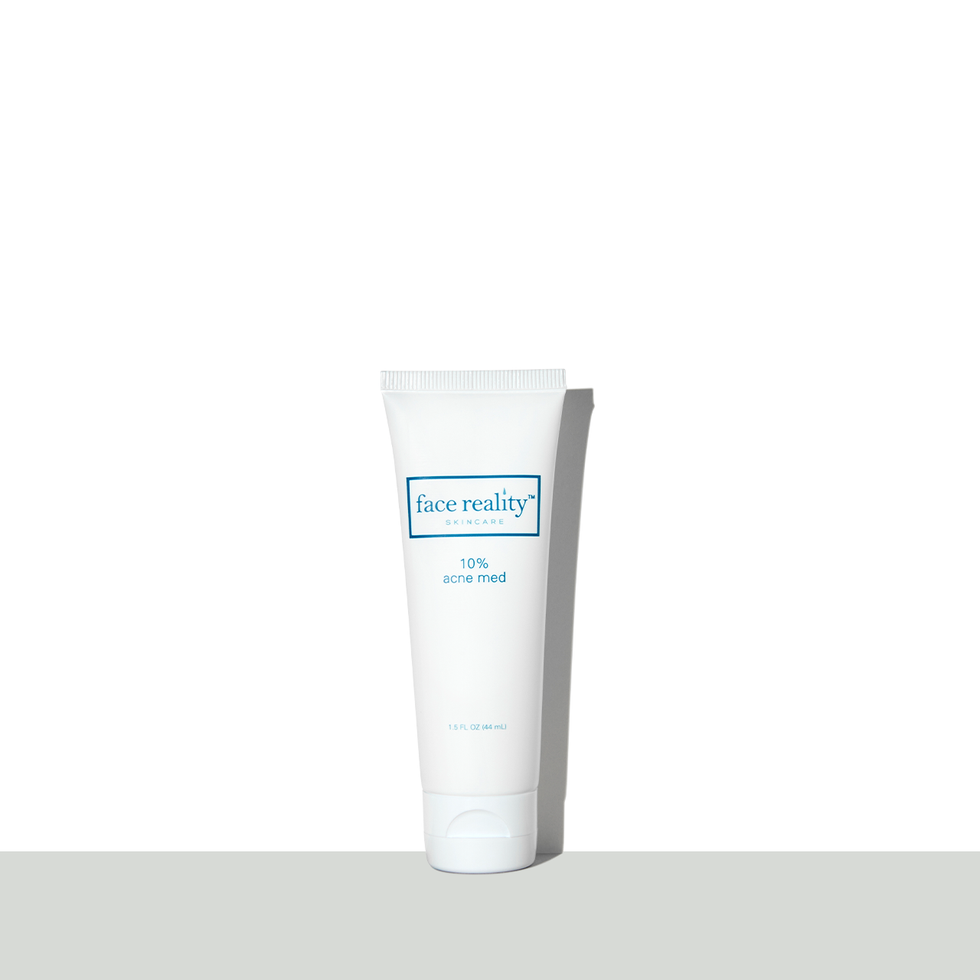 Face Reality Skincare
Face Reality Sulfur Spot Treatment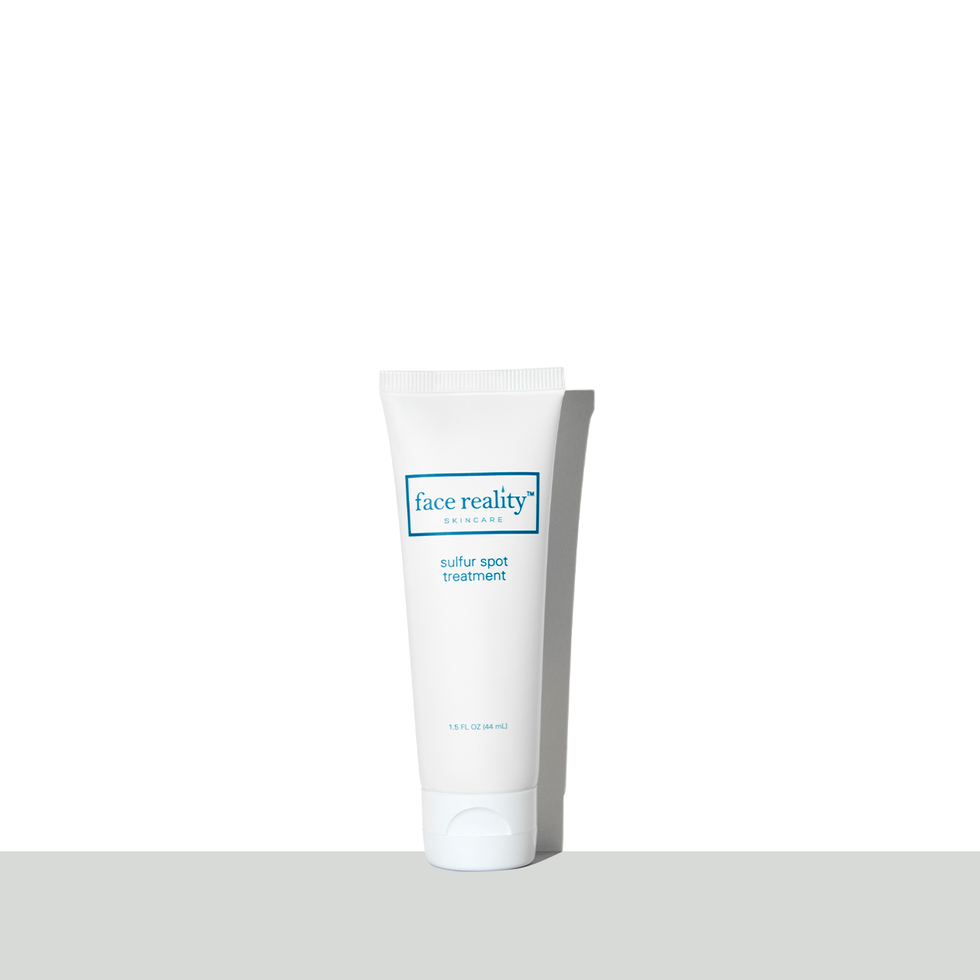 Face Reality Skincare
"In the evening, I do my exact morning routine, but I add in two products: the Face Reality 10% Acne Med and the Face Reality Sulfur Spot Treatment. I love putting these on in the evening so that they have time to take effect while I'm sleeping. Then, I wake up and I do it all again!"
Featured image by Kaelan Barowsky, illustration by Kyra Jay