The Beauty Closet - Home Page
My favorite time of the year is the start of the official boot season which begins during the transitional period between summer and fall. What's most exciting about the sudden drop in temperatures is stepping back into those sleek pair of boots for the first time in months. Whether zipping up oldies but goodies or investing in a new fall 2021 boot trend, this year is all about the calf boot. Specifically, this is the best option when easing your summer clothes into the appropriate fall looks.
During this time, I'm gravitating toward more mini and maxi skirts, dresses, and even leather shorts as I prance into a range of summer to fall-like temperatures that vary from day to day in LA. What I love most about the calf boot is the range of looks you can complete with limitless options of colors and prints for every preference.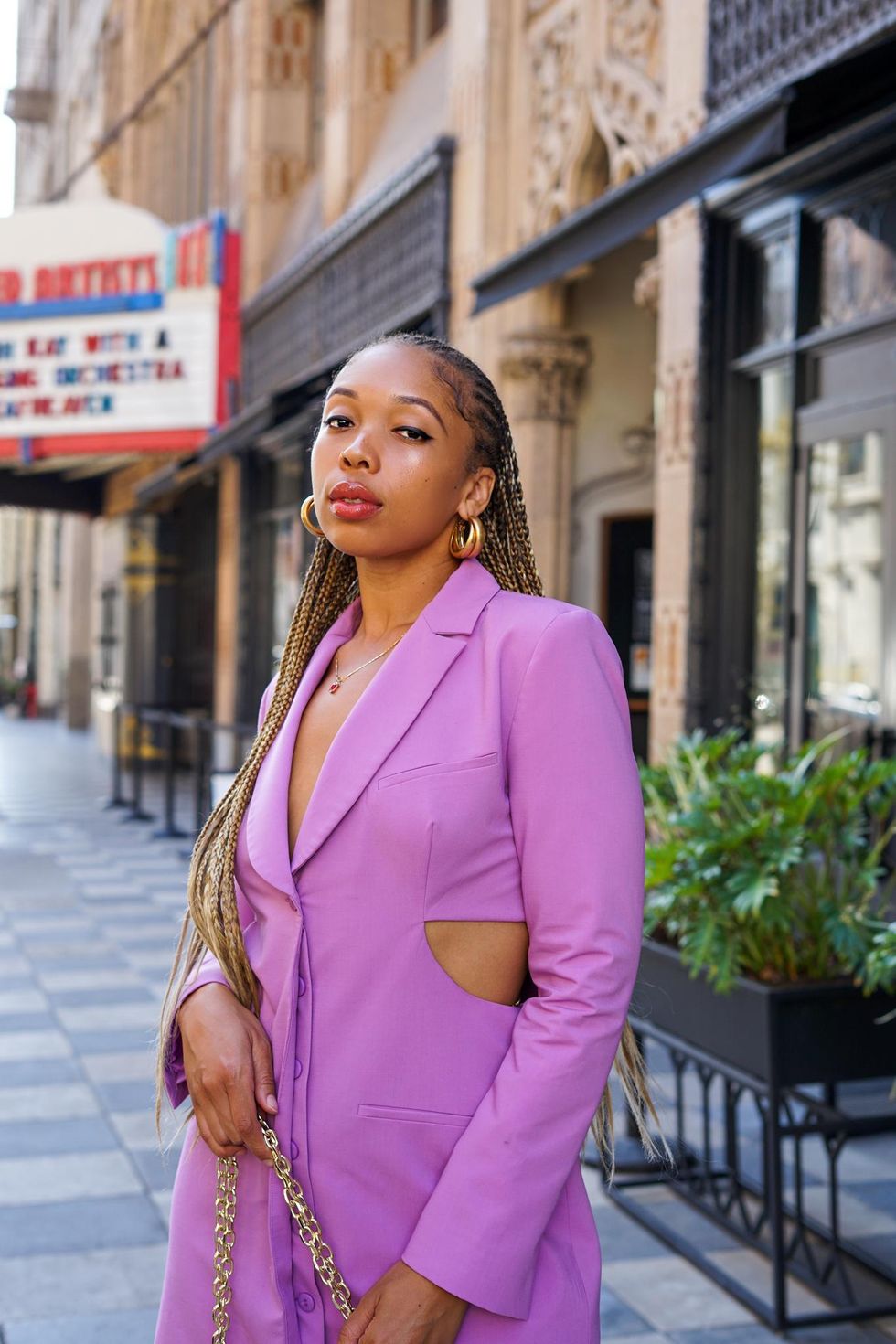 Shahirah Ahmed/xoNecole
Living in Los Angeles, there are more sunny days than most regions, but we do our best when it comes to getting in our fall and winter outfits. Within these particular months of year, it's anyone's guess what the weather will be like on any given day, so it's always best to plan accordingly.
It doesn't matter if I'm on a daytime brunch with my girls or dressing up for a dinner date night, pairing a tall boot with a super chic look gives nothing less than a fashion forward look.
Keep scrolling for my go-to fall boots that will be in steady rotation for the rest of 2021 and beyond.
The Best Boots To Wear On Date Night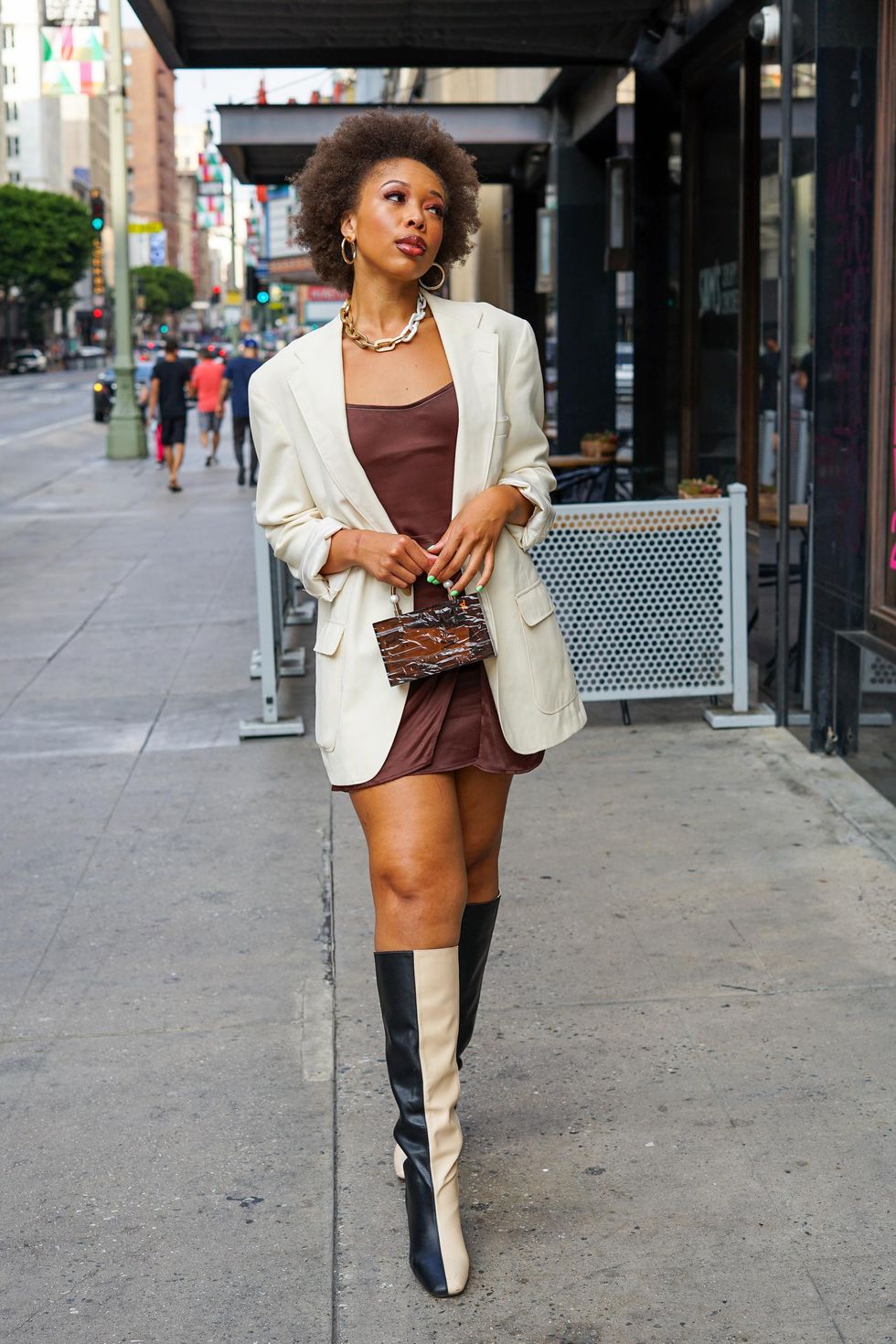 Shahirah Ahmed/xoNecole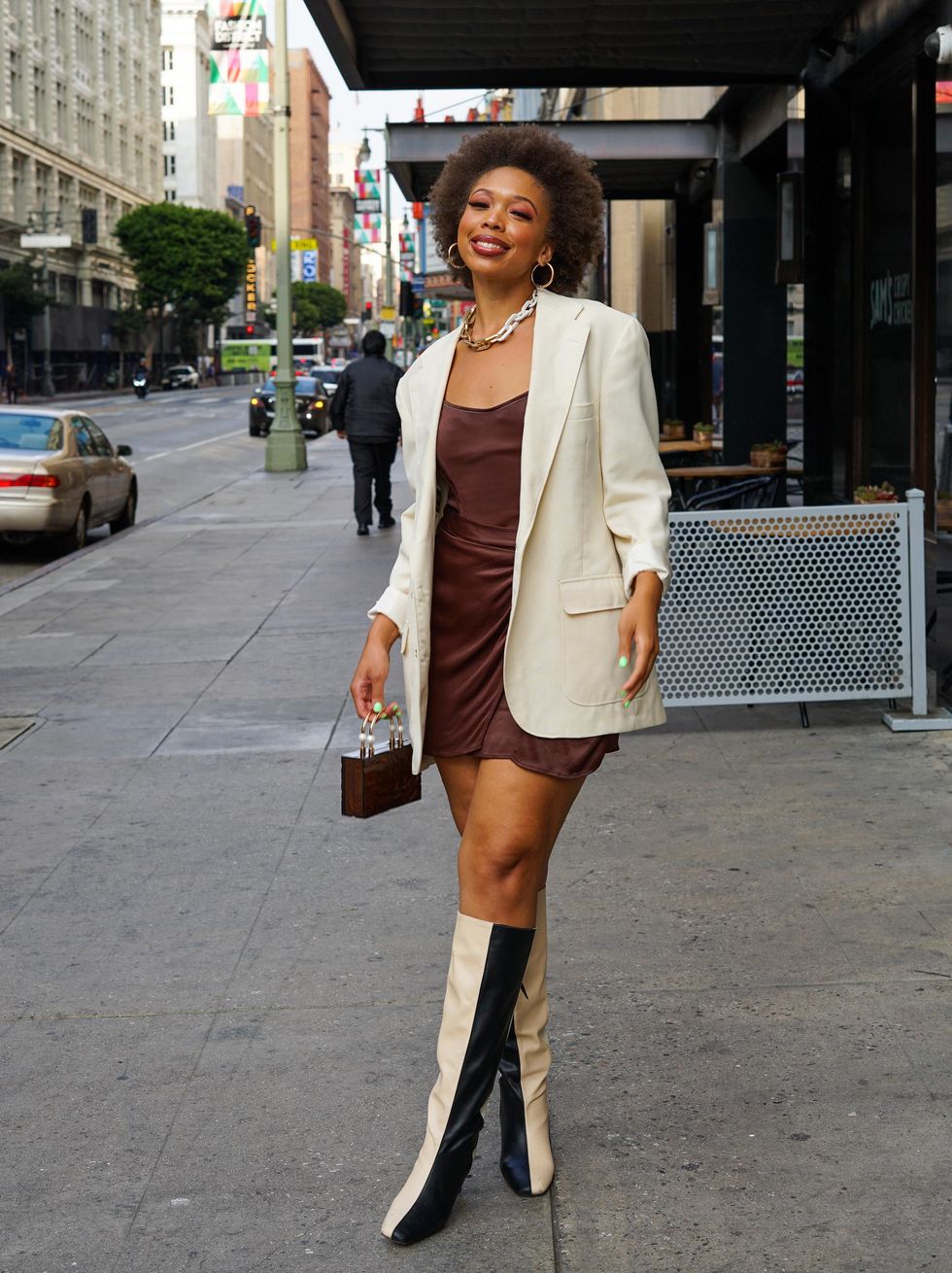 Shahirah Ahmed/xoNecole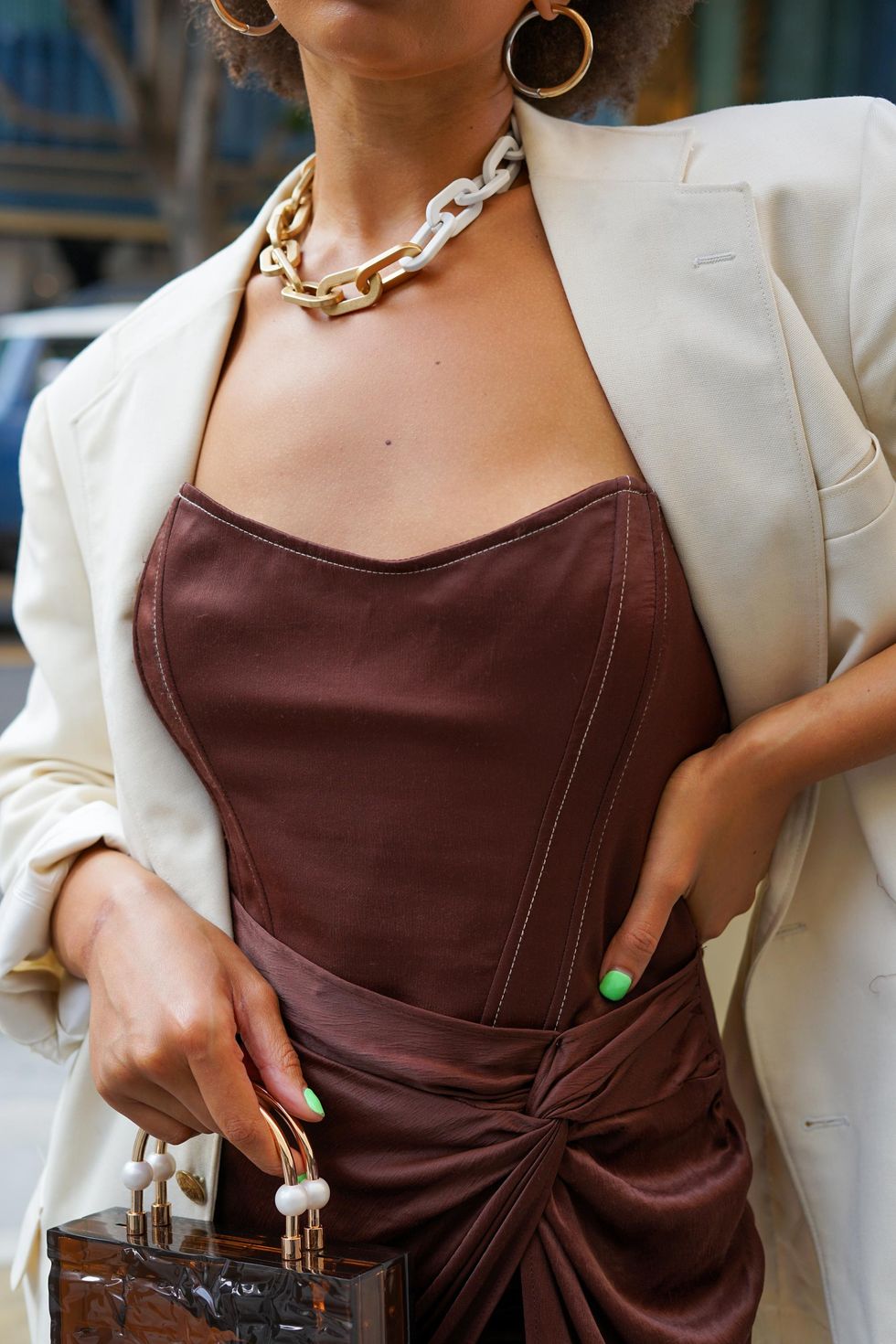 Shahirah Ahmed/xoNecole
Replace a strappy heel with a super sleek calf boot and see how many compliments you'll get in one night. That was my experience when pairing this multi-panel boot from N.Y.A.S, a brand catering to women with larger than average shoe sizes, and a strapless satin corset dress paired with an oversized cream blazer. Dining outside, I wanted to remain comfortable and warm, so I decided a boot was the perfect option when planning the night's look.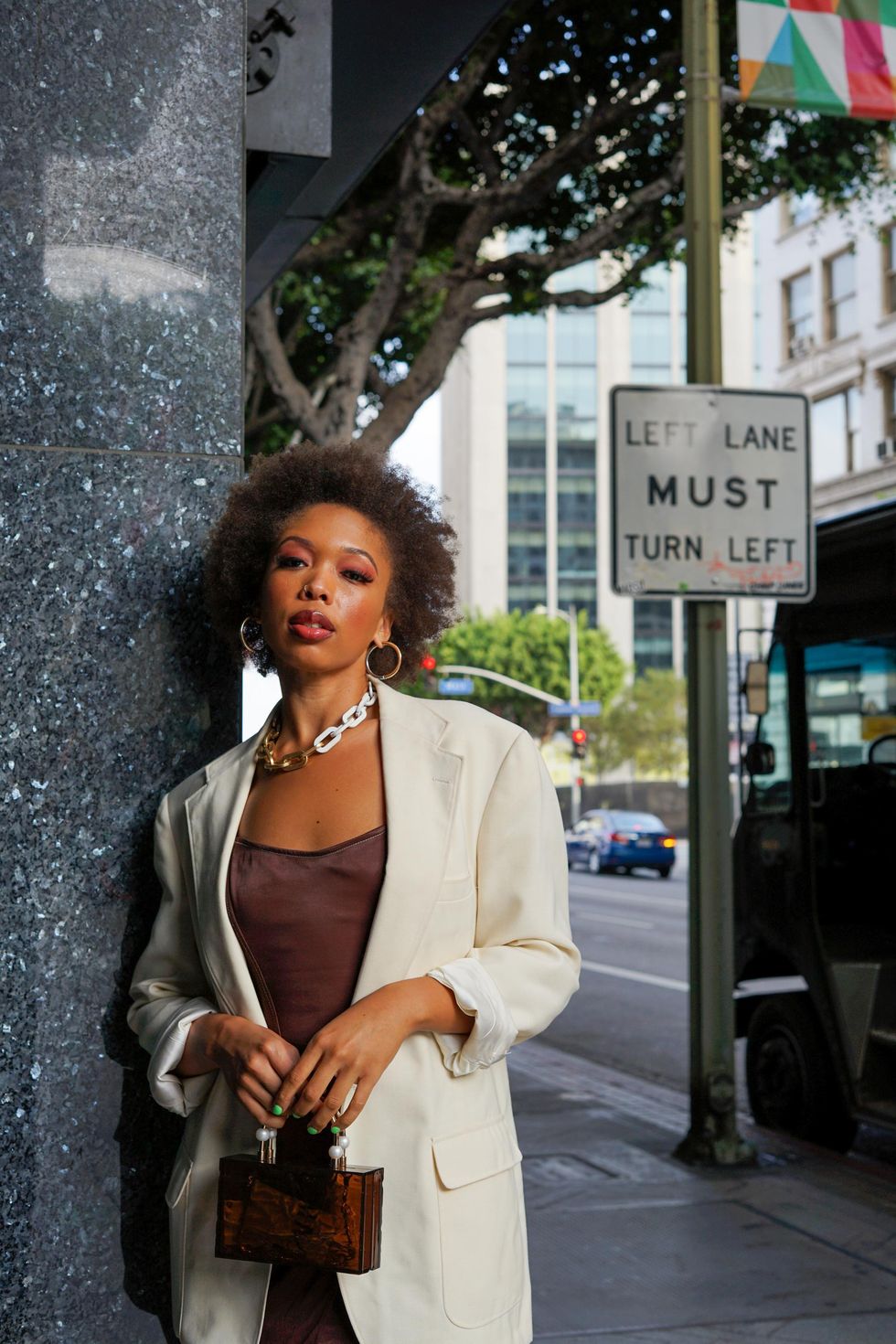 Shahirah Ahmed/xoNecole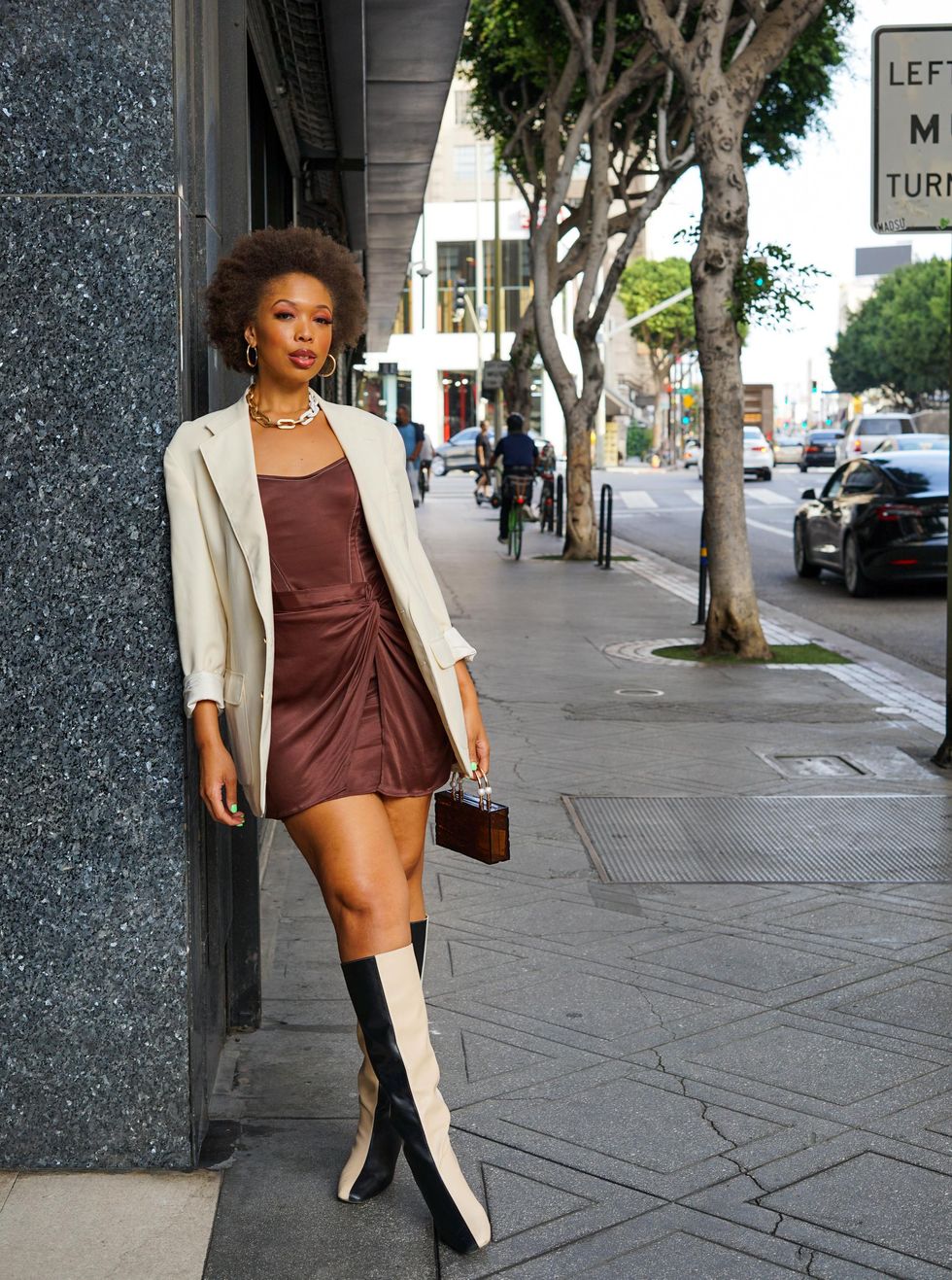 Shahirah Ahmed/xoNecole
What To Wear When Brunching With The Girls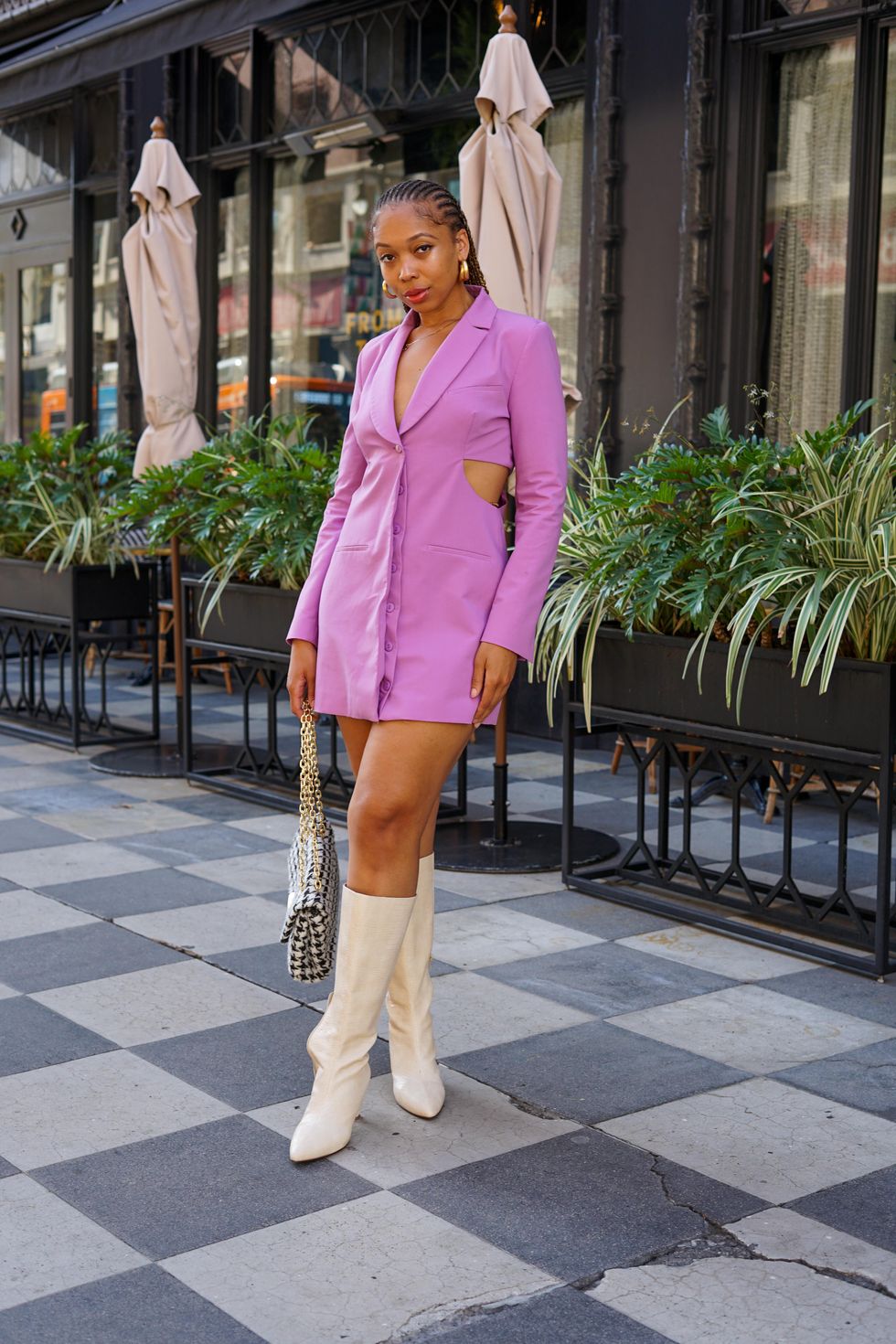 Shahirah Ahmed/xoNecole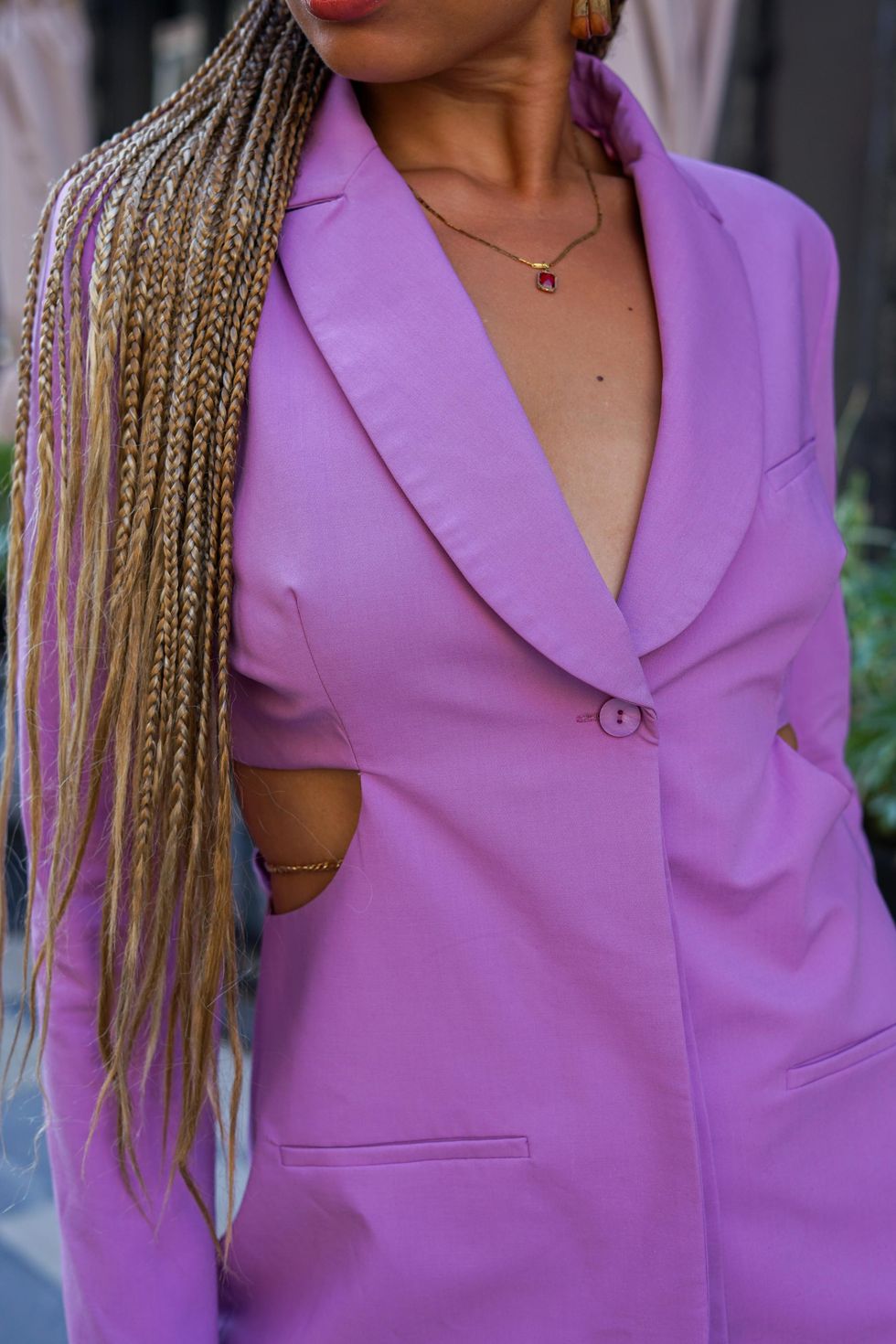 Shahirah Ahmed/xoNecole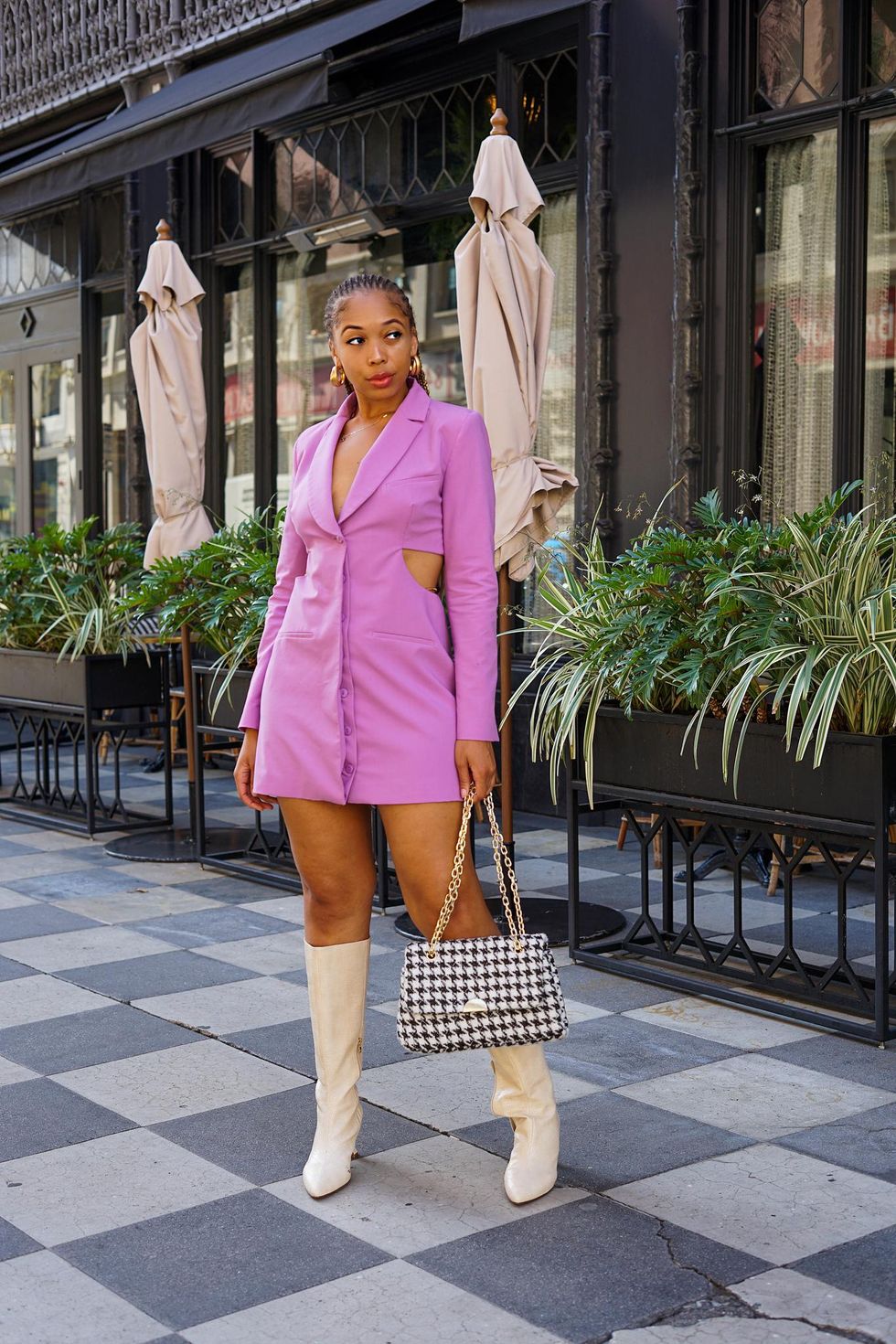 Shahirah Ahmed/xoNecole
One thing about people in LA, we take brunch very seriously. Opting for a purple cut-out blazer dress, I decided to go for my favorite white boots from the brand Smash Shoes. Wearing a size 12 in shoes, it's always difficult to find boots in my size. When shopping with this brand in particular, I'm always confident in a hassle-free experience to find a proper fit and stylish options. Adding texture to this bright weekend look, I paired a printed chain-strapped bag to complete a fun fashion moment.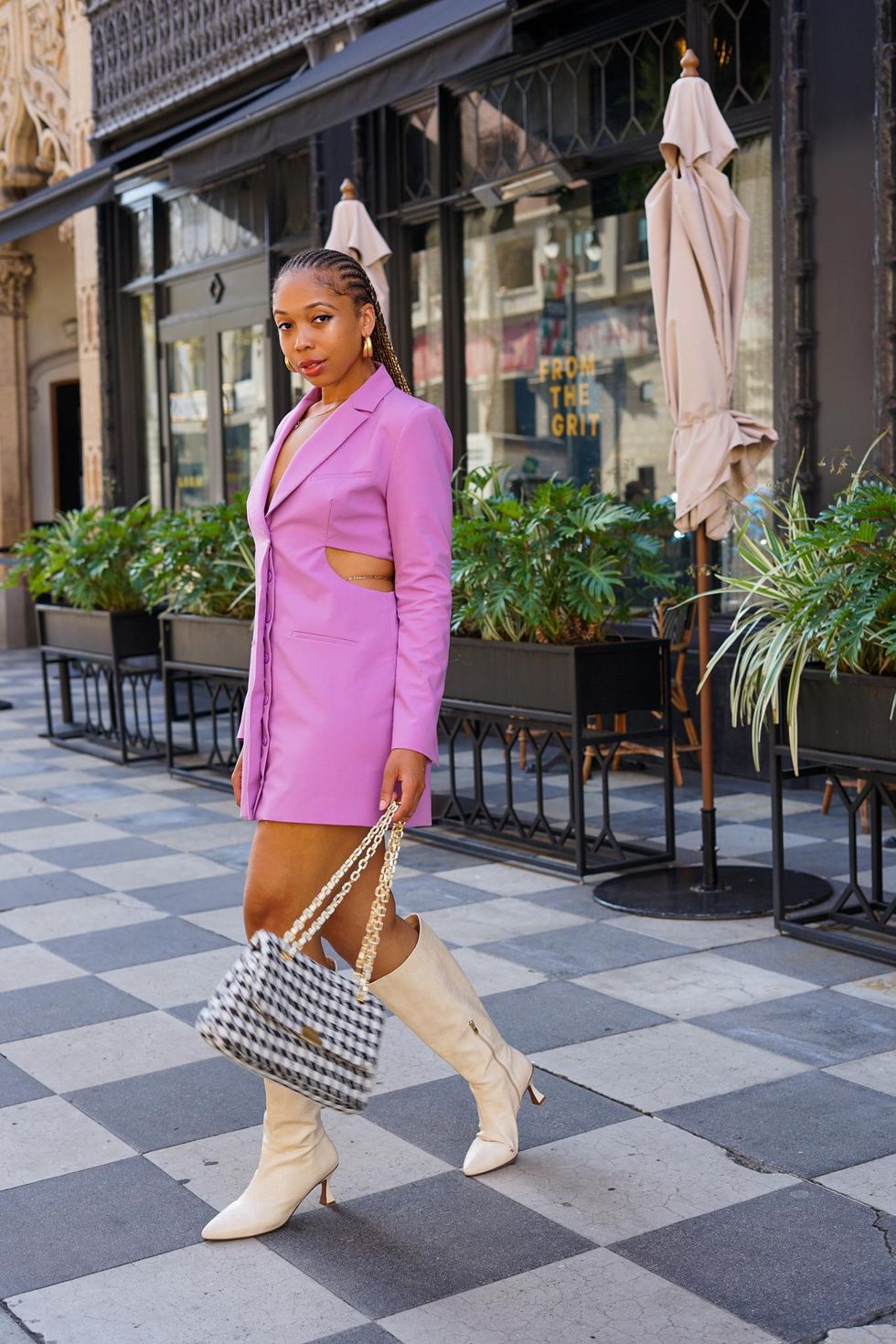 Shahirah Ahmed/xoNecole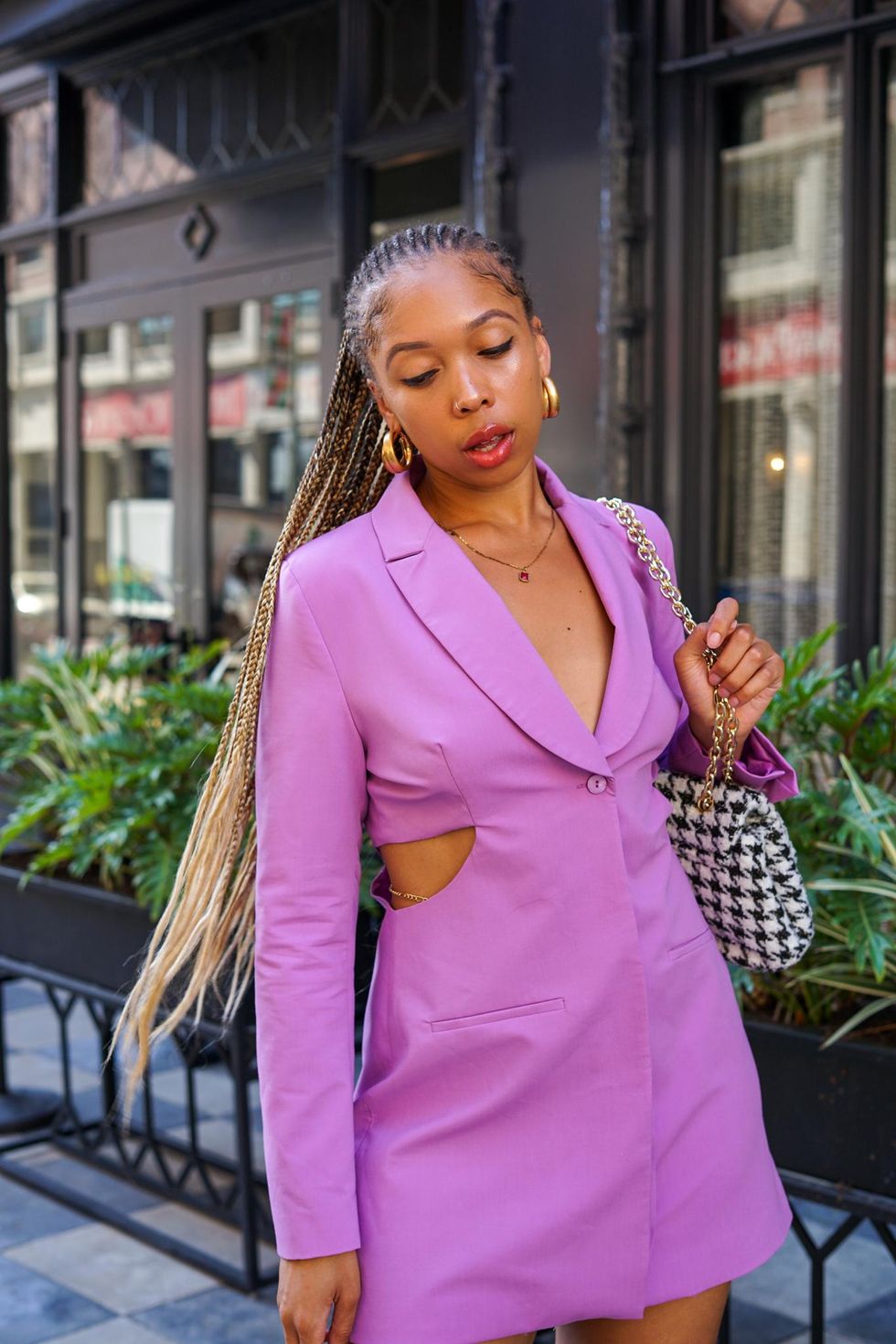 Shahirah Ahmed/xoNecole
How To Style Fall Boots For The Everyday Slay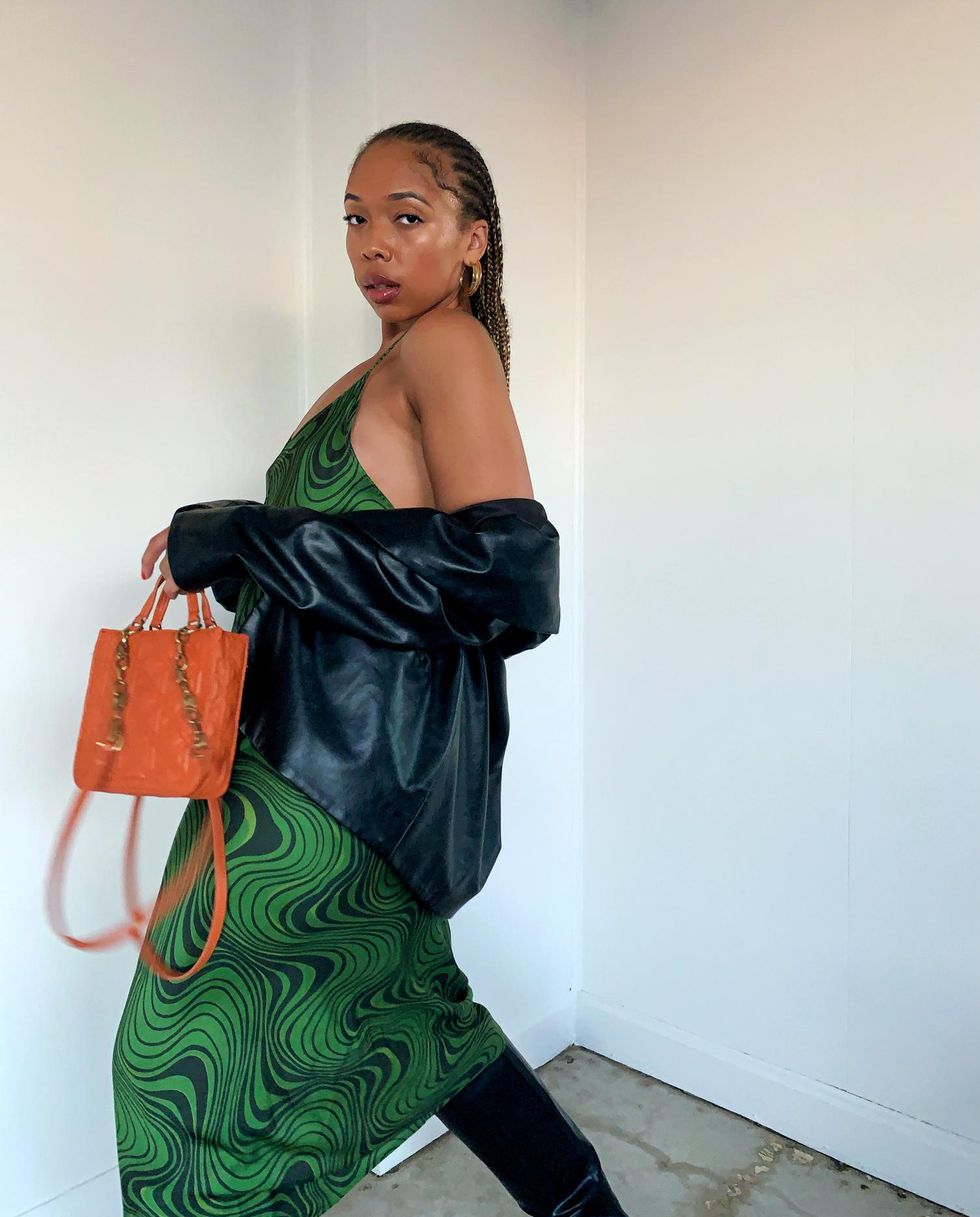 Shahirah Ahmed/xoNecole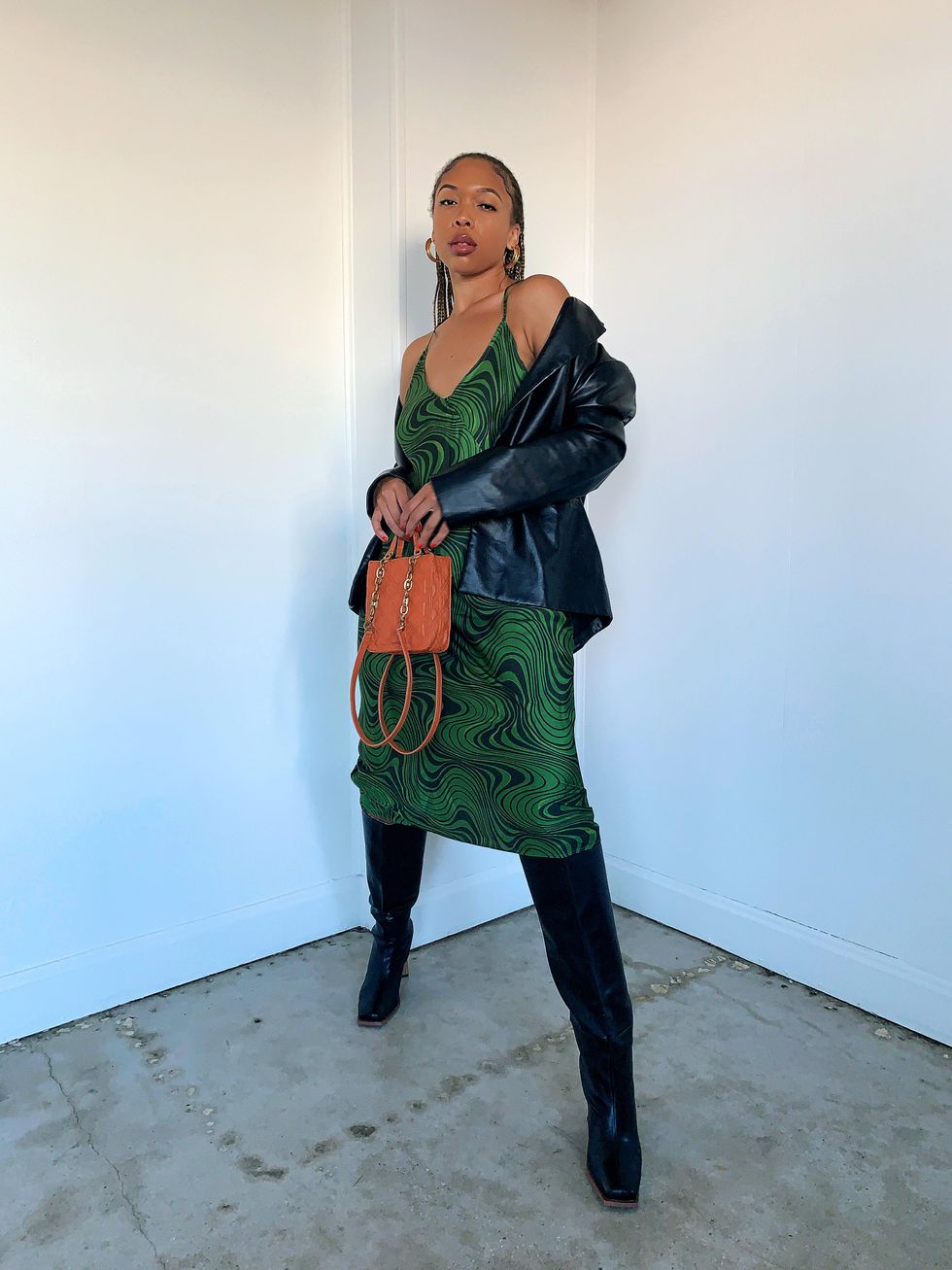 Shahirah Ahmed/xoNecole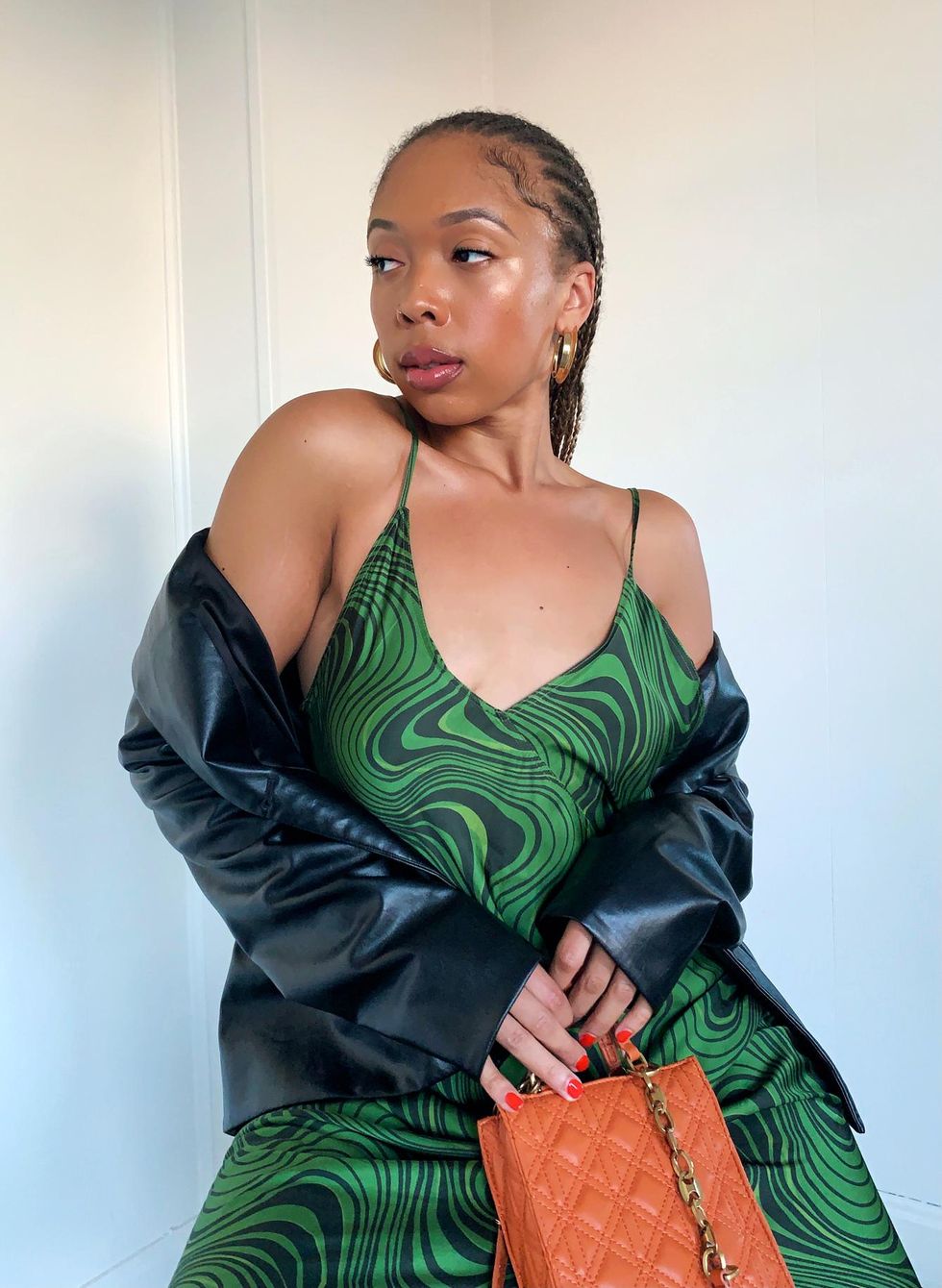 Shahirah Ahmed/xoNecole
Loving the latest release from N.Y.A.S, I couldn't wait to wear my new black faux leather boots with this abstract print satin maxi for a fun color combination complete with a pop of an orange mini bag. Obsessed with dresses as of late, I wanted to pair this look with my square-toe boots for a chic, modern, yet western vibe. Day or night, this is the fall look I've been waiting for.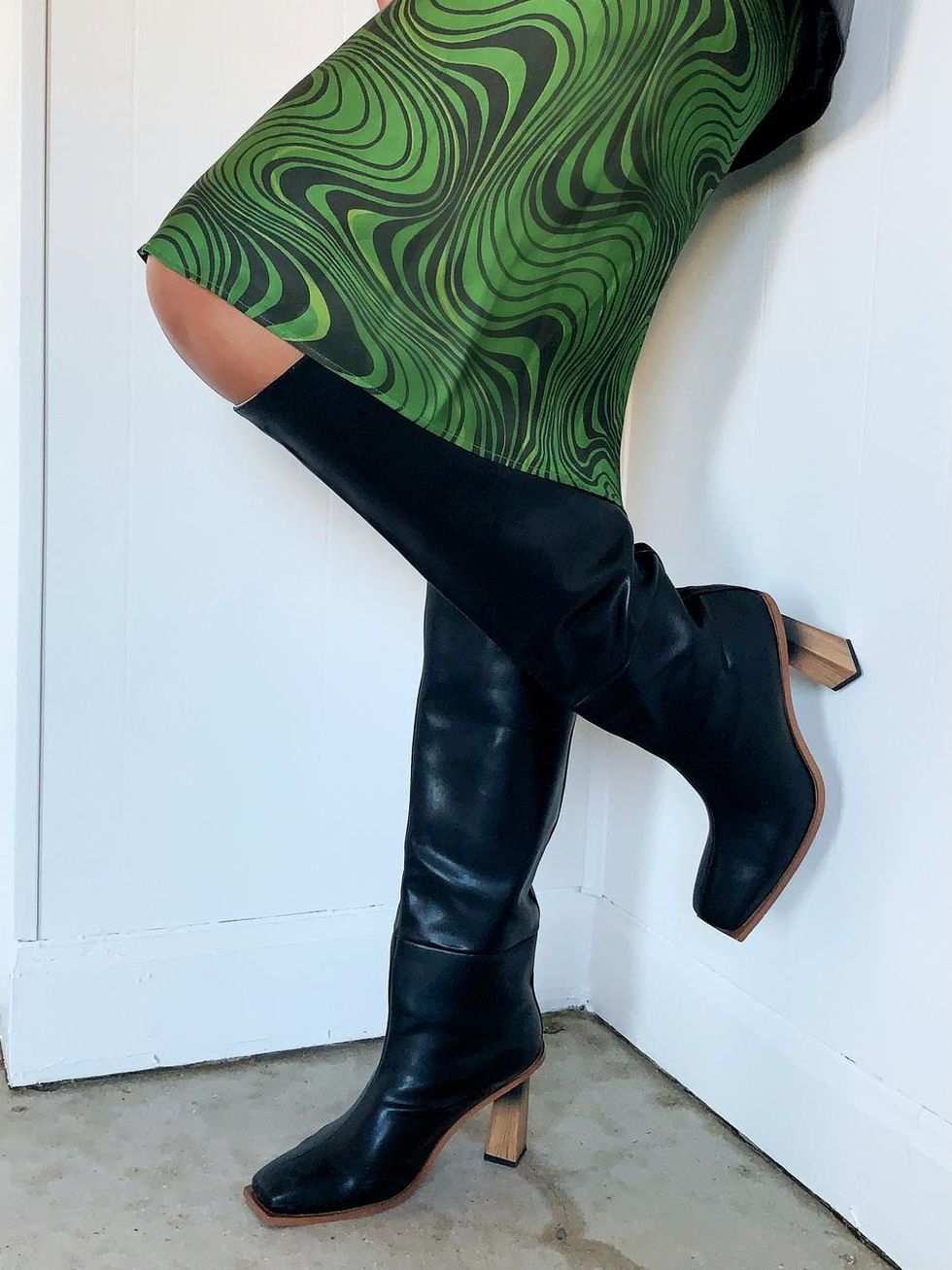 Shahirah Ahmed/xoNecole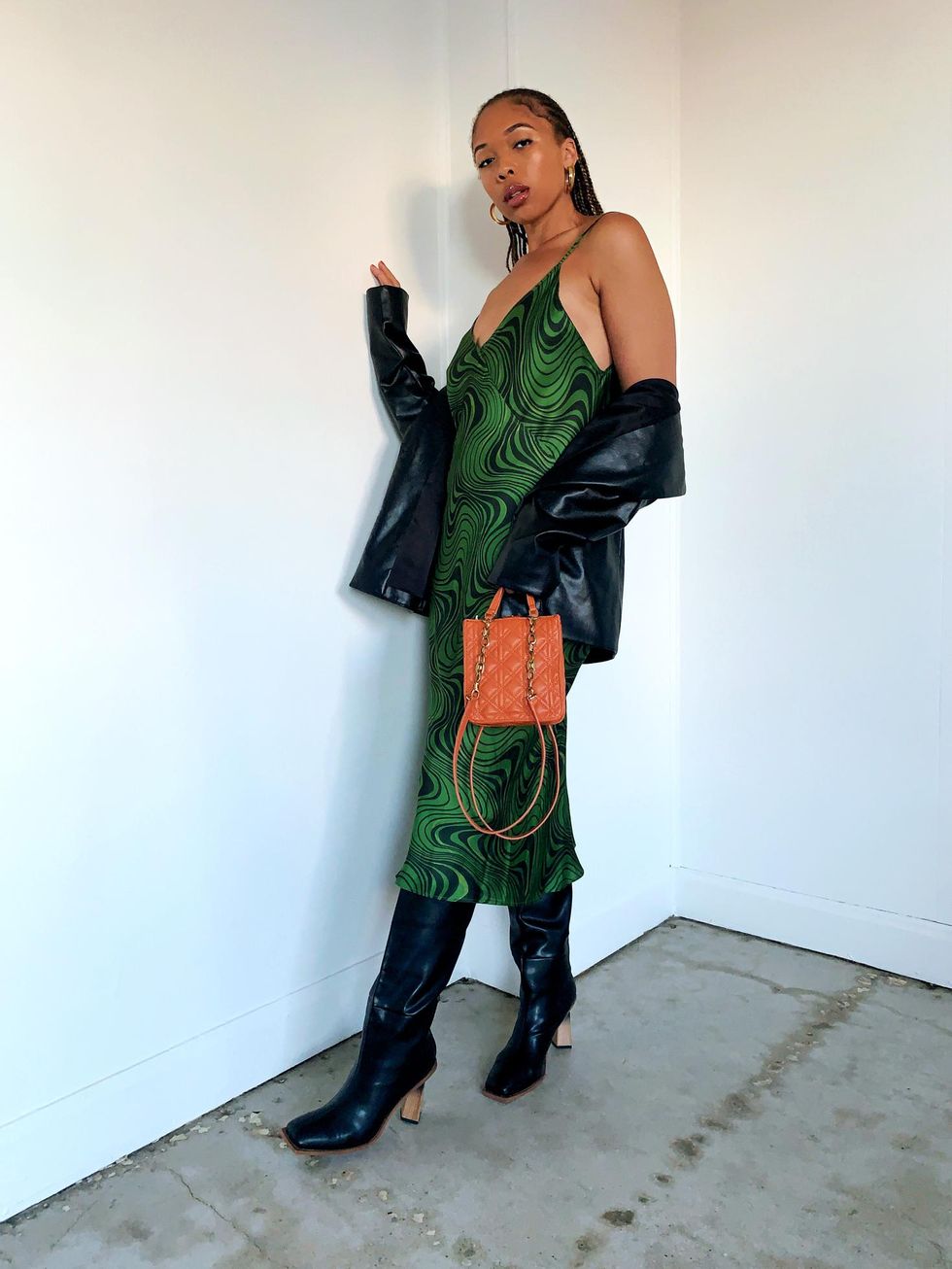 Shahirah Ahmed/xoNecole
To get your fashion fix and to stay up to date with the latest trends, check out the xoNecole Style section here.
Featured image by Shahirah Ahmed/xoNecole
Keep reading...
Show less
Sisters, how y'all feel? Brothers, y'all alright? Well, it's Friday and I'm here to tell you, "YOU MADE IT!" We can all feel fall moving into winter and may have mixed feelings about the holidays approaching. This makes us want to double up the layers and wear whatever makes us feel warm and cozy.
Despite our jam-packed closets, it seems like we still struggle finding what to wear for the day. The pandemic hasn't helped but it has forced us to be more creative. Dressing for fall, especially, calls for us to be innovative and you best believe we are up for the challenge.
Now that daylight savings time has officially made its appearance, it's going to be hard not to complain about how dark it gets. Luckily, we have a more feasible task for you: execute all the lewks. And if you need some inspo, we got you covered. Ahead, find some fire getups that prove that even if you're not ready for the day, it can not always be night!
Featured image courtesy of @ditaeish/Instagram

Keep reading...
Show less
Cardi B's hair is growing and flowing and she is giving up her hair secrets. The "Money" rapper took to Twitter on Nov. 13 to give fans an update on her hair progress.
"So I've been so consistent with my hair mask routine and drinking alkaline water, and look how much my hair has grown! I was so scared of my hair falling out after my son's birth because I'd been growing it for years now, so I made sure to keep up with it and I actually gain hair," she tweeted.
So I've been so consistent with my hair mask routine and drinking alkaline water, and look how much my hair has grown! I was so scared of my hair falling out after my son's birth because I'd been growing it for years now, so I made sure to keep up with it and I actually gain hair pic.twitter.com/LwcKG0HLdn

— iamcardib (@iamcardib) November 13, 2021
While many people praised her, she also received backlash from folks who believed that her long hair was simply due to genetics. The Bronx-bred artist is Dominican and Afro-Trinidadian.
But in typical Cardi B fashion, the star clapped back and tweeted, "ItS gEnEtICS! No it's proper hair maintenance. I have a hair texture that requires lots of love and maintenance.This pictures show my hair from childhood, high school & adult hood and since I started takin care of my hair the right way it has grown TREMENDOUSLY!"
She further elaborated on her hair journey on Instagram by showing her hair growth from her childhood days to now and made it clear that she wanted to inspire others with similar hair textures that they too can grow long and healthy hair.
"Why everytime I post my natural hair I hear 'you're MIXED you're supposed to have long hair'?" she wrote, "That's not true and very misleading. I been posting pics of my hair journey for years and being mixed don't mean your hair is always long and curly, that wasn't my case."
Further along she wrote, "I want women of color with tighter curl patterns to know that you don't have 'BAD HAIR' there's no such thing as bad hair. And 'good' hair don't mean a certain texture. ALL HAIR IS GOOD."
She ended her post by writing, "Check out my pinned story 'HAIR DAY' and I can't wait to show ya more of my hair care routines."
It looks like some fans took her advice as they began sharing videos of themselves doing Cardi's DIY hair mask.
look at the results y'all, @iamcardib wasn't lying 😩 pic.twitter.com/08960e1irA

— Birkin Bardi (@BIRKINBARDl) November 14, 2021
The hair mask includes avocado, eggs, mayo, banana, argan oil, castor oil, and honey and according to Cardi and fans who tried it, the results are amazing.
The star also said that she uses the mask on her daughter Kulture's hair.
Featured image by Francois Durand/Getty Images For Messika
Keep reading...
Show less
I have a love-hate relationship with the classic '90s ponytail. I love how versatile it is. It works for every hair type/texture and it fits every occasion from day to night. On the not-so-loving note: It's an addictive style and doing it too much can mean constant tension, eventually wreaking havoc on your roots and edges. If done right though, you can get the sleekness without the damage.
My forever high-ponytail inspo is our Queen Normani. She kills it every time. From the debut of her "Motivation" video to "Wild Side," it has become her aesthetic, and she's bodied every version of the '90s look since. So who better to get tips on creating a high ponytail from than one of her stylists, Ashanti Lation. The master stylist and CEO of VIP Luxury Hair Care sat down with xoNecole to tell us how she got started, her best tips for creating the perfect ponytail, and how to protect your hair while doing it.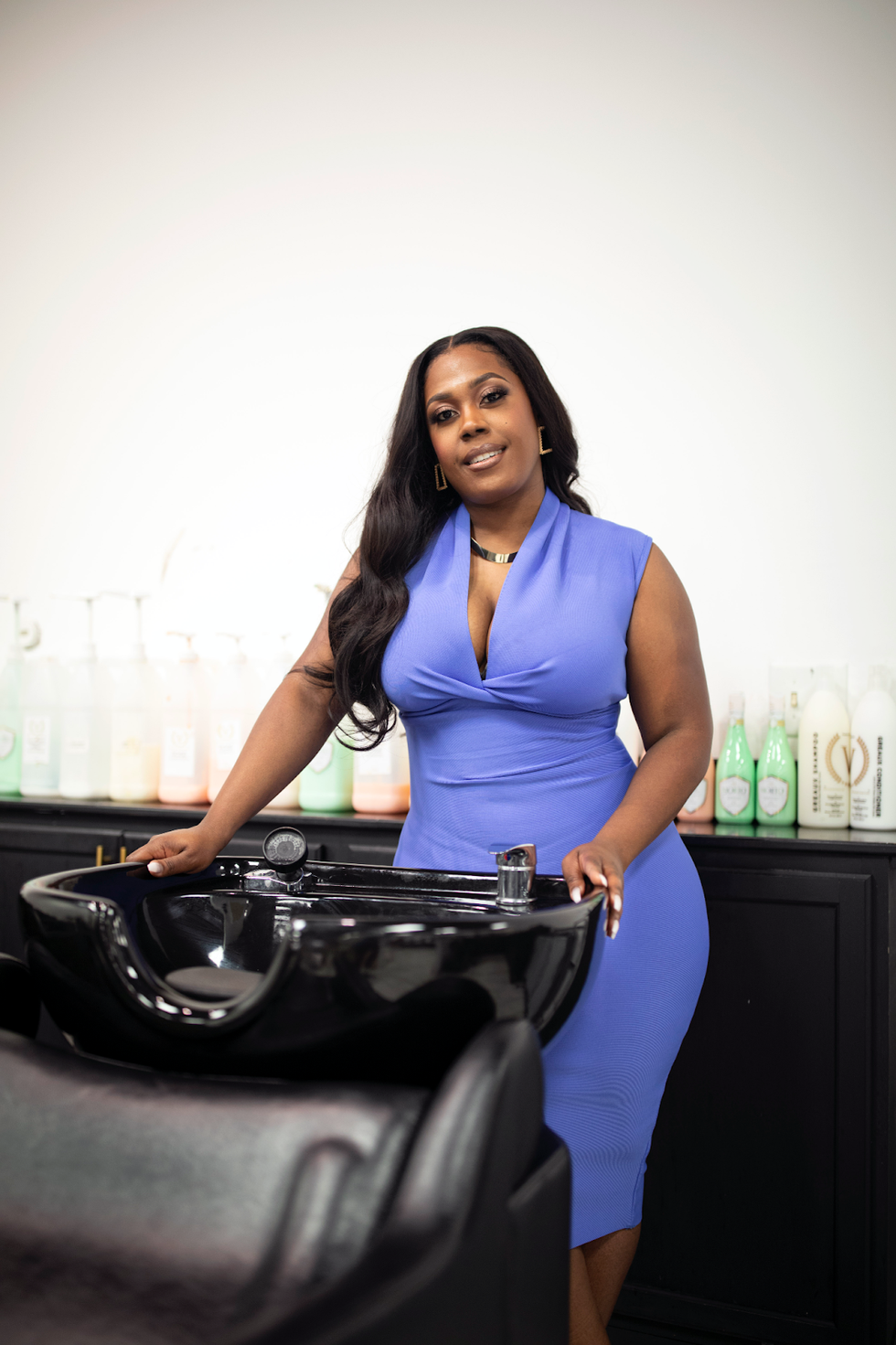 Darius Varnado

xoNecole: What inspired you to become a hairstylist? Where did you start?
Ashanti Lation: I started doing hair in high school because I wanted my hair done all the time. Then, I would try [styles] and it came out good to me, [so] a few other people would ask me to do their hair. About a week later, I started charging my neighbors and other high schools in my city. From that point on, I got popular.
I also have eczema and allergies so because of that the skincare aspect of doing hair was always important to me. I always focused on the hair [and scalp] because I was particular about what my clients used and didn't want it to affect my skin. If you know anyone with eczema, then you know if it breaks out on your hands or neck, it takes a long time to recover. In initially being cautious, my clients would have great results for their hair, and I followed that path with them. I started studying the skin [and] scalp and creating products.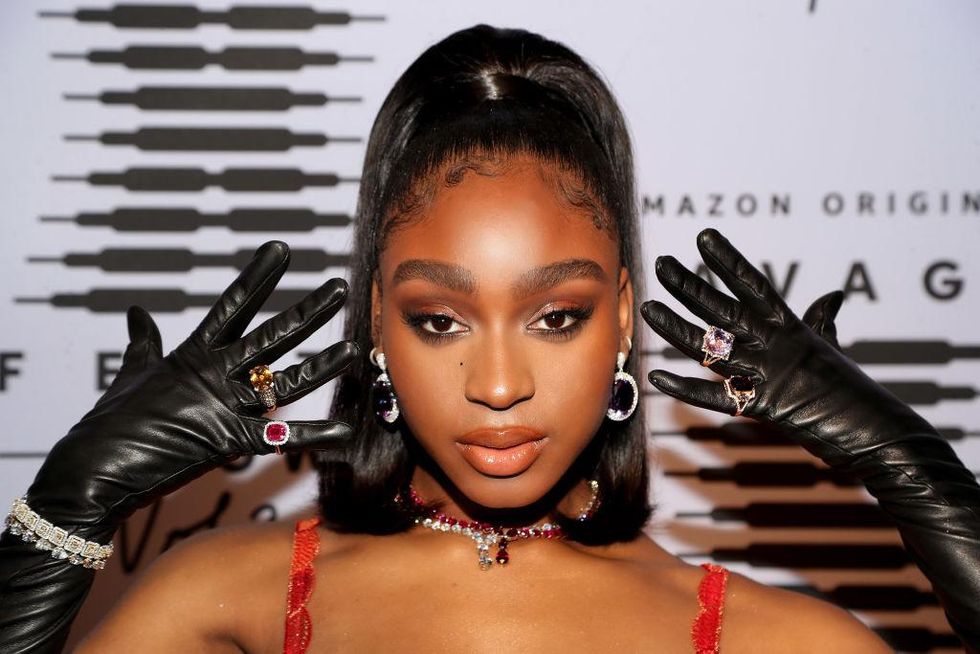 Jerritt Clark via Getty Images
When did you start working with Normani?
I'm the healthy hair guru, and a couple of celebrities and people in other industries have reached out to me asking for hair advice. She [had been] using our products [Greaux Drops] because a frontal had damaged her hair a little bit and the product was helping her hair grow back. She [contacted me] when she was in New Orleans and said, "Let's connect," and so we did and I did my thing. From that moment on, I've been her go-to haircare specialist.
When it comes to styling ponytails and keeping haircare in mind, what recommendations do you have to avoid damage?
It can be trying on the edges and at the top of your head from tension. Some people start to have bald spots at the top because the ponytails are very heavy, so I always tell people:
Avoid too much tension. Some people will make a section then swoop another section on top [to make it sleek and get it in a ponytail] it's too much. Try to get the hair as sleek as possible before you pull it up in a ponytail. So if you have to get a silk press first to smooth it out, then do that first. Prep the hair before you start the ponytail!
Use less product. Use holding spray first because sometimes using excessive gels, puddings, and wax, can become a lot, especially for the finer hair types. It will pull it out then thin it out.
Use the right band. Putting too many bands [on your hair] can damage the crown and cause balding. I like to use thick black rubber bands. Some people like scrunchies but I never try to unwrap them when taking them out. Just cut it out and throw it away! Don't try to keep using it because you'll get it tangled like that.
The base of the ponytail is important. Don't just use one rubber band. Use at least two and the wraps to create a structure like you're building something. It needs to be strong enough to support the hair. If you're doing one band, all that tension falls on your hair trying to hold the ponytail up. You can also do the ponytail on your thickest area so it will be less damaging to your hair.
Be gentle. Haircare is a slow dance, not a fast song.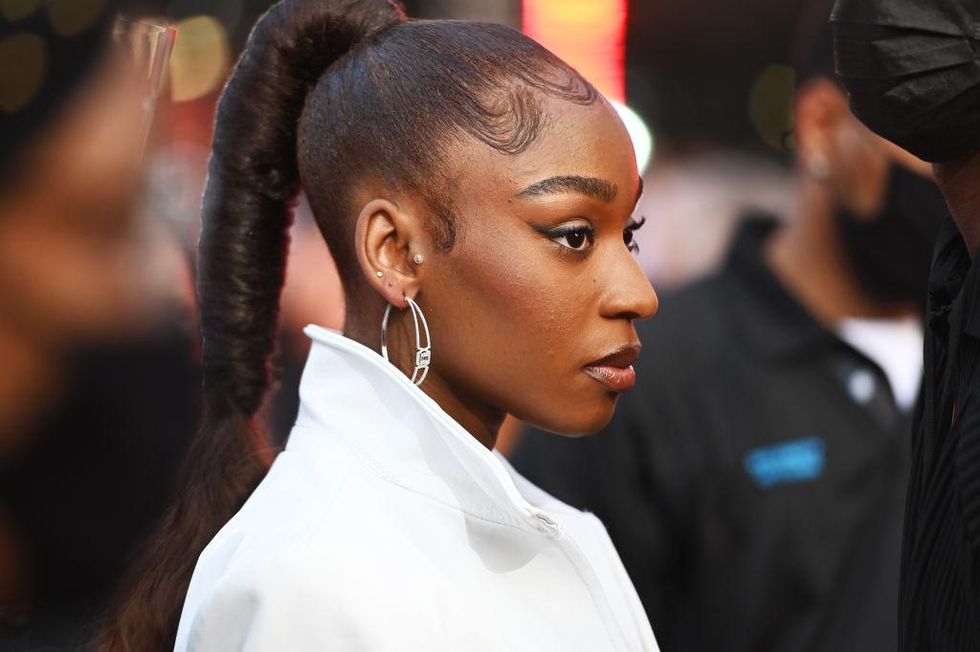 Noam Galai via Getty Images
What products are needed to achieve a Normani-inspired ponytail?
A pomade like Jam and an edge control like Elite Edge. You can use wax if you want but don't use gel. You'll need the hair of your choice. You can finish with a light holding spray. You'll also need thick rubber bands and wrapping strips.
Can you walk us through your step-by-step process of creating a ponytail and prepping for it?
For a heat-free process, you'll need more product to sleek it because you're laying it down. For Normani's hair, we don't use any heat at all. We twist it and let it dry overnight. It will be sleek and you'd think we pressed it.

1. Make sure you smooth your ponytail out as much as you can before you put product on it.
2. Use a pomade like Jam and add the Elite edge control on top of that and smooth it out with your hands.
3. Tie it up with the black hair wraps and let it settle until it's fully dry.
4. When you take it down it holds but it's still soft.
5. Use two bands and then start your top knot.
If you use heat and flat-iron it first, you can pretty much slick it up with a little serum and a holding spray to keep it in place.

What hair would you recommend? We know that some hair can be heavier than others.
There's human hair or braid hair. Try to weigh it out and see what feels better to you. It depends on your texture. Less is always more if you can get hair that's fuller. And avoid using too many bags of hair.

For more hair tips and product recommendations, follow Ashanti Lation on Instagram.
Featured image by Jerritt Clark via Getty Images
Keep reading...
Show less
Dear Black Women,
Thank you for being the source that empowers us all. Thanks for serving up inspiration on the daily. And thank you for proving that we do it best. There's no denying that Black women make the world go round and that couldn't be more true when it comes to style and fashion. Since the beginning of time, we have found a way to show off the magic of our culture through our threads, hairstyles and almost anything we don.
These days Instagram is prime real estate to find Black Girl Magic inspiration. For a quick style lesson, keep scrolling for some hidden gems sure to provide looks you can replicate again and again.
Featured image via Tina Lawson/Instagram

Keep reading...
Show less
On any given day, no matter my destination, you can find me in at least one article of men's clothing, specifically suiting. When I'm not wearing an oversized vintage blazer, then I'll be more than likely layering a men's button up as a substitute for a lightweight jacket. What I love most about menswear is the overall comfort and not being confined to material that restricts my range of motion. Also, being tall and curvy, it's sometimes impossible to get that oversized feel when shopping within the women's department. Over the years, I've gotten my hands on a plethora of blazers and button downs, even men's trousers in many different colors and prints but lately I've embraced suiting with a more feminine approach.
With men's suiting, there's only so many styles that are available. Mostly designed with classic silhouettes, this fall, I want to embrace more trendy and stylish pieces in line with the modern masculine twist that I love so much. Keep scrolling to check out these menswear-inspired looks that are all woman.
Peek-a-boo Blazer with a Twist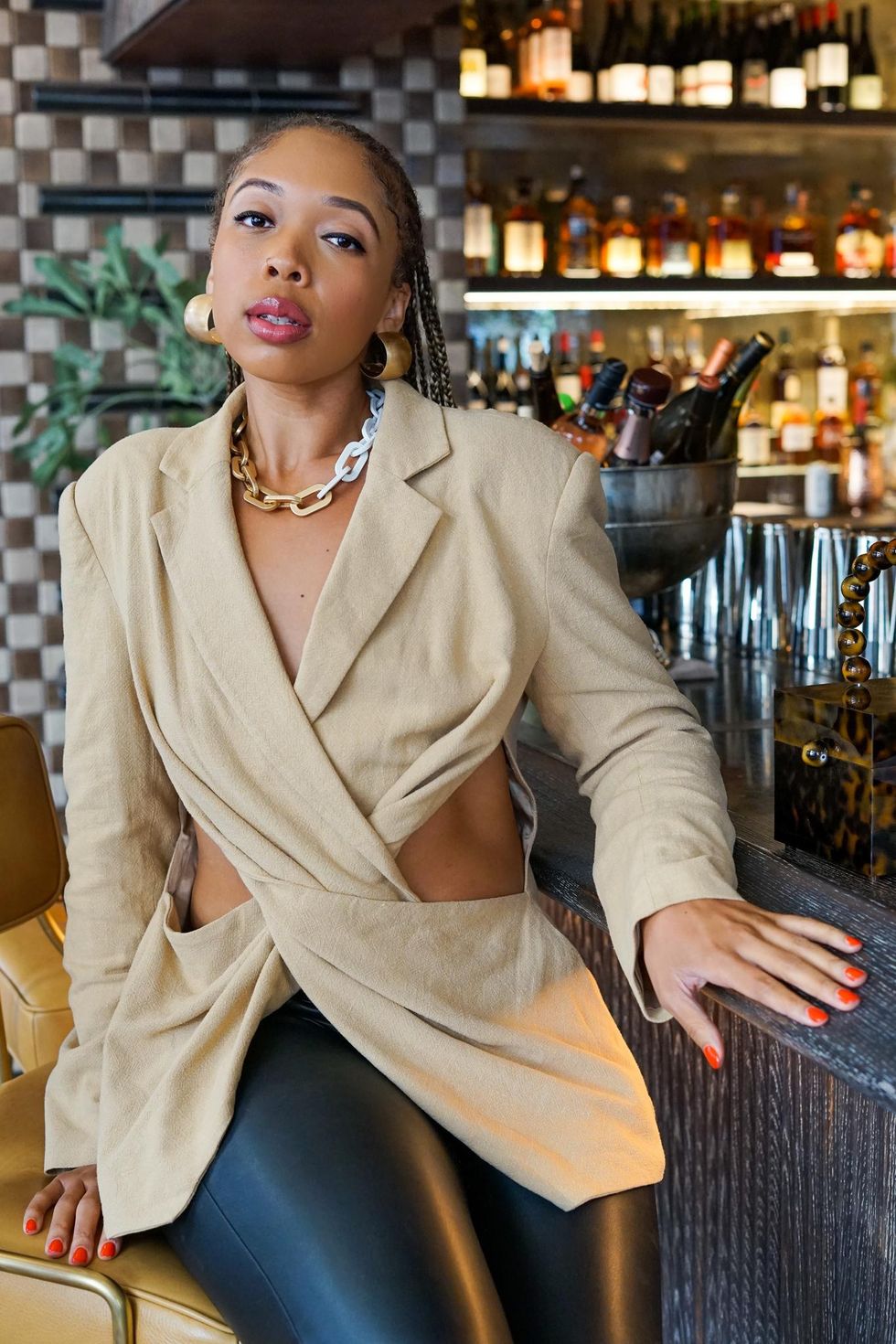 Shahirah Ahmed/xoNecole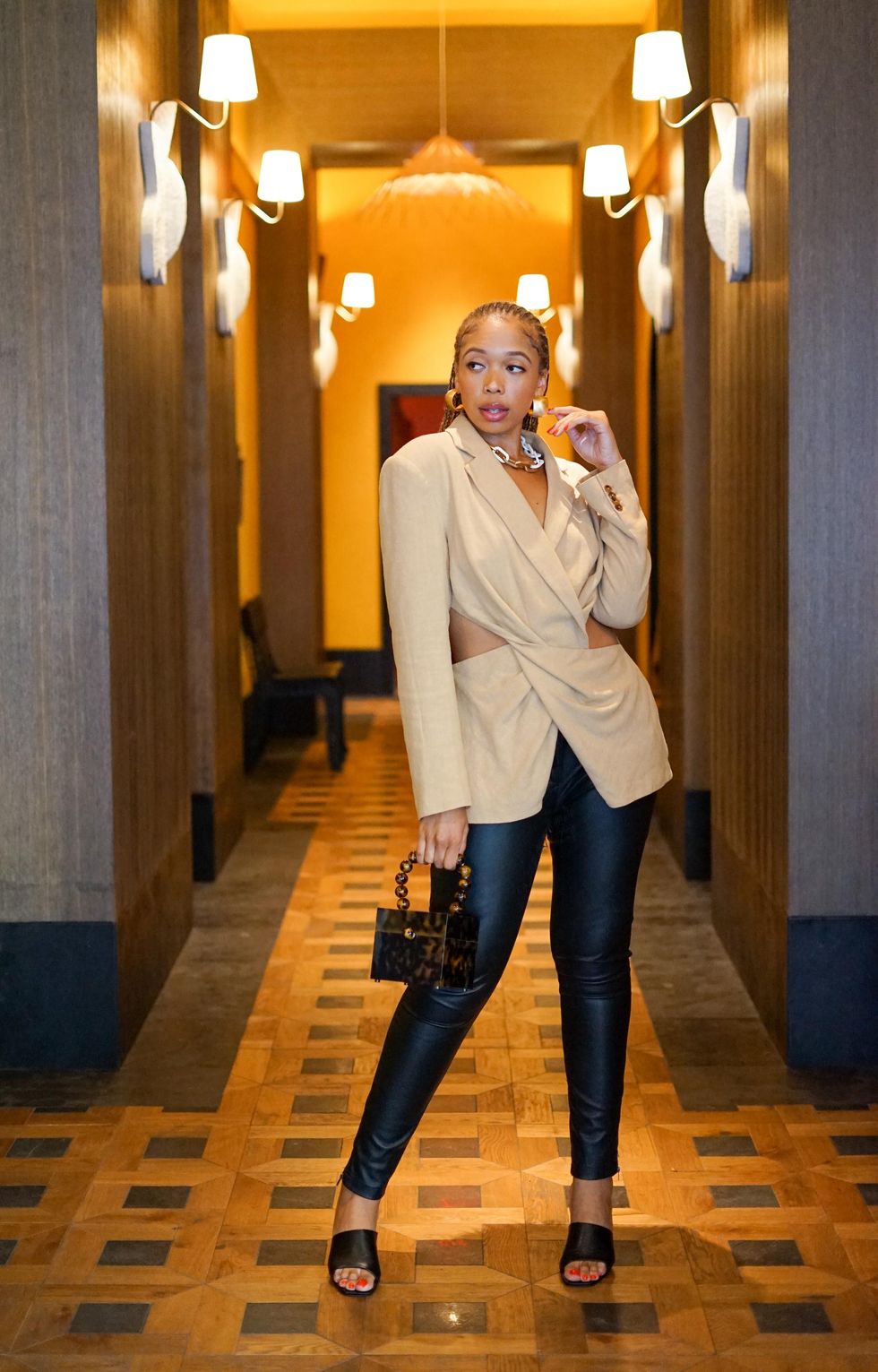 Shahirah Ahmed/xoNecole
The moment I saw this blazer, I knew I had to have it. Perfect to catch an evening drink with the girls or a night out with bae, this outfit is not only chic but incredibly comfortable as well. Beyond its super stylish twisted knot detail and trendy side cut-outs, it's the perfect color for fall.
Keeping it seasonally appropriate, I paired a slim black leather pant and matching mules for a professional yet sultry look. I couldn't forget my accessories, so I went with a two-toned gold linked chain necklace along with a tortoise print acrylic box bag to complete this look.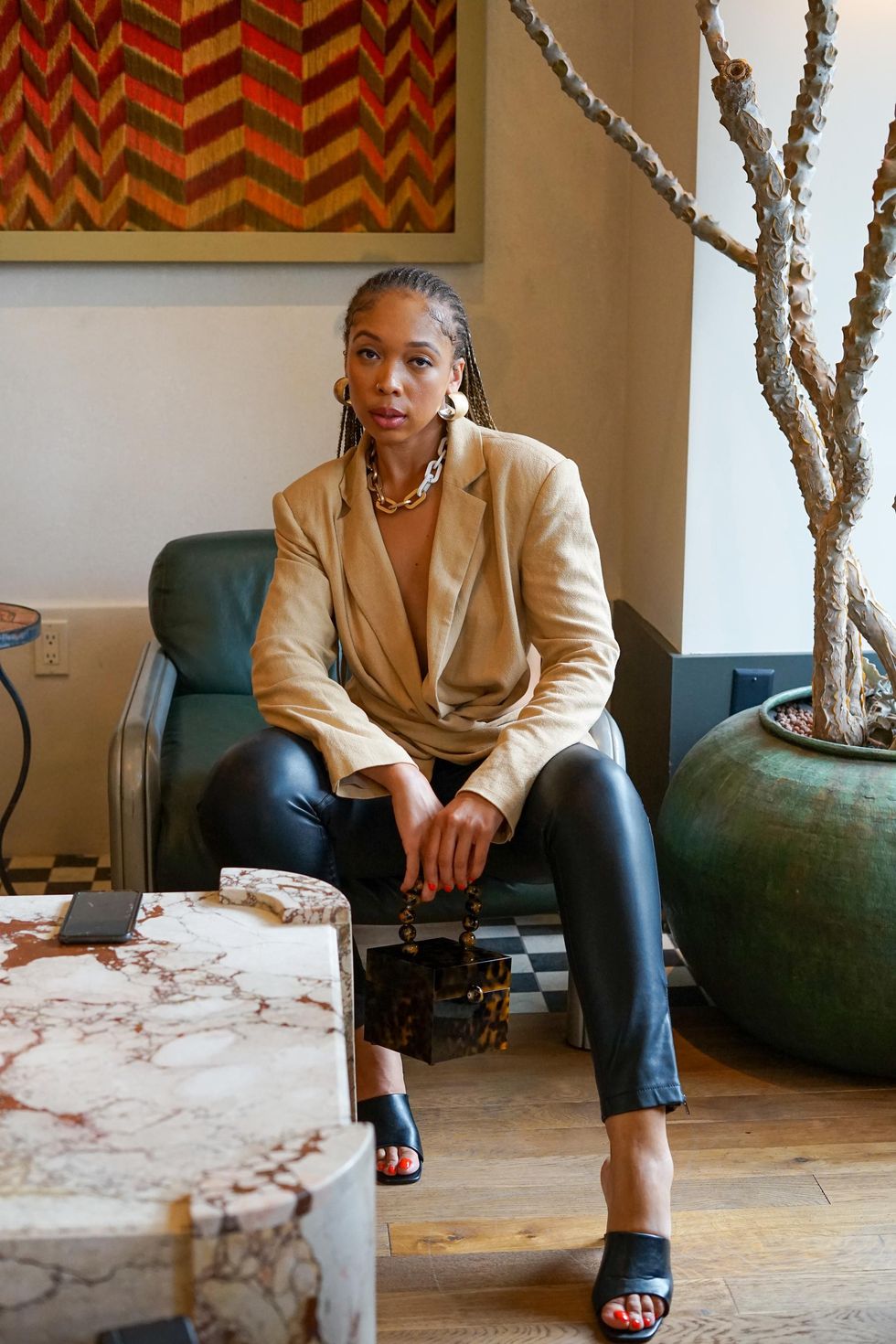 Shahirah Ahmed/xoNecole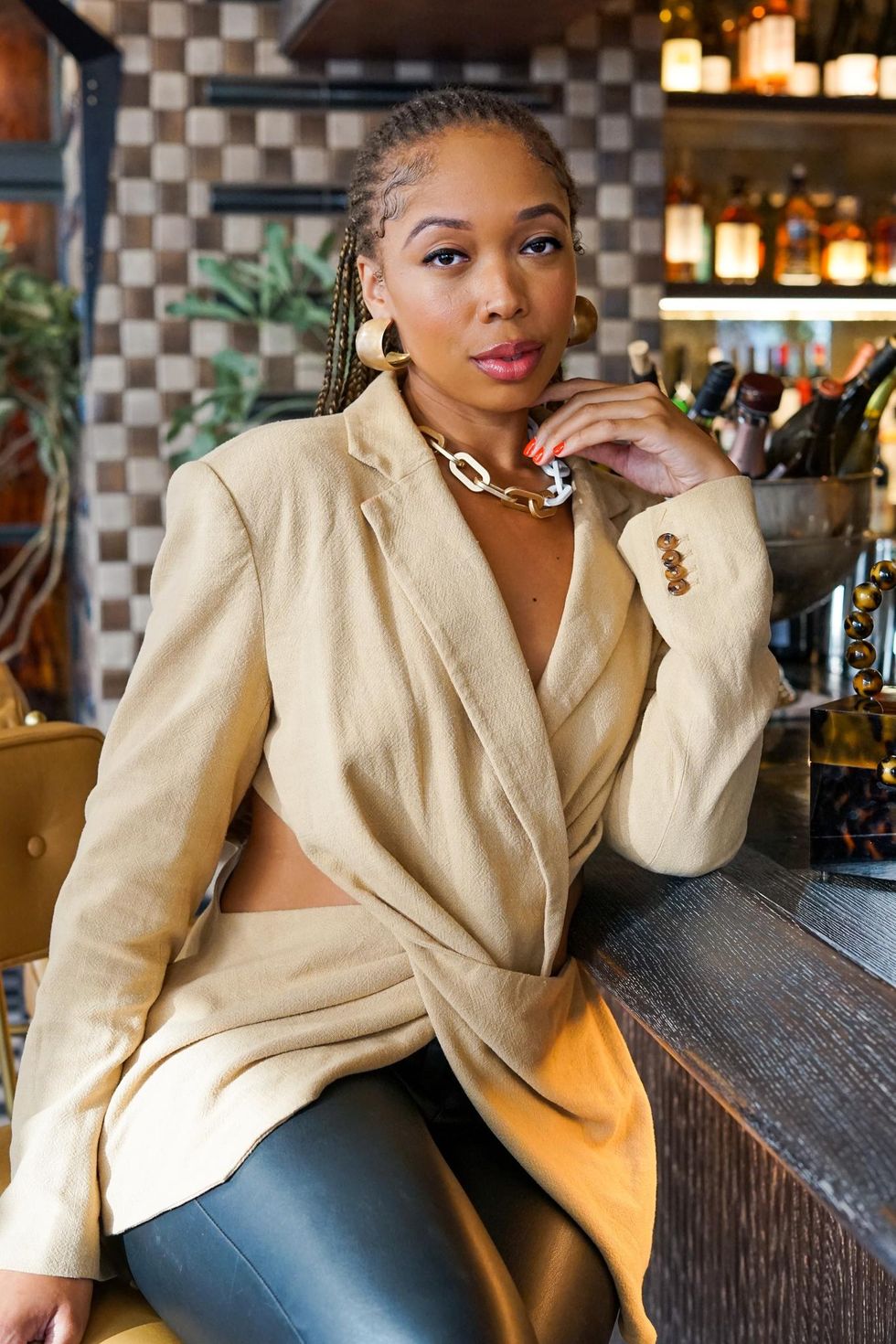 Shahirah Ahmed/xoNecole
Cut-Out Button Down Dress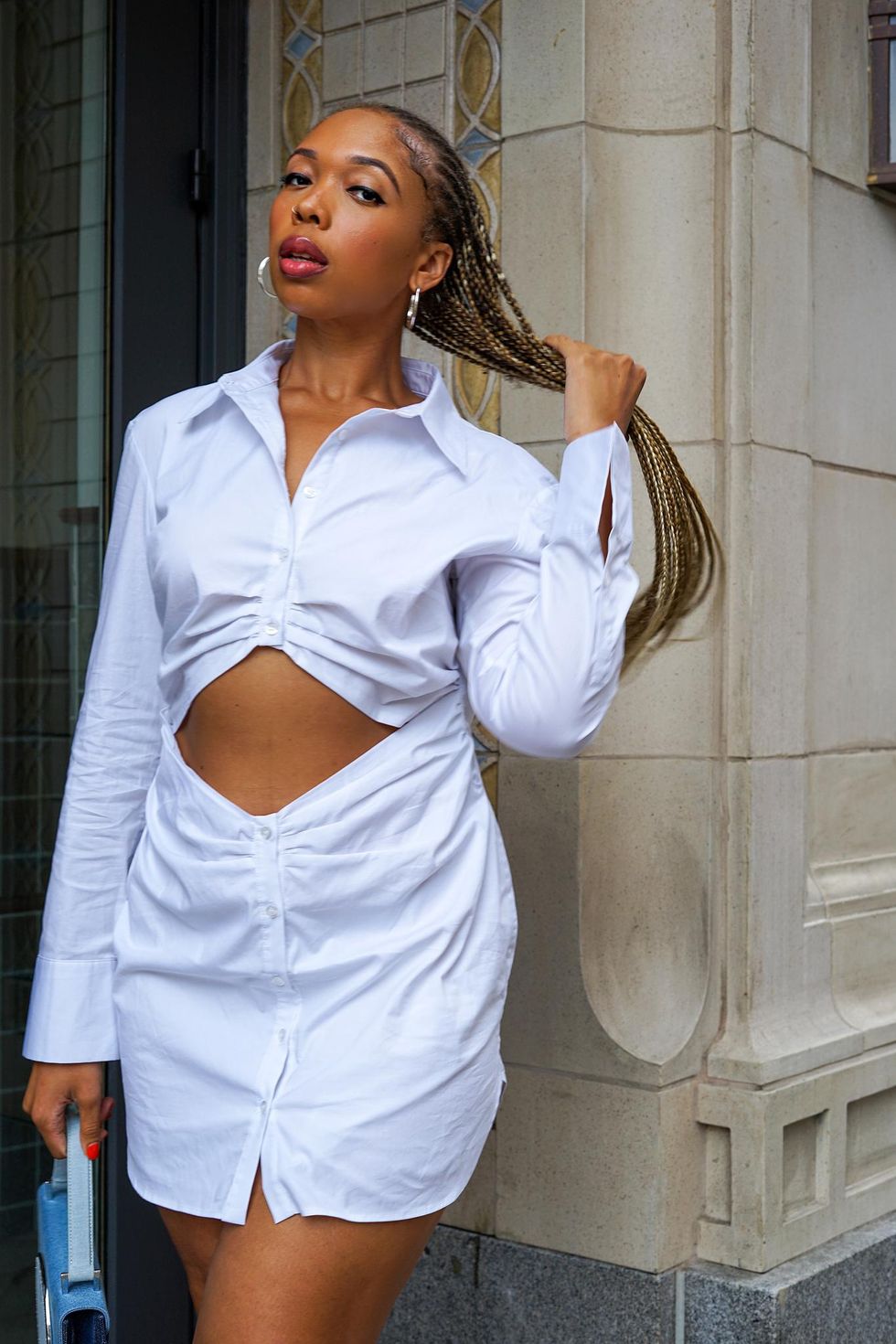 Shahirah Ahmed/xoNecole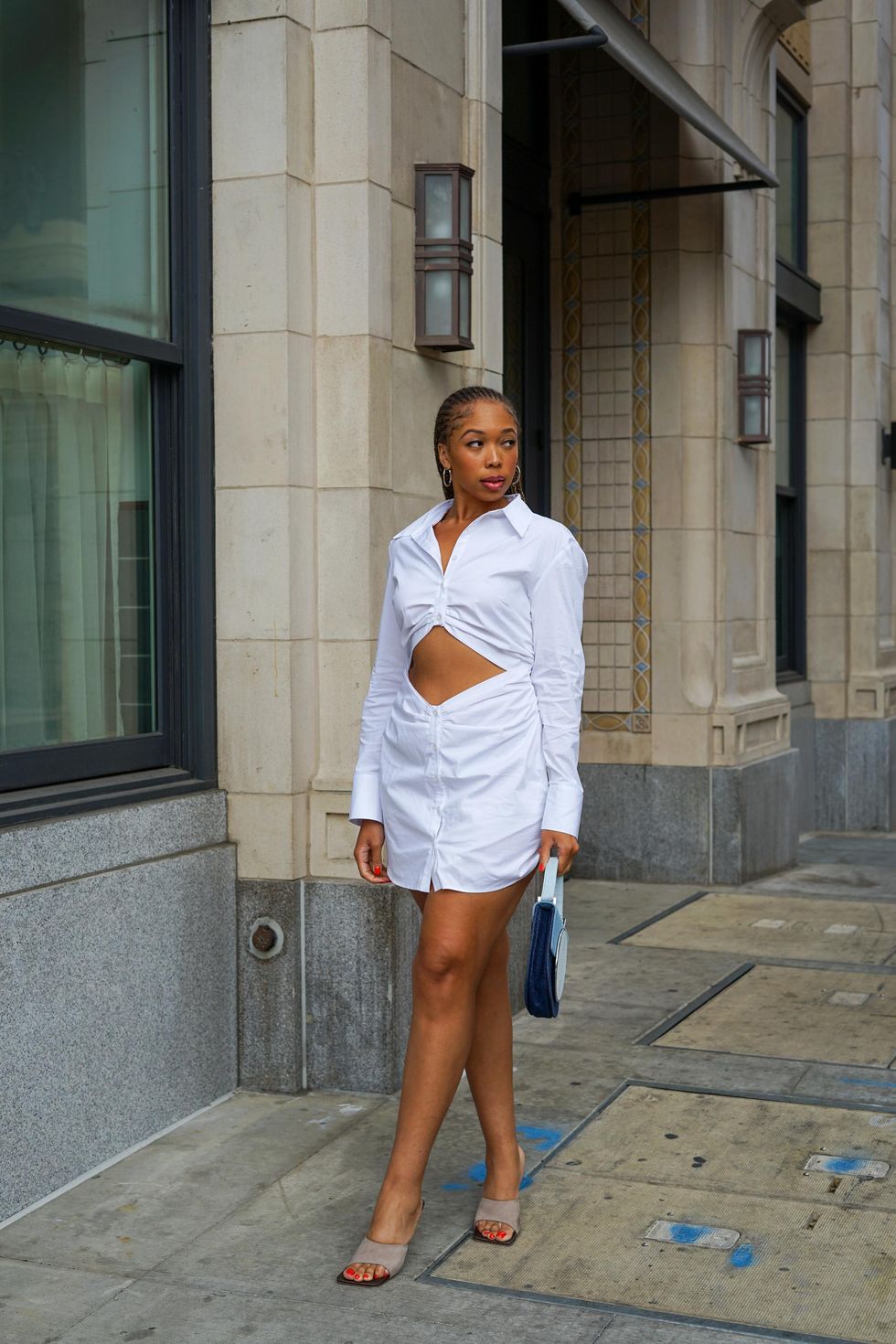 Shahirah Ahmed/xoNecole
Owning my fair share of classic white button downs, I went on the hunt to find a more feminine style that embodied my favorite 2021 trends. Opting for this dress because of its bold front cut-out, I loved that it's not your everyday outfit. Perfect for transitional weather, I wanted to go for a more subtle approach, opting for a brown square toe mule.
When worn during cooler weather or at night, this look can easily be worn with an oversized blazer and boots.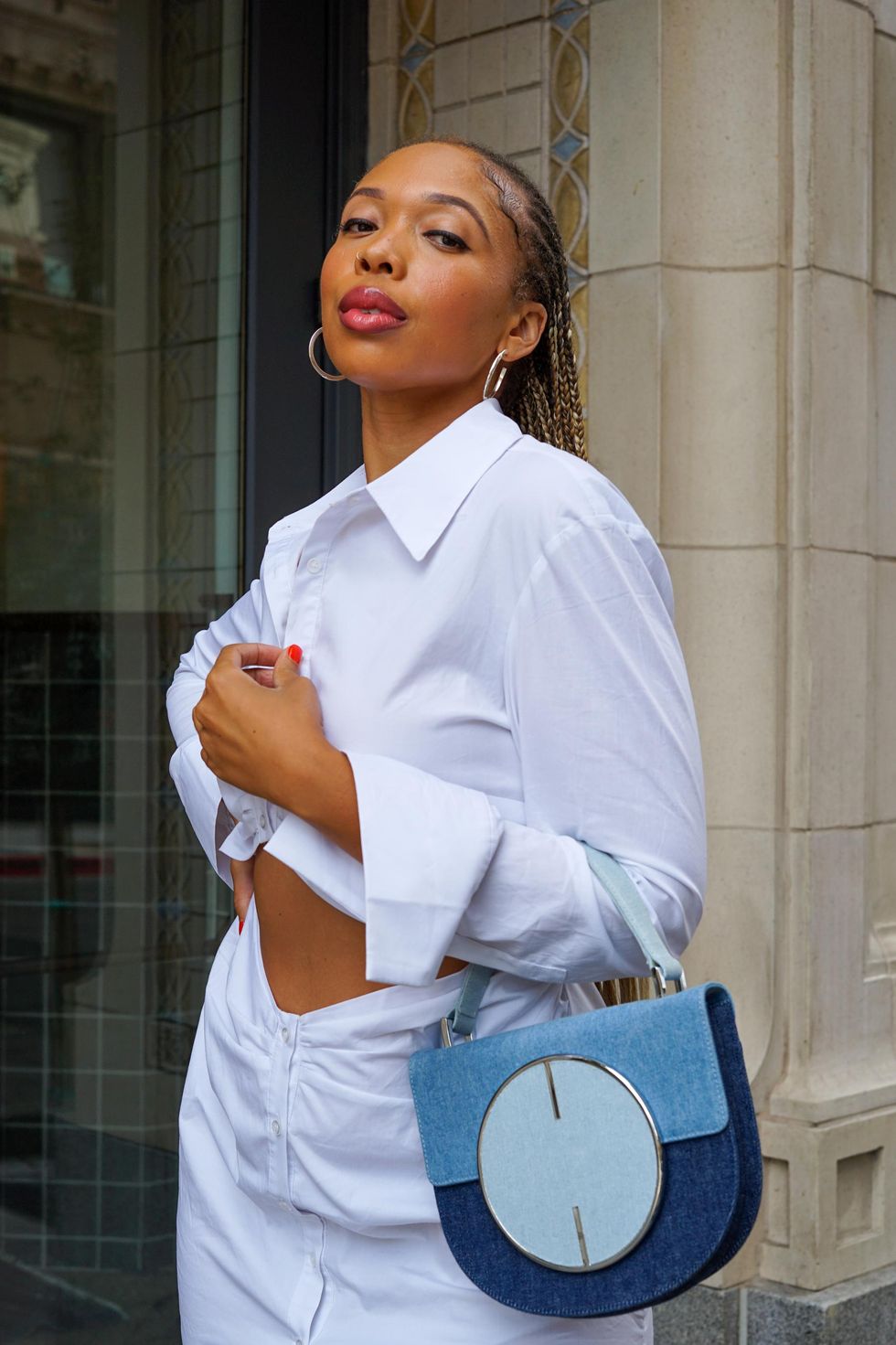 Shahirah Ahmed/xoNecole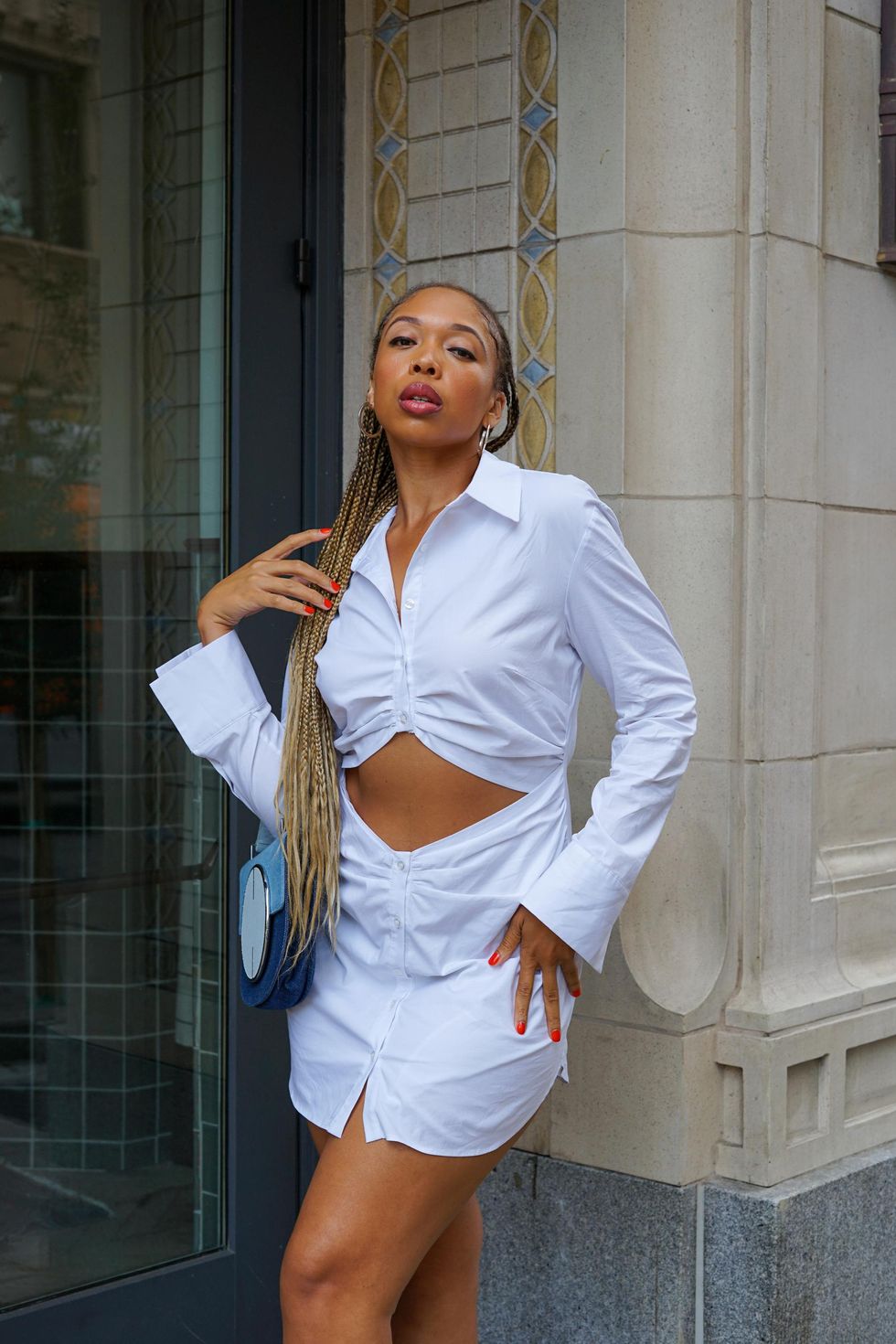 Shahirah Ahmed/xoNecole
Wide Leg Trousers With Subtle Mixed Prints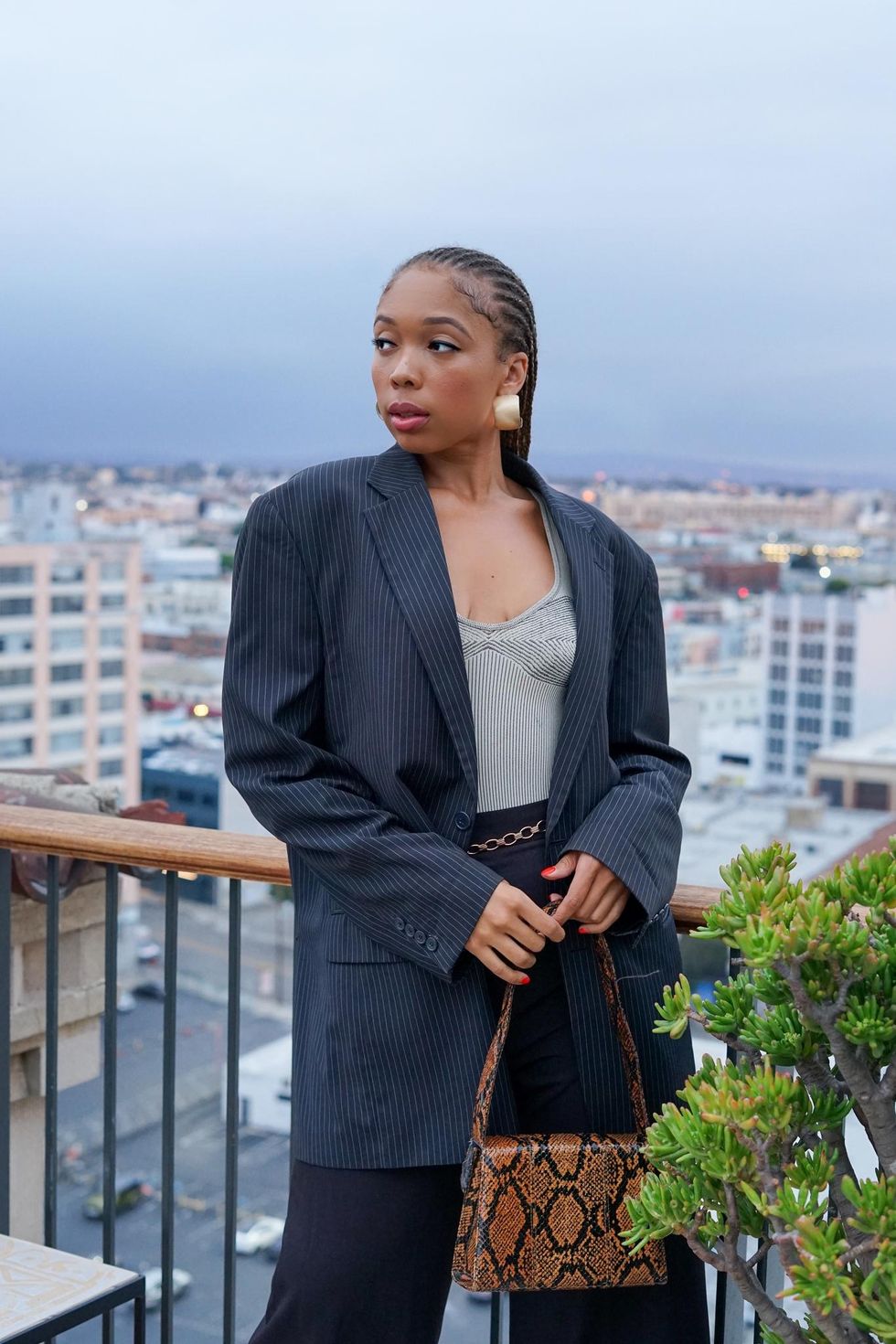 Shahirah Ahmed/xoNecole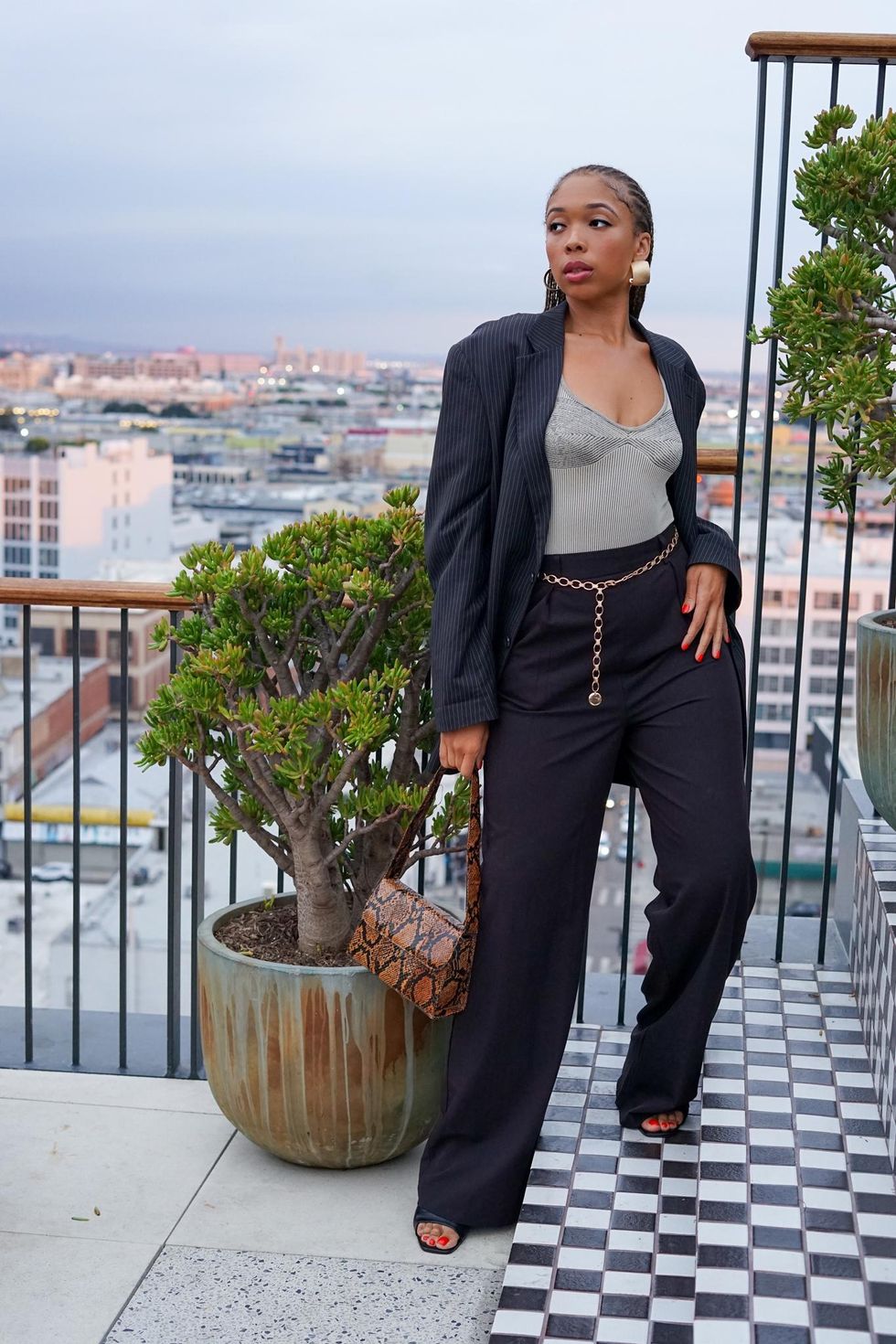 Shahirah Ahmed/xoNecole
First things first, a black wide leg trouser is a must-have in every woman's closet. To add more depth to such a dark look, I decided on the addition of prints with an abstract bodysuit layered underneath a men's oversized pinstripe jacket. Pairing a slim gold chain belt for a subtle pop of color along with a brown and black python print bag, this added the perfect minor details to this oversized look.
Feeling extremely chic and comfortable, my mission was accomplished.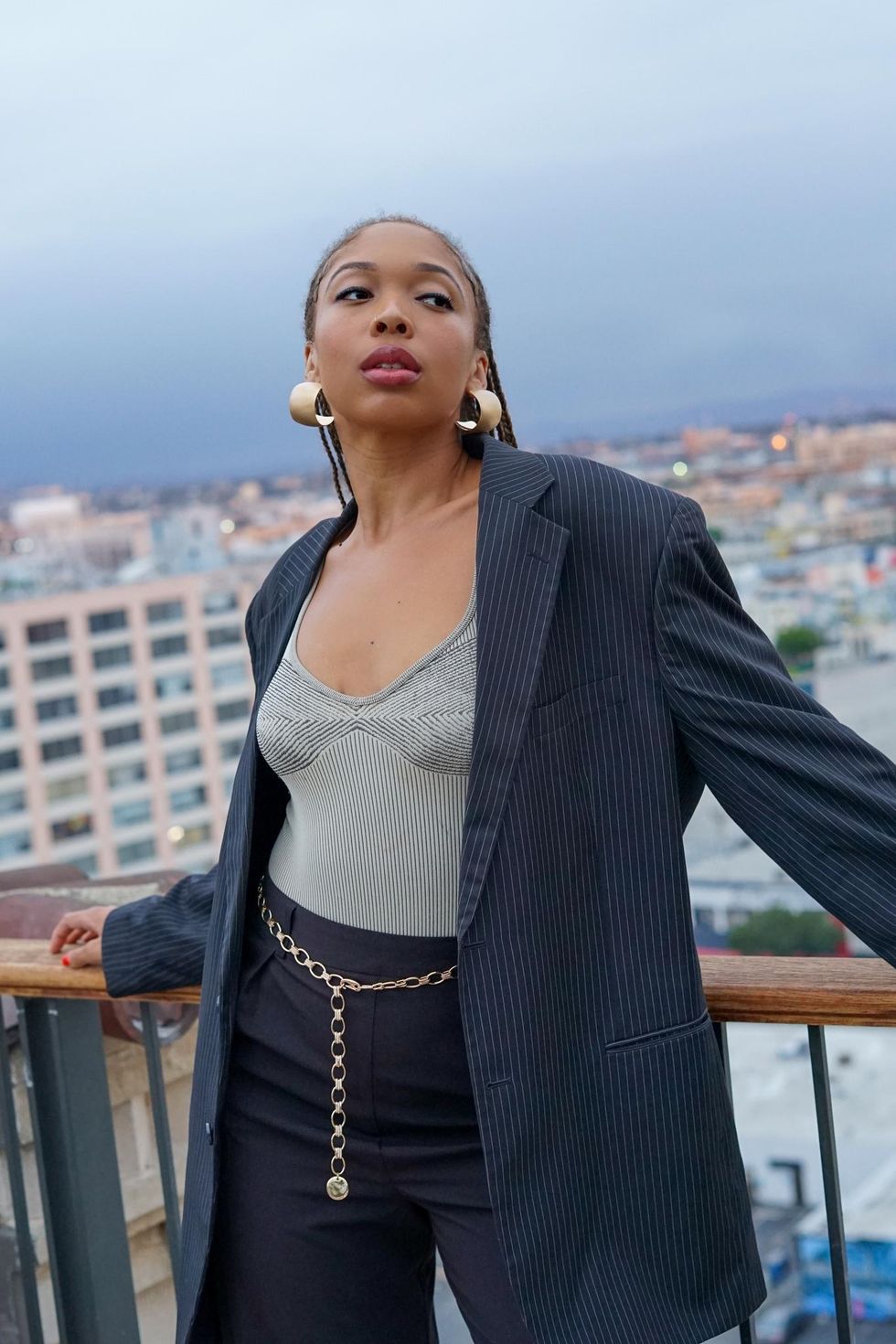 Shahirah Ahmed/xoNecole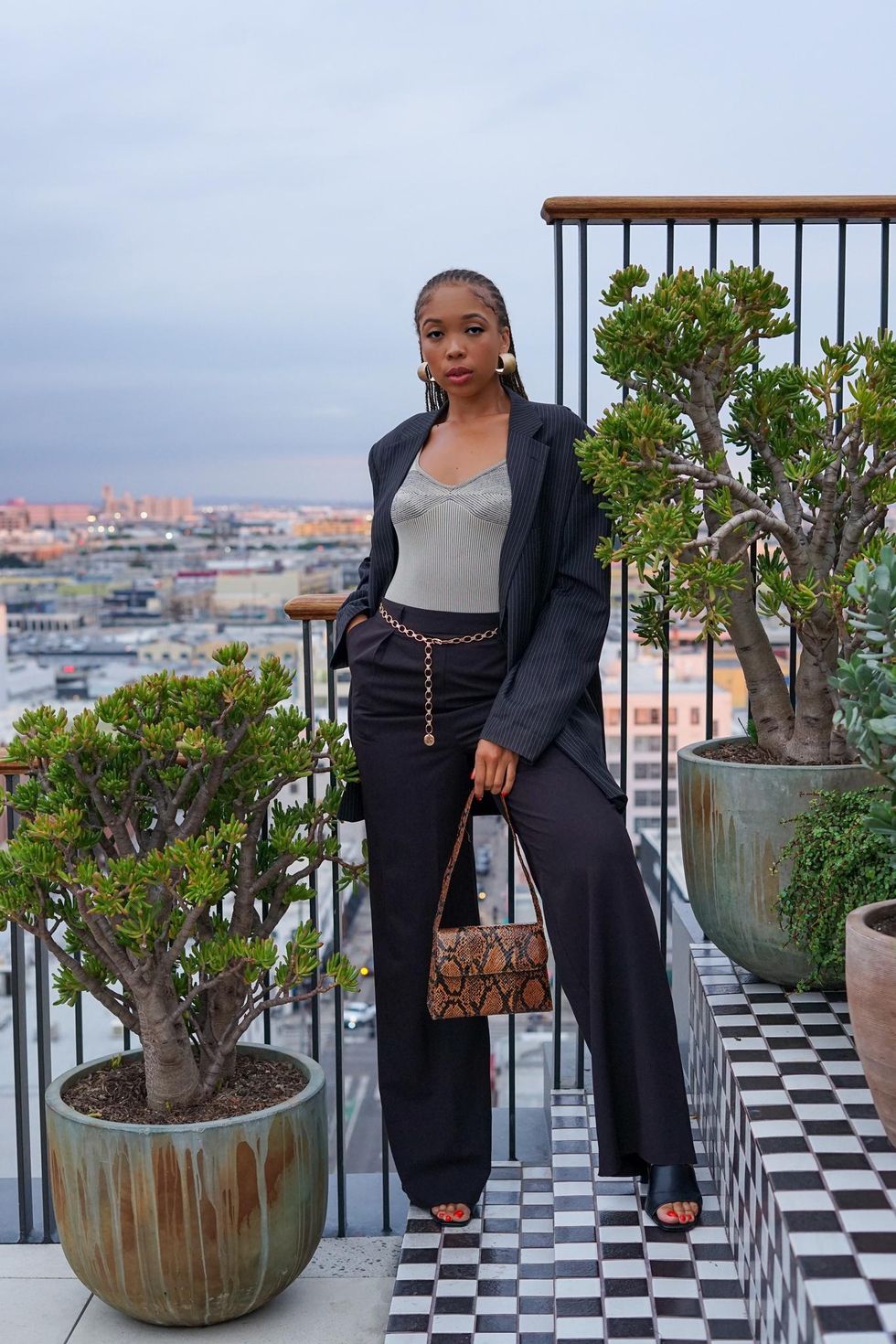 Shahirah Ahmed/xoNecole
To get your fashion fix and to stay up to date with the latest trends, check out the xoNecole Style section here.
Featured image by Shahirah Ahmed/xoNecole
Keep reading...
Show less