Iman and Teyana's baby is here, and already the future Mr. and Mrs. Shumpert are more in love than ever.
---
The happy couple welcomed baby girl Iman to the world on Dec. 16, shortly before 7 a.m. But baby Iman has some interesting timing. Not only did she arrive early (Teyana's due date was originally Jan. 16), but the little lady was born before her mom and pop could make it to the hospital!
Teyana posted her beautiful birth story to Instagram, and said that she didn't even realize that she was in labor until she felt her daughter's head.
"

On Dec 16th at 6:42am in our bathroom Junie decided she wanted to take her first breath into this world. She came out as a wonderful surprise to everyone! Not knowing I was in labor until I felt her head...

...It took two ten count pushes with my fiancé playing [doctor] and she entered this world into his bare hands! Eyes full of tears and barely able to speak to the emergency operator @imanshumpert tied a pair of red headphones around the umbilical cord and the ambulance made there grand entrance 5 min later. She opened her eyes right away, gazed into mine and never cried! He handed her to me wrapped in our bath towel and wiped her face for me to see what LOVE really is. She has blown Christmas away! Our family is complete. Her blueprint will be unmatched. Welcome Iman Tayla Shumpert Jr. Mommy carried you. Daddy delivered you. #MeetTheParents we love you baby girl
How sweet!
According to E! News, Iman and Teyana's 6 pound 7 ounce, 19.5 inch baby girl is healthy and doing just fine. In fact, she's already had a hospital visitor swooning over how amazing she and her parents are - Monica Brown.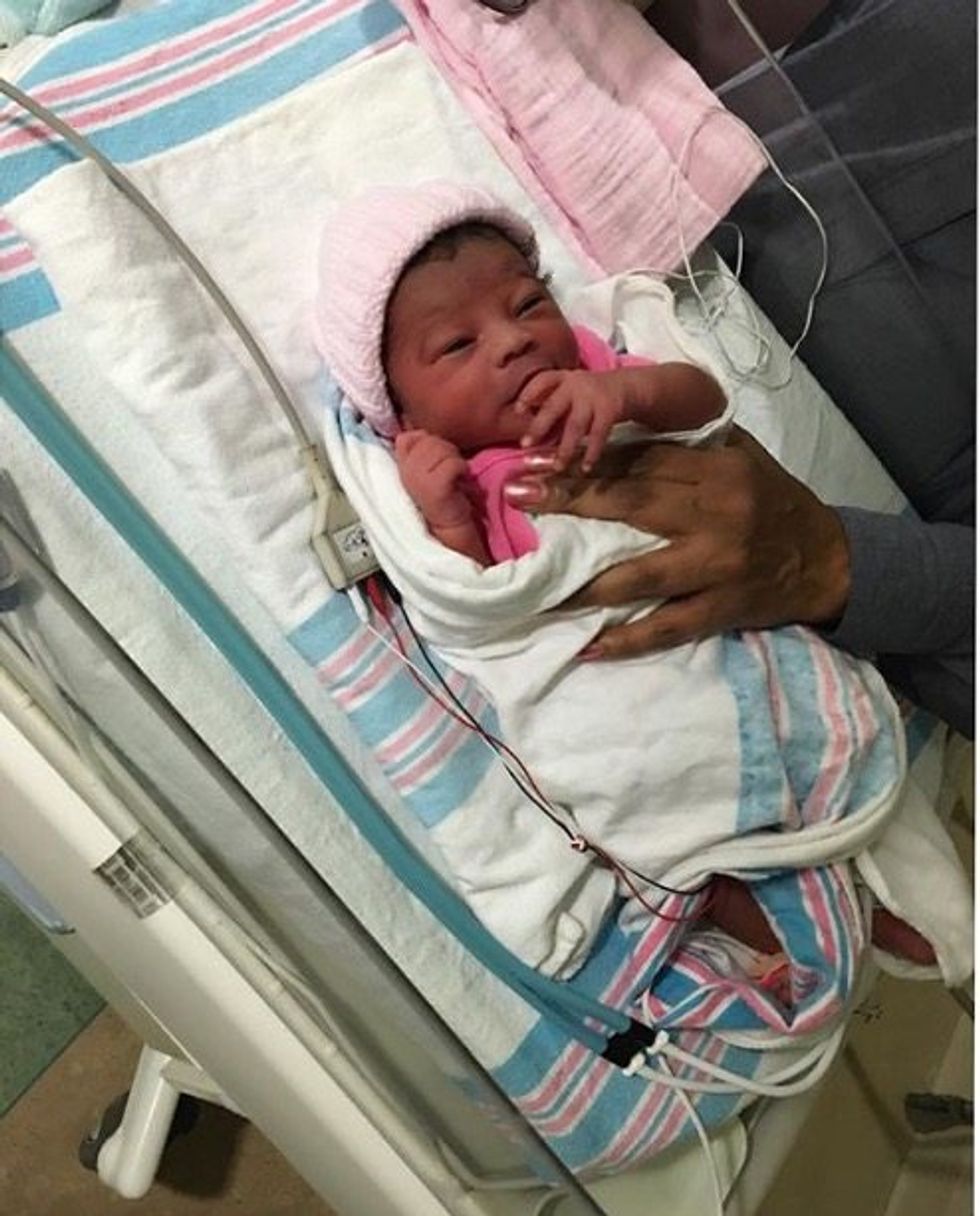 Mom and dad seem to be doing well as new parents, and little Iman already has her daddy wrapped around her tiny little fingers. Check out this video Teyana posted to Instagram of Iman singing Gnarles Barkely's song Smiley Faces to his baby girl.
To say that Iman is over the moon would be an understatement. He wrote about his feelings on being a new dad on Instagram.
We have successfully started our very own family! 💂🏾🐞🐺👶🏾!!! 2015 has been capped off with a grand finale! Our beautiful daughter is finally here and doing well along with her beautiful mother (my fiancé!!!). This is definitely the best assist I've ever recorded in my life. We were indeed terrified until I finally saw her hair...then the fear left and i kinda just knew what to do! Our bathroom is forever sacred lbs! People always tell me there is no greater gift than fatherhood and I finally understand the feeling. I'm not too proud to say I cried endless tears of joy for my first born.

Thank you @teyanataylor for this gift and for turning our houses to homes, you are truly special in every aspect! My smile still hasn't left since her first breath! Thank you to all those that have sent positive vibes our way. You all are deeply appreciated! #iknowyallwassickofourmaternityshoots#yallstillloveus Cue the Gnarls Barkley - smiley faces. Mommy carried you. Daddy delivered you. 12.16.15 we love you June bug! #meettheparents
This family sure knows how to melt our hearts.
Even though Iman and Teyana didn't plan for a home birth, their birth story is similar to other celebs who have had their babies at home, including Lisa Bonet, Omarion and Apryl Jones, and Mayim Bilaik (Big Bang Theory), and Thandie Newton (The Pursuit of Happiness).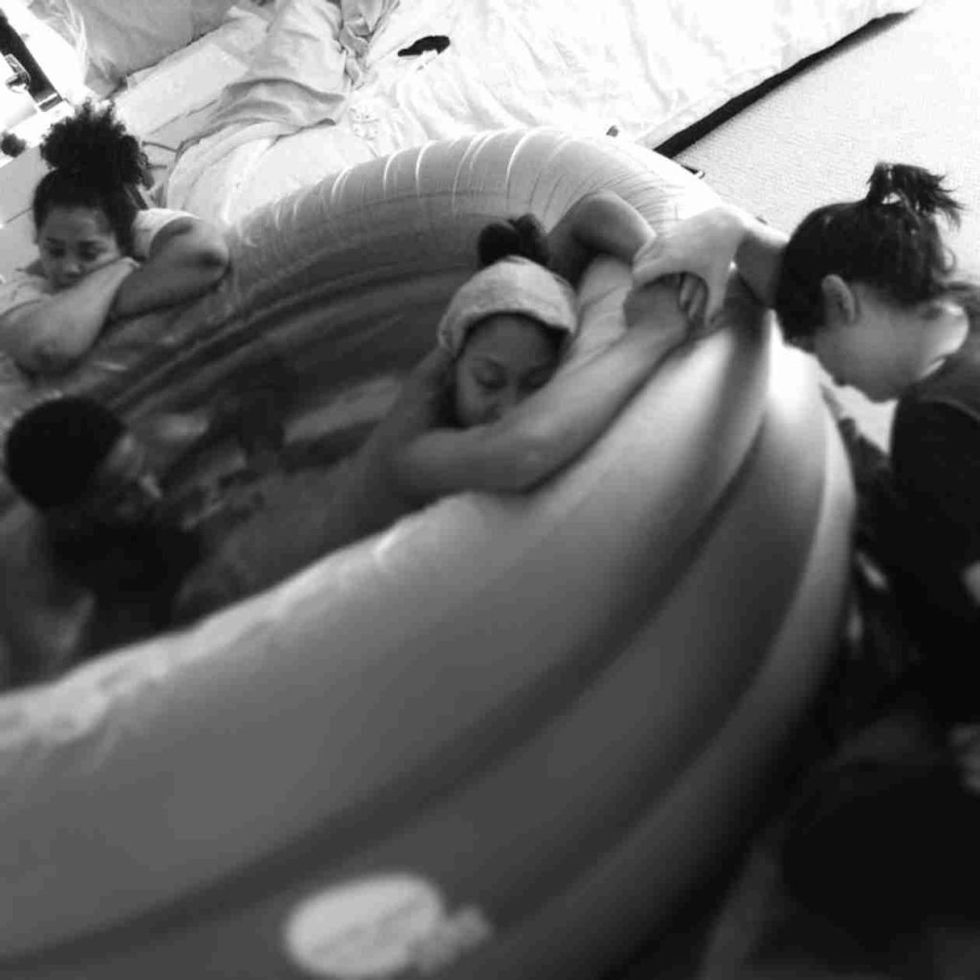 Omarion and Apryl Do An At Home Water Birth
Omarion and Apryl were lucky enough to document some of their home birth experience on reality TV. He recapped he and his girlfriend's birth story on an episode of The Real back in 2014.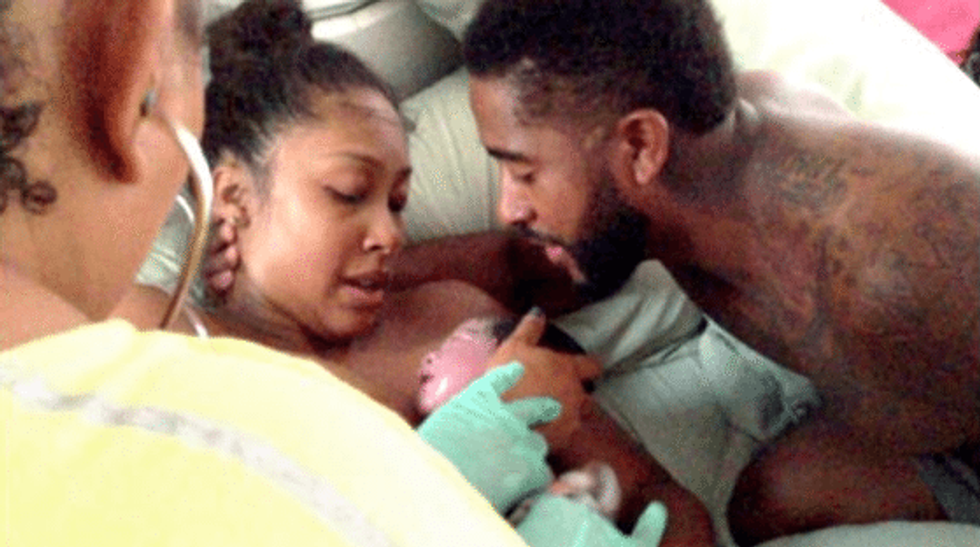 "It was an amazing experience seeing my girl give birth to my child. Actually, it made me love her more. She did that like a thug, I was like woo!

And then the thing about the water birth is that she would get in the water, and then her contractions would stop, so you know that's where the baby was comfortable. And then she had to get up and walk around, you know the midwife was like, 'Omari, let him sleep,' because I was tired as hell. We walked 36 hours of labor." 
Congratulations to this beautiful family!
Did you have a home birth? What was your experience like?