How far do you go into your relationship before asking your significant other about their upbringing, specifically, any possible childhood traumas that could have had a long-term effect on their ability to love?
---
Witnessing our mothers be abused, our fathers get locked up, our grandparents suffer, our sisters hurting, our brothers fighting, can shape who we become as we grow into our skin. I reflect a lot on whether or not I would be with my partner today had I known the severity and depth of his childhood experiences. I've personally felt like I've had to bear additional weight in our relationship because he couldn't speak to his parents about his personal hurt and how much their own relationships impacted him and his perception of the world. I should've had that conversation prior to getting pregnant, but life happens and we work with the cards we're dealt, vowing to not make the same mistakes when children come into the world.
When children are exposed to and absorb painful images like violence, the rate at which they can experience depression, substance abuse, and posttraumatic stress disorder is alarmingly high. Learning, memory, and the regulation of emotions is also affected. 
Terrence Howard is just one example of a person with a bruised past. When he was two-years-old, Terrence was waiting in line to meet Santa Clause at a Higbee's department store in Cleveland when he witnessed his father, Tyrone Howard, stab a man to death. Last year in Rolling Stone, he gave the heartbreaking insight into his childhood walking readers through a haphazard timeline of his life. 
It too started off as an argument about who was next in a line. One man, who had three of his kids with him, accused Tyrone of cutting in front of them with his own three kids, including two-year-old Terrence, and his pregnant wife, Anita. It boiled over into violence, and somehow, Tyrone got hold of a nail file, stabbed the guy until he fell, then fled the scene. The crime made national news and became known as the "Santa Line Slaying."

"I was standing next to my father, watching," Howard says. "Then stuff happened so quickly — blood was on the coats, on our jackets — and then my dad's on a table and then my dad is gone to prison."
The crime resulted in a second-degree murder sentence and 11 months behind bars for Tyrone, and Terrence as a toddler moving across country to California with his mother Anita. Over a course of time, Tyrone and Terrence maintained a sort of father-son relationship despite the distance, as the actor shares advice his dad gave him growing up.
"My daddy taught me, 'Never take the vertebrae out of your back or the bass out of your throat. I ain't raisin' sheep. I raised men. Stay a man.' But being a man comes with a curse because it's not a society made for men to flourish anymore. Everything is androgynous, you know? The more successful men now are the effeminate."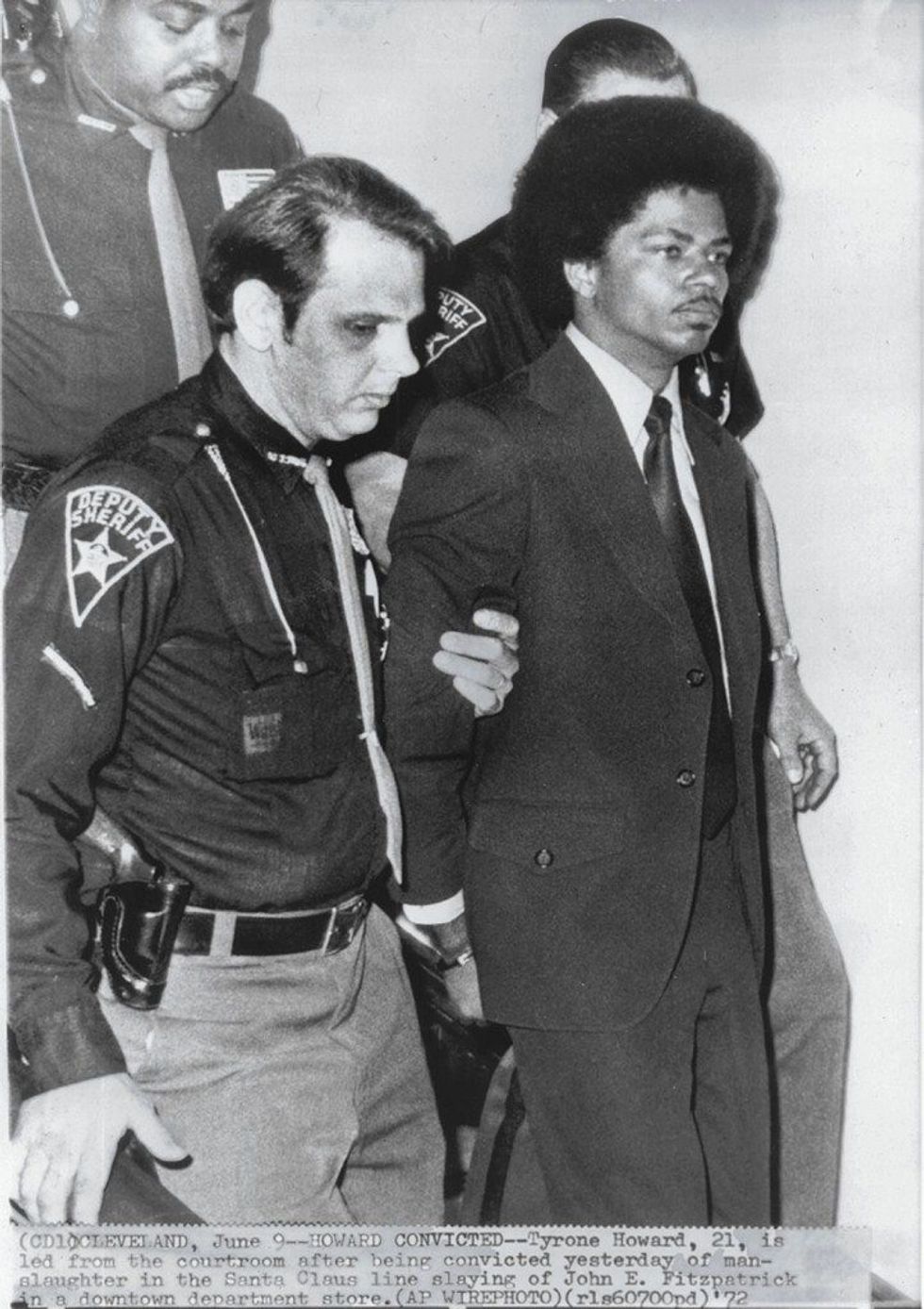 While there is no audio to actually hear the tone of the Academy-nominated star, one has to wonder the tone in his voice in recollecting and reiterating his father's words "...the bass out your throat...stay a man." After his second divorce from his first wife, Lori McCommas (the two married in 1989, divorced in 2003, remarried in '05, divorced in '07), a statement from Howard was released regarding a 2001 police report where he was found guilty for disorderly conduct. Howard was arrested for forcing entry into her home and reportedly punching her twice in the face. Howard is quoted as saying,
"She was talking to me real strong and I lost my mind and slapped her in front of the kids. Her lawyer says it was a closed fist, but even slapping her was wrong."
That moment was the inauguration of what would be Terrence Howard's history of (documented) domestic violence towards women. What he was taught as a boy would shape how he felt others should speak to him as a man.
Howard would go on to assault a flight attendant from Continental Airlines and a woman, along with her boyfriend, at a diner in Pennsylvania. His temper would lead the way for further incidents to come.
Subsequently, Terrence Howard did not cease to look for love and married Michelle Ghant three years post-divorce to McCommas. The pair; however, separated in one month after their one year anniversary, with a judge issuing Ghent a restraining order against her new husband after reports of threats and stalking. Their relationship seemed to be coated in physical abuse, racial slurs, mentions of suicide, extortion, and private recordings (the full extent of their history can be found here), and their history within one another is still ongoing and in the hands of the court system.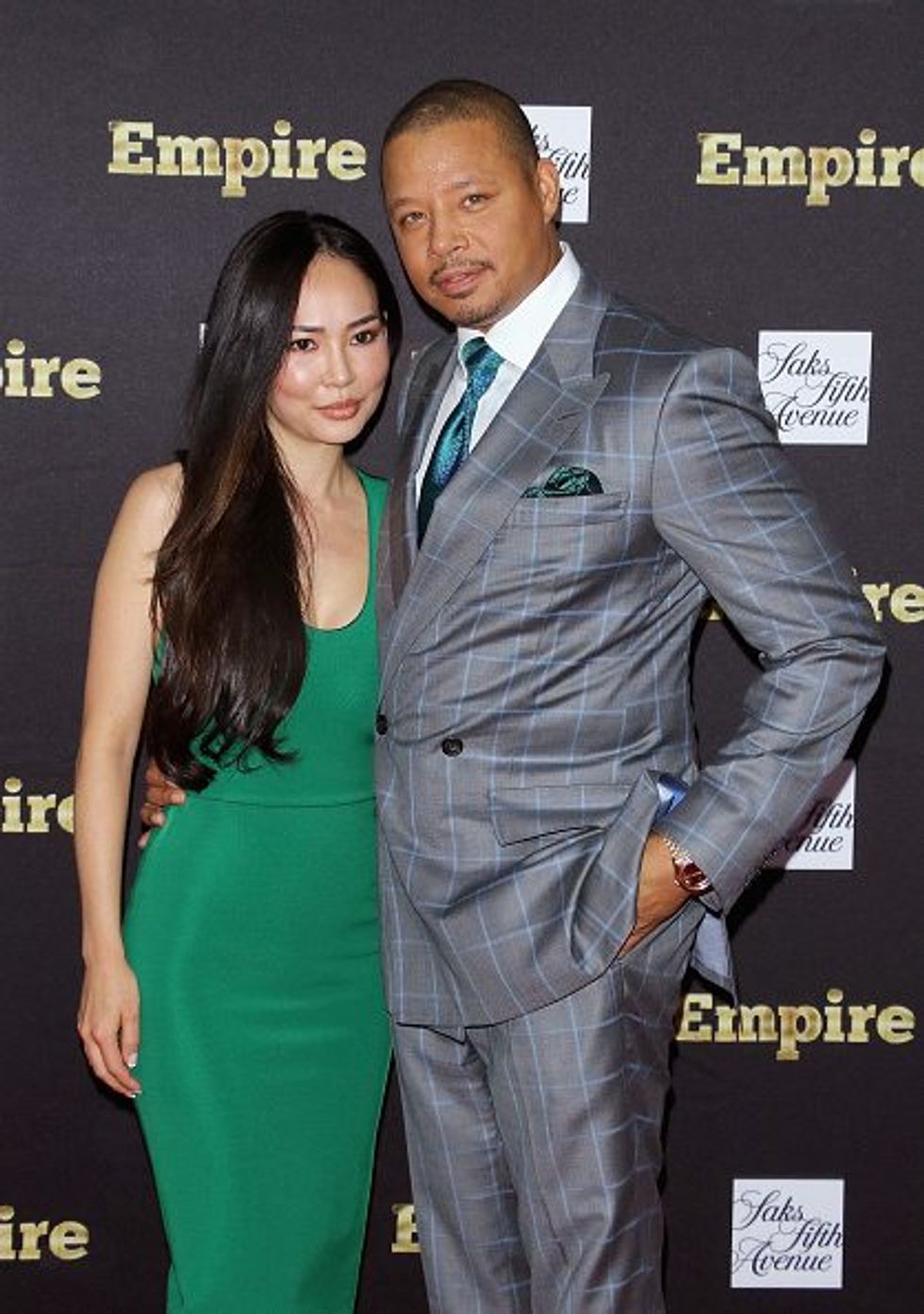 Terrence Howard and Mira Pak (Photo by Jim Spellman/WireImage)
The past lingers with Terrence Howard from relationship to relationship as he's once again a single man on the market. His third wife, Mira Pak, filed for divorce after three weeks of dating and two years of marriage, this past summer. Upon the start of the Rolling Stone feature, the two were together, with Pak including some words of her own about just who Terrence Howard is.
"He's so selfish. But, you know, he didn't have much of a childhood. It was difficult for him being picked on and bullied all the time. We don't have a normal life."
Given Howard's history with witnessing his father murder someone, we cannot imagine the impact in seeing something like that at a young age. For me, being with someone who still questions the why's and how's of his own childhood, in addition to finally feeling some sort of closure about mine, made for two people struggling to identify what love is earlier in our relationship. As a parent, I grow increasingly conscious of how I treat my children, myself, and their dad–what I do in turn affects how they'll treat themselves and women in the long run.
[Tweet "I have seen firsthand what carrying pieces of childhood over into adulthood does to relationships and families."]
In his interview with Rolling Stone, he does admit to not seeing a therapist, nor is he taking medication. The prelude to his admittance were the words, "The sooner people declare me insane, the sooner I'll be free." The publication then goes on to title the profile, "Terrence Howard's Dangerous Mind." The signs are there–clear as day or concealed under the Hollywood smoke and Howard's steady climb back to a notable spot in the business.
Risk factors for PTSD range from previous trauma exposure, parent psychopathology, low social support, and pre-existing psychiatric disorders. Symptoms include outbursts of anger, flashbacks, feelings of detachment, sense of a limited future, and intrusive, upsetting memories of an event, to name a few. Although I'm not a medical expert, one does have to worry about whether or not this is something Howard may suffer from due to witnessing his father murder someone and end up incarcerated.
When the CDC reports the statistics and the fact that children experience violence more frequently than adults, can we then come to a place of understanding–not excusing–people's behavior?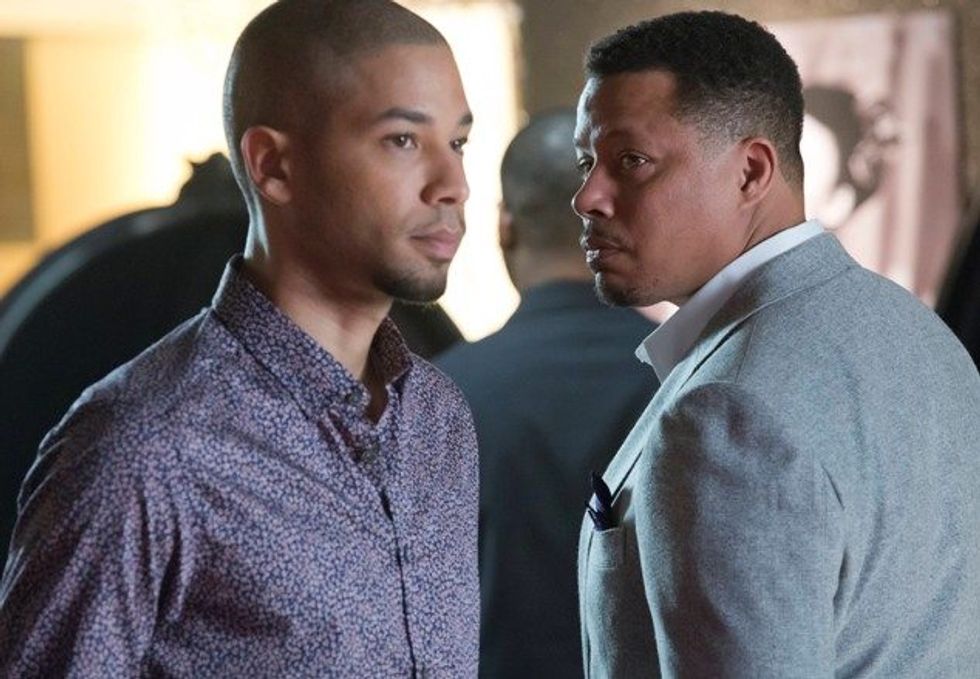 "'Everything I do with Lucious is still me," Howard says. "I just change the vibration.'"
When a man who plays a complex role like Lucious Lyon speaks as if he doesn't know how to separate the show's lead from his reality, it raises flags about his mental health. Howard himself spoke on Lyon's relationship with his homosexual son, Jamal, and his character's need to rectify the "gay problem" saying, "That's what fathers do. They take all these kind of steps and precautions to make sure that any tendency that goes feminine, you try to nip that in the bud." It's Tyrone Howard's words to his son back in the 70's that find its way to Terrence Howard's lips in 2015 when discussing a show. His childhood does indeed still follow him.
As a woman who's experienced domestic violence firsthand, seeing it as a child and being the victim as an adult, I've watched my mother make excuses for the behavior and have justified the actions myself. In her experience and in mine, the need to understand and piece together the why's of someone's behavior is prevalent. When and where do we draw the line of trying to understand someone's actions to ultimately make reason out of it, versus leaving that person right where they are to face those demons of their past alone?