Grand opening, grand closing!
It's official, Taraji P. Henson may have just single-handedly revamped an old slang, and #GetOffMyTrain may be the new way to tell someone to hop off your... dress *smiles*
---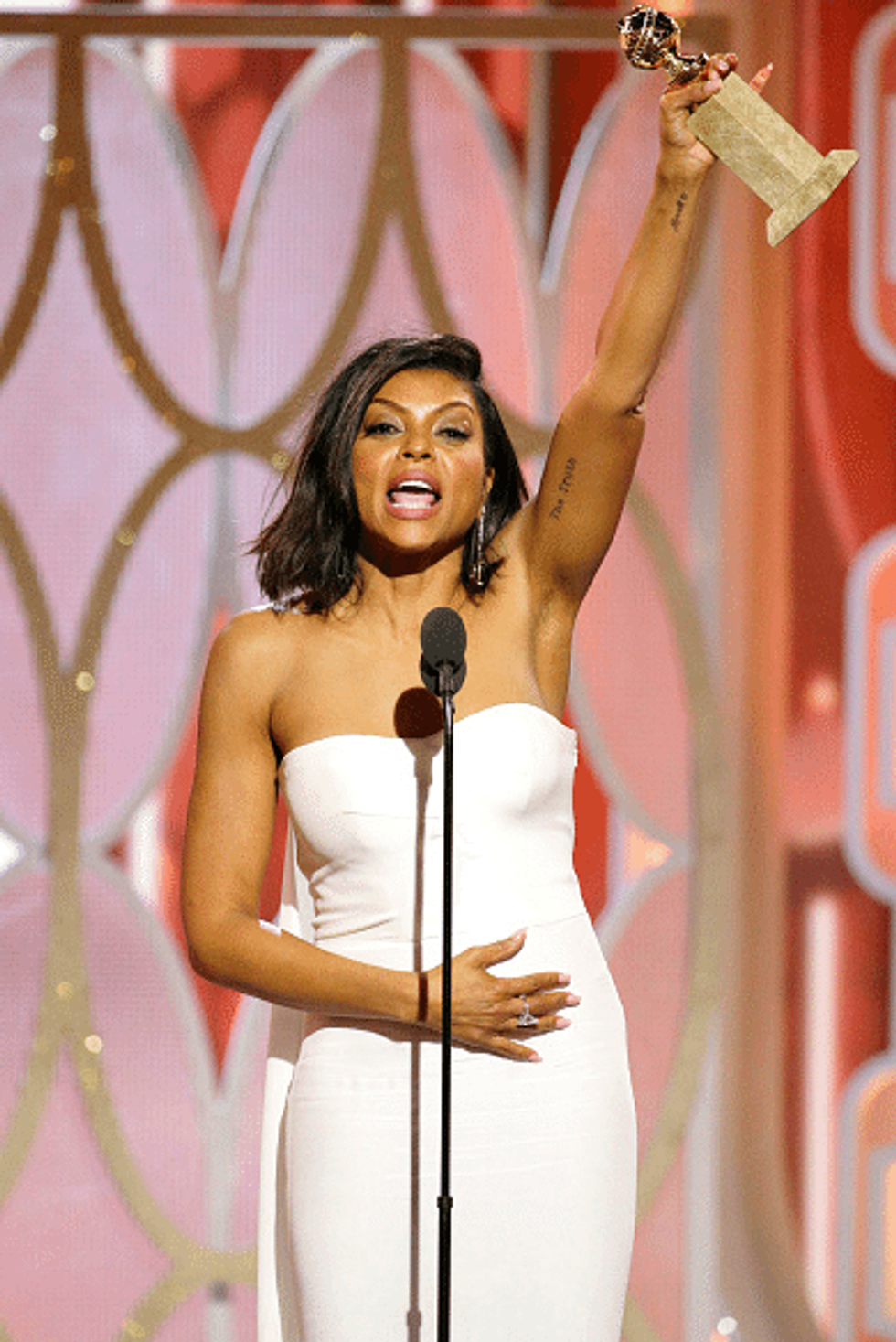 Last night it went down at the Golden Globes as Taraji P. Henson bagged and snagged the award for "Best Actress in a TV Drama" for her role as the lovable Cookie Lyon on Empire, becoming only the third Black woman to do so in the 73-year history of the show and ceremony. Major!
And seeing as to how for women of color an award like this comes almost as often as Halley's comet (and in Taraji's case, two whole decades), of course Miss Henson was going to take her time and soak in the magical moments of her win, starting the celebration from her walk down the aisle to her very last (extended) seconds of her speech.
Because quite frankly, no teleprompter or music was going to cut her off. Ya'll can wait! *Taraji voice*
In case you missed the epic acceptance, check out how it all went down:
1. She Handed Out Cookies During Her Walk to the Stage
Taraji was a cross between a "Flower Girl" and the "Cookie Monster" during her walk to the stage to accept her award at the 2016 Golden Globes. With a handful of chocolate chip cookies in tow that she spontaneously stowed on her from her table, First Lady Lyon passed out baked goods to the audience, only proving that Taraji may have won the award, but "Cookie" stole the show!
2. She Gathered Someone Up Quick for Stepping on Her Dress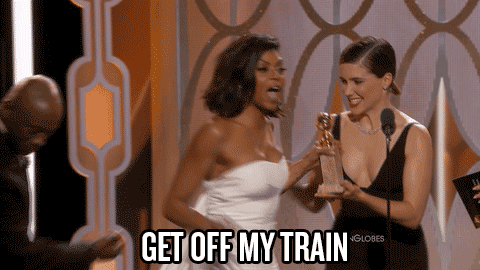 Taraji looked like a tall glass of milk and Cookie in her white gown and she was not about to have anyone step on her dreams or her dress! Looking stellar in Stella McCartney, the 45-year-old actress got a little gangsta in glam when someone stepped on her train, to which the diva jokingly replied "Get off my train!" before quickly breaking into a smile and commencing her speech.
3. She G-Checked the Golden Globes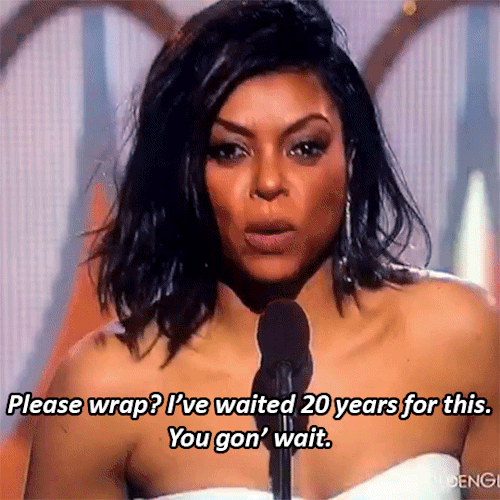 Arguably the best and most memorable part of the #TarajiShow was when the teleprompter promoted the actress to wrap up her speech, and hunny, she wasn't having it. breaking out in an "all my life I had to fight" moment just seconds into her speech, Taraji quickly stopped the show from, well, stopping her!
"Who knew that playing an ex-convict would take me all around the globe? (laughs). I thought it would be Queenie. I thought it would be my character from Karate Kid. But it was Cookie- who spent 17 years in jail selling crack. It just goes to show the world loves real. So many people to thank--my manager, Vincent Cirrincione, you've been with me my entire career. My publicist, Pam Sharp- so many people-

"Please wrap?! Wait a minute, I've waited 20 years for this. You gon' wait!
Any questions?
4. She Still Spoke even when the "End Speech" Song Came On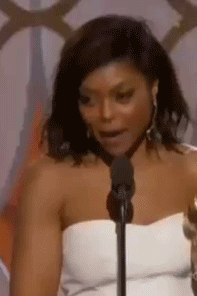 In the end, Taraji had a chance to wrap up her speech beautifully and graciously, thanking everyone and their mama. You hardly even noticed that she was talking over the music after the producer's second attempt to cut her short again. We repeat, ya'll will let Taraji be great!
"My family, Fox, Dana Walden and Gary, you're here. Thank you for believing in the show. Danny Strong, Lee Daniels, thank you for believing in me... I love you. My cast, my beautiful boys who plays my sons. Tre is here. Yazz is here. Jussie Smollett [starts playing music, talks over music]. I'm nothing without the cast and crew. I'm taking this home for the entire Empire. "
5... But of course, not before thanking her main-man in the end: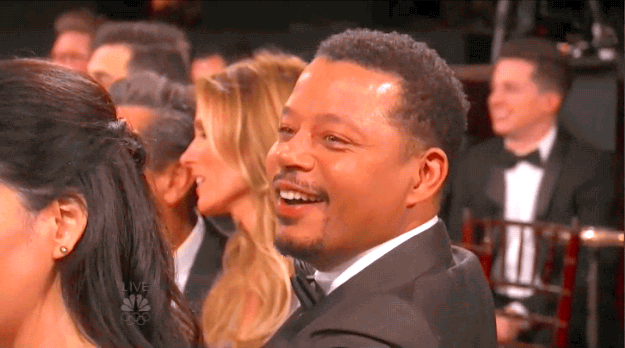 Taraji of course saved the best compliment for last, humbly thanking her on-screen hubby:
"Terrence Howard, I'm nothing without you. Cookie is nothing without Lucious. I love you. Thank you so much."
I mean.. after all, she kind of owes Lucious a little love after that big kiss he laid on her at the Emmy's. Oww!
Backstage when asked what prompted her to hand out cookies, and whether or not it was planned, she explained it was completely on the whim:
"I just did not expect them to call my name. I never do. When they called my name, it was like, visceral. I was like, 'Well, the cookies are here. I guess I should hand them out! (laughs) I don't know. I guess it was just the spontaneous moment. I gave them all away. One went to Angela Bassett. One went to Gaga. And the last one went to Leonardo DiCaprio!"
Gotta love her!
What was your favorite moment from last night?