Sweet 16's who? It's all about that Super, dirty-thirty!
---
And suddenly, we are more than ready for Halloween.
Last night, NFL star Russell Wilson threw a pretty epic comic-book themed birthday party for the #1 superwoman in his life, singer Ciara.
Cici, who turned 30-years-old yesterday (October 25), had the pleasure of having her amazing friends and family in the building of the Warner Bros. lot in Los Angeles, CA. There, her and her star quarterback boo were sure to match and play the role of Gotham's very own: Batman and Catwoman. Decked out in a latex leotard and mask while Russell came equipped with a cape and all, the dynamic "DC" duo went as far as to even arrive in the Batmobile. Towards the middle of the night, Cici was also presented with a Batman inspired cake.
Vroom. Talk about details!
Meanwhile, the stars were definitely in the building to help Ciara ring in her big 3-0! Noticeably in attendance was singer Beyoncé, who was sure to flick it up with comedian Jeff Dye in a X-Men "Storm" inspired costume, equipped with lightening white hair and ice blue contacts. Also spotted was singer Kelly Rowland (dressed as superhero Black Canary), Lala Anthony (as the female Captain America), Serena Williams, her assistant Val Vogt (as Harley Quinn) and Beyoncé's cousin and assistant, Angie Beyince, who also celebrated a birthday this weekend.
Collectively and with costumes in cue, all the fabulous women were able to pretty much create a bomb "Squad Goals" photo that you can more than likely expect to be replicated by next week Halloween.
Super Sheros!
Also spotted was singer Lily Collines, Russell's Seahawk's teammate Earl Thomas and many more!
Oh, and although the ladies were all able to represent Girl Power times a trillion, it appears the photo floating around of Ci and Bey looking like serving "Bestfriends 'til the End"-realness is in fact photoshopped. It appears a super-fan of both ladies combined Ciara's photo-opp with Lily Collins and Bey's selfie with comedian Jeff Dye to recreate this: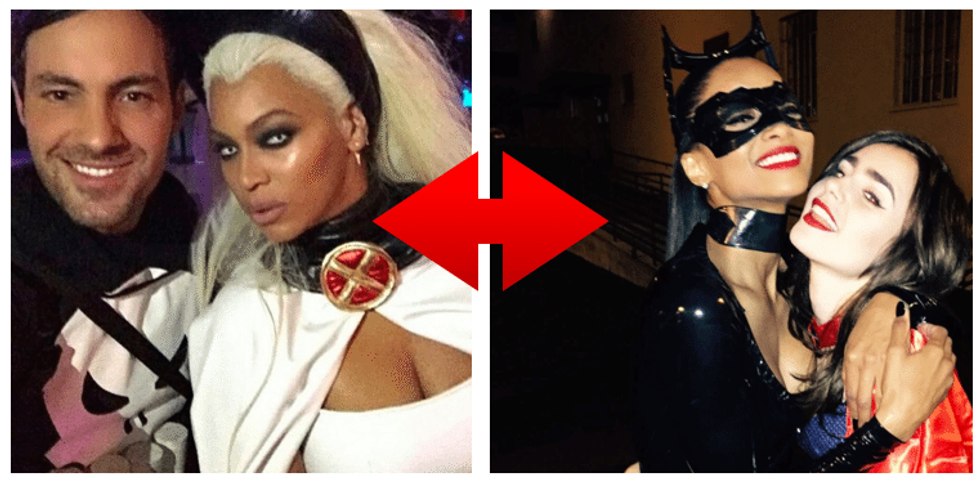 The entire night was apparently a surprise for Ciara, who posted up a photo of herself wearing a black dress with the caption:
About Last Night.... I Had@Cesar4Styles Taking Pictures Per Our Usual Plan Before A Red Carpet... Little Did I Know What I Was Really Getting Ready For!....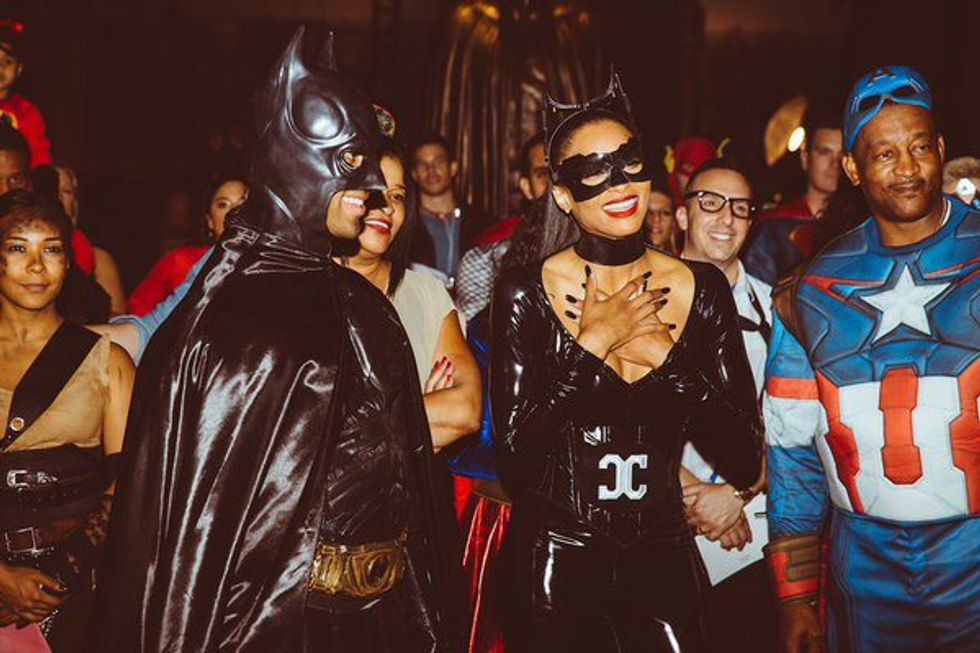 Check out more pics from the party in the gallery!