There's a fine line between protecting and serving and simply misusing your power. Deputy Ben Fields crossed that line.
---
Yesterday a video of the South Carolina sheriff deputy manhandling a young high school student went viral, leaving many of those who hit "play" both shocked and disturbed.
The female student(whose identity has not been revealed) from Spring Valley High in Columbia was approached by deputy Fields while sitting at her classroom desk after allegedly refusing to leave the classroom when instructed to do so by her teacher. In almost one swift motion, the video shows Fields attempting to remove the student from the room by way of dragging and tossing the teen across the classroom floor.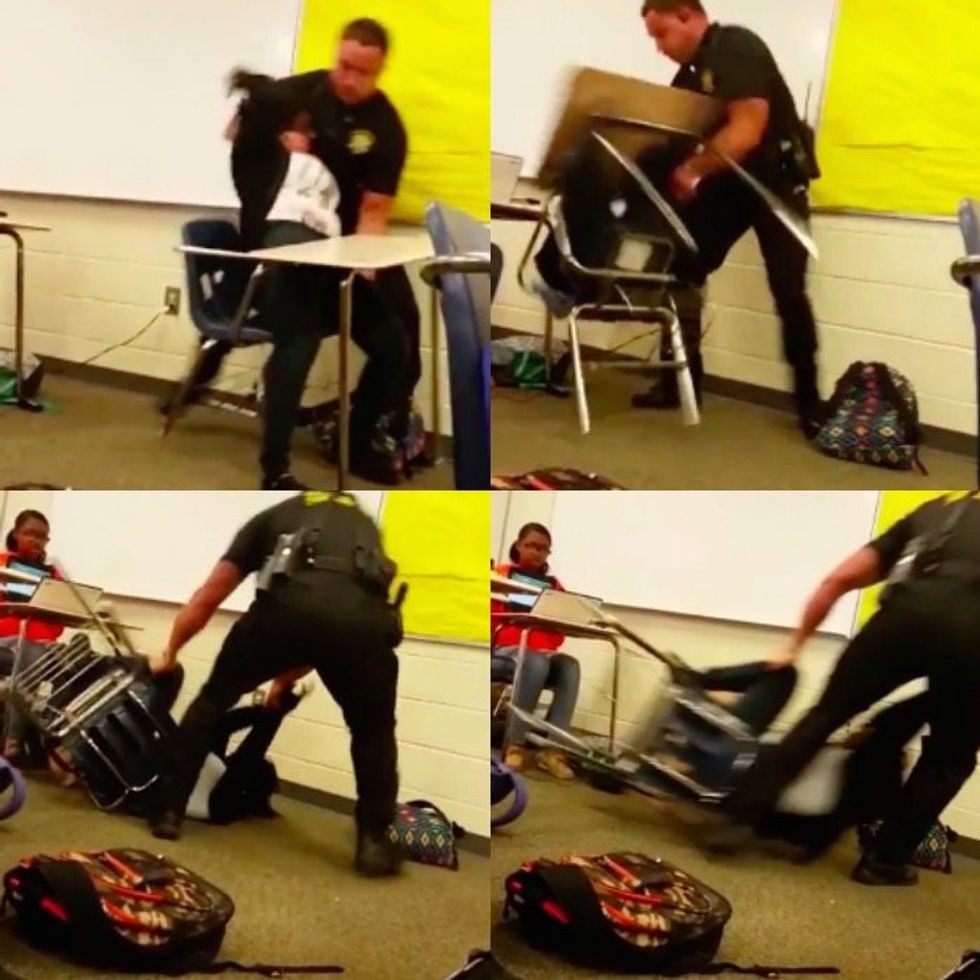 In the footage that circulated, Officer Fields, who is said to also be a heavy-weightlifter in his free time and is referred to by students as "The Incredible Hulk," then scolds another young student by the name of Niya Kenny, who breaks out crying and asks Fields, "What did she do? Oh my God!" The deputy responds by promising Niya, "I'll put you in jail next," a promise he made sure to keep. Soon after the video stopped recording, Niya was later cuffed and thrown in jail on a $1,000 bond on charges for "disrupting the school."
Wtf... #AssaultAtSpringValleyHigh I'm disgusted https://t.co/T1JRdTN4aM

— . (@.)1445916924.0
Disturbing!
It appears that the brash actions of the officer were so off the wall that not only did it leave the public confused, but it left those who were actually there wondering "What the heck just happened?" too. One student and fellow classmate by the name of Aaron Johnson took to his personal Twitter to recount the traumatic event:
Aaron also hinted that the teacher, Mr Long, also lacked a bit of remorse for the issue, insinuating that the student's refusal to comply with officer Fields is what lead to the scene:


Meanwhile, the student who was brave enough to capture the entire encounter on his phone, senior Tony Robinson, opened up to news outlet WLTX 19 this morning to describe some of he details of how it all went down:
"It was definitely a scary experience. [The victim] really hadn't done anything wrong. She said that she had took her phone out, but it was only for a quick second."
Robinson admits that although the girl did not give up her phone, she did apologize to the teacher and appeared remorseful. However, Mr. Long called the officer to his classroom to remove the girl from the room. Tony admits that upon seeing the deputy move the victim's items off her desk, while also asking for another student move their desk away from the victim, Tony said he immediately sensed something was wrong and pulled out his phone to record the incident:
"When I saw what was about to happen my immediate first thing to think is let me get this on camera. This is going to be something that not only I'm going to be like 'wow did this really happened at my class,' but just something that everybody else needs to see. This is something that we can't let this just pass by. [Officer Fields] asked her again, 'Will you move, will you move.?' She said, 'No I have not done anything wrong.' Then he said, 'I'm going to treat you fairly. And she said 'I don't even know who you are.. And that is where it started right there.

"I've never seen anything so nasty looking, so sick to the point that you know, other students are turning away, don't know what to do, and are just scared for their lives. That's supposed to be somebody that's going to protect us. Not somebody that we need to be scare off, or afraid. That was wrong. There was no justifiable reason for why he did that to that girl."
And according to students, that is not the first time the officer has attacked one of their peers, it's just the first time its been caught on camera:

The other student, Niya Kenny, who was arrested for 'disrupting school' after she attempted to help the unnamed student who was assaulted, also spoke to the news outlet to detail her the horrendous moment in the classroom:
"I was crying, screaming and crying like a baby. I was in disbelief! I know this girl don't got nobody and I couldn't believe this was happening. I had never seen nothing like that in my life, a man use that much force on a little girl. A big man, like 300 pounds of full muscle. I was like 'no way, no way.' You can't do nothing like that to a little girl. I'm talking about she's like 5'6″.

"I was screaming, 'What the f, what the f is this really happening?' I was praying out loud for the girl. I just couldn't believe this was happening I was just crying and he said, since you have so much to say you are coming too. I just put my hands behind my back."
Niya's mother, Doris Kenny, said she stands by her daughter's decision to speak up during a time where most stayed silent"
"My child, and I'm not mad at her, she was brave enough to speak out against what was going on and didn't back down and it resulted in her being arrested."
And when asked about the charges brought against her daughter for "disturbing the school," Doris responded:
"But looking at the video, who was really disturbing schools? Was it my daughter or the officer who came in to the classroom and did that to the young girl?"
The interesting thing about all of this, is that  earlier this year, MTV News had a similar discussion after a 15-year-old Black male was arrested in the middle of third period while taking a test. His arm had been twisted during his arrest and he spent the next six days at a juvenile detention center. The reason why-- because the day before, the boy had been "throwing skittles" on the school bus, to which a police report had been filed..  Stephen Phillippi, director at the Institute of Public Health and Justice at Louisiana State University, says that bias plays a role as to why certain drastic reactions and attacks on Blacks (like the ones at Spring Valley High and Virgina) most often occur to students of color versus other races:
"It's a natural question I don't think we've done well to answer, but there's an inherent bias. Regardless [of an individual's race], there is an inclination toward seeing African-Americans as more aggressive for some reason in American systems."
Such bias can often lead to over-policing minority students, and can be the difference between a black student going to an offsite juvenile detention facility for a week, while their white peers end up in an after-school special version of detention.
President Obama also spoke on plans to help reduce the effects of said "bias"  in his SOTU speech this summer, saying that he hopes initiating body cameras on officers, or even administering more effective psychological testing to those wanting to pursue a career in the police force, may be key to avoiding more situations like these.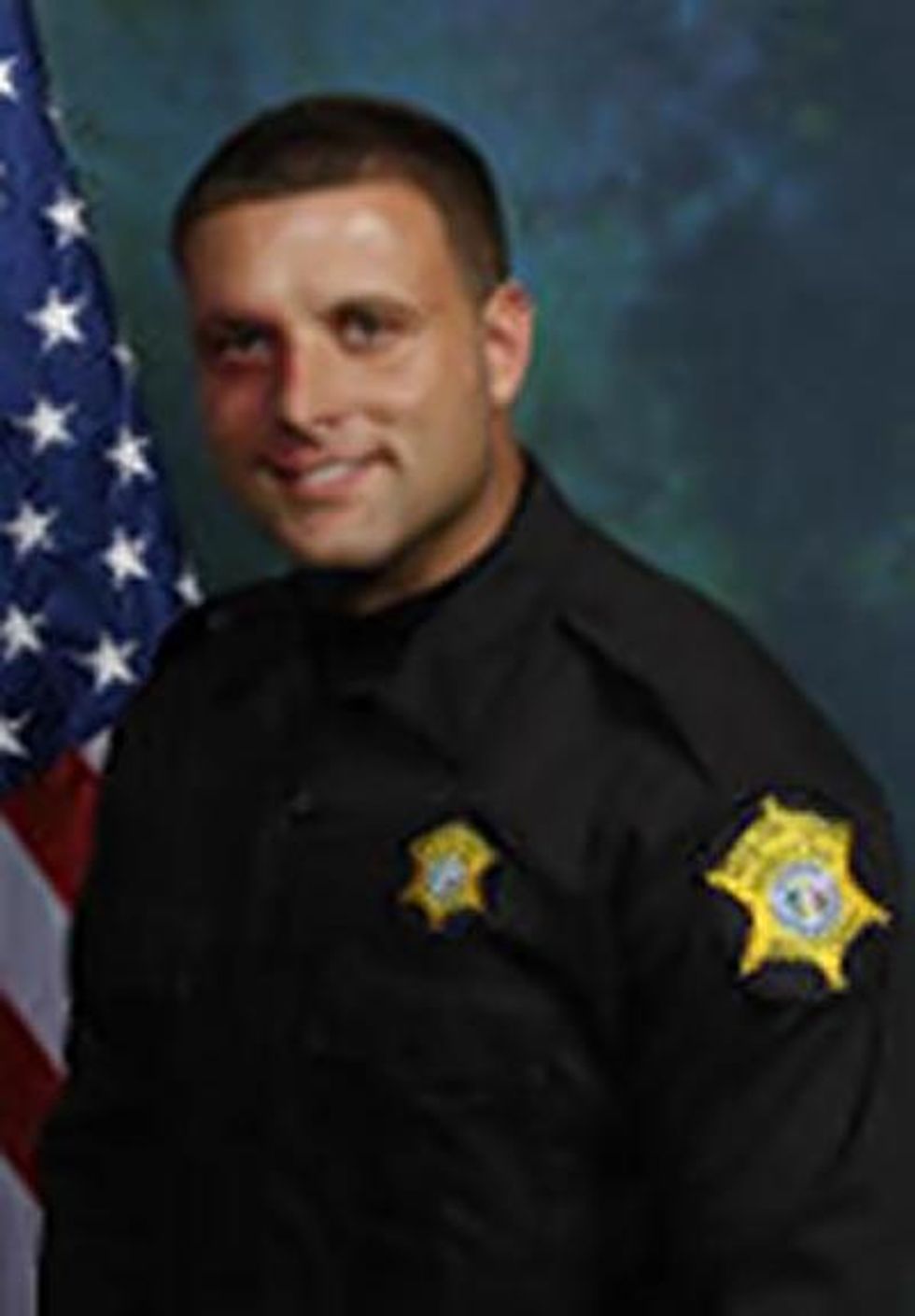 In the meantime, the 11-year police veteran has been named in at least two other lawsuits prior to the incident at Spring Valley, including a 2011 incident that stands to go to trial next year. One of the lawsuits also include a case accusing Fields of racial bias.
But of course, MSNBC wants you to know one important detail about Deputy Fields before you cry racism: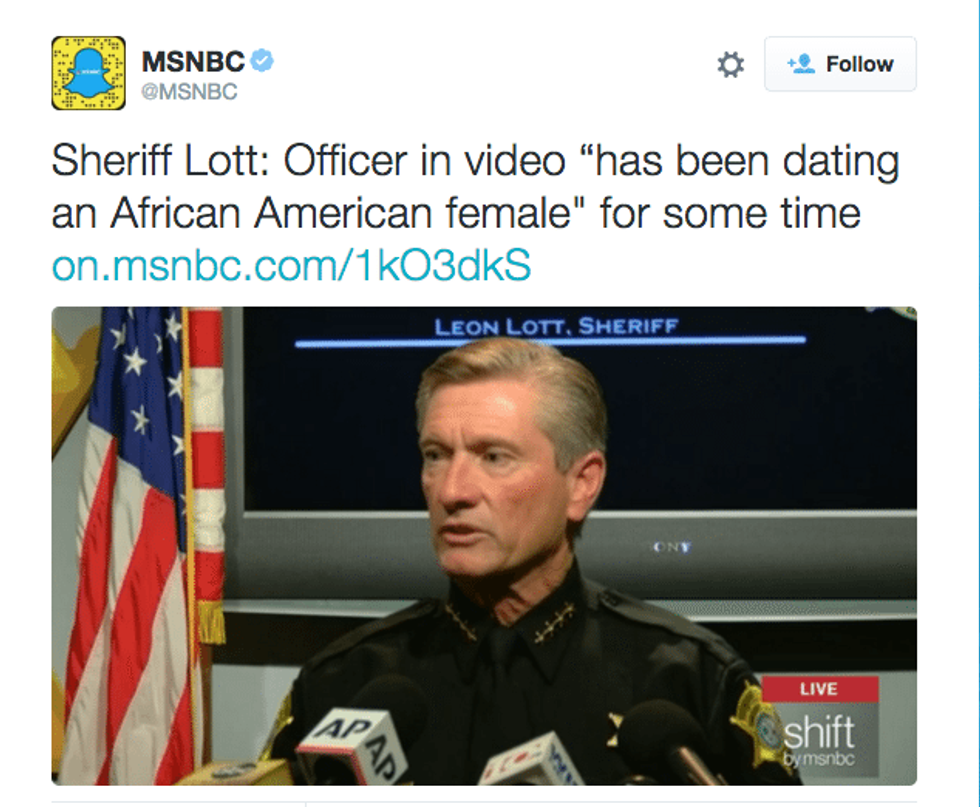 As of today, Deputy Fields has been suspended without pay.
What are your thoughts on what happened at Spring Valley?