---
The feeling that you get from coming home after a long day of work and plopping down on the couch in front of your television is nothing short of Heaven on Earth. The day's frustrations become a distant memory as I find solace in flipping through the channels from one program to the next. This may sound weird, but the relationship that I have with my television is a serious one. My television, along with an extended marathon of Being Mary Jane has the power to draw every single emotion out of me. Even though it's undoubtedly led me to shedding a tear or two, I don't have to ever be concerned with my television breaking my heart.
Never will I have to worry about being stood up, the fact that he won't call me back or my feet hurting from standing for hours in six-inch stilettos while hanging out with friends and trying to look cute.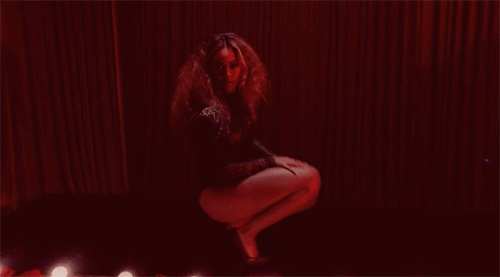 Giphy
Yes, oddly enough I am still talking about my television.
A night at the club falls short in comparison to wrapping myself up in my coziest blanket along with my favorite snacks and with the remote control in my hand. There is nothing like spending all day Saturday cleaning off the DVR. Consuming hours upon hours of soul-stirring, Facebook-sharing, and tweet-worthy television. I wish I could say that this is a total exaggeration of what was my TV obsession, but it is not. I lost friends and missed out on a number of memory-making moments with loved ones all because I would rather sit at home and watch television.
Have you ever found yourself cancelling dates with friends, choosing to watch your favorite episode of Insecure or Power instead? If you are like me, chances are you are probably guilty of this. Guilty as charged of allowing my insatiable appetite for network television to turn an otherwise social butterfly into an emotional remote-clicking-screaming-at-the-television homebody.
media.giphy.com
I don't know if me getting older has turned me into a recluse, or if I can attribute my then-addiction to wanting to live out my life vicariously through each series character who made life look so fabulous. For whatever the reason, I realized that I had a problem. This realization occurred to me as I was watching reruns of Martin and scrolling down my Facebook timeline like I always do. I noticed that my girlfriends were out having what appeared to be the time of their lives. With each posted picture, I felt a real emotion, not like the drawn up emotions that I exuded while watching my favorite television shows.

I felt left out.
Who could I blame other than myself? Those same girls had asked me on several occasions to hang out. They repeatedly invited me out to lunch and dinner as my response was always the same, I can't. They grew tired of my excuses of I have work to do or that I was just too tired.
My friends were living their lives and creating real Facebook-sharing and tweet-worthy moments. Right then and there I knew I had to do something. I needed to make a change and I knew I had to make it quickly. So I got up and turned off the television, vowing not to watch it again for another two weeks. I made the decision in that very moment that I would start living my life again. How could I let it get this bad? I could not remember the last time that I had called up my girlfriends requesting a much-needed girls' night out. I was nervous, but I knew that I had to first make things right with them and secondly make plans to get out of the house. Deciding to meet for dinner the next evening was the renewal of a great friendship and the beginning of new life for me.
From that moment, I was more determined than ever to never let my devotion to television get in the way of truly living.
The decision to give up watching television for 14 days was not easy in the beginning. I struggled mightily on days one through six, forcing myself to go to bed earlier than normal and making excessive trips to the mall in fear that I would succumb under the self-induced pressure to turn on the television. I struggled most especially on the nights that my favorite shows were scheduled to air. By day seven, I was beginning to find other ways to entertain myself.
Here's what I did with my time:
1. I read two books.
During my downtime, I read Maya Angelou's Letter to My Daughter, which left me feeling inspired and hopeful of becoming the woman I was destined to be. I also read Lost and Found by Sarah Jakes Roberts, which taught me that in order to grow you must let go of past hurts.
2. I tried two new recipes.
Intrigued by Beyoncé's diet, I scoured the internet in search of vegan-friendly recipes. Who knew black bean burgers were so tasty? The next day, I attempted and failed horribly to make spaghetti squash with a vegan tomato basil cream sauce. This dish was my least favorite of the two. Nonetheless, I had fun trying my hand at something new.
3. I exercised.
Along with learning to prepare healthier dishes, I began to exercise for one hour each day. I felt amazing afterward and really benefited mentally from the boost of energy after a great cardio and weight training session.
4. I found time to go to a lounge with my girls where I met a guy. (Hello personal life!)
Who knows what will happen between me and the guy, but being able to date and having my own personal life beats living vicariously through Mary Jane or Issa Dee's personal lives any day.
Honestly, by day 14, the desire to sit in front of the television for hours was not there, as this experience taught me that there was so much more to life than fictional stories that I had watched on television. Don't get me wrong, I still love my dramas and romantic comedies. However, the difference now is that I choose when I want to watch them. Before, I would have to watch them as soon as they aired. There is nothing wrong with indulging in a little television, but not to the point to where it consumes you.
This experiment has taught me a valuable lesson: Real life cannot be recorded with a playback feature.
You have to live in the moment and if you do not you will find yourself sitting on the couch with a remote control in your hand, wishing you had the life of the character's that you're watching, instead of actually finding fulfillment with your own life.
Want more stories like this? Sign up for our newsletter here to receive our latest articles and news straight to your inbox.
Featured image by Shutterstock
Originally published on December 20, 2015