Is it possible for the modern and the modest woman to co-exist?
Better yet, be one in the same?
---
In a time where the ability to speak (and tweet) your mind is easier than ever, you'd think free speech is something we're all used to by now. But no, unfortunately some folks still find themselves getting a little fake-mad. It's almost like unlocking the secret to an unoffensive tweet, an opinion or joke is the equivalent of the cracking the Da Vinci code.
In case you missed it, recently the original Chef Curry, Ayesha Curry, took to her twitter to casually tweet her thoughts on today's fashion. No big deal right? Wrong. The 26-year-old modest mom, author and wife to NBA Warriors' Stephen Curry, received quite the backlash when she took to social media to express her seemingly innocent forecast on fashion, pointing out that her style is more reserved:


What soon followed was a barrage of negative responses from people who felt the tweet from the classy lady was shady.

One critic even went as far as to upload a three-and-a-half year old picture of Ayesha pool side with a bikini on, accompanied by the caption: "Practice what you preach, says your boob."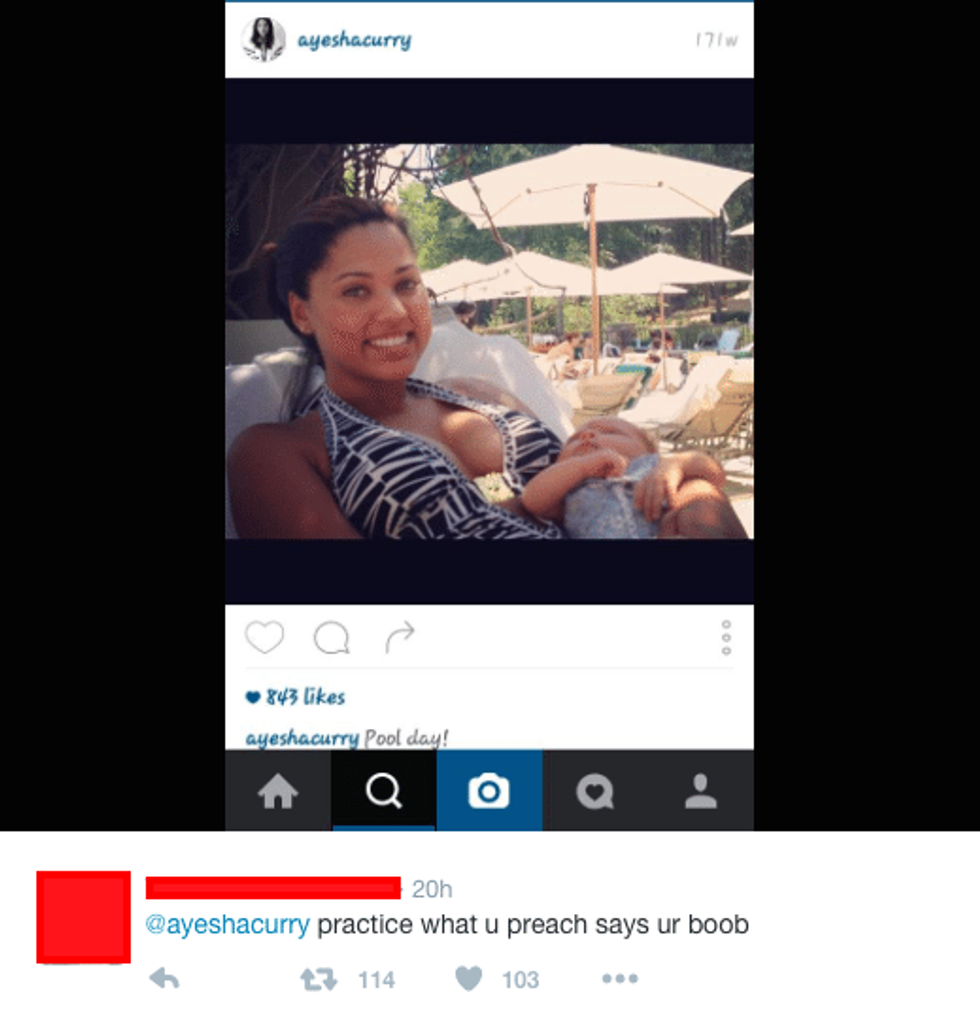 171 weeks though? Yikes! I know her thumb broke half way through scrolling to find that pic. Doing the most!
However, Ayesha was quick to clear up any assumed ill intention with her message, by making it clear she was just reading a magazine (Style Weekly) and expressing her thoughts on the latest fashion trends. "All I'm doing is sitting here reading a Style Weekly . You guys definitely entertain me, that's for sure."
Of course, Twitter was on fire over the comments all weekend, with even some celebrity men throwing in their two cents: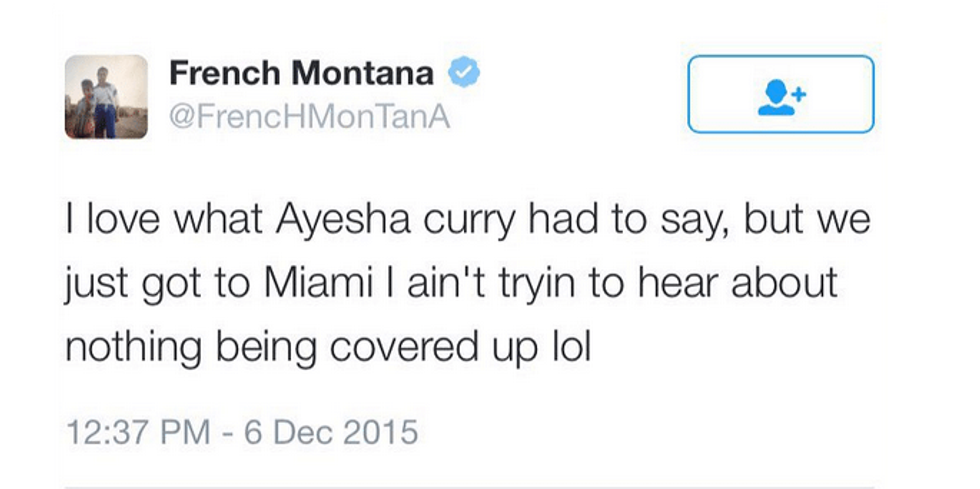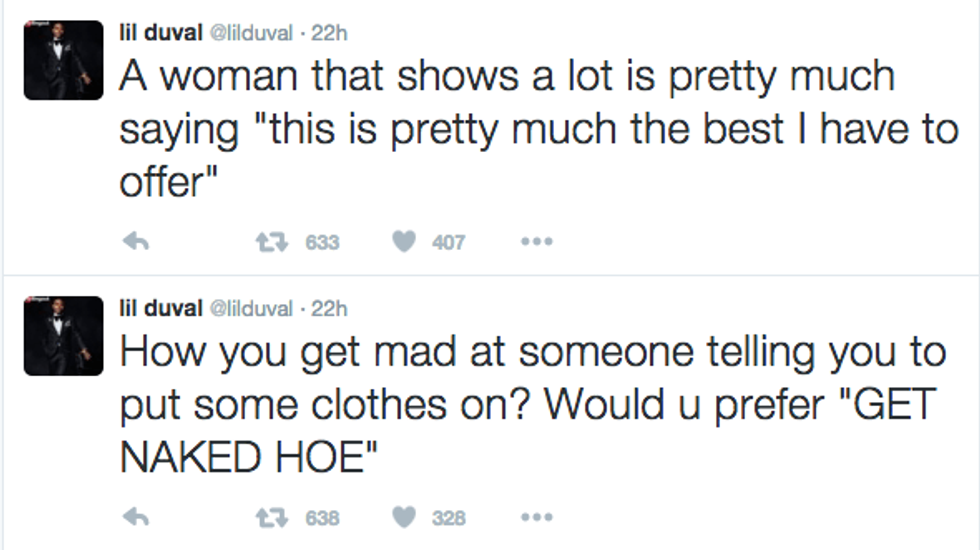 When fans of Ayesha Curry attempted to point out that she was slut-shaming and subliminally shading women like the Kardashians, Khloe Kardashian tweeted her support for the NBA wife to calm the fire: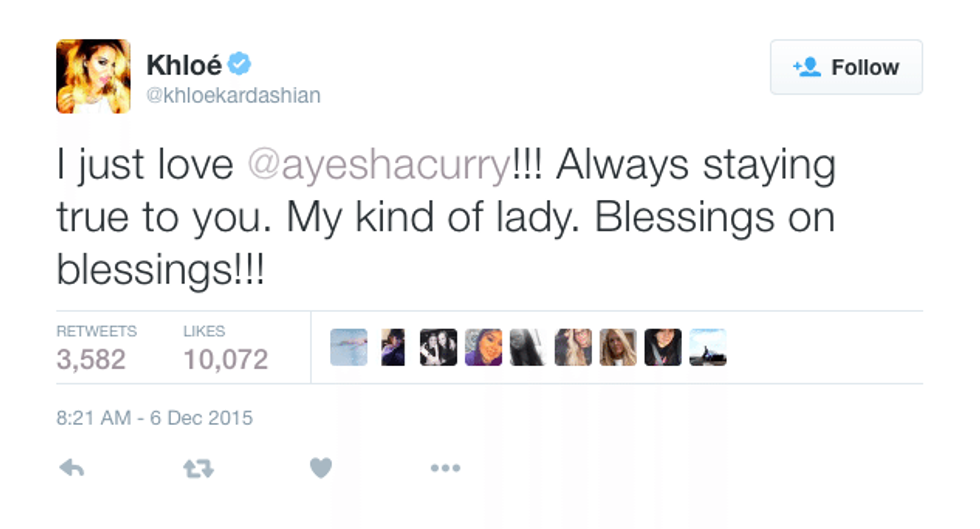 Meanwhile, the women who were offended by Ayesha's tweet decided to slam her outfit choices, even going as far as calling her a grandma, and alluding that her man would one day be tempted to cheat.  To that, she replied: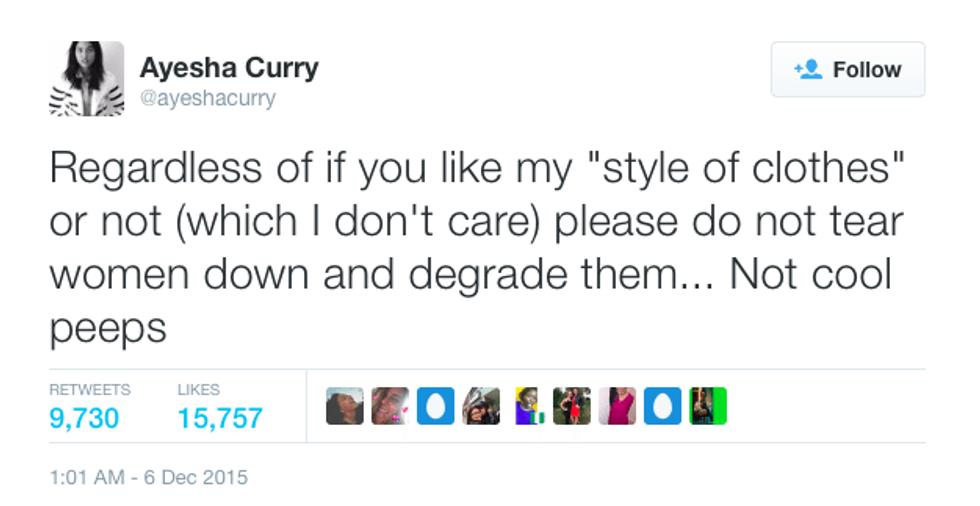 But of course Ayesha's biggest support came from her number one man-- hubby Steph! Last night, after helping to secure Golden State's 22nd consecutive win, he still made sure to make time to speak up for his wife. According to Golden State reporter, Rosalyn Gold-Onwude, Steph supports Ayesha's tweets, and his proud of his wifey for keeping her cool even when the hate heated up:
"Spoke w/ Steph Curry about Ayesha's tweets. Said he was surprised ppl took offense to it. He thought Twitter was for expressing opinions. Steph Curry said all Ayesha did was express her style preference. It was not a judgement. Steph Curry told me he (& his teammates) did have a laugh at some of the memes circulating... Steph Curry told me he's proud of Ayesha "bc she stayed upbeat through the attention. She didn't let the negativity in."
According to Gold, Curry feels Ayesha has developed a platform for herself this past year, and that she is using it to spread positivity and awareness to those women who may look up to her:
"Steph Curry said he's pretty sure some ppl look up to his wife Ayesha bc of what she stands for, how she carries herself & her priorities.Steph's also proud of Ayesha bc "she has her own following. Ppl care about what she says. You have to be true to self & she's best at that."
Stephen also took to Instagram this morning to show his support for his wife, while sarcastically referring to his wife as "an instigator."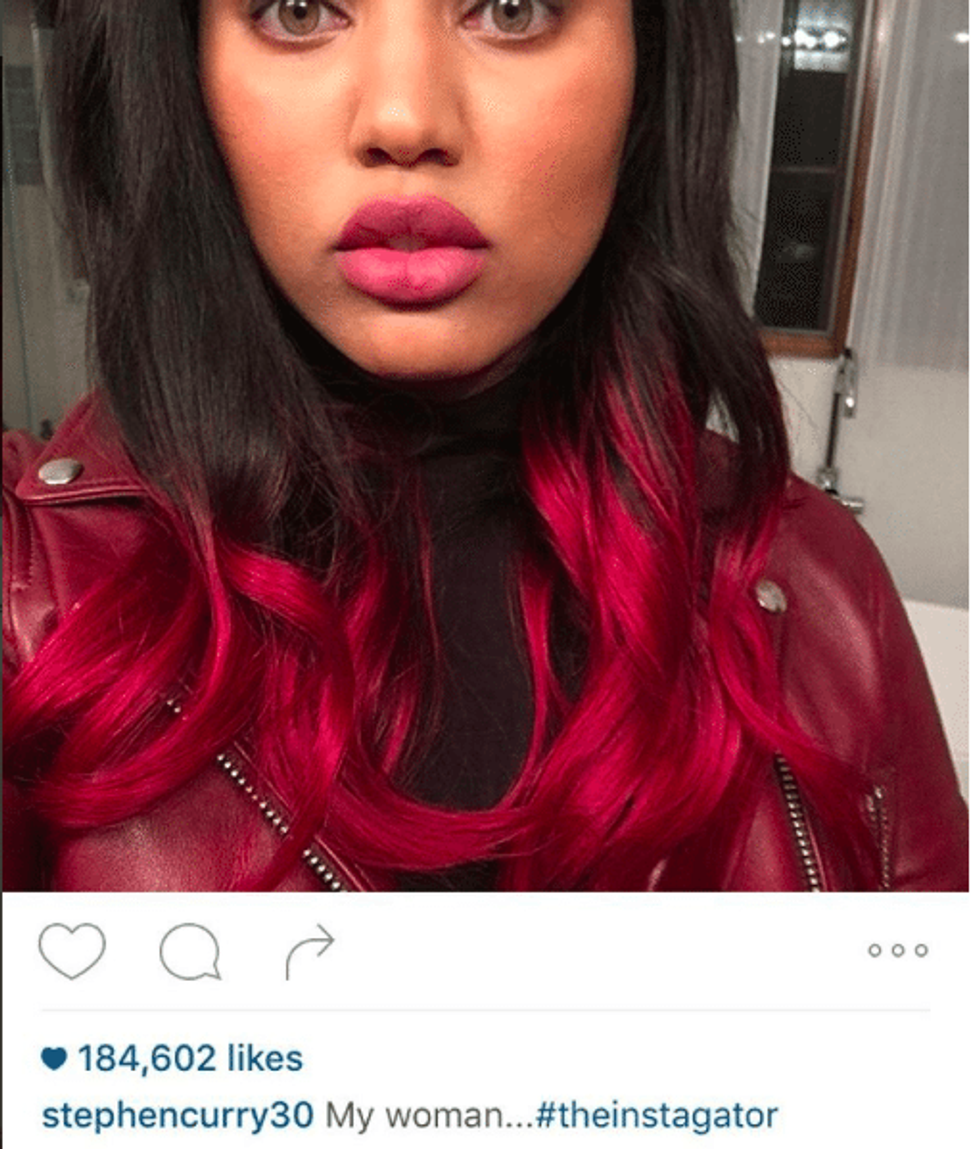 They are adorable!
Steph's baby sister Sydel wasn't too fond of people coming for her sister-in-law either, and decided to hop on Twitter to remind folks that Ayesha, how she carries herself, and her relationship with Steph are what most people consider to be "Goals":

Well said! Nice to see that Sydel, 21, supports her sis Ayesha's words. It only confirms there are some young women who are looking up to Ayesha as "goals." For a second you would've thought that Ayesha was talking an extinct language!
Since the moment her husband started racking up MVP trophies and giving speeches about how he wouldn't be here without his wife's sacrifice(s), and her daughter started stealing the show at press conferences, Ayesha has amassed a total of two million followers just on Twitter and Instagram alone. Her blog, upcoming cook-book, and appearances on "Celebrity Kitchens" are sure to only heighten her exposure. And as a young Christian woman who is more on the conservative side in a time where most of everything is less-than-but, Ayesha will continue to face scrutiny, have her words twisted, and her thoughts over analyzed. One can only help that through out it all, she will continue to keep her cool and continue to be the example!
What were your thoughts on Ayesha's tweets and the responses that followed?
In the meantime, peep the gallery below to see how Ayesha balances sexy and classy in her fashion choices!