It is officially proposal season ladies and the latest fiancee to add to the list of celebrities getting engaged is longtime girlfriend of Rapper, Ace Hood, Shelah Marie. The couple went viral in 2017 after sharing how couples yoga transformed their relationship, and last night, at Shelah's birthday party at the Komodo Lounge in Miami, Ace popped the question so they could make it last forever *cue Keith Sweat*.
---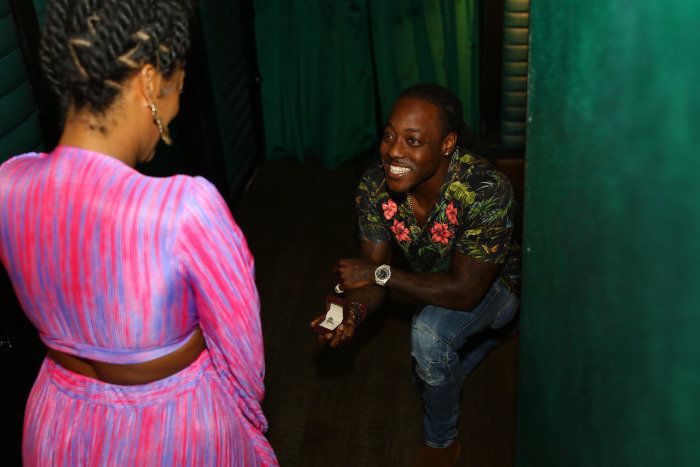 Stephen Miller / Stephen Miller
After breaking free from an abusive relationship, Shelah shifted her focus to self-healing and became the curvy, curly-haired meditation maven she had always dreamed of becoming. After honoring her pain and making the choice to love herself from the inside out, she finally felt complete; that was until she found a love she never knew she needed.

Ace and Shelah's modern day love story began in 2015 at a club in New York during NBA All-Star weekend, and although I don't believe in love at first sight, this couple's story sounds pretty damn close. She told xoNecole in an interview earlier this year: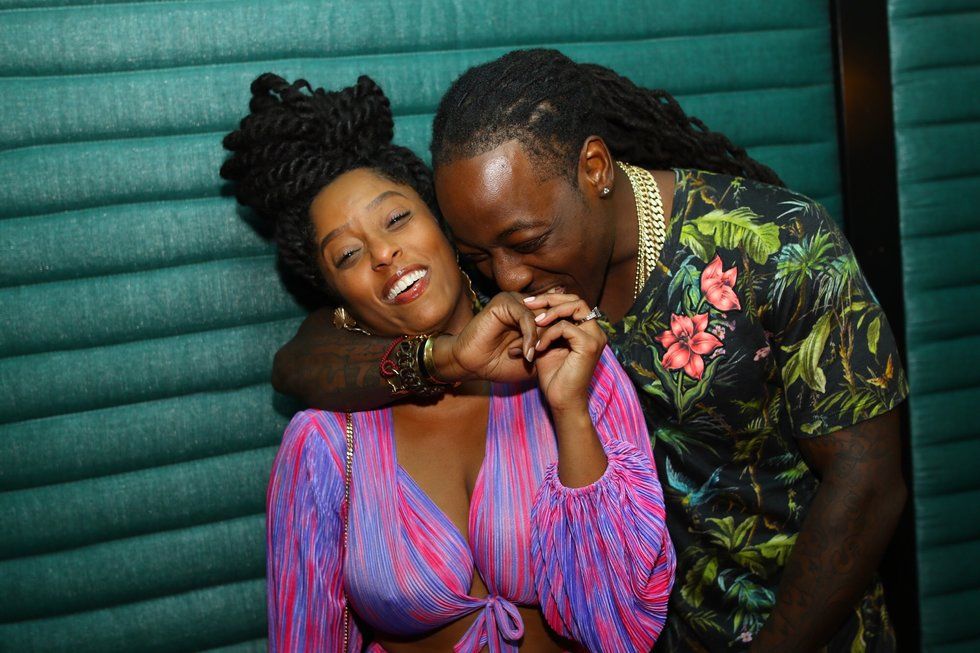 Stephen Miller / Stephen Miller
"He was in the back. There were all these women and celebrities around him. [Ace] saw me and parted the divider and went, 'Shelah, hi! I love your videos on Instagram and you're so funny.' He had this big smile and his eyes lit up. I said to myself, 'I'm f*cked. If I'm not supposed to go for it, I'm going for it. I don't care what happens.'"
Rappers have a reputation of being hardcore, and getting in touch with their inner selves is the last thing you'd expect to hear a Southern hip-hop artist rap about. Despite their obvious connection, Ace and Shelah seemingly came from two completely different worlds and at first, that was a tough pill to swallow.
"I struggled for a while trying to fit a circle in a square peg and tried to make myself into what I thought a rapper's girlfriend should be. That didn't last long. [I had to understand that] this is who I am. I'm Shelah. This is me."
Although initially, it took some time to get used to her new role as a "rapper's girlfriend", Shelah and Ace found methods to support each other in ways that didn't make them compromise themselves, this included their venture into couple's yoga. Shelah explained:

"I think he's so brave. I used to tell him that in the beginning, just being with a black girl who has natural hair and not being afraid to go out and meditate, I think it's brave for somebody in his position. He's going to wake the game up and let them know what time it is!"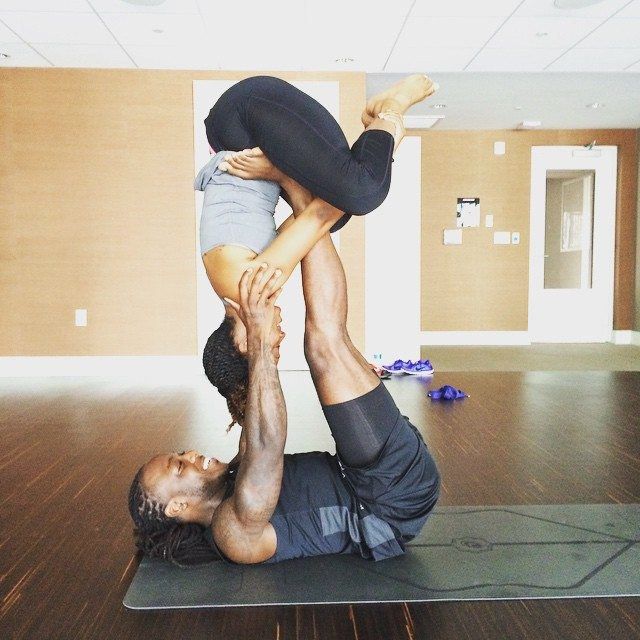 Courtesy of Ace Hood & Shelah Marie
We all know the benefits of meditation, but that doesn't mean we'll actually do it. The same is true for adding yoga to your weekly workout regimen, but doing it with your partner can add extra incentive. Ace and Shelah said that couples yoga is ideal for anyone who wants to gain a deeper connection with their partner, and it might even improve your sex life in the process.

"Intimacy happens in the mind first, so I think yoga helps you to become more in tuned with yourself. When we're in tune with our own selves and become more comfortable with ourselves, then you become more comfortable with your partner."
Preach.
To me, it sounds like the key to a good relationship is to be a lady in the streets and a yogi in the sheets, but I digress. Ace and Shelah's hip-hop happily ever after is beautiful, but Shelah made it clear that that beauty didn't come without first confronting her own pain. The 34-year-old entrepreneur told xoNecole:
"When I was in NY [before meeting Ace], I was single and depressed. I had to be proactive about the feelings I wanted [and] I'd fuse that into my meditations.
She had this advice for single women looking to star in their own fairytale: Be your own prince charming first.
"Do not leave it in the hands of someone else to provide you what you need. Date yourself. Do nice things. Look good for yourself! Sometimes I'd get sad [or jealous], but I'd remind myself, 'Man, I feel so supported. I feel so loved.'"
Congrats to the future Mrs. Hood! We at xoNecole wish you a lifetime of love, happiness, and flexibility both in and out of the yoga studio!
Featured image courtesy of Ace Hood & Shelah Marie.