We all love a good, heart-warming engagement story!
---
Kenneth Nwosu and Rochelle Valdez were former high-school buddies, but it wasn't until four years ago that they revisited their friendship and decided to take things to the next level. Now the two lovebirds are making things official, thanks to Kenneth stepping up and putting a ring on it!
On the evening of Rochelle's birthday, the groom-to-be decided to take his love to the big screen and tag-teamed with the manager at AMC theater for a creative proposal to his film fanatic girlfriend.
"Rochelle loves going to the movies and we had previously discussed going to see American Hustle and that is when the idea came to me. I purchased three tickets to get her only brother to come with us so we could not postpone going to the movies on her birthday (12/22). I also had family and friends purchase tickets away from us so they could witness it. I pitched the idea to the AMC manager at the time and he loved it, so he figured out a way to make it work. He mentioned it had never been done so he had to be creative and he did just that. In the middle of the previews, the screen went blank, a few seconds later it came back up with her name. It was awesome! It left her speechless and in tears. One of the best days of my life! Priceless!! Her younger brother who sat behind us, screamed "oh sh*t" when he saw the "will you marry me" sign. The entire movie theater loved it. This was all decided and planned within a few hours which made it even more magical."
Here's a sneak peek into Kenneth and Rochelle's engagement, why she said yes, and a preview of what's to come on their wedding day on September 12, 2015–a cute combination of their birthday months.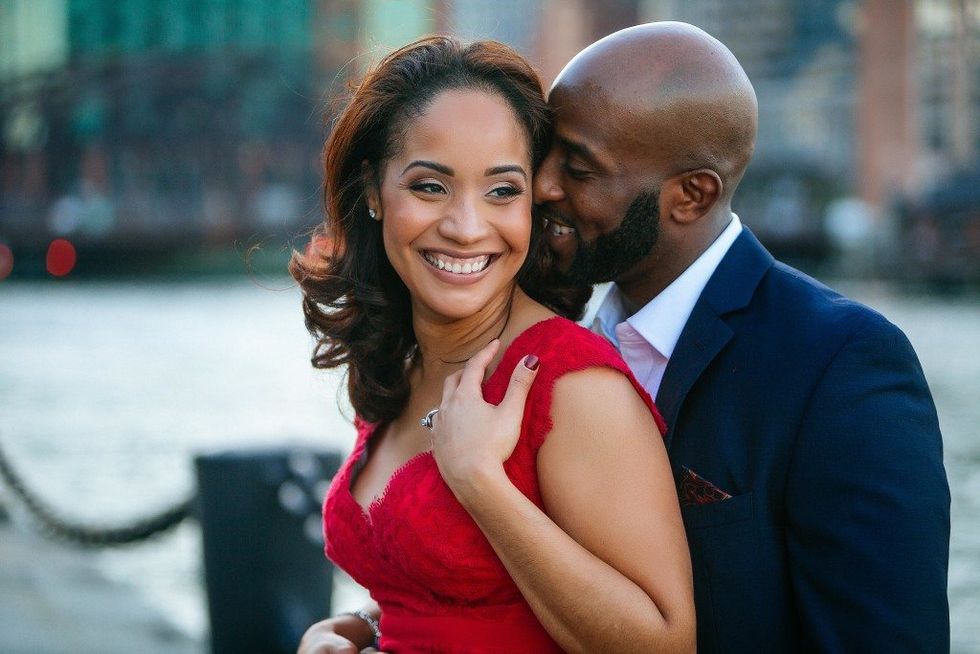 Walk us through your journey with Kenneth. What were your first thoughts of him?
Rochelle: Kenneth and I have actually known each other since high school, but there were no sparks flying during those awkward years (laughs). We first reconnected on a Tuesday night while we were both out with friends in downtown Boston. He asked me for my number, which I didn't think much of, but I also couldn't stop thinking about how handsome he was. Kenneth showed his true colors soon after that–a genuine, kind, and respectful man.
How long have you two been dating prior to getting engaged, and when did you know Rochelle was the one for you?
Kenneth: Rochelle and I started dating in February 2011. It was not really one thing, but a long list of little things that built up to her being the one. I started noticing that I was improving my ways to show her how I felt about her. In April 2013, we went to visit my home country of Nigeria and while she was there I knew she was the one for me. I later proposed in December 2013.
Have you guys discussed marriage at any point in your relationship?
Rochelle: I think one of the main reasons why I cried so much when he proposed was because we had NEVER talked about marriage, we never talked about rings, dream proposals, or anything wedding-related.
What made you go the creative route for your proposal, and were you nervous that things weren't going to roll out how it was supposed to?
Kenneth: Rochelle is obsessed with the movies. While we were dating, she often dragged me to the movies at midnight. She could not wait for the movie to be out for a full day without her having seen it. It was her birthday so it made sense to do it at one of her favorite places. I am a firm believer of walking by faith, not by sight, so I believed that there was no way it could go wrong. The manager at the theatre was all about it, so I felt extremely comfortable. I did not think she would cry as much as she did though.
What are your thoughts on your fiancé pulling together a non-traditional proposal in such a short amount time?
Rochelle: I was in absolute shock. I had no idea what was coming my way, which is why I think I cried hysterically. Kenneth is an extremely private person, so to have such a public engagement was really out of his comfort zone. He was so calm, cool and collected even after the engagement that I never even thought about time or the difficulty of putting it together. After all of this, he wanted to stay and watch the movie.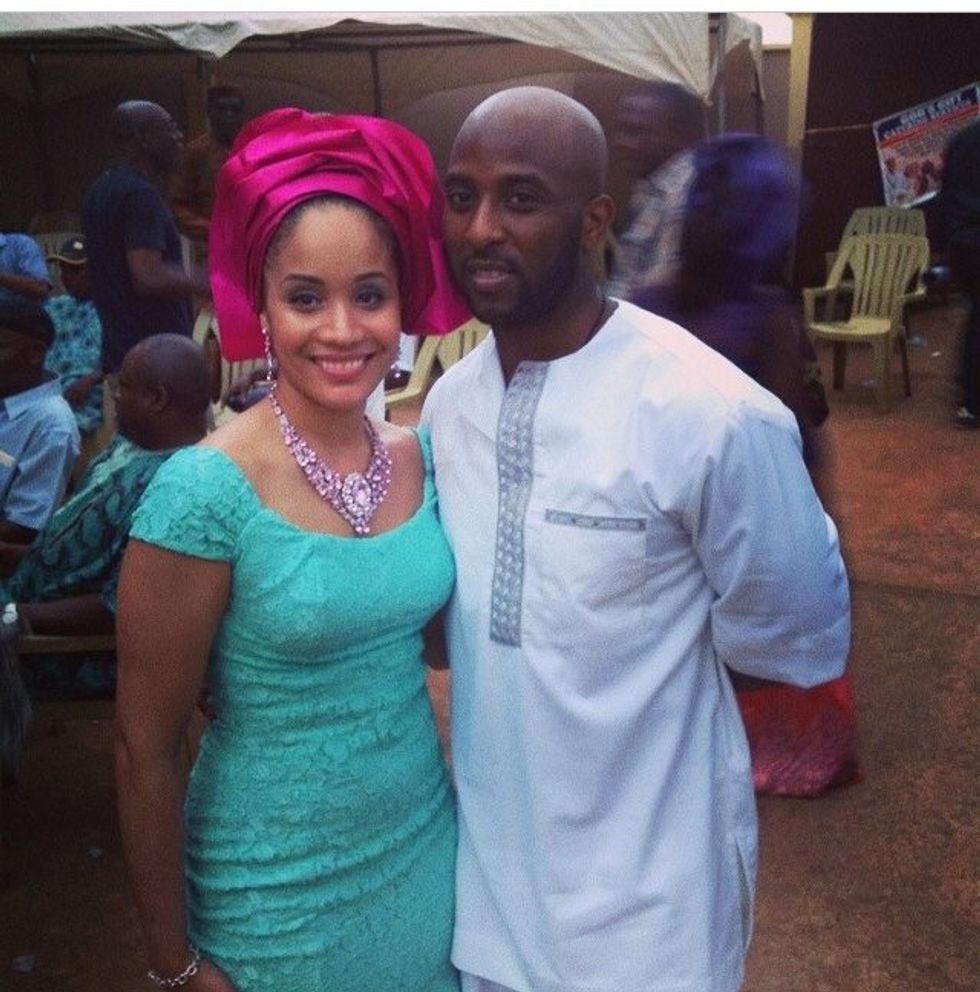 So give us the inside scoop about your wedding coming up. Are you keeping your ceremony small or going big?
Rochelle: So we actually have two ceremonies--one traditional Nigerian ceremony at the end of August with about 250 people, and our wedding ceremony in September is 150 people. The ceremony is outdoor at the Temple of Music in Roger Williams Park and the reception is at the Renaissance Hotel in Providence. There will be cultural influences from Nigeria and the Dominican Republic!
One thing's for sure, Kenneth and Rochelle are one couple who will never look at the movie American Hustle the same! Congrats to the happy couple!
Check out more of the couples screen-worthy photos below.
Do you have a great proposal story that you would like to share? Contact us at editor@xonecole.com, Subject 'Proposal Story.' Include photos and video (if possible)!