He left.
While that's quite a simple explanation, it has become my answer of choice when faced with the seemingly inescapable question of what happened to the man I was set to spend the rest of my life with. My pastor, my dermatologist, my nail technician--just a few of the people in my life who have received the aforementioned response and that is always delivered with a look in my eyes indicating an immediate need for a change of subject.
The date was set. The dress was purchased. Save-the-dates had been shoved into crisp, white envelopes and sealed with love. A corner of my apartment was overflowing with artificial lemons slated to be used in the centerpieces of our grand affair. After almost three years of dating who I believed to be the sweetest man I ever met, I was six months away from marrying the love of my life. Then, you guessed it, he left. With very little elucidation as to why he opted out, he was gone. I didn't know what to do. The man I had just listed as a beneficiary on the life insurance forms I'd filled out for my new job wouldn't even return my phone calls. Essentially, the age-old adage,"It's not you. It's me," was the best explanation he could provide. He couldn't be the man I needed him to be. He couldn't provide like a man should. His words; not mine.
When my ex-fiancé and I met, we were both working part-time in a local mall. I was also working full-time and preparing to start graduate school while he was continuing his studies as well. We fell fast and hard, and it was amazing. Within three months of dating, we were "official"…meeting parents, friends and family, spending every moment we could together. He was it for me. He was all I needed.
After a fun-filled, festive weekend spending Thanksgiving with both of our families, we returned to our separate homes in North and South Carolina. The following Monday he was gone.
I tried calling. No response.
Texting. No response.
Emails. Nothing.
I was on the brink of sending smoke signals when he finally texted me saying he couldn't "do it" anymore. Being three years older than him didn't seem to be an issue initially. In the end, I found out that playing catch up to me and my accomplishments was something he just couldn't bear to do, despite the fact that a request for him to do so was never made on my part.
[Tweet "Playing catch up to me and my accomplishments was something he just couldn't bear to do."]
I spent months pondering over what ifs and why nots, but in order to move forward, I had to learn to look past what didn't happen and learn as much as I could about myself from what did. The immediate aftermath of the breakup went much like you might imagine. I cried. A lot. I couldn't eat. I couldn't sleep. It felt like my heart had been ripped from my chest. Every corny cliché on breakups you've ever heard, every lyric any blues, R&B, or even country singer ever crooned came to mind in those early days where night felt like day and vice versa.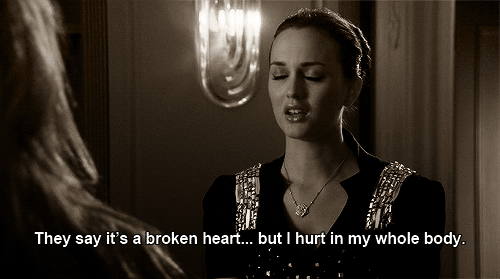 Two months after his disappearing act, he reached out to me via email and explained that his real reason for leaving was because he had been unfaithful and couldn't face me or my family. As you could imagine, my head was still spinning. But, I loved him, still, and I was willing to look past his infidelity and work things out. However, he was done, tapped out with no desire to continue our relationship. It was over. Eight months later, the news that he'd welcomed a bouncing baby girl—delivered to me by the one friend who'd remained in contact with him via Facebook—sent me spiraling again. My ex and I had attempted to conceive a child for a year of our relationship. I was diagnosed with polycystic ovarian syndrome, and we were unsuccessful. A few months after deciding to officially stop trying, he proposed. I couldn't help but be elated and comforted in that fact that even after knowing that the possibility of us starting a family had been put to the ultimate test, he still wanted to marry me. He had to love me.
After taking yet another blow to my heart and to my ego, I got back up…again.
My relationship with him—the whirlwind romance in the beginning of it, the difficult things we experienced in the thick of it, and the ugly, unpleasant end of it—taught me more about myself than I ever imagined.
1. The Healing Process Takes Time
Understanding that healing really is a process and not something that one can pin down to a timeline was the first big lesson.
2. Take Some Level of Accountability
It's a hard pill to swallow, but I had to take some level of accountability in the events that led to his decision to be intimate with someone else.  While I do believe that cheating is a choice and not an accident, I can't deny that there were things about myself that I knew I needed to work on as I prepared to become someone's wife. Daily devotionals, e-bridal newsletters, and counseling sessions weren't enough. I had to put in the work. Perhaps I hadn't tried as hard during the relationship, but since it ended, I've found myself more willing to examine the quirky, at times troublesome character traits I possess that even I don't like at times.
3. Learn to let go
Most control freaks are in denial about being control freaks. I am not. There is something in me, deeply imbedded in my personality and perhaps my DNA that compels me to be in charge. I had to tackle that issue first. I went from the kind of person who would physically become sick if I rode in a car that was in cruise control, to someone who has trouble journeying down I-77 without it now. So, in addition to learning to let go of the hurt and anger from losing him, I'm learning to let go in other regards as well. The freedom that has come with that lesson has been more than rewarding.
4. Celebrate the good versus dwelling on the bad
Despite the fact that something many people consider being a major milestone in one's life didn't happen, another one did. I celebrated my thirtieth birthday four months after the relationship ended. I can imagine the panic attack that occurs for many women who approach the big 3-0 husbandless and childless, but yet another great lesson that I learned from this entire ordeal was building up the guts to tell that biological clock that ticks and tocks in your head to shut the hell up! Trust me, it's worth trying.
I had to learn to let life happen. There is no playbook. There are no rules. Life is life and when it happens, you find out what you're really made of.
Recently, I was asked why I hadn't removed pictures of myself and my ex from my social media accounts. It's simple, really. Those photos were taken and posted at a time where I truly was happy. I suppose I will delete them soon, now that I know he has started a family, but removing them doesn't remove the memories, and I'm fine with that. For now, they'll serve as reminders of what I've learned, lost, and gained—the latest lesson being that when life gives you lemons (even if they are artificial!), make one hell of a lemon drop martini, flip your hair, and start writing your next chapter.
---
Alicia D. Dervin is a freelance writer, author, and broadcast specialist currently working and residing in Charlotte, NC. She enjoys all things literary, spending quality time with family & friends, and working as a writing instructor at Winthrop University.
If you have any personal stories that you'd like to share with the readers of xoNecole, please submit your essays to editor@xonecole.com for a chance to have your voice heard and your story featured!