It's 2017 and it's safe to say the blueprint for family roles and goals is ever evolving.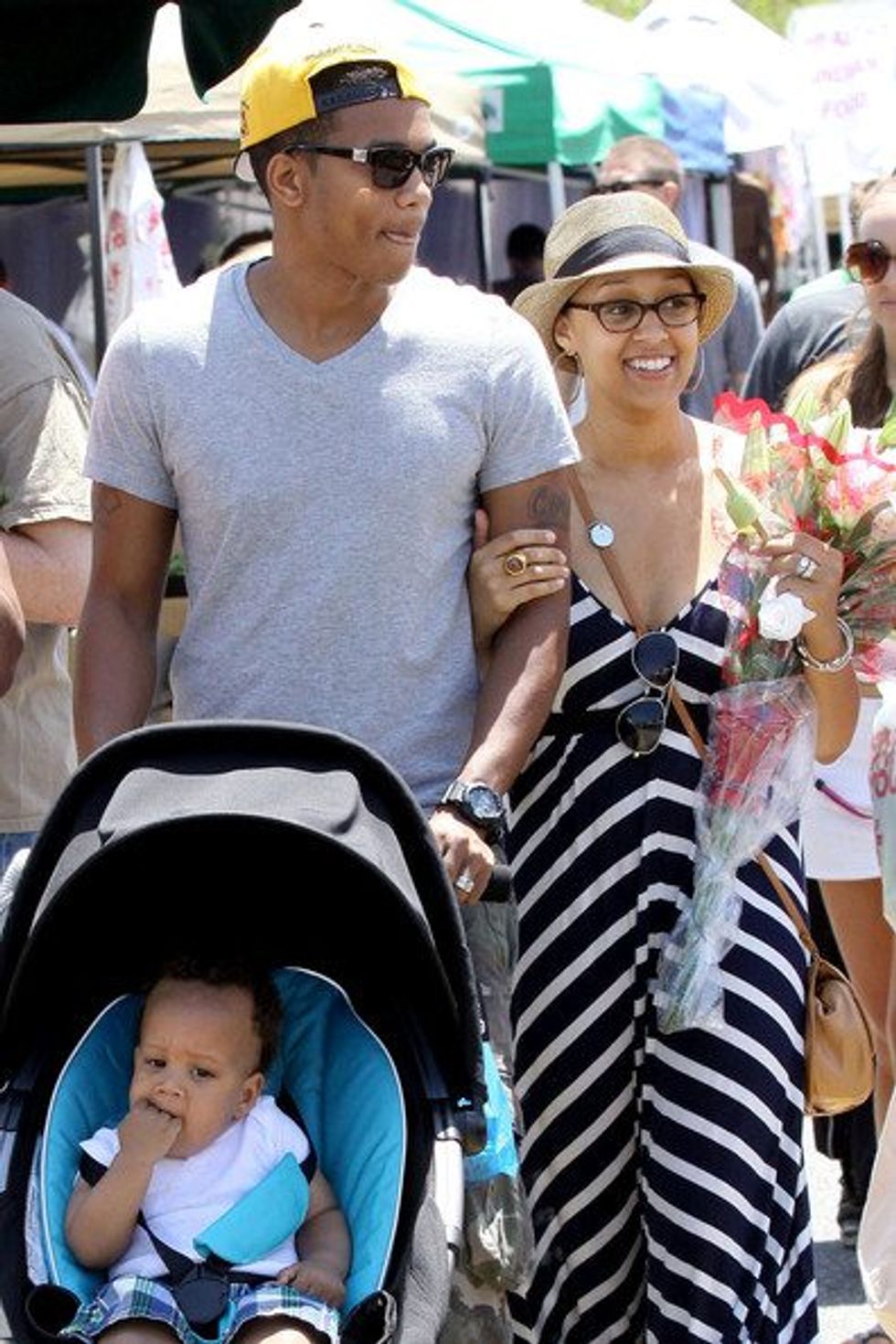 Actress Tia Mowry-Hardrict definitely believes in the benefits that come with having a happy, healthy and prosperous home. Along with her success as an actress of over two decades now, it's no secret that Tia enjoys the "happy mom, happy wife" life.
---
However, she also fully embraces being a millennial woman who works hard and can pass the "houseparent" hat to hubby Cory as needed. Or any other metaphorical hat for that fact. After all, it took two to build their family and home and it takes two to help maintain it. 16 years later, the couple have still managed to survive and thrive in their relationship.
While opening up  to Huffington Post Live, the actress was asked to explain the secret behind her successful marriage to husband Cory, to which Tia replied:
"It takes a supportive husband. He is [pretty involved]. People always ask this, because we've been together for so long. It's been 16 years now.

I think what Cory and I do, is we don't put 'gender roles' on our relationship. If I am working a lot and Cory is home, he will put Cree to bed. And if dishes need to be washed, he will wash them. So it's not like a "Uh, I'm going to wait until my wife gets home and she's going to be doing all of [the home duties].'

I am not your traditional woman or mom. I consider myself a millennial and I have goals and aspirations, and I believe you can go after your dreams and it can work if you have someone there that is supporting you and vice versa."
Tia also went on to explain that at the same time, she has no issues filling in for her boo when he's "booked," too. After all, all is fair in love and work:
"Last year my husband was gone eight months out of the year, shooting American Sniper, he just finished doing a movie called Spectral that comes out next year, and I had to take on those responsibilities that a "father would do." I had to go outside and teach my son how to kick a ball or whatever. So we don't put labels on each other. It's a team effort and at the end of the day, it's winning. And however we get there, that's what we do."
[easy-tweet tweet="We don't put labels on each other. It's a team effort and it's winning. - @TiaMowry"]

What I find most refreshing about Tia's theory on avoiding certain gender-specific characteristics for what makes a relationship work (I mean, no one's asking you to rock an apron- just do the dishes!), is that it's probably her label-less logic what has also helped her to find love.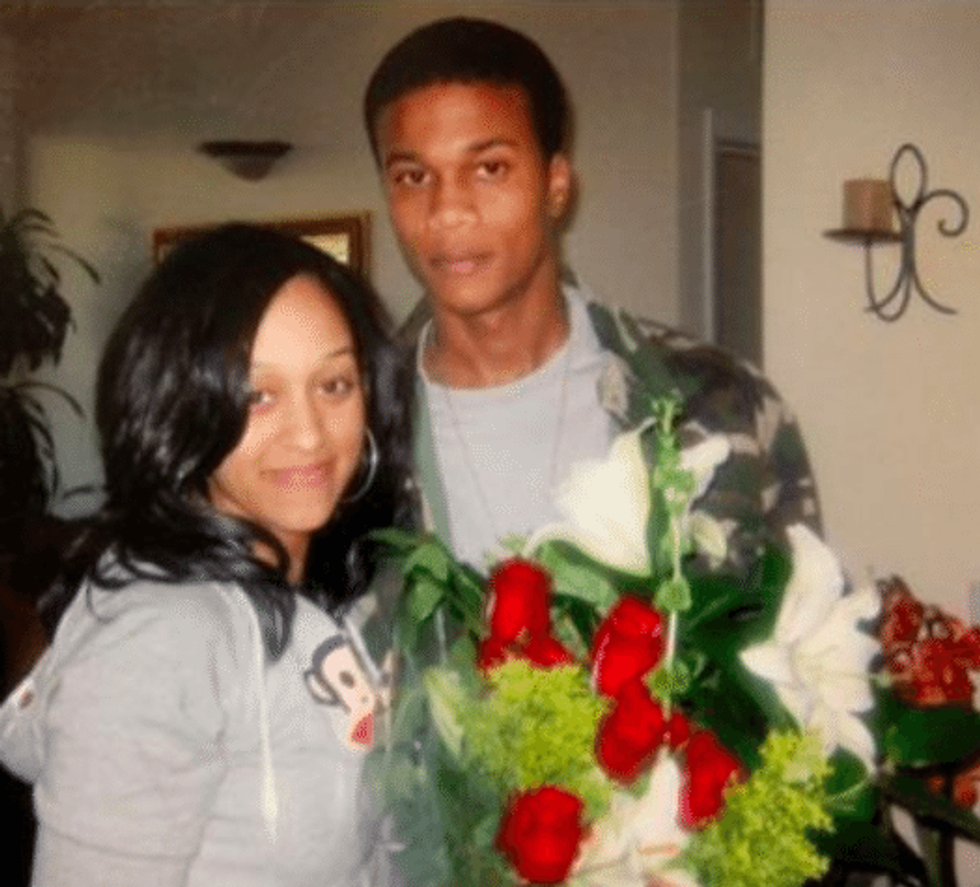 Earlier this year while on a press run for American Sniper, hubby Cory Hardict revealed that contrary to being an "independent woman" at 21, Tia dated Cory while he had absolutely nothing-- even flipping the script and picking him up at the bus stop, which would later turn into them dating and landing in a relationship in which she was the breadwinner for years.
"I met my wife during [my grinding] days and she was with me when she was coming out of Sister, Sister. She had everything man, and I didn't have anything. I had a shared studio apartment sleeping in the corner, no furniture. And that was almost for two years.

I think what my wife saw in me was an honest man who had a dream and a vision. I didn't come and sell her no games... I was waiting at a bus stop, her sister and her drove by [and recognized me from a past job I worked]. They saw me waiting and they asked to give me a ride. I was embarrassed. I was downtown. They gave me a ride to Inglewood and we were friends ever since [and] that's how that relationship started. We were friends and we just started dating and it just went from there."
Beautiful. Potential is always a great start, but clearly the key to making love last is prioritizing!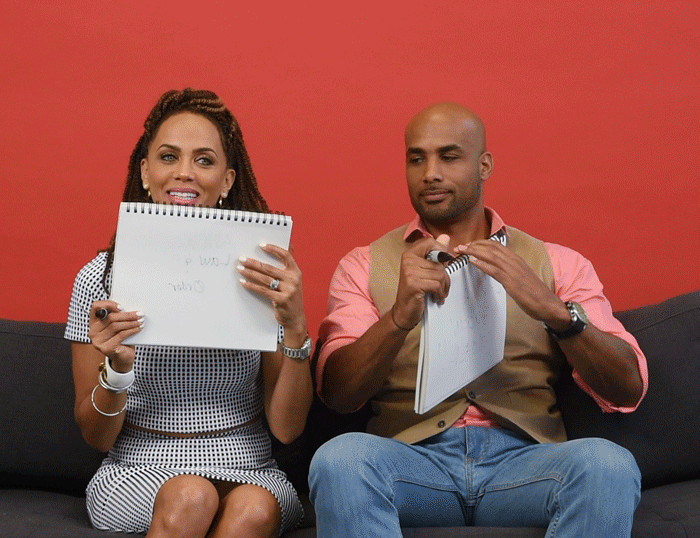 Back in 2012, married actors Boris Kodje and Nicole Ari-Park also tackled the topic of balancing the roles in their home. Having just recently turned down a couple of acting gigs in order to stay home with the kids while Nicole worked on a new project in London, Boris revealed in their cover issue and interview with Rolling Out that he was currently on house dad duties:
"I've been at home with the kids. I've been driving them to surf camp, making sure that they are at ballet and karate, and just doing everything that I'm supposed to do as a father. We work really hard at making sure that our kids always have a sense of stability and routine, which means that when one of us is working, we try our best to make sure that the other is in place so that they can still go to school and do all of the things that they are accustomed to doing in their routine. And then, we also make sure that we visit each other... that's how we try to keep things going. Family comes first with us, so we're going to do what we have to do to make this work.

Our kids don't know anything about Hollywood. They just know that sometimes Mommy and Daddy have to go away for work. And they know that if Mommy is gone, then Daddy is going to be there, and if I'm gone, then Mommy is going to be there. At least one of us is always there."
The awesome irony of Boris embracing his stay-at-home dad position is that he actually landed a role shortly after in Kevin Hart's satire, House Husbands of Hollywood, a spin on the Real Housewives series that conveniently allowed him to shoot in L.A.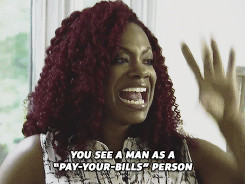 Another example of not letting gender-specific stereotypes limit you in love is Kandi Burrus and husband Todd Tucker. The RHOA star, singer, and business woman called into the D.L. Hughley show last year and defended her decision to date a man who makes "less money than her."
Kandi: I do make more money than [Todd], but he does have the potential to make just as much or more than me.

D.L. Hughley: Stop it Kandi. Stop it. I couldn't be with a woman who makes more money than me because I like to be in charge.

Kandi: No seriously. This is how I feel, when it comes to making more money than your man, I feel like, it depends on where your man is in his life. Just because someone doesn't make as much money than you, does not mean they're not making good money. What I'm saying is, if I make a million dollars and you're making $200,000 or whatever it is you're making, does that mean you're broke because you "only got" $200,000 and I got a million? No. It doesn't mean you're broke. It just means I make more money than you.
[easy-tweet tweet="Just because someone doesn't make as much money than you, doesn't mean they're not making good money. - @Kandi"]
Honestly, I love how these women think and move, and shoutout to the men on not ego-tripping too. Both ladies and gents can set the table and bring home the bacon. The best part is, in the end, no man (or woman) gets left feeling "lesser than."  This might be what it looks like when you're a millennial woman who welcomes room for a little traditional thinking too. After all, not everything from the past is bad, but it's okay if we tweak a few things with the times.
What are your thoughts on not allowing labels to limit how your home is ran?