In just a little over a year, Rihanna has swiftly and effectively managed to change both the fashion and beauty game with her groundbreaking efforts, Fenty Beauty and Savage x Fenty. Since we've been introduced to Rihanna she's always been known to push boundaries and innovate within the fashion/beauty realms, so creating her own products was a natural progression—and one that is paying off big time because fans simply can't get enough.
---
Always one to be in tune with what her fans want, Rihanna doubled down on the goodies this past New York Fashion Week when she was dropping new releases from Fenty Beauty and Savage x Fenty at rapid speed. First, there was the wonderfully diverse and incredibly sexy Savage x Fenty RTW Fall 2018 runway show that celebrated the beauty that lies within all women (regardless of age, size or race,) while giving you peak sexiness that only Rihanna can bring. The show was such a hit that it was trending for several hours across social media platforms and garnered tons of media attention.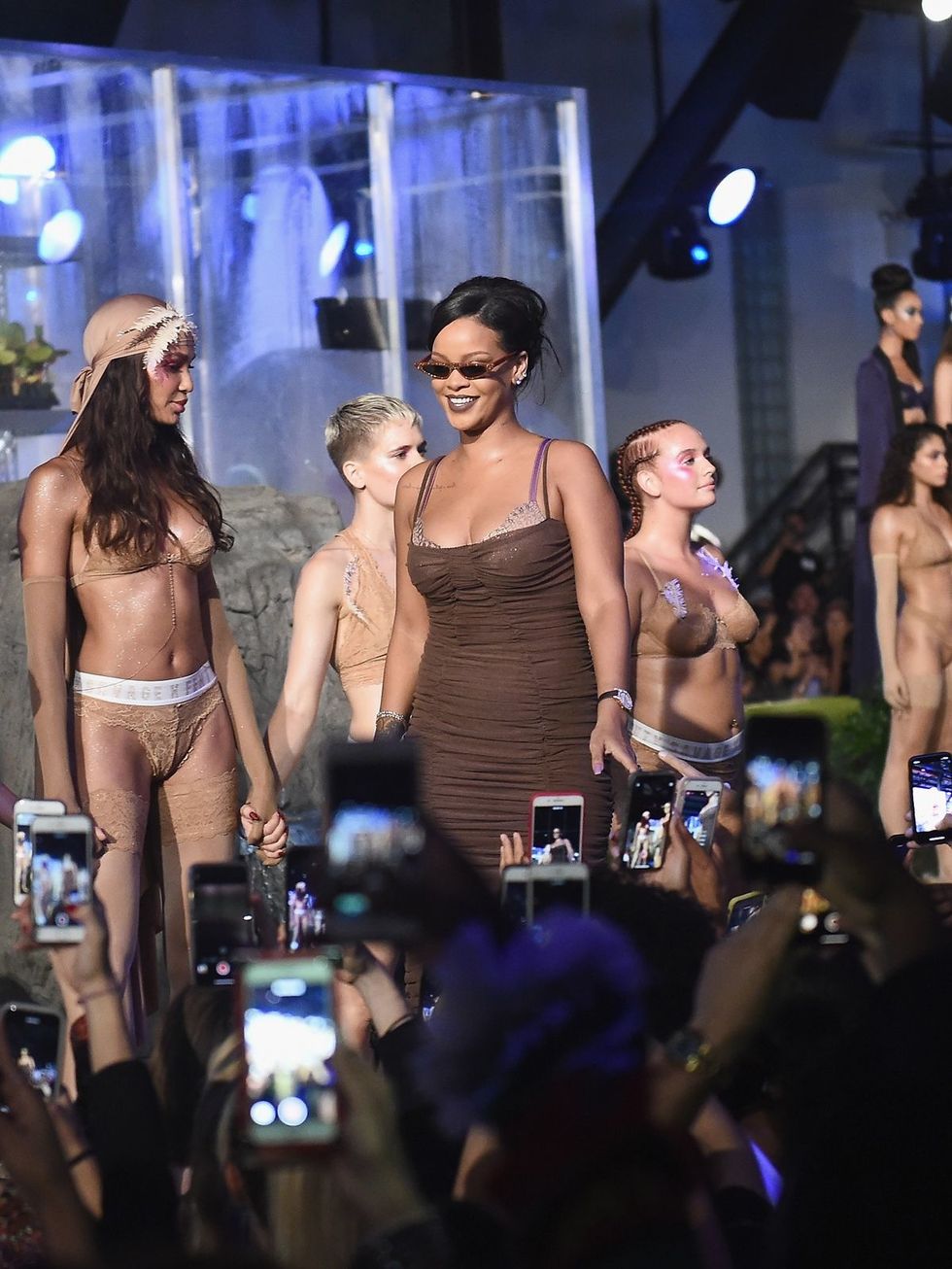 Getty Images
RiRi continued to bring the heat and followed up the runway show with a new Savage x Fenty product drop that was made for bedroom seduction. The new three-piece lingerie set includes a logo tank top, bikini briefs, and satin robe, which all benefit her Clara Lionel Foundation, that she celebrated on September 13 with her annual Diamond Ball. The set, which also includes sporty separates and an embroidered robe, ranges from $63-$68.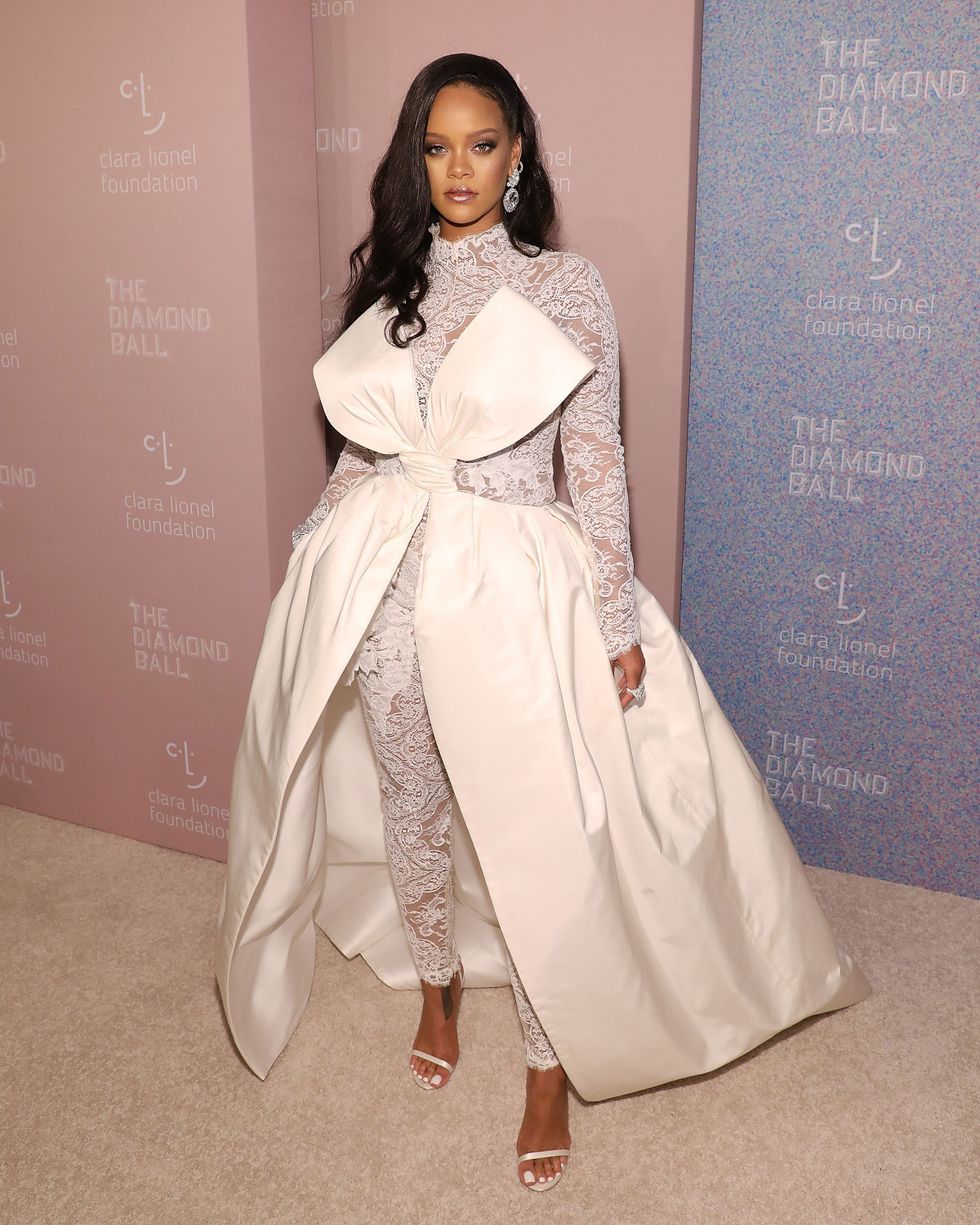 Getty Images
Now that Rihanna has your bedroom attire covered, she's moved on to getting your beauty look together. In what is being dubbed #StunnaWeek, Fenty Beauty is currently rolling out new hues of its signature Stunna Lip Paint in various new shades. So far, we've seen Unveil (a rich chocolate brown,) Uncuffed (a soft rosy mauve) and Unbutton, which is a flattering peachy nude. By the end of the week, who knows what other shades are in store, but we know one thing…we can't wait to find out!
To further give you a sense of just how much we don't deserve all of the fierceness that Rihanna's giving us, you'll recall all of the product releases she had this summer. There was the Moroccan Spice palette, a new collection of Gloss Bomb lip-glosses and the Diamond Killawatt Highlighter to name a few.
We're exhausted just thinking about all the overtime Rihanna and her Fenty empire are putting in, but we're not complaining. Big ups to the Bad Gal for giving us the fashion and beauty we all need to make us feel our best at all times!
Check out our spotlight of some of the best from Fenty Beauty and Savage x Fenty BELOW:
Related Stories:
The Fashion Influencer Behind the Plus Size Lingerie Line That Sold Out in 48 Hours - Read More

Our Favorite Looks From Joan Smalls' Size-Inclusive Lingerie Line - Read More

Rihanna Is A Savage In The Most Empowering Way - Read More

How Ade Hassan of Nubian Skin Turned Her Love of Lingerie Into A Booming Business - Read More

Featured photo by Savage x Fenty